Last Updated on 5th February 2020 by Sarah and Justin
We have visited Japan 3 times on short, medium, and long trips. And we would go back any time for any length of time. Japan is culturally interesting, physically beautiful, and absolutely delicious. It is truly an incredible place to visit. If you have the time, we recommend a 3 week Japan itinerary and we put one together to help you see the best of what the country has to offer.
3 weeks in Japan itinerary
Summary
Days 1-4: Tokyo (including day trip to Kamakura)
Days 5-7: Kanazawa
Days 8-11: Kyoto (including day trip to Nara)
Days 12-14: Osaka (including day trip to Himeji)
Days 15-17: Hiroshima (including day trip to Miyajima)
Days 18-19: Fukuoka
Days 20-21: Tokyo (and fly home)
The core itinerary assumes you'll be flying in and out of Tokyo, since the city's two airports offer the most international flight options. However we also provide a few alternative ideas if you want to leave Japan from a different city.
Logistics
Visa
Travelers from more than 60 countries can visit Japan as a tourist for 90 days (and therefore undertake this Japan 3 week itinerary) visa-free. You can check your specific country's visa requirements on the Ministry of Foreign Affairs website.
Transportation
If you're following this itinerary, we recommend buying a JR Pass. See below for the calculations showing why a JR Pass is worth it.
We also recommend that you buy an electronic local transportation card to help make your local transportation within cities easier. If you do fly into a Tokyo airport, you can buy a PASMO card when you arrive. Though there are different cards throughout the country, they can all be used everywhere. If you're flying back out of Tokyo you can return it for a refund of both your remaining balance and your deposit. If you fly out of a different city, you may not be able to, so it's worth researching in advance.
Is JR Pass worth it?
Short answer: yes!
We plugged the above itinerary, including recommended day trips, into the Japan-Guide JR Pass calculator (the easiest and quickest way to see if a JR Pass is worth it). It shows that yes, a 21-day JR Pass is absolutely worth getting for this 3 week itinerary. Here are the details of those calculations.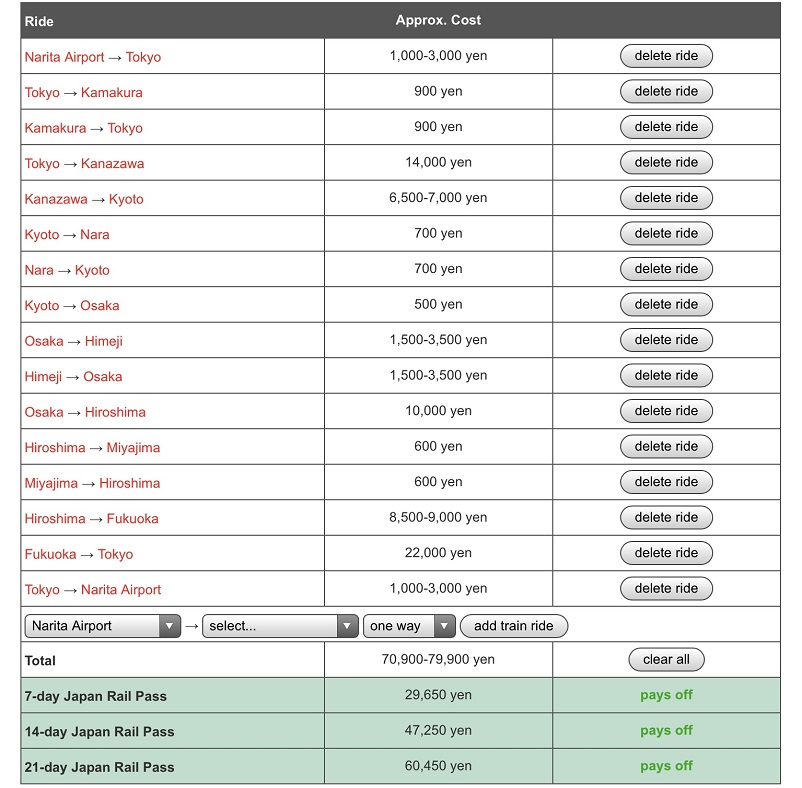 It should be noted, however, that the most expensive train trip in this itinerary is the one from Fukuoka to Tokyo. If you aren't going to be flying out of Tokyo, or you just want to cut out the whole Fukuoka part of your trip altogether, things change.
We recalculated what it would look like to return to Tokyo from Hiroshima instead. It says it's a "close call" for a 21-day pass, but the range is pretty big. This means you'll need to check everything on Hyperdia.com. It's easy but a bit time consuming. But given the money saving possibilities, definitely worth it.
3 weeks in Japan cost
Your budget for your 3 weeks in Japan will of course depend on what type of traveler you are. And we can only share our experience as two mid-range travelers.
As you can see from the calculations above, transportation in Japan is pretty expensive. At time of publication, a 21-day JR Pass costs 60,450 JPY (~$557). And the JR Pass doesn't cover everything. In many of the cities in this itinerary, you'll need to spend a few hundred yen a day on buses or metro trains.
Hotels in Japan are also a bit on the pricey side. On average across the two more recent trips we took to Japan, we spent about $100 a night for our accommodations. It's pretty easy math to do to see that for 20 nights, you're looking at $2,000. You can save money by staying in apartments (which we did during our longer trip), but make sure to read up on the most recent regulations for such accommodations.
Food in Japan can also vary widely. You can spend a fortune to eat at some of the world's top restaurants. Or you can eat more like we do and indulge in reasonably priced but still delicious food like ramen and conveyor belt sushi. It also should be noted that alcohol is not cheap in Japan. During our 3 1/2 week trip in Japan, we spent an average of $50/day (combined for the two of us) on food and drinks. We cooked quite a bit, and didn't go to any super splurge dinners, but we still felt like we ate very, very well.
That leaves attractions. We found entry fees to major attractions not terribly expensive. To give you an idea, here are some sample current entry fees across cities: Himeji Castle costs 1,000 JPY ($9.23); the Tokyo National Museum costs 620 JPY ($5.54); Kinkaku-ji in Kyoto costs 400 JPY ($3.70).
Japan 3 week itinerary: a detailed look
4 days in Tokyo
To be completely honest, we could spend all 3 weeks of this Japan itinerary in Tokyo and be perfectly happy. Tokyo is one of our favorite cities in the world (alternating with Berlin to hold the top spot depending on our mood). But we do think Japan has more to offer, so we're recommending 4 days in Tokyo to kick off your Japan itinerary.
Recommended Tokyo itinerary
There is so much to do in Tokyo it may feel overwhelming. We've tried to help organize your time.
Devote your first day to fully exploring our favorite neighborhood, Asakusa, and nearby Ueno. Asakusa is more like old Edo-period Tokyo, with narrow streets, smaller houses, and temples stuck between them. You should absolutely visit the biggest attraction in this area, Sensoji Temple. If the weather's nice, spend time strolling through Ueno Park. There you should also check out the impressive Tokyo National Museum.
Your second day, dig into the big bustling Tokyo you've probably seen in movies. Head to Shibuya Crossing to see the busiest intersection in the world and Shinjuku to see the busiest subway station in the world (and the outfits!). Major attractions in Shibuya include Yoyogi Park and the Meiji Shrine. While in Shinjuku, take a trip up to the top of the Tokyo Metropolitan Government Office for the view and check out Golden Gai to eat and drink.
Your third day, we recommend starting your day at the Edo Tokyo Museum. Afterwards, you can hop on the water bus which will take you down the Sumida River under more bridges than you new existed in Tokyo. It will drop you off at the idyllic Hamariku Gardens. From there, you can explore the cool architecture and luxury shopping in Ginza or check out the interesting neighborhood of Roppongi.
On your fourth day, go to Kamakura.
Tokyo to Kamakura day trip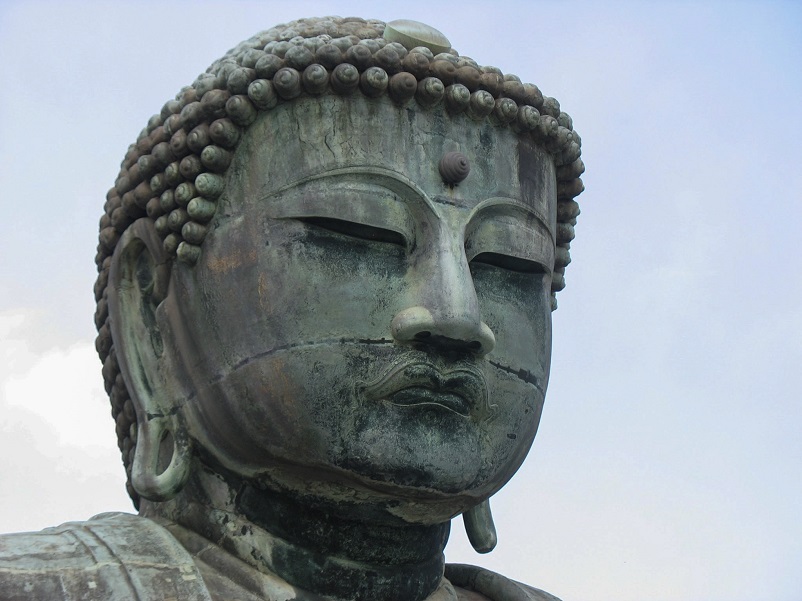 Kamakura is a great day trip from Tokyo. It's an easy way to get out of the city and see some of Japan's traditional temples in nature. It's most famous for its Great Buddha, one of the largest bronze buddha sculptures in the country. Kamakura also has some lovely trails so it is a really nice and peaceful escape.
There is a direct train from Tokyo Station to Kamakura that takes about an hour. If you're departing from elsewhere in Tokyo, you will likely have to transfer, but it's still pretty simple.
Where to stay in Tokyo
We love the Asakusa neighborhood, but recommend staying in Ueno as it is closer to a major transportation hub. Alternatively, you could stay in Ginza, which is closer to the center of the city. Or in Shibuya, if you're more into the more fast-paced, modern side of the city.
Next stop: Kanazawa! Tokyo to Kanazawa takes 2 1/2-3 hours by direct Shinkansen.
3 days in Kanazawa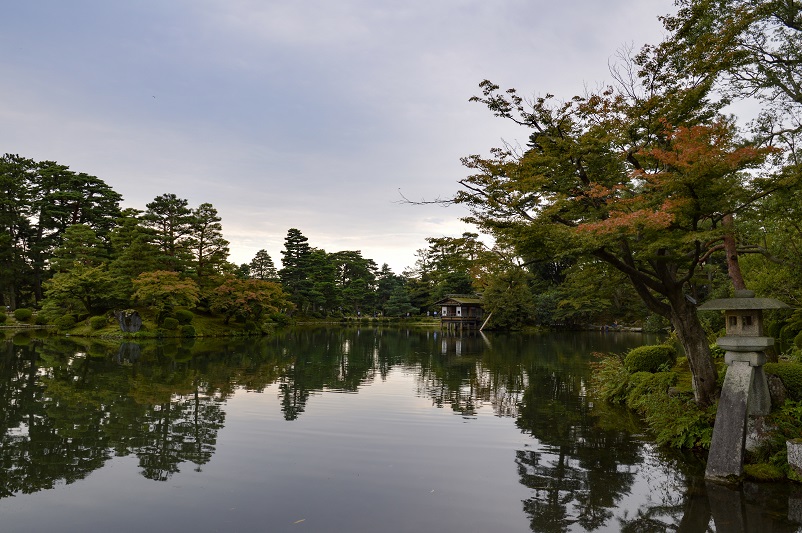 Kanazawa is a little off the well-trodden path of the rest of this itinerary, but we think worth the trip. Being in Kanazawa is like being back in what we'd imagine traditional Japan being like. Plus it's right on the sea so it's got some of the best sushi in the country.
Recommended Kanazawa itinerary
After arriving from Tokyo and getting settled, we recommend heading to one of the most atmospheric places in Japan: one of the geisha districts called the Higashiyama Higashi Chaya District. Take a moment to also stroll along the scenic Asano River.
Devote your first full day in Kanazawa to the impressive Kanazawa Castle and the magnificent Kenroku-en Garden. It's considered to one of the most beautiful gardens in Japan and you could easily wile away several hours there. Make sure to explore Kanazawa Castle Park completely including the smaller, but also lovely Gyokusen'inmaru Garden.
Your second day in Kanazawa, check out the fish market (where you can definitely find a delicious sushi lunch) and explore the samurai district.
Next stop: Kyoto! Kanazawa to Kyoto takes a little over 2 hours by direct train.
4 days in Kyoto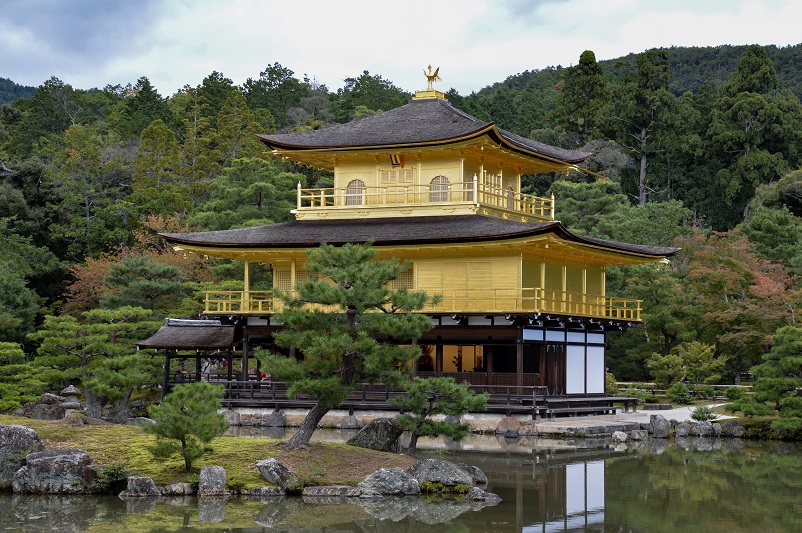 Kyoto is such a special city, chock full of some of the loveliest, most impressive temples and shrines we've ever seen. We think 4 days is enough to really get to know the city and a day trip to Nara.
Recommended Kyoto itinerary
Things are a bit spread out in Kyoto, so you should organize your days by main attraction. In between seeing them, you should just wander and find joy in the smaller temples and shrines that are all over.
Your first day you'll have about half a day to get settled and situated. We recommend spending your late afternoon and evening on a visit to the Fushimi Inari Taisha, the temple with hundreds (thousands?) of orange torii gates. It involves a bit of a hike up a bunch of stairs (through all those gates) but there's a viewpoint midway that is great at sunset. There will also be fewer people there then.
Your second day, we recommend waking up early to go out to Arashima, where the famous bamboo forest is. If you are an early riser, wake up as early as possible to try to beat the crowds. If not, don't worry about it, but go with tempered expectations. There will be a lot of people. After you visit the bamboo, take some time to explore the rest of the area as it's lovely. From there, take a bus to Kinkaku-ji (also known as the Golden Pavilion), which is also outside the center of Kyoto. Again, expect crowds.
Your third day, start with a visit to the covered Nishiki Market. Then head to the Yasuka Shrine and Chion-in Temple complex. You'll want a few hours there to see everything including beautiful parks and gardens. Afterwards, take stroll through nearby Gion, the geisha district.
On your last full day in Kyoto, head to Nara.
Kyoto to Nara day trip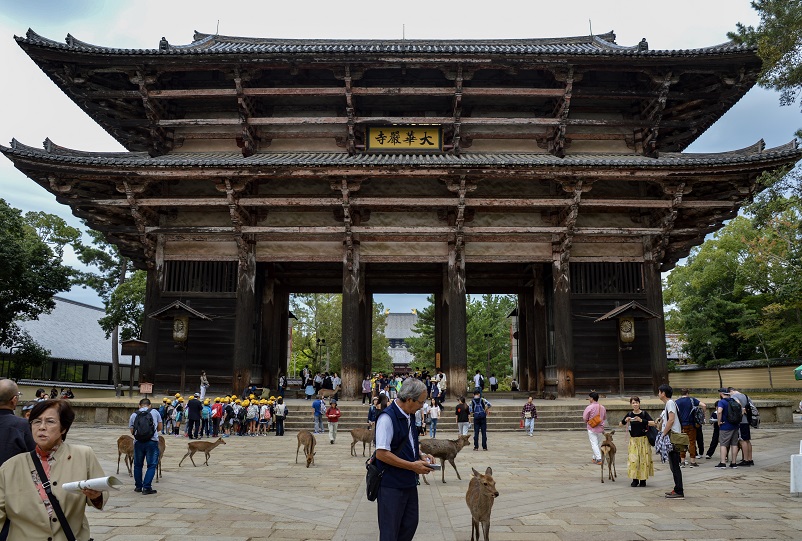 Nara is a city south of Kyoto known for its publicly roaming deer. It makes for an easy and unique day trip from Kyoto, taking about 45 minutes by train. We highly recommend it, especially if you love cheeky deer who learned how to bow for food.
Next stop: Osaka! Kyoto to Osaka only takes 30 minutes by direct train.
3 days in Osaka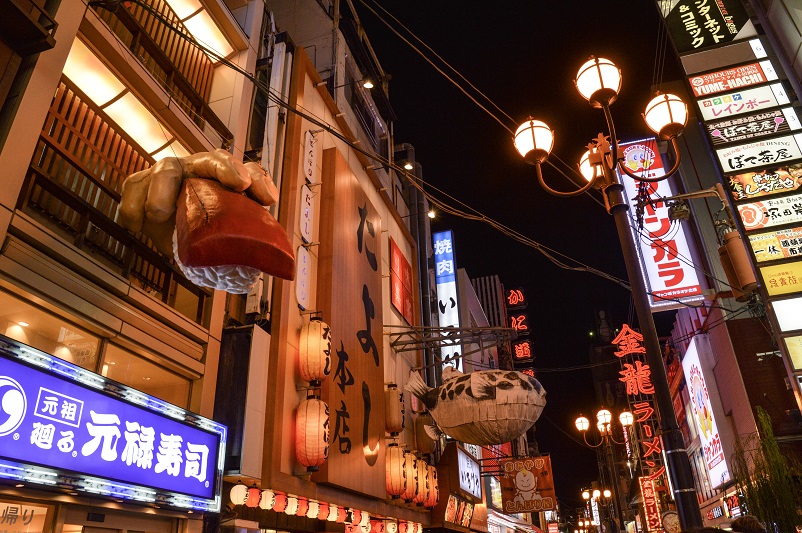 We honestly didn't give Osaka its due. Our visit was smack in the middle of our own 4-week trip and we were tired. We also stayed a bit far out of the center of the city so we had an excuse not to explore too much. But people love Osaka, and we regret that we haven't gotten to know it better so we do think it's worth 3 days of your itinerary.
Things to do in Osaka
The top attractions in Osaka are varied. There's Osaka Castle, Universal Studios, and the Dotonbori area with streets of more food (and sights and sounds) than you can possibly imagine. We focused our Osaka exploration on this food.
Osaka to Himeji Castle day trip
Himeji Castle is one of Japan's twelve original castles, meaning it was never destroyed and reconstructed. It did undergo some significant renovations, however, and this was happening during our time in the region. We're incredibly sad that we didn't get to visit and would definitely make it a priority on another trip to the area.
Himeji is only about an hour from Osaka by direct train. The castle is about a 20-minute walk from the train station, although also accessible by public bus.
Next stop: Hiroshima! Osaka to Hiroshima takes a little under 2 hours by train. Do note there are transfers involved.
3 days in Hiroshima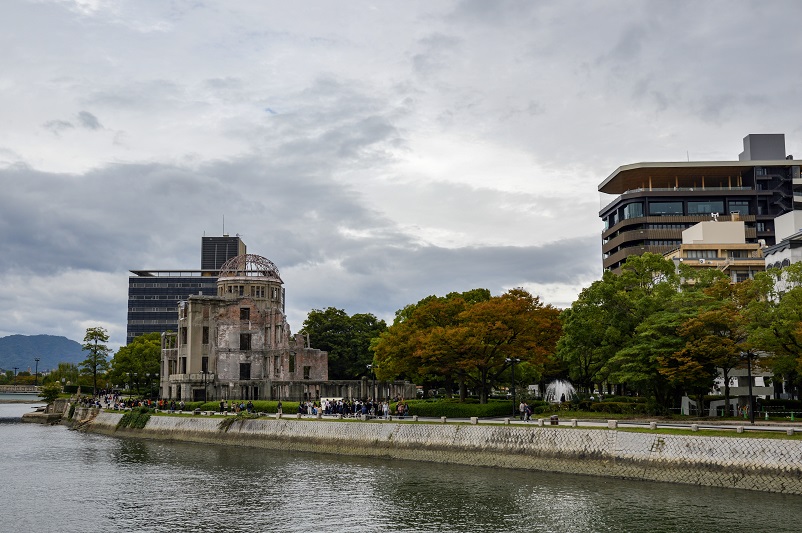 Hiroshima is an interesting city. We think it's an important stop for anyone seeing so much of Japan. A visit to Hiroshima will remind you of terrible events of the past, but also bring hope for a more peaceful future.
Recommended Hiroshima itinerary
We recommend spending your first day in Hiroshima getting situated. Depending on when your train arrives, you can also likely fit in visits to Hiroshima Castle and Shukkei-en Garden.
Spend your second day visiting Hiroshima Peace Memorial Park and the monuments and museums there. This might be an emotional, draining day so take it slow.
On your third day, go to Miyajima. Give yourself the whole day so you don't feel rushed and can really enjoy the island.
Note, you can always swap days 2 and 3 depending on the weather. If the sun is shining, jump on that boat to Miyajima.

Hiroshima to Miyajima day trip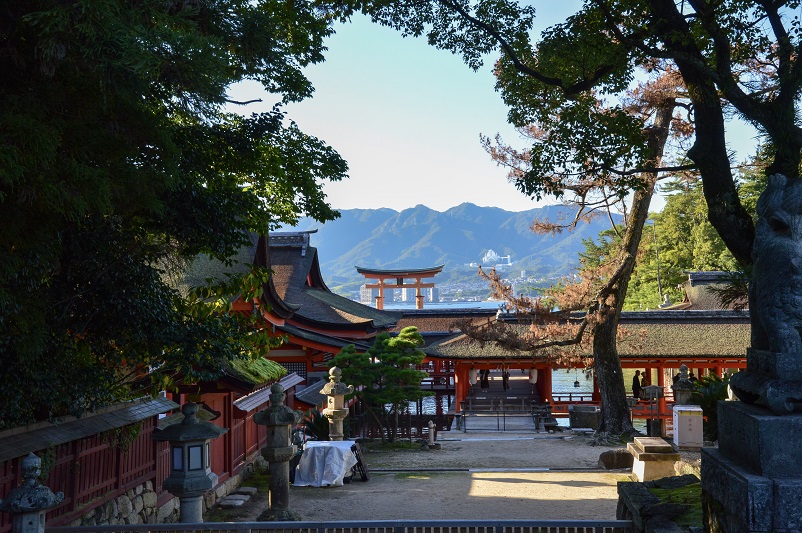 Being in Miyajima was pretty magical. From our first sight of the floating torii gate to seeing wild deer walk on the beach at sunset, we were enthralled with it all. It's probably worth more than just a day, and we did think about staying over, but it's so easy to do as a quick trip from Hiroshima, so that's what we're recommending.
If you have a JR Pass, you can take a train from the Hiroshima city center to the ferry dock which will take you to Miyajima. It's only a half hour from Hiroshima Station, but stops at some other stations in the city as well. And then the ferry to the island only takes 10 minutes. One of the ferries is included in the JR Pass and one is not, so make sure you get on the right one. Also note, more people take the JR ferry so it can get crowded and there may be lines.
Next stop: Fukuoka! Hiroshima to Fukuoka only takes about 1 hour by direct Shinkansen. Important note: the central train station in Fukuoka is called Hakata Station.
2 days in Fukuoka
Fukuoka isn't on most "best of Japan" itineraries. It's a bit further afield, located on Japan's Kyushu Island. We loved it though, and think it's worth heading to if not for the ramen alone.
Things to do in Fukuoka
You only have 2 days in Fukuoka and if you're anything like us, you're going to spend most of your time eating ramen. In between bowls, you should head to Ohori Park and stop at some of the city's many shrines and temples too.
Your last 2 days
We came up with a few options for the last 2 days of your Japan trip. They really depend on from where and how you'll be leaving the country.
Option 1: back to Tokyo
If you're flying out of Tokyo, you should just head back there. The train trip from Fukuoka back to Tokyo will be the longest one of your 3 weeks, taking about 5 hours on a direct Shinkansen. You can spend as many nights as you'd like, but we recommend another 2 so you have the chance to soak in a little more Tokyo before you fly out. And you could stay in a different neighborhood to mix things up a bit.
Option 2: back to Osaka
Train from Fukuoka to Osaka is shorter, taking about 3 hours and transfers. If you are able to fly out of Osaka, we would probably recommend adjusting your overall itinerary to go directly from Kyoto to Hiroshima and then having all your time in Osaka at the end of your trip.
Option 3: take a boat to South Korea
This is probably not the most common option, but if you have more than 3 weeks for your travels and want to head onto South Korea, you can easily take a ferry from Fukuoka to Busan. We did this ourselves so know how easy and manageable it is.
Have you visited Japan? Do you love it as much as we do? Tell us your favorite place in the comments! 
Like this post? Pin it!