Last Updated on 14th January 2020 by Sarah and Justin
We visited Fukuoka for two reasons: (1) it's an easy gateway to South Korea, the next stop on our 13-month around the world itinerary; (2) the ramen.
You might think we'd had our fill of ramen by this point. You would be wrong. After almost a month in Japan, we learned that it's impossible for us to get sick of ramen. Being that this was our final stop in Japan, and knowing that we wouldn't have the pleasure of eating real Japanese ramen for quite a while, we went all out.
Here's a glimpse of all the Fukuoka ramen we ate, more about popular styles of ramen in Fukuoka like Hakata ramen and Kurume ramen, and a few other things to do in Fukuoka once your belly is full.
Hakata ramen in Fukuoka
Fukuoka takes its ramen seriously. It was the birthplace of the very popular tonkatsu style of ramen, the creamy broth of which is made from pork bones simmered so long that they completely break down. The noodles are very thin and straight. The version of tonkotsu most people eat is also known as hakata ramen. Hakata is a neighborhood in Fukuoka (and super important tip, if you're ever taking the train to Fukuoka, buy a ticket to Hakata lest you'll end up on the other side of the country).
Ichiran, the famous tonkotsu ramen spot with outposts all over Japan and now the world started in Fukuoka and specializes in hakata ramen.
Ramen Stadium
Another reason Fukuoka is a great ramen destination is Ramen Stadium. Located in a mall (Canal City), it is an entire floor of ramen shops that represent different styles from all over Japan. It's an easy place for tourists to go to since they have lots of information in English. And it's convenient. And you won't feel bad about going back since there are a bunch of different places to try.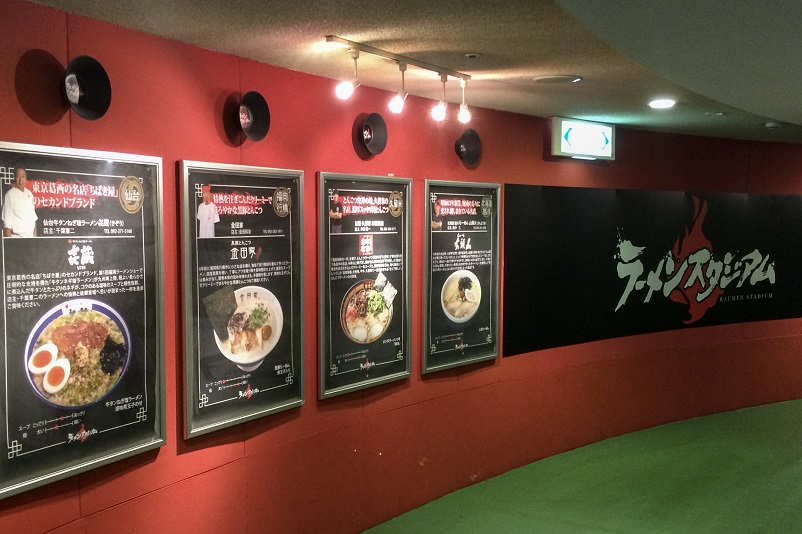 All the Fukuoka ramen we ate
Ramen Kurume Hondashouten
First stop, Ramen Stadium, where we tried Kurume style ramen at Ramen Kurume Hondashouten. Kurume is a city near Fukuoka, which (not surprisingly) has its own style of ramen. It is tonkatsu ramen, but even more rich and pungent. Not gonna lie… this bowl of ramen smelled funky. But oh was it ever delicious. It's actually much lighter in taste than it smells or looks.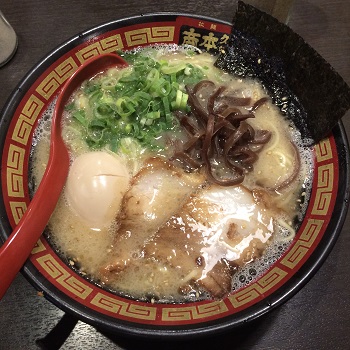 Shin-Shin
Next up, traditional Hakata-style ramen at Shin-Shin. Shin-Shin is another super famous ramen spot in Fukuoka. Its original shop sees insanely long lines all hours of the day. Lucky for us there are other outposts throughout the city, including one in the KITTE mall attached to Hakata Station, which is the one we went to.
The ramen was great. As were the gyoza.
Menya Houten
Our third bowl of ramen during our time in Fukuoka was back at Ramen Stadium. This time we tried a completely different style at Menya Houten: shoyu. This type of ramen is made with a soy sauce base. It is more popular in Tokyo.
This particular ramen we ate was black in color because of the soy sauce. It was tasty and a good change of pace from all the creamy tonkotsu.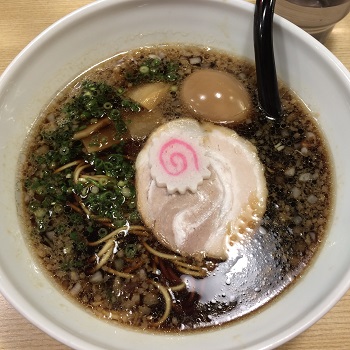 Kurume-Taiho
For our final bowl of ramen in Fukuoka and Japan (on this trip at least) we went to another well-known place called Kurume-Taiho. We had enjoyed our first bowl of Kurume-style ramen so much, we wanted to try one more before we left. And this place has quite a story.
According to legend, since they opened in 1953 their ramen broth pot has never been left empty. The ramen you eat today has been simmering for 63 years. Okay so we'll admit, we didn't actually go to that shop. We found another outpost again in the KITTE mall. But we like to tell ourselves that when they opened the new shop they brought a little bit of the broth with them.
We tried two different styles – their original and a spicier, garlickier version. They were both delicious, although the latter was a little much… especially for breakfast!
Our favorite ramen in Fukuoka
The very first ramen we tasted in Fukuoka turned out to be our favorite. In fact, the Kurume ramen at Ramen Kurume Hondashouten was also our second favorite bowl of ramen of this specific trip to Japan. It's definitely worth a return visit to Fukuoka to confirm our findings.
Things to do in Fukuoka besides eating ramen
There are, of course, things to do in Fukuoka other than eat ramen. From what we saw, it seems like a diverse, vibrant city. Yes, we spent some of our time in malls like Canal City and KITTE, but that's true to the Japanese experience. Some of the best food can be found in malls in Japan.
Based on our brief exploration of the city, we can recommend visiting the following Fukuoka attractions.
Ohori Park
Ohori Park is located in the western part of Fukuoka. It is home to a lovely garden and the remains of Fukuoka Castle.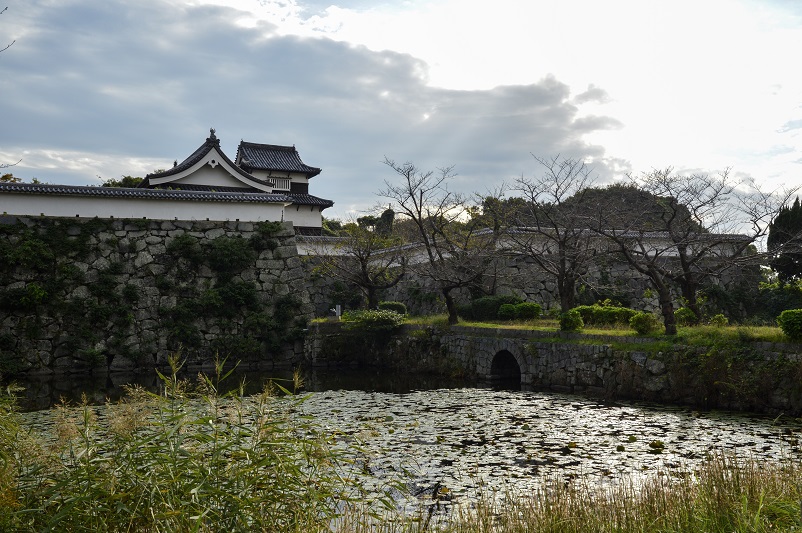 Fukuoka shrines
Like we usually do when visiting Japan, when we see a shrine, we visit it. We're not religious, but we always enjoy the peacefulness they offer. We saw a few shrines in Fukuoka including Chikuzen Sumiyoshi Shrine and Kushida Shrine.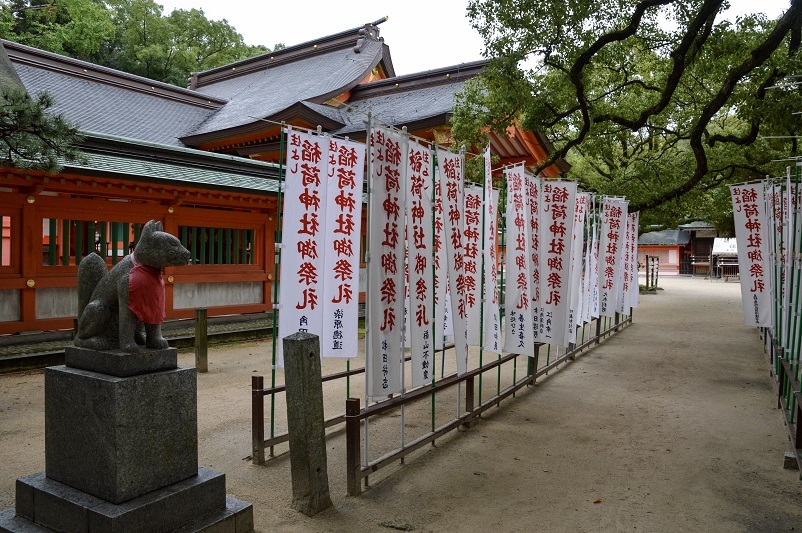 ACROS building
ACROS is a business park in Fukuoka. The highlight is a cool stepped building with trees growing out of it. The park outside the building is a good place to relax on a nice day.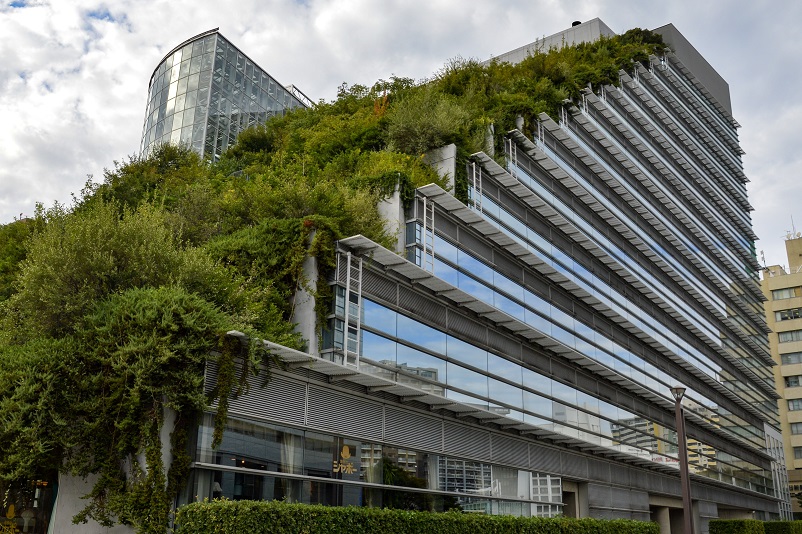 Onward: Fukuoka to Korea
It's nice when logistical requirements lead to special travel finds. We honestly never would have put Fukuoka on our itinerary had we not been traveling from Japan to South Korea for the next leg of our journey. But we were and we did and we had a delicious and fun time in the city. We can recommend it for anyone planning a trip to Japan.
Like this post? Pin it!