Last Updated on 15th October 2020 by Sarah and Justin
Figuring out where to eat in Tokyo is overwhelming. When last we checked, there were nearly 100,000 restaurants in Tokyo listed on TripAdvisor, and some put the number at double that. So while it's likely you will eat well in Tokyo based on sheer volume alone, it's also likely you will get overwhelmed by all the options. We think this is especially true when it comes to eating on a budget in Tokyo. The many Michelin starred restaurants in Tokyo are easy to find (although not as easy to get into). But the smaller, cheaper, yet still absolutely delicious places are a bit trickier. So many of the hundreds of thousands (!) of restaurants are tiny little shops serving ramen or sushi or yakitori or udon (or or or). And they may be hiding in the basements of buildings or up on the 6th floor of buildings. The good news is, often you can't go wrong at these places. Food in Tokyo, and Japan in general, is of a higher quality than pretty much any other country we've visited. So if you just pick blindly, chances are you'll end up happy. But we've had some of our most memorable dining experiences during our three visits to this city, so if you'd like some recommendations for cheap eats in Tokyo, here are ours. We've also put our picks on
this map
since we know it can be tricky to find addresses in Japan.
Our favorite cheap eats in Tokyo
Ramen
Our favorite food in Japan is the kind that comes in a bowl and involves noodles and broth. We are ramen lovers and could eat it every day while traveling in Japan. Probably not so good for our blood pressure, but oh so good for the soul. Good news for the budget-conscious out there, ramen in Japan is quite inexpensive, especially considering how filling it is. There are thousands (probably tens of thousands) of ramen shops in Tokyo. We sadly have not tried them all. We've barely scratched the surface in three trips to the city. Though we've tried more, we only included four ramen recommendations in this post, each of which were special and delicious. Before we dive into the recommendations, one quick note. Eating ramen in Japan typically involves a vending machine and some guesswork. Some of these machines have pictures on them, but many do not. Sometimes there will be a friendly person in the shop to help you out. In the cases where we found no pictures and no friendly person, we either used Google Translate or just chose the upper left button which we learned is the most popular, common choice.
Hanada Ueno
On our most recent trip to Japan, we ended with two days back in Tokyo. We thought we'd had all we could eat of delicious miso ramen in Sapporo, but oh were we wrong. Hanada was around the corner from where we were staying which is why we went there. We're so glad we did and we honestly might make a return trip even if we were to stay in another neighborhood. They specialize in miso ramen. We both had the spicy version. It comes with "free" vegetables and garlic. The garlic was great. The veggies were fine, but didn't add too much to be honest. It was really all about the broth. It was rich and spicy, but not too spicy, and delectable. We were tempted to return the next day, but other new and interesting food was calling our names. We read in the reviews that there can be 30-minute queues. We went at around 3pm and though we didn't have to wait, most of the other seats were full.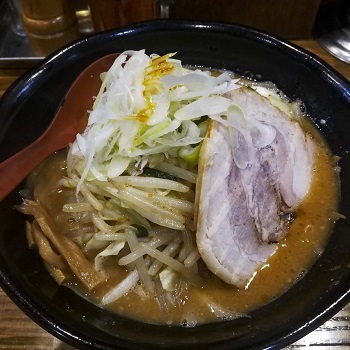 ABC Ramen
Our second favorite ramen in Tokyo was eaten at a long-standing, well-reviewed spot in Ginza called ABC Ramen. It was our first, and actually still only, time eating ramen with sesame-based broth and it has stuck with us. Even though it featured only a small amount of ground meat and no egg, which is typically a must-have ramen topping for Sarah, it was it was unbelievably tasty and super satisfying. ABC Ramen is located in the basement of a building, so a bit tricky to find if you don't know that in advance (we didn't).
Fuji Ramen (富士らーめん)
During our second trip to Tokyo, we found local joint Fuji Ramen (富士らーめん) in
Asakusa
. We came across it on Google Maps and chose it for its delicious reviews and (full disclosure) because we read the proprietor spoke English. He was very friendly and helped us use the vending machine, although he did advise that we hit the top, left button. This most popular choice was strong and rich miso broth ramen with deliciously chewy noodles, a slice of pork, and a creamy egg.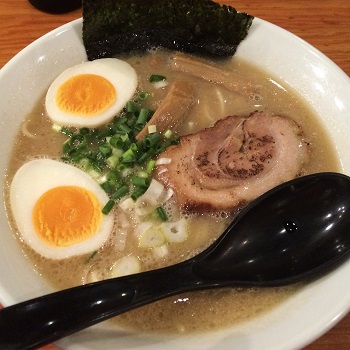 Ichiran (Ueno)
On the same trip, we went to the Ueno Station outpost of the famous ramen chain
Ichiran
. They specialize in tonkotsu ramen. It should absolutely be noted that due to jet lag, we went for breakfast at 7:30am. Unsurprisingly, there were not that many other guests so if you don't want to queue, consider starting your day there. This was a serious ramen eating experience. You pay and order at a vending machine, you sit down at a small booth, you fill out a piece of paper choosing how you want your broth (our choice: medium), noodles (our choice: firm), and spice level (low for Sarah, high for Justin). Your ramen is delivered through the window and then the shutters are closed for privacy. You have to crack, peel, and cut your own egg here. We had a great time and thought the ramen was delicious. And even though it's a little pricier than other non-chain places, it still qualifies as a budget meal from our perspective. Although given all the other incredible ramen spots all over Tokyo, we definitely wouldn't wait in line for this bowl.
Conveyor belt sushi
Conveyor belt sushi may have certain negative connotations in other countries, but in Japan it is what most people eat most frequently. Because people in Japan eat sushi all the time and no one can eat super fancy, super expensive Jiro-level sushi every day. But people can eat conveyor belt sushi every day because it's affordable and quick. And since quality of fish in Japan is so high, even if it's not "the best" it's still delicious and most likely better than you'd get in your home city. On our first trip to Tokyo, Justin didn't actually like sushi so we didn't eat it more than once. On our second trip to Japan, Justin was dipping his toe in a little more, trying some fish but also ordering a bunch of cucumber rolls on the side. On our third trip, Justin was all-in. He honestly was more adventurous than Sarah. We can honestly say conveyor belt sushi restaurants made this shift to sushi-lover possible. They're so unintimidating, and most have pictures to refer to so even if you don't speak Japanese you know what you're ordering. And they're cheap. So you can try some new things without fear of blowing your whole budget doing so. Anyway, now that we've convinced you that you should absolutely go to a conveyor belt sushi restaurant in Tokyo, here are three to try.
Uobei Sushi
Uobei Sushi, located in Shibuya, is like a slightly futuristic call center. It was the first of its type that we tried, so we were blown away by the technology. First you order on an iPad, which has an English option. You can order three plates at a time. A few minutes later, said plates come shooting out of a hole in the wall at rapid speed. You remove your plates, hit a button on the iPad, and the empty tray speeds away.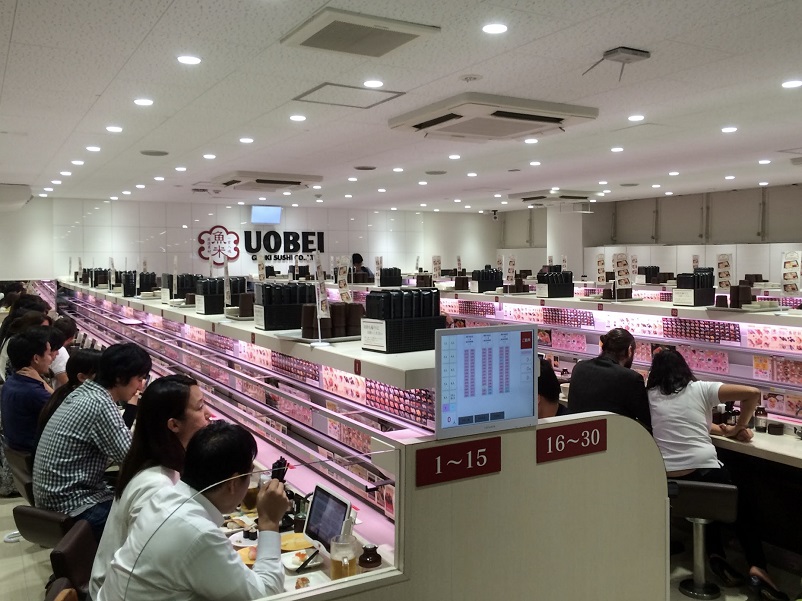 A crucial important note: do not hit this return button before you take your plates. Sarah did this and her delicious sushi started flying away! Luckily, her hero Justin caught them before they were gone. Tragedy averted. The sushi was very cheap and pretty good especially considering how cheap it is (our dinner for two cost $20). Prices have not increased since we went in 2016: it still costs 100 JPY per plate of sushi before tax. They have a full range of options of sushi, maki, and other dishes like ramen and chili cheese fries (because, Japan).
Miuramisaki Kou
A more traditional conveyor belt sushi spot we visited was Miuramisaki Kou, right by Ueno Station. This seemed to be a place that had been in Tokyo forever. It was small, with about 12 seats at one sushi bar. Two sushi chefs took orders while also putting popular cuts on the rotating "belt" in front of the customers. As per usual, the price of the plates were noted by their color. The sushi was just a little bit more expensive than at Uobei, but better and more interesting.
Udon
During our first trip to Tokyo, our favorite meal was the curry udon at
Konaya
in Ueno Station. We went back on our second trip and it didn't disappoint. They offer other things, but the curry udon is their specialty. The udon noodles swim in a rich and heartwarming broth. They have a bunch of different options including beef and all roasted veg.
Takoyaki
Justin's favorite Japanese snack are onigiri, or rice balls. Sarah's favorite Japanese snack is takoyaki, or octopus balls. They're just a wee bit more decadent. Succulent pieces of octopus are delicately placed in a sweet and savory batter which is just barely cooked into delicious balls. These are then prettily doused in a tangy brown sauce and, of course, mayonnaise. Most often they're also topped with dried bonito flakes, but Sarah doesn't like that. Takoyaki is street food. It's more popular and prevalent in Osaka, but we found a great place to get it in Ueno in Tokyo called Takoyaki Nanchang (なんちゃん). The takoyaki were freshly made, served piping hot, and perfectly tender. The staff working there were super nice and Sarah had a great time eating them right outside the little shop.
The best craft beer and happy hour in Tokyo
Craft beer is pretty big in Tokyo and Japan has a bunch of good microbreweries. There are quite a few craft beer bars in Tokyo but we found one that has both a wide selection of Japanese beer and a fantastic happy hour.
Popeye
is located in the Ryōgoku neighborhood. It opens at 5pm and when we got there at around 5:15 it was already pretty full. Of locals. They know what's up. The beers are pricey, but from 5-8pm, when you order a beer (small or large) you get a free plate of food. Choices include things like pizza, sausage, and fried chicken. Everything we ate was tasty and the environment is fun too. Bonus fun: if you order a cask beer, you have the pleasure of going outside to serve yourself.
Map of cheap eats in Tokyo
If you want to visit all these yummy restaurants in Tokyo yourself, we've put them all on this map to help you do it. Enjoy!
Japanese convenience stores
We would be remiss for not mentioning the gloriousness that are Japanese convenience stores in a post about eating on a budget in Tokyo. They are on almost every block throughout the city. You will not only save money by going to them, but you will also experience a very cool part of Japanese culture and some very good food. We know we messed up by not taking pictures or documenting our thoughts on every single thing we've eaten at a Lawson's, Family Mart, or 7/11. So instead of waxing poetic ourselves, we'll recommend reading
this Eater article about some of the Japanese convenience store goodies
awaiting you.
Like this post? Pin it!