Last Updated on 7th October 2019 by Sarah and Justin
During our time in Asia, we traveled from Japan to South Korea by ferry! Specifically we took a ferry from Fukuoka to Busan. We were a little uncertain of how the trip would go, but it turned out great. Since there isn't too much information out there on how to take the ferry from Fukuoka to Busan (or vice versa), we wanted to provide a detailed account of our (relatively easy) experience.
Note, all prices are as of October 2016. 
Step-by-step instructions for how to take the ferry from Fukuoka to Busan
*Note, you can pretty much reverse these instructions to take the ferry from Busan to Fukuoka!
Step 1 – Book your Fukuoka to Busan ferry ticket online
After doing some research, we learned that the easiest way for English-speakers to book Fukuoka to Busan ferry tickets online is through AFerry.co.uk. It specializes in ferry-booking all over the world. It offered two ferry companies – JR Beetle and Kobee. Kobee was cheaper and only a little bit longer, so we chose them. When you first book on the website, your reservation is tentative. The folks at AFerry have to manually confirm your reservation. That took about 24 hours. Note, you don't have to book your ticket online, but if you're traveling during high season and have a fixed itinerary, it's wise.
Step 2 – Print your ferry reservation confirmation
You'll need to bring this to the ferry terminal with you.
Step 3 – Travel to the ferry terminal in Fukuoka
We took the bus from Hakata Station to the International Ferry Terminal. It goes directly there and costs 230 JPY.
Step 4 – Collect your Fukuoka to Busan ferry ticket
You are advised that you must check in one hour before the ferry leaves. We arrived at the ferry terminal 90 minutes before the ferry. There was a line of people waiting but it looked like the service desk had just opened. Present your booking confirmation and passports to the person at the service desk. We were also asked to show proof that we would be leaving South Korea within the necessary timeframe by showing confirmation of our flight out. They will ask what seats you want – there is an upper and lower deck and seats by the windows or in the middle. We chose upper deck by the window. Pay the fuel tax (in cash), which was 300 JPY per person.
Step 5 – Pay the port fee
You pay the port fee of 500 JPY per person at a machine. Again, cash only. Note, there are ATMs. 
Step 6 – Complete the customs form
They will give you a customs form to complete where you need to fill out details about your stay in South Korea including address. They collect this in Busan, so you don't have to do it before you board the ferry, but we did.
Step 7 – Shop duty-free
You are only allowed to enter the boarding area a little before the ferry is set to depart (we think about a half hour). There is a duty-free shop with really cheap stuff right after you go through. Shop away!
Step 8 – Board the ferry
Get on the ferry and find your seats. You can store your luggage at the front or back of the ship.
Step 9 – Enjoy the journey from Fukuoka to Busan!
Some parts of the journey are pretty scenic – like mid-way through when you stop at a Japanese island and when you approach Busan. If you get seasick, we wouldn't recommend a seat in the front of the boat by the windows – choose one more in the center (Sarah learned this the hard way). There is also a TV in the middle that plays Korean shows. Everyone around us found it hilarious.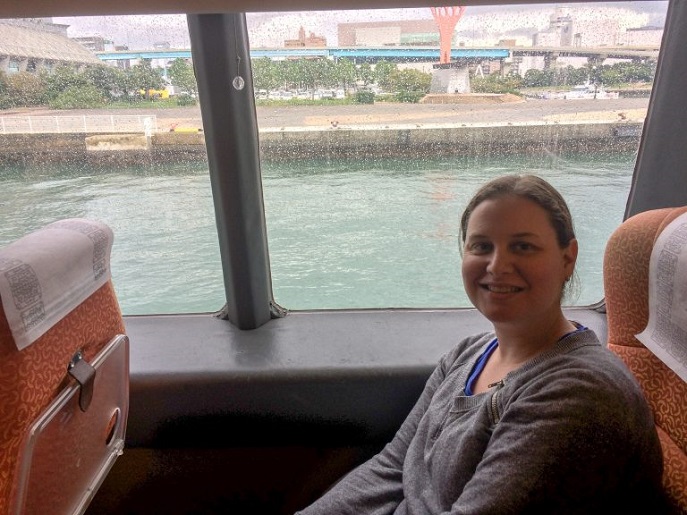 Step 10 – Hello Korea!
The ferry terminal in Busan is modern and clean and very welcoming. Once you go though customs, you can figure out what form of transportation you're going to take into the city. We asked a friendly English-speaking person at the Information Desk how to get to Busan Station. It's a relatively straightforward 10-minute walk. However, note that it's the main train station. To get to the subway (which was our goal), you go through the station to the other side where there's a separate entrance for the subway.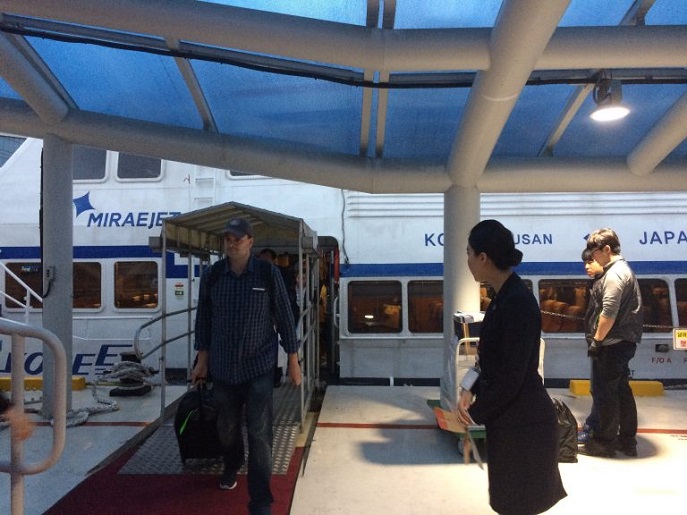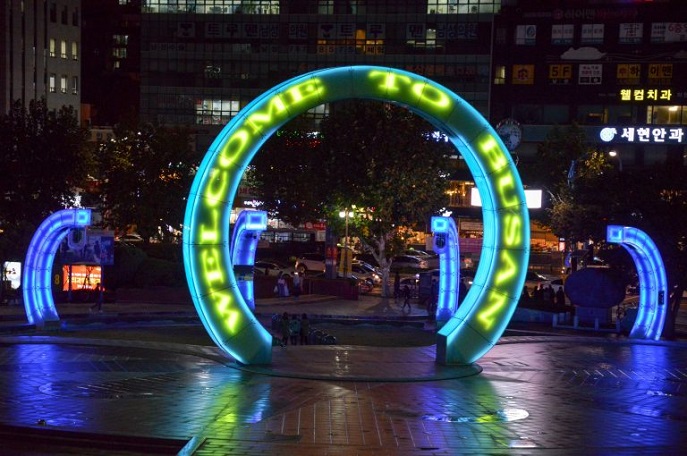 Want to visit South Korea or Japan? Search for hotels now!
Like this post? Pin it!