Last Updated on 21st October 2021 by Sarah and Justin
The year, I learned the power of gratitude.
It started as a technique to help manage my fear, anxiety, and sadness during this unprecedented time. It worked so well, I started investigating it further and realized that I've actually been using gratitude for years to manage some of the same feelings that have come with having a chronic illness. Based on my personal experience, that of others, plus science-backed research, I believe that gratitude can help people with chronic illness live more fulfilling lives.
I hope this post helps people living with chronic illness explore how gratitude could play a positive role in their lives. It includes: information about what a gratitude practice is; gratitude research; my personal experience and that of women with LAM; the experience of one woman who has multiple chronic illnesses (dSavannah George of dSavannah Rambles).
What is gratitude?
The definition of "gratitude" is simply "the state of being grateful" or "thankfulness." When it comes to incorporating that state of being into one's life for beneficial results, it means something more.
The intentional practice of gratitude is studied in the field of positive psychology and has been associated with higher levels of well-being and happiness. This article published by Harvard Medical School offers a comprehensive definition of gratitude that includes both what it means and offers. "Gratitude is a thankful appreciation for what an individual receives, whether tangible or intangible. With gratitude, people acknowledge the goodness in their lives. In the process, people usually recognize that the source of that goodness lies at least partially outside themselves. As a result, gratitude also helps people connect to something larger than themselves as individuals."
"Gratitude helps people feel more positive emotions, relish good experiences, improve their health, deal with adversity, and build strong relationships."
It's just as important to discuss what a beneficial gratitude practice isn't. It's not ignoring or glossing over tough feelings or situations. In an article on gratitude helping during hard times, leading scientific gratitude expert Robert Emmons writes: "To deny that life has its share of disappointments, frustrations, losses, hurts, setbacks, and sadness would be unrealistic and untenable…. Telling people simply to buck up, count their blessings, and remember how much they still have to be grateful for can certainly do much harm. Processing a life experience through a grateful lens does not mean denying negativity."
"It means realizing the power you have to transform an obstacle into an opportunity. It means reframing a loss into a potential gain, recasting negativity into positive channels for gratitude."
This last part is what has resonated with me most – both given recent circumstances and looking back on my experience living with LAM. Gratitude has helped me view my disease as something that has given me opportunities, not taken them away.
Gratitude and LAM
In 2019, in a post for Rare Disease Day, I wrote "there are truly good things that have come from my diagnosis… and though I never could have imagined it in 2010, they are things I'm grateful for."
Upon reflection, it struck me that this has been a common theme among the women with LAM with whom I've connected over the past decade: fulfillment through gratitude. Be it the wonderful LAM community or a single breath, we are a grateful bunch. Though the stories I've shared have their fair share of struggle, almost all include a sense of gratitude for something gained or life in general.
In our LAM community Facebook group, one member wrote encouragingly: "To all the newbies, you will get to the place where your fear is replaced with gratitude and hope." I've seen that first hand many, many times. Two examples stick out especially.
Stephanie – an expat living in France – said: "I've really shifted to a place of peace and gratitude where LAM is concerned. To think of all the choices I've made because of LAM – leaving behind my medical career, becoming an entrepreneur, writing a book, moving to France – I'm beyond grateful."
Another Steph – this one in NJ – shared how she uses gratitude purposefully in coping with LAM: "Now each time LAM throws me a challenge, even those as consistent as the daily lung pain or shortness of breath, I see it as a reminder of all the lessons I've learned: be brave, be positive, be grateful, and just breathe. That little flip… from seeing something as a challenge to seeing it as a gift… has made all the difference."
How gratitude can benefit people with chronic illness
As explained by leading scientific gratitude expert Robert Emmons identified in Why Gratitude is Good, being grateful enables us to experience and celebrate the present more acutely and feel positive emotions as a result. It also counters what Emmons describes as toxic emotions like resentment and envy. Additionally, gratitude improves stress resistance and leads to people having a higher sense of self-worth.
If increased positive emotions and resilience, decreased stress and resentment, and higher self-worth weren't enough, gratitude has also been proven to have physiological and psychological health benefits. Gratitude has been shown predict lower incidence of depression in people with chronic illness, as reported in a this 2017 study by Sirois and Wood.
As detailed in this article in Psychology Today and this article on how gratitude can rewire the brain, studies have shown that people practicing gratitude report feeling less pain, sleep better, are more motivated to undertake "healthy" activities, and have increased energy.
Exactly why gratitude works is still somewhat unknown, but as the author of the second article wrote: "it doesn't matter if gratitude makes us healthier due to the power of positivity, or if the dopamine in our brains sets off a chain reaction that ignites the benefits of gratitude.
"Every study done on the subject of gratitude research has undisputable evidence that gratitude benefits our bodies, minds and souls."
A guest perspective on gratitude and chronic illness
There are many different ways to practice gratitude. I have a practice that's both written and verbal, individual and shared out loud with Justin. I've also found practicing a few times a week to be more effective than daily. But everyone is different. As I only started practicing gratitude regularly this past year, I was interested in talking to someone who could share more about how a gratitude practice has helped them live better with their chronic illness for a longer time.
I'm happy to introduce dSavannah George, whose multiple conditions (including Myalgic Encephalomyelitis [MEcfs] and fibromyalgia) cause severe pain and fatigue. dSavannah discusses the specifics of practicing gratitude, making it work, and the benefits.
How long have you been practicing gratitude? What made you start?
Inspired by a meme, one of my intentions for 2013 was to write "down my 'happy' things, and… look at them anytime I need a pick-me up. Just seeing my pile of 'happies' makes me smile." I found a pretty box that some lotion had come in, and enlisted it to be my "Jar of Happy," and used colorful mini flashcards to write the happy thing on, then I'd fold it up and put it in my box. The box got filled pretty quickly.
This proved a non-perfect way of keeping track of "happies." As I got sicker, I would often forget to write down a happy and put it in the box, and it wasn't easy for me to dump them out and open the papers and read anything, and then having to fold them back up and stick them back in the box. I also had no idea when the item I had written down happened, and being deadline driven, not knowing the dates kind of bothered me.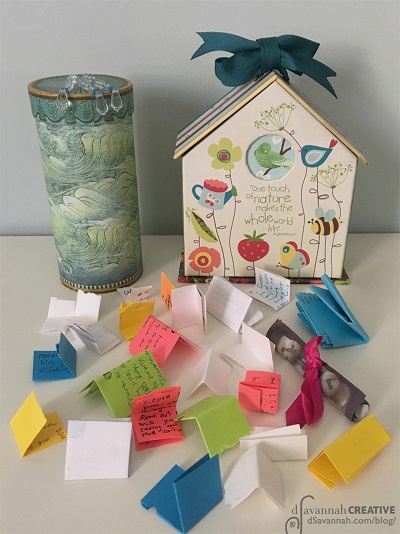 Needless to say, I didn't really keep up the practice.
Sometime in 2014, I ran across a little, beautiful hardback Gratitude Journal, and I impulsively bought it. It was a much easier way to keep track of the good things that had happened. I used it off and on over 4.5 years, and then, I stopped. When I discovered the journal again, my last entry was dated 20 Jan 2018 – a full year prior! For my 2019 intentions, I set a goal to consciously practice gratitude by writing in the book every single day, just before bed.
As I wrote:
"It's hard some days to come up with enough items to fill the page (which is only 3 to 4 things), especially on very bad crash days when I'm exhausted and flat and crying and can't even get out of bed. But I'm determined to remind myself of the good in every day, even if all seems bleak."
I'm proud to say that I have continued writing daily in my Gratitude Journal since then. I'm now in the middle of year 3 of a daily practice!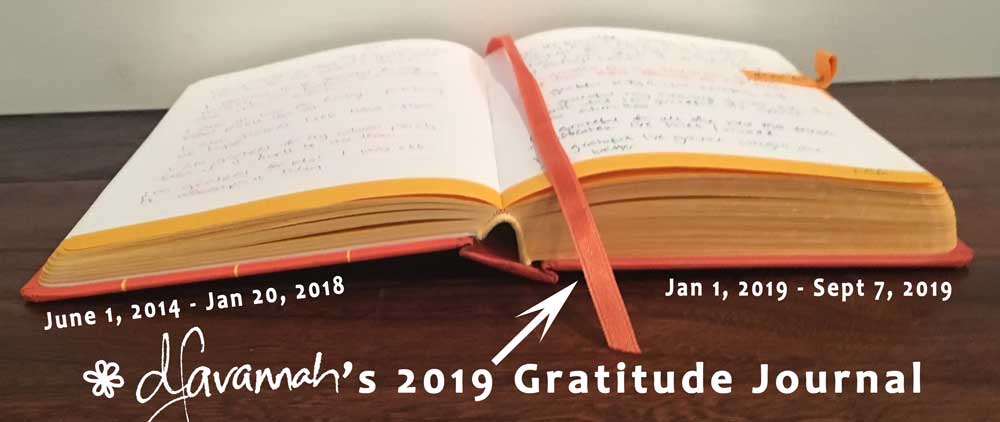 Please describe your gratitude practice
I keep the Gratitude Journal right next to my bed (the closest thing to my pillows, actually), and a mug full of colorful pens.
And every night, I open it to a new page, choose one of my pretty pens, and write down at least one thing I'm grateful for, even if it's as simple as "I'm grateful for my icepack" or "I'm grateful for my kindle." Some days, I can only manage to think of one or two items, and some days, I need two pages!
How does your gratitude practice help you with regards to your chronic illnesses?
When I started my "Jar of Happy" in 2013, I was not in a very good place mentally. I was still working full time (the job that ultimately broke me, making me disabled), and I was struggling to balance what I needed to do with what my body would allow. I had no time for thinking about my situation – I just had to work.
And after I had to quit my job and could not work at all, I faced such grief over everything my illnesses had stolen from me – from big things, like my career and identity, to small things, like the ability to do a load of laundry or carry a tea pitcher. I had a difficult time finding anything to be grateful for.
I clawed and fought and pushed to get a diagnosis – never imagining that I wouldn't get well.
By January 2019, when I found the Gratitude Journal again, I had done a lot of therapy and a lot of work on accepting my illnesses and limitations, and I had learned that being grateful for what I had – as opposed to being utterly depressed at everything I no longer had – meant my mental health was better, which meant my quality of life was better, too.
Although I'm still sick – and will be, for the foreseeable, unless they find a biomarker and cure for Myalgic Encephalomyelitis (ME/cfs) – I'm much happier in general. There's something profound and powerful about noting things throughout each day that I will write in my Gratitude Journal that night.
And when I'm down, I can open up any one of my Gratitude Journals – five volumes now! – to any random page, and immediately find something to be happy about.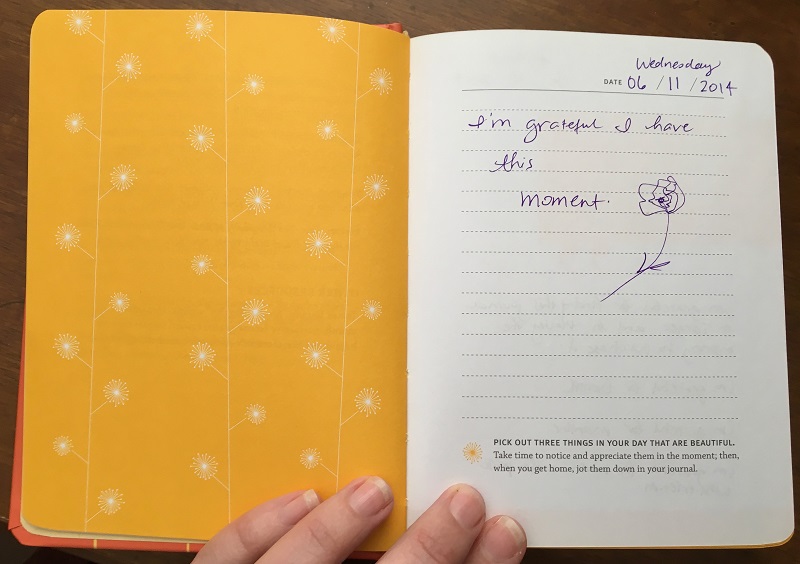 Gratitude resources
There are a lot of great resources to help anyone interested in starting or enhancing a gratitude practice. In addition to the ones I've linked to above, here are a few more that I found helpful:
How do you practice gratitude?
Now it's your turn. I'd love to hear in the comments how you incorporate gratitude into your life, and any ways this has helped you in general or specifically managing living with chronic illness.