Last Updated on 18th September 2020 by Sarah and Justin
The weather is getting cooler, and while fall is a wonderful time to travel, we actually do most of our exploring in winter. Based on our experience traveling in Europe, we're sharing nine ideas for winter city breaks. These European destinations are awesome any time of year, but if you visit during the colder months you'll see fewer tourists and cheaper prices.
Our favorite winter city breaks
We are recommending cities that we ourselves have visited in winter. We selected places we know you could cover in a weekend without feeling like you missed something huge. For each destination, we're telling you why we like the place, places to eat and drink, where to stay, transportation, and other tips for how to make the most of your winter city break.
Frankfurt city break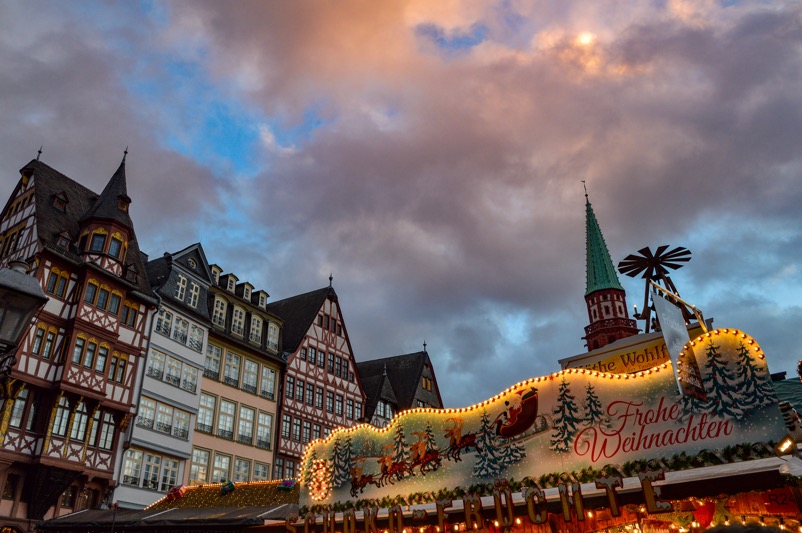 We have visited Frankfurt a few times, both in winter and summer. The warmer months are indeed lovely there, but we always prefer visiting Germany in winter. Our most recent winter weekend in Frankfurt was during Christmas Market season in December and we of course loved it. It's actually like one big Christmas Market that stretches from the main square, through other squares, all the way to the river. That river, the Main (a tributary of the Rhine), is one of our favorite places to stroll. Even in winter it's a treat.
Our Frankfurt restaurant picks
Getting into and around Frankfurt
Frankfurt is a main hub and a transfer point, or a good stopping point, on many a longer train journey through Europe. Frankfurt Airport is also a major destination. It's incredibly easy to get from the Frankfurt Airport to the city center. Just take the train and you'll be there in about a half hour. As with most German cities, public transportation in Frankfurt is great. If you're going to be doing a lot of moving around, consider buying a day pass.
Where to stay in Frankfurt
Our current favorite hotel in Frankfurt is the Premier Inn Frankfurt Messe. It's a bit outside the more touristic city center, but the rooms are cheap and way bigger and nicer than you'd imagine for the money.
Sofia city break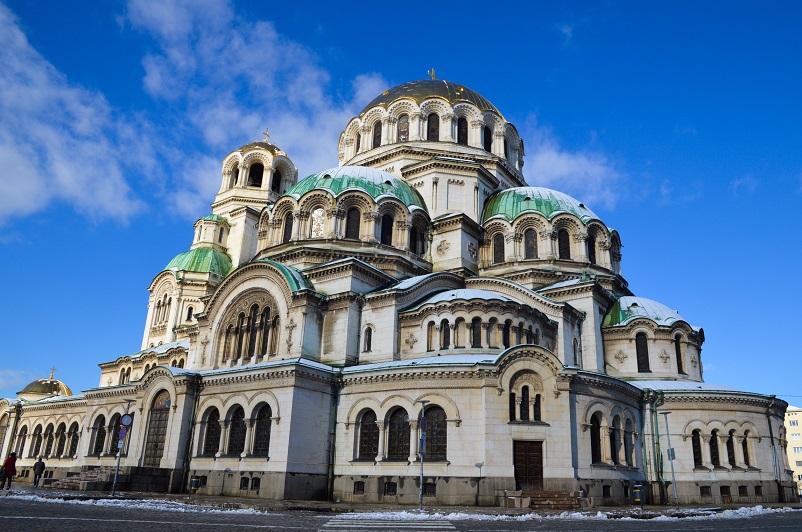 Our trip to Sofia was in December, and we were greeted with a blanket of snow. It was incredibly romantic. Sofia is a really easy city to get around and has some of the most beautiful buildings we've seen. The food is also fantastic. If you ski (we don't), you can also head to nearby mountains. And last, but most certainly not least, if you visit in December there's a Christmas Market. What more could you ask for?
Our Sofia food picks
Getting into and around Sofia
The airport is located just a half hour outside the city center by Metro. The city is otherwise small enough to get around on foot, although there are trams as well.
Where to stay in Sofia
We stayed in an apartment with a view of Alexander Nevsky Cathedral. If you'd prefer a hotel, there are good options at different budget ranges throughout the city.
<< Search for hotels in Sofia now >>
Cologne city break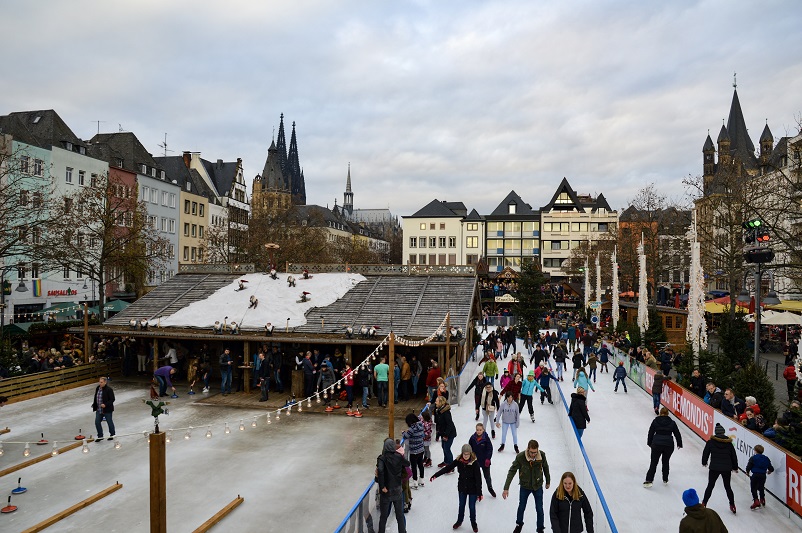 Cologne is our favorite place on this list and we have visited many times. We love visiting in December when the Christmas Markets are in high gear. But there's enough to do in the city during the other winter months to keep you busy.
Explore the perfectly picturesque old town. Admire the imposing cathedral from seemingly anywhere in the city or climb up its tower for incredible views. See a hockey game. Or just hole up in a kneipe and drink Kölsch. You won't want to leave.
Our Cologne food and drink picks
Getting into and around Cologne
The closest airport to Cologne is the Cologne-Bonn Airport, but the Dusseldorf Airport serves more routes. You can also get to Cologne by train, and the Hauptbahnhof is right in the city center. Look for saver deals on the Deutsche Bahn website if you can plan a little bit in advance.
Public transportation in Cologne consisting of trams, buses, and U-Bahns is great (not surprising since you're in Germany). Look into discounts on weekend or group passes if you're traveling with others. You may also consider the KölnCard, which gives you free transportation and discounts on major attractions.
Disclaimer: KölnTourismus provided us with KölnCards on our most recent visit to the city. All opinions and gushing over their Christmas Markets are our own.

Where to stay in Cologne
Motel One is our hotel chain of choice in Germany these days and as of publication they have three locations in Cologne.
Porto city break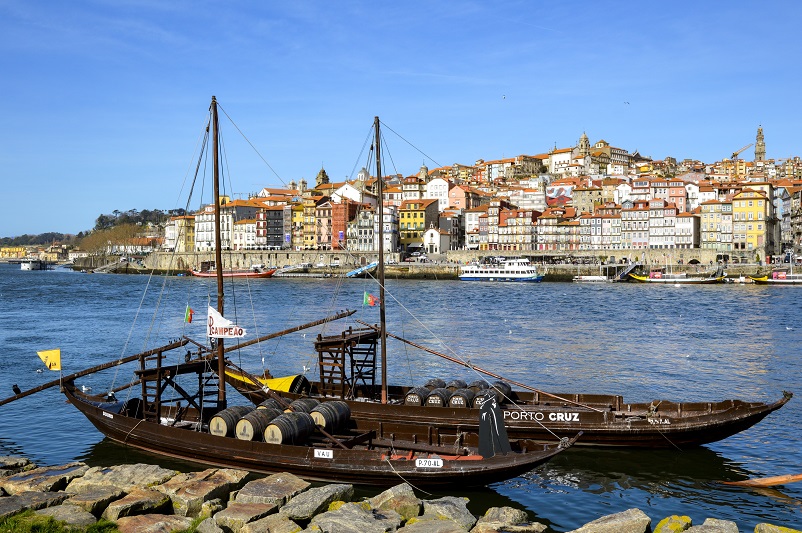 We visited Porto in February and were graced with blue skies and only a touch of rain. Even then the city seemed a bit crowded to us, but we know it was significantly less busy than during high season.
Porto is one of the most beautiful cities we've visited. If you want to escape the often grey skies of winter, you couldn't pick a better destination. Of course there are specific sights to see, but the biggest draw are the colorful buildings all around you. If you're a lover of city wandering and taking pictures, Porto is the place for you.
Our Porto food and drink picks
Getting into and around Porto
It's easy to get to the Porto city center from the Porto Airport via Metro or bus. We took the Metro since it went to a station a few minutes from where we were staying. You likely won't need to use public transportation to get around Porto's relatively small city center, but be prepared to climb some hills. A nice way to get up one of the biggest hills is the Funicular dos Guindais. It goes up from the Ribeira to Batalha, with incredible views along the way. At time of publication, a one-way ticket costs 2.50 EUR.
Where to stay in Porto
We stayed in an apartment in Porto, right on Rua de Flores, which was a great location. Two good hotel options are:
Athens city break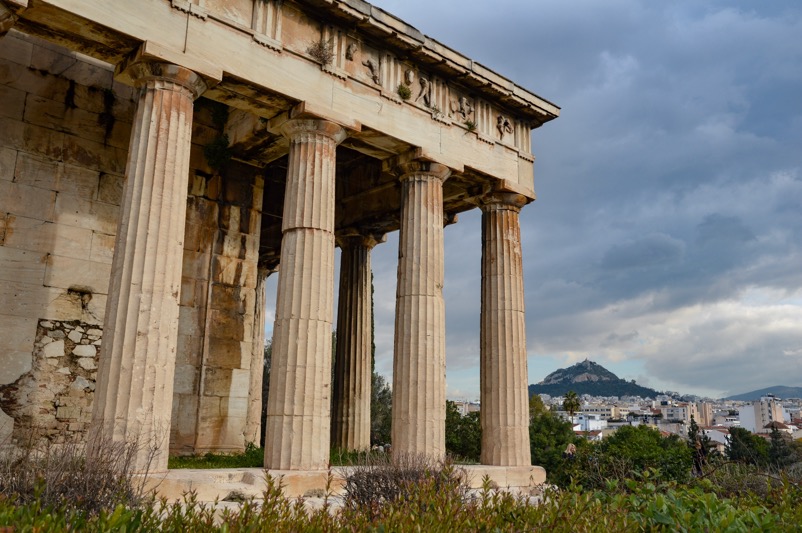 Greece is more typically a summer holiday destination, but the high temperatures and huge crowds are intimidating. So we went to Athens in January and couldn't have been happier. The city was still bustling, but of course quieter than it would be during high season.
If you love archaeology and history then Athens is the city for you. The Acropolis is of course the big draw, but there are so many other ruins strewn throughout the city and museums to visit. Winter is the perfect time to explore since you won't get too hot and won't be too bothered by other tourists.
Our Athens restaurant picks
Getting into and around Athens
You can take the Metro into the city center from the airport. It isn't the most efficient (we had to wait quite a bit for a delayed train), but it'll save you some money. The Metro is good to get around on in the city itself but the main center of the city is small enough to cover on foot.
Where to stay in Athens
We stayed in an apartment in the Koukaki neighborhood. It made a great base, but we saw a ton of signs protesting Airbnb papering the streets of the neighborhood. So next time we would stay in one of the city's many hotels.
<< Search for hotels in Athens now >>
Madrid city break
Madrid is great anytime of year so why not have more of it to yourself and visit in winter. In Madrid, you'll find world-class museums and interesting attractions, but for us it's all about the food. Whether it's at the city's numerous markets or plethora of tapas bars, Madrid is a city to enjoy good food and plenty of it.
Our Madrid food picks
Getting into and around Madrid
We love using the Metro to get around Madrid. And you can take it to get into the city from the airport in less than an hour. Passes are available if you're spending a few days.
Where to stay in Madrid
If it's your first trip to Madrid, we'd recommend staying pretty central. That's what we did and it was nice to be able to get to all the main attractions on foot.
<< Search hotels in Madrid now >>
Wroclaw city break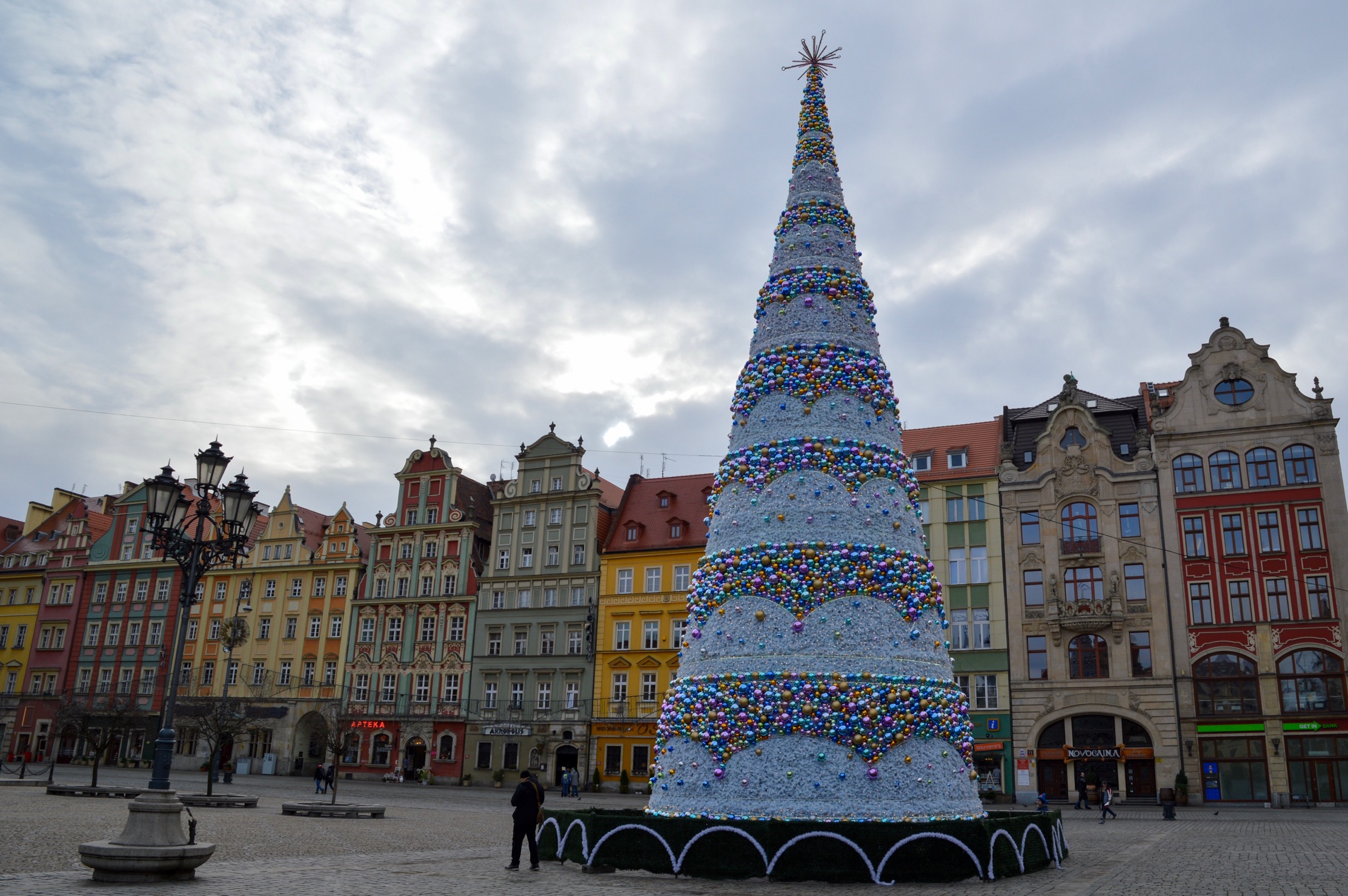 We visited Wroclaw in January. It was cold, but the beauty of the city and the heartiness of the food kept us warm. Wroclaw is the perfect place for outdoor sightseeing. It has one of the most beautiful main squares in Europe with striking, brightly colored buildings. The city is also home to reportedly over 400 tiny sculptures of these enchanting creatures. You could spend your entire time in Wroclaw hunting for them.
Our Wroclaw food and drink picks
Getting into and around Wroclaw
The bus from Wroclaw Airport to the city center takes about 45 minutes. If you are staying a little outside the center (as we did) we recommend buying a pass for your stay (eg, 24, 48, or 72 hours). These passes are valid on the airport bus as well.
If you want to extend your trip, you can also take the bus from Wroclaw to Prague in about 4 1/2 hours.
Where to stay in Wroclaw
The most affordable hotels in Wroclaw are a tiny bit outside the tourist center. We stayed at an Ibis, which was about a 20-minute walk or a 7 minute tram ride to the main square. It was perfectly fine. It's connected to the slightly more upscale Novotel. It felt a little odd to us to pay more to stay in the same building, though. Both are part of the Accor Hotel chain.
Prague city break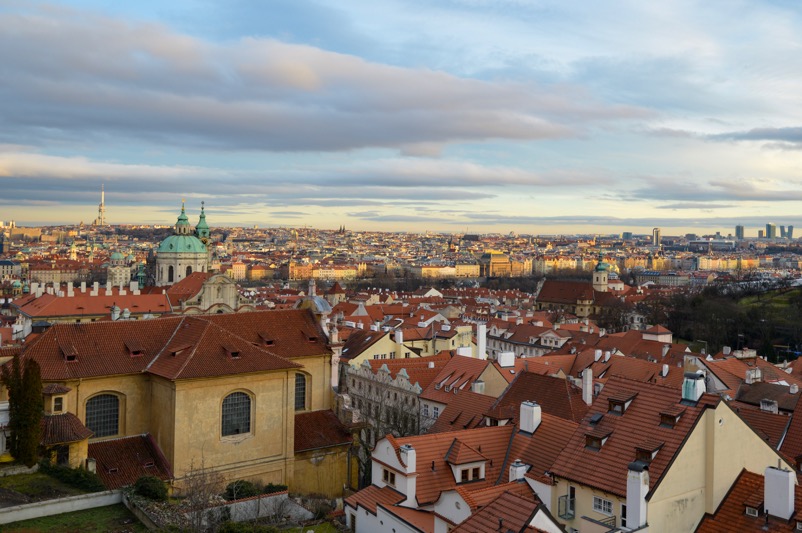 Prague is one of our favorite cities in Europe. But it's way too crowded with tourists these days. We're not sure that will ever change, so we'll stick to only visiting during the most off-season time possible: the dead of winter.
The city looks gorgeous in winter light, with the red roofs bringing brightness to any view. The castle is remarkable, Charles Bridge is a must-see, and so is the old town. But once you hit the major sights, it's worth getting lost exploring the neighborhoods a bit further afield. And of course partaking in a crisp, always delicious Czech beer.
Our Prague restaurant picks
Getting into and around Prague
Take a bus to a Metro to get from the Prague Airport to the city center. It'll take you about an hour. Once in the city, you'll have to rely on public transportation if you want to travel much beyond the old town (which, you should). You can buy tickets from machines in Metro stations or outside tram and bus stops.
Where to stay in Prague
Prague is a popular place, so it might be tricky to find good, reasonably priced accommodations. Book early no matter when you're going. We recommend two hotels:
Bergamo city break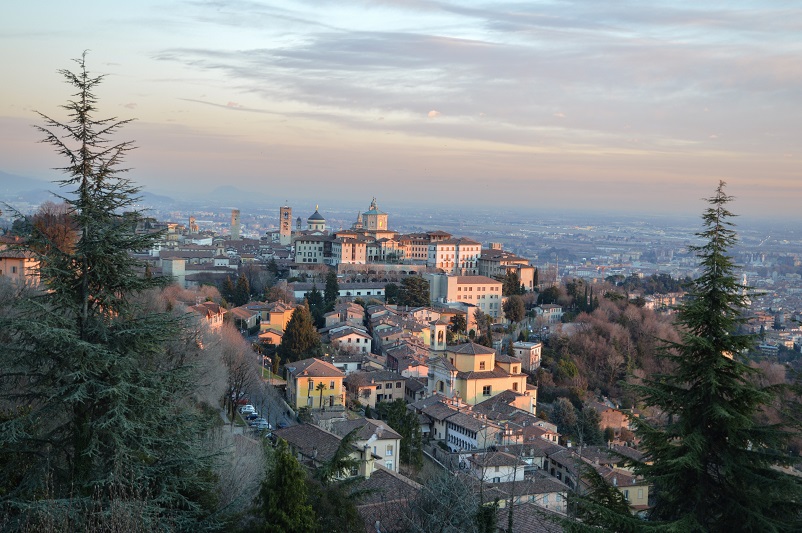 As has often been the case these past two years, we decided to go to Bergamo because we saw a cheap flight. So we didn't have really any expectations at all for the place. But it blew us away. It was stunning, and looked and felt different from other places in Italy we'd visited. Seeing Bergamo's Città Alta at sunset was one of the most magical sights we've seen. And of course you're surrounded by the tastiest food. So we loved it and would gladly return.
Our Bergamo food and drink tips
Getting into and around Bergamo
Bergamo has its own airport, from which the city is only about 20 minutes. It's also about an hour from Milan. Buy a 72-hour transport pass when you get to the Bergamo Airport. It covers the bus trip to and from the airport and all transportation in the city. That includes both funiculars, making it an incredibly good deal and super convenient.
Where to stay in Bergamo
You'll see a recurring theme in this post, we've become frequent Accor Hotels customers. We stayed at the Mercure Bergamo Palazzo Dolci in Città Bassa. We thought the location was convenient (it's right across from a bus stop) and breakfast was tasty and filling.
What's your favorite winter city break? Tell us in the comments!
Like this post? Pin it!