Last Updated on 6th June 2019 by Sarah and Justin
We are beer drinkers and beer lovers. And one of our favorite things to do while traveling is to try local beer. We had read that the craft beer scene in Wroclaw, Poland is top notch, so we were especially excited to visit the city. We were not disappointed. Polish craft beer is very good and Wroclaw definitely seemed like a hotbed of the scene. After extensive research (oh what sacrifices we make for the blog!), we're happy to provide four recommendations for Wroclaw bars where you can drink craft beer.
Visiting Wroclaw for craft beer
We're not sure whether it's sheepishly or pridefully that we tell you that half the idea to visit Wroclaw came from an in-flight magazine. Wizz Air has to hype up the randomish places they go, and on our flight to Sofia, Bulgaria, we read a feature on craft beer in Wroclaw. We heartily enjoyed tasting beer in Poland last summer in Kraków and Warsaw, but a refresher didn't hurt.
Bordering perhaps the two "biggest" beer countries on the planet, but unencumbered by the pesky Reinheitsgebot (Germany) or 400+ years of tradition (the Czech Republic), Poland can safely be called a top beer destination. The low level, mass-produced stuff is still swill, but the ceiling for the smaller brewed stuff is super high. If you like tasting local craft beer on your travels, you couldn't do much better than doing so in Wroclaw.
Four Wroclaw bars where you can try Polish craft beer
In addition to descriptions of these craft beer bars in Wroclaw, we've also included the names of the Polish craft beer we drank. As you'll see, Poland has quite a lot of craft breweries and they offer a large selection of styles of beer. While in Wroclaw, we sampled very good examples of diverse styles: imperial wheat, imperial porter, saison, and of course the unstoppable IPA.
Kontynuacja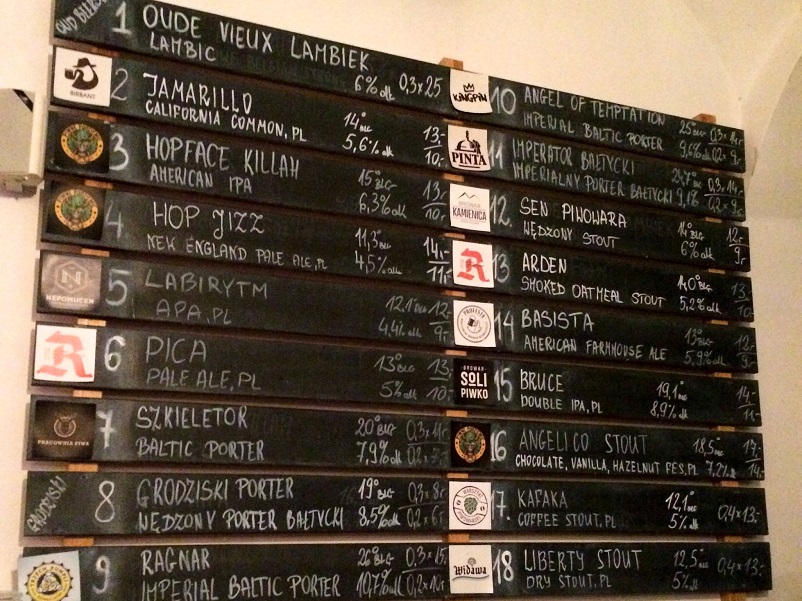 In our humble opinion, Kontynuacja is the best bar in Wroclaw for craft beer. It's a very small, super cool spot. Though it's on the street behind the main square in the Wroclaw Old Town, it seemed like it was full of locals. It gets very busy, so get there early. We did and snagged two seats at the bar for some pre-dinner drinks. Their tap list was incredible, and it changed midway through our time there to be all stouts and porters (we were sad we hadn't eaten yet and had to leave, but we hadn't eaten yet so we had to leave). The bartenders were friendly and let us taste everything before ordering. They also had free tap water which was key.
What we drank at Kontynuacja:
Arden (smoked oatmeal stout) – Roch (Nowe Rochowice)
Basista (American farmhouse ale) – Profesja (Wroclaw)
Angelico Stout (chocolate, vanilla, hazelnut stout) – Piwne Podziemie (Rożdżałów)
Sen Piwowara (stout) – Kamienica (Stronie Slaskie)
Where to find Kontynuacja: Ofiar Oświęcimskich 17, 50-069 Wrocław, Poland
Marynka Beer Aperitivo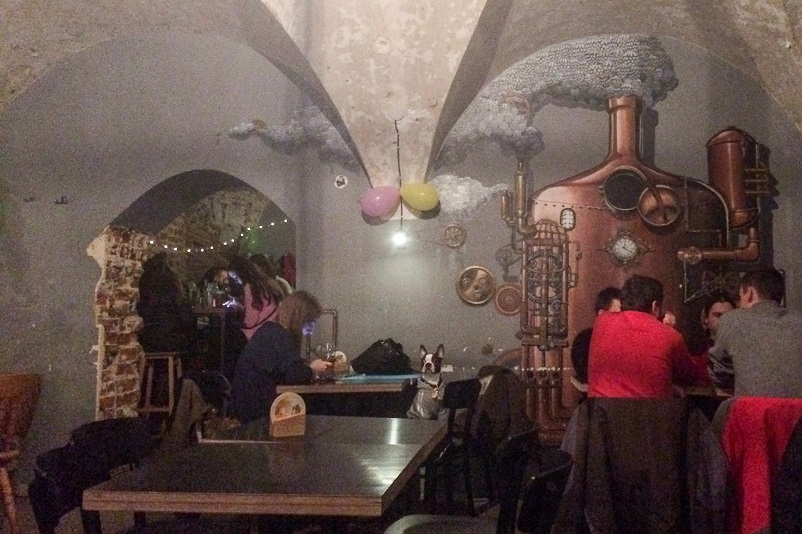 Marynka Beer Aperitivo is just a couple blocks outside the Wroclaw old town. It's a casual, eclectically decorated spot. When you enter you are met with a large bar with quite a few taps. To your right, there are two medium-sized rooms with a hodgepodge of tables and chairs. And (as you can see from this pic) dogs are welcome! We tasted a range of styles and they had many more on offer. Another noteworthy highlight of Marynka was the pizza truck in the back. We went our first evening in Wroclaw when we were tired from travel and wanted good beer and quick (but good) food. We weren't disappointed.
What we drank at Marynka Beer Aperitivo:
Kawko I Mlekosz (chocolate, vanilla stout) – Piwowarownia (Kraków)
Apollo 17 (double cherry sour) – Twigg (Kraków)
Parritapa (coffee APA) – Pinta (Zywiec)
Where to find Marynka Beer Aperitivo: Kazimierza Wielkiego 39, 11-400 Wrocław, Poland
Targowa Craft Beer and Food
Targowa Craft Beer and Food is a big bar and restaurant. It's in the same building as the Wroclaw food market, Hala Targowa. They have a large selection of Polish beers and quite tasty food as well. We went twice, once for afternoon beers and once for a late dinner (and more beers).
What we drank at Targowa Craft Beer and Food:
Przekupka (imperial witbier) – Targowa (Wroclaw)
Sweet Sixteen (milk stout) – Browar Maryensztadt (Zwolen)
Mike Saison (black saison) – Hopium (Nowy Drzewicz)
Labirytm (American pale ale) – Nepomucen (Jutrosin)
The Fighter (imperial pale ale) – Brokreacja (Kraków)
Where to find Targowa Craft Beer and Food: Kazimierza Wielkiego 39, 11-400 Wrocław, Poland
Browar Stu Mostów
Browar Stu Mostów is a very trendy and popular brewery in Wroclaw. It's located outside the center of the city, but was relatively easy to get to by tram. The building is cool – and you can see into the brewery – but the space where you eat and drink is really, really small. We made a reservation expecting to eat dinner, but were seated on steps with the tiniest table you could ever imagine. So we just got an appetizer (which, full disclosure, was possibly the best hot pretzel we've ever eaten) and two beers and then jetted. They mostly had IPAs on tap, and we're not the biggest IPA fans.
What we drank at Browar Stu Mostów:
SALAMANDER (black IPA) – Stu Mostów (Wroclaw)
Where to find Browar Stu Mostów: Jana Długosza 2, 51-162 Wrocław, Poland (from the Old Town, tke tram 6, 11, or 23 to the Mosty Warszawskie stop and from there it's a 10-minute walk)
Ready to head to Wroclaw? Here are two more posts to help you plan your visit:
Like this post? Pin it!