Cologne (Köln) is one of our favorite cities in Europe. We came here on our honeymoon so it feels romantic and nostalgic. It has a lot of Christmas Markets, which we LOVE! And there's a pretty large LAM community in and around the city. So, when we decided to hang out in Germany in December, it all added up to us spending most of that time in Cologne (sorry, Düsseldorf).
Cologne's Christmas Markets
There are seven Christmas Markets in Cologne. And since the city is relatively small and easy to get around (on foot or by U-Bahn), it's easy to see all of them! We spent two weeks in the city and went to a Christmas Market at least every other day. They're hard to avoid… and why would you want to? Christmas Markets are the embodiment of joy during the holiday season. Even though on the surface they may appear a bit touristy, they are a hugely local thing. Everyone is just happy to be there enjoying good food and good Glühwein and each other's company. We really fell in love with Christmas Markets on our honeymoon and think Cologne has some of the best around.
Christmas Market am Dom
The most impressive Christmas Market in Cologne is definitely the one under the Dom, one of the largest churches in the world (taller than the one in Utrecht). The Dom is a gorgeous, ornate building, and it looks even more beautiful when it's towering over a Christmas tree and festive Christmas Market huts.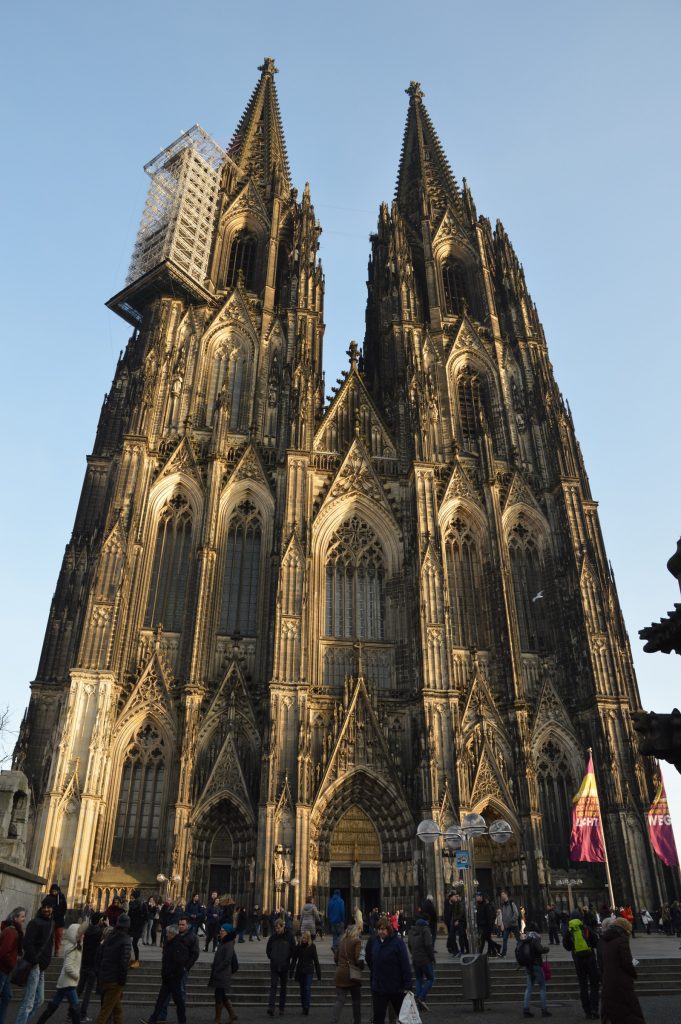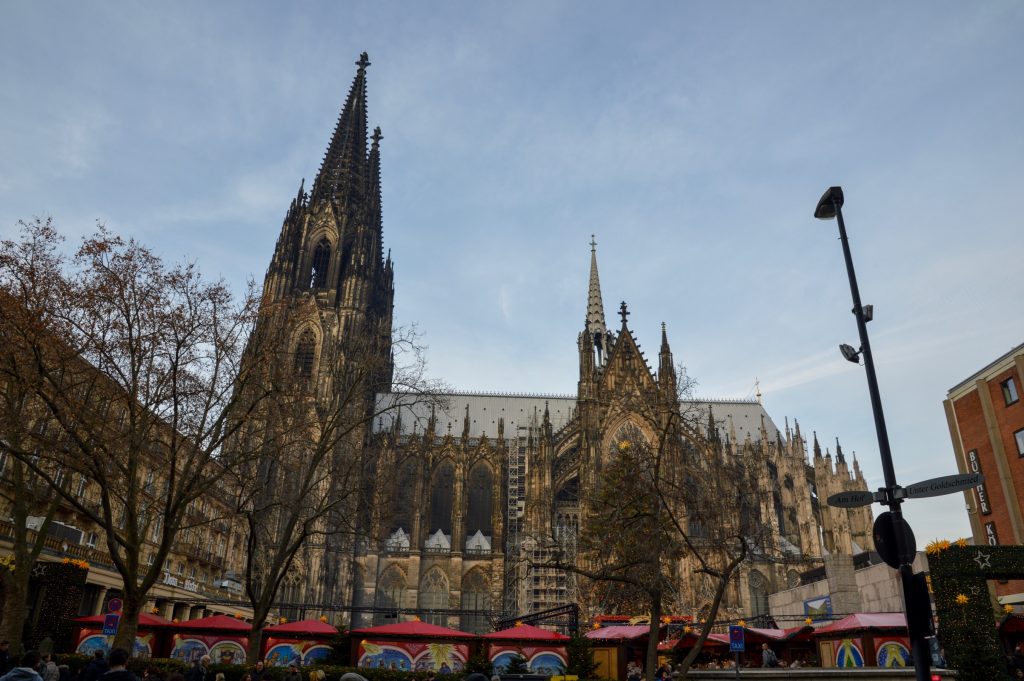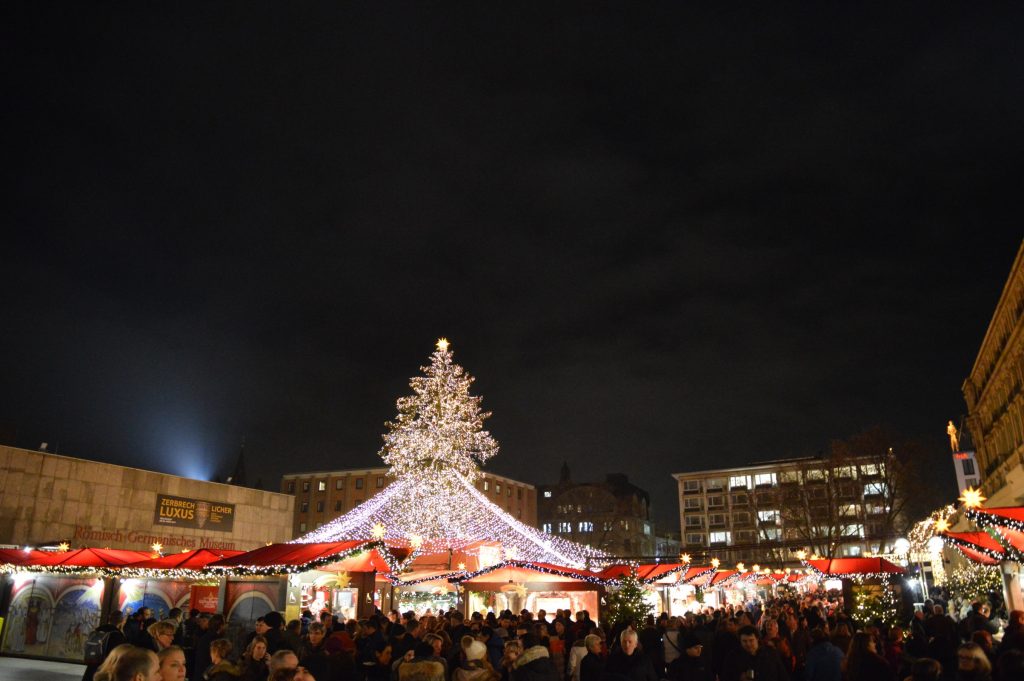 One can also climb to the top of the Dom. We did this on our honeymoon before Sarah was diagnosed with LAM (and climbing 533 steps would be difficult for her with or without a lung disease!). We are very glad we did it then – the views out the little windows on the way up and from the top are pretty cool.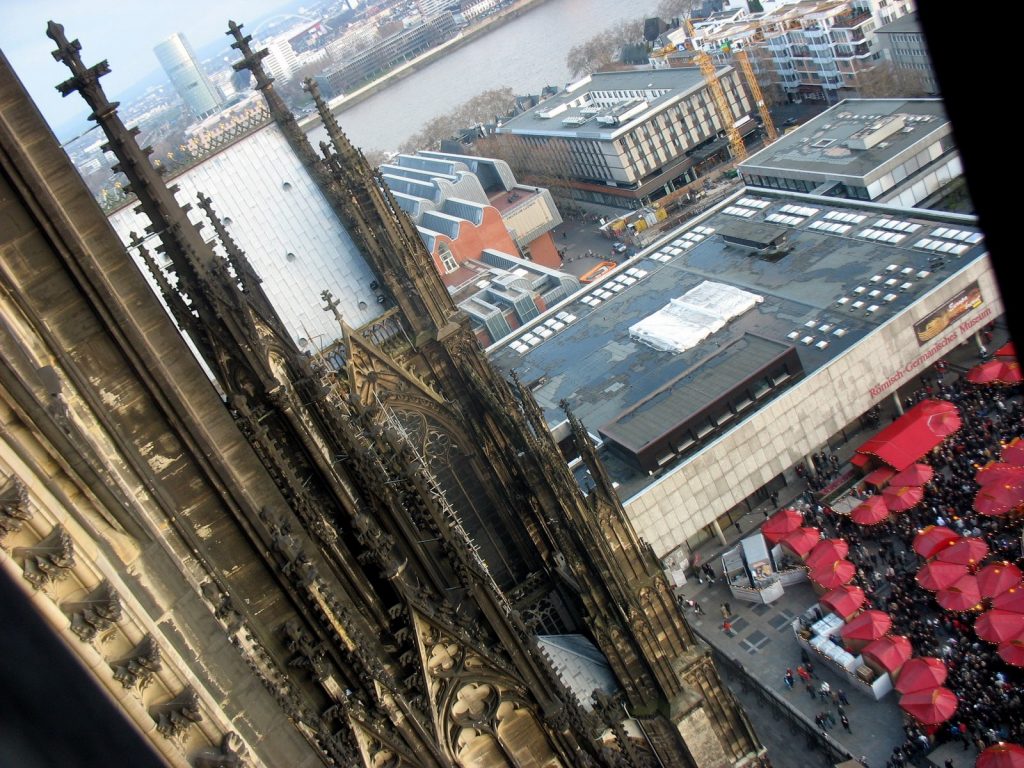 Christmas Market at Alter Markt (Heinzels Wintermärchen)
The Christmas Market at the Alter Markt (aka Heinzels Wintermärchen) is massive and actually seems like two markets in one. It starts a few minutes walk from the Dom, going through the Altstadt. It's lined with wooden statues of gnomes (Heinzelmännchen) and goes right behind the beautiful Rathaus (city hall).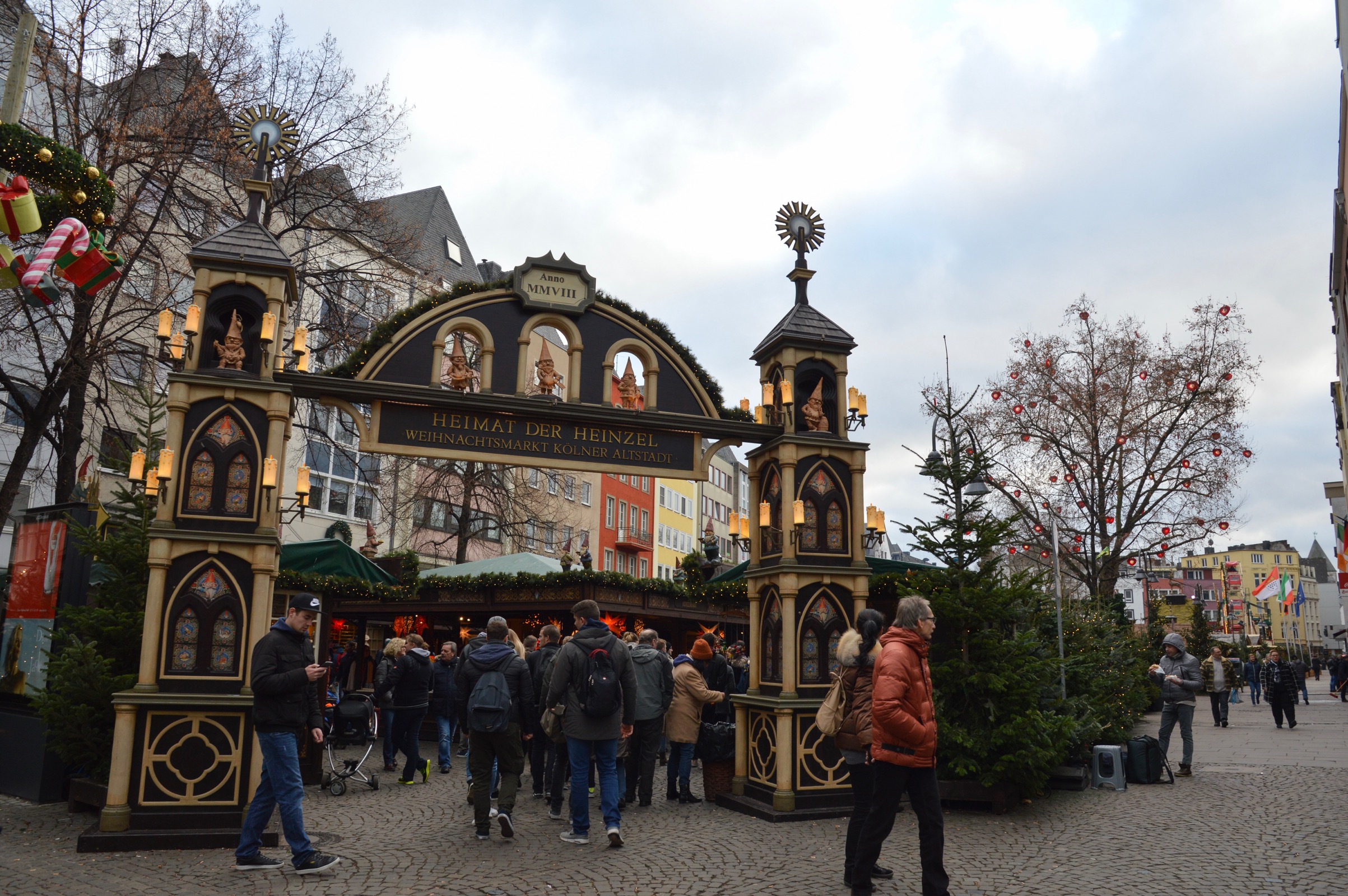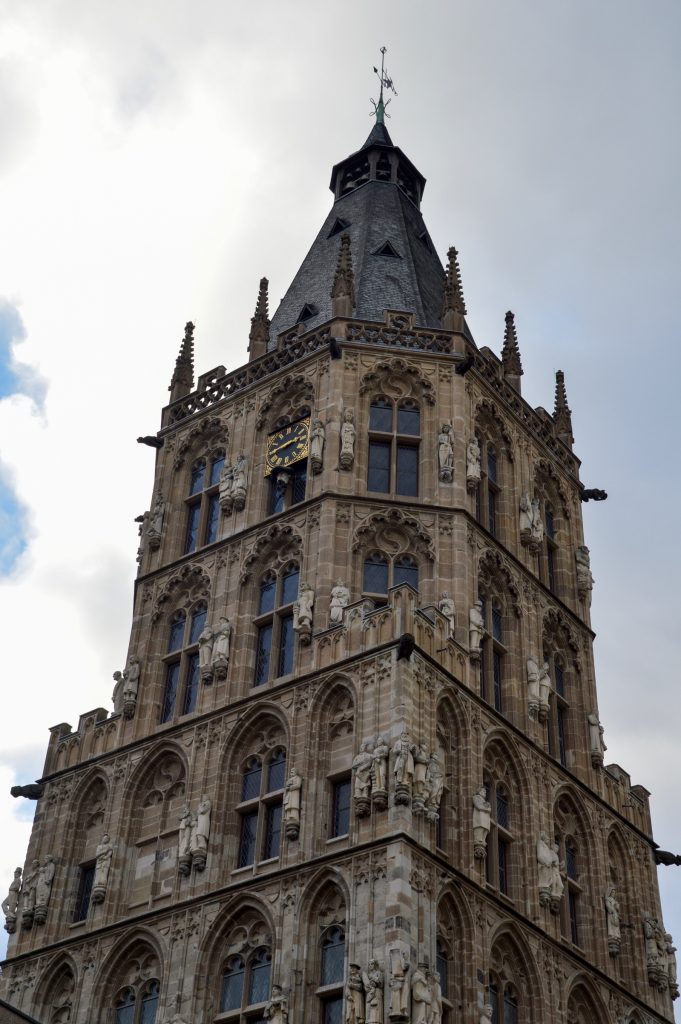 One of our favorite Christmas Market eats can be found here. Schupfnudeln is a dish made of hand-rolled potato noodles. It's typically served with sauerkraut and bacon, which is quite tasty. But one of the stalls in this Christmas Market has a version with arugula, pine nuts, sun dried tomatoes, parmesan cheese, and crème fraîche. It's absurdly decadent, but so delicious. And there's greens in there, so you can convince yourself it's not a complete lost cause.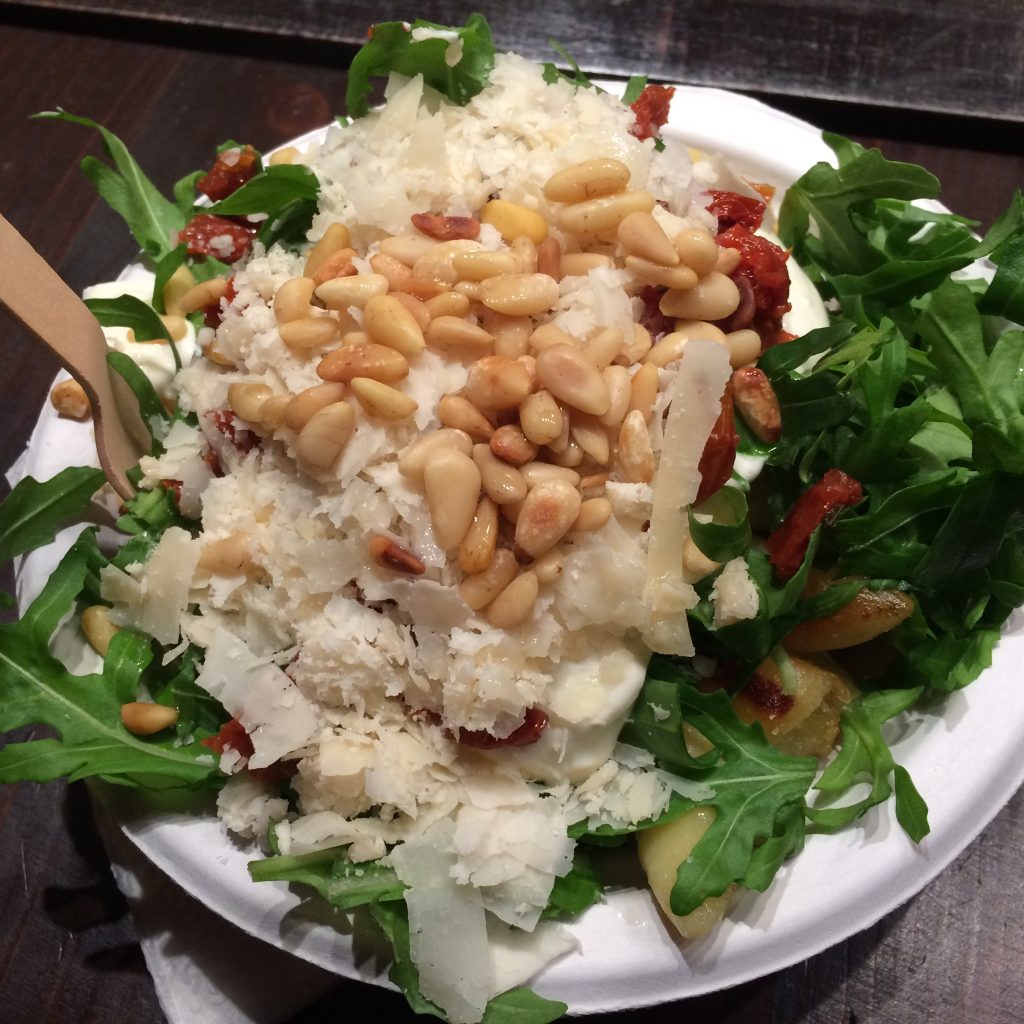 The large market continues through to Heumarkt. The highlights here are alpine huts (where better to drink Glühwein?) and a skating rink (pretty big one considering)!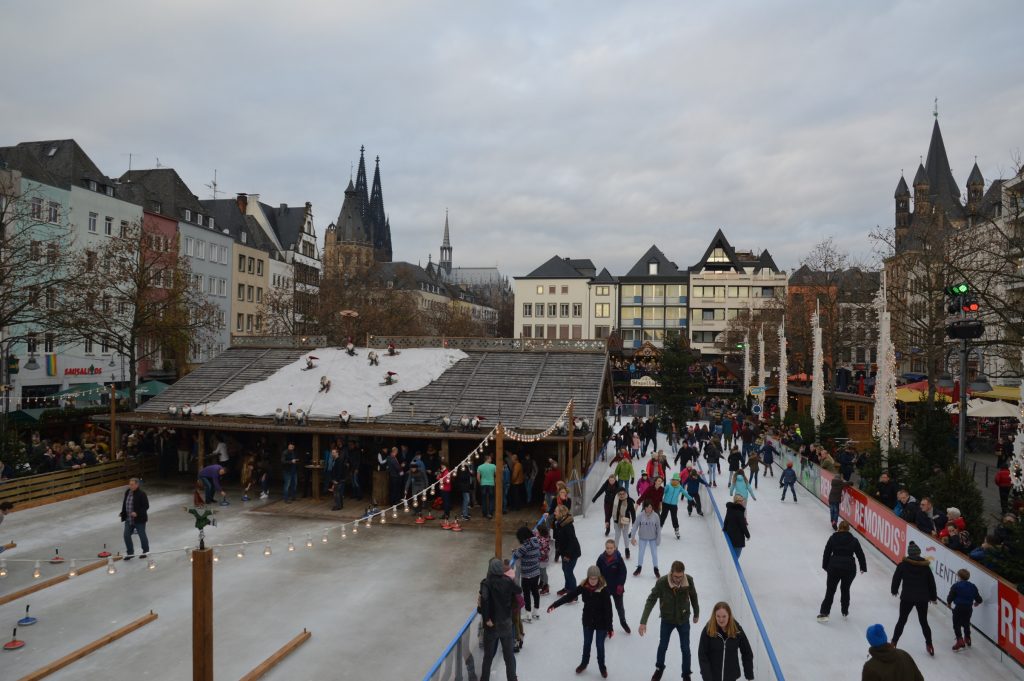 We had a really fun time skating in such a beautiful setting.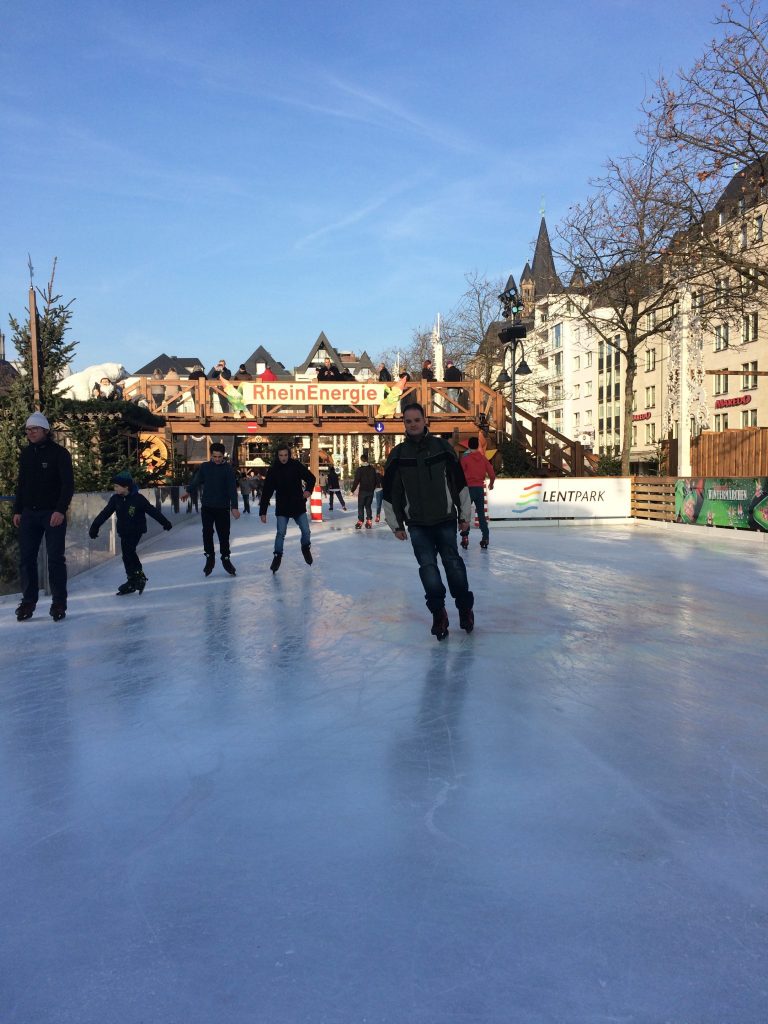 Although Sarah forgot Justin is an expert skater…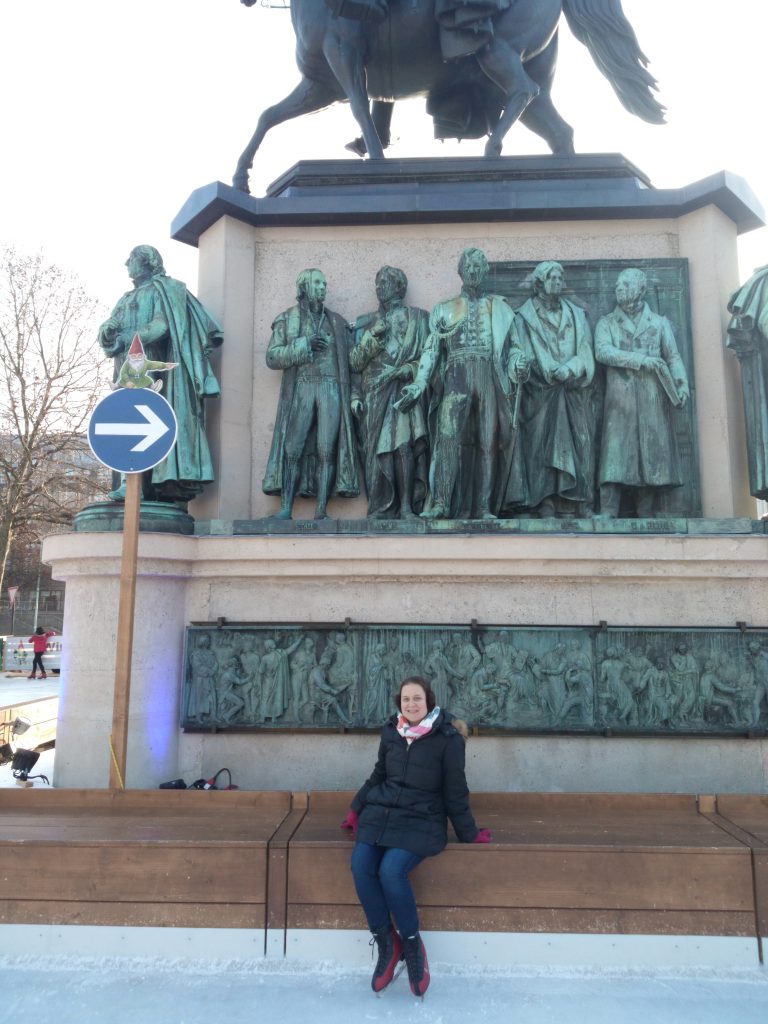 …and that skating requires exertion! But not to worry… there were plenty of benches on which to take a little breather.
Angels Market
Markt der Engel was our favorite Christmas Market the last time we visited Cologne. We were pleased when we learned it was pretty close to where we were staying this time. It's angel-themed (and there are two people dressed as angels who will dutifully sprinkle children with glitter and take pictures with them). There are twinkly lights everywhere and it's quite beautiful.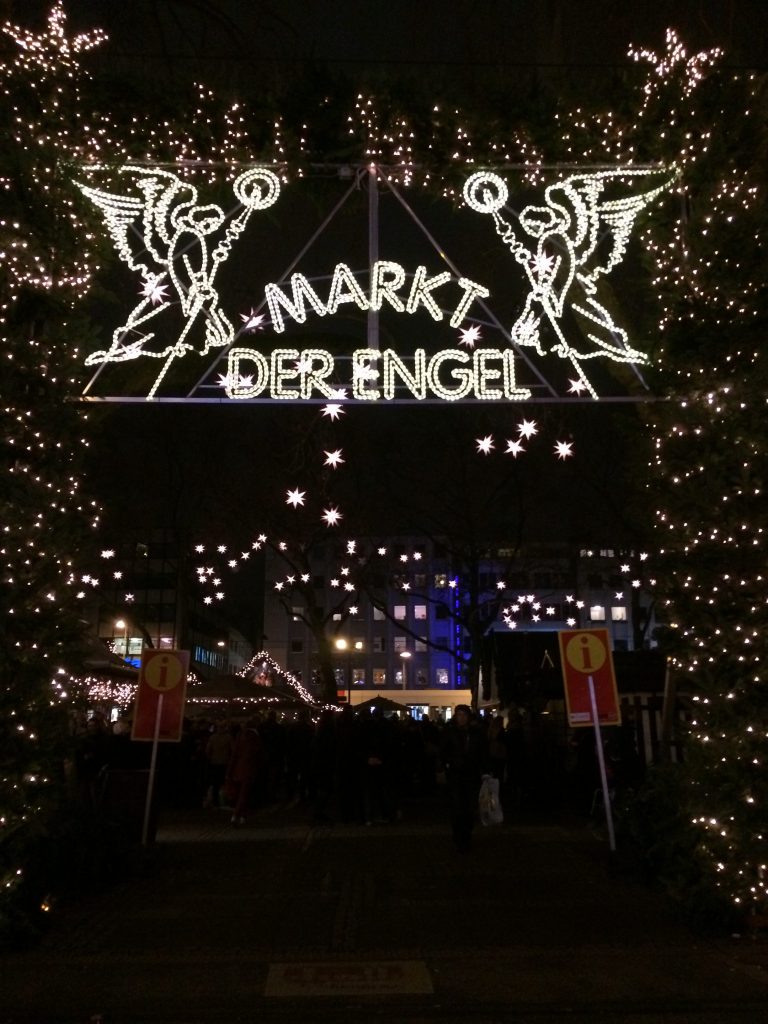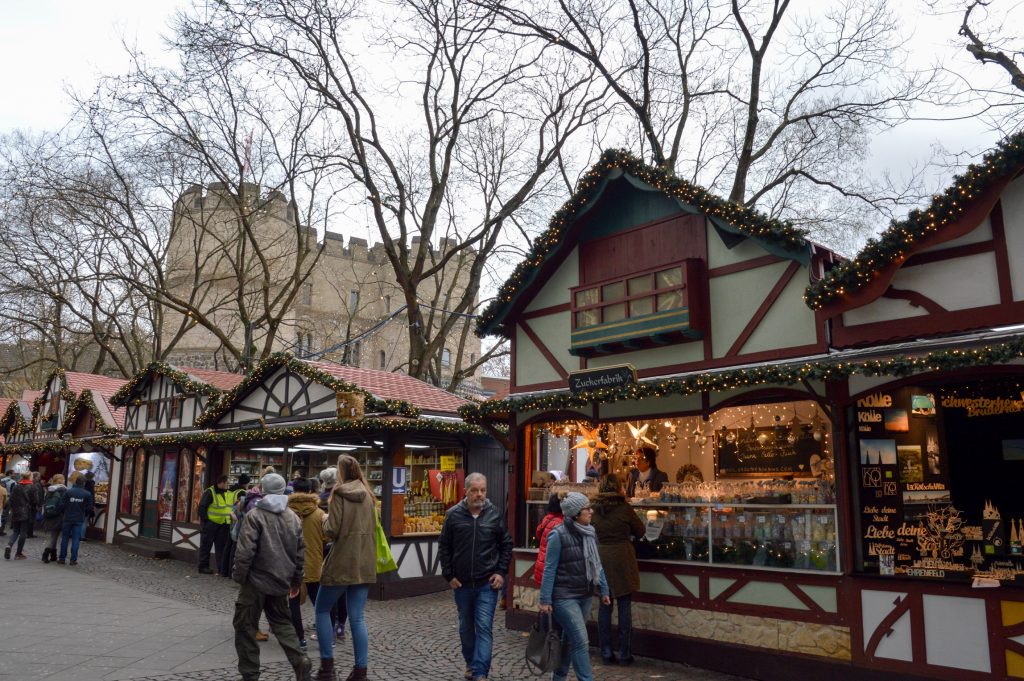 We also enjoyed a new Christmas Market treat – Prague ham sandwiches. We saw these stalls throughout all of the markets and the delicious spit-roasted meat didn't disappoint. And of course the side of kale made the whole meal super healthy! It's not like it had cream and Wurst in it or anything…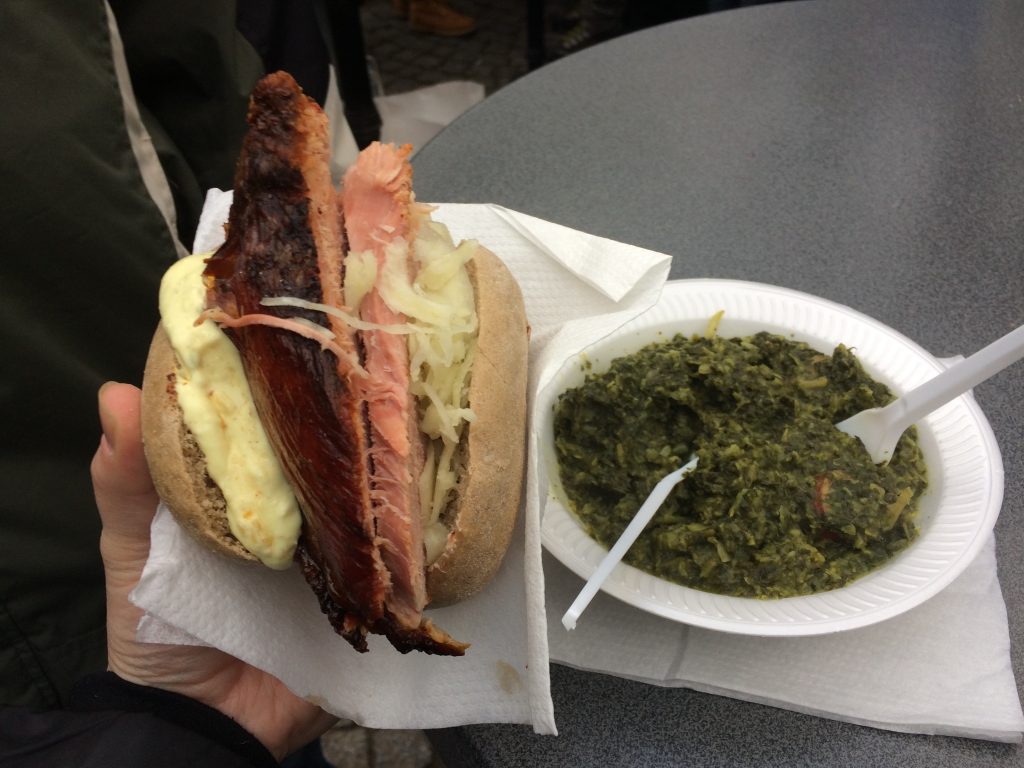 Christmas Market at Rudolfplatz
Our go-to Christmas Market this season was a couple blocks from where we were staying at Rudolfplatz. It's a much smaller market with fewer stalls but just as much delicious food, warming Glühwein, and super happy people. It's positioned under the Hahnentorburg (Hahnen Gate) which, originally built in the 13th century, was one of the 12 gates to the city in medieval times.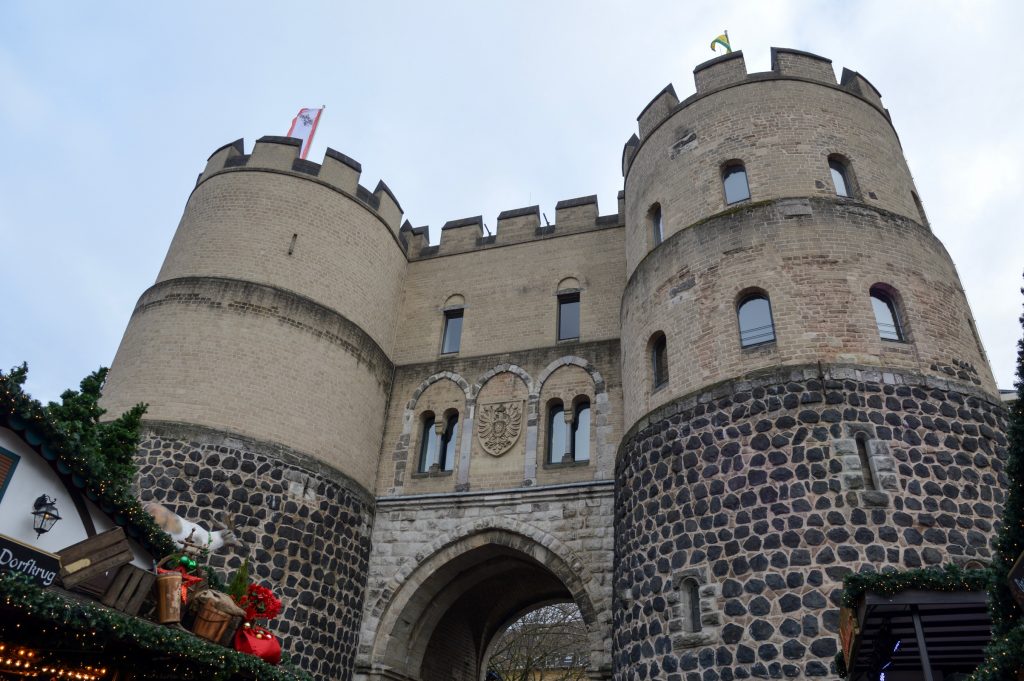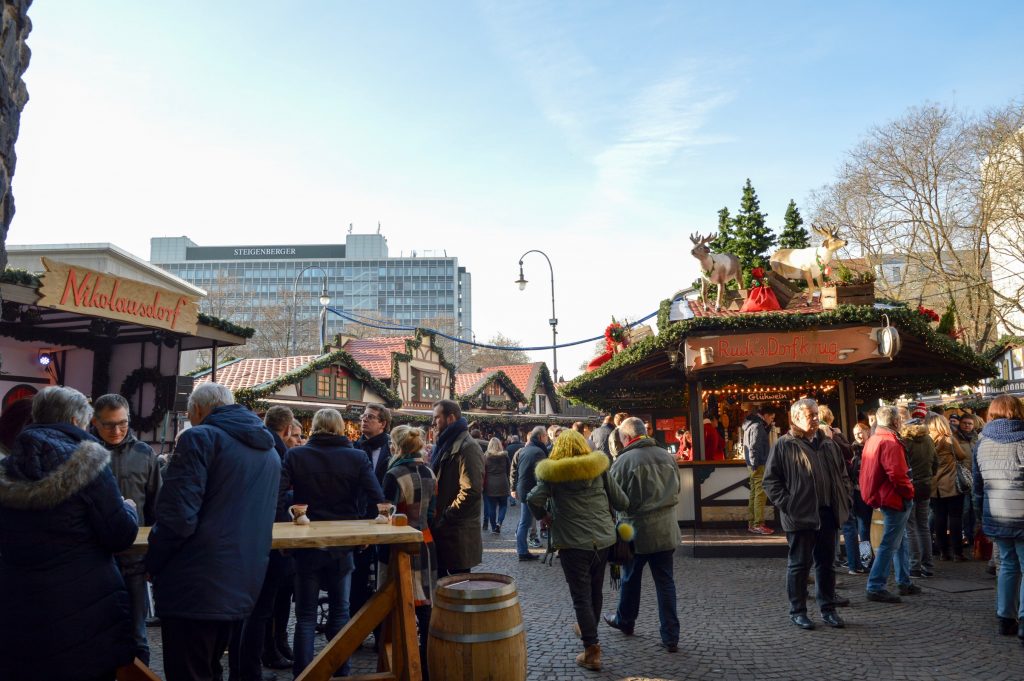 Sarah will also always love this market because she hung out with her LAM sisters here!


Christmas Avenue
A smaller Christmas Market in the same area as Rudolfplatz and the Angels Market was Christmas Avenue. It's billed as the gay and lesbian Christmas Market. All the stalls were wrapped in pink and purple metallic wrapping paper. It was open late and also had live music. (We were apparently having too much fun there to snap any good pictures!)
Stadtgarten
The Statdgarten Christmas Market seems a bit more upscale than the others. Its Glühwein is organic and costs 10 cents more than it did anywhere else. It's definitely they place to go for proper Christmas Market shopping, with a more unique offering of gifts and crafts. It's a little bit outside the center, but reachable by tram in just a few minutes.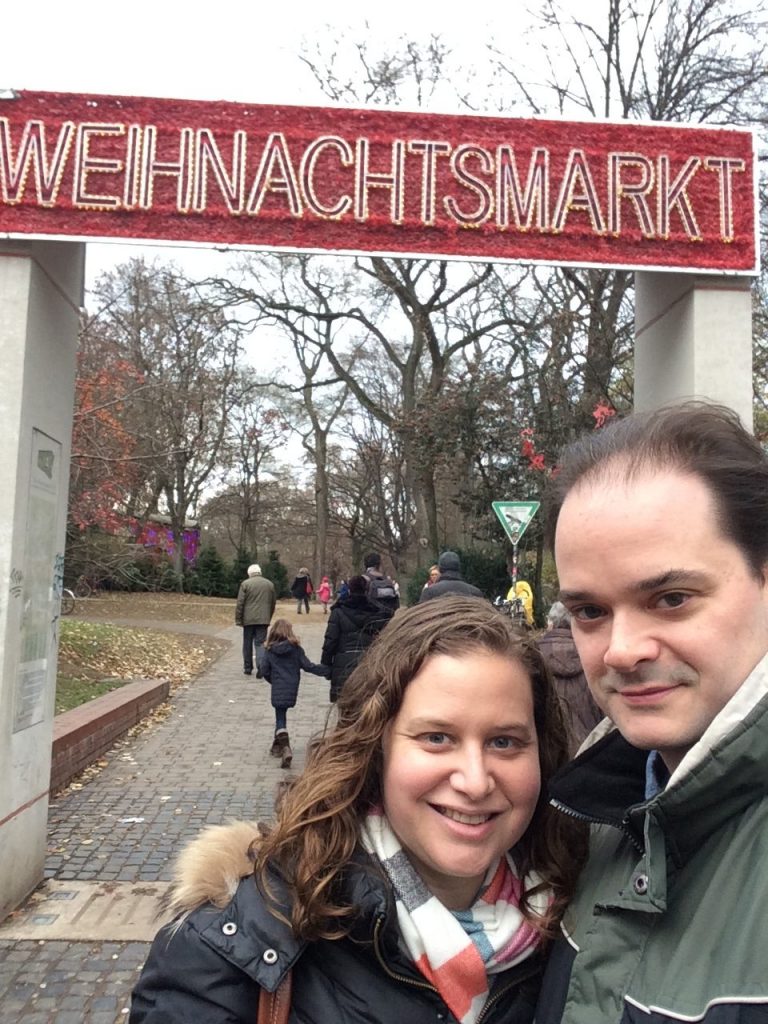 Harbour Christmas Market
The Harbour Christmas Market is located directly in front of the Chocolate Museum, which looks delicious (we've never actually gone in). It's in a beautiful setting at the harbour with views of Cologne all around you. It's maritime themed, which mainly means they sell more seafood and some of their huts are shaped like ships.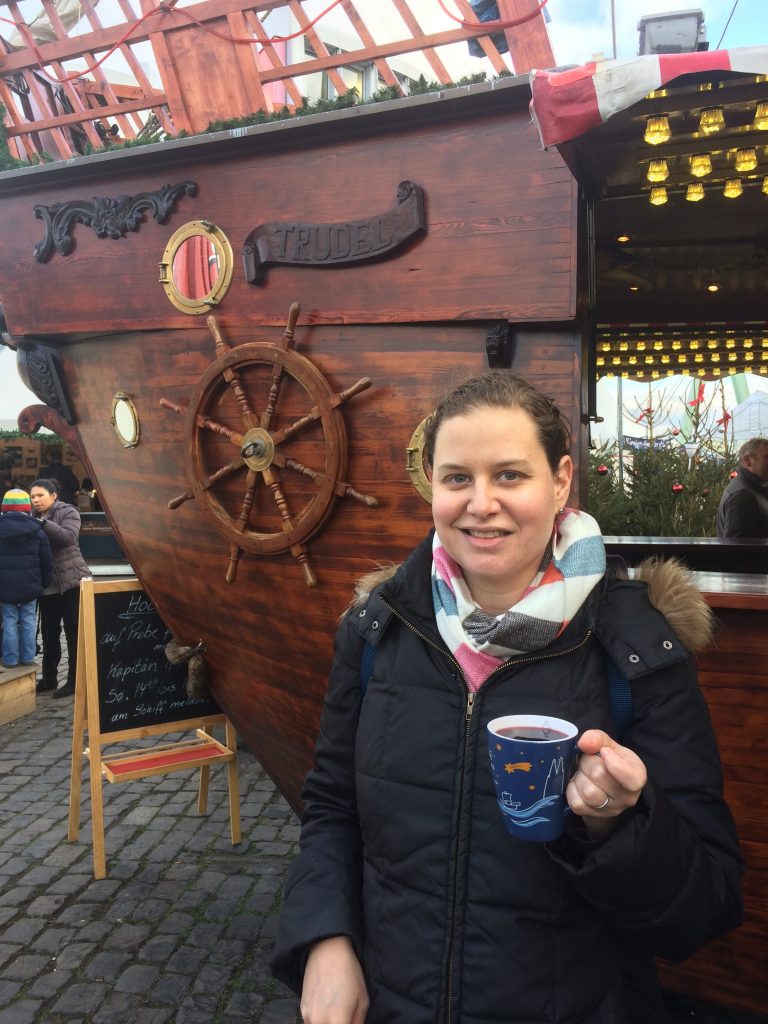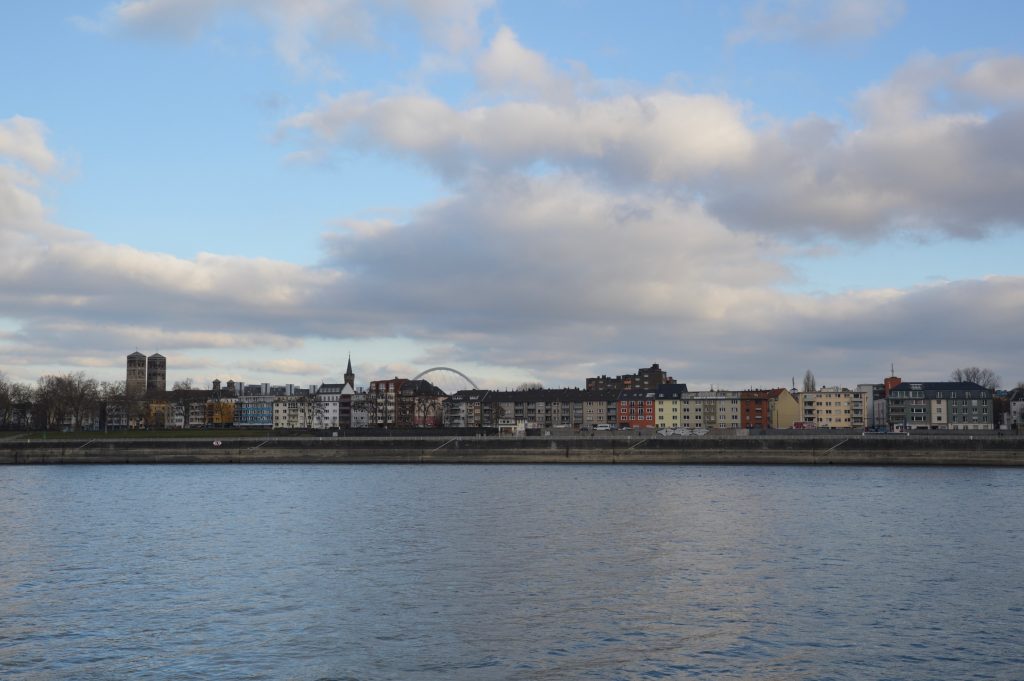 Christmas-Market-Express
If you only have one day to see Christmas Markets in Cologne (which would be a tragedy), you can hop on the Christmas-Market-Express, which drives visitors to four Christmas Markets.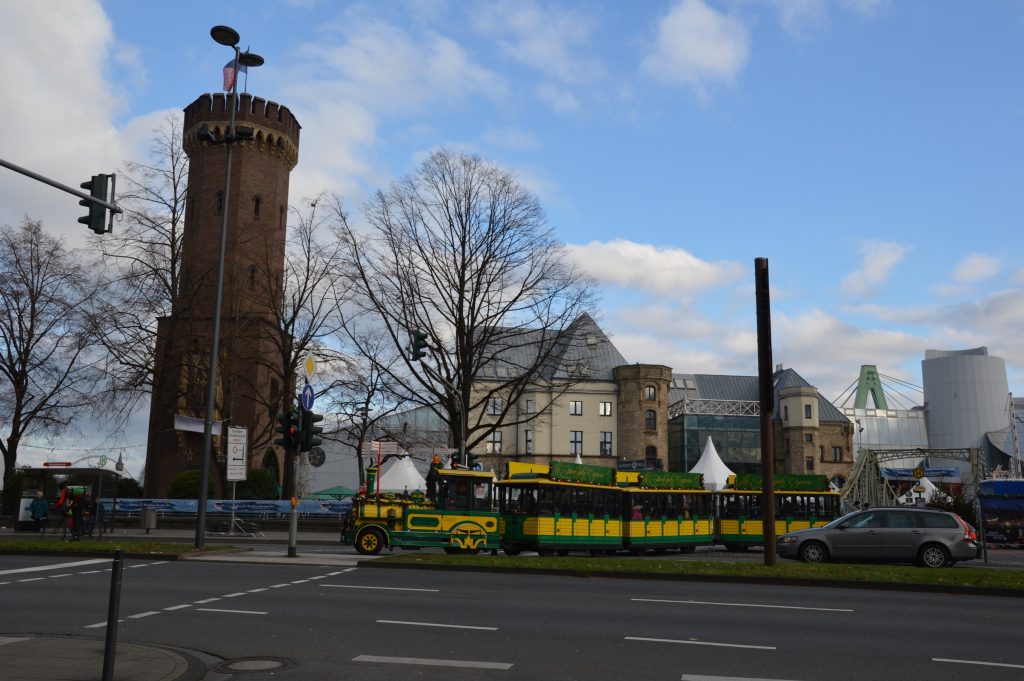 Bonus: Christmas Markets in Bonn
Bonn is a super quick train ride away from Cologne so we went for an afternoon to see even more Christmas Markets and explore the city. It's also where our friend Sina lives so we were keen to see it. There are a few Christmas Markets quite close together which made for easy wandering.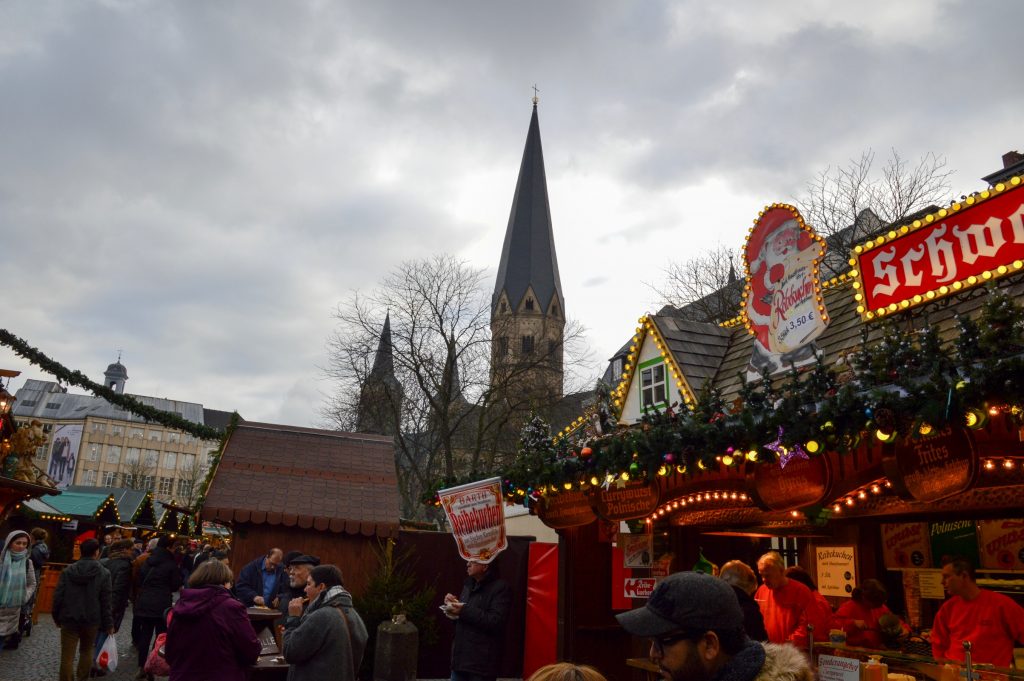 In addition to the Christmas Markets, we enjoyed a long walk down to the river and through a park.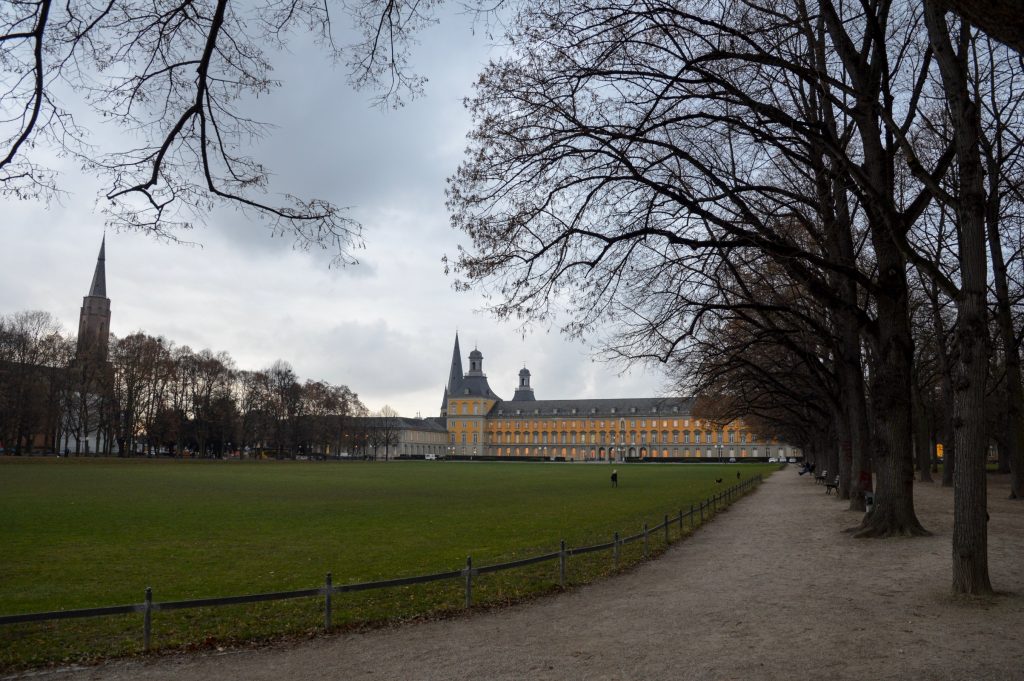 And then we stumbled onto the most incredible store…


Bonn truly is a magical place!
Other things to do in Cologne
If you tire of Christmas Markets (we guess it could happen), there are of course lots of other things to do in Cologne. We've already mentioned climbing the Dom and going to the Chocolate Museum.
Check out the Belgian Quarter (Belgisches Viertel)
A small neighborhood in the western part of the city, the Belgisches Viertel has a ton of cool little streets (all named after places in Belgium) with cute shops and a ton of cafes and restaurants. It's a great place to get lost for a late afternoon stroll turned night out.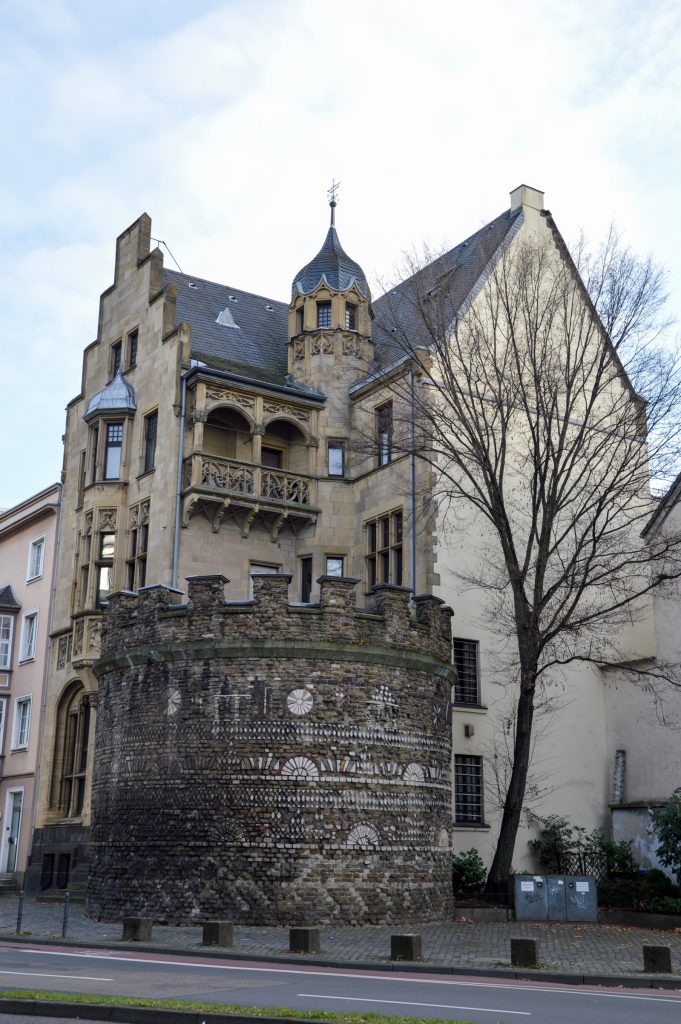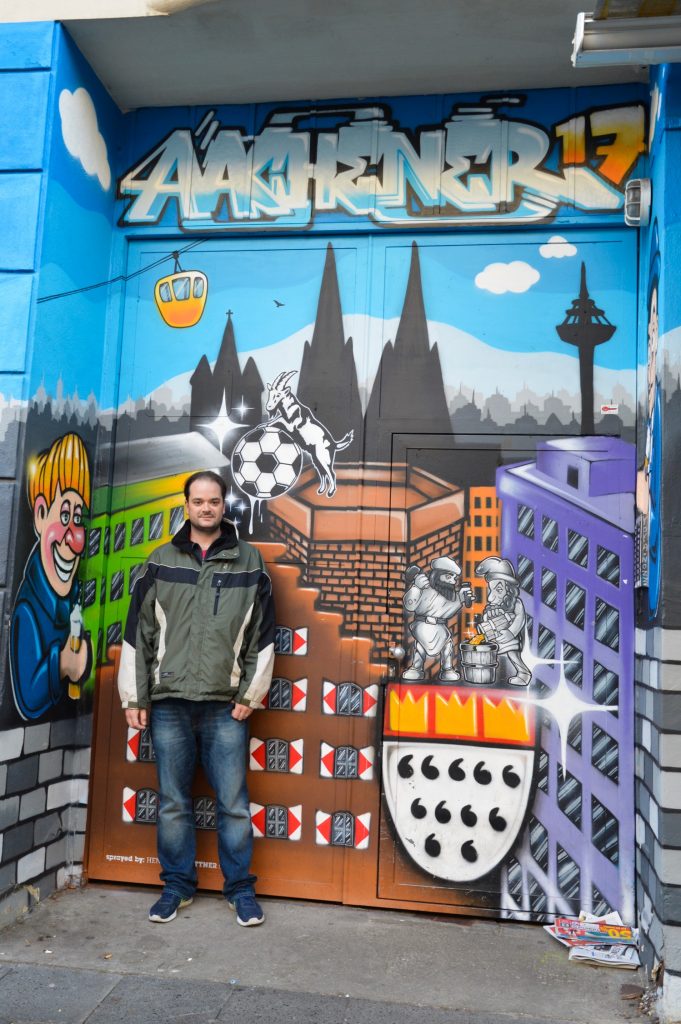 Go to the park
The Innerer Grüngürtel is a ring of parks around Cologne's center. It's a great place to exercise (it has a pretty cool equipment area) or take a stroll.


Walk around the Altstadt
The buildings in Cologne's Altstadt are cute and colorful like all European Old Towns should be.


Go to a hockey game
The Kölner Haie (Sharks!) are super fun to watch and the Laxness Arena where they play is right in the city and easy to get to. Their mascot (Sharky!) is also awesome.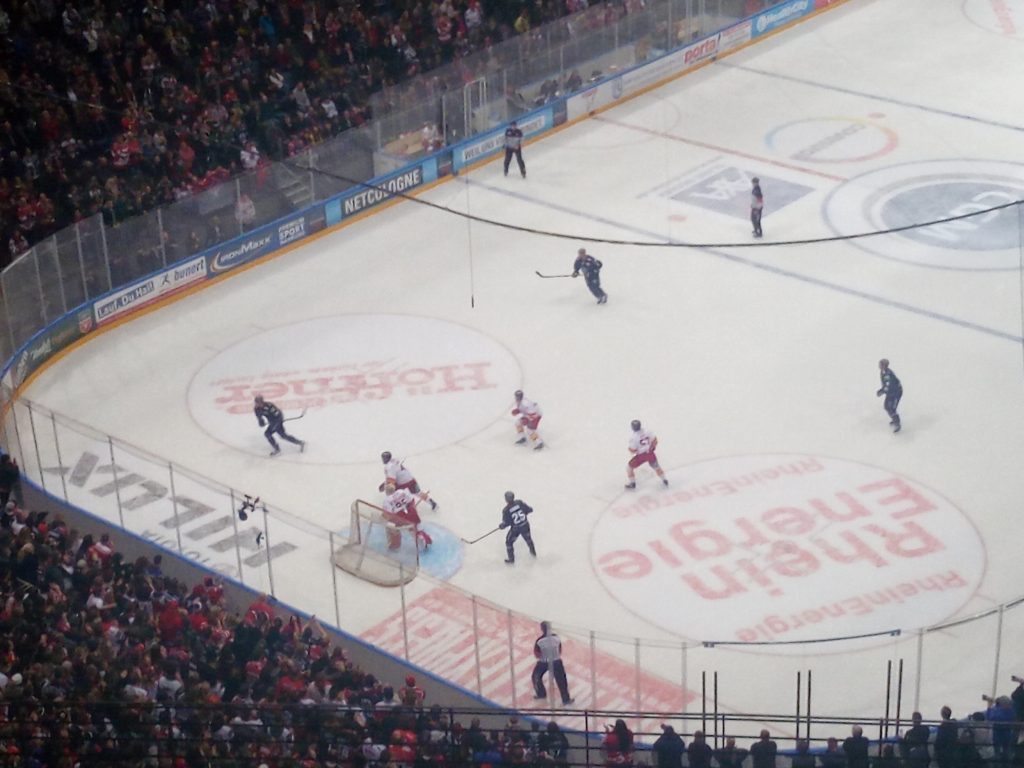 Thanks to our friend Chris (who visited us in Düsseldorf) for capturing Sharky the mascot mid-dance!
See art outdoors
We discovered a very cool sculpture garden (Skulpturenpark) in the northern part of Cologne (easily accessible by public transportation). It's also close to the Rhine, so a walk down the river is easy and nice after a visit.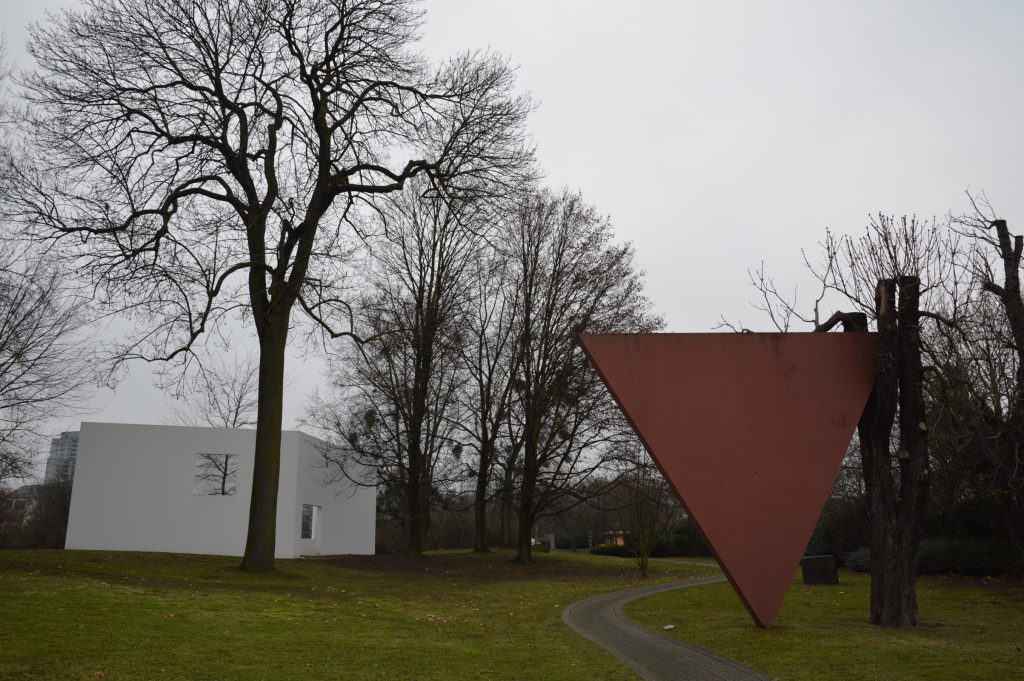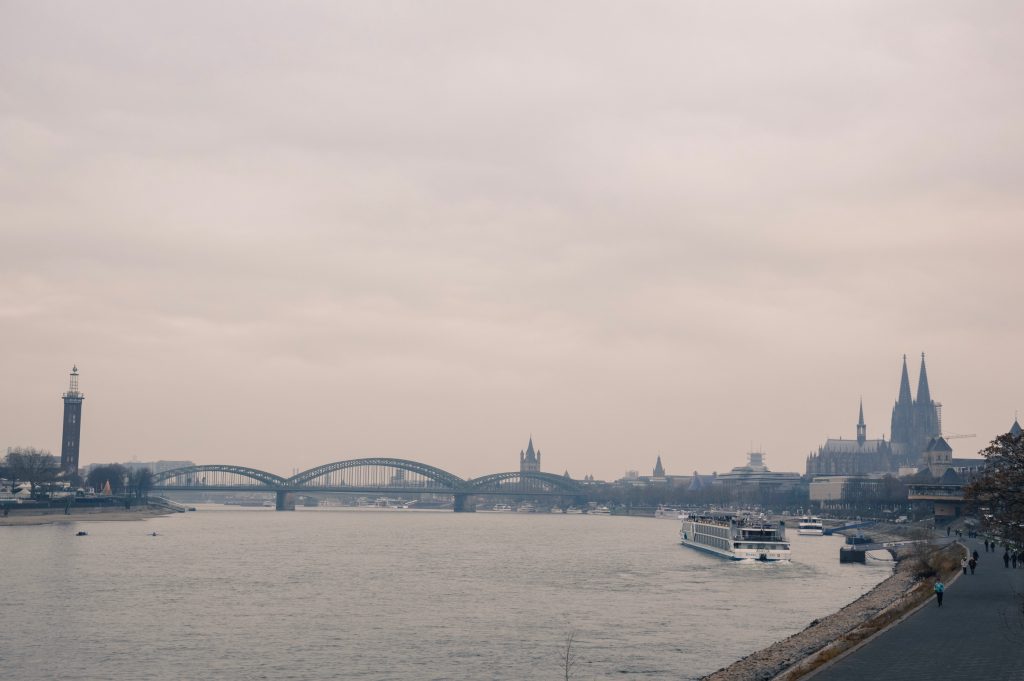 Go to a museum
We didn't visit a museum in Cologne one during this last visit, but have previously visited the Ludwig, the Römisch-Germanisches Museum, the city museum, and Kolumba and they're all super.
Just wander
As per usual, we're happiest just wandering aimlessly around a city and Cologne is no exception. We think it's quite a pretty city, and you'll come across lovely buildings and trees and interesting people and things.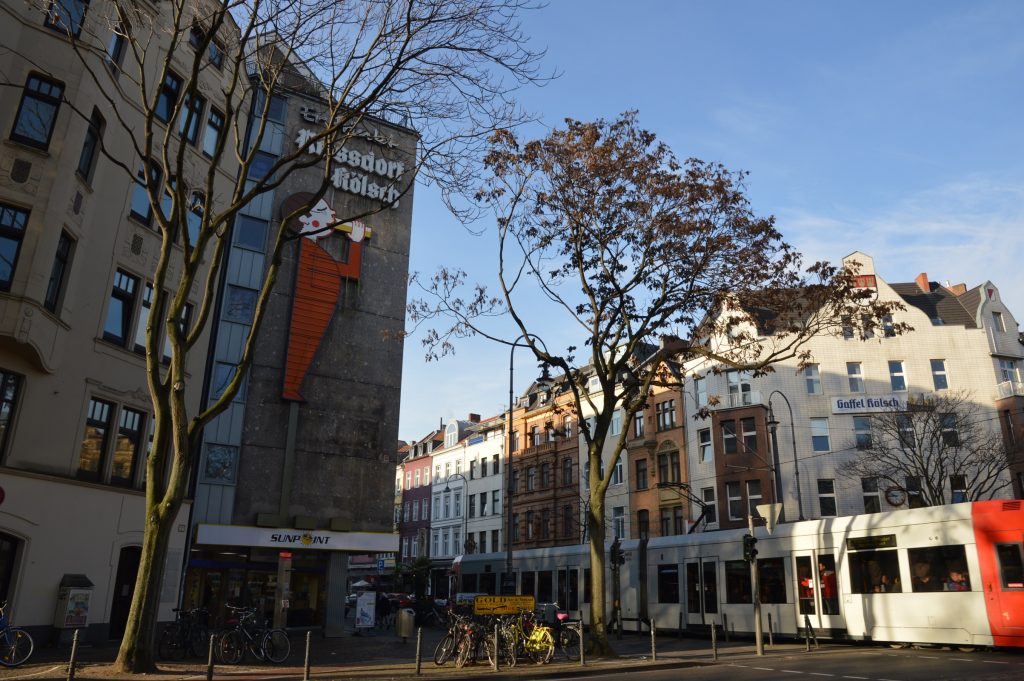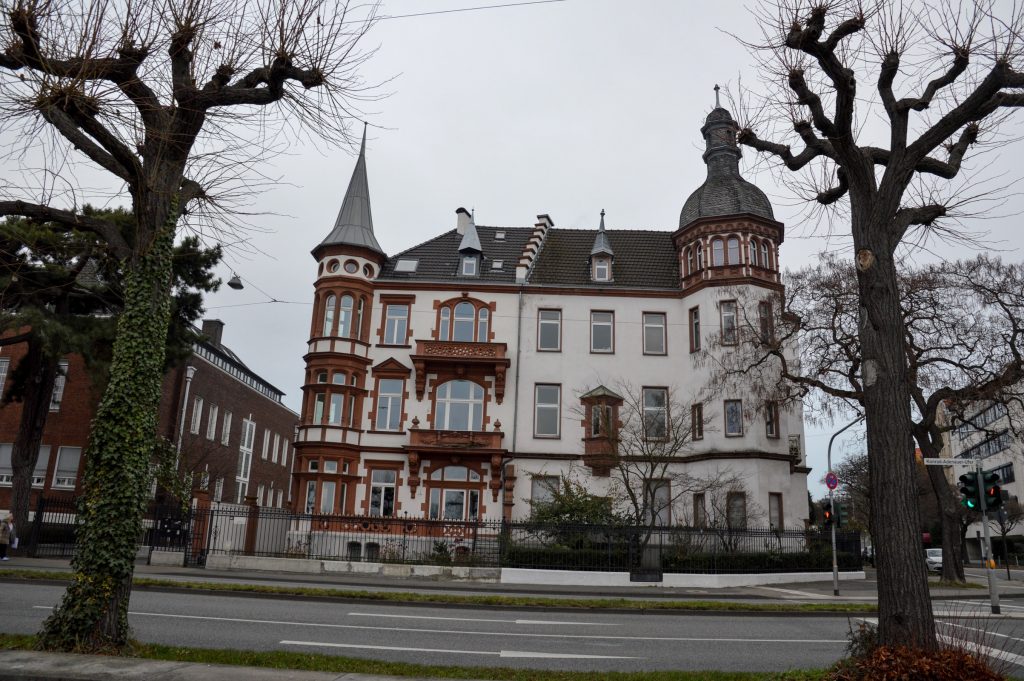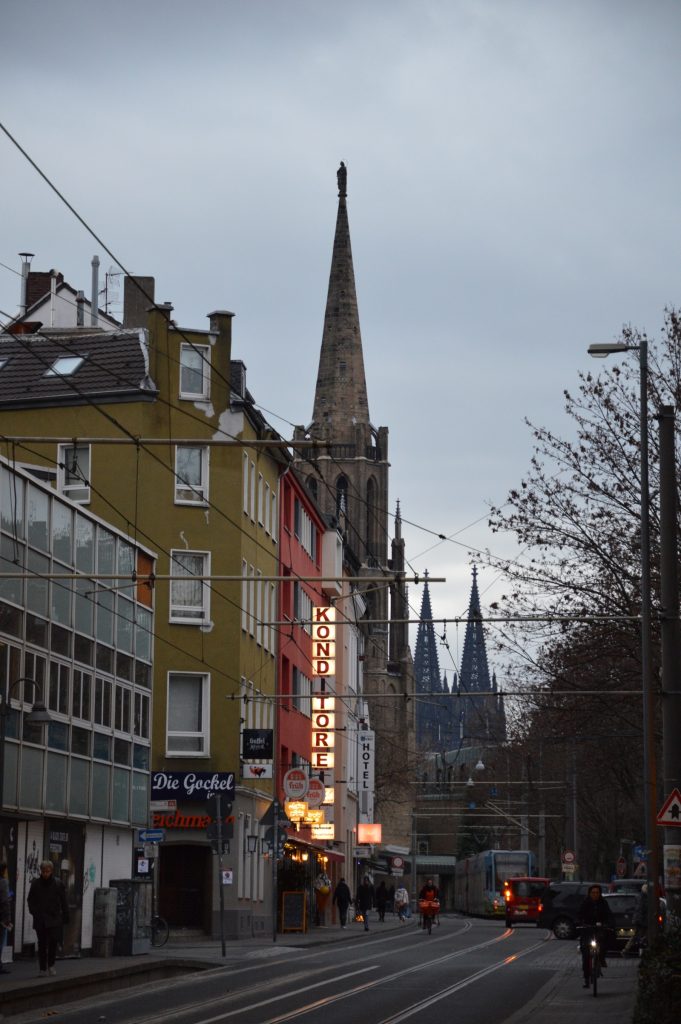 The city is small enough, and the Dom is big enough that it will just sneak up on you sometimes!
Eats and Drinks
The only thing to drink in Cologne is Kölsch. Except when its Christmastime and then Glühwein is acceptable too.
We stayed in a great apartment and were able to cook quite a bit. Cologne also has great Asian markets so we tried out some recipes from recent Southeast Asian travels including bún bò.

We also made more German fare, such as onion and wurst soup.

We did enjoy several meals out (aside from Christmas Market food) highly recommend the following…
We're a bit biased since we ate here on our honeymoon and have romantic associations, but Ristorante Etrusca is one of our favorite Italian restaurants in the world! Their signature dish is homemade pasta with truffles and prepared tableside in a wheel of parmigiana reggiano cheese. It's quite unforgettable. But everything else is delicious too.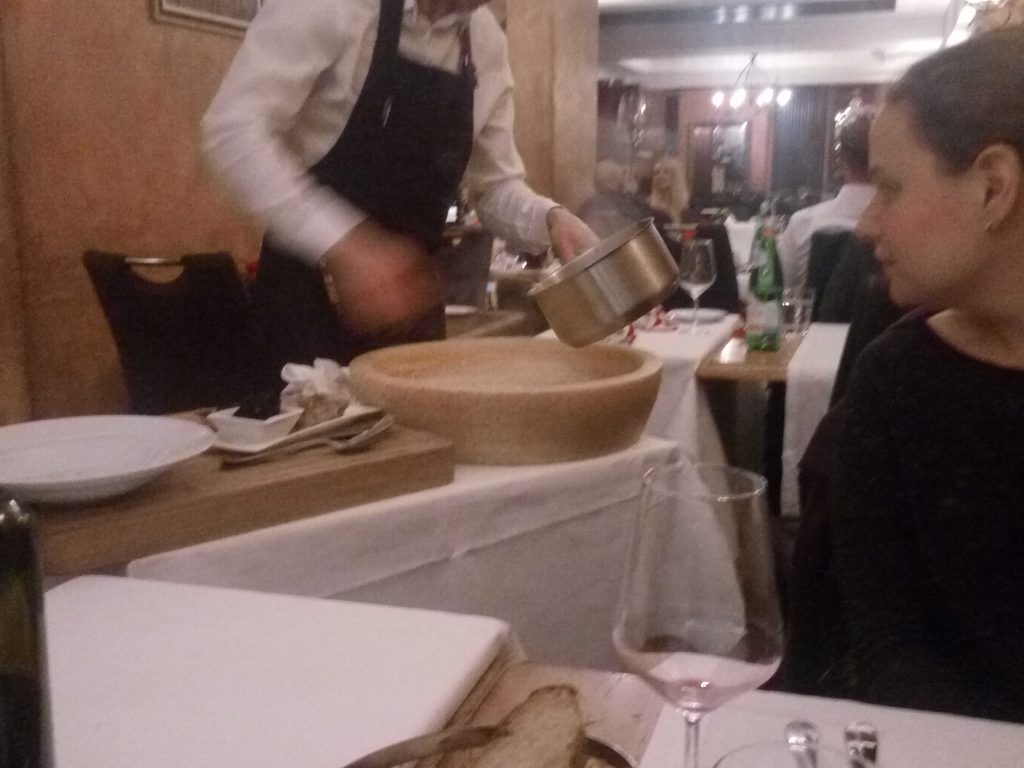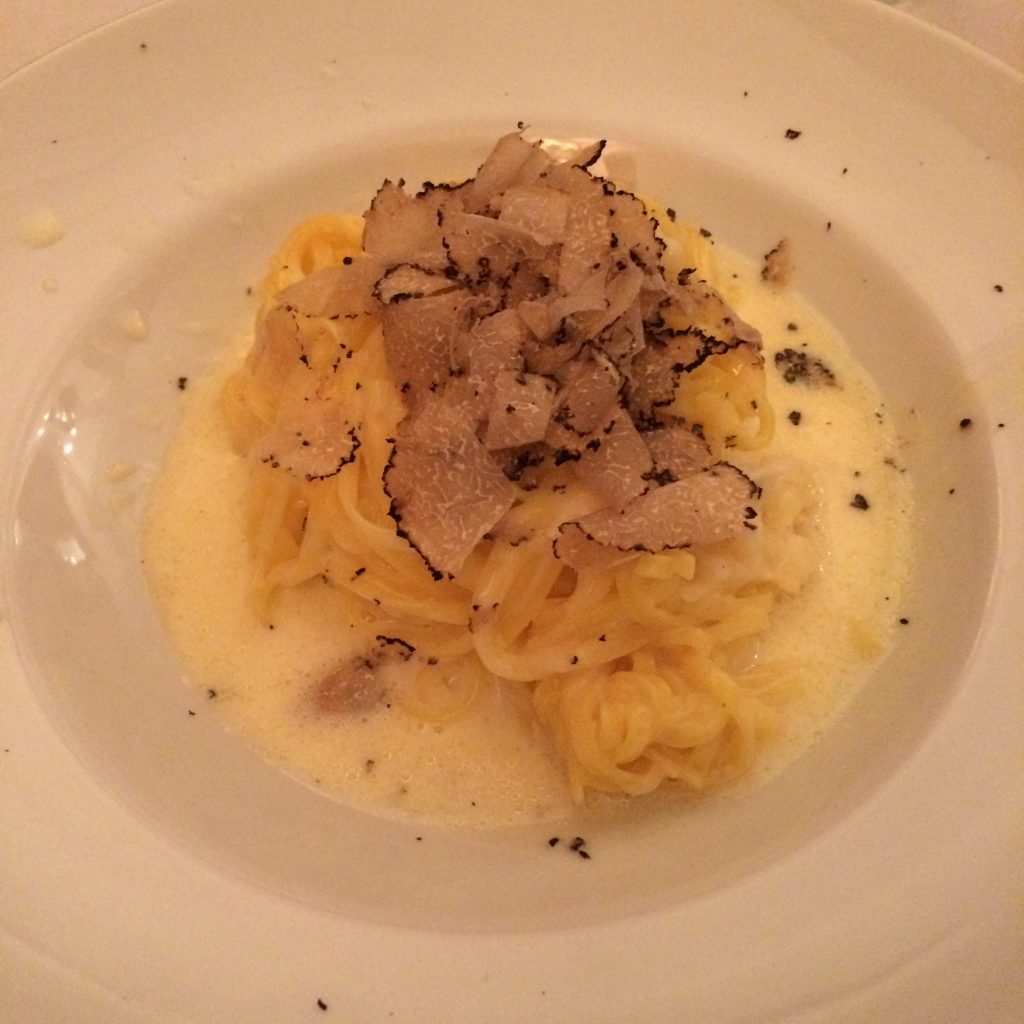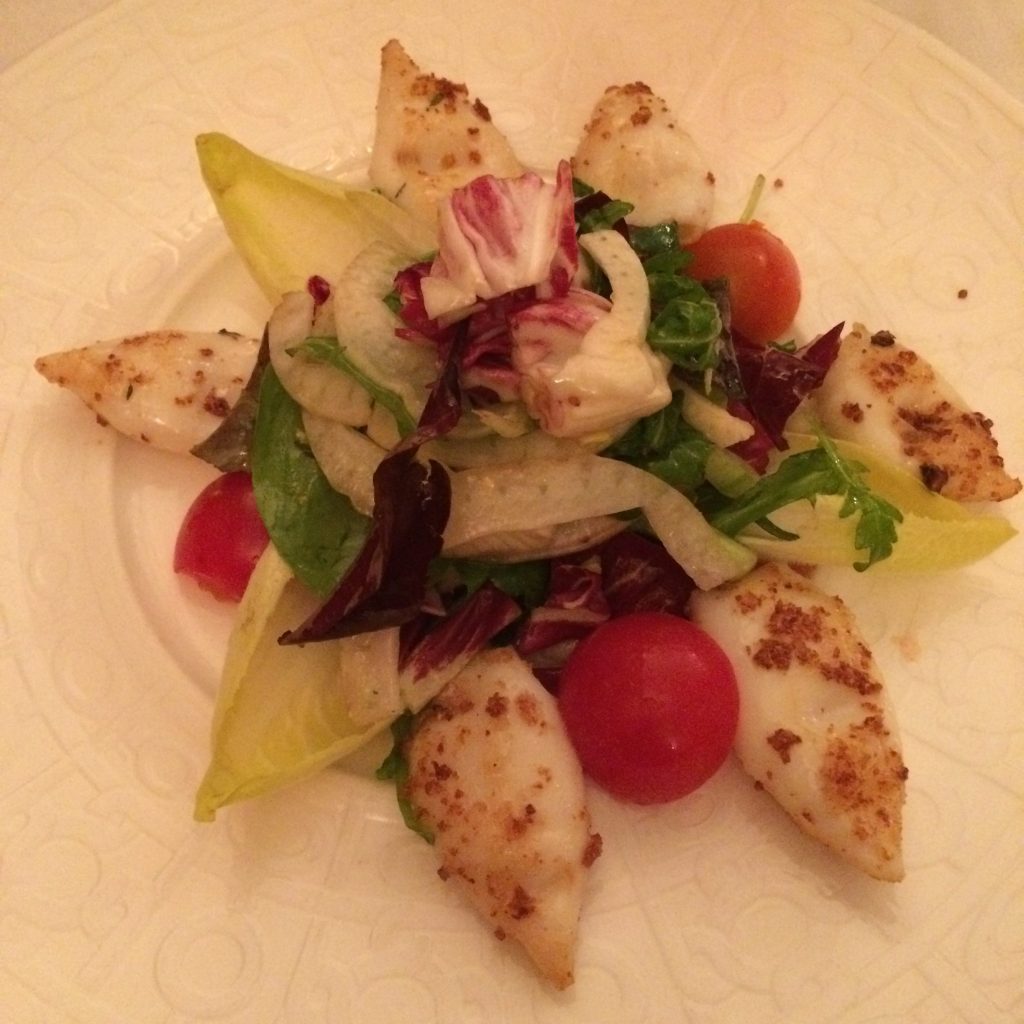 We enjoyed a proper German meal at a smal spot near where we were staying called Brauhaus Pütz. It was some of the best German food we've had. The owner was quick with the Kölsch, so if you want to stop drinking it you'd better top your glass with your coaster once you're halfway done!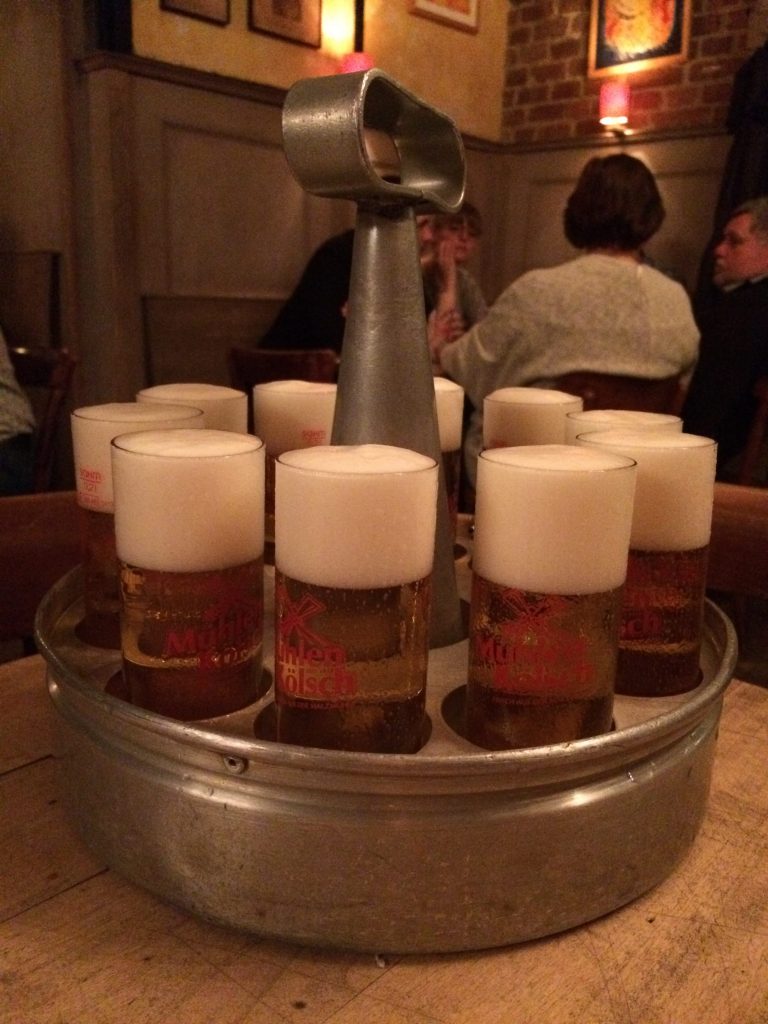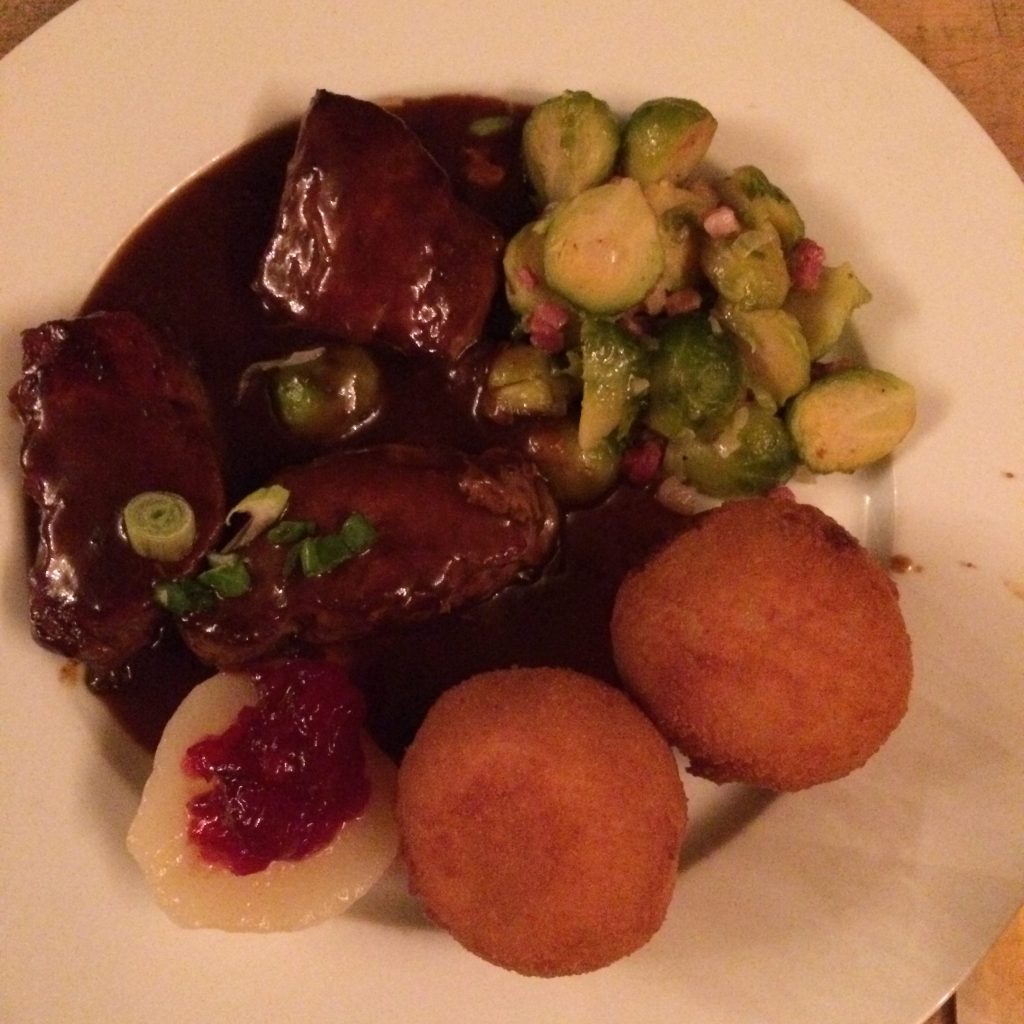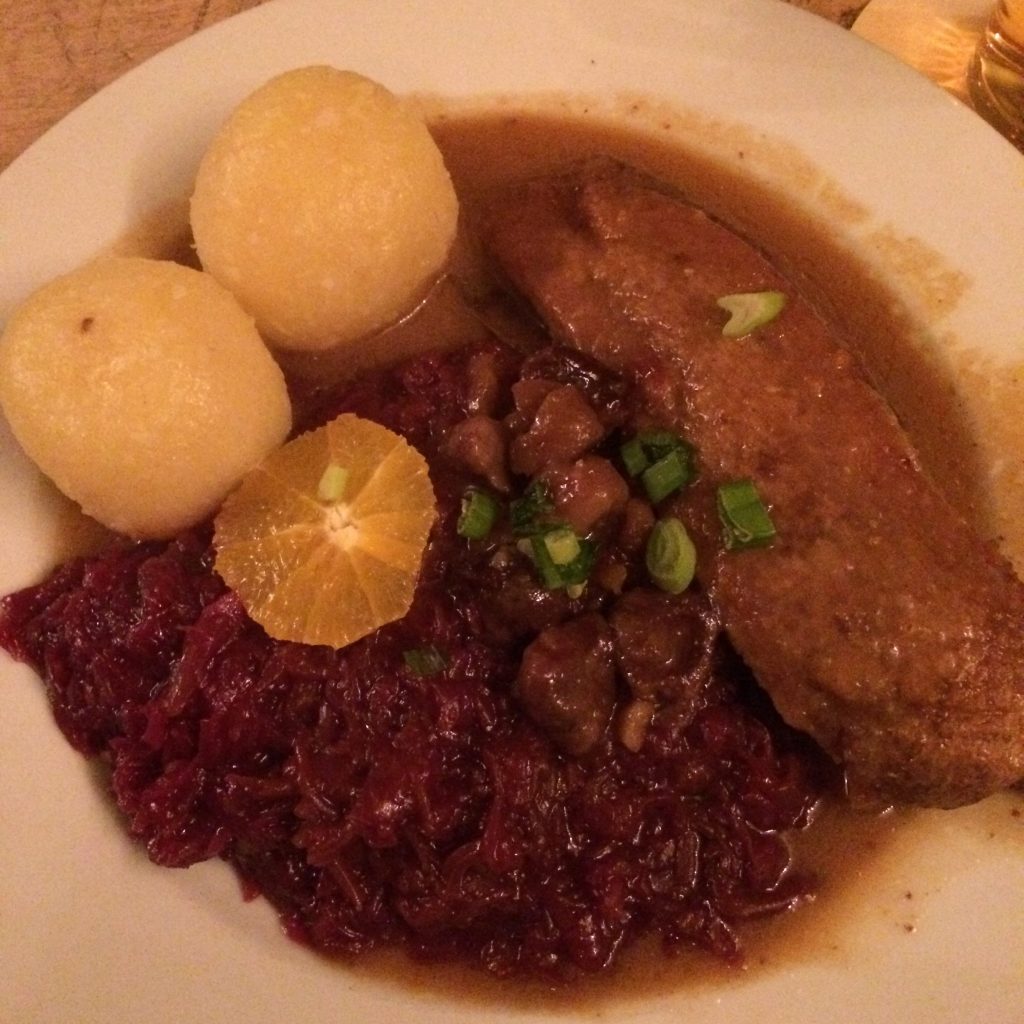 Ever since our time in Hanoi, we can't get enough pho. Luckily there were a bunch of Vietnamese places near where we were staying around Zülpicher Platz.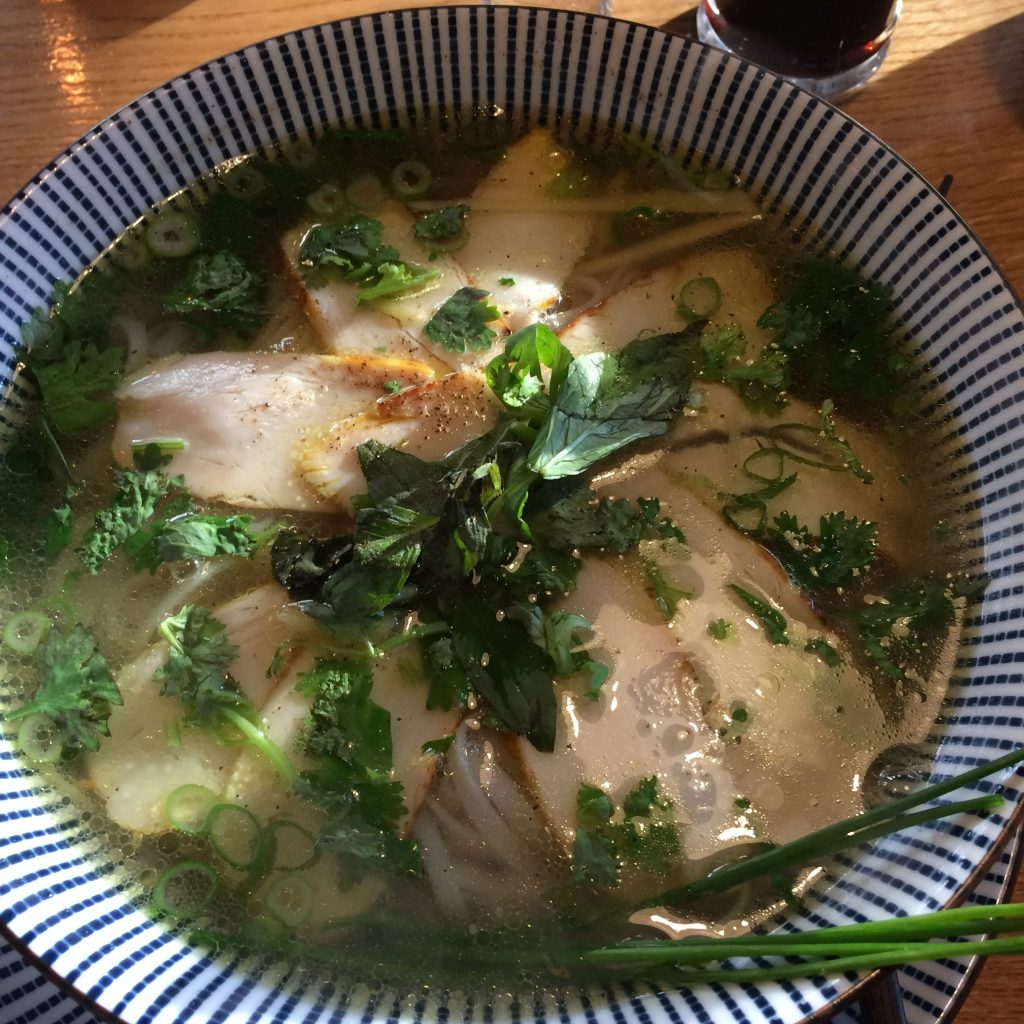 And last (but most definitely not least), there are plenty of places to get Döner in Cologne. Our top spot from our last visit seemed to have gotten a new sign and increased their prices, but it was still great. It's the shop located across the street from the statue in the Heumarkt. We also tried a place near our apartment that was always filled with people called Zülpicher Döner. The bread was the standout with this one.

The Köln-Düsseldorf rivalry even extends to Döner Kebab!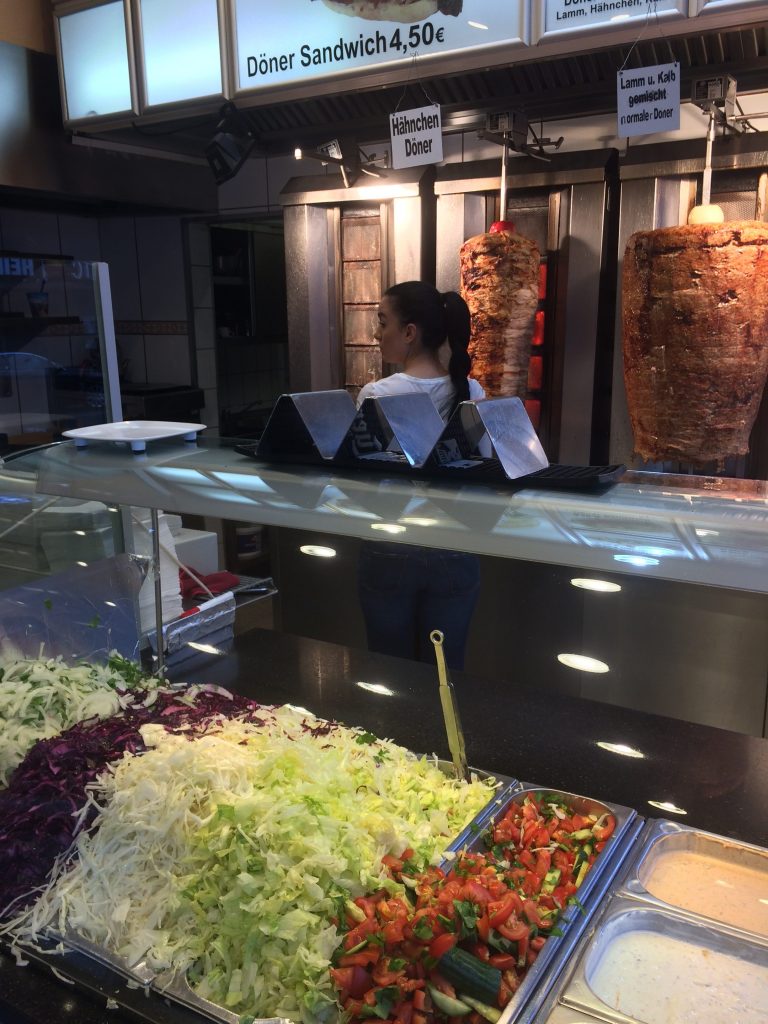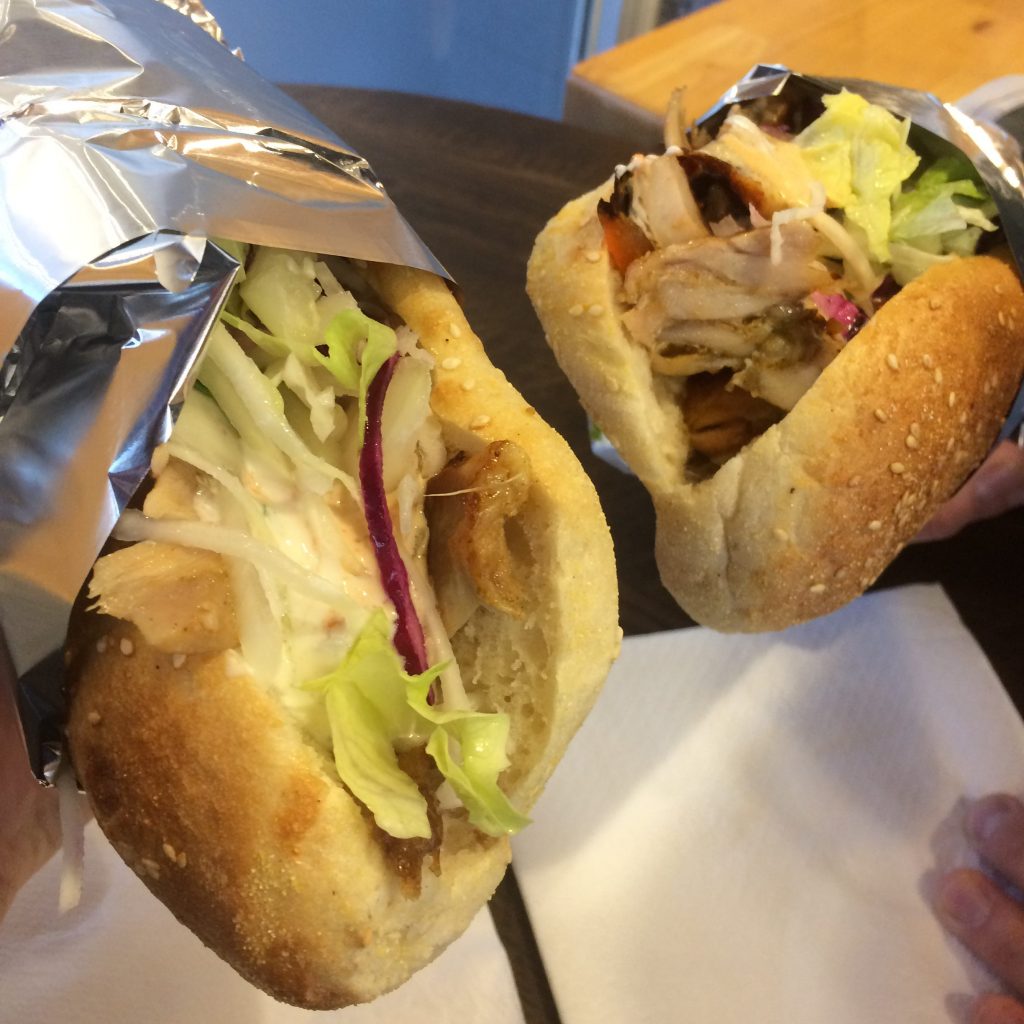 We were sad to say goodbye to Cologne after living in this awesome city for two weeks. But we're pretty sure we'll be back. Tschüß!
Pin it!