Last Updated on 9th August 2019 by Sarah and Justin
Every time we visit Italy, we're reminded why we love it so much. It's charming, romantic, and of course delicious. Though we truly enjoyed our time in the most popular places, we've been most enchanted by northern Italy. We've taken several trips to the region and have been lucky enough to see nine different cities, each of which had its own unique charm. So if you're looking for a great northern Italy itinerary, you've come to the right place. We created three northern Italy itineraries depending on how much time you have: two weeks, ten days, and one week. Our itineraries include our favorite destinations like Milan, Bologna, and Trieste. And we advise how long to spend in each place, the best things to do, and public transport tips. We hope we inspire you to take a trip to northern Italy soon!
About our northern Italy itineraries
Our itineraries focus on four of the eight regions of northern Italy: Emilia-Romagna (Bologna and Ferrara), Friuli-Venezia Giulia (Udine and Trieste), Lombardy (Milan and Bergamo), and Veneto (Venice, Verona, and Vicenza).
We've only ever traveled by public transportation in Italy and so that's how we designed these itineraries. We've never wanted to deal with the hassle of renting a car or attempting to park it in historic Italian cities. And taking the train in northern Italy is easy and convenient.
The biggest airports servicing overseas travelers are in Milan and Venice. But there are smaller airports throughout the region that service European routes. There are also great options to enter or exit overland, including going north from Milan on epic train ride into Switzerland, or going east from Trieste into Slovenia (which we've done ourselves).
Two week northern Italy itinerary
Milan (3) — Bologna (3) — Ferrara (2) — Trieste (3) — Udine (1) — Venice (2)
This itinerary assumes you're flying into Milan and out of Venice. It's adapted from one of our trips and includes the tucked-away Trieste, one of our favorite places in Italy.
Three days in Milan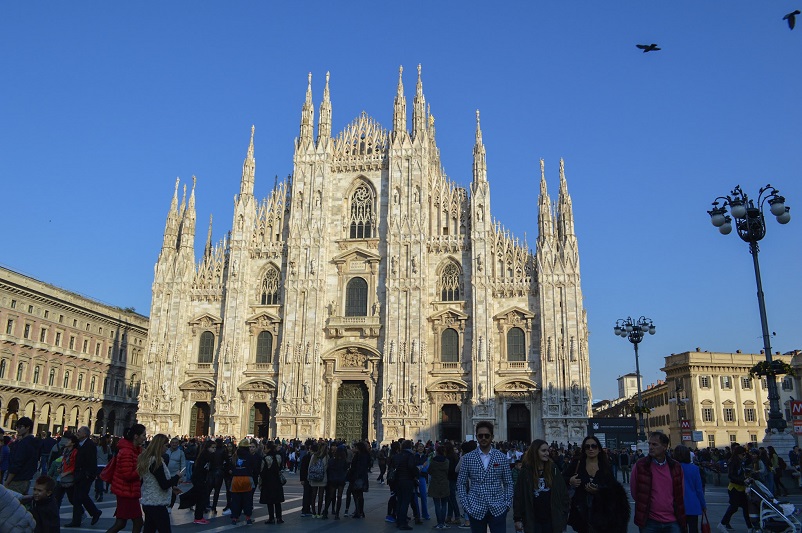 Milan is the second biggest city in Italy in terms of population. It's the financial hub of the country and known internationally for fashion and design. It's busy and loud and gorgeous and wonderful. We do love big cities and had a ball in Milan.
What to do in Milan
You could spend a week or more in Milan and probably never get bored. But in three days you can get a good feel for the city and see the top sights.
The Duomo is an absolute must-see and visit in not only Milan, but we think in Italy as a whole. Admire the gorgeous church from the plaza below whenever you pass by, but make time to enjoy the Duomo from atop it as well. The roof of the Duomo is open to visitors and is a delight. You can walk all over, under, and around its many spires and enjoy the most gorgeous views of Milan. You can climb stairs all the way to the top of the Duomo, but there's also an elevator which is great for people with mobility limitations. There are still stairs and uneven surfaces once you get up to the roof, though. Your roof ticket also grants entrance to the church and museum, so don't forget to check those out too.
A smaller but also impressive church in Milan is Chiesa di San Maurizio al Monastero Maggiore. This time it's all about the paintings inside. Walk off a busy street into an unassuming building and enter a surprising haven of quiet and beauty.
Sforza Castle is a 15th century citadel. Pretty cool that it's right in the middle of the busy, modern city of Milan. It's home to several different museums and on beautiful grounds. You should devote at least a couple hours to exploring here.
If you're a fan of shopping and picturesque shopping arcades, don't miss Galleria Vittorio Emanuele II. It's right off the main piazza.
Milan is a pinnacle of aperitivo culture and there's a good chance you'll find a satisfying happy hour at any restaurant or bar in the city. But we found the Navigli neighborhood to be the most charming place in Milan to have an aperitivo hop. It's a neighborhood of canals, and the small streets lining them are dotted with an inordinate number of cozy places to enjoy a spritz and a delicious bite (or plate of bites).
Getting in and around Milan
There are two airports in Milan. Malpensa is the biggest and services overseas routes. It takes about an hour to get to the city center from Malpensa Airport by train or bus.
The main sights in Milan are walkable, but if you want to get out of the city center to some of the outer neighborhoods (which you should), you should take public transportation. Milan has an extensive, efficient, easy to use system of metros, trams, and buses. There are also 24 and 48-hour transit passes which are a great deal if you plan on using public transportation more than three times in one day.
<< Book a hotel in Milan here >>
Three days in Bologna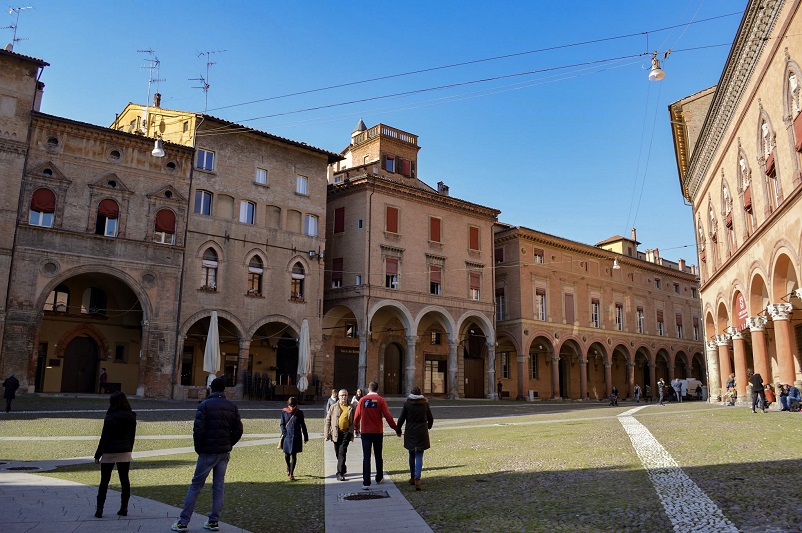 After your stint in Milan, it's time to head to Bologna. The train from Milan to Bologna takes an hour and runs frequently. Bologna is the capital of what we think is the most delicious region of Italy: Emilia-Romagna. So even though Bologna is small enough to explore in two days, we recommend three so you can take a decadent and delicious food tour.
Things to do in Bologna
In addition to food, Bologna is known for its porticoes: archway-covered sidewalks. Bologna has over 600 of them which cover almost 40km. Lovers of architecture, history, and photography alike will find them fascinating to explore.
Piazza Maggiore is the main square in Bologna and really the center of the city. It dates back to the 13th century and is lined with palaces and churches (and of course porticoes) built during different periods. In the center of the square, a 16th century statue of Poseidon still offers fresh water so fill up your bottle if you pass by.
Just off the piazza is Mercato di Mezzo. A market in this location dates back to the Middle Ages. Since 2014, there has been an indoor market with shops and restaurants and even a craft beer pub! We more enjoyed wandering the narrow streets outside the market which were also home to food stalls and small places to grab a bite.
Food tour in Bologna
If you love food (and are not vegetarian), we strongly recommend taking a food tour from Bologna of the Emilia-Romagna region. Based on a tip from friends, we booked a full-day tour with Italian Days and had a most fun and delicious day visiting traditional places in the region making Parmigiano Reggiano, real balsamic vinegar, and prosciutto in the region. You will eat and drink more than you ever thought possible and learn and laugh a lot as well. It's a splurge, but was worth every penny.
Where to stay in Bologna
We enjoyed our stay at Bologna nel Cuore. The B&B is run by a friendly woman named Maria who has lived in Bologna for most of her life. It's perfectly located, with spacious rooms and a tasty breakfast. Maria gives lots of local tips about the city and the area as well.
Two days in Ferrara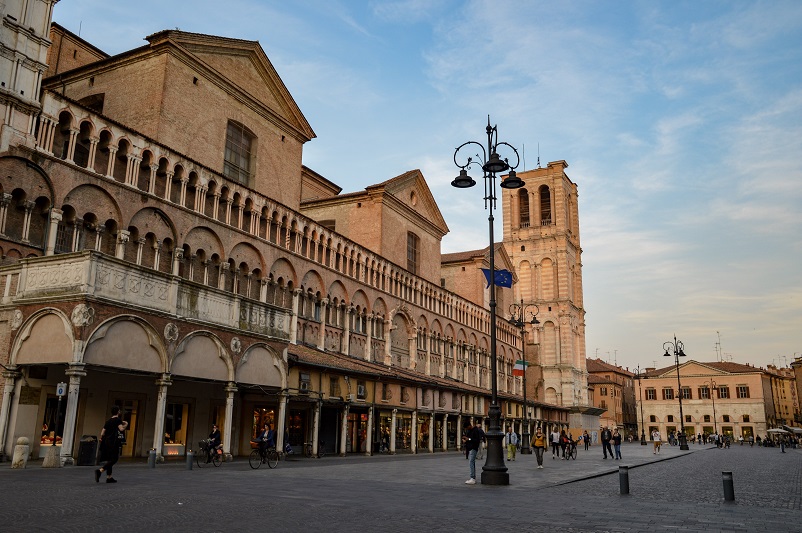 It only takes 30-50 minutes to get from Bologna to Ferrara by train, so you can sleep in and head to the next stop on your northern Italy itinerary whenever you're ready. Ferrara is a UNESCO World Heritage Site and has some great medieval sights.
Things to do in Ferrara
In Italy, Ferrara is known as the "City of Bicycles." As we currently live in the Netherlands, we know it can't compete with places here, but we were still impressed by how bike-friendly the city was. If you're up for it, we recommend renting bikes for one of the days of your visit. You can rent a bike via one of these stores on the city's website or through your accommodation like we did (see below).
Ferrara is surrounded by incredibly well-preserved medieval walls. You can follow them all around the city on foot or on bike. You can walk or ride below them on a path through what looks like a park, or atop them.
Este Castle is another major attraction in Ferrara. It's a bit imposing, right in the middle of the city, and super cool to walk around and admire from outside. You can also take a tour inside this medieval fortress.
Where to stay in Ferrara
We loved our stay at the aptly named hotel Bed & Bike Ferrara. They have reasonably-priced rooms, a small communal kitchen with a refrigerator, and offer bike rentals which they'll arrange for you. It's very well located, just a couple blocks from the medieval center. It should be noted they do not have an elevator, and their rooms are all up stairs.
Three days in Trieste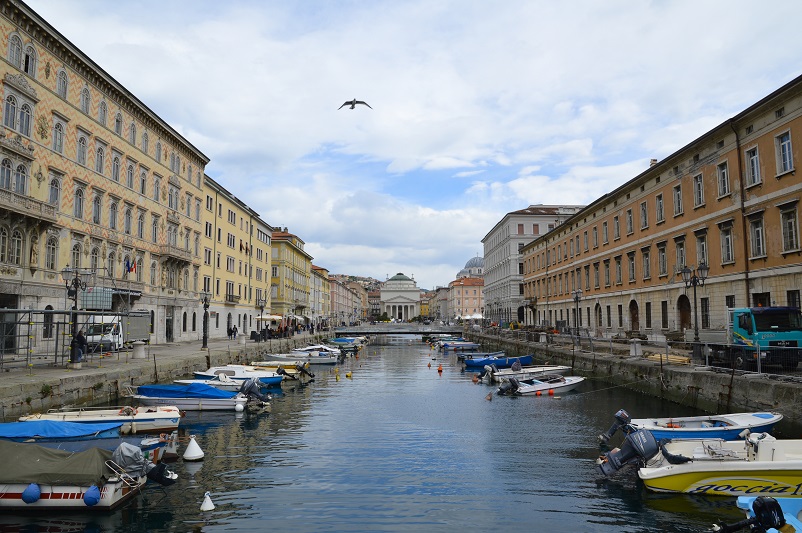 It's about 3 1/2 hours by train from Ferrara to Trieste, so you'll likely want to get an earlier start to today. But the trip will be worth it once you arrive in one of our favorite cities in not just Italy, but all of Europe.
Trieste is pretty different from all other cities we've visited in Italy. It was part of Austria for centuries and is located right on the Slovenian border. So it shows influences from different cultures, most specifically in its architecture and food. It's also home to some truly great cultural attractions including ancient Roman ruins and a castle on the sea.
Things to do in Trieste
Trieste has the largest sea-facing outdoor square in Europe: Piazza Unità d'Italia. That's a funny distinction – we know – but it's still a really lovely piazza. Surrounded by enormous stately buildings, you can really feel the Austrian influence on the city in this square.
But take just a few steps away and you'll get a whole other perspective on the city when you're transported to ancient times. At the Roman Theater (Teatro Romano) you can see the ruins of a large amphitheater. They're super cool to look at, but even more interesting to view in contrast to their current surroundings, with residential buildings and even a supermarket right next door.
More Roman ruins – and the best view in town – can be seen at the top of San Giusto Hill. There you can walk among the ruins and tour San Giusto Castle, a very well preserved 16th-century fortress, and the 14th-century San Giusto Cathedral. The views of Trieste from the castle walls can't be beat. We recommend taking bus 24 up to the top and walking down.
A trip to Trieste is not complete without a trip to Miramare Castle, just a short trip outside the city center. Located on the Gulf of Trieste, Miramare Castle was built in the mid-1900s by when Trieste was under Hapsburg rule. The castle is beautiful, as are the meticulously kept grounds. It takes about 20 minutes to get to Miramare Castle from Trieste by train and about 40 minutes by bus.
We know most people drink wine or spritz cocktails in Italy. And we do too. But as beer lovers we are always on the lookout for craft beer in the different countries we visit. And we found what ended up being one of our favorite craft beer bars we've been to in the world (yes, the world) in Trieste: Mastro Birraio. If you visit, you'll see why we've highlighted it as a top thing to do in Trieste.
Hotels in Trieste
We have two recommendations for Trieste hotels to accommodate different budgets. On the higher end of things, there's Savoia Excelsior Palace, right off Piazza Unità d'Italia. If you're looking for something a bit less expensive, we can also recommend Rooms Boutique Carducci. This small B&B is just a ten-minute walk from the train station and within walking distance to the major sights as well.
One day in Udine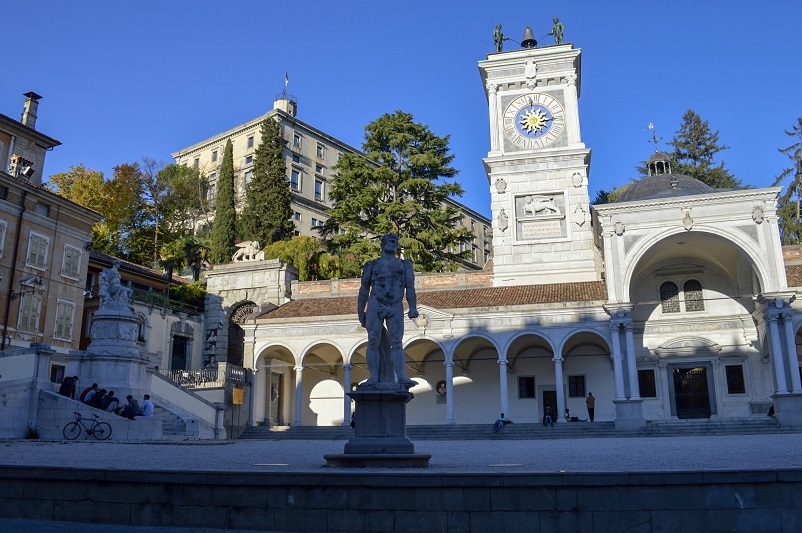 Depending on the train, it will take you an hour to 90 minutes to travel from Trieste to Udine. The train ride is quite scenic. We recommend sitting on the left side to get the best view of the sea. Udine is the smallest city on this itinerary, which is why we've only given you one day there.
What to do in Udine
Piazza Matteotti is the main square in Udine. Lined with beautiful buildings, it's the main meeting point in the city. We were lucky enough to stumble into a meet-up of dogs when we were visiting.
Udine has a castle, so it only makes sense to go see it. Udine Castle is located up a (not too steep) hill and surrounded by a nice park.
Piazza Liberta is a smaller square located a few blocks away. It is the oldest square in the city and is quite charming. A lovely building is in this square – Loggia del Lionello. You'll pass through Piazza Liberta on your way up to the castle.
Hotels in Udine
We stayed at the small, super charming B&B Casa Stucky. We really enjoyed it, but it is a little bit outside the center of the city, so is not the most convenient for a one-night stay.
<< Look for hotels in Udine here >>
Two days in Venice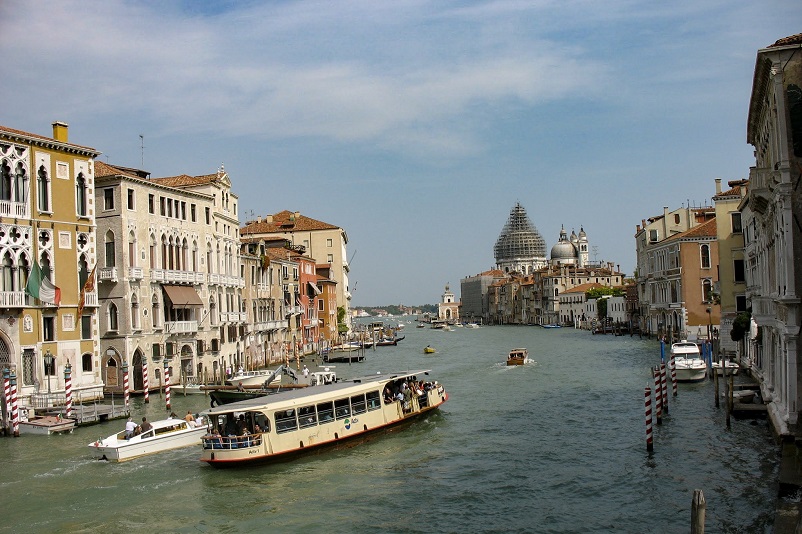 The train from Udine to Venice takes about two hours, so get an early start to your day to make the most of your time in this final destination on your northern Italy trip.
Take note, there are two train stations in Venice, so be careful buying your ticket. Venice Santa Lucia (aka Venezia S Lucia or Venezia SL) is the city's main train station, located right on the Grand Canal. Venice Mestre (Venezia Mestre) is located on the mainland. You will have transferred at Mestre on your journey from Ferrara to Trieste.
As you are probably aware, Venice has faced an over-tourism crisis in recent years. This year, the city has instituted a new tourist tax for day-trippers and increased the tourist tax for overnight visitors (depending on the season). If you don't want to spend time in Venice at all right now, we understand. Udine is close enough that you could still fly out of Venice Airport depending on your flight time.
What to do in Venice
We are by no means Venice experts. In fact, our last visit to the city was over a decade ago and we (sadly) spent less than 24 hours there. So we are not comfortable recommending specific things to do or see or places to eat or hotels. Sorry, but there are a ton of articles written about Venice so we're not too worried about you planning your time there.
What we can say with absolute certainty is that the best thing to do in Venice is just see it and let its beauty wash over you. It's one of the most unique places in the world and seeing and experiencing it all up close is truly remarkable. So walk along and over the canals and explore the narrow winding streets behind them and just be.
Getting out
Marco Polo is the city's major international airport. You can get to the airport from the city center by local bus, express bus, taxi, water taxi, or water bus. The airport's website has comprehensive information on all the options, but you should give yourself about a half hour.
If you're flying to another European destination, you may also consider the smaller Trevisio Airport. It takes about 45 minutes by bus to get there from Venice.
<< Find a hotel in Venice now >>
10-day northern Italy itinerary
Milan (3) — Bergamo (1) — Verona (2) — Vicenza (1) — Venice (2)
This itinerary includes the biggies (Milan and Venice) plus some other smaller cities. This assumes once again that you're flying into Milan and out of Venice, but you could easily change it to be round-trip in and out of Milan and skip Venice altogether. The train from Vicenza to Milan airport is less than 2 hours. We'd recommend adding another day to Vicenza in this case.
Three days in Milan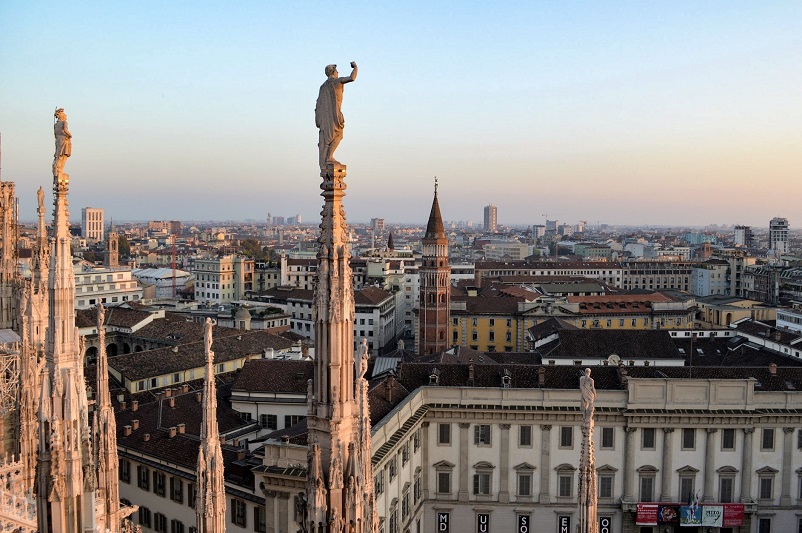 See the previous itinerary for everything you'll want to see and do in three days in Milan. Getting a view of the city from atop the Duomo at sunset is high on our list!
One day in Bergamo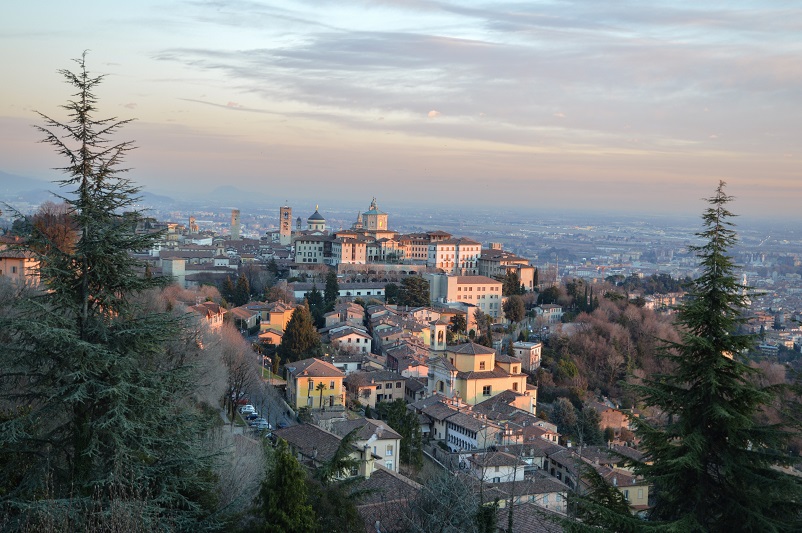 It only takes 45-90 minutes (depending on the train) to get to Bergamo from Milan. Bergamo is a small city with one of the most beautiful old towns we've visited. Many people do it as a day trip, but we think it deserves an overnight stay.
Things to do in Bergamo
Città Alta is the highlight of Bergamo. This medieval old town sits high on a hill and offers breathtaking views as a result. We recommend heading up there as soon as you get to the city so you can explore all its nooks and crannies and see its major sights including the Basilica of St. Mary Major and the Colleoni Chapel. The chapel's facade is unlike anything we'd seen, and especially lovely bathed in the light of sunset. You can walk all the way up to Città Alta, but it's somewhat of a hike. There's a bus that goes right from the main train station in the lower town all the way up to the top. Or you can walk part of the way and take a funicular the rest (note, this one's called the Lower Funicular).
You can see impressive views of Bergamo (and all the way to Milan) from viewpoints on the way to or from Città Alta. But if you want to see an incredible view of the old town itself, take the San Vigilio funicular up to the hill of the same name. Right when you step off the funicular, you'll have access to a platform with sweeping views of the region and the iconic old town. You can also walk up to the ruins of San Vigilio Castle. You can take the funicular back down again, or walk (as we did) enjoying more views along the way.
Città Bassa, Bergamo's Lower Town, is worth getting to know as well. It's more modern than the Città Alta, but still has that Italian charm. That's where we stayed (as that's where the more reasonably priced hotels are in Bergamo), and ate dinner both nights.
Getting around Bergamo
Bergamo has good public transportation. We took both funiculars and the buses and never had a problem. For this one night in Bergamo, we recommend purchasing a 24-hour ticket, which as of March 2019 is only 3.50 EUR. When buying single tickets you have to calculate different zones, which can get complicated.
Bergamo hotels
We stayed at the Mercure Bergamo Centro Palazzo Dolci hotel in the Città Bassa. It is just a couple blocks from the main train station and right across the street from a bus stop which will take you to the Città Alta. We thought the location was perfect as we were close to some good restaurants and aperitivo spots.
Two days in Verona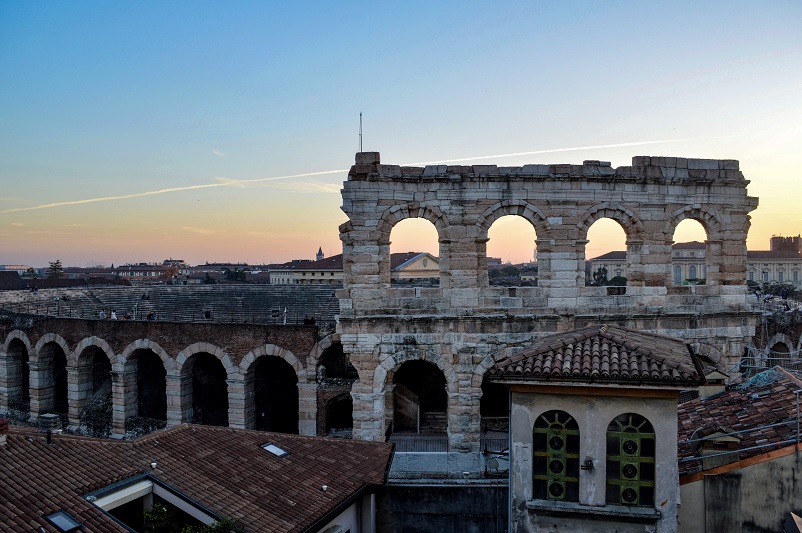 The train trip from Bergamo to Verona takes about two hours. Verona is best known for something that never happened as it was the setting for Shakespeare's Romeo and Juliet. But there is plenty in the city beyond that to make it worth your while to visit.
Things to do in Verona
For us, the highlight of Verona is its arena. Standing in the middle of this small city, the Roman amphitheater has survived since it was built in the 1st century. It's still used for concerts and opera, although we didn't have the pleasure during our visit. We did, however, have a perfect view of it from our hotel, and took many, many pictures during an especially lovely sunset.
Another of Verona's main attractions is its castle. Castelvecchio is located on the Adige, the river that runs through Verona. The bridge leading up to the castle is especially cool, both to admire from afar and to walk over. There is also a museum inside.
We do recommend a walk along the Adige River, which is big enough to look unique in Italy. And it offers impressive views.
And you don't want to miss what so many come to Verona for: that balcony. Juliet's House is of course worth a look, although it will likely be hard to get a good picture with all the other tourists milling about. Though it is a bit silly, it's fun to imagine Shakespeare dreaming up a story about this particular city. Wander about some more, through the small piazzas and streets that are just as picturesque as this one and you can understand the inspiration. Verona is a romantic place, but then again, we felt that way about pretty much every place we've been in northern Italy.
Verona hotels
We loved our stay at Hotel Milano. It was very centrally located, and offers an incredible view of the Verona Arena from its roof (which also has a hot tub). Our room was small, but we didn't mind. Enjoying an aperitivo on that roof with that view at sunset is definitely one of our favorite travel memories.
One day in Vicenza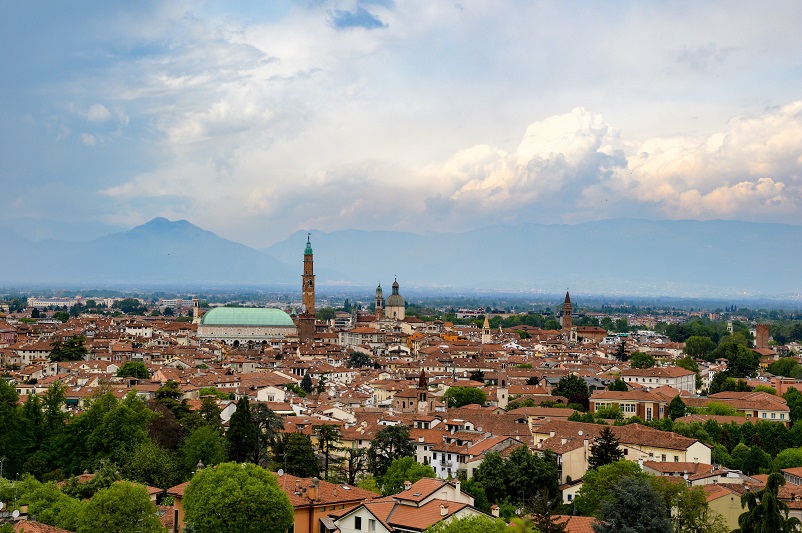 The third stop on your trip is Vicenza, a UNESCO World Heritage city best known for its impressive architecture. Depending on the train, it will only take 25-45 minutes to get there from Verona.
What to see in Vicenza
Architecture is the thing to see in Vicenza, specifically that of renowned architect Andrea Palladio. You'll spend most of your time in the city admiring his many buildings including the massive Palladian Basilica and the ornate Teatro Olympico.
You should definitely make time to get a little lost in Vicenza, as it has lovely canals and winding streets that make for romantic wandering.
You'll also want to make the trip up to St. Mary of Mount Berico to see the best view of the city. To get there you walk through streets of porticoes. If it's a clear evening, you could head up for sunset your first day, or go the next morning before heading off.
Vicenza is also a great place to enjoy aperitivo, especially in its main square, Piazza dei Signori. There are many choices where – on a warm evening – you can sit outside on the terrace, surrounded by stunning buildings, and relax over a spritz and a tasty bite.
Where to stay in Vicenza
Our hotel was a bit too far outside the center for us to recommend it for a one-night stay. But there are plenty of other options.
<< Look here for hotels in Vicenza >>
Two days in Venice
It's about an hour and a half by train from Vicenza to Venice. But as we mentioned above, if you want to skip it you can just as easily get back to Malpensa Airport in Milan.
One week in northern Italy
Milan (3) — Verona (2) — Bologna (2)
This itinerary assumes you're flying round-trip in and out of Milan, while also hitting Verona and Bologna.  We've discussed all three places in-depth above, so the below includes logistic information and tips specific to this itinerary.
Three days in Milan
Yes, we've recommended visiting Milan in all of these itineraries. We really did love the city that much and think it earns its place as a must-visit on a trip to northern Italy. We also wouldn't be opposed to you taking a day-trip to Bergamo during this time if you want to get out of the big city.
Two days in Verona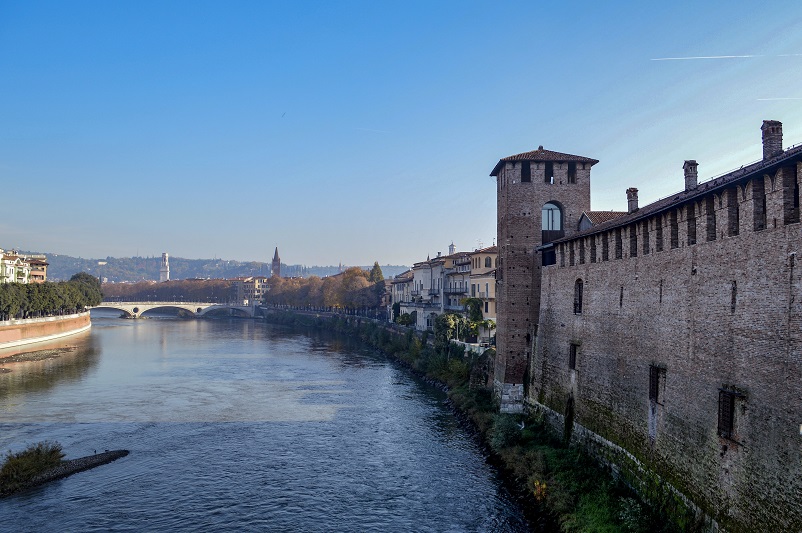 It's an hour and 15 minute direct train from Milan to Verona. We waxed poetic about Verona in our second itinerary, so scroll up to see everything we recommend you see and do and eat in this beautiful city.
Two days in Bologna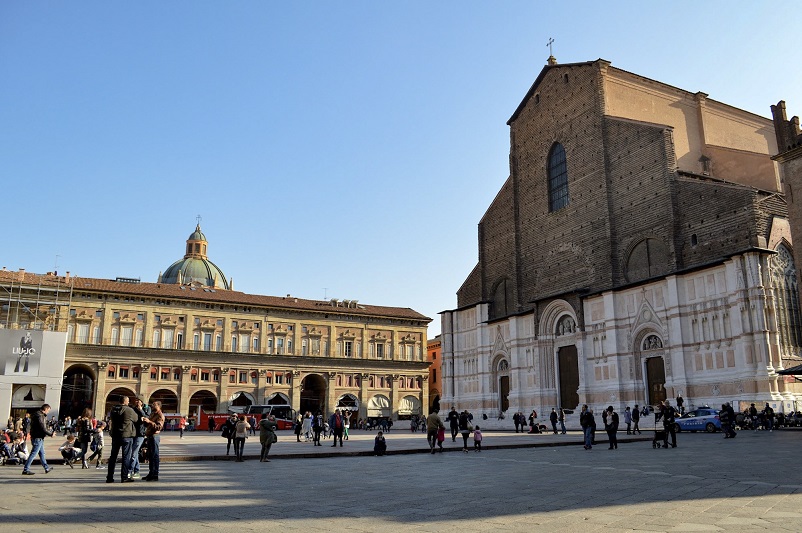 It's a quick 55 minute train trip from Verona to Bologna. In our first itinerary we shared everything to do in three days in Bologna. You'll either have to cut some things to see out or go at a faster pace. If food is your number one priority, you can still book a food tour on your second day. Although we'd recommend a half-day tour.
It's just over two hours from Bologna to Malpensa Airport. If your flight is too early to make that work comfortably, we recommend splitting your three days in Milan up so you spend your last night there.
Taking the train in Italy
TrenItalia is Italy's national rail service. The first time we rode the train in Italy extensively, we were actually quite impressed with the organization and efficiency. You can check all schedules and buy tickets in advance on their website. You can also purchase tickets at machines or at ticket counters in person at train stations, although they may be more expensive depending on the route. We recommend booking any longer routes in advance.
Accessibility
TrenItalia offers assistance for people with reduced mobility. You must arrange assistance in advance and arrive at the designated meeting point 30 minutes prior to the train's departure. Everything you need to know about special assistance services can be found on their website here.
Like this post? Pin it!