Last Updated on 23rd December 2019 by Sarah and Justin
It pains us to say this, but we're lacking a bit of experience traveling in the country of Spain as a whole. We've only been three times for a total of two weeks. But half that time, and two of those visits, were spent in Madrid. We love the city in and of itself, and more than any of the other Spanish cities we visited (yes, even Barcelona). While we would never dream of writing an "ultimate guide to Madrid" post, we are pretty confident we have enough experience to help you plan 3 days in Madrid. So that's what we've done. Read on for our recommendations for what to do in Madrid for 3 days and to see pictures of this lovely, interesting city to inspire you to go.
Ideas for 3 days in Madrid
Madrid is a world-class tourist destination with top-notch, must-see attractions (all the hyphenates are well-deserved). But at the same time it has a completely laid back and accessible vibe. When we visit Madrid, we don't feel like we have to seek out the "authentic" parts of the city – they're all around us. For lack of a better word, it doesn't feel touristy, and of course we like that. So while you should definitely spend your 3 days in Madrid visiting some of the top attractions that we've recommended, also make time to just wander the streets and people-watch.
See Madrid's top attractions
Royal Palace of Madrid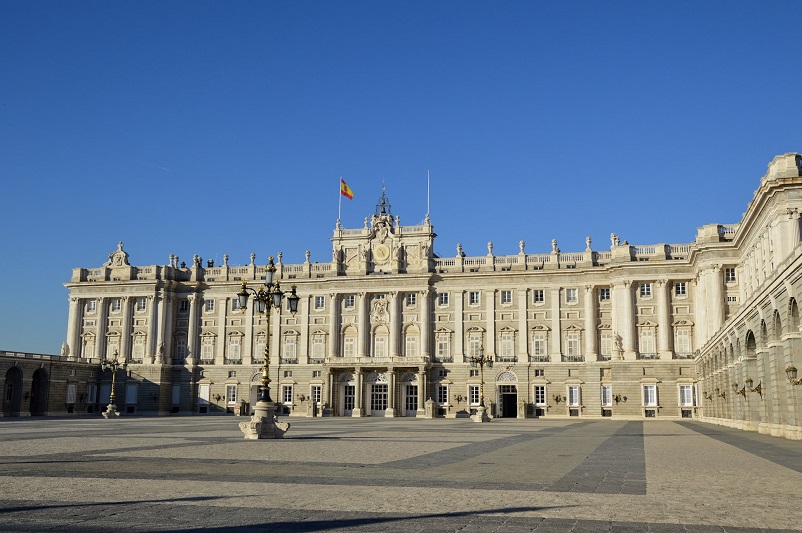 The Royal Palace of Madrid is stunning and impressive. Though officially the residence of Spain's royal family, no one actually lives there anymore. One can tour the palace, although we've been content to admire it from outside, sticking our lens through the gates to get shots like this. Check the website for current opening hours and admission fees. You could also plan a visit around the changing of the guard.
Almudena Cathedral
Directly across from the palace is the also imposing Almudena Cathedral. Begun in the early 20th century, building was only actually completed in the early 1990s.
You can see impressive views of both the palace and the cathedral from the bridges leading up to and away from them.
Temple of Debod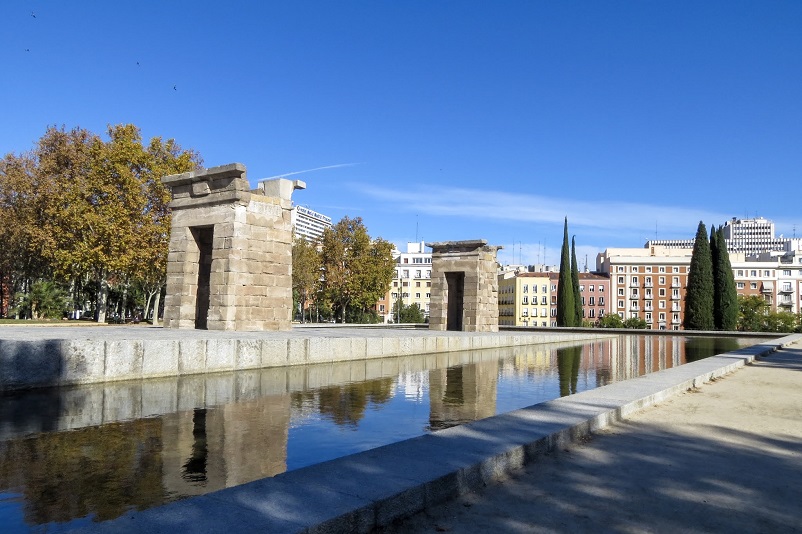 Walking further past the palace, you'll make your way to quite a unique attraction in Madrid. The Temple of Debod is an Egyptian temple originally from the 2nd century BC. The Egyptian government gave it to the city of Madrid as a gift and it was transported, reconstructed, and finally opened to the public in 1972.
Plaza Mayor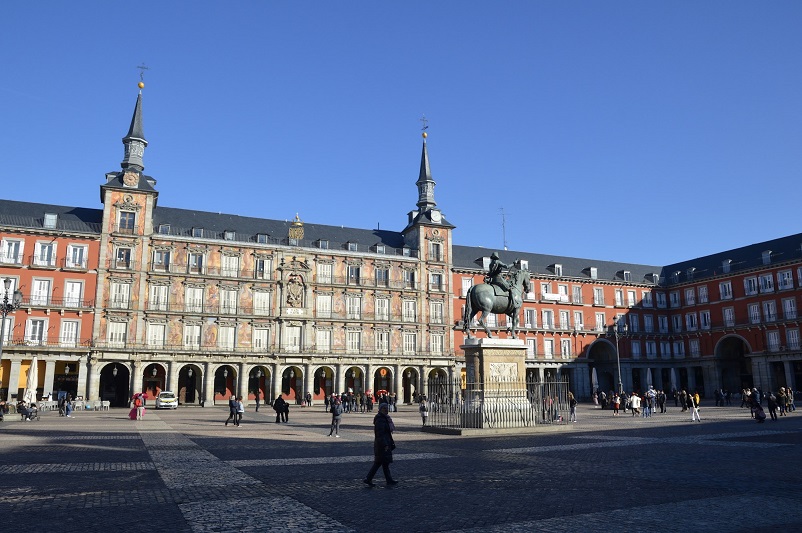 Plaza Mayor is one of the most famous and popular squares in Madrid. It's stunning with its brightly colored facades and archways and lined with shops that are worth a peruse (as long as you remember they are likely pretty pricey).
Puerta del Sol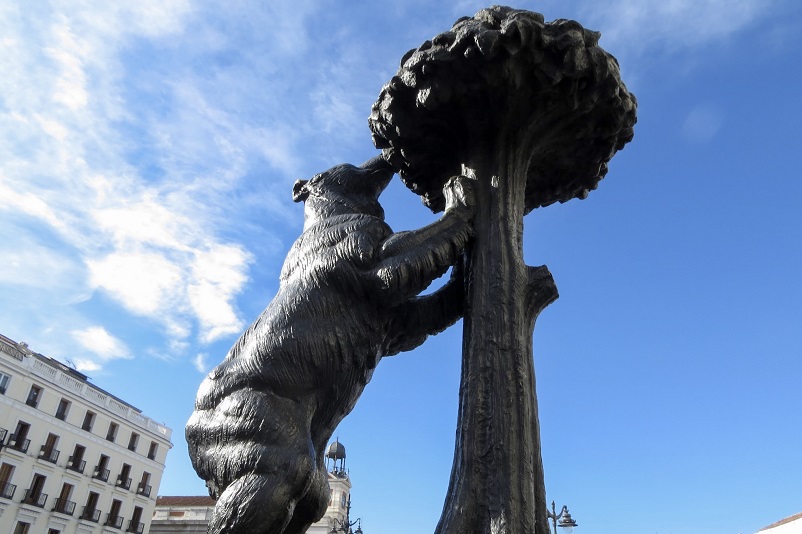 Another popular plaza is Puerto del Sol. Larger and more spread out and less visually stunning than Plaza Mayor, this square is still worth a stop during your 3 days in Madrid. Especially if you love statues and bears and statues of bears.
Admire incredible art at Madrid museums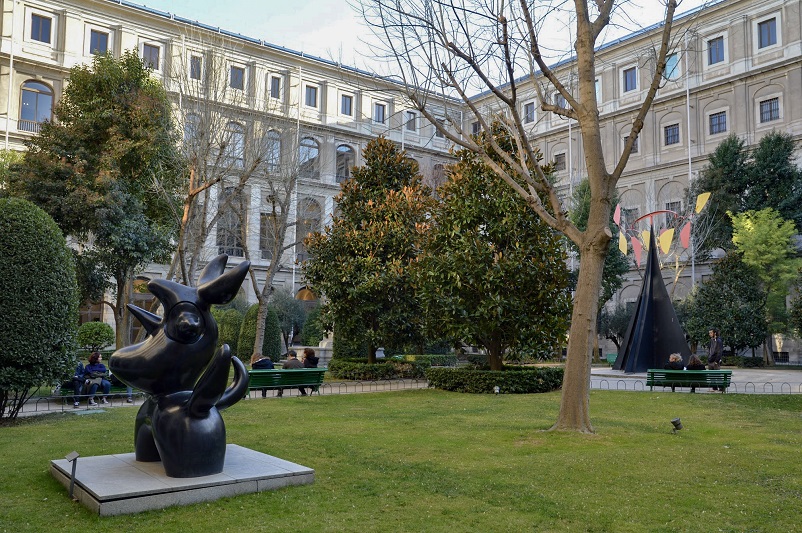 Madrid is a perfect destination for art lovers as its home to some really great museums. And wonderfully, entry prices of Madrid museums are very reasonable and most museums have free hours or days. We've noted these below but be sure to confirm via specific museum websites in case of changes.
We particularly loved visiting Museo Reina Sofía to see Guernica and other 20th century masterpieces by Picasso, Dali, and a slew of others. Museo Reina Sofia offers free admission every day except Tuesday (when the museum is closed) between 7-9pm and on Sundays after 1:30pm. Museo Reina Sofia has a variety of offerings for people with all different types of access needs and provide comprehensive information about these offerings on the accessibility page of their website.
We also enjoyed Museo Nacional Thyssen-Bornemisza which has a very interesting, significant collection of art from the 13th-20th centuries. If it works out with your trip itinerary, you can gain free entry on Mondays between 12-4pm.
And of course, there's Museo Nacional del Prado, the city's most famous museum. They offer free admission Mondays-Saturdays from 4-6pm and Sundays and holidays from 5-7pm.
Soak it all in on Madrid's streets
We love walking through the streets of Madrid. From the grand plazas to the narrow alleyways, you will find something beautiful or interesting or surprising on most every block.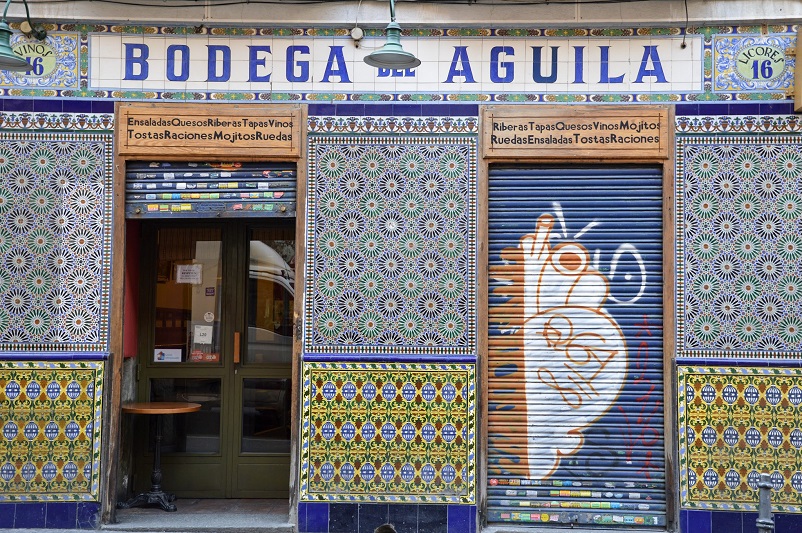 On our most recent trip, we especially enjoyed exploring the streets in the La Latina neighborhood where we were staying. The buildings were a little smaller, the architecture a little less grand, but the streets had a whole lot of character. Many of the facades were beautifully tiled. And street art abounded as well.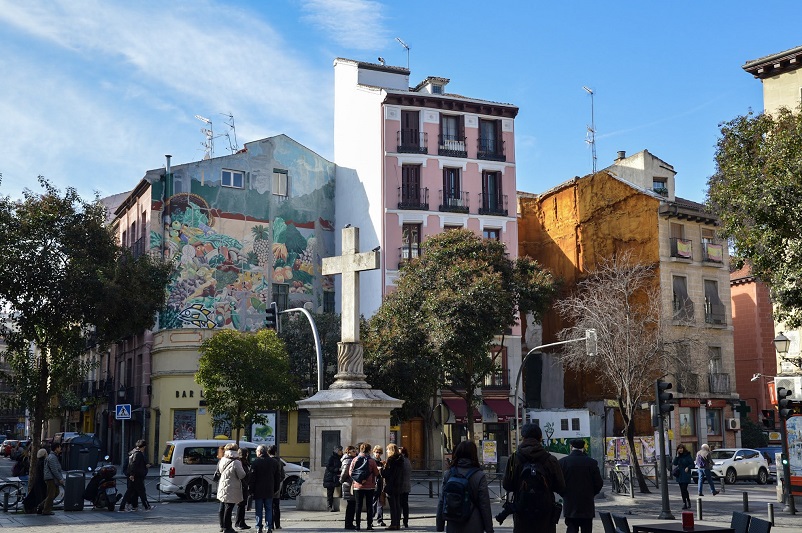 We love staying in different neighborhoods when we visit cities multiple times as it always gives us the chance to take in and appreciate a whole new part of a place.
Hang out in the park
Madrid has one of the loveliest parks we've been to: Retiro Park. It has everything you could want from a park and more: plentiful places to relax; a lake with boats; running paths; playgrounds; art exhibits. We especially love the Glass Palace which is a striking structure and houses different art exhibits.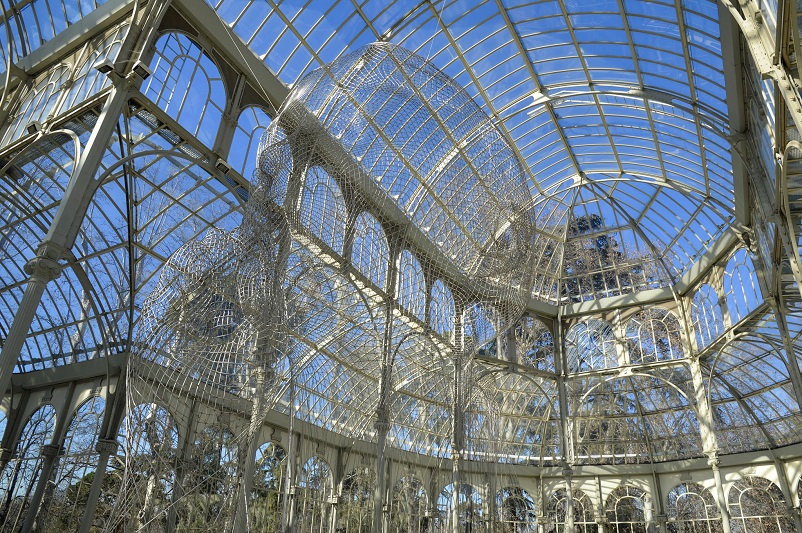 Go to a football match (or at least try!)
If you're a sports fan, you can't do much better than seeing a football match in Spain. Madrid has two football teams, but one is one of the most famous sports teams in the world, so you've got to plan well in advance to have any chance of seeing them. We have unfortunately never had the pleasure of seeing a football match in Madrid. But almost every weekend during the football season, one of the two teams will have a home game so try your luck at getting a ticket.
Siesta
When in Spain, do as the locals do: siesta! Take an afternoon rest before heading out for the night. You'll need it after all the sightseeing you've done, and since dinner in Spain starts (and ends) late.
Eating in Madrid
We enjoy visiting Madrid for its art and culture and scenery, but we love it most of all for its food and food scene. Markets and tapas make it a city for grazing and eating and drinking in a relaxed manner. And their ingredients are of the highest quality.
Visit the markets
There are many markets throughout Madrid. Some are places to eat and some are places to food shop. As would make sense, the former are geared a bit more tourists while the latter are geared more towards locals. We recommend visiting both types to get a good feel for all the food on offer in this incredible culinary destination.
El Mercado de San Miguel is the most popular market in Madrid. It's a place to eat, with many small stalls selling all types of delicious bites. It's definitely pricey, but the quality is outstanding and the diversity of offerings is impressive. It's also quite a pretty place to be.
Mercado de San Antón is another beautiful market offering gourmet treats. We visited on our first trip to Madrid and took the required picture with the colorful pig statue and enjoyed tapas with champagne.
Mercado la Cebada is in the La Latina neighborhood. This is definitely more of a market where locals shop and eat, and looks much less fancy than the two mentioned above. But the food on offer is just as high quality and much less expensive. We bought supplies for our stay including extremely tasty olives and a great steak.
Eat the ham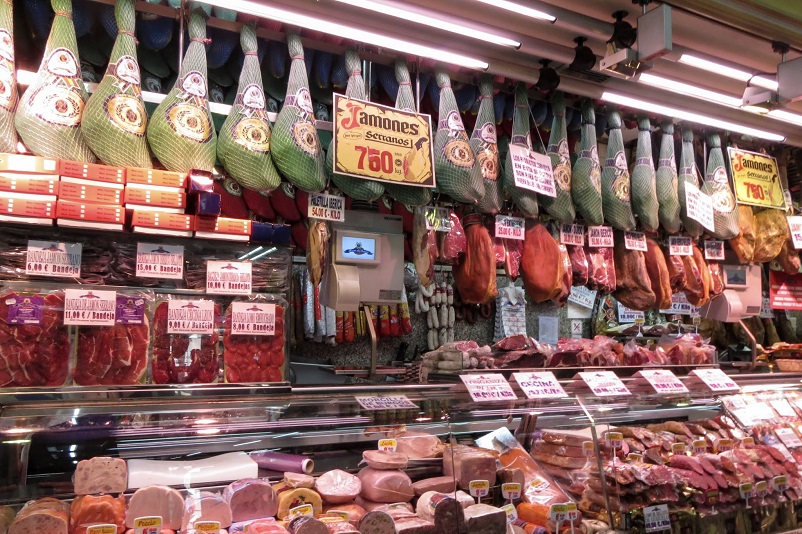 Spanish pork products are in a league of their own. And while we're trying to eat less meat overall these days, we had a hard time doing that in Madrid. You don't need to go to a special store to get some delicious ham, but if you find yourself in the vicinity of one of these two spots, we recommend going in.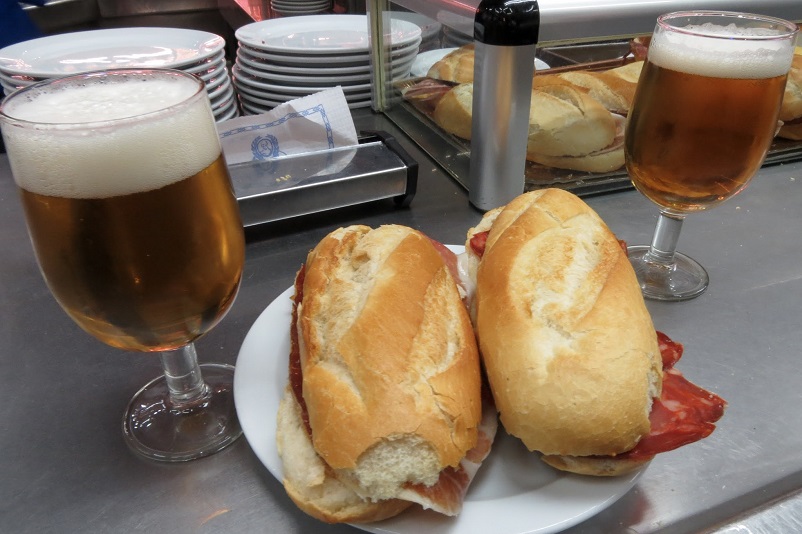 Museo del Jamón is a chain store/restaurant found throughout the city. We especially enjoyed their deal of a sandwich and a small beer for less than 2 EUR. It's touristy, but easy and delicious.
Alma De Julián Becerro is also a chain, but a smaller one as they only have two stores in Madrid. We lucked out to be staying right down the block from one. At their shop, you can buy all variety of Spanish pork products, most of which are vacuum sealed for easy transport home.
Eat the churros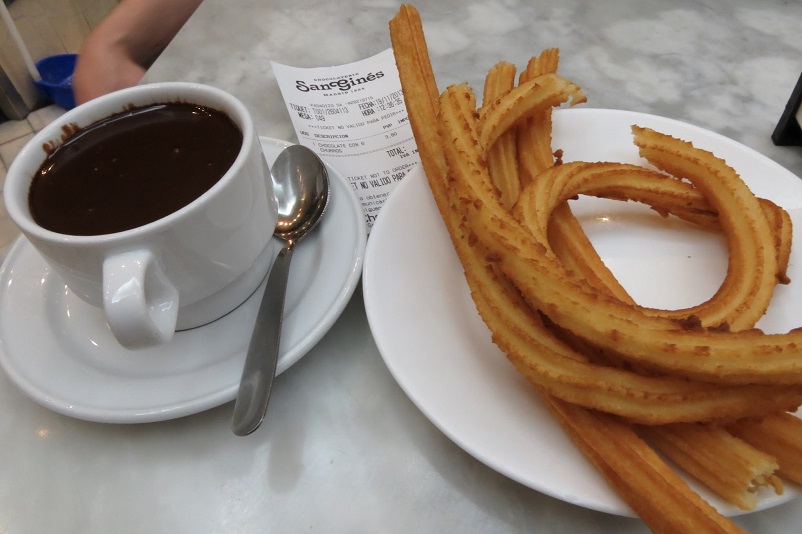 Churros con chocolate are a uniquely Spanish treat and we've especially enjoyed them in Madrid. Both times we visited we did the touristic thing and stopped off at La Chocolatería San Ginés to indulge. Note, they have two storefronts so if the line looks long at the main one, check the other nearby. If you have pleasant weather, take a seat outside to enjoy the city. But don't fret if it's too cold or raining, a seat inside with delicious scents of fried dough and chocolate is great too.
Tapas crawl
Madrid has some great restaurants, but we most enjoyed the small bites and tastes at wine bars and tapas bars.
On our first visit to the city, we stayed near the Prado. If you wander in towards Sol, you'll find yourself passing small tapas bars on every corner. Just go into whatever one appeals and you won't be disappointed.
This most recent trip, we stayed in La Latina, just a block away from one of the most popular tapas streets in Madrid: Calle de la Cava Baja. We had a delicious time sampling the street's offerings. Our favorite spot was Lamiak, a Basque-style restaurant, which is open for lunch and dinner.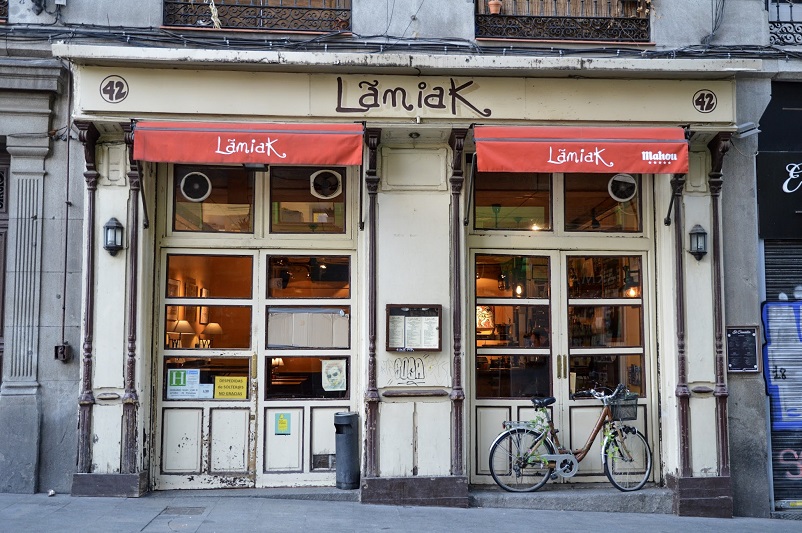 Madrid public transport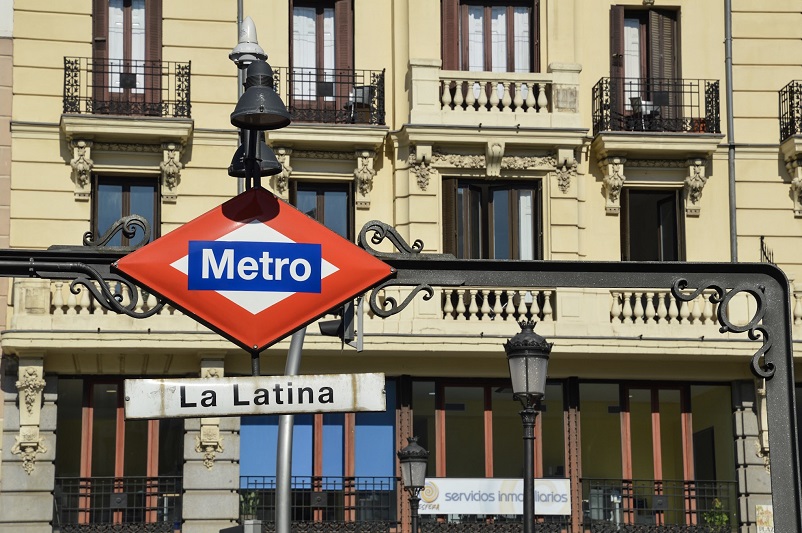 Madrid is well-connected via public transport with an extensive Metro and bus system. We've found the easiest way to get from the airport to the city center is via Metro. And the representatives at the airport Metro station are very helpful. We recommend looking into the various fare cards they offer as you may save money if you're traveling in a group or for several days. You can get one Metro card to last you your 3 days in Madrid (or between 1-7).
Unfortunately, the Metro is not super accessible for people with mobility limitations. We were hard pressed to find an escalator or elevator in most stations. However, there is a plan to make more of the system accessible over the next few years. Buses should have ramps for wheelchair-users to board.
Accessible travel in Madrid
If you are a wheelchair user or have other mobility limitations, you may want to get in touch with Accessible Madrid to help plan your Madrid trip. They have many offerings including wheelchair-accessible accommodations, mobility equipment rentals, and accessible tours.
<< Book a hotel for your 3 days in Madrid now! >>
Like this post? Pin it!