Last Updated on 19th August 2020 by Sarah and Justin
Aarhus, Denmark is a small city that packs a big punch. From art and culture to impressive views to great food and beer, we spent four days in Aarhus enjoying it all. Read on for our picks of things to do in Aarhus including accessibility information, recommendations for Aarhus restaurants and craft beer bars, and more tips to make the most of your time in this super cool city.
A little bit about Aarhus
Aarhus (or Århus in Danish) is the second largest city in Denmark. It's located on the Jutland Peninsula and has the country's main industrial port. The history of the city dates back to the 8th century, when it was settled by vikings. In 2017, it was named one of the European Capitals of Culture. People in Aarhus and Denmark speak Danish, but a high percentage of Danish people are fluent in English. If you don't speak Danish yourself, you'll have a hard time pronouncing the name of the city, but go with something like "OAR-hoos" and you'll get by. The currency is the Danish Krone (DKK). Things are pretty expensive in Denmark in general and Aarhus is no exception. We found most places in Aarhus take credit cards and actually did not take cash out during our trip. Aarhus is located about two hours from Copenhagen by train, but also has an airport of its own. You can read more about how to get to Aarhus further below.
Free things to do in Aarhus
Since Aarhus is admittedly expensive, we're starting with recommendations for free things to do in Aarhus. And there are quite a few.
Salling rooftop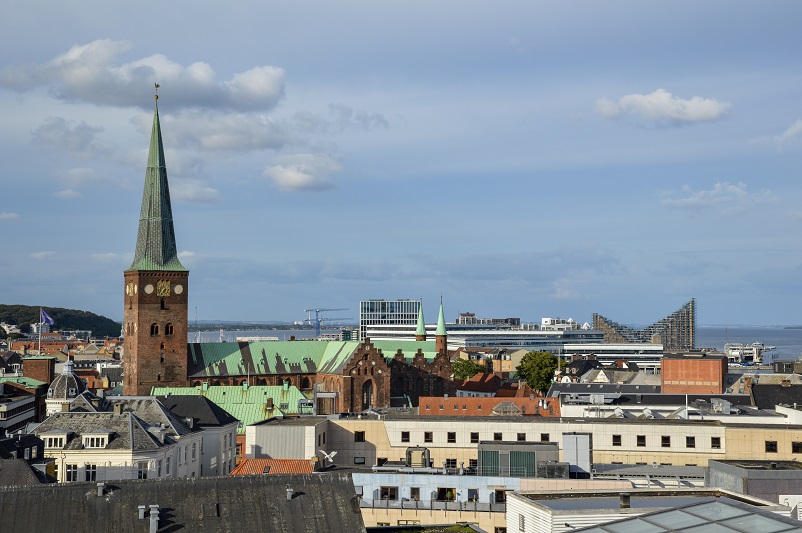 We accidentally stumbled on one of the best views in Aarhus. We were walking down the city's main pedestrian street when we looked up and saw a people standing on a platform jutting off a building. After a quick Google search, we entered the Salling mall, rode up to the top floor, and were greeted with a really cool scene.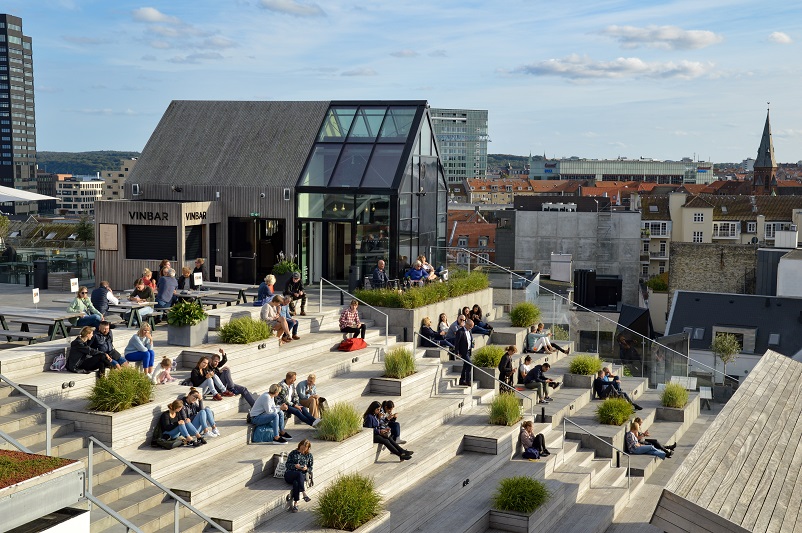 Salling
has a public rooftop that's free for anyone to enjoy. There are several different viewpoints at different levels overlooking different parts of the city. It's incredible. There are tons of places to sit and relax. And of course there's a restaurant and bar where you can grab some food and drinks. We've heard the smørrebrød at the cafe is great. Much of Salling rooftop is also wheelchair-accessible. You can take an elevator to two different levels and there are ramps leading to some of the viewpoints.
Dokk1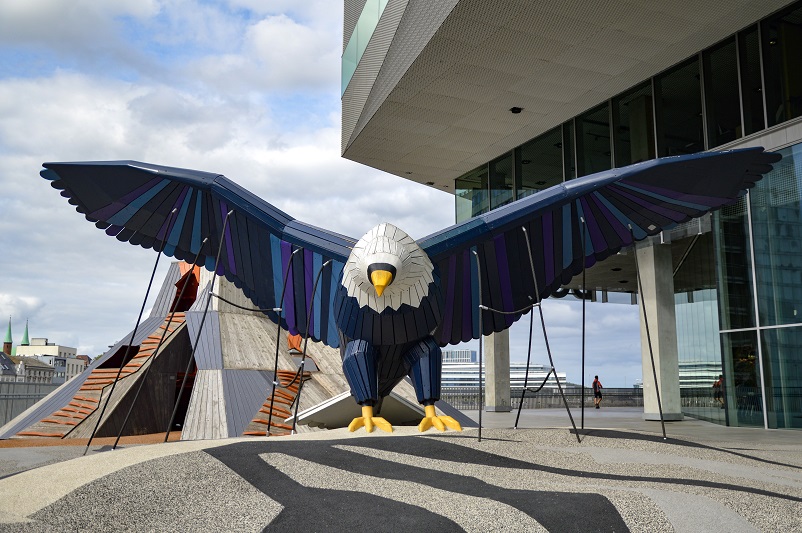 Dokk1
is a combination citizens' service center and public library. It's also where the Aarhus tourist information is located. Inside you can find tons of places to sit and relax. But the outside of Dokk1 is the real attraction. There are several playgrounds featuring some pretty cool sculptures (like this eagle), swings, and other places to hang out. And you can see some great views of Aarhus too. Located at the harbor, it's a great place to start a walk on the water. Dokk1 has elevators inside and out and ramps as well.
Møllestien Street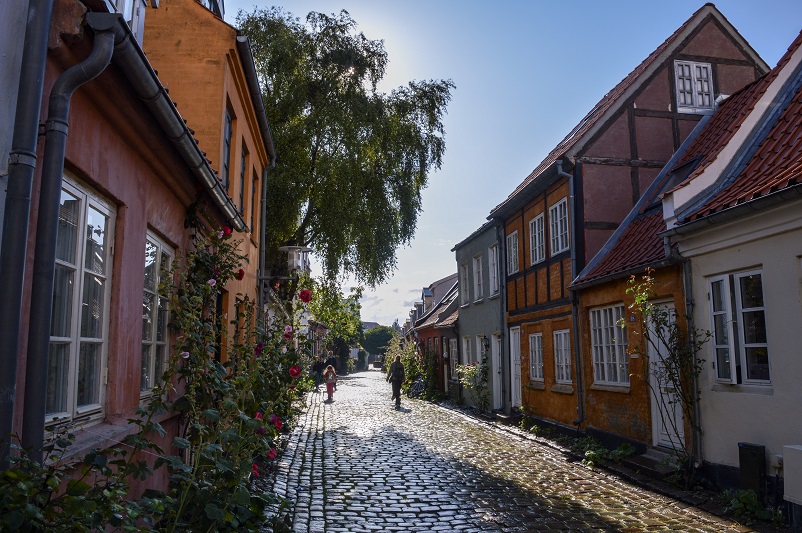 If you're looking for a different kind of picturesque in Aarhus, head to Møllestien street. It's considered by many to be the most beautiful street in the city. Møllestien street dates back to the early middle ages, but of the buildings still standing were built in the 18th century (source:
Visit Aarhus
). It's quite a lovely spot to take a stroll and some photos. We got lucky with the weather when we visited as it had only recently stopped raining so the cobblestones were a bit glistening.
Aarhus museums: art, culture, and nature
ARoS Aarhus Art Museum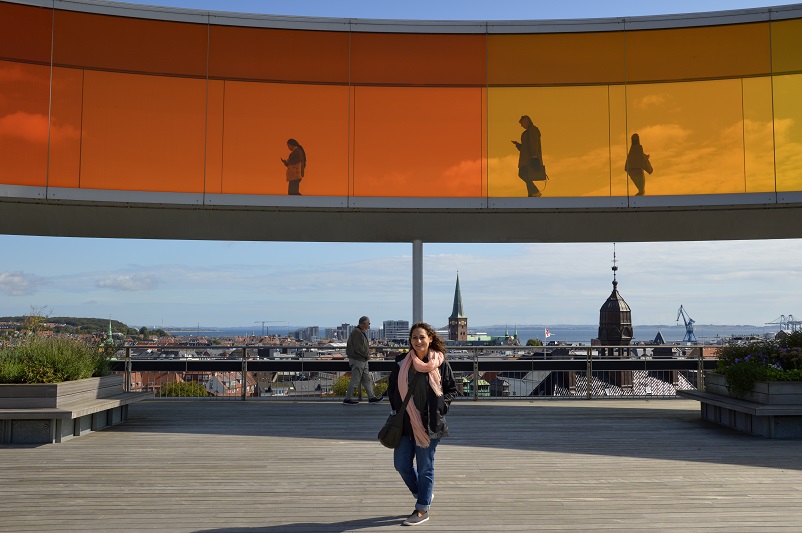 ARoS
is an iconic part of the Aarhus skyline with its striking rainbow bridge atop the building. After seeing it all weekend, were excited to finally get up there.So upon entering the museum we, along with most everyone else, made a beeline for the roof. And we were wowed. The 360 views of the city from both inside and outside the rainbow bridge are truly incredible and unique.
The inside of the building is pretty cool too, as is the rest of the art. ARoS is one of the largest art museums in Northern Europe and has the largest collection of art in Denmark outside Copenhagen. The collection consists of art spanning 300 years, but its most noteworthy pieces are from the more modern era. This includes the rainbow bridge itself,
Your Rainbow Panorama
(2011), as well as the enormous
Boy
(1999). ARoS is entirely wheelchair-accessible with elevators to all floors including the rainbow bridge and the roof deck. You can read more about the museum's accessibility on the
ARoS website
.
Moesgaard Museum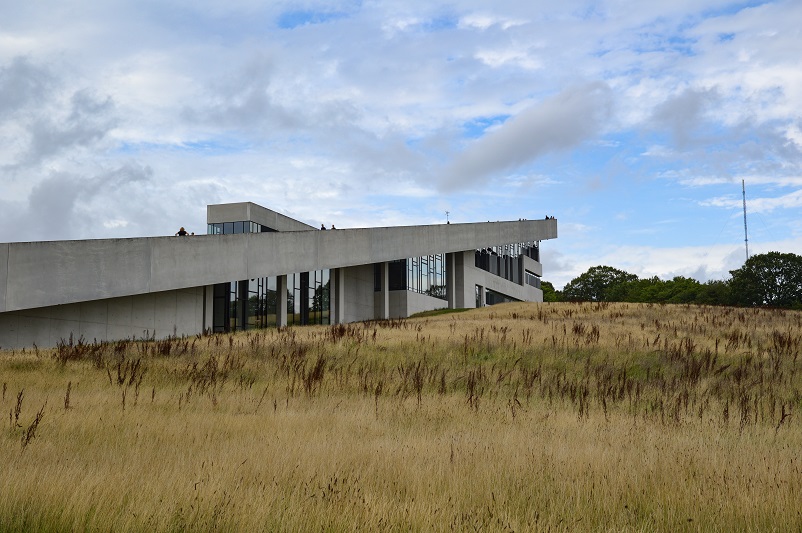 The
Moesgaard Museum
is always listed as one of the top things to do in Aarhus, but it's not actually in Aarhus. It's located about a a half hour away by bus. The Moesgaard Museum itself focuses on prehistory and culture. It's especially great for children as it tells its stories via reconstructions, both physical and in video. The museum is entirely wheelchair-accessible with elevators throughout. You can read more about accessibility information on the
museum website
. Truthfully though, seeing the exhibits at the Moesgaard Museum wasn't the highlight of our trip there. We most enjoyed having a self-made picnic lunch atop the museum's slanted roof and exploring the grounds outside.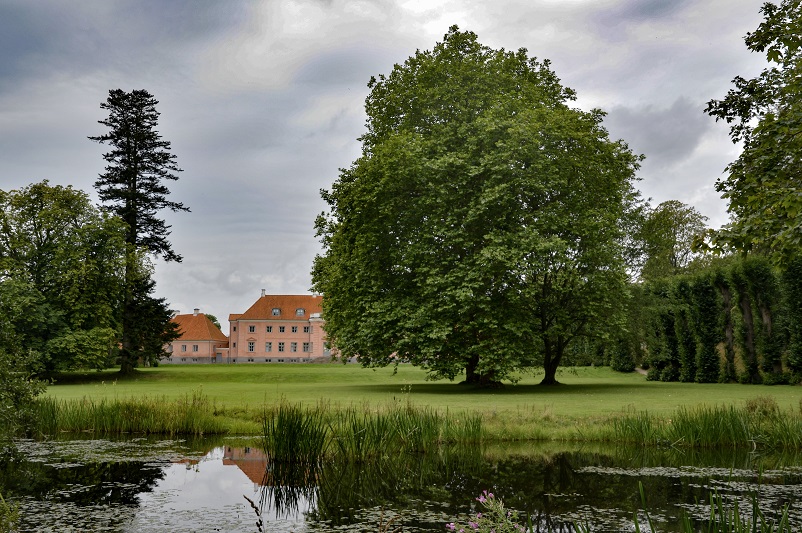 A marked trail will take you from the museum, around the nearby Aarhus University buildings, through a forest, and to the beach. We only got somewhat lost in the forest, but did eventually succeed in reaching the beach. It wasn't exactly beach weather, but despite the grey skies and whipping wind, it was still a treat to be on the water. In addition to forest trails, there's also is a paved road that goes down to the Moesgaard Beach. There is also accessible beach access and a dock with a ramp into the water.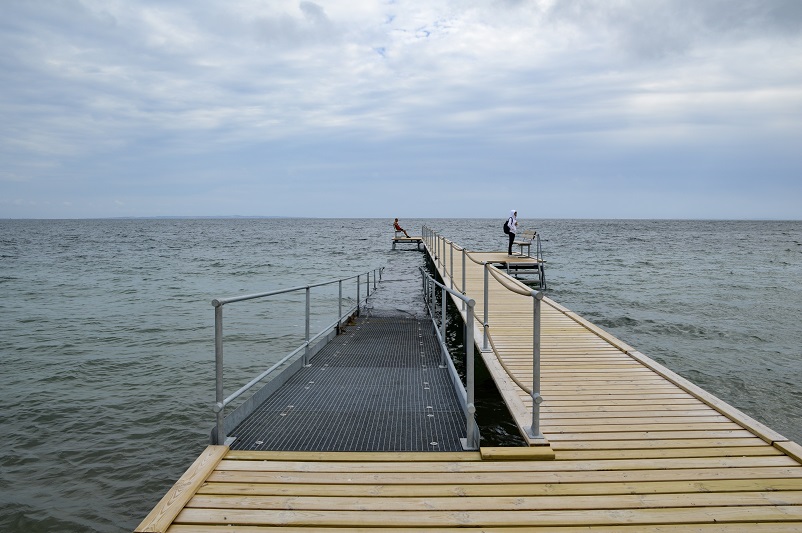 Den Gamle By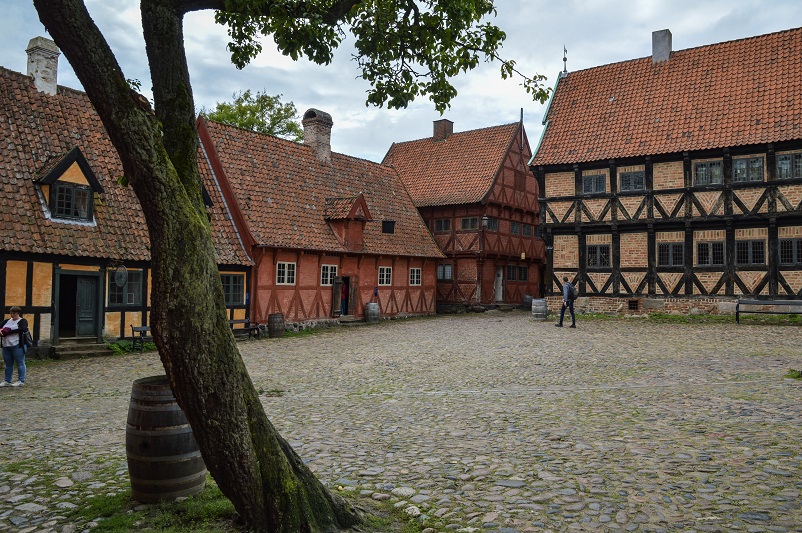 Den Gamle By is a little cheesy, but we had a lot of fun. Its name means "The Old Town" and it is an open-air museum featuring buildings from older times. Most interestingly, the historic houses are originals that were transported here from different places in Denmark. There are three parts of the museum showing different time periods. The largest is the time before the 1900s and feature houses that date back to the mid-1500s and some lovely gardens. The two smaller sections represent the 1920s and 1970s. There are a ton of smaller museums within Den Gamle By as well. We went to the
Danish Poster Museum
which has a vast collection of posters from Denmark and the world.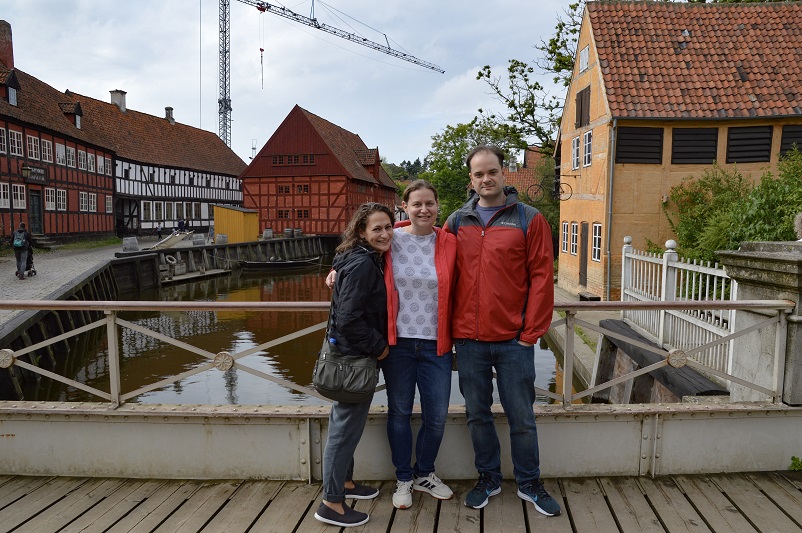 Den Gamle By is not the most wheelchair-accessible attraction as many of the streets have cobblestones and the historic houses are difficult to enter. But the museum attempts to make it more so. They offer free mobility scooter rentals and companion tickets are free. They provide comprehensive
accessibility information on their website
including recommendations for the most difficult places to avoid.
Other fun things to do in Aarhus
Tour Aarhus city hall
Our second day in Aarhus we woke to stormy skies and buckets of rain. Luckily, it was Saturday, which is when
AarhusGuides
offers tours of Aarhus City Hall. Aarhus City Hall is a unique building. It was built in the functionalist style of architecture, which means every element of its design, inside and out, is meant to have a function. The story behind its design and construction is interesting as well. In brief, when the people of Aarhus realized the original design of the building did not include a tower there was a public outcry. The architects tried to defend their design, but ultimately acquiesced.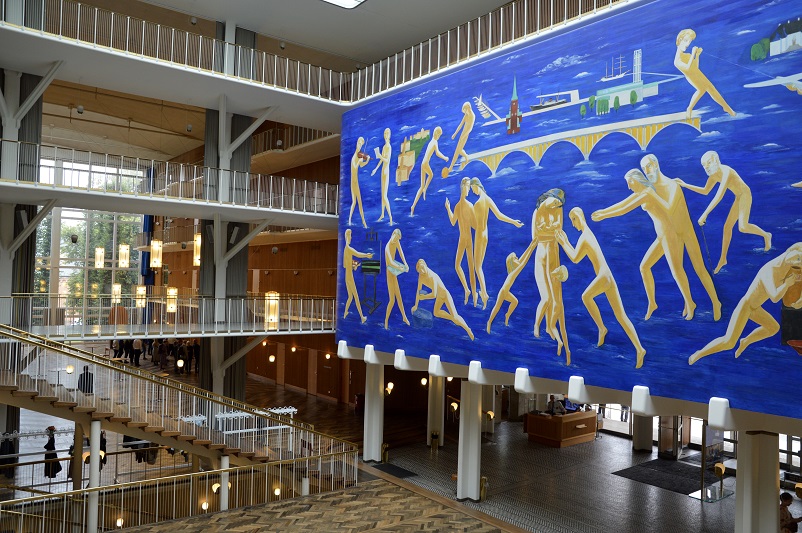 You can admire City Hall from the outside, as we did every time we passed it, but if you want to see all the unique details and a great view of the city from that tower, we recommend this tour. The tour is suitable for people with limited mobility who are not restricted to a wheelchair. To get up to the tower, most people walked up nine flights of stairs. Sarah and a few others took an elevator (a very small one) plus one flight of stairs.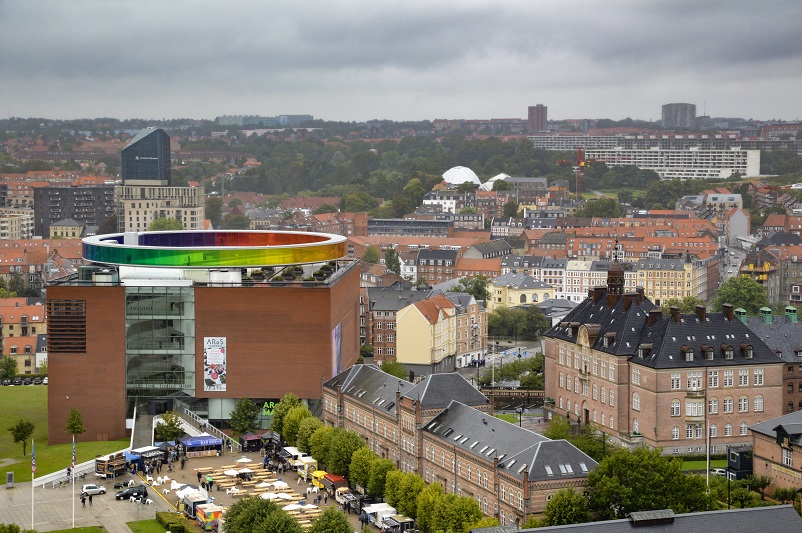 You'll be glad to visit City Hall on a Saturday for another reason too: weddings. If you're like Sarah and love seeing people tie the knot, you're in for a treat. Saturday is the public wedding day in Aarhus. The ceremony itself happens behinds closed doors, but seeing all the sharply-dressed happy couples celebrating with friends and family can only bring a smile to your face.
AGF football match
Sports fans should consider attending a football match during their trip to Aarhus. Justin did just that. Being just 20 minutes from the city center by bus, it's an easy outing.
Aarhus Gymnastikforening (AGF)
is one of the oldest football clubs in the country. You can buy tickets at the stadium on match day. We were impressed they were also included in the AarhusCARD. Wheelchair users can purchase tickets for the wheelchair section in advance or at the stadium. Assistant tickets are available free of charge. You can find more
information for people with disabilities on the AGF website
, though the information is in Danish.
Explore the Latin Quarter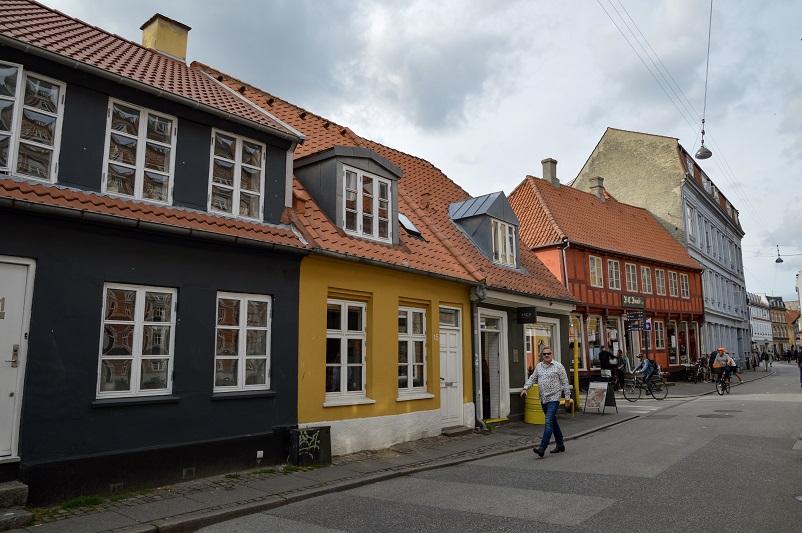 The Latin Quarter was our favorite part of the city for a stroll. It's a small area of the city with picturesque cobblestone streets lined with cute buildings. As you'll read a bit later, it's also one one of the best places to head for eating and drinking.
See Aarhus harbor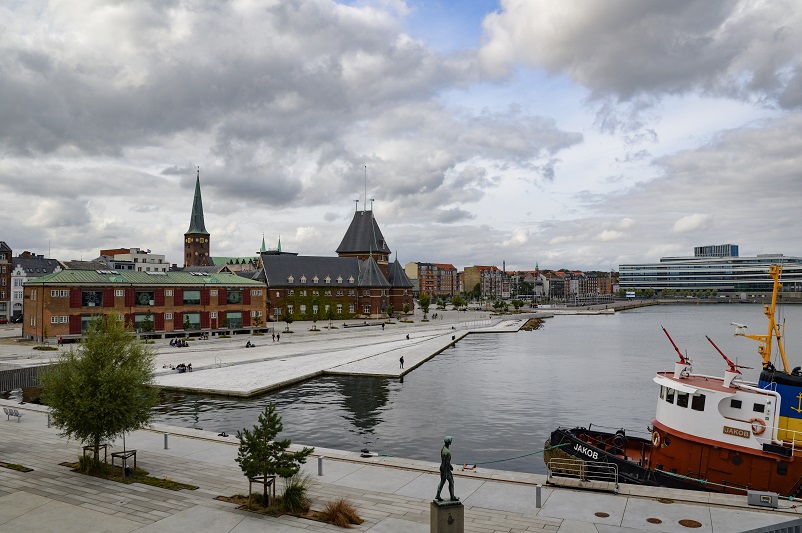 As we mentioned above, Dokk1 is an easy place to start you walk along the Aarhus harbor. From that vantage point, you'll also get a great view of the port, the water, and the interesting buildings. From Dokk1, it'll take about 20 minutes to walk up along the water to where the buildings become more interesting. It will take a little longer to see the new modern buildings like the Iceberg at Ø-Haven. We were happy enough to just see them from afar.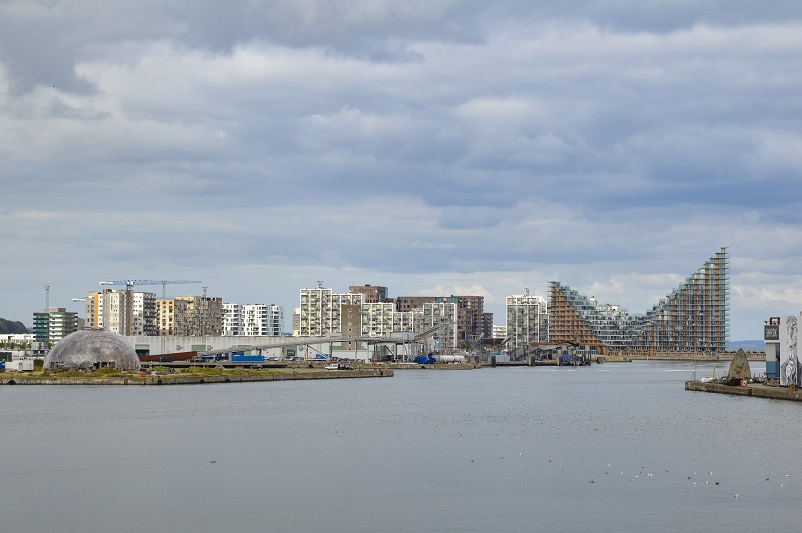 Aarhus restaurants
Aarhus Street Food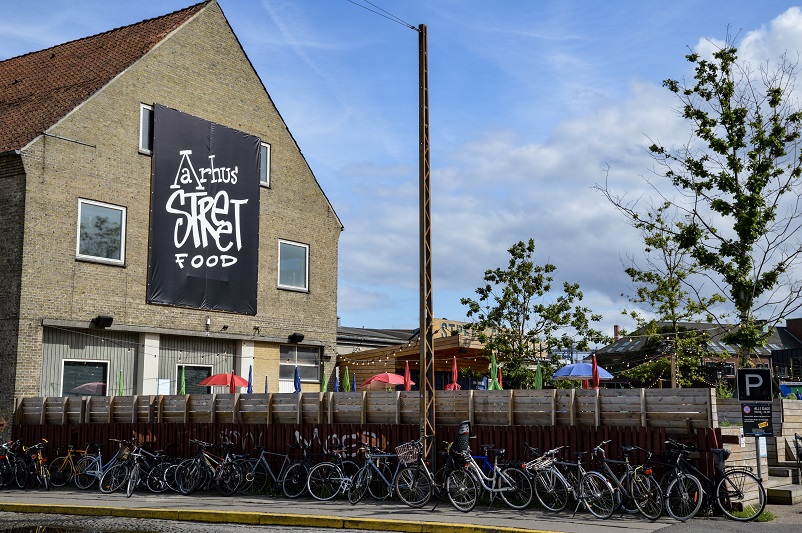 Our favorite place to eat in Aarhus (and drink and people-watch and hang out) was
Aarhus Street Food
, a market near the harbor. It is home to nearly 30 stalls with a dizzyingly diverse array of food and drink options. It's a really delicious and fun place to be. We went once for lunch and once for a leisurely drawn out dinner where we tasted as much as we could get our hands on. We honestly could have gone there for every meal.
Aarhus Central Food Market
Aarhus has another great food market a little closer to the center of the city,
Aarhus Central Food Market
. Similar to Street Food, it has a bunch of stalls serving different cuisines. We had the most delicious and beautiful platter of smørrebrød.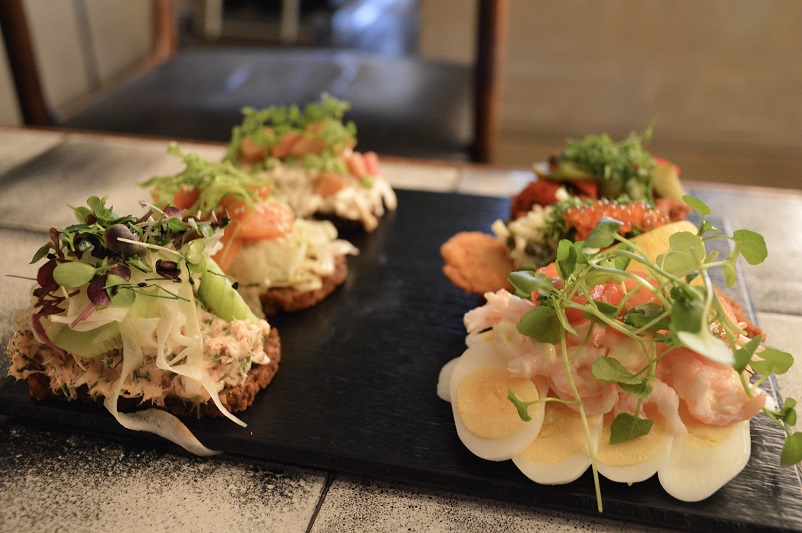 L'estragon
L'estragon
is a small, super cozy restaurant in the Latin Quarter. We ate dinner there on a Sunday, when they offer a well-priced surprise menu. We enjoyed a relaxed five-course meal of dishes that combined Danish ingredients with French technique. The food was artfully prepared but not overly fussy. Dinner also included three glasses of French wine. At around $70 per person, we thought it was quite a good deal, especially in Denmark.
Faour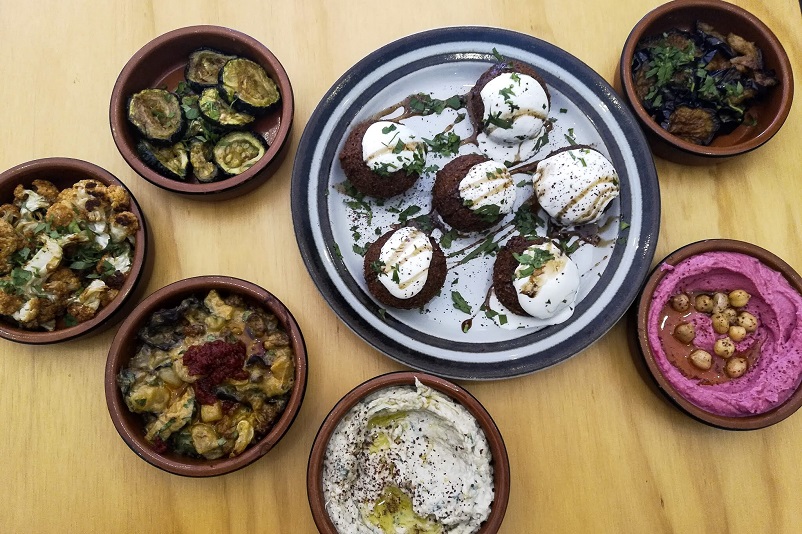 Looking for something a little different for lunch, we found restaurant Faour, also in the Latin Quarter. We feasted on falafel, flatbreads, and a whole bunch of delicious vegetable sides and spreads. It's was a tasty lunch and we could almost convince ourselves it was healthy.
Restaurants on Jægergårdsgade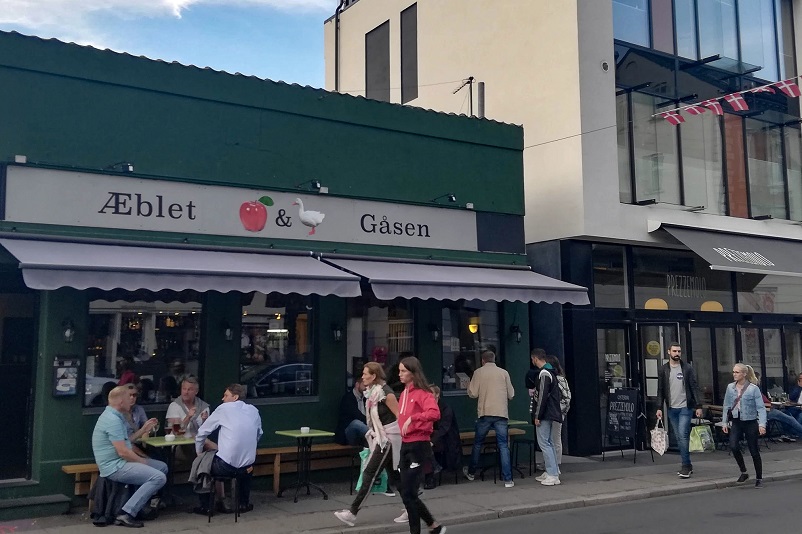 If you don't know what you want to eat, but you want some good options, we recommend heading to Jægergårdsgade, a street a few blocks behind the train station. There you'll find a ton of bars, cafes, and restaurants, including the well-reviewed
St. Paul's Apothek
. It's also a really great looking street to stroll down.
Craft beer bars in Aarhus
Mikkeller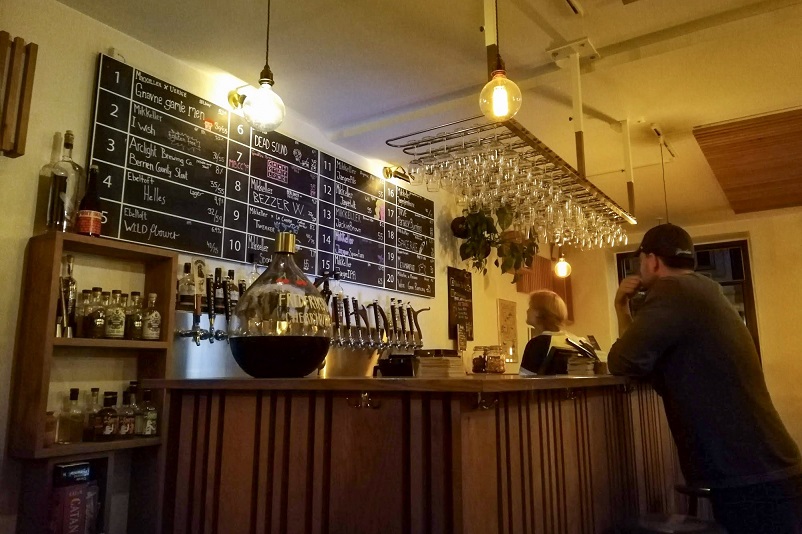 Mikkeller Bar
and Mikkeller Bottle Shop can be found on Jægergårdsgade. Mikkeller makes some of the best craft beer in the world. So if you're a beer lover visiting Aarhus put it on your itinerary. The bar is small and they only serve snacks, but you're welcome to eat burgers and fries from Burger Shack next door.
Mig og Ølsnedkeren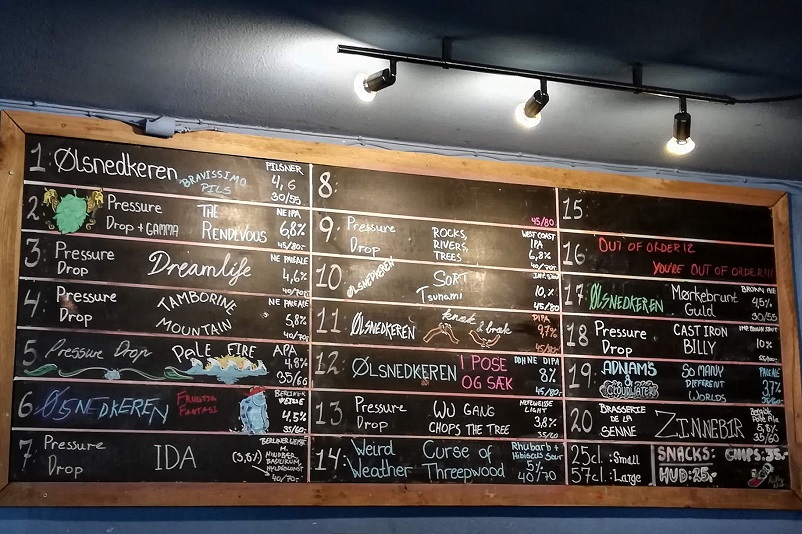 Mig og Ølsnedkeren is a chill craft beer bar located between the Latin Quarter and the harbor. As you can see, they have an extensive list of Danish craft beer on tap. They also have board games, so it's a cool and relaxed place to hang out.
Ølbaren
Ølbaren is the craft beer bar at Aarhus Street Food. It's yet another place where you can find an extensive offering of Danish craft beer. We tasted many of them, for the sake of research of course.
More Aarhus tips
Copenhagen to Aarhus
It's really easy to get from Copenhagen to Aarhus (or vice versa like we did). There's a direct train that leaves about twice an hour and takes about three hours. It's quite a nice and easy ride. To save money, we recommend booking your ticket in advance on
DSB
, the Denmark train website or app. The cheapest ticket will be called an "orange ticket" which is non-refundable. DSB offers assistance to people with disabilities. You must arrange it in advance via phone or form. You can read more information about their
assistance services on their website
, though it's in Danish.
Flying to Aarhus
If you're flying to Denmark to visit Aarhus, you have a few options. Of course Copenhagen Airport offers the most options in terms of flights and destinations. But Aarhus has its own airport as well, which is about 45 minutes from the city by bus. Another option is Billund Airport, which is about an hour and a half away by bus.
Is the AarhusCARD worth it?
There's no denying that Aarhus is expensive. Denmark is one of the most expensive countries we've ever visited. But there's a good way to save some money on your trip to the city. If you're interested in visiting at least a few attractions and using the Aarhus public transportation system, you should consider getting an AarhusCARD. We suggest doing a little math to see if it's worth it for you. We knew it would be a good deal when we saw that it included the bus trip to the city from Billund Airport (where we arrived) as that ticket itself is pretty pricey. There are a few different cards depending how long you'll stay, but they're all hourly, meaning your card will be valid x hours from the moment you activate it. It seems like the card includes access to every attraction in Aarhus, but you can double check and do that math we mentioned on the
AarhusCARD website
.
Aarhus public transport
Aarhus has an extensive bus system and a new light rail (tram). You must purchase your tickets before boarding the bus. We actually couldn't find where to do so, so ended up using the Midttrafik app. The AarhusCARD also includes public transportation. The system is fully wheelchair-accessible and you can find more
information about accessibility on the Midttrafik website
, though the information is in Danish.
Aarhus hotels
Aarhus is small enough that you'll be well-positioned staying anywhere in the center. Staying near the new Ø-Haven will give you some great views, but require a bit more walking to get to restaurants and points of interest. Wherever you choose, we recommend booking your accommodations in Aarhus well in advance to get the best rates.
<< Book a hotel in Aarhus now >>
Disclaimer
This post was written with support from VisitAarhus who provided us with AarhusCARDs for our visit. As always, all opinions are our own.
Like this post? Pin it!