Last Updated on 25th October 2019 by Sarah and Justin
The colors drew us to Porto. We'd been wowed by pictures of red roofs, blue and white tiles, and facades of all shades and wanted to see it for ourselves. So we spent a weekend in Porto, Portugal soaking it all in. It was February and having come from the grey cold Netherlands, sunny Porto was an incredibly nice change. We definitely came to appreciate the European winter break on this trip. We had the loveliest time, so we're writing this post about why you too should visit Porto in winter and what to do when you get there.
Things to do in Porto
We spent two days in Porto, and three nights. Though we would have enjoyed staying longer, this was a proper amount of time to see the main sights and get a good feel for the city. Here are the things we most enjoyed doing during our weekend in Porto.
Explore Ribeira and the Douro River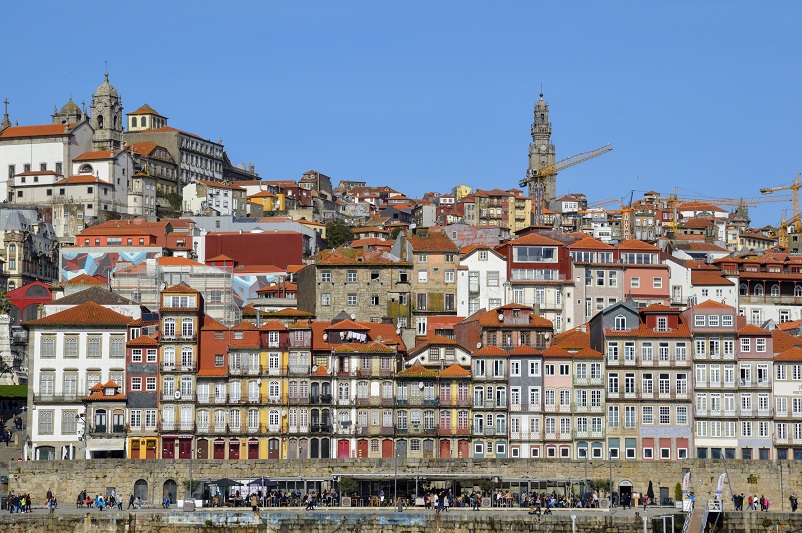 Porto's waterfront on the north side of the Douro River is called Ribeira. The first time we headed down to it we took a roundabout route that allowed us to explore some of the smaller more windy, less populated streets. To experience some of the loveliest architecture, as well as people going about their day in relative quietude, we highly recommend doing this as well. Because once you hit the main street that runs along the water, you'll be surrounded by other tourists and people trying to sell things to you and the other tourists.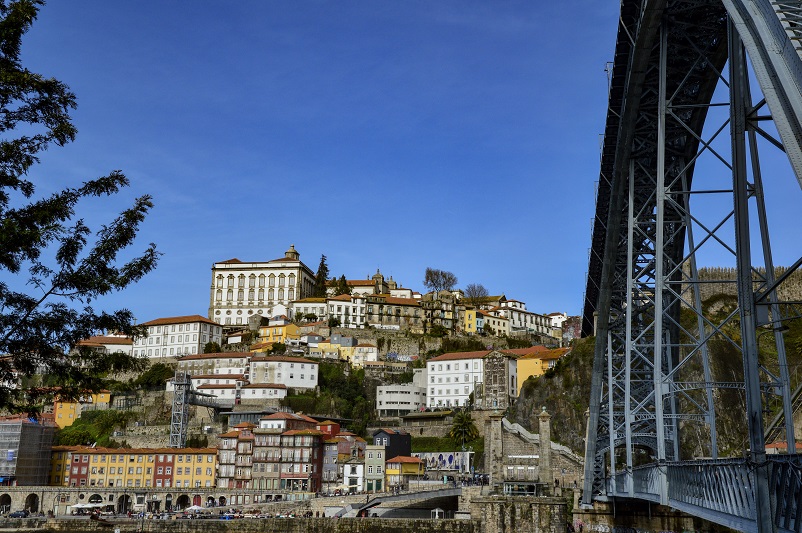 After walking along the main drag, cross the river via Ponte Luis I, the city's main (and quite picturesque) bridge. There are two levels to walk on, one relatively low and one terrifyingly high. We opted for the one that would allow Sarah to take pictures without fear of her or Justin falling off.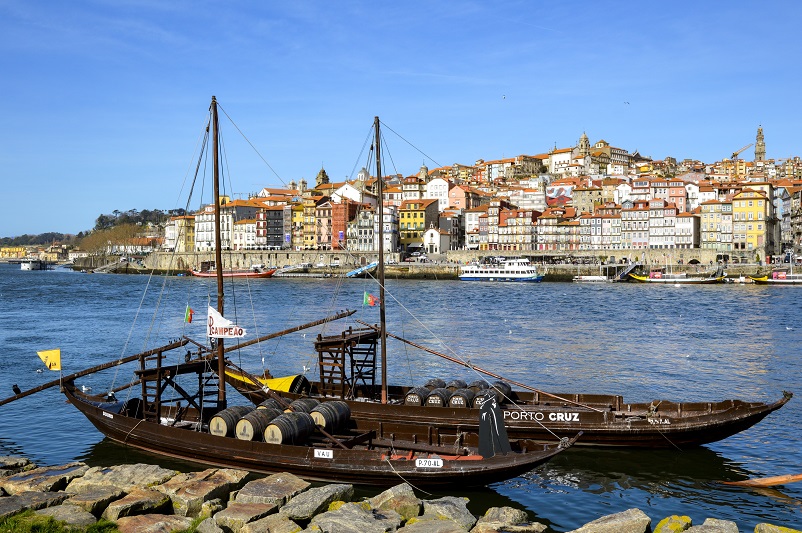 On the other side of the river is where you can take the most beautiful pictures of Porto. It's from here that you can really appreciate the beauty of the Ribeira, seeing all the bright colorful buildings splayed out in front of you across the blue water. And the small boats bearing the names of the Port houses lining the river's edge make for some lovely photo ops as well. We were wowed walking along the waterfront.
Taste some Port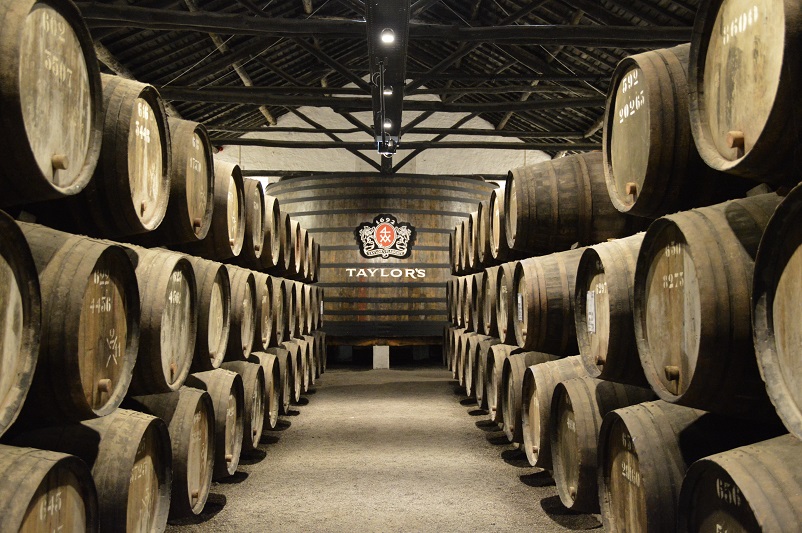 Speaking of Port wine, the southern side of the Douro River is where all the Port houses are. If you want to taste, there are many, many options of tours and tastings. We went to Taylor's which includes a self-guided tour with an audio guide. It wasn't the most personal experience, but did allow us to go at our own pace (which was a bit faster than it would have been otherwise).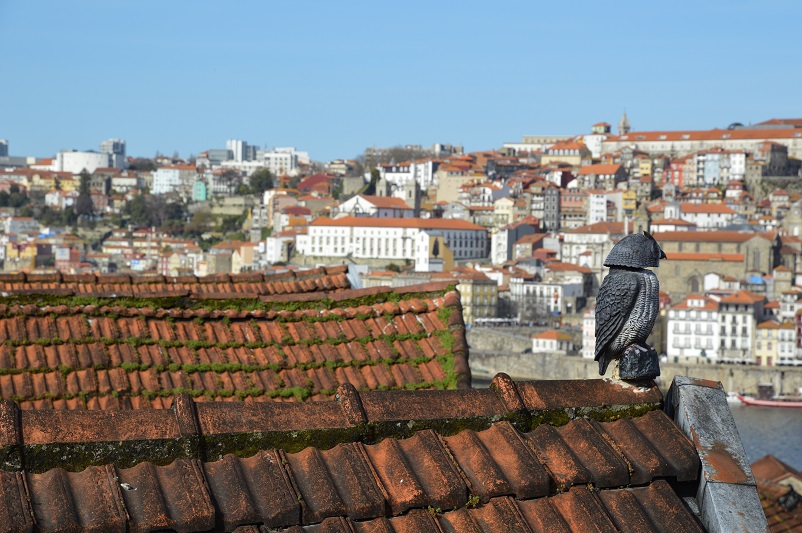 The best part of the tour itself was walking into the cellar to see and smell all the Port barrels. The grounds are truly lovely with an outdoor patio and beautiful views across the water. And there are brightly colored peacocks and chickens that roam the grounds (or hang out high in the trees in the case of the chickens). The Port was pretty good too.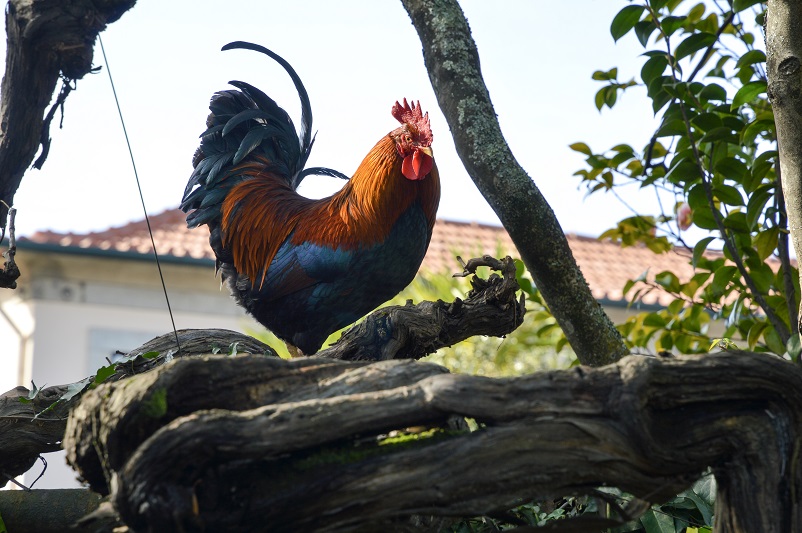 See azulejo tiles in Porto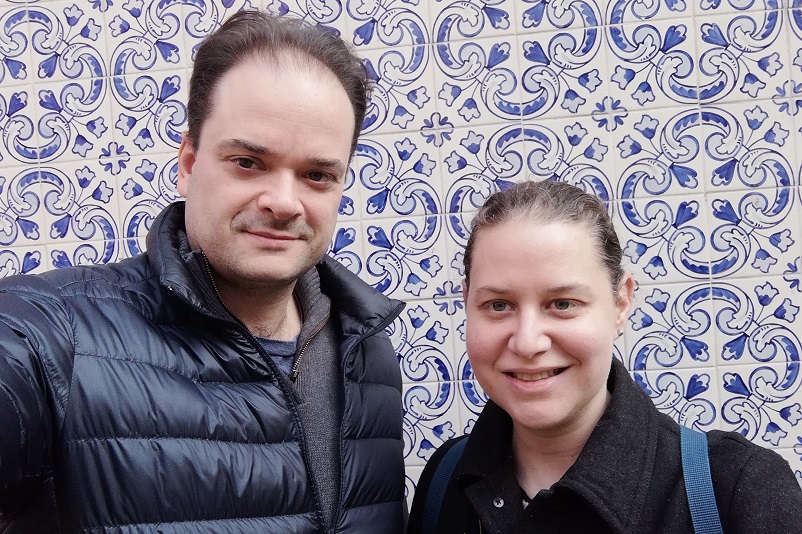 Buildings decorated with azulejo tiles are what make Porto unique and a feast for the eyes (and lens). There are a few major sights that are worth seeking out, but it's also fun to just keep an eye out for them wherever you wander. We basically spent the entire time walking around Porto looking up and it's a wonder we didn't bump into anything or anyone during our trip.
São Bento train station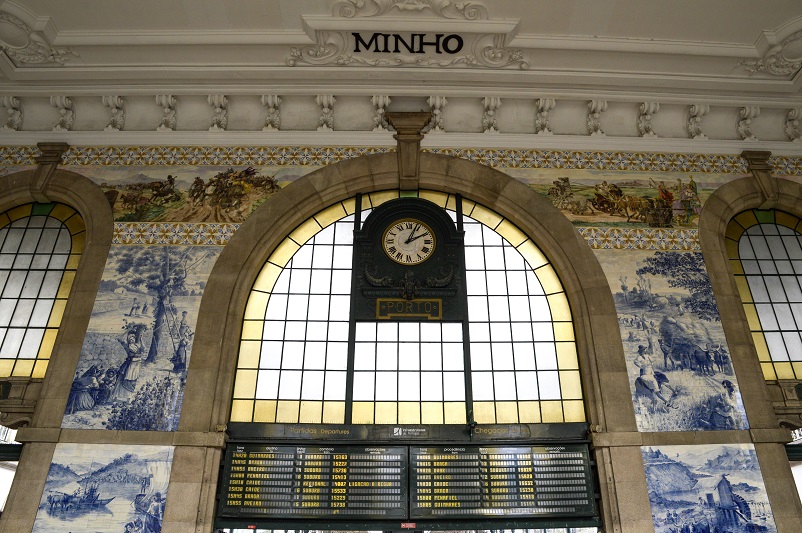 São Bento is the main train station in Porto and is probably the most well-known example of azulejo tiles. The walls of the entry hall to the station is covered in them, so it's quite a place to just stand and stare. The station is located pretty much in the center of the city, so even if you don't arrive that way, it's easy to find.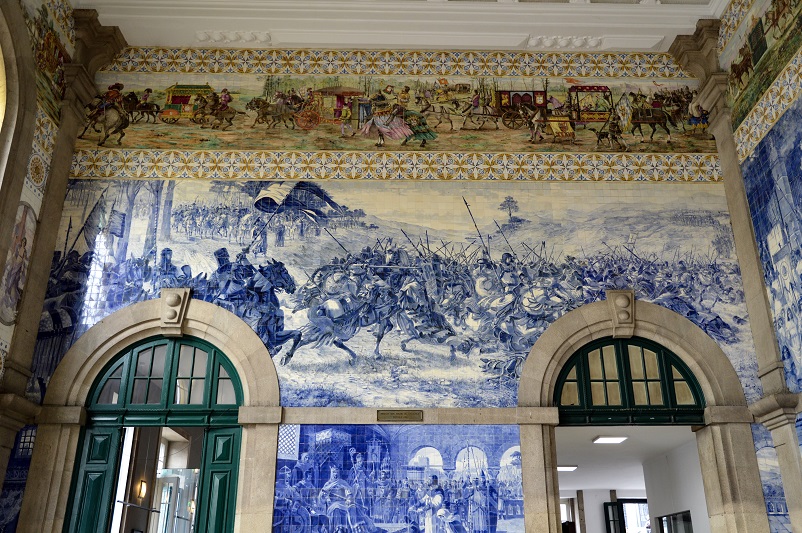 Igreja do Carmo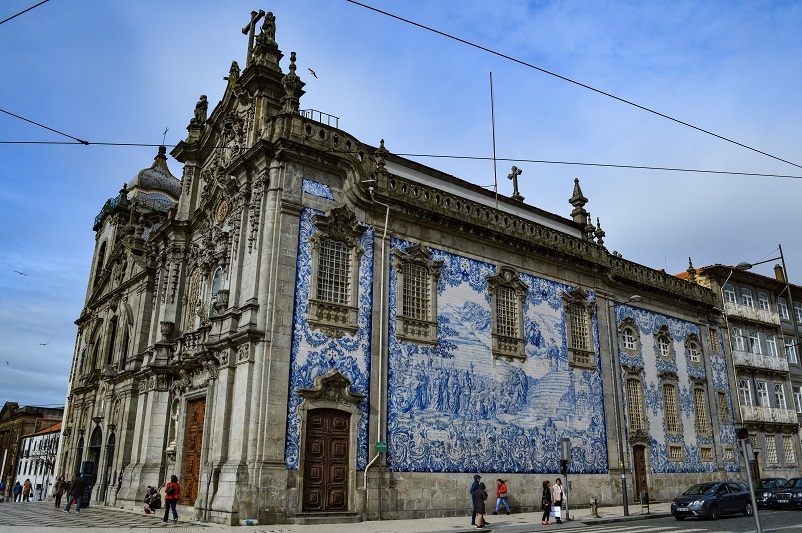 This church is located in the Vitoria neighborhood. It's where the University is located, so there are a lot of small shops and bars and restaurants. We definitely enjoyed our wandering there. But we were most impressed by the fabulous Igreja do Carmo church. It's a showstopper, so if you're interested in azulejo tiles definitely make it a stop on your itinerary.
Chapel of Souls and Church of Saint Ildefonso
The Chapel of Souls – also called the Chapel of Santa Catarina – is on the corner of a busy pedestrian street near Mercado do Bolhão. This facade and side of the building are entirely covered and the blue in the tiles is extraordinarily white. You can see it pictured on the left above.
The Church of Saint Ildefonso is relatively large church is located near the exit of the Batalha funicular stop. And that's how we stumbled on it. As you can see in the picture on the right above, it's more sparsely decorated with the tiles but this makes for a nice effect in combination with the rest of the church's ornate architecture.
Admire the details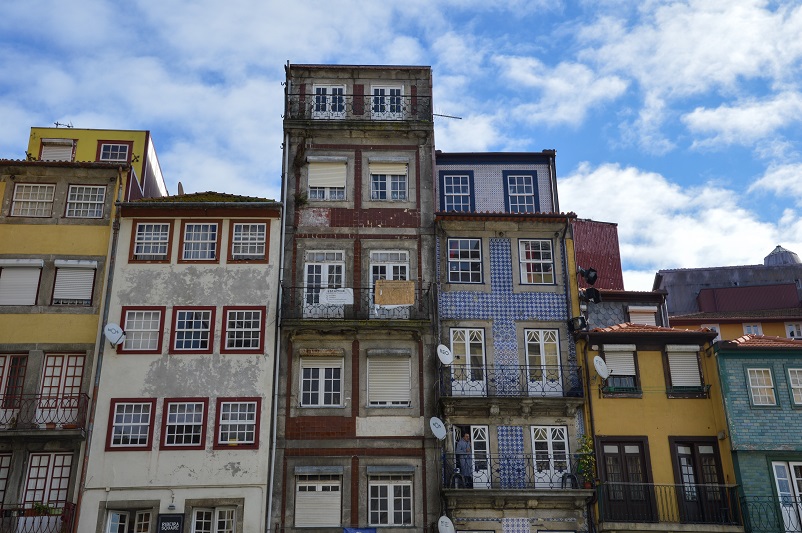 We are walkers and wanderers, especially in cities. Porto is a wonderful place to do that, with the one enormous caveat that it's incredibly, unbelievably hilly. Also many of the streets are cobbled. Needless to say it's not the most accessible city. So our pace was a bit slower than it normally is as Sarah definitely had to take some breaks in the hilliest sections.
But going slow and taking breaks just makes for more sightseeing and more opportunities to look closely at the beauty around us. The buildings covered in not just azulejo tiles but tiles of bright gem tones. The drying laundry making for gorgeous scenes. The beautifully packaged products in store windows. Porto is truly a feast for the eyes and every detail deserves to be taken in and appreciated.
Porto viewpoints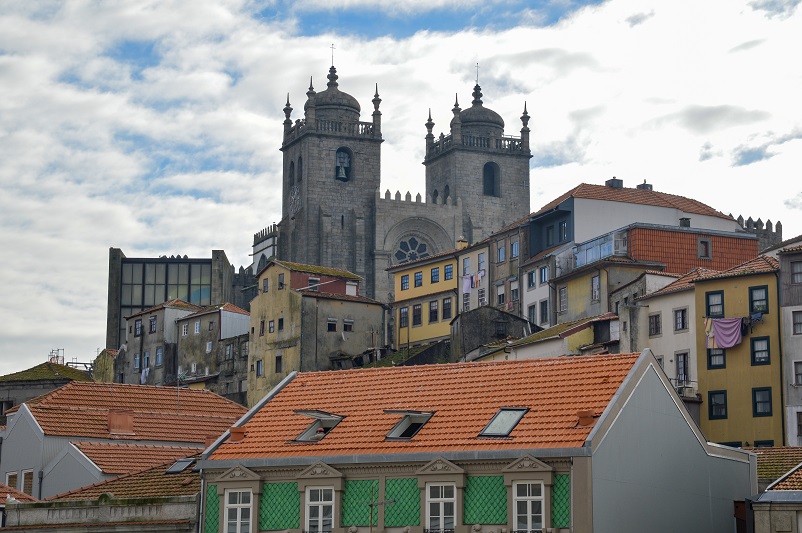 We did climb high enough (albeit slowly) a few times to see some pretty epic views. Although we were lucky enough that one of the best views was right out the window from where we were staying. We had quite a picturesque view of Porto's famous cathedral, the Sé. Because we could see it any time we wanted, we didn't feel the need to climb to visit it up close.
Mirador viewpoint
If you aren't so lucky with your accommodations, we recommend heading up to the viewpoint at Mirador in the Vitoria neighborhood to see a similar sight (as you can see in this post's top image). We approached it from above, but if you want to head right up there you'll have a lot of stairs to deal with. We prefer our stairs going down, so were glad we meandered up hilly streets to get there instead.
Igreja Sao Lourenco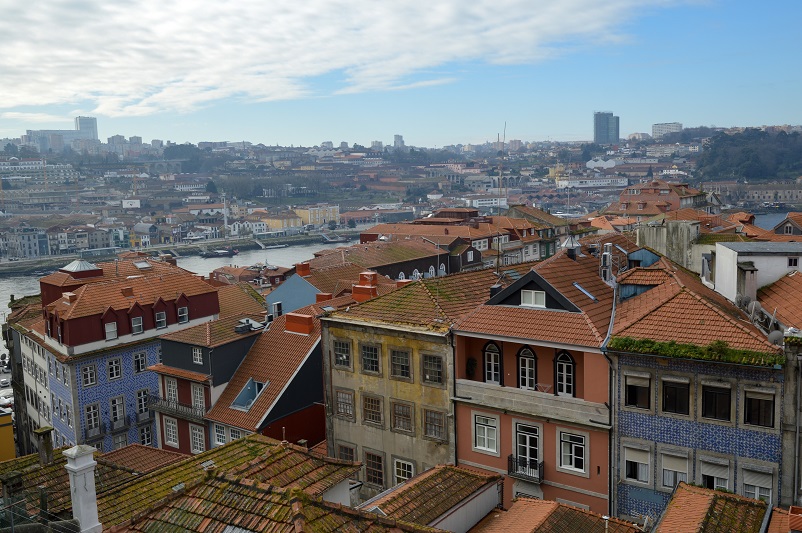 Another great viewpoint is closer to the Sé itself. On our first morning in Porto, we rushed out into the gorgeous weather and climbed through the narrow, very steep streets to Igreja Sao Lourenco. It has an interesting facade, but we especially enjoyed the views we could see from its courtyard.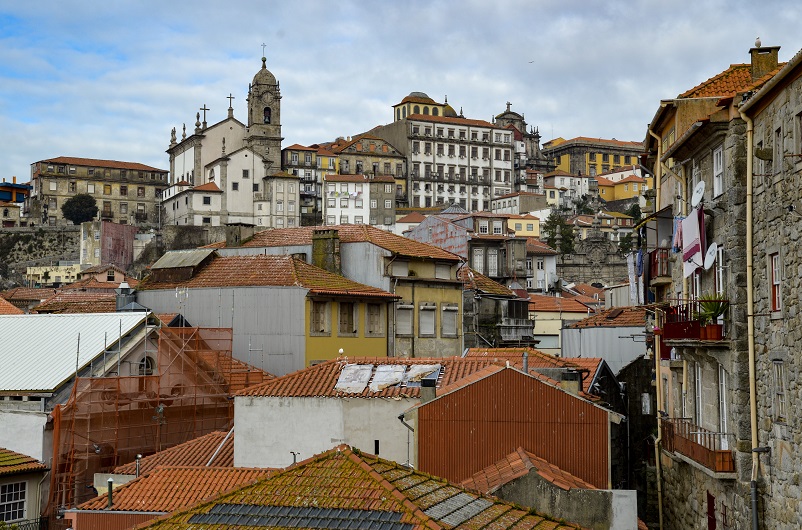 Visit the Porto photography museum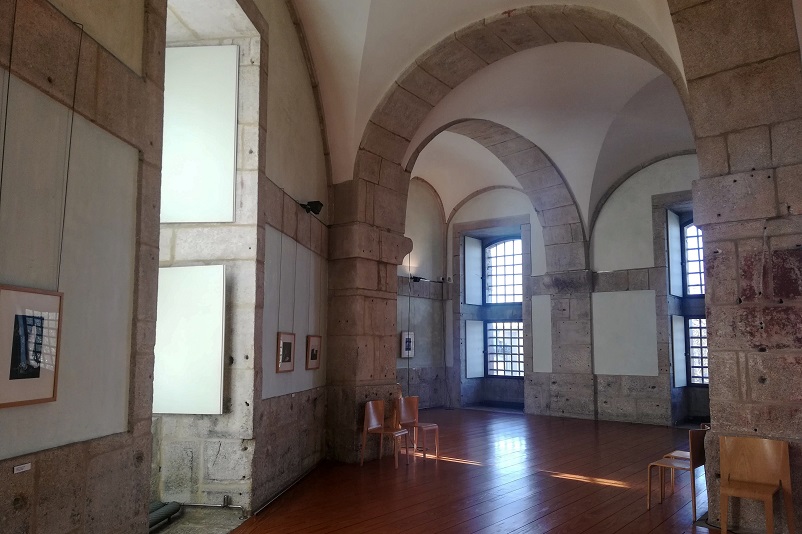 We love going to photography museums all over the world, and Porto has a unique one. An old prison was turned into the Centro Portugues de Fotografia in 2000. It's a large building and we found the exhibits to be nicely displayed in its various rooms. It's free and there was a big Porto sign outside, so it's definitely worth a visit in our opinion.
Take the bus (or tram) to Foz do Douro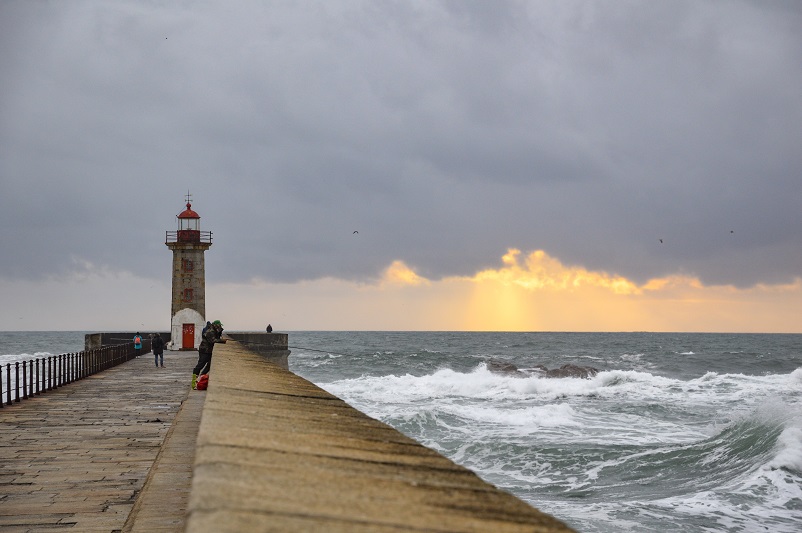 Foz do Douro is a beachfront neighborhood in Porto. It's at the edge of the country and right on the Atlantic Ocean. Two easy ways to get there are by bus and tram. We opted for the bus since it was cheaper and faster. We took bus 500 from the main stop in front of São Bento. It drives along the main coastal road, so you'll see beautiful views along the way. It's a double-decker bus so there's plenty of room to sit. We got off at the stop before the last stop on the recommendation of this great guide to what you'll see on the trip to Foz. Note, this site gives a guide of the Tram 1 line, but bus 500 follows the same route.
We didn't have beach weather during our trip to Porto, but we're not beach people anyway. There's a small park to explore, as well as a fortress. But the highlight were the piers reaching into the Atlantic and their lighthouses. The water was rough, but we did our best to avoid getting soaked. Though the weather wasn't ideal for our visit, we were treated to an impressive sunset before hopping on the bus back to the city.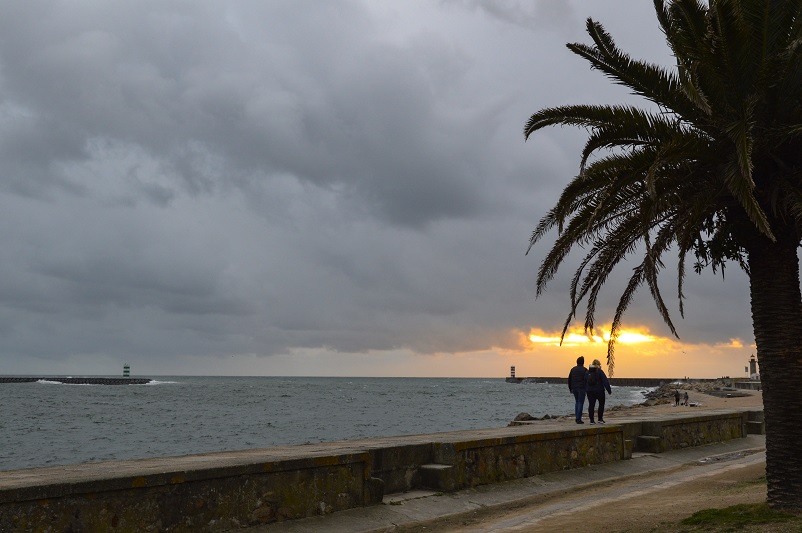 Weather in Porto in winter
When we visited Porto in February 2019, we saw a lot of sun and only one extremely short-lived sprinkle of rain. Although, we may have gotten lucky because apparently Porto can see pretty wet winters.
Temperatures were between 10-14°C, though it felt warmer in the midday sun. Our experience is pretty much in line with average temperatures throughout the winter months. If you're looking for a hot and sunny beach break, you'd be better off visiting Porto during high season. But we aren't beach people and don't enjoy being too hot, so it was perfect for us.
Like this post? Pin it!