Last Updated on 8th January 2019 by Sarah and Justin
Wroclaw, Poland is known for its gnomes. It's one of the reasons we visited the city. These diminutive statues are all over the city, and hunting for them is a main attraction in Wroclaw. We had so much fun gnome-spotting in Wroclaw! We hope our many, many pictures of the gnomes of Wroclaw inspire you to visit and hunt for gnomes yourself!
FYI, in Polish these little fellas are called "krasnale." It's unclear if this translates to "gnomes" or "dwarves." We are going with "gnomes" in this post.
A word about the gnomes of Wroclaw
The gnomes started out as a reaction and peaceful protest to the Soviet regime. From 1981-1983, Wroclaw was under martial law. Many political statements and protests were made by graffiti. One of the leaders of the resistance movement painted the first gnomes on a wall in Wroclaw in 1982. More followed suit and soon gnomes were seen everywhere throughout Wroclaw and other Polish cities. The movement gained great momentum and on June 1, 1988 10,000 protesters dressed like gnomes descended on Wroclaw's city center.
To read more about the truly fascinating history of gnomes in Wroclaw, visit the Orange Alternative Virtual Musuem. 
Papa Krasnal
In 2001, the city of Wroclaw decided to commemorate the local activity by placing the first Wroclaw gnome sculpture: Papa Krasnal (remember, "krasnale" are what the sculptures are called in Polish).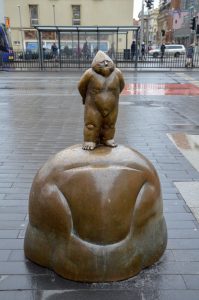 A few years later a local artist had the idea to pepper Wroclaw's streets with even more gnomes that would celebrate the local culture of the city. He started with five, but they were such a success, he ended up making over 100. Today, there are thought to be over 400 gnomes in Wroclaw. (The city has lost count!) We thought we found quite a few of them, but when we counted them up realized it was a very small percentage. Just another reason to return to Wroclaw!
All the Wroclaw gnomes we found
Okay okay. Without further ado, here they are: (some of) the gnomes of Wroclaw.
How cute are they all!? Putting this post together – and reliving our time hunting for gnomes in Wroclaw – has made us so happy. We would gladly return to find more gnomes and enjoy more of what this great city has to offer.
Like this post? Pin it!