Last Updated on 11th October 2020 by Sarah and Justin
Sofia, Bulgaria is perfect for a quick European city break, especially during winter. We spent a long weekend in Sofia in December 2017 and there was a lot to love about the city. This post includes things to do in Sofia in winter, where to eat Bulgarian food, and a multitude of snowy pictures to hopefully inspire you to visit this great city.
Why visit Sofia in winter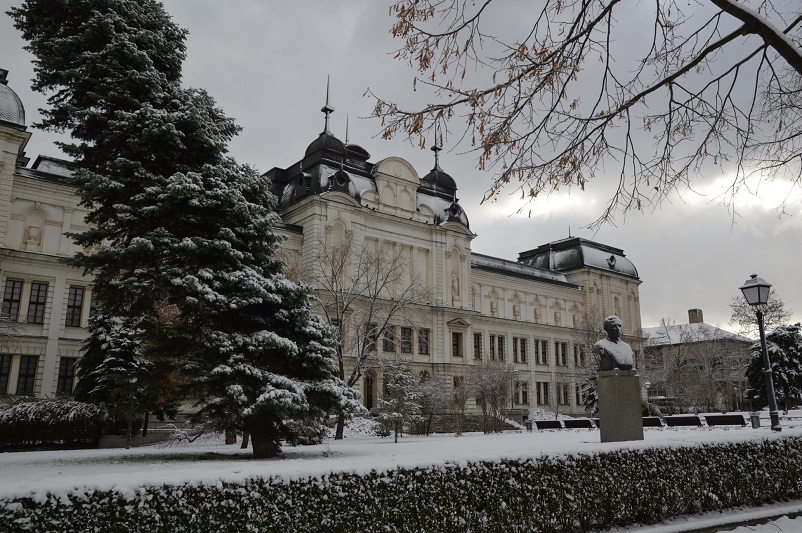 We arrived in Sofia late on a Friday night, so didn't get a proper introduction until Saturday morning. And what an introduction it was. We woke up to find the city blanketed in snow. After putting on some extra layers, we raced out to enjoy the city's sights. Being in any city freshly covered in snow is a treat. Walking around Sofia was magical. Its buildings call out to be dusted in white powder. Everyone out and about seemed as happy as we were.
Sofia is small enough that you can walk pretty much everywhere. It has interesting and impressive architecture, including its star attraction Alexander Nevsky Cathedral. Relatively speaking, Sofia is pretty inexpensive. Bulgarian food is delicious, and offers unique tastes even though most of the ingredients are familiar. Everyone we met in Sofia was friendly, and most spoke English. And last but not least, it's a great jumping off point to the rest of the country. We didn't have the opportunity to explore Bulgaria further than its capital city on this trip, but after our wonderful winter weekend in Sofia, we will definitely be back.
Things to do in Sofia in winter
Top sights
Alexander Nevsky Cathedral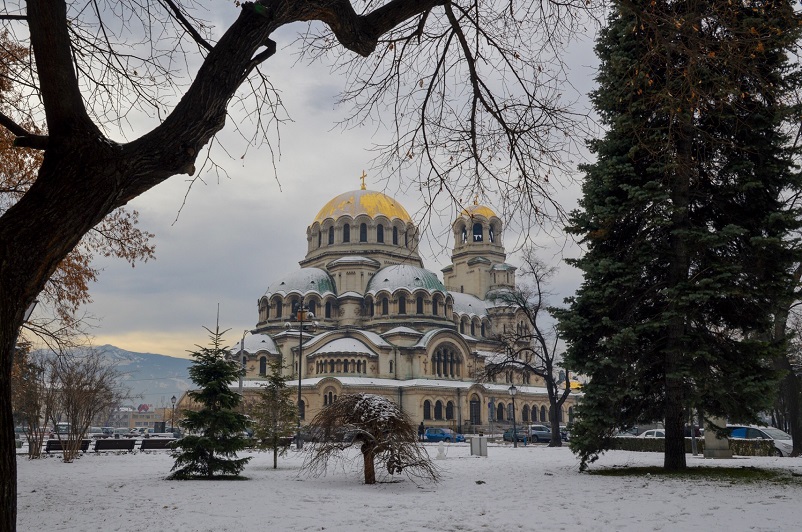 We stayed in an apartment which was just a five minute walk from Sofia's crown jewel, Alexander Nevsky Cathedral. We could actually see the tops of two its golden domes from our window. When we first saw the cathedral up close, we were wowed by its size (it's one of the largest cathedrals of its type in the world) and all its gold and green domes. It was a bit grey first thing Saturday morning, but later in the day the sun came out and the sky turned beautifully blue, which lent a gorgeous backdrop to the building.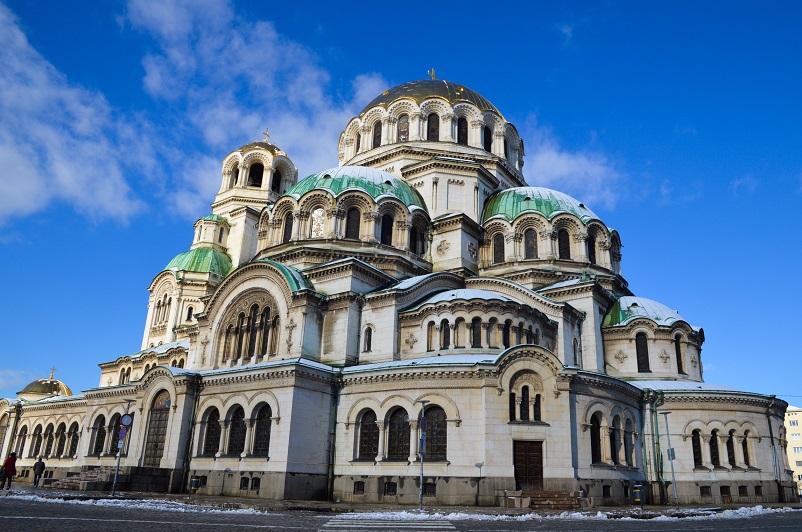 Alexander Nevsky Cathedral is the most popular landmark in Sofia. So if you want a picture of the cathedral without anyone else in it, try to get there as early as possible in the morning.
Holy Synod
Nearby the cathedral is the bright yellow Holy Synod, the ruling body of the Bulgarian Orthodox Church. It's not open to the public, but is beautiful from the outside.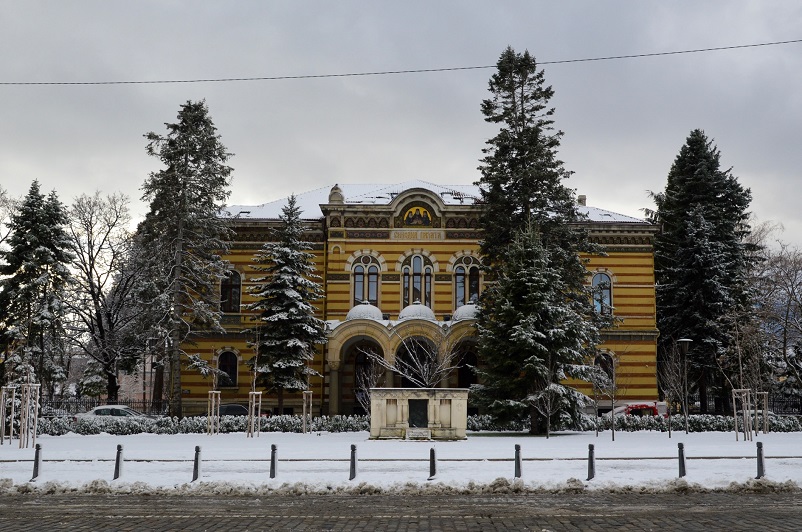 The complex around these buildings is also dotted with sculptures. We wandered around enjoying the sights and the snow. It was chilly though! Right behind the lion sculpture below you can see workers warming themselves by the flame of the Monument to the Unknown Soldier.
More beautiful religious buildings in Sofia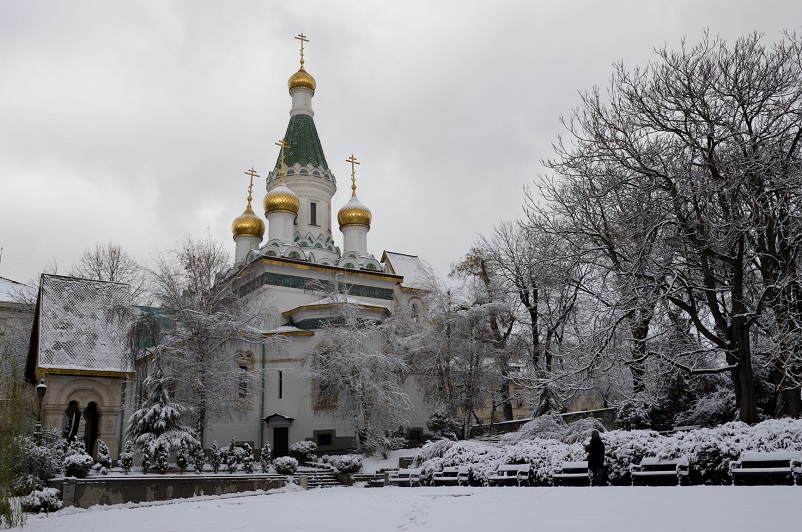 Just a couple blocks away from Alexander Nevsky Cathedral is the also impressive Russian Church. Another lovely church is the Church of Sveti Sedmochislenitsi, just a few minutes from the center. We were guided here on the free food tour we took. The beautiful brick building was originally an Ottoman mosque.
There's also an entire area of the city dedicated to the diversity of religions in Sofia. In the Square of Tolerance a mosque, a synagogue, an Orthodox cathedral, and a Catholic cathedral all stand within just a few minutes walking distance.
Monument of Stefan Stambolov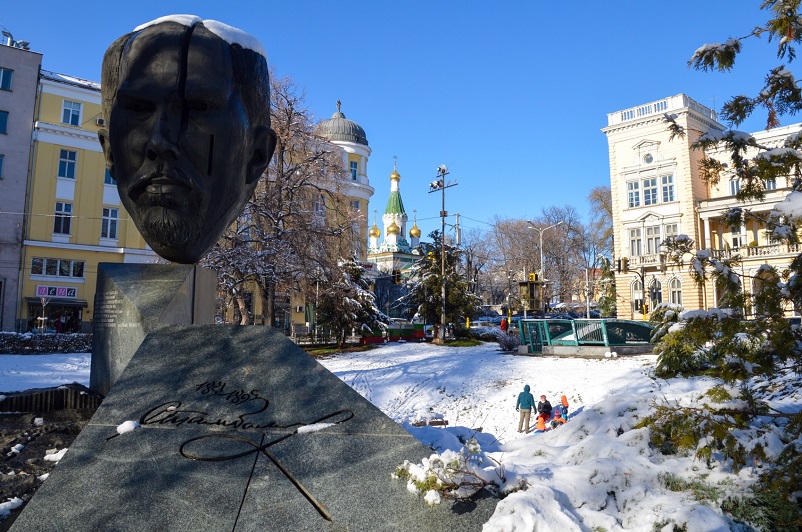 In a small park catty corner to the Russian Church is the Monument of Stefan Stambolov (he was Prime Minister of Bulgaria in the late 19th century). During his assassination his head was slashed by a sabre, and those cuts are dramatically marked on the sculpture. It has become a prime meeting spot in the city, and during snowy weather, the park also serves as a fun spot to play. We jealously watched children sled and play in the snow.
Bulgarian National Theater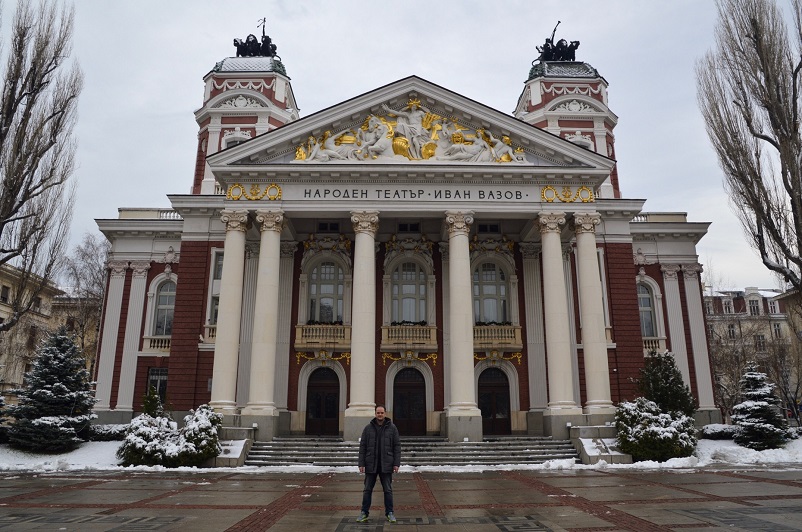 Another striking landmark in Sofia is the Ivan Vazov National Theatre, which is Bulgaria's national theater. It's a beautiful red Neoclassical building. We loved its somewhat gaudy gold-plated sculptures and of course the Cyrillic lettering. It stands right next to the larger park, the City Garden, which was nice to walk around in, even during winter.
The Largo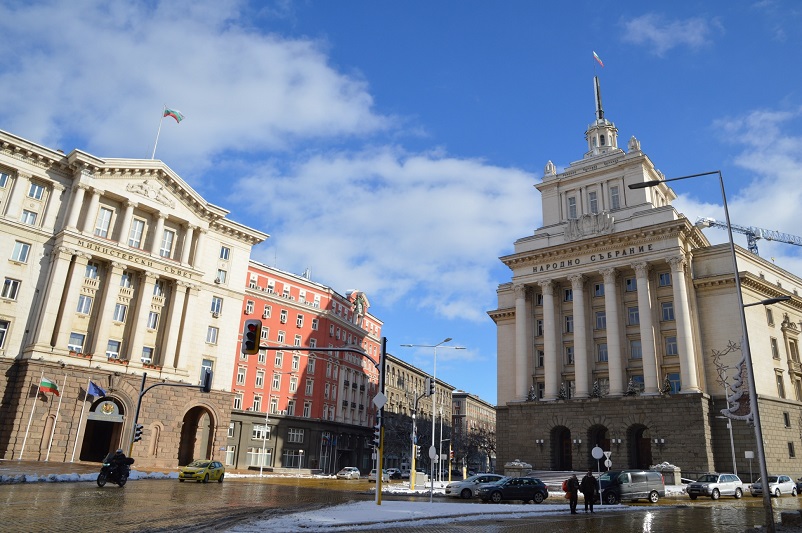 At a main intersection in the center of Sofia is a small collection of three massive, imposing buildings known as the Largo. The buildings were built in the Socialist Classicism style of architecture and represent the communist period in which they were erected. The most impressive building is the Former Communist Party House. You can now see the Bulgarian flag flying at the top of the pole, but it was originally a red star.
SS. Cyril and Methodius National Library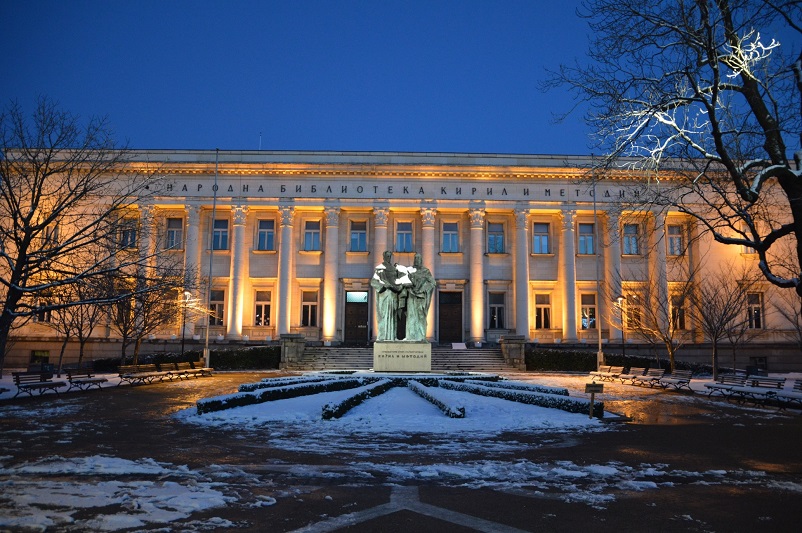 The SS. Cyril and Methodius National Library is the Bulgarian National Library. Located across the main street from Alexander Nevsky Cathedral, it's an impressive building worth stopping for in its own right.
Free things to do in Sofia
Balkan Bites walking tour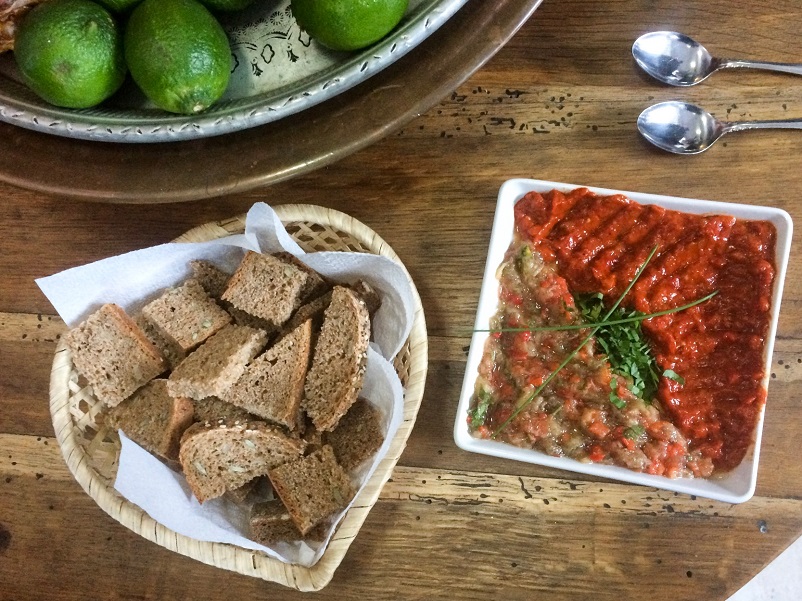 When we were planning our trip, the most consistent recommendation we received was to take the free Sofia food tour, Balkan Bites. We made sure to book in advance, which you can do on their website. We met by the big head (the Monument of Stefan Stambolov), split up into two groups of about 15 people each and set off. Our guide taught us about Bulgarian food and told us stories about Sofia as she expertly led us around the city. We were pleasantly surprised by the quantities and diversity of offerings we tasted, although it's definitely an afternoon snack vs a full meal.
We went to a variety of different restaurants, small cafes, and best of all an unassuming bakery in the metro tunnels that we clearly never would have wandered into by ourselves. We tasted local specialties like banitsa (a philo-dough pastry with cheese), mekitsa (fried dough discs), and lyutenitsa (a dip made from red peppers). We learned that there's a special kitchen appliance in Bulgaria specifically used for steaming red peppers (since they eat so many of them!). It was a really great way to spend two hours in Sofia, and we can now join the ranks of all the others who recommend it!
Walk along Vitosha Boulevard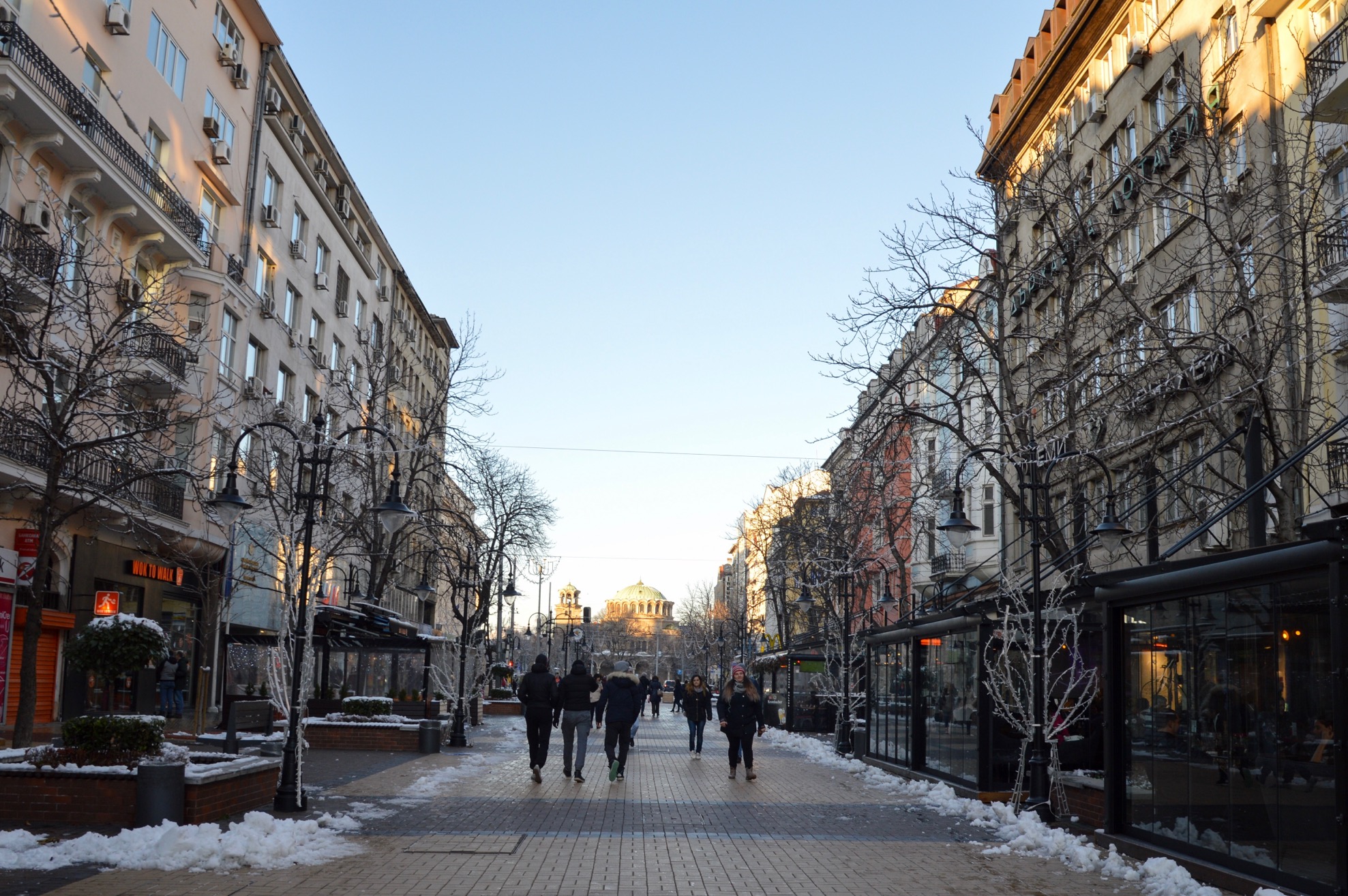 Vitosha Boulevard is a long pedestrian walking street in Sofia. It has a plethora of shops and restaurants and great views of the National Palace of Culture and Vitosha Mountain in the distance.
Drink thermal water
Right in the center of the city are thermal hot springs. It's a super local spot where people come to get water for their home. We're not sure what we were expecting, but we were somewhat surprised to just see a whole bunch of faucets spewing steamy water in this one small area right off the street.
Check out the ancient ruins of Serdica
Right in the center of Sofia, you can find ruins of buildings and streets that existed in Roman times. The Church of St. George Rotunda is considered the oldest building in Sofia, having been built by the Romans in the 4th century. It stands among even more ruins of the ancient city (known as Serdica), which were a bit difficult to see under the snow, but would make for some great exploring otherwise. Also nearby (around the corner from the hot springs) is another small area with ruins of Serdica. It was really quite cool to see this stuff just walking down the street when you least expect it.
The German Christmas Market in Sofia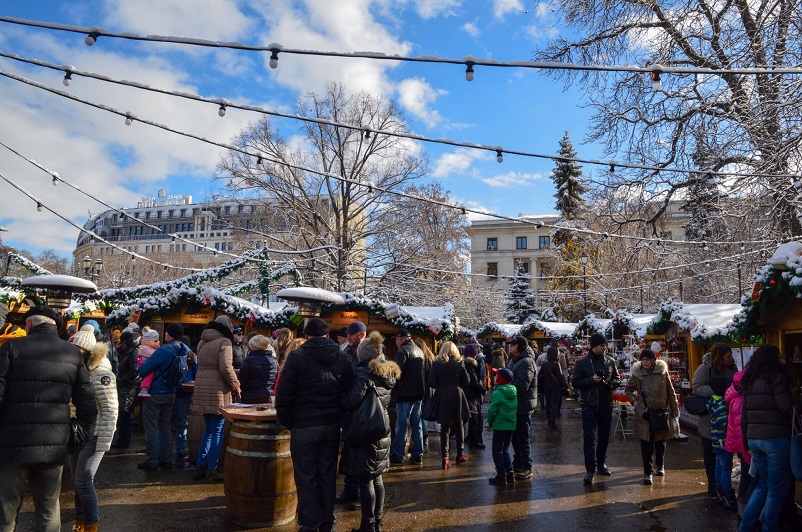 We're going to level with you. One of the reasons we decided to visit Sofia in December was because of its Christmas Market. We just can't get enough of them! The German Christmas Market in Sofia was much smaller than the Christmas Markets we've been to in Germany, but it still had that festive and heartwarming vibe that we love so much. And of course you can get the traditional German Christmas Market treats like Bratwurst and (most importantly) Glühwein.
Bulgarian food in Sofia
Bulgarian food is delicious. During our time there we ate lots of different types of meats and cheeses and vegetables (notably red peppers), soups and of course fried pastries. We can recommend every single place we went.
Мекица и Кафе
Мекица (mekitsa) is a traditional Bulgarian breakfast food. As we mentioned above, it's essentially fried dough, but you can top it with a variety of delicious things like cheese or cheese and jam or cheese and ham (or other things cheese-related). Мекица и Кафе (Mekitsa and Coffee) is a small shop with an English menu. You can relax at a table upstairs while you enjoy your decadent breakfast (or snack) and coffee. We didn't know it at the time, but it's also on the Balkan Bites tour, so we got to visit and taste their delicious mekitsa again!
Two soup stops
We didn't go on any pub crawls in Sofia, but we did go on a soup crawl! One day, we had an early first lunch of soup at Supa Star, and then a couple hours later, had second lunch at Супа бар (Supa Bar). They are both popular, well located shops. We found people who spoke English at both who kindly told us what was on offer that day. The soups were good, but the highlight was the toppings you can add including green herbs, croutons, and spicy sauce. And for the record, we didn't feel so bad about our double soup lunch because quite a few people at the soup bars had two bowls on their trays.
Ресторантът Стария Чинар
We were happy to find that a very well-rated, traditional Bulgarian restaurant was located right next to our apartment. Ресторантът Стария Чинар (Restaurant Old Chinar) has an English menu and a wide variety of Bulgarian specialties. We enjoyed appetizers of not one, but two types of red peppers and a big platter of grilled meats. Dessert was also unique: roasted pumpkin that had been caramelized. It's not right in the center, but well worth a visit.
Механа Избата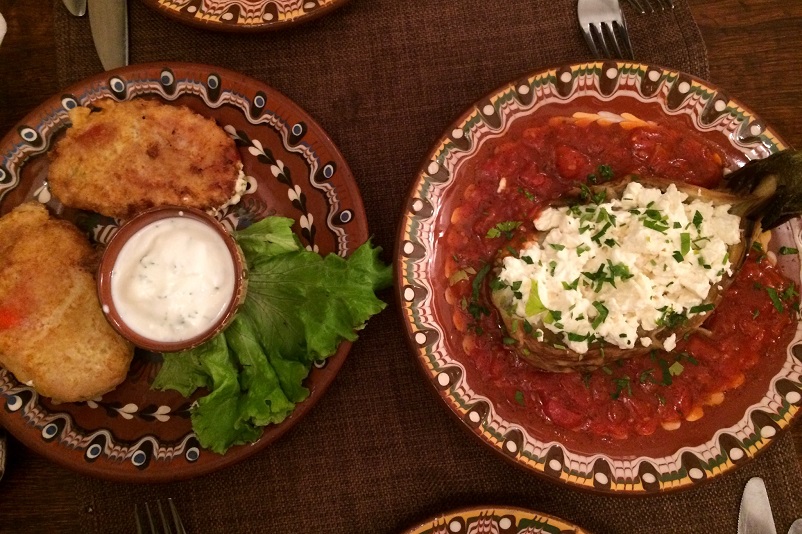 Our last meal of the trip was at another traditional Bulgarian restaurant, Механа Избата (Mehana Izbata). Here we sampled more stuffed and fried vegetables and the most delicious traditional bread (we had the one stuffed with cheese). Perhaps not the healthiest meal, but definitely a tasty way to end our time in the city.
Practical tips for visiting Sofia
Learn the Cyrillic alphabet
Cyrillic looks so cool! But we have mainly traveled in countries that use the Latin alphabet so it can be jarring to get to a new city and not even be able to read or sound out signs. So even though we were only visiting Sofia for three days, we learned the Cyrillic alphabet. We used online video lessons (there are many) and it only took a few days. We think it was well worth the effort. It made us feel much more comfortable and we made a fun activity out of reading and learning new words we'd see around the city.
Taking public transportation from the airport to Sofia
We arrived into Sofia airport late at night, so our apartment host arranged for a friend to pick us up. It cost 10 EUR and meant we didn't have to deal with a taxi (which we hate) and we'd get to the city before 9pm. But we took the metro back to the airport and it was super easy. The ticket machines have an English language option so buying tickets was a breeze. We hopped on Metro line 1 (the red one) from the Sofia University stop (which was closest to our apartment) and about 20 minutes later we were there. If you are flying in or out of Terminal 2, you're literally there. But we were flying out of Terminal 1 (which is where the low cost airlines depart from) and had to take a shuttle bus there. Unfortunately, we had to wait about 25 minutes for the next bus. They run from Terminal 2 to Terminal 1 every half hour on the :15 and the :45, so take that into consideration when you're planning your trip.
Accessibility in Sofia
Sofia is a small city and was easy for us to get around on foot. The touristic center is pretty flat, but a few blocks to the North it gets a little hilly. The sidewalks aren't super well-paved and get quite narrow at some points. There are also a lot of cobblestones. In fact, the only trouble we really encountered was walking on the yellow cobblestones that pave some of the main squares. As it had snowed, they were extremely slippery. We only took the metro once back to the airport, but went down into a few stations. Unfortunately, we didn't see any escalators or elevators. There are a bunch of tram routes in the city, but the trams themselves are of the old-fashioned variety and not accessible. We didn't see any buses (although there are some).
We hope to make it back to Bulgaria to explore more of the country some day very soon. Until then, signing off…
– Устин & сара
Like this post? Pin it!