Last Updated on 21st July 2019 by Sarah and Justin
There are a ton of different ways to immerse yourself in a destination. From free city tours to visiting museums to getting out into nature, a traveler's options are nearly limitless. One thing that often gets overlooked by many travelers, and many "things to do in X" lists, is sports. And we're not sure why. Seeing a match is one of our favorite things to do in a new city or country. Sure, we're sports fans and attend a good amount of games when we're not on the road. But more than that, we truly think going to a sporting event is one of the best ways to really get to know a place. Being among a crowd of local fans, or attending a major international event in a famous arena with a massive crowd, has always given us a better feel for the place we're visiting. We've been surprised and enchanted by how different watching hockey in Europe or baseball in Japan is from seeing the same sports in the United States. We've been astounded by the architecture and scenery of some of the arenas. We've loved eavesdropping on the (often expletive-ridden) conversations of the local fans around us. We knew we weren't alone, so we wanted to hear from other travelers who also love experiencing a destination through sports. We got a ton of responses and thoroughly enjoyed reading all of them. So we cobbled together this massive post which hopefully has travel inspiration for every kind of sports fan and perhaps even the non-sports fans too. We're featuring different sports (from football to sumo) all around the world (from Europe to Australia) from people who took special trips just for an event to people who stumbled on a cool event as they were traveling. We think we've got the wide world of sports covered in this post. Game on.
Turkish national football team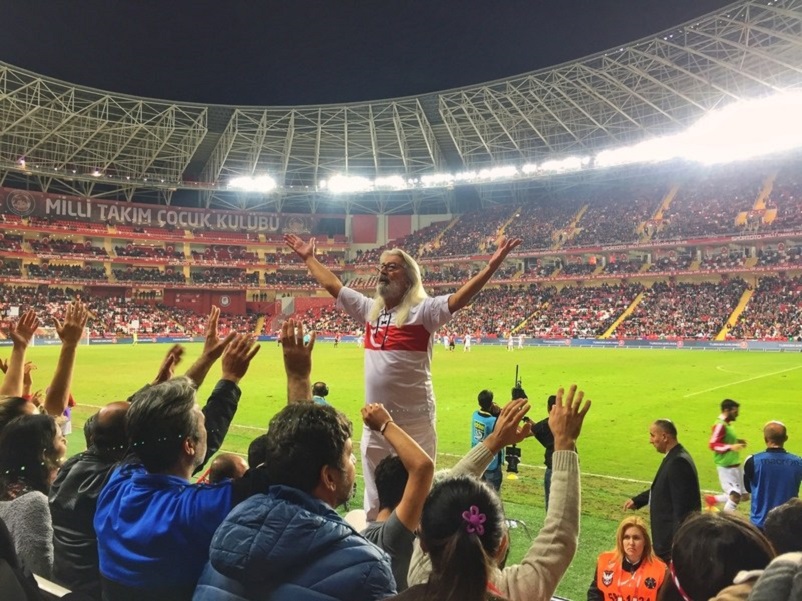 On November 14, 2017 I attended a football friendly, Albania vs. Turkey. I try to watch sports events wherever I go, so was stoked to discover this match was on. The match had nothing on the line with both nations out of contention for the World Cup, so they were both playing for pride. And for the Turkish, football is a way of life so the supporters get really behind their team even after three years of underwhelming success. The game was played at Antalya Stadium, with a capacity of 32,500, The day before the match, I purchased my ticket for 15 TL (under 3 USD) at the stadium (where I needed to present my passport). The crowd around the outside of the stadium was massive (that Turkish pride) and the riot police presence was strong, but that's not unusual for Eastern European football matches. Security involved a quick pat down.
Outside the stadium, you could buy hot food and memorabilia. Inside, no alcohol is for sale with hot tea and sunflower seeds the popular choice. There are other snacks available (at prices you pay in convenience stores) but all the signs were in Turkish!
The crowd, wow! I went along with two friends from the hostel, but when we arrived we realised we wouldn't be able to sit together. I was on my own but was quickly befriended by everyone around me as the random foreigner. There was also a flag on every seat in the stadium! The crowd followed the game closely, though it wasn't the desired result with Albania winning 3-2. I felt safe the whole time and while the language barrier was an issue, it's fair to say that this was a case where football is a universal language. And for less than 6 USD for a night out, it was a great value.
By Jub from Tiki Touring Kiwi
Tour de France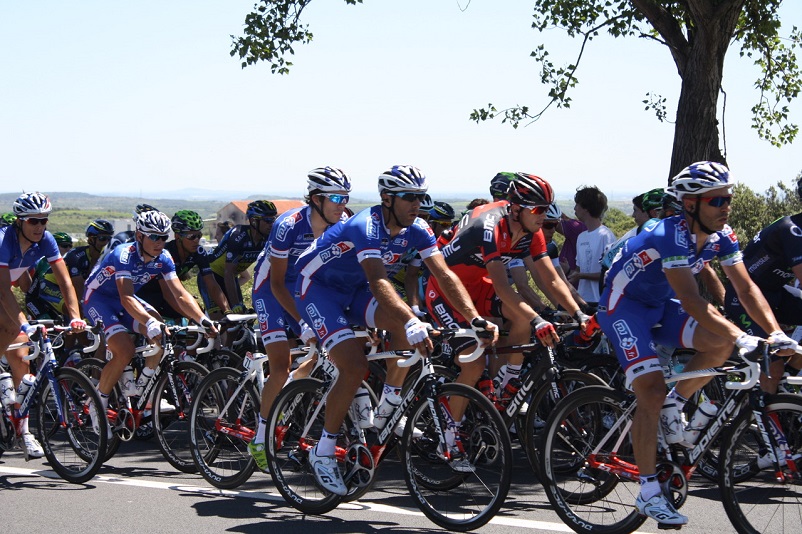 A few years ago whilst we were visiting the south of France, we were lucky enough to watch a stage of the Tour de France, the most famous cycling race in the world. Stage 7 of the 2013 Tour de France (205 kilometres), started in Montpellier and finished in Albi, passing through the small town of Faugeres, about an hour from where we were staying.
We arrived in time to watch the "caravan," a 45-minute procession of vehicles decorated in the livery of the race sponsors. The caravan is almost as popular with spectators as the actual race and creates a real party atmosphere. Sponsors' products are thrown from the caravan vehicles to spectators and load music plays, putting everyone in a great mood as they await the arrival of the riders. We took home a great little stash of free products including caps, drink bottles and sweets.
Spectators lined both sides of the road and, despite the temperature reaching more than 30 degrees Celsius and there being very little shade, everyone was in a jovial mood. The first riders in the breakaway group approached to plenty of cheers. Next up followed the peloton, and then, in just a few minutes, it was all over except for the support vehicles carrying spare bikes.
Having the opportunity to watch a small part of the Tour de France was an incredible experience. Not only was this a free event, we were entertained before the riders arrived and then had the chance to see some of the best athletes in the world just centimetres away! Each year the Tour de France route changes and if you have the opportunity to visit a stage, I encourage you to do so. You won't be disappointed.
By Carolyn from Holidays to Europe
Wimbledon
My all-time favorite sporting event is the Wimbledon Lawn Tennis Championships held every summer in London. For me Wimbledon is the pinnacle of world tennis as all of the big names of tennis are usually present.
Wimbledon is notoriously difficult to get a ticket to in advance. For those traveling to London on a whim, last-minute, or weren't lucky enough to get the ticket in a ballot, there is always the option of joining the Wimbledon day queue. This is what I always do. The queue always has a great atmosphere and for me is part of the Wimbledon experience. Even if you don't get in (though I always have) you feel like you have had an event anyway. These tickets only cost 20 GBP and gives you access to the grounds and if you are lucky you may get into one of the outside courts. Some people camp out overnight to get these tickets but I usually just go for the afternoon. Another great chance at getting last-minute tickets is if there is a peoples' Sunday if rain has disrupted play during the first week of the tournament.
The Wimbledon venue is remarkably easy to get to as you can either get a train or tube to Wimbledon station and from there either get a bus or walk to the stadium through Wimbledon village. There are bag searches as you enter Wimbledon but you are allowed to take your own food and drink into the grounds – including one bottle of wine per person! Otherwise there are plenty of food and drink options inside, including the obligatory Strawberries and Cream.
The atmosphere in the grounds is electric especially if you sit on Henman Hill. While there you can also visit the Wimbledon Tennis Museum and watch games on the outer courts.
By Leona from Wandermust Family; Facebook
Naadam in Ulaanbataar, Mongolia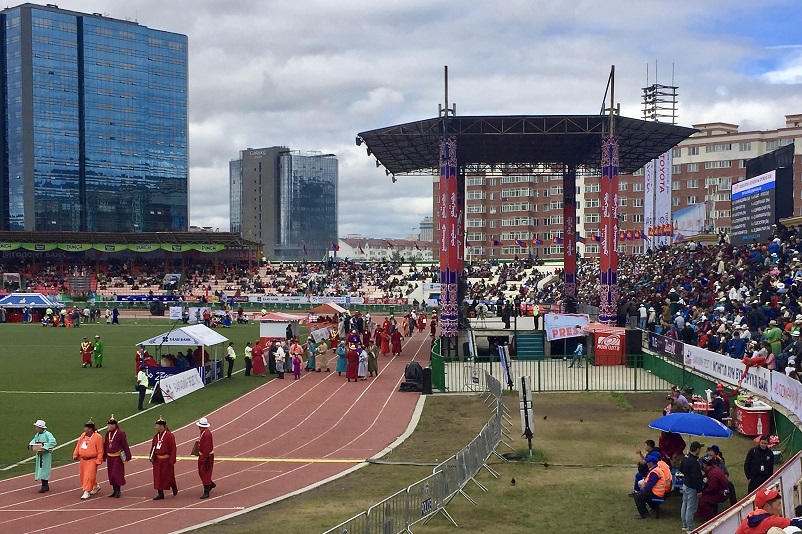 Nadaam is Mongolia's version of the Olympics, focusing on traditional nomadic sports including wrestling, archery and horse racing. The festival is celebrated all across the country between 10-12th July, with each aimag (region) holding their own.
We timed our month in Mongolia to coincide with the festival start in Ulaanbaatar, but had held off purchasing tickets due to the high price (up to $50 through tour agents). This turned out to be a wise move as we were actually given some for free. But we were surprised to see the price was only a couple of dollars! The easiest option is to see if your hostel or guesthouse can find some, or try your luck at the stadium gates – there were plenty of touts offering tickets.
After being gifted two stadium day passes by a friendly Mongolian lady at the gates of the National Sports Stadium (Mongolian generosity is world class), we found ourselves thrust into the madness of Nadaam. Squashed in between a family of traditionally clothed Mongolians, Dad excitedly swigging on fermented mere's milk from a re-used Coke bottle, watching half naked "eagle" wrestlers fighting for first place, we knew were in for an unforgettable few days.
While a ticket is necessary for the events held in the National stadium, the Nadaam vibe could be enjoyed without purchasing any tickets. The horse racing outside of the city is free to attend. All events at the central Sükhbaatar Square are also free. These include the opening and closing ceremonies. Cultural performances run throughout the day from nomadic tribes in traditional clothes followed by throat singing, Mongolian rock music, and all topped with an epic fireworks display.
Food and drink was available all around the stadium and ranged from local meat-heavy classics such a khushuur (meat-filled pastry parcels), meat-skewers, candy-floss, and fizzy drinks.
By Laura from Two Stay Wild; Instagram
Sumo in Tokyo
One of the most unique sporting events I have attended on my travels is a professional sumo wrestling tournament in Tokyo, Japan. I had visited Tokyo before, but I added a stop back in the city when I saw my travel dates would enable me to get tickets to the sumo tournament.
Sumo is Japan's national sport. It is a cultural experience with many ancient ceremonial rituals and traditions including ring entering ceremonies, salt-tossing, foot stomping and singing. The actual wrestling portion of a match is very short but it is fun and exciting since the crowd is very passionate about the matches. Each day of a sumo tournament is long starting in the morning with lower ranked wrestlers and finishing with the highest ranked wrestlers at the end of the day. You don't need to spend the entire day watching sumo – most spectators show up in the afternoon in time to watch the top ranked wrestlers.
Professional sumo tournaments last 15 days and take place six times a year in four cities in Japan. Ryogoku Kokugikan, the stadium in Tokyo, is easy to reach using public transportation and hosts three of those annual tournaments. Tickets for sumo tournaments go on sale more than a month prior to the first day and you can buy them online from the official sumo ticketing website. It is best to book tickets as soon as they are available because the best seats and many dates are booked weeks in advance. Ticket prices start from ¥3,800 (around $33 US) but vary depending on how close your seat is to the front and whether you choose a chair seat typically found in an arena or Japanese-style floor box seats.
By Matilda from The Travel Sisters; Facebook
Football in Madrid
I'm a huge Spanish football fan, so when I was planning my trip to Madrid, I knew that it would be the perfect opportunity to attend at least one game. It's important to know that the Spanish league (La Liga) begins in mid-August and finishes at the end of May. From June to mid-August, only a few friendly games take place.
I ended up attending two games of the main teams of the city (and leading teams in the league): Atletico de Madrid and Real Madrid. I purchased my tickets through their official websites. The cheapest tickets cost about 40 euros, and you need to buy them as far in advance as possible because all tickets tend to sell out quickly.
Both Real Madrid's stadium, Santiago Bernabeu, and Atletico de Madrid's stadium, Wanda Metropolitano, are easily accessible by metro. However, the stadiums are not in the city center, and the metro gets pretty crowded, so make sure you have enough time to get there.
Now, of course, you can't watch a game without food and drinks. So, you can either bring your own (just note that bottle caps are thrown away when you enter the stadium), or purchase food and drinks from vendors inside the stadium.
I could feel the excitement even before entering the stadium, but once I did, I was absolutely ecstatic. Seeing and hearing 70,000-80,000 cheering fans was one of the most memorable moments of my life. In both games, the fan vibe was amazing, but I will never forget Atletico de Madrid's fans. They did not stop cheering for even one second, and during the match's 90 minutes, you could feel the immense love that they have for their team.
Even if you're not into European football, I highly recommend attending a game, as it is an unforgettable (and even emotional) experience.
By Or from My Path in the World; Instagram
Minor league baseball in Portland, Maine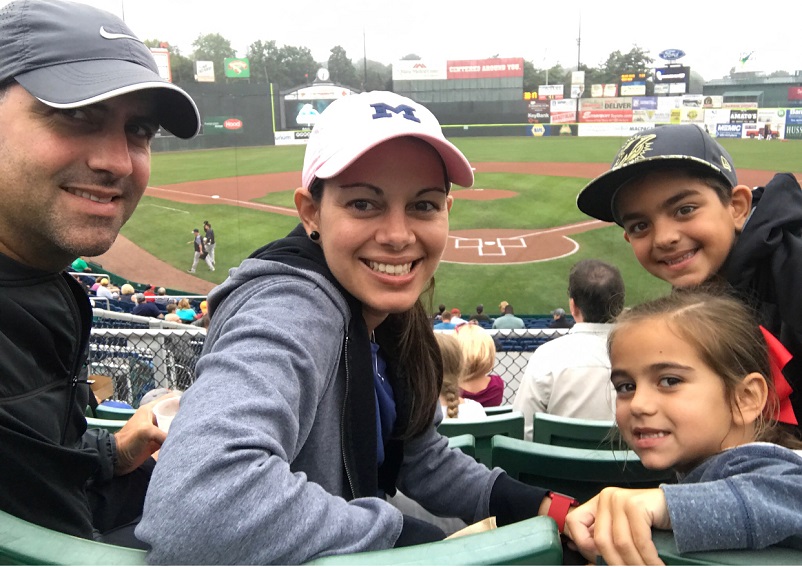 Our family was on a huge summer road trip around the northeast when we stopped in Portland, Maine. As we were driving around the city, my baseball-loving son noticed that Portland had a minor league baseball team. He also read that the Portland Sea Dogs were a Boston Red Sox Double-A affiliate and they were playing the Trenton Thunder, a Yankees affiliate. He immediately began pleading for us to attend the baseball game that night. We checked online and were debating about whether to purchase the tickets ahead of time, but decided to say nothing and surprise him by buying the tickets at the gate. We had not planned much for our evening in Portland, so after researching the ticket price ($12 general admission), we did something spontaneous and attended a minor league baseball game.
We ate a light dinner at a downtown restaurant just before the game but decided to get a tub of popcorn and a soda for the family to share. Prices were reasonable and the quality of what we had was very good. We were pleasantly surprised by how nice the facilities were and enjoyed watching the game just a few rows behind home plate. Hadlock Field is a small stadium located right downtown that fits about 7,000 spectators and has a replica of the famed Green Monster in left field. There were Boston Red Sox signs everywhere and it was quite full for a mid-week summer game. The fact that the Portland Sea Dogs were playing a rival team made the game even more exciting because the fans were clearly into the game. Even the mascot came around the stands and interacted with the audience.
Although our family did not plan on attending a minor league baseball game on our summer road trip, I am pleased we were able to experience one in such a nice city. The people were very friendly, the game was entertaining, and we deviated from our schedule and did something spontaneous at the request of our son (which is rare). Overall, watching the Portland Sea Dogs was an enjoyable family sporting event.
By Margie from DQ Family Travel; Instagram
Chelsea FC in London
We planned our entire honeymoon around going to a Chelsea FC game in London since my husband is a huge Chelsea fan.
What we didn't realize is how hard it can be to get tickets! If you want to see Chelsea play at Stamford Bridge, I recommend joining their fan club in order to buy tickets, as they never go on general sale. We ended up buying our tickets as a resale because of our ignorance. Ticket prices vary depending on the opponent and what type of league game it is, but you can expect to pay about £50-70 for most matches.
It's pretty easy to get to Stamford Bridge by Tube (Fulham Broadway). It's not recommended to drive to the stadium due to parking issues. We were able to walk from the apartment we rented, which was perfect!
The atmosphere on game day is so exciting. We walked down to Stamford Bridge early to take it all in. Walking down Fulham road to the stadium, all the bars said "home fans only" – they take this very seriously. There was live music outside the stadium, and lots of places to buy souvenir scarves from the game. The energy at the game itself is crazy high. Do yourself a favor and learn some of the chants on YouTube before the game. It's so fun to be able to sing and chant along with the rest of the fans. We sat in the Shed End of the stadium, right next to the section of away fans (who have their own entrance and exit). The chanting back and forth was interesting to say the least.
All in all, if you're a footy fan, it's worth going to a match!
By Jenn from Will Save for Travel; Instagram
Australian Open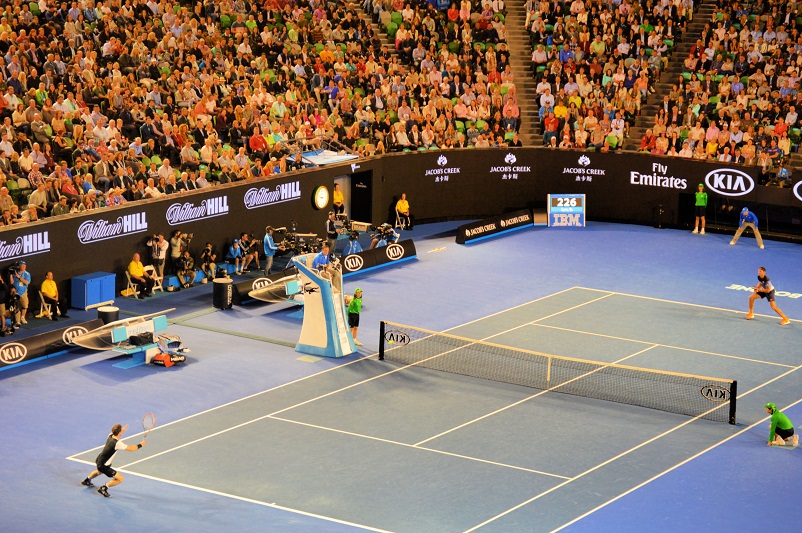 When planning our third trip to Australia for January 2016, my husband made it known that spending so much on another trip to Australia would mean two things: first, he wanted it to be warm enough to swim; second he wanted to see the Australian Open. Thankfully, we were able to fulfill both requests.
Through a friend of a friend, we secured tickets to the men's semifinal. She was a yearly ticket holder and was able to get us seats before they were released to the public. We spent approx $450 AUD for two tickets. Fans wishing to attend the event can book them through Ticketek and other retailers. These go on sale around late September or early October.
The Australian Open is held at Melbourne Park. Ticketholders can catch a free tram near Flinders Street Station. The semifinal was played at center court within Rod Laver Arena. Rod Laver Arena was smaller than we expected (or it looks on TV). It holds 15,000 people. We were thrilled that the match went to five sets – we felt we definitely got our money's worth.
If you haven't been to a professional tennis match, please go! It is my favorite sport to watch. For the most part, fans are quiet and civil, yet the sport is fast-paced. And best of all, they serve sparkling wine!
Our only regret was that we hadn't gone to the earlier rounds. Since this was the semifinal, there wasn't a lot of buzz outside of the stadiums. The weather didn't help. It was raining and cool, meaning that most of the fans chose to stay inside Rod Laver Arena where the roof was closed. Inside the stadium, there were fewer food options, as well.
By Leah from Yoder Toter Blog; Facebook
Baseball in Japan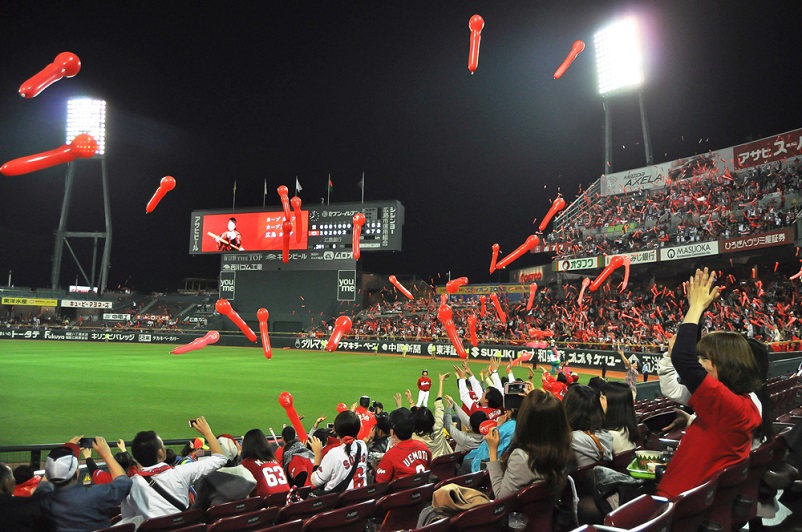 The final stop of our two week journey across Japan was the city of Hiroshima. Our hotel was close to the Mazda Zoom Zoom Stadium, the home of Hiroshima's baseball team, the Hiroshima Toyo Carp and the chance to watch a ball game in Japan was too good to miss. Baseball is huge in Japan – some even consider it the national sport ahead of sumo. After a little research we discovered that the Carp were due to play Osaka's Hanshin Tigers on our last night in town.
Baseball in Japan is slightly different than the American version. The matches are shorter. The crowd is passionate yet polite. Each team's fans only cheer when their side is batting. When it's a team's turn to pitch their fans will fall silent, allowing the batting team's fans to chant unopposed.
There are dedicated sections in the stands for the hard-core fans, while most of the stadium is relaxed with a gentle party atmosphere. The majority of the crowd is made up of families and young groups of friends enjoying the game.
Almost everyone tucks into the abundance of food that's for sale inside the stadium. Huge tubs of instant noodles are a popular choice, as are traditional bento boxes, all washed down with local beer. As this is Japan, everyone cleans up after themselves at the end of the game, leaving the stadium spotless.
Tickets for the game were easy to come by, available from the ticket office at the stadium on the day of the game from the stadium. Prices range from around 2000 to 4000 yen, depending on where you sit. Most regular season games are unlikely to sell out, though there will be bigger crowds for matches at weekends.
By James from Where You're Between; Instagram
One day international cricket near Kandy, Sri Lanka
We were already in Sri Lanka when we realized that England would be playing a one-day cricket series against Sri Lanka, and we found that we could buy tickets easily online for about $8 each. In total, we spent a month in the country and it rained for 28 of those days. The cricket was to be no exception.
The Pallakele ground is about 12 km outside the well-known town of Kandy. There are local buses that pass the cricket ground regularly. Only everyone was going to the cricket. All of Sri Lanka it seemed like. However, we made it easily and had a great party sitting amongst the friendliest opposition crowd ever. The game went well for Sri Lanka, which only increased the party. There was local Lion beer and a few snacks available, but not the glorious Sri Lankan food we'd come to love.
And then it didn't just rain. It washed the ground out. Everyone ran, not for cover, but for the buses back to Kandy, which were full before they arrived at the ground. A fruitless 30 minutes of full buses as night fell passed until a smart executive SUV pulled up. Would we like a ride back to Kandy? Our new found friends lived in Sri Lanka's capital and wanted to talk of the London they'd visited years back and find out why we'd travelled so far to watch cricket.
The game was memorable not only for England's dire performance, but mostly the Sri Lankan hospitality – especially our kind new friends getting us back to Kandy in the dark is something that we will never forget.
By Sarah from ASocialNomad; Facebook
Dynamo Kyiv in Ukraine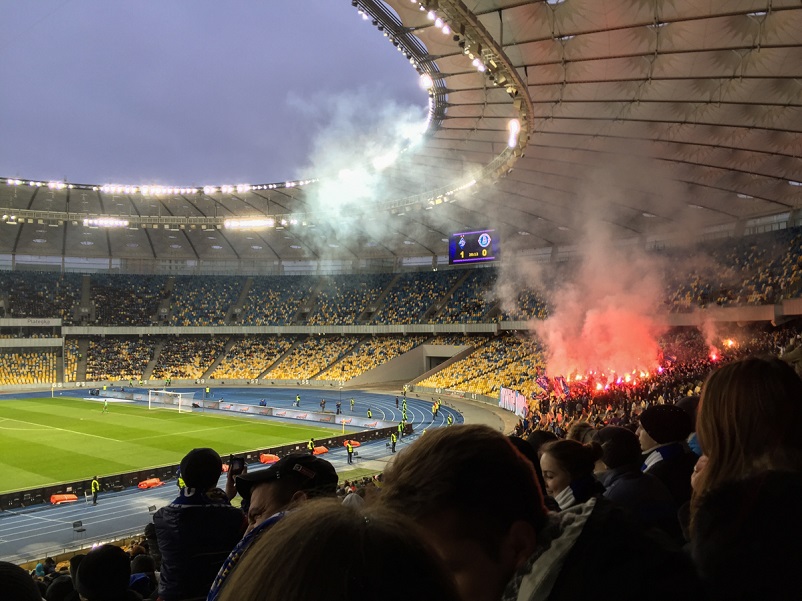 Having had the chance to watch Dynamo Kyiv play in Kyiv on two different occasions, I must say that watching football in Ukraine is one of my favorite sporting experiences.
The first time I saw Dynamo Kyiv, the Ukrainian capital city's renowned football team, it was at their old stadium: Lobanovsky Dynamo Stadium near Mariinsky Park in the heart of the city in 2011. Ukraine went on to co-host the Euros in 2012 and Dynamo Kyiv has been using the newly renovated stadium, Olimpiyskiy National Sports Complex, ever since. The Olympic Stadium currently boasts a capacity of around 70,000 people and it is just an incredible and exhilarating experience to be inside.
A ticket to the game costs around $1-$2 and you can get a really good seat for a few extra dollars. Beers are affordable and sometimes they even come with free chips or snacks. Once inside, you will feel a vibrant atmosphere and will have the chance to hang out with locals and to cheer on their team. There really aren't many sporting events I've been to that compare to the fun that I have had at Dynamo Kyiv games. Since travelers are not as commonplace in Ukraine as other parts of Europe, you will undoubtedly be welcomed in the stadium, pending you're cheering for Dynamo Kyiv and not the opposing team.
There is a metro that goes directly to the stadium and it is pretty walkable from other parts of the city. Located in close proximity to heaps of restaurants, bars, and cafes, you will be able to enjoy an entire night of fun after the game.
By Megan from Megan Starr
New York City Marathon
The New York City marathon is an interesting sporting event, because you can experience it in many different ways. You can watch the professional runners speed by; you can cheer on thousands of amateur runners; you can support a loved one who is running; or you can join in yourself. I am a transplant New Yorker and the first time I watched the marathon, I was totally inspired. Seeing people struggling and pushing through their pain and exhaustion to finish, and feeling like you cheering them on is helping them in some way is a surprisingly emotional experience.
The NYC Marathon goes through all five boroughs of the city, and you can choose anywhere along the route to watch it except for Staten Island and the Verrazano Bridge. If you know someone who is running, you will probably find yourself doing your own marathon on the subway from one viewing spot to another in order to see them four or five times along the route. Otherwise, make a sign with a funny slogan, bring some food and drink with you, choose a spot, get comfortable, and be prepared to shout encouragement for the next few hours.
This is the largest marathon on the world, and after the professional runners whiz past, there will be a constant stream of amateur runners all day. For the most inspiring moments, get a position in Central Park near the end of the race because this is when the runners are struggling and need encouragement the most. If you want to get more involved, you can volunteer to hand out water or Gatorade to the runners as they pass by.
If you are in New York the first Sunday in November, set aside at least a few hours – there really is nothing in the world like this.
By James from Travel Collecting; Facebook
Rugby in Wellington, New Zealand
Back in 2016 my partner and I spent a winter in Wellington, the lovely little capital city of New Zealand, during our yearlong Working Holiday. And during our stay we were adamant we had to watch some rugby!
Westpac stadium was walking distance from our home in the city center, down by the waterfront of Wellington Harbour. We purchased our Super Rugby tickets online ahead of the game, printed them off, and then on the day of the games just wandered over. You can buy 7 games for $129 NZD or a single game for $20-53 NZD depending on where you pick to sit.
Hosted in a classic stadium setup, there are food and drink stands around the outside – and I must say I thought they were very reasonably priced. And the queues were minimal for both the food and loos!
The Super Rugby series is a professional men's competition run between Argentina, Australia, New Zealand South Africa and Japan. We managed to watch two games of rugby, both played between the Wellington Hurricanes and the Hamilton Chiefs. We saw some fantastic fast-paced rugby and the atmosphere within the stadium was wonderfully fun and exciting. Both results were very close: though they lost the first game, the Hurricanes won the second, and I was hooked as a fan! Go 'Canes! If I stayed in Wellington longer I would definitely become a regular attendee. Even my fiancé, who is not a sport person, enjoyed the game and atmosphere immensely.
By Rachel from Rachel On Route; Twitter
World Cup 2018 in Russia
We attended the 2018 FIFA World Cup in Russia in order to see England play in the group stages of the tournament. We regularly attend international soccer matches, but this was our first World Cup. We just couldn't miss out on the opportunity to visit a country we'd never been to and see places we would probably never see otherwise. Our 2018 FIFA World Cup adventure took us to Volgograd, Nizhny Novgorod, and Kaliningrad for the England games. Because we were in Russia, we also added Saint Petersburg and Moscow to our trip.
The World Cup atmosphere was absolutely incredible. In each city we visited, we met people from all over the world who were eager to attend a World Cup match, even if their team wasn't playing in it. In each city, there was at least one Fan Zone showing all of the games, giving people who didn't have tickets the opportunity to get wrapped up in the atmosphere, too. It felt like the entire country revolved around the World Cup, so the atmosphere followed us everywhere we went. At the fan zones and World Cup stadiums, the food and drink options were pretty standard including hot dogs and burgers, very average beer, and soft drinks.
The process of getting tickets for the World Cup is pretty much the same when the event is held every four years. There is the opportunity to get tickets directly through FIFA, the opportunity to get tickets through your home club, and the (very discouraged) opportunity to buy resale tickets. Resale tickets are not endorsed by FIFA whatsoever and there is a chance that you will be denied entry, so it's always best to go through one of the official ticketing options.
After our World Cup experience, we highly recommend that anyone who loves sports attend at least one World Cup in their lifetime, or at least a local equivalent like the Euros.
By Kelly and Sean from A Pair of Passports; Twitter
Basketball in Barcelona: FC Barcelona vs Real Madrid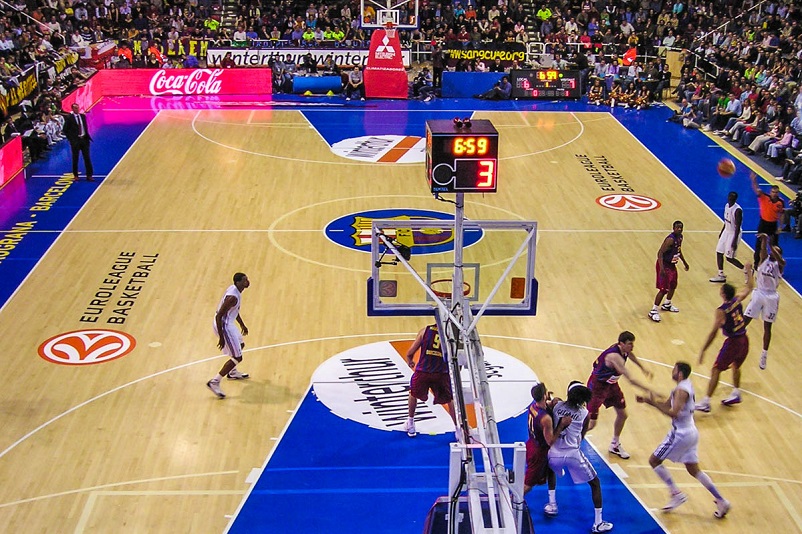 Barcelona is one of the major destinations in Europe as far as sport events are concerned. FC Barcelona is one of the most recognized sport clubs in the world, and attending a soccer match or a basketball game is amongst the most popular things to do in Barcelona. Any soccer game at Camp Nou or a basketball game in the Palau Sant Jordi is a world-class experience, but when FC Barcelona hosts Real Madrid, those games have a different atmosphere.
After moving to Barcelona, being a huge basketball fan, I wanted to watch a Barcelona-Real Madrid game in the Palau Sant Jordi as soon as possible. It's already been a few years, but I still remember the great atmosphere and the tension during the game. The fans were backing the Barcelona team without stopping for a moment, and they booed all Real Madrid attacks or any controversial decision by the referees. The game was only decided in the last couple of minutes, Barça winning to delight of the local fans.
Even though this game is the major event in the basketball calendar, I was able to get tickets for around 25 €. You can usually get good deals through the FC Barcelona website. The food and drink options are quite limited inside; there are basically a few food carts selling hot dogs and drinks (no alcohol). The basketball stadium is just next to Camp Nou, and it's easily accessible by metro from the city center. The closest metro stops are either Palau Real (L3, green line) or Collblanc (L5, blue line).
By Gábor from Surfing the Planet; Facebook
AFL in Melbourne
There is nothing more Melbourne than visiting an AFL match at the Melbourne Cricket Ground (MCG) on a Saturday afternoon or evening. AFL stands for Australian Football League and it is the premier league of Australian rules football which is incredibly popular in much of Australia. In Melbourne, many people are football mad and you will instantly make friends with people if you show an interest in this sport.
Matches go for about two and a half hours and are split into four quarters. An oval ball is used and players score points by kicking it between goal posts, of which there are four. It's a fast action, fun game with no time to get bored. The best match to visit is one between two Melbourne teams especially the bigger ones like Essendon, Carlton, Collingwood and Richmond as there will be a huge crowd which will add to the experience. The MCG is the home of the sport and fits 100,000 people so a full crowd has an amazing energy.
Matches take place from March to September and if you can't make it to Melbourne, you can also attend matches in all the major cities in Australia.
You can generally buy tickets at the ground from around AUD$25. For matches between the most popular teams or teams at the top of the ladder, it's best to buy tickets in advance online. There are many food and drink options at the ground including alcohol. The MCG is a short walk from Flinders Street Station, the main train station, or you can get a train or tram closer to the ground. It's best to arrive thirty minutes early so you can get comfortable and watch the teams run on.
By Sharon from Simpler And Smarter; Facebook
College football at Ohio State University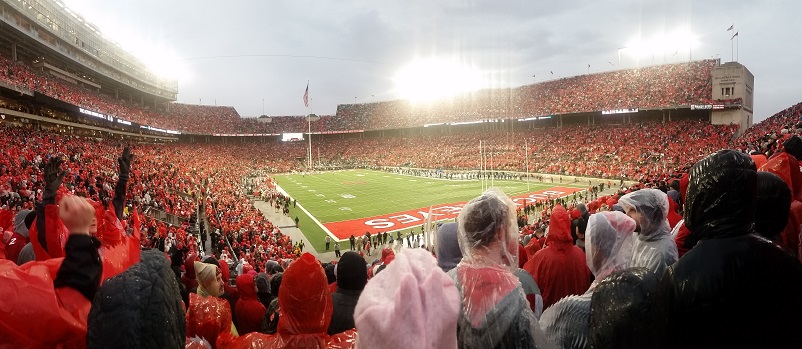 Having always been a football fan, I couldn't wait to go see one of the greatest football teams in the US live in action. Watching an Ohio State football game was the entire reason for our trip to Columbus. I can honestly say, I've never been to a place with as much energy as Ohio Stadium (aka, the horseshoe).. Holding well over 100,000 fans, the stadium is nothing shy of electric. The fans are very engaged and audible during the game, especially in the large student sections on the North and South sides of the stadium. From kickoff to the last snap, the horseshoe will have you engrossed in the game.
While the actual football game is obviously the main draw, there are so many more elements to experiencing OSU football. The pregame tailgating is a must and many enjoy going to the skull session which is a hype-up band performance before the game (free in the Shottenstein Center)! Speaking of the band, make sure that you stick around at halftime to watch their killer performances and don't leave to early because you'll want to sing Carmen Ohio while link arm in arm with your Buckeye family.
You can buy tickets in advance on Ticketmaster or scalp tickets once at the horseshoe, your choice. If you are buying the tickets resale, the price will fluctuate greatly based on who we are playing. Tickets to big games are not cheap, but I recommend going to at least one to experience the Ohio State intensity for yourself!
By Katelyn from Stop Drop and Trek; Instagram
Hockey in Toronto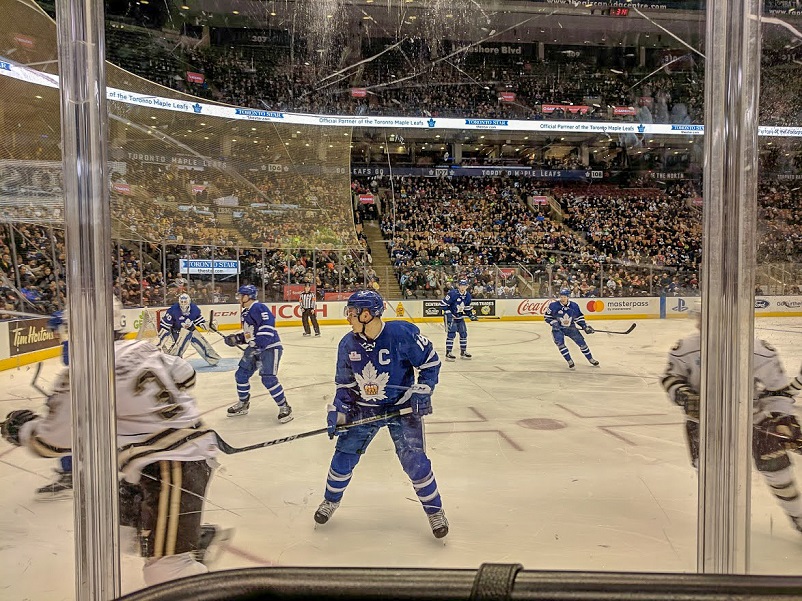 If you're into adrenaline-pumping sports, you really can't go past seeing a hockey game in Canada. Completely apart from the fast-paced nature of the sport, you're almost guaranteed to be in a packed stadium with diehard fans. That means the atmosphere is going to be electric and I dare you to try not to get caught up in the game.
I saw my first Canadian hockey game in Toronto's ScotiaBank Arena on Family Day, so it was bustling with parents and children. The arena is easy to get to, just take a train or bus to Union Station and if the weather's not great use the underground PATH to get in warm and dry. Yourbags will be searched before you enter, but the security lines move pretty quickly. My front row seat was just $60 through Ticketmaster, although I was watching the Toronto Marlies play the Hershey Bears, and not top-tier NHL teams.
Sitting so close to the ice made a close game that much better. I could hear the players yelling at and to each other, and could almost feel them smashing into the plexiglass and wooden boundaries at the ice's edge. I had a great time trying to follow the puck as it whizzed across the ice. Even though I was traveling by myself, I didn't feel like a loner at the game. I was sitting next to a family – mom, dad, child, newborn and grandpa, all excited to see the Marlies. Since I didn't know all the rules, the grandpa was happy to explain what was going on, why penalties were called and why the Marlies weren't playing their greatest game. Plus they got me a bucket of popcorn and a drink! Either I was really lucky, or Canadians are just lovely people. I think it was a bit of both.
Speaking of food, the concession stands looked great, with everything from prime rib sandwiches to gourmet hot dogs, mac 'n cheese, pizza and shawarma. Don't miss the chance to see an ice hockey game in Canada – it's an awesome experience!
By Katherine from Bright Lights of America
Ski jumping in Slovenia
Ever since I remember I was a big fan of winter sports, especially ski jumping. At my family home there was a small tradition to watch the Four Hills Tournament every New Year's Eve and that's how I fell in love with the sport. There was something dreamy about men who were flying, even if for few seconds only. As a teenager, I started travelling for ski jumping competitions that were taking place in Poland and often in surrounding countries too.
When I was almost 18 one of my biggest dreams came true – I went to Slovenia for the World Cup ending competitions. It was such an incredible experience that, even after so many years, I still remember very clearly. The ski jumping hill in Planica is the largest in the world so seeing the competition at such an iconic venue was a real treat. The jumpers were truly flying there! Afterwards I visited many more competitions all over Europe but travelling to Slovenia and seeing ski flying live was one of the most unforgettable experiences for me, the one I will never forget.
Even if you are not a fan of winter sports, I think seeing the ski jumping hill in Planica is one of the must-do things to do in Slovenia. This place is just incredible and the location, surrounded by Julian Alps, is even more impressive. Planica is located only 5kms away from Kranjska Gora – one of the main skiing resorts in Slovenia.
By Kami from Kami and the Rest of the World
NFL in London
In October 2018 I attended one of the three NFL Games in London. It was quite a special event, being one of the few NFL games played in Europe. I attended the game between the Tennessee Titans and the Los Angeles Chargers, which is my favorite team since I lived in California for some months.
That was the main reason I attended, as I'm a fan of the NFL and the Chargers. As California is quite far away from where I live in Switzerland, the game in London was a great option for me. I combined the game with a short city trip to London.
The game itself took place in the English National Stadium, the Wembley, in London. The location is perfect, as it is easily reachable by public transportation and is used to handling huge masses of fans for soccer games. I was also surprised by the atmosphere, which was amazing, especially when you consider that many people just want to "check out" an American Football game. Overall, there was a great and enjoyable atmosphere.
As the whole game is organized by the NFL, the food and drink options are like in the states: beer, American food (hot dogs, popcorn, etc.) and many different sweets. And the prices were actually lower than when I watched NFL games in California. All tickets were sold via Ticketmaster, which was organized well in my opinion. As some games sell out within minutes or hours, it can be a bit of a hassle though. It is recommended to book on the day they start selling tickets.
By Michael from mscgerber; Instagram
Tennis in Perth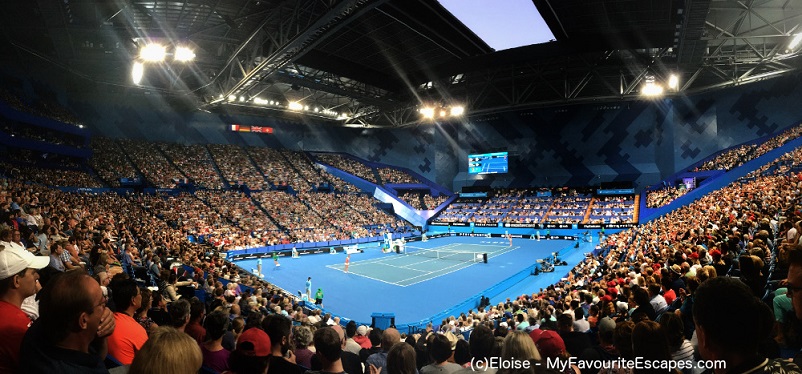 January is the month of tennis in Australia. The year starts with the Brisbane tournament followed by one in Sydney – two popular warm-ups for the Australian Open in Melbourne.
In December 2016, we landed in Western Australia for our two-week road trip from Perth to Esperance. I was surprised by posters of Federer everywhere in Perth airport. He was back after 15 years to play in the Hopman Cup. Players compete for their country with two singles matches and one mixed-doubles match. We had one day in Perth before going back to Brisbane. We could not have been luckier: Switzerland (hence Federer) was playing against France (our country) and tickets were still available!
If you book early, you may be able to score a cheap ticket (around AU$15). But better seats or late bookings can be ten times more expensive. The Perth Arena is easy to access, whether you are driving or taking public transport. And even during this peak holiday season, we managed to find accommodation at a decent price.
We were among 13,917 spectators, the biggest tennis crowd in Perth history at that time. The majority were Australian fans of Federer, but a few Frenchies were cheering for Gasquet and Mladenovic. Gasquet didn't play his best and Federer was unforgiving. In the women's game, Mladenovic won over her best friend Bencic to carry on the suspense. The result of the mixed-doubles match would determine the team to play the final. A dream came true for Mladenovic: she was going to play against her idol, Federer. But he wasn't kind to her; Switzerland needed the points. He scored a few aces that she had no chance to catch. When she finally hit the ball back, the entire stadium cheered as one with her. I loved the spirit. France ended up winning the tournament. We were already back in Brisbane, and the news made me smile despite the end of our holidays.
By Eloise from My Favourite Escapes; Instagram
College football in Ireland
Having gone to Penn State University, a school known for football, my husband and I have traveled across the US to attend various bowl games over the years. When we discovered Penn State was playing the University of Central Florida at Croke Park Stadium in Dublin in August of 2014, I was super excited to have a reason to plan my husband's first trip abroad. We purchased tickets several months in advance of the game on the Ireland Ticketmaster site, prior to them being broadly available to fans in the US. At €112.90 for two lower level seats (or about $70 each), the price was comparable to similar seats in our home stadium in Pennsylvania.
We stayed at the centrally-located Conrad Dublin. It was walkable to Croke Park with good walking shoes and several stops at pubs along the way. Both teams held pep rallies in the Temple Bar area the day before the game, and everywhere you turned you could see fans from either team. On game day, the entire city of Dublin was alive with both visiting fans and Irish American football fans. It was cloudy but relatively warm, and the chance of rain never amounted to anything more than a quick sprinkle, making it the perfect weather for football. Croke Park offers a range of food and beverage options, but given our pub stops on the way to the stadium I couldn't comment on any of it since I had my fill before the game. Our team ultimately won, making an already exciting game and atmosphere even better.
While the game itself was an amazing experience, the best part about this trip was that it sparked our love for traveling abroad together. We used the opportunity to make a trip to Italy after the game in Dublin. Ironically, it's sporting events that will bring us back to Ireland for the British Open in Northern Ireland in 2019, this time with a two year old in tow. Our son's first long flight across the country was at eight months for a bowl game in Phoenix, and I couldn't be more excited to spark the same love for travel through sports with him; this time internationally.
By Amanda from Toddling Traveler; Instagram
Like this post? Pin it!