Last Updated on 14th April 2019 by Sarah and Justin
For years, we had longingly looked at pictures of Lake Bled, Slovenia for years, desperate to visit. It was one of the most picturesque little spots we'd ever seen. So it was a huge priority for us to visit Bled during our week in Ljubljana. On our travels, we met someone who had just spent a week there and he advised that we only go on the clearest of days. So we closely monitored the weather and on our second day in the city we took our day trip from Ljubljana to Lake Bled. It was easy and fun and absolutely stunning, and we highly recommend anyone spending enough time in Ljubljana do the same. To help you plan your day trip, here are our recommendations for going from Ljubljana to Lake Bled including things to do in Lake Bled and taking the Ljubljana to Bled bus.
Things to do in Lake Bled
There are a few main things to do in Bled. And, not surprisingly, they all involve the lake!
1. Walk (or bike) around Lake Bled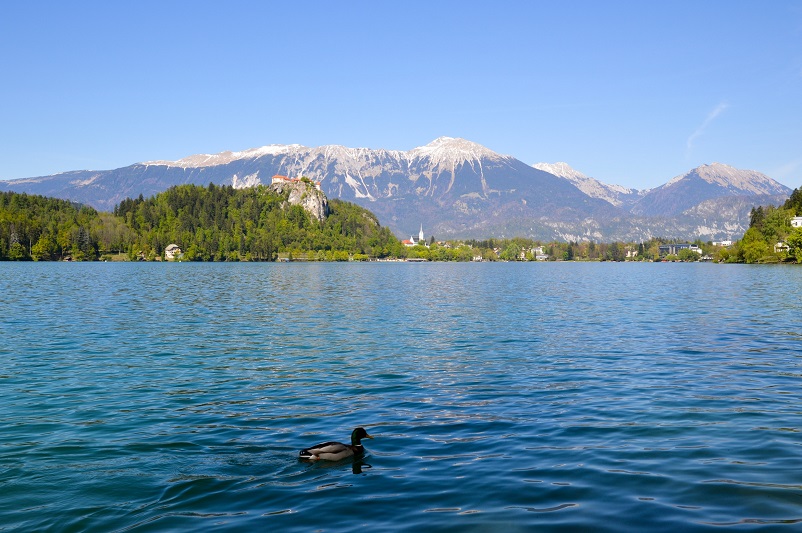 There is a well-made, 6km easy to follow path around the lake that you can walk or bike around. We walked. It took us about two hours, including some stops along the way to marvel at the mountains surrounding us or watch ducks do their thing.
2. Go for a hike in Bled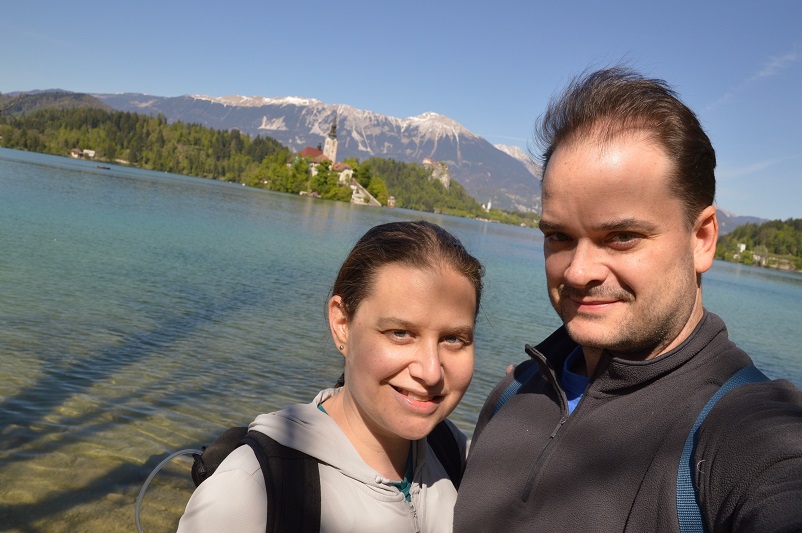 The whole area around Lake Bled is known for its hiking. We tried to do one of the easier, shorter hikes. Sarah even brought her oxygen so we could. But we misread the directions and ended up in someone's backyard instead. Oops. Good thing any wrong turn in Bled will just lead you to another gorgeous lookout spot.
3. Take a boat to Bled Island
Bled Island sits in the center of Lake Bled and the Church of the Assumption sits on Bled Island. Many people make trips to Lake Bled just to visit the island and the church. It is quite beautiful, but we only viewed it from afar. Once you take a boat across, there are 99 stairs to climb to get up to the church and the biggest reason people do it is to ring a bell.
4. Visit Bled Castle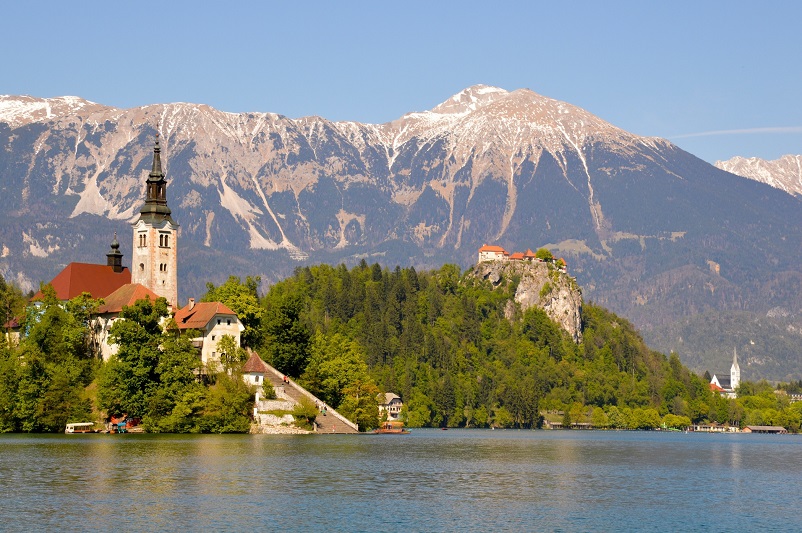 Bled Castle looks pretty cool, but it takes a big hike to get up to it. We were told that you can have lunch at the castle and if you make a reservation, you also get a free castle tour. We actually did this, but went on a different day than originally planned to take advantage of the weather, so it didn't work out. The castle is still amazing to see from afar – and you can see it perched atop its craggy hill from pretty much anywhere in town.
Ljubljana to Bled bus
We took the public bus from Ljubljana to Lake Bled. The bus is easier, faster, and cheaper than taking the train (which drops you off significantly outside the town). There are bus schedules online. When we were visiting (in late April), the bus ran every hour, and the trip takes a little over an hour. In Ljubljana, you buy your tickets at the bus station, which is right outside the train station. If you're a tourist and don't speak Slovenian (like us) they'll probably sell you a reserved seat, which costs a little more and is definitely not needed. It's a popular route, though, so later in the trip, people do have to stand.
The scenery along the way is beautiful, and will keep you occupied staring out the window the whole time. There are a few stops actually in Bled, but its easiest to get off at the bus station (which is the last stop). From there you just walk down the hill to get to the lake and main part of town.
On your return trip from Lake Bled to Ljubljana, you can pick up the bus right where it dropped you off. And there's a small station where you can buy your tickets.
Where to eat in Lake Bled
We had a great pizza lunch at Pizzeria Gallus. The pizza was huge and quite tasty. But the highlight was the view of Bled Castle and the mountains from the restaurant. We highly recommend it.
The culinary specialty of Bled is cream cake. Since this has turned out to be a post about what we didn't do at Lake Bled, we're sure you'll be shocked to learn we did not in fact eat the cream cake. We were too full of pizza! Sarah regrets this. But it's just another reason to return.
Like this post? Pin it!