Last Updated on 19th March 2019 by Sarah and Justin
Bern has been on our travel wish list for quite some time for a fairly oddball reason: its flag. It's got a bear on it that's simultaneously menacing and adorable. And we love bears and we love flags, and there have got to be sillier reasons to visit a place (right?). Of course, once we started actually reading about the city, we had a strong inkling it was the type of place we would love. We also read that accessibility in Bern is good, so last year we made it a priority to go. We worked out a good time to visit Bern during a 12-day trip through a few places in Switzerland and Germany. We spent a short but busy two days in the city and worked with the Bern tourism board to learn as much as we could about its accessibility. Based on all that we created this accessible travel guide which includes things to do in Bern, accessibility of the Bern Old Town, as well as information about public transport in Bern and Switzerland for wheelchair users. We've also thrown in some ways to save money during your stay because it is Switzerland after all.
Introduction to Bern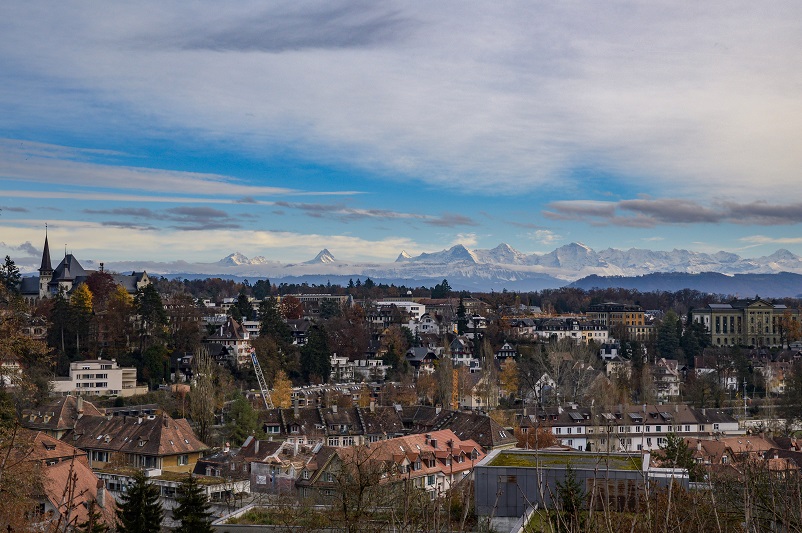 Bern is the capital of Switzerland. It's located in the eastern part of the country on a peninsula carved out by the Aare River (the aerial view of the city is pretty cool). The city dates back to the 12th century, and its well-preserved Medieval Old Town is a UNESCO World Heritage Site. Bern itself has a very small airport served by limited routes. But it's pretty close to both Zurich Airport and EuroAirport Basel-Mulhouse-Freiburg as well. Bern is also quite well-connected by train. We arrived in Bern by train ourselves, having come from Zurich.
Accessibility in Bern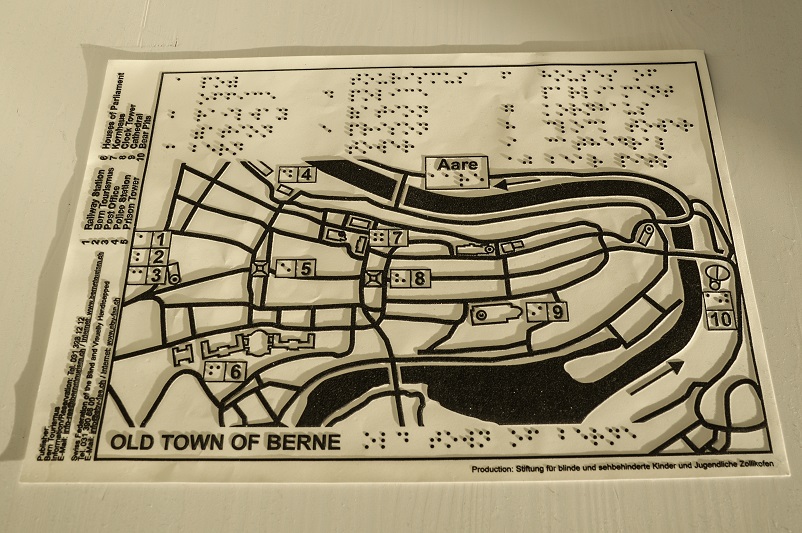 We found accessibility in Bern to be quite good. Not only is the city's infrastructure good, but the availability of information about accessibility of attractions is robust. The Bern Tourism Board was also helpful. When we contacted them about visiting the city and writing this accessible travel guide to Bern, they sent us information and arranged a tour with a specialized guide. One of the resources they showed us was the above-pictured map for blind people. It is a raised map of the Bern Old Town with key points of interest noted in braille. If you would like one, or other information about accessibility in Bern (or anything at all really!), visit the Tourist Information office located in the Bern Hauptbanhof (the main train station).
Things to do in Bern
For a relatively small city, Bern has quite a lot of things to see and do and enjoy. In this post, we've included our favorite accessible things to do in Bern, as well as some information about places we didn't have time to visit but look pretty cool.
Bern Old Town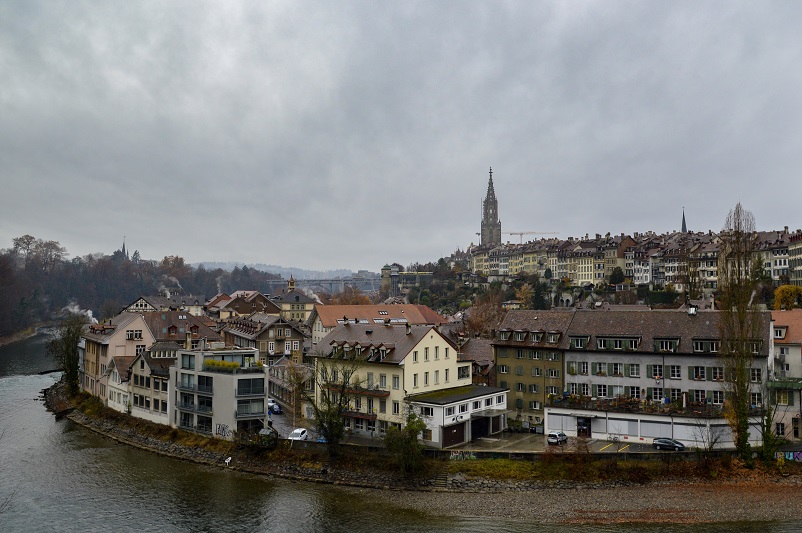 We've seen a lot of old towns here in Europe, but if you love them, they never get… well… old. And Bern's is no different. Even if you only have a day in the city, we say go, and enjoy wandering around the Bern Old Town.
Accessibility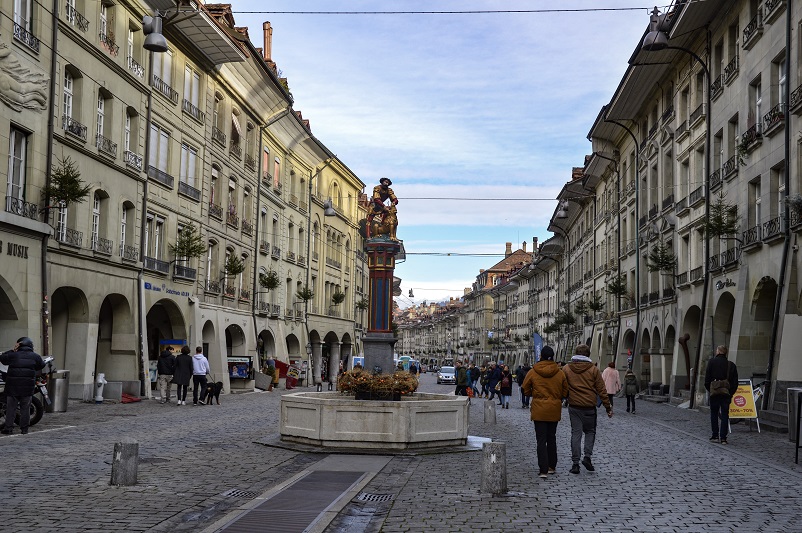 Bern's Old Town is pretty accessible all things considered. Though many of its streets are cobbled, many of the cobblestones are pretty flat and more easily navigable. The main street that runs through the area, Kramgasse, is also quite wide and there are sidewalks running under the arcades lining the street, although some have steps. Buses also go all the way down this street specifically, and throughout the whole area, there are public transport stops at pretty much every major sight.
There are so many different things to see in the Old Town, from its 16th century fountains (there are over 100 in the city) to its famous clock tower. But the highlight for us – as per usual – was just soaking it all in. We wandered around ourselves taking it all in and then explored everything a bit more thoroughly with the tour guide provided by the Bern tourism board. If you want to, you can book a private or group tour or online.
Bern clock tower
A highlight for many visitors to Bern is the aforementioned clock tower (Zytglogge). Every hour its gorgeous astronomical clock puts on a show with mechanical figures dancing and crowing. We stood in the pouring rain (with many other silly tourists) watching it do its thing as our tour guide explained exactly what was happening. You can also take a tour inside the tower, which would likely be a bit more interesting than watching the tiny figures from outside. We opted against it since it requires climbing lots of stairs (there is no elevator inside the Zytglogge, which makes sense since it was built in the 13th century).
Note: the bus/tram stop right outside the clock tower also called Zytglogge.
Swiss Parliament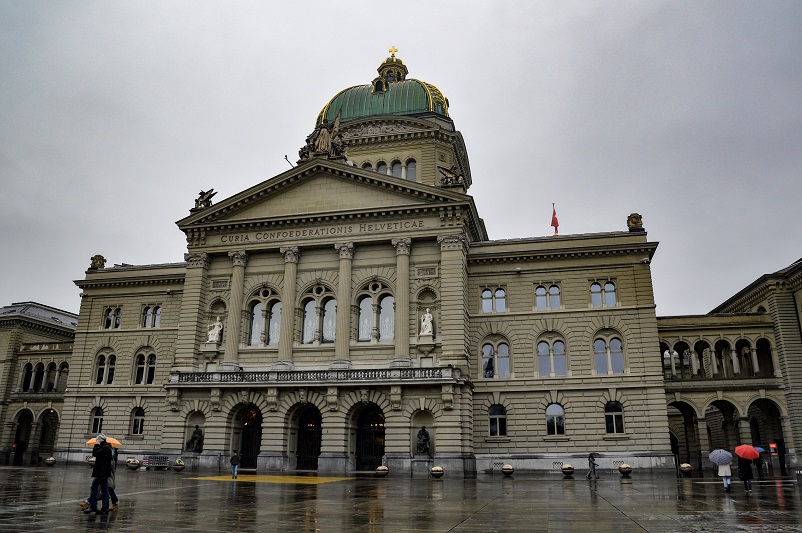 Since Bern is the capital of Switzerland, it would make sense that the Swiss Parliament would meet in the city. The building in which they do, the Bundeshaus, is a beautiful and quite impressive domed structure built in the late 19th century. Tourists and locals alike can visit the Parliament Building free of charge. When Parliament is in session, you can visit and see the debates, Q&A, and information sessions. Tours are offered when Parliament is not in session. Reservations are necessary for in-session visits for groups of 10 people or more and all tours (individuals and groups). Visit the Budeshaus website for reservations.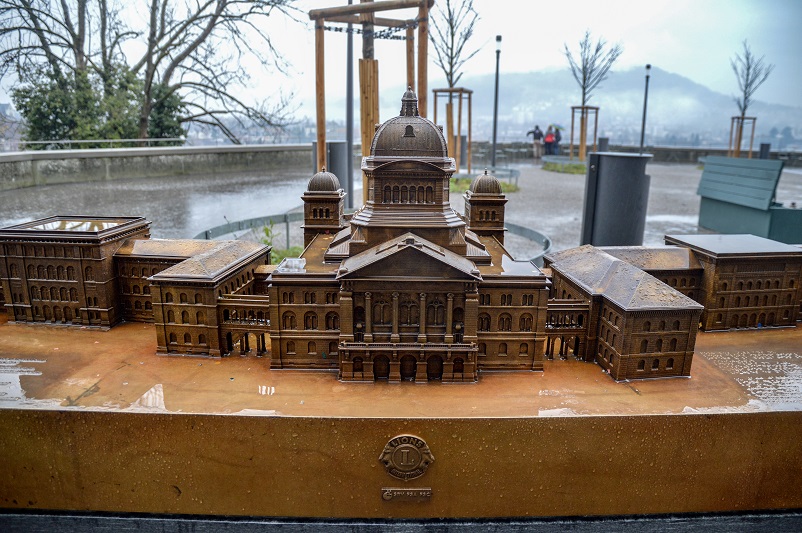 The Parliament Building and tours are accessible for wheelchair users without restrictions. While all other visitors must enter the building through the back entrance, wheelchair users should enter the building through the main entrance on the Budesplatz (pictured above). Additionally, induction loops are available for people with hearing aids. And – a more recent addition since Spring 2018 – outside is a small model of the building with braille. It's located behind the Bundeshaus on a terrace from where you can see a nice view. The large terrace is flat and easy to navigate.
The Parliament building is right in the middle of the city. It's only an eight minute walk from the central train station, or you can take the tram or bus to the Bundesplatz stop right in front of the building.
Bern Cathedral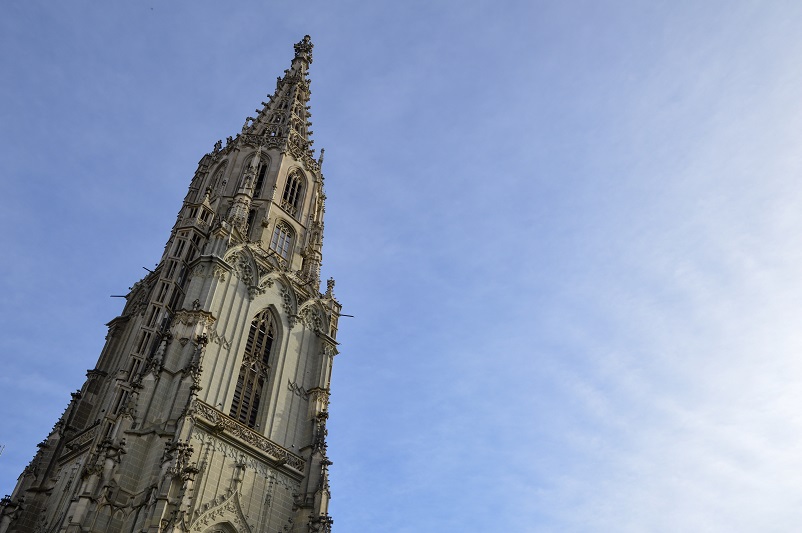 The Berner Münster is a big, beautiful Gothic cathedral in the Bern Old Town. It stands out and can be seen from many different points in the city. It's also quite impressive up close. The main entrance is decorated with a beautifully ornate sculptural depiction of the Last Judgement, and inside there are 15th century stained glass windows and the ceiling features the flags of the Swiss cantons.
Much of the cathedral is wheelchair-accessible, although the bell tower is not. For a fee, you can climb (hundreds of steps to) the tower to see a sweeping view of the region. We did not, opting instead to see what we can only assume is an equally stunning view from the area right outside the church called the Münsterplattform.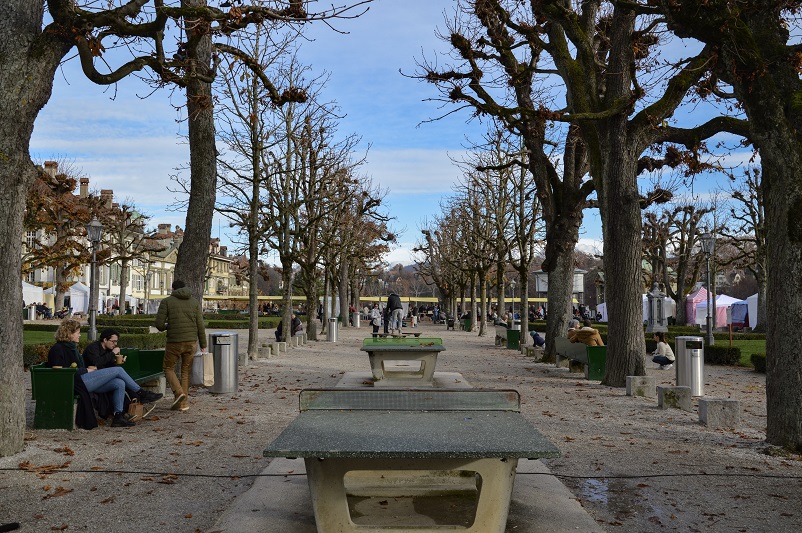 This small area outside the cathedral is really nice to sit or walk around or play ping pong. And it also offers some of the most beautiful views of the city. From one side, you can see down into the (supposedly) cool Matte neighborhood and across the Aare River. From the other, you can see the impressive High Bridge and the Bundeshaus.
There are two entrances to the terrace. Coming from the front of the cathedral, there are a few stairs leading down to it. Coming around the back is flat.
Kleine Schanze park and Europapromenade
Our other favorite viewpoint in Bern is the Europapromenade, which winds its way behind a pretty little park called Kleine Schanze. We're a bit biased about this spot in the city because when we arrived, the sky was super clear and we were wowed by the most incredible view of the Swiss Alps. It was also home to our favorite Christmas Market in Bern, the Sternenmarkt. It's a truly lovely place for a (st)roll or a rest on one of the many benches.
Bern museums
There are a lot of museums in Bern. Given our relatively brief visit, we visited two: Kunstmuseum Bern and Zentrum Paul Klee. If you want to see both museums in one day (which is definitely doable), we recommend buying the combination ticket to save money. Both museums are wheelchair-accessible. We found them easy to navigate and were particularly impressed with the amount of information about accessibility available on their websites.
Kunstmuseum Bern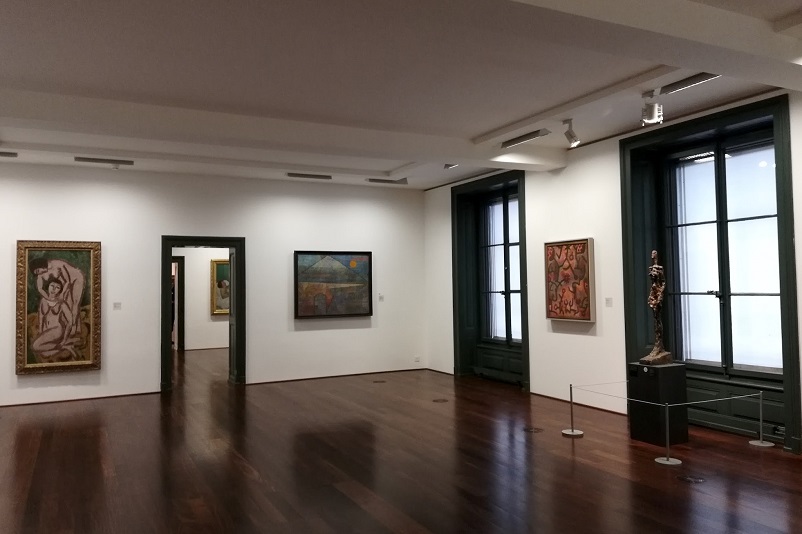 If you like modern art, this is a must-see museum in Bern. It's right in the middle of the city so it's easy to get to. It features works by popular artists like Klee, Picasso, and Giacometti.
The museum is accessible for wheelchair users, including a ramp to the main entrance, elevators, and stair lifts. Wheelchairs are also free to borrow, though a reservation is needed. With identification, disabled visitors can receive reduced admission for themselves and an escort. Guide dogs are allowed to enter the museum. Even more information about the accessibility of Kunstmuseum Bern, including the widths of doorways and entrances, can be found on their website.
Zentrum Paul Klee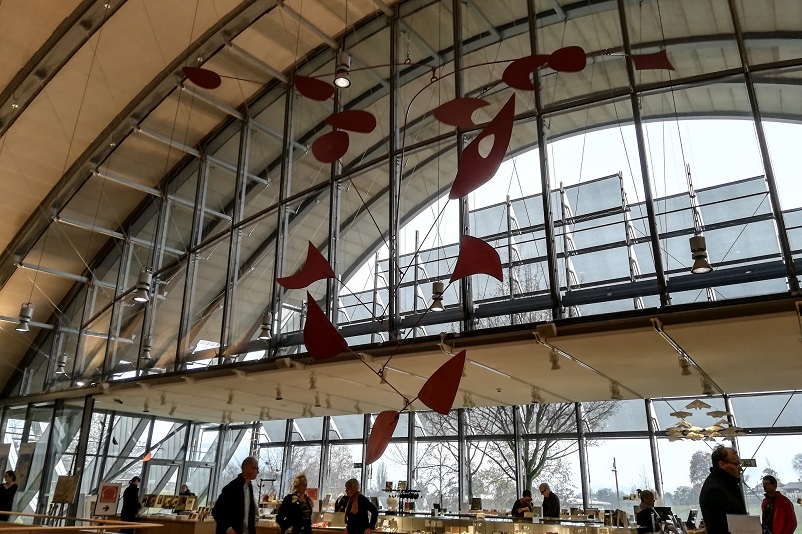 Paul Klee was born in the area surrounding Bern and lived about half of his life in the city. Zentrum Paul Klee is a monument to his work. The museum rotates its works by Klee through thematic exhibitions. They also have special exhibitions by other artists with connections to Klee.  It is a beautiful building, worth visiting just to see, just a short bus ride or drive outside the city center. The day we visited it was pouring rain, so we didn't get to fully explore the area outside the museum building, which sounded absolutely lovely. We'd gladly return to give it a walk. We did enjoy a rest and the German tradition of Kaffee und Kuchen (coffee and cake) at their cafe. It was a beautiful space, reasonable prices, and everything was delicious.
The museum is committed to making itself and its works accessible to people with all types of disabilities and special needs. As you can read on the website, the building is fully wheelchair-accessible and they provide all manner of assistance to visitors in wheelchairs or needing to borrow wheelchairs. They offer assistance to people who are deaf and hard of hearing. And they also focus on creating unique visiting experiences for all types of art lovers including people who are blind and people with learning disabilities.
Other museums in Bern
The Museen Bern website has a comprehensive list of all the museums and other cultural attractions in the city as well as their exhibitions. The website includes "wheelchair access" as a filter option (which we think is awesome and should be done on more websites!). If we return, we'd especially love to check out the Swiss Alpine Museum and the Botanical Garden.
Bärengraben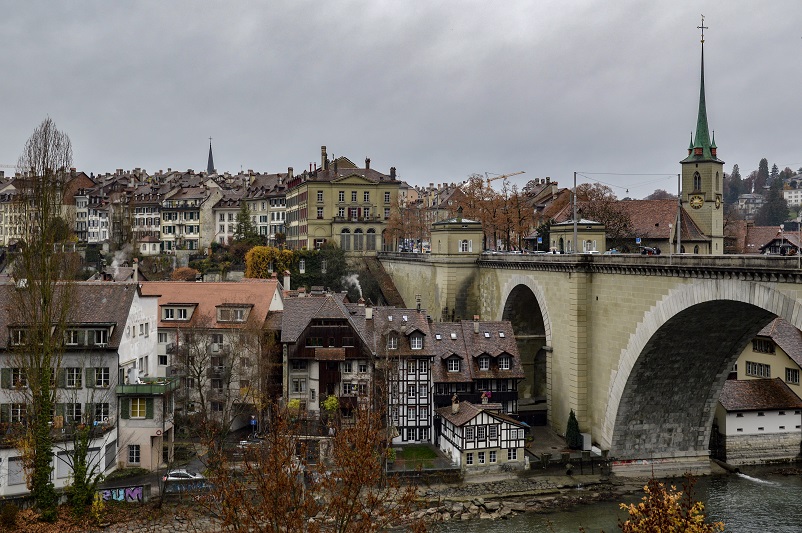 You can't talk about Bern without mentioning its bears, which are a huge part of the city's identity. Bern has had bears within its city limits for centuries, and our tour guide told us a funny story about when one escaped from its pit. Since 2009, the bears have a bigger home in the appropriately named BärenPark, from which they can also take a swim in the Aare River. But before the park was set up, they were in fact kept in pits. From above the most recent one, known as Bärengraben, one can see a great view of the Old Town.
The Bärengraben is walkable from the Old Town, but if you take the bus to the BärenPark stop you're right there. There's also a public wheelchair accessible bathroom outside Altes Tramdepot Brauerei (which we recommend for tasty food and even tastier beer). We visited Bern during December when the bears were hibernating.
Rose Garden
We sadly did not make it to this popular park and viewpoint in Bern. It's located above the Bärengraben and reachable by walking (up a hill) or taking the bus to the Rosengarten stop. Having seen pictures of the view of the Old Town from this point, we would definitely go ourselves if we return to the city. From what we've read, it's wheelchair-accessible.
Gurten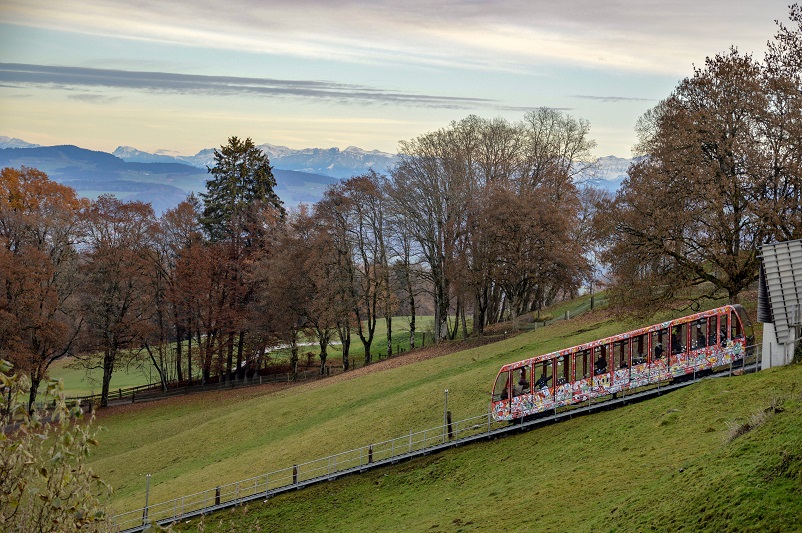 There is a biggish hill in Bern called Gurten. It's a feast for nature lovers with parks and playgrounds and trails. And it also offers some nice views of Bern and its surroundings. We saw people of all ages walking around, playing, and riding their mountain bikes in the area. Our tour guide told us Gurten is also a paradise for dogs, and we could see why. If you're going for the view (like we did), save it for a clear day. It was a bit too hazy when we went.
To get there, take the bus to the Wabern, Gurtenbahn stop and then take the Gurtenbahn (a funicular) up to the top of the hill. The funicular ticket is also included in any Bern day pass and the funicular is wheelchair-accessible. However, the walk to the entrance is up a small hill in and of itself.
SC Bern hockey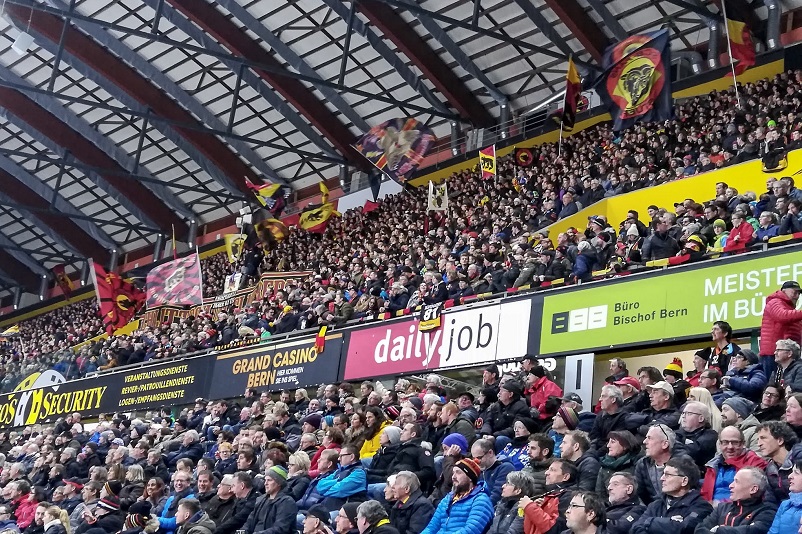 Hockey in Switzerland goes back a long way, and the quality of the national league is quite good. PostFinance arena in Bern is the largest indoor venue in the country. The local club, SC Bern, has boasted the highest attendance of any hockey team in Europe for a crazy 17 straight years. An average of over 16,000 fans support their club each game, well over half of whom are standing in the steep fan section on one side of the rink. This feature is unique as usually the fan sections are behind the goals. And the sheer volume of fans there (the largest such section in a European arena) makes the arena atmospheric and fun. We had an awesome time cheering the home team from our seats right next to the fan section.
PostFinance arena is easily reachable by public transportation, features 57 dedicated wheelchair places, elevators, and has dedicated parking for those with access needs. Food was tasty and we were surprised by the reasonable prices considering we were at a sporting event in Switzerland. Hockey rinks seem to be excessively hot or cold, and this one was no different. It was very chilly inside, especially with so many people packed in.
As games regularly sell out, you'll need to buy tickets well in advance. We bought ours pretty much right when they went on sale. Information about how to buy tickets is on the SC Bern website here. Wheelchair seats are only available for purchase by phone at +41 (0) 31 336 80 80.
Christmas Markets in Bern
If you're visiting Bern in December (like we did), you'll definitely want to visit their Christmas Markets. Fun and festive, in 2018 there were five Christmas Markets throughout the city. They were all wheelchair accessible although navigating them during their busiest times on weekends may take some extra time.
Our favorite Christmas Market was the city's newest, the Sternenmarkt, located in the aforementioned Kleine Schanze park. It had great shops, delicious and varied food options, and the most romantic little spots with waterfalls and twinkle lights (check out Sarah's Instagram Story to see it). And of course, the view can't be beat. They also had wheelchair-accessible bathrooms which was awesome.
Public transport in Bern
In case we haven't made it perfectly clear until now, we think Bern has a fantastic public transportation system. We love that you can see an Old Town as great as Bern's via public transport (we've found this a pretty unique thing). And though the city itself is fairly small, there are some areas outside the center you'll want to visit (and even stay in), so it's great that there's reliable, easy to use public transportation.
But, truly, the best thing about public transport in Bern is that it's free for overnight visitors! If you stay at a hotel or other registered accommodation, you will receive a free transit pass. If you travel by public transportation to your accommodation, you can use your hotel confirmation as your ticket before you get the official pass. This is also the case in certain other cities in Switzerland (we were first wowed by the deal when we were figuring out how not to go broke in Basel). But we think this is so great: it saves people money and encourages them to take public transportation at the same time.
If you are just coming to Bern for a day trip, it's easy enough to buy public transportation tickets. Just follow the instructions on any of the kiosks outside the major bus or tram stops. If you just want to see the main sights in the Old Town, you may not even need to use public transportation. But if you have mobility limitations or want to go a bit further afield, we recommend getting a day pass. It's a pretty good deal (13 CHF as of February 2019) and then you can just hop on and off whatever comes your way without thinking about it. You can buy a day pass at the kiosks, or if you're visiting from another city in Switzerland you can add it to your regional train ticket at an SBB kiosk or online.
Accessibility of Bern public transport
Many (but not all) of Bern's buses and trams are wheelchair accessible. Both the vehicles that are wheelchair accessible and the stops that are wheelchair accessible are marked with a wheelchair symbol. You can learn more about the accessibility of the vehicles here and the accessibility of the stops here. They also provide information for hard of hearing people here and people with visual impairments here. Please note, these pages are in German, so you may have to translate them.
Train travel in Switzerland
Switzerland has a highly efficient, albeit expensive, regional train network run by SBB. We thoroughly tested the system during our trip and never had an issue. We bought all but one of our train tickets online well in advance to save money, and specifically took advantage of their "Saver" day passes. They go on sale 60 days before your travel date, and if your plans are set, you'll want to jump on them. We set up calendar reminders so we'd remember to buy them at their cheapest!
If you're going to be doing a lot of train travel in Switzerland, you may also want to consider investing in a half fare card that will then allow you to purchase tickets at half price. SBB also offers discounts to elderly passengers, and they require that you enter your age when you purchase a ticket online to make sure you get the best price.
SBB accessibility
The Swiss train system is quite accessible and improvements are ongoing as part of their goal to be in compliance with certain disability acts by 2023. Many of their stations are fully accessible and assistance is not needed. For those traveling to stations that do require assistance, it is necessary to call SBB at least one hour before the train is due to request it. More information in English can be found here.
SBB also has clear, easy to find information about accessible travel on their website here. As they note, the best way to find the most up to date information about accessibility is via the SBB mobile app. We used the app for our tickets and it always worked well.
Hotels in Bern
Ibis Styles Bern City
We spent two nights at the Ibis Styles Bern City. We are members of the (free) Accor loyalty program, so we get even better deals on their already good rates (plus the always appreciated welcome drink). Though our room was small, we enjoyed our stay at the Ibis and would recommend it for anyone looking for reasonably priced accommodation and a robust, delicious breakfast (a huge benefit in pricey Switzerland). The hotel is located just outside the city center, but easily reachable by public transportation. The bus/tram stop is just a few minutes from the hotel entrance.
We didn't stay in an accessible room ourselves, but saw online that they offer them so asked for more information. While they don't have pictures, they described their accessible rooms as being on the ground floor with wide doors, a roll-in shower, and a toilet with wall handles. The rooms are bookable directly with the hotel via phone or email. To book online, you must note that an accessible room is needed.
Hotel Savoy Bern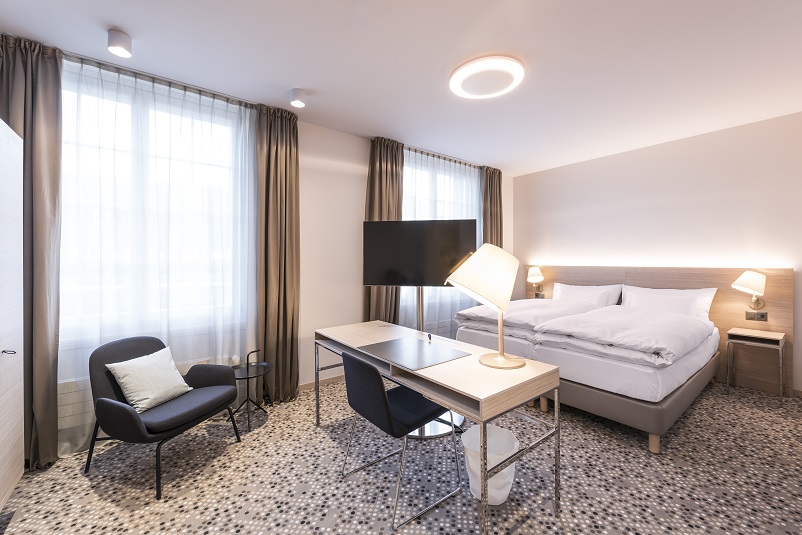 If you're looking to stay closer to the train station and the Bern Old Town, consider the Hotel Savoy Bern. All the facilities in the hotel are wheelchair-accessible and they have two barrier-free rooms in their "comfort" category (one pictured above). These rooms have a walk-in shower with handles as well as handles by the toilet. The rooms can be booked directly by phone or email. To book online, you must book one of the rooms in this category and make a note that a barrier-free room is needed. if you have any questions or need further information about the rooms, they are quick to reply to inquiries by email.
Bellevue Palace
If you're looking for a little luxury, the highly rated Bellevue Palace is also an option. This hotel is located right in the center of the Old Town, just next to the Parliament Building. They have three wheelchair-accessible rooms with special shower and toilets and all public areas in the hotel are accessible as well. Bookings can be made directly by emailing the reservations department or on their website, with a special request for an accessible room in the notes.
<< Check prices and availability for these and other hotels in Bern >>
Additional resources
The Bern tourism board shared this accessible city guide with us before our visit. It's a bit old, but is a good place to start if you're looking for some specific additional information that we didn't cover like accessible taxis and restaurants. It also has a great map that shows recommended streets for wheelchair users to use to tour the city.
Disclaimer
This post was written with support from Bern Welcome who provided us with a complimentary private tour of the Bern Old Town. While some of the information presented was gathered in conjunction with Bern Welcome, all opinions are our own.
Like this post? Pin it!