Last Updated on
We're excited to share a different type of guest post. Tina is a fellow Rotterdammer, but a real born and raised one. We share a love of craft beer, although she's definitely more of an expert (she's a beer sommelier!). She writes 010 Beer Blog, providing an incredible amount of information about craft beer both here and around the world. We asked her to share her recommendations for the best bars in Rotterdam for craft beer. She's also given her expert tips for which beers to choose at each place. We can't wait to try them all for ourselves.
Who doesn't love craft beer these days?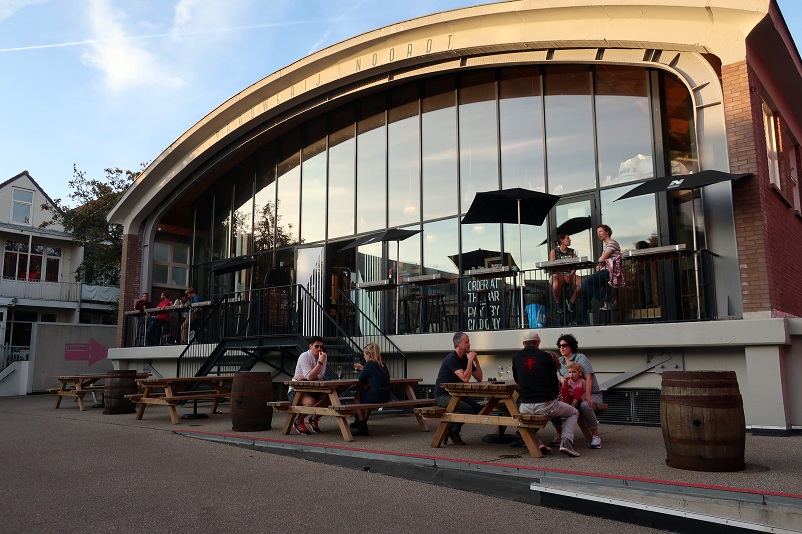 If you have been reading this beautiful travel blog, you'll know Sarah's a great photographer, an enthusiastic foodie and a brave adventurer. What you may not know is that both she and Justin like craft beer! Our mutual beer interest led us to meet on Instagram (isn't social media just amazing?) and later on in real life in our adopted hometown. Contrary to what you might expect, there is quite an active craft beer scene in Rotterdam. The city boasts several craft beer bars, breweries and brewpubs. Here are a few great places to stop by and drink local beers when you are in town.
Where to drink craft beer in Rotterdam
Stadsbrouwerij De Pelgrim
It seems appropriate to kick off with the oldest active brewery in town. Located in Rotterdam's beautiful historic district of Delfshaven, De Pelgrim has been brewing beer here since 1996. It's a small brewery, but it's quaint and authentic. They give tours in both Dutch and English, which take about 30 minutes and cost €10. In the brewpub you can taste their beers from draught and bottle. My favorites are their summer beer Zonnelief (a witbier with red fruit, not sweet though!), Dubbelbock and their divine Armada barrel-aged Russian Imperial Stout series.
You can visit Stadsbrouwerij De Pelgrim at Aelbrechtskolk 12
Kaapse Brouwers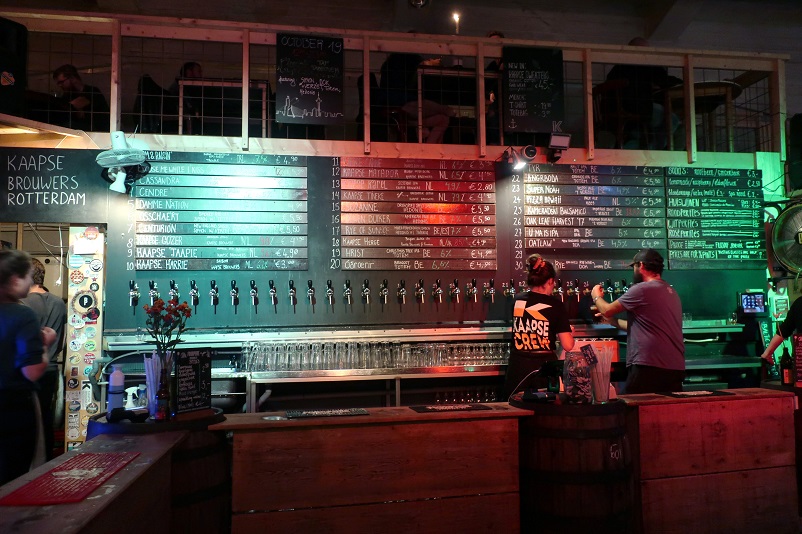 If you are visiting for a few days or just passing through town and fancy a tasty brew, Kaapse Brouwers is definitely the right place to go. Sarah and Justin give an excellent description of it in their article about Fenix Food Factory. With 30 beers on tap and a nice selection in their little bottle shop, this bar is my favorite craft beer bar in Rotterdam. They have a range of solid regulars in their selection, like Kaapse Karel, Kaapse Carrie, and Kaapse Tineke, but also frequently brew experimental one-offs and fun collaborations at their brewpub. Besides their own beers they always have a variety of guest beers on draught and organize excellent tap takeovers! I have tasted loads of new and fantastic beers at this bar and their second café Kaapse Maria near the Central Station, like Nøgne Ø from Norway, Borg Brugghús from Iceland, Beavertown from London and our very own Brouwerij Kees from Middelburg. Keep an eye on their Facebook page for the next tap takeover event.
You can visit De Kaapse Brouwers at Veerlaan and Kaapse Maria at Mauritsweg 52
Brouwerij Noordt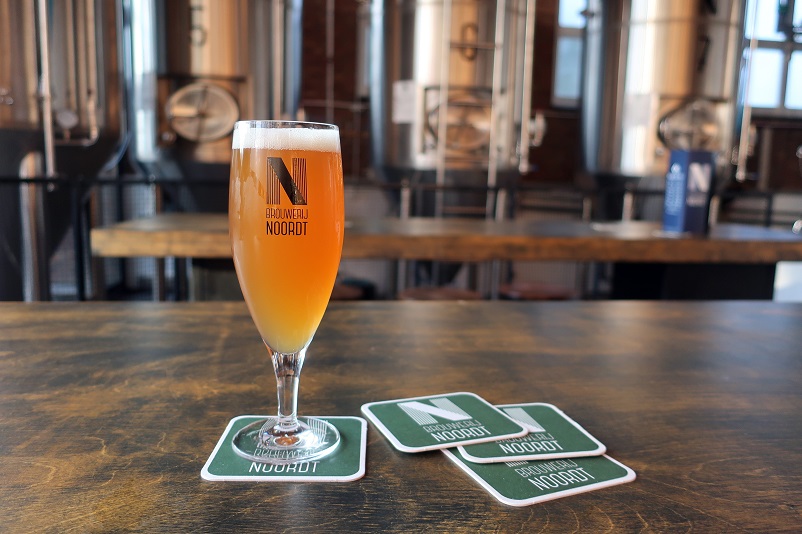 Noordt is a popular local brewery, named after the neighborhood where the brewery is located. It really is a fun area to visit with lots of cute local shops and restaurants. Their taproom is a wonderful big open space, situated in a former fire station, and serves 20 Noordt beers on draught. You can also purchase Noordt beers to take home with you. They don't have tap takeover events, but they do beers and burgers every Friday! My impression of the brewery is that they are less interested in following the quirky trends and more focused on making good quality beers based on proven styles, though they do experiment with ingredients, like their recent Chocolate Porter. This beer was brewed together with pastry chef Hidde de Brabander and includes Madagascar raw cocoa nibs. Their Black IPA and hoppy Double Pale Ales are also a few of my favorites. Their newest collaboration with Kaapse Brouwers – NoordtKaap – is another winner!
You can visit Brewery Noordt at Zaagmolenkade 46
Stadsbrouwerij THOMS
THOMS Brewery is the new kid in town. It opened in summer of 2018 around the corner from its sister café THOMS Restaurant and Underground Bar on the vibrant Meent street in the center of Rotterdam. It reminds me of an American diner and the interior is colorful and inviting. They make their own beer in-house, which you can tap yourself at self-serve tables! All beers are meant to be enjoyed fresh (unpasteurized and unfiltered) and the styles cater to a broad audience, such as their Weizen, Hoppy Pale Ale, NEIPA and Lager. They serve food as well, so you won't go hungry.
You can visit THOMS Stadsbrouwerij at Halvemaanpassage 1
Café Walenburg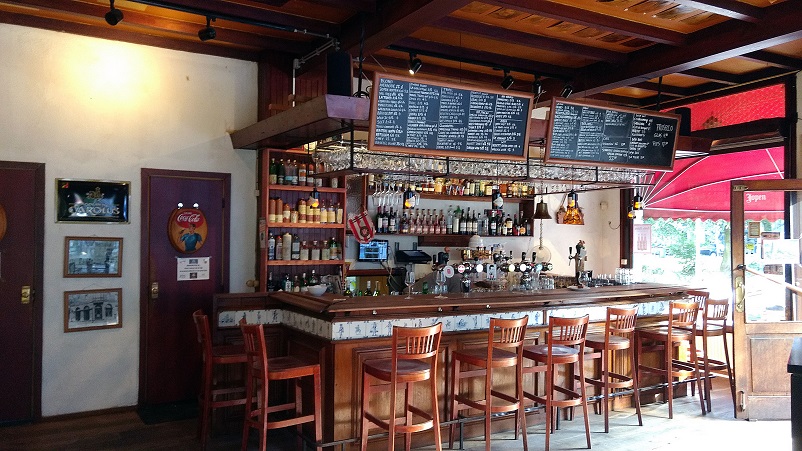 This is definitely one of the many hidden gems in Rotterdam, situated on the north side of Central Station. It's an authentic Dutch pub with a good beer selection and is popular with the locals. Next door you'll find Hoevebrugsch, perhaps the smallest brewery in the Netherlands. Brewing in a space of just 16 square meters (172 square feet), this is where Martijn and Peter make their lovely Hoevebrugsch Blond and Hoevebrugsch 6-On. You may even find them hanging out at the café on a Friday night. Don't hesitate to go over and say hello. They're always in for a chat. They just released their third beer – Winter – that I have yet to taste. You never run out new things to try in Rotterdam!
You can visit Café Walenburg at Walenburgerweg 62-B
More beer bars in Rotterdam
Other bars serving good quality craft beers in or near the downtown area you should check out are:
Proeflokaal Reijngoud (Schiedamse Vest 148)
Kraftbar R'Dam (Nieuwe Binnenweg 99-B)
Belgian Biercafé Boudewijn (Nieuwe Binnenweg 53a-b)
Café Verward (Hoogstraat 69A)
Proeflokaal de Ridder (Mauritsweg 28)
Café Faas (Zwaanshals 248)
About Tina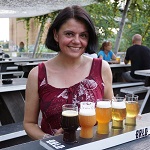 Tina is a craft beer enthusiast from Rotterdam, the Netherlands. She is currently studying to be a beer sommelier and writes 010 Beer Blog about the craft beer lifestyle. If you love craft beer or want to know more about the Rotterdam beer experience, check it out or follow her on Instagram, Facebook, or Untappd.
Like this post? Pin it!