Last Updated on 27th January 2020 by Sarah and Justin
We like tennis. We always watch the four majors and cheer on our favorite player, Roger Federer. He's about our age, so watching him play makes us feel both good about ourselves and woefully inadequate all at the same time. 
In the spring and summer of 2017, we spent the last few months of our 13-month around-the-world trip in Europe. When we realized we could easily get to Paris for the French Open we were psyched! And we have a whole bunch of French Open tips to share. This post will tell you how to buy French Open tickets, what you need to know about visiting Roland Garros, and basically everything you need to know to enjoy French Open tennis in Paris.
How to buy French Open tickets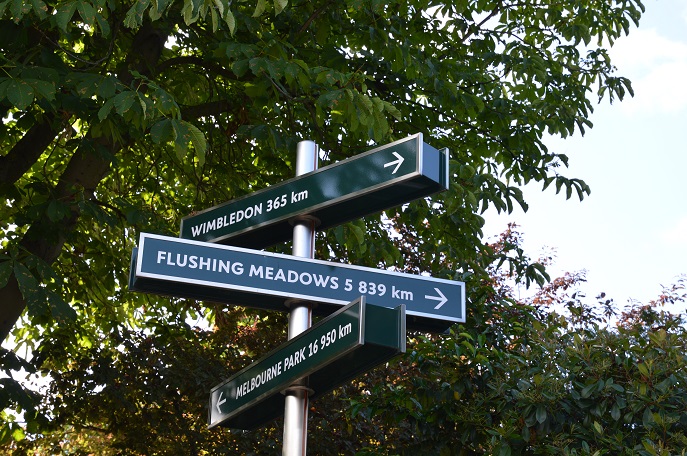 Create an account on the Roland Garros website early
French Open tickets are now only sold (including resales) through the Roland Garros ticketing website. You want to set up an account well before tickets go on sale so you're ready to go when they do.
Set a calendar reminder for when French Open tickets will go on sale
In 2020, public French Open tickets go on sale on 25 March. Note, premium, group, and other tickets go on sale earlier.
Also important, note the time the Roland Garros ticketing website will open for business. If you're not in France, make sure you know the time zone too. We happened to be in New Zealand at the time so we made sure to be awake at 11pm when the tickets went on sale.
Figure out what days you want to attend the French Open in advance
Once the ticketing website opens and it's your turn, you'll have a specific (and brief) amount of time to purchase your tickets so you want to be prepared. What tickets you can buy for each day changes year-to-year (for example, in 2017, they made it so you had to buy each of the semi-final matches separately instead of a whole semi-final day ticket). Based on when we would be in Paris we wanted tickets on the second day of the quarter-finals, so we could buy a whole day's worth of matches.
Be prepared for a long wait and technical difficulties with the Roland Garros ticketing website
Make sure your device is charged and you have a good connection. You will most likely have to wait on a virtual line for an hour or longer. At least we did! It was incredibly frustrating and exhausting watching the queue countdown from approximately 14,000, but we did it. And when our turn finally came up, the actual match day and seat selection process was super easy. However, sadly, when we hit purchase, we got an error message. We tried again (a few times), and got the same error message. At this point it was after midnight and we were done. We decided to give it another try in the morning (when everyone else in France would be asleep). We woke up and gave it another shot and apparently the problem had been solved because we successfully bought our French Open tickets!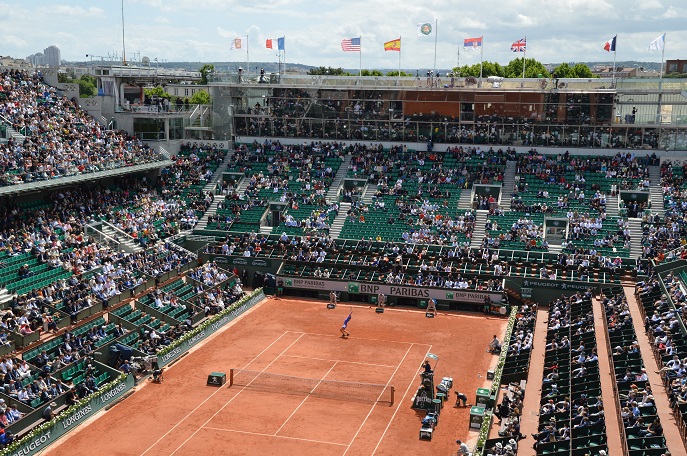 Tips for attending the French Open in Paris
Pay attention to what's going on in the French Open tournament
Court Philippe Chatrier (the center court) at Roland Garros doesn't yet have a roof (as of the 2017 tournament). That means rain can change everything. It poured the day before we went and the main matches were pushed to our day. Others' bad luck was our gain… we got to see Rafael Nadal play even though he wasn't originally on our schedule. We had to get to the tournament much earlier than we originally thought, so it was good we had been paying attention and knew what was going on.
Note: in 2020 the new retractable roof will be used. We'll be watching to see how it works!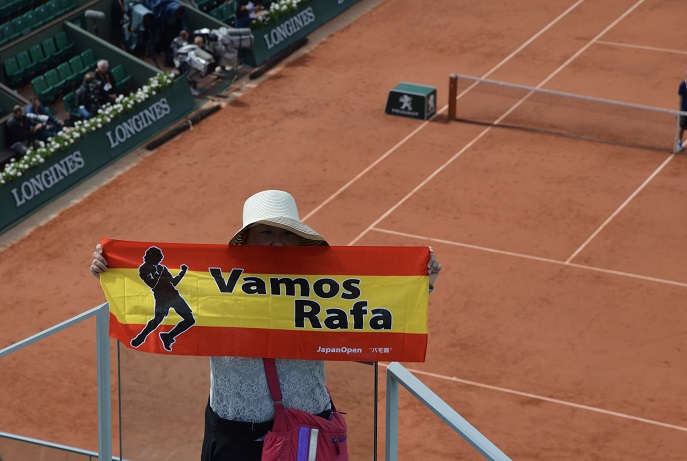 Bring food and water to the French Open
You can bring as much food and water into Roland Garros Stadium as you can carry. Okay maybe that's going a little too far – there are baggage size restrictions – but you can and should bring your own food. Of course there's food sold at these tournaments, but it's expensive and you're in Paris! You can find great baguettes and cheese and other delicious things to enjoy all day.
Take public transportation to Roland Garros
You can easily take public transportation to Roland Garros. We were staying in the Marais neighborhood and took the metro, which took about an hour and included one transfer. The metro lines that get closest to Roland Garros are 9 and 10.
Arrive early to see all the French Open tennis
If you're like us and are going to see Nadal play for the first time, you want to make sure you're in your seat when he walks onto the court. So we arrived when the park opened at 10am (for an 11am match). Maybe that was a bit much, but our entry was a breeze and we could tell the lines were going to be long closer to match time. Or so we convinced ourselves.
Dress appropriately
Check the weather before you leave. The day we went was thankfully cool. And we were way up high in the second to last row, so it was quite breezy. But the next day it was unbelievably hot! Layers and hats and sunscreen are key.

Get even closer to French Open tennis at the outer courts
The seats we bought were a bit high up (like in the back row). But even if you're like us and can't afford the front row seats for the major courts, you can get the experience of watching tennis up close at the smaller courts. When Nadal's opponent retired early, we went to watch other matches on the outer courts. Since it was the quarter finals, there were no big singles matches (like during some of the earlier match days in these tournaments), but we did get to see some great doubles matches. And you're able to get so close, it's nuts!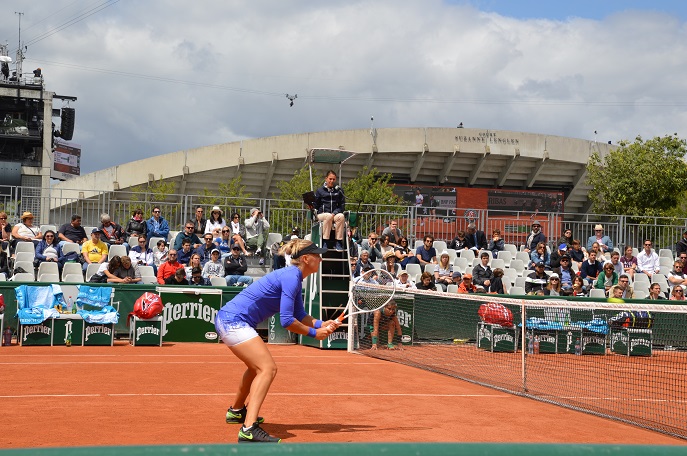 Have the best time – you're at the French Open in Paris!
It's a whole day of tennis. It's outside (and hopefully a nice day). It's pretty with the red clay courts. And you may get the opportunity to see one of your favorite players. Even though Federer didn't make it to our tournament, we got to see Nadal which was amazing.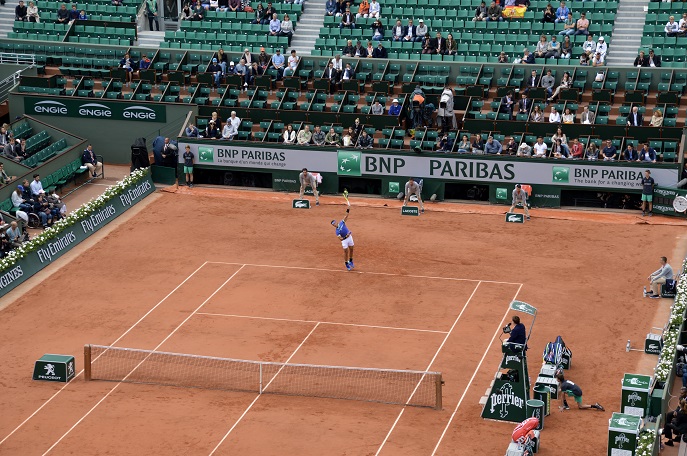 Want to book a trip to see the French Open? Check hotels here:
Pin this post!