During our 4 days in Valletta, we ate very, very well. From perfect pasta to savory pastries to healthy veggie bowls, we were happily sated from the moment we arrived. Maltese cuisine was an interesting and delicious spin on Mediterranean foods we had tried before. It was at the same time familiar and new. We didn't get to try every place and every thing we wanted to, so we hope to return some day. Until then, we're reminiscing about our favorite Valletta restaurants and Maltese foods. Hopefully you'll find a cool spot or a tasty treat to try on on your trip.
Our favorite Valletta restaurants
Valletta is teeming with restaurants and cafes and bars. And even though it's a city full of tourists (in 2016, the population was under 6,000), these places are not tourist traps at all. While we thoroughly enjoyed and highly recommend the Valletta restaurants in this post, we know there are a ton more that would be great as well.
Soul Food
Our favorite restaurant in Valletta was a place we went for lunch… twice. Soul Food serves both healthy and less healthy food. They have a convenient, centrally located corner spot on one of the main pedestrian streets in the city. We ate outside both times, but they do have indoor seating.
We especially enjoyed their veggie bowls, which as you can see were bright and beautiful and extremely delicious. Their homemade flatbread was also especially tasty. We also tried their smoothies which were more like juice, but definitely satisfying.
Soul Food is located at 76 Merchants Street
Trattoria Romana Zero Sei
Zero Sei is a cozy trattoria serving hearty Roman fare. A sign out front claimed they had the best carbonara in Malta, so that's what we tried. We have nothing to compare it to, but it was absolutely delicious, and just as good (if not better) than pasta we've had in Italy. They also let us take away the food so Sarah could eat it in her PJs.
Trattoria Romana Zero Sei is located at 75 Old Theatre Street
Aaron's Kitchen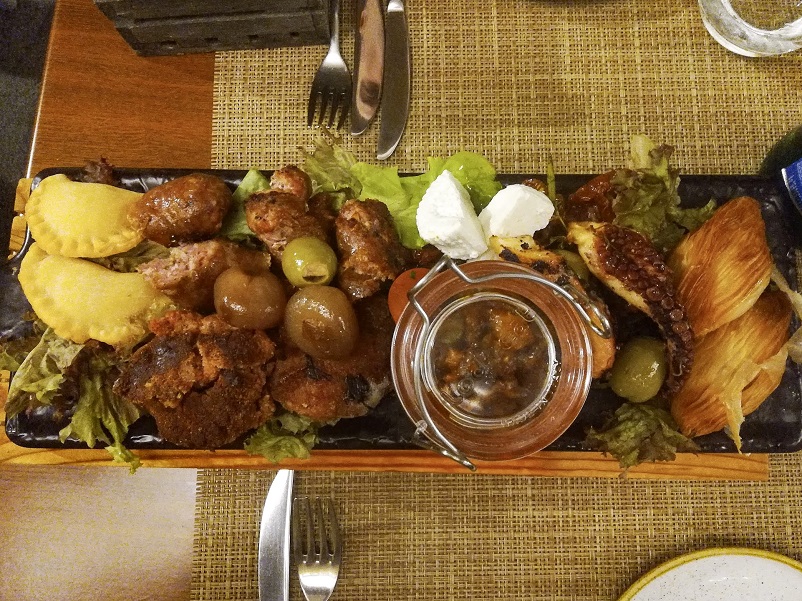 We were lucky to get a table at Aaron's Kitchen our first night in Valletta (a Saturday). We indulged in a platter of Maltese foods to start. Everything on it was delicious from the sausage to the pastizzi. Our mains were quite good too (although we probably didn't need them after the platter): a vegetarian risotto for Justin and grilled tuna for Sarah. If you don't want to eat super late, we recommend making a reservation in advance.
Aaron's Kitchen is located at 107 Archbishop Street
67 Kapitali
67 Kapitali does serve food, and it looked quite good, but we went for its craft beer. They have a great selection including several Lord Chambray (a Maltese brewery) beers on tap. They also have a fridge of unique cans and bottles that you can drink in-house or take away. Everyone who worked there was very nice and helpful in choosing beers to try.
We had hoped to follow in the footsteps of these bloggers in checking out even more craft beer bars in Malta, but Sarah getting sick made that a bit difficult. Just another reason to return!
67 Kapitali is located at 67 Old Bakery Street
Impasta at Is-Suq Tal-Belt (Valletta Food Market)
There are a whole bunch of food stalls to try at Is-Suq Tal-Belt (Valletta Food Market). We wandered around the market many times during our visit trying to decide what to taste. But one night we wanted pasta, and wanted pasta to take away, so we went to Impasta. There, you can choose from quite a few options and watch the staff make it to order. The pastas we got were interesting and tasty and did its job well.
Valletta Food Market is located at Triq il-Merkanti
Frytto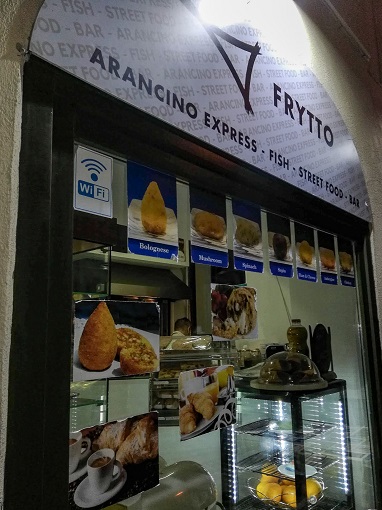 We stumbled upon Frytto when we were looking for a snack upon arrival in Valletta. It's an unassuming spot on the corner of Old Bakery and Archbishop Streets (and happened to be a block from where we were staying). It's run by an older couple who (from their smiles) seem to love what they do, frying up arancini balls to order and serving other Italian specialties. Our piping hot bolognese and ham and cheese rice balls hit the spot.
Throughout our stay in Valletta, every evening we walked by this place it was always bustling with small groups of people who seemed like locals hanging out at their table outside enjoying a snack or a coffee or a chat. If we lived in Valletta, or visited often enough, we'd hope to become locals there too.
Frytto is located at 143 Old Bakery Street
Maltese foods to try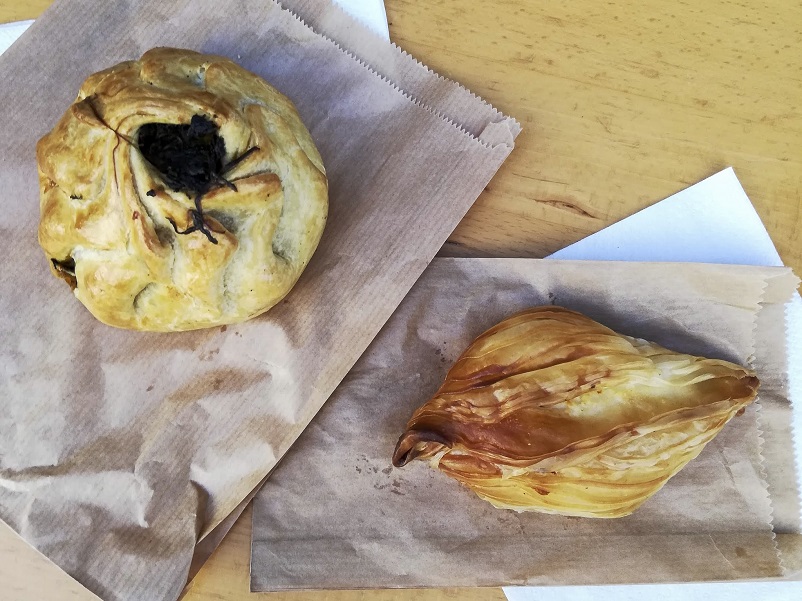 Pastizzi and qassatat
The pastizzi is Malta's famous pastry. And rightfully so. It's not just delicious, but it's also a thing of beauty. Flaky phyllo dough is folded into this pretty treat. Don't be fooled, though it looks quite delicate, it's filling. We only tried the simplest ones stuffed with cheese, but they come in different varieties. The other traditional version is with mushy peas.
You should also try the pastizzi's heartier friend the qassatat. This Maltese pastry is made with a short crust instead of phyllo, so the container for the filling is heavier and more filling. We tried versions with spinach and mushy peas (and definitely preferred the former).
Both these pastries are great for breakfast or as a snack any time of day. A popular, easy to find place to eat them in Valletta is a small stand near the Valletta Food Market called Malta Pastizzi. We can vouch for the quality and the friendliness of the people who work there.
Malta Pastizzi is located at 57 Merchants Street

Maltese bread
We tried two types of Maltese bread: a simple round loaf and ftira. Ftira is ring-shaped. The round loaf was crustier on the outside. Both were sourdough and very light and airy on the inside.
There is also a baked, pizza-like variety of ftira which we sadly didn't get to try.
Maltese sausage
We're not exactly sure what makes Maltese sausage different from other types of sausage such that it has its own moniker, but we had it twice and thought it was delicious.
Ġbejna
Ġbejna is a small cheese (a cheeselet if you will) made from sheep's or goat's milk. Though it is a soft cheese, it is much harder than soft goat's cheeses or even feta. It comes plain or covered in different herbs or spices. We tried a few and learned it's an acquired taste (Sarah liked it, Justin didn't).
Arjoli
There are some unique dips and spreads to try in Malta. And our favorite turned out to be something we didn't know if we'd like. Arjoli is a tomato-based dip with either anchovies or tuna. Ours was made with anchovies and we couldn't get enough. It went especially well on ftira.
We bought all of the above and enjoyed a few feasts of Maltese foods in the comfort of our apartment at the supermarket in the Valletta Food Market, which you can read more about later.
Honey ring
The Maltese honey ring is like a fig newton on steroids. It's a relatively large ring-shaped cookie filled with a combination of dates, figs, treacle, and other spices. No honey, though (just to confuse matters). They are not too sweet, and in fact some of those spices are a bit savory. Sarah fell in love with them during our stay in Valletta, and brought quite a few home with her (too bad they're gone now).
Maltese dishes
The one thing we missed out on during our time in Valletta was trying more traditional Maltese dishes. We read about some unique and rich local specialties like stewed rabbit and beef olive (we're so sad we still don't know what it is). If we were to return (and we hope we do someday), we will definitely make it a point to dig into these.
Valletta restaurants we wish we'd tried
Since Sarah got sick in Valletta, we didn't get to eat at all the restaurants we had hoped to. Two spots were especially high on our list.
Legligin
This wine bar doesn't have a menu online (or a website for that matter), but gets rave reviews for its small plates. We had hoped to visit as it was also conveniently around the corner from where we were staying.
Legligin is located on St. Lucia's Street around the corner from Old Bakery Street
Nenu The Artisan Baker
Nenu is a very popular spot. So popular in fact that we couldn't get in the evening we arrived in Valletta. The highlight of their menu that called to us were their oven-baked ftira (they look a bit like pizza). But they also have an impressive array of Maltese specialties. If you want to dine there, we recommend calling to make a reservation at least a few days before you get to Valletta.
Nenu The Artisan Baker is located at 143 St Domnic Street
Valletta supermarkets
Is-Suq Tal-Belt (Valletta Food Market)
We did all of our food shopping at this centrally-located supermarket. They have a wide variety and while certain things are a bit more expensive than you might be used to (looking at you fresh vegetables), most local specialties were quite reasonably priced.
This supermarket is located in the basement of the the Valletta Food Market at Triq il-Merkanti
GiGi's
GiGi's is a small grocery/convenience store. Though it's probably better for dry goods, it does have some fresh fruit and veg. And it's open on Sundays, which is definitely helpful.
GiGi's is located on St. Nicholas Street, around the corner from Old Bakery Street
The Wembley Store
The Wembley Store opened in Valletta in 1924 and is an iconic shop in the city. The store is chock full of interesting goodies, but it's expensive. Go more for the experience of visiting the shop because it is cool.
The Wembley Store is located at 305 Republic Street Valletta
Like this post? Pin it!