Last Updated on 22nd March 2019 by Sarah and Justin
It's currently raining here in Rotterdam, so I'm holed up thinking about how happy I am to be here and everything I love about this country. There are certainly more than this, but a top 10 list is always good. And hopefully this post will inspire you to visit the Netherlands too.
1. Canals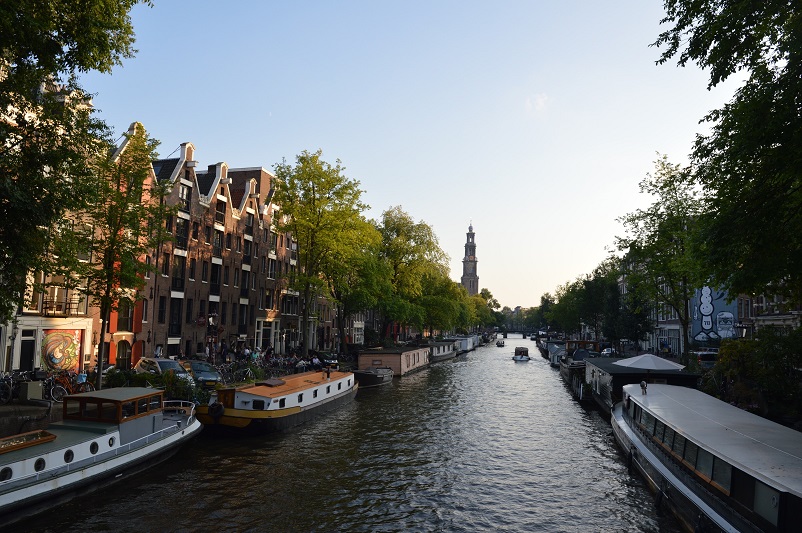 When people think of the Netherlands, they probably picture beautiful canals. This is what first made us fall in love with this country. We arrived in Amsterdam and were awestruck. And every time we've returned, we've felt the same feeling. They're so lovely and romantic and relaxing. And they're a bit different in every city. We also especially like the canals in Utrecht.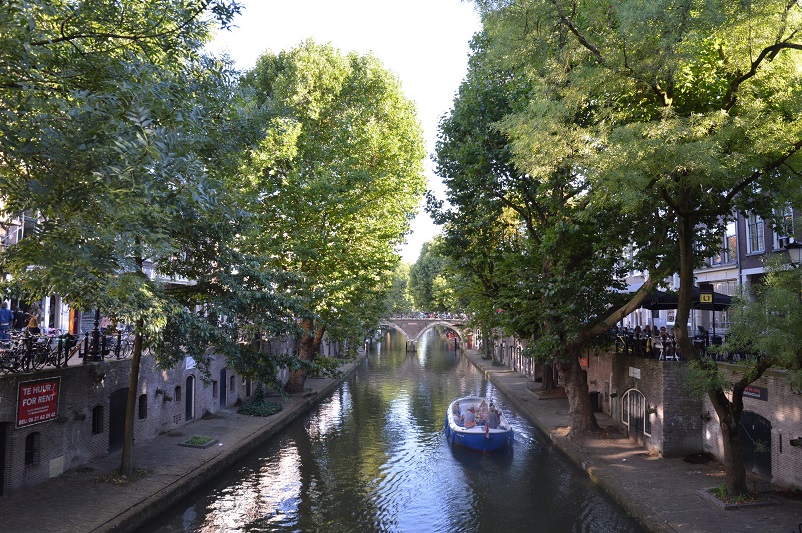 2. Windmills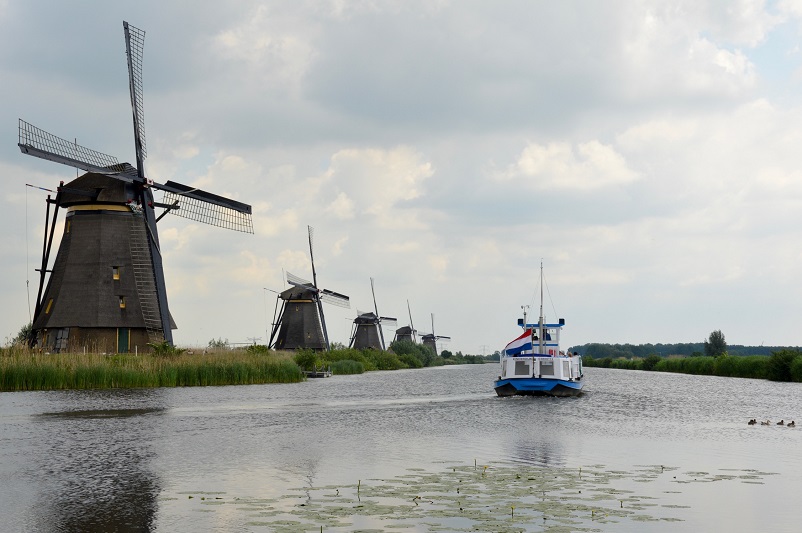 Windmills are everywhere in the Netherlands. Earlier this year, we took a trip to Kinderdijk to see a whole bunch of them. When we flew into the country a few days ago, we noticed them on water in the North Sea. But my favorites are the ones that just pop up as you're walking about a city.
3. Bikes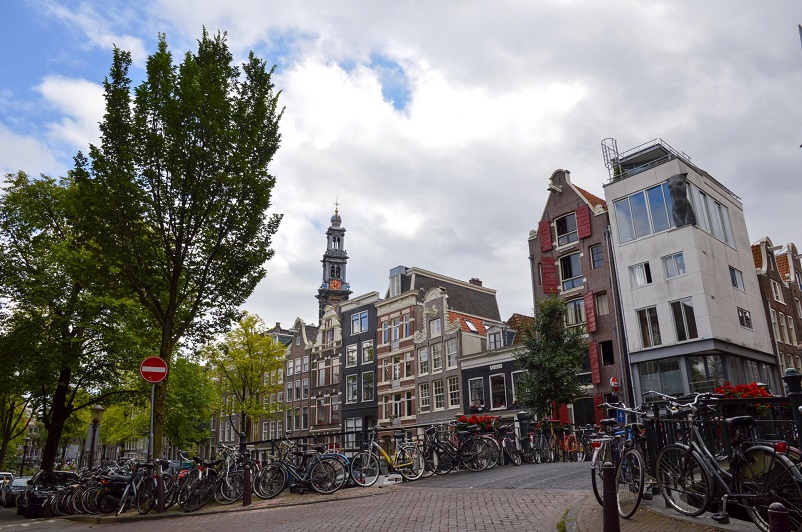 Everyone bikes in the Netherlands. I'm still learning how to do so in the cities without killing myself, but it's such a great way to get around that I'm determined to master it. It's also quite a flat country, so that should make things easier. And, the bikes make the cities look so much more aesthetically appealing!
4. Tulips
The tulips at Keukenhof are unrivaled. A trip there is a must if you're a flower fan. One photo can't do it justice, so read this post for out even more pretty tulip pictures and get tips on visiting Keukenhof.
5. Cheese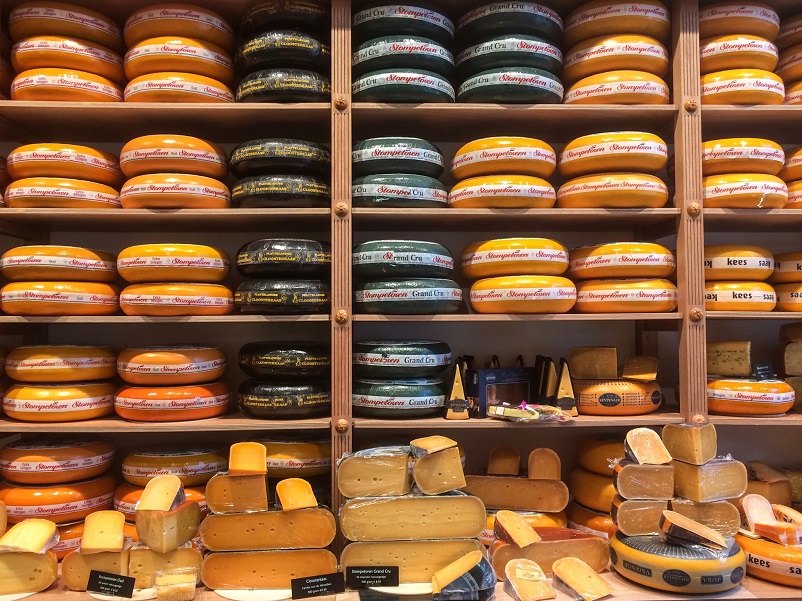 Dutch cheese (kaas) is my favorite. Especially the oldest, darkest, most crystallized types. I love walking into a store and asking for whatever they recommend. I'm never disappointed.
6. Stroopwafels
Stroopwafels are my favorite cookie hands down. Caramel goodness sandwiched between two tasty, spicy thin wafer cookies. I'll eat any of them, but the fresh one I had in Volendam last year was definitely the most memorable. And the proprietor of this shop taught me how to make them too!
7. Bitterballen
Bitterballen are unique to the Netherlands. They are fried balls of a meaty roux, served with mustard. They are delicious and a great snack to accompany a few beers.
8. The beer selection
The beer selection in the Netherlands is ridiculously awesome. Being so close to Belgium, you can find pretty much any variety of Belgian beer here. But Dutch beer is also really great. And there are bars that specialize in it. Like one of our favorite bars in the world, Proeflokaal Arendsnest in Amsterdam. Or our favorite brewery in Rotterdam, Kaapse Brouwers.
9. Albert Heijn
Albert Heijn (AH to us) is a supermarket chain. I've loved supermarkets and food shopping my whole life, but AH takes it to a whole new level. It's not the cheapest shop in the Netherlands, but coming from New York City, everything's cheaper! It has the best selection of fresh food, premade food like salads and (at some stores) sushi, staples, stroopwafels, and even beer.
10. The people
And I'll end with a little something sappy. We've found the people here nothing but kind and helpful. And I love their straightforward, no nonsense manner … I feel like I fit in! We feel lucky to have made some wonderful friends here in the Netherlands and look forward to making more.
We're excited to see if this list changes the longer we spend here. What do you love about the Netherlands? Let me know in the comments!
Like this post? Pin it!