Last Updated on 27th December 2019 by Sarah and Justin
Are you a lover of tulips, flowers, bright colors, beautifully manicured gardens, and/or Instagrammable locations? If yes, you should really be visiting Keukenhof! Sarah's taken a trip to see tulips at Keukenhof gardens three times, and she'd be happy to go back again. It's truly stunning and quite an easy day trip in the Netherlands. This post has everything you need to visit Keukenhof in 2020, plus beautiful pictures of tulips to inspire you to go!
About Keukenhof gardens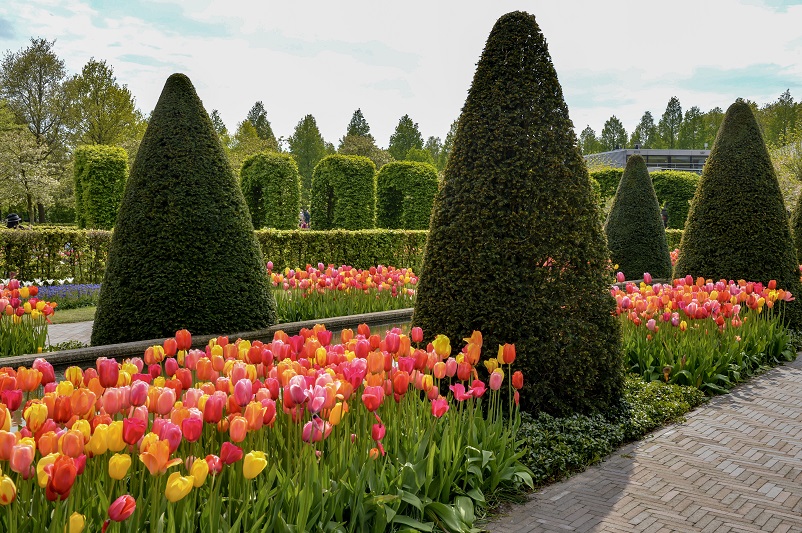 Keukenhof is one of the largest outdoor gardens in the world – it's almost 80 acres – and is certainly one of the most beautiful. Keukenhof draws about 800,000 visitors during the eight weeks it's open every year. It is located in Lisse, which is a small town between Amsterdam and Den Haag. Lisse is pretty much known for tulips as it's also home to many tulip fields.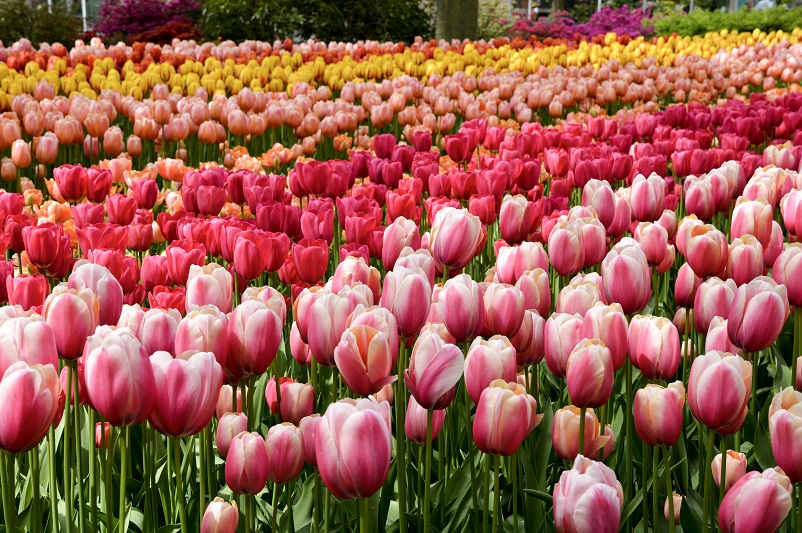 During our month-long stay in Rotterdam in May 2017, Sarah made a solo trip to see the tulips at the Keukenhof gardens. While Justin is always very accommodating when she stops to take (a lot of) pictures, this trip would have likely tested his patience. She took hundreds of pictures and fully enjoyed getting up close and personal with the tulips to do so. It was truly one of the most beautiful places she'd ever been. So, she went back in 2018 and again in 2019 – these times as an official Dutch resident!
When is Keukenhof open?
In 2020, Keukenhof is open from March 21-May 10.
Tips for visiting Keukenhof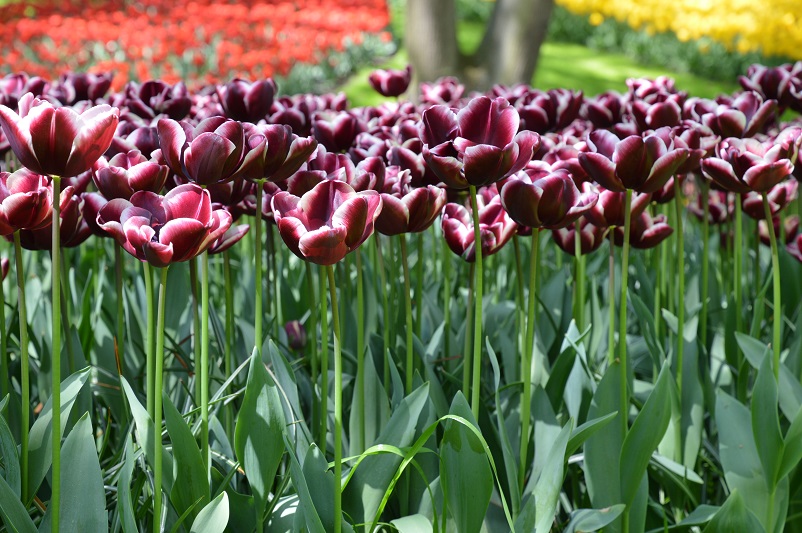 Buy your Keukenhof tickets online to avoid lines
You can buy your Keukenhof tickets online and if you want to spend less time waiting on line and more time looking at the beautiful flowers, we recommend you do so!
Read the flower reports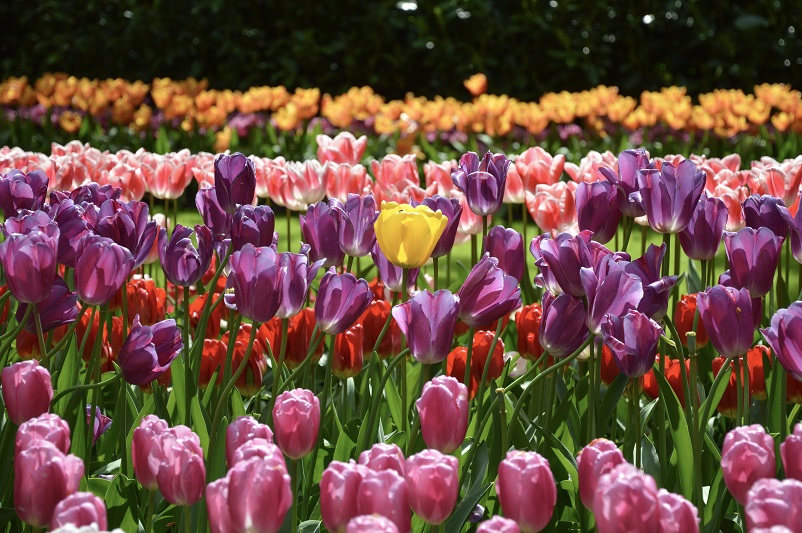 Keukenhof is open for eight weeks. But every year the tulips bloom at slightly different times. That's why we keep track of what's going on in the fields by subscribing to a weekly flower update from Tulips in Holland. If you have flexibility in when you can visit the gardens, this will be a great help. Of course your trip dates may already be set, but it's still nice to read what you can expect.
Sarah has visited Keukenhof at different times during the season. Her favorite time to visit was this past year, when she went in late April.The fields were bursting with color and everything looked healthy. In 2017 and 2018, she visited in May, just a week before closing. Everything was still stunning, but many blooms were past their peak.
It should be noted that the tulips are typically "headed" in mid- to late-April, so if you want to see the flower fields around the park, you should plan your visit earlier.
Visit Keukenhof mid-week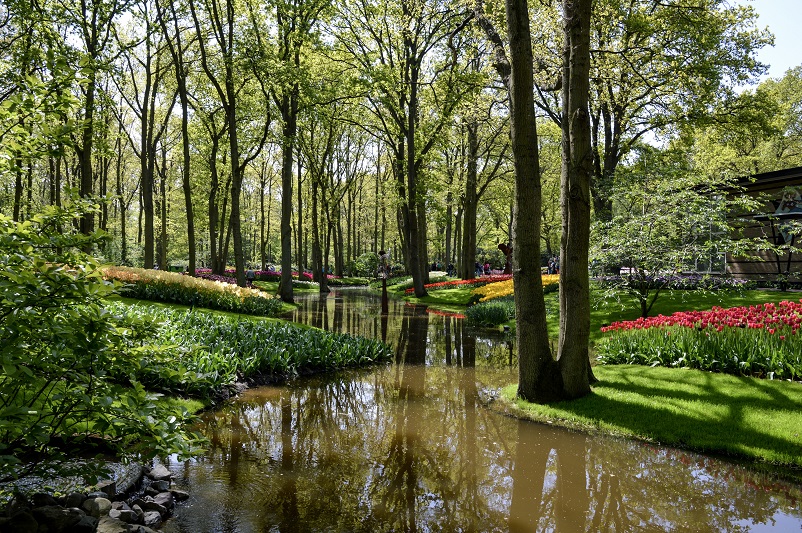 We strongly recommend visiting Keukenhof on a weekday to avoid massive, soul-crushing crowds. We've read about going on a weekend and it sounds like a nightmare. There will always be a lot of people there since the gardens are only open for eight weeks. But if you go mid-week, you'll definitely be able to enjoy some peaceful moments where it's just you and the flowers, as well as better photo opportunities.
Take public transportation
You can drive to Keukenhof, but taking public transportation is quite easy. To get to Keukenhof from Amsterdam, take a train to Schiphol Airport and then hop on a bus. If you're coming from Rotterdam, take the train to Leiden and then a bus. You can check train and bus schedules online.
The Keukenhof website offers combination tickets which include transportation and your Keukenhof ticket – it's cheaper than what you'd pay buying them separately. Note, you can buy your combination tickets on the Keukenhof website once the gardens are open.
Accessibility at Keukenhof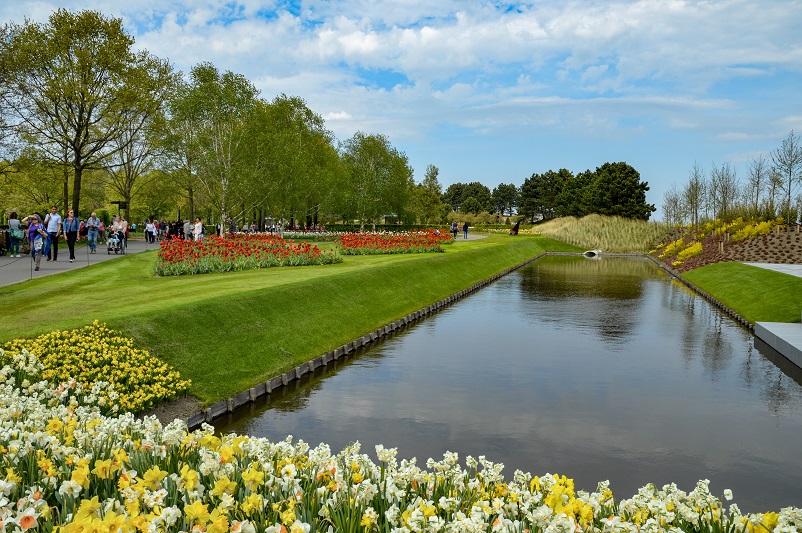 Keukenhof is a very accessible attraction. Much of it is flat (like most of the Netherlands!) and most of the paths are wheelchair accessible. You can even borrow or rent a wheelchair from the park. The best thing to do in the park is stroll leisurely looking at flowers, so you can definitely go at your own pace.
Bring your own food
There are a whole bunch of food options throughout the park, but for a more economical choice, you can also bring your own food. There are plenty of benches where you can sit and enjoy your meal surrounded by flowers. Keukenhof really is the perfect place for a picnic!
Bring your camera!
Because, duh! Did you know tulips came in so many different colors and shapes?!
Like this post? Pin it!