Last Updated on 8th January 2019 by Sarah and Justin
In early June, we took a week-long trip to Yorkshire, England. We were attending a LAM conference in Leeds and decided to extend our visit to explore some of North Yorkshire's prettier landscape. After seeing pictures of rolling green hills and reading about walking through sheep pastures to see waterfalls, we knew we wanted to visit the Yorkshire Dales. So we set about figuring out where to base ourselves. We were looking for two centrally located spots that were reachable by beautiful drives and had good access to a those appealing walks. We found what we were looking for in Hawes and Masham. In this post, we'll tell you why we think you too should stay in Hawes or Masham for your Yorkshire Dales holiday and we'll give you our recommendations for things to do in North Yorkshire.
Hawes and Masham in Wensleydale
Hawes and Masham are market towns located in Wensleydale, a large dale in the northern part of the region. Interestingly, it's one of the only Yorkshire Dales not currently named after its river, the River Ure. It's a beautiful area with all the rolling green hills, stone fences, sheep, waterfalls, and castles you could ask for. We had some logistical reasons for choosing Wensleydale, and specifically Hawes and Masham. First, we were looking for bases with good access to walks, and preferably some that didn't require driving. For our first two nights, we wanted to stay somewhere in the middle of the Yorkshire Dales National Park. Hawes was right where we wanted it. For our next two nights, we wanted to stay somewhere right on the outskirts of the park so we could have a quicker, easier drive the morning we had to return our rental car. Masham seemed like a good choice. We dug deeper researching each town and saw they each had a massive draw. Hawes is home to Wensleydale Creamery and Masham has not one but two breweries in town. So in all transparency, the real reasons we chose these two towns were cheese and beer.
Wensleydale Creamery in Hawes
Wensleydale Creamery makes Wensleydale Yorkshire cheese. It's world-renowned, although we honestly hadn't heard of it before visiting. What a shame that is because it is honestly some of the best cheese we've ever had. And we currently live in the Netherlands! It's more well-known varieties are similar to cheddar, with a sharp taste but a creamier texture.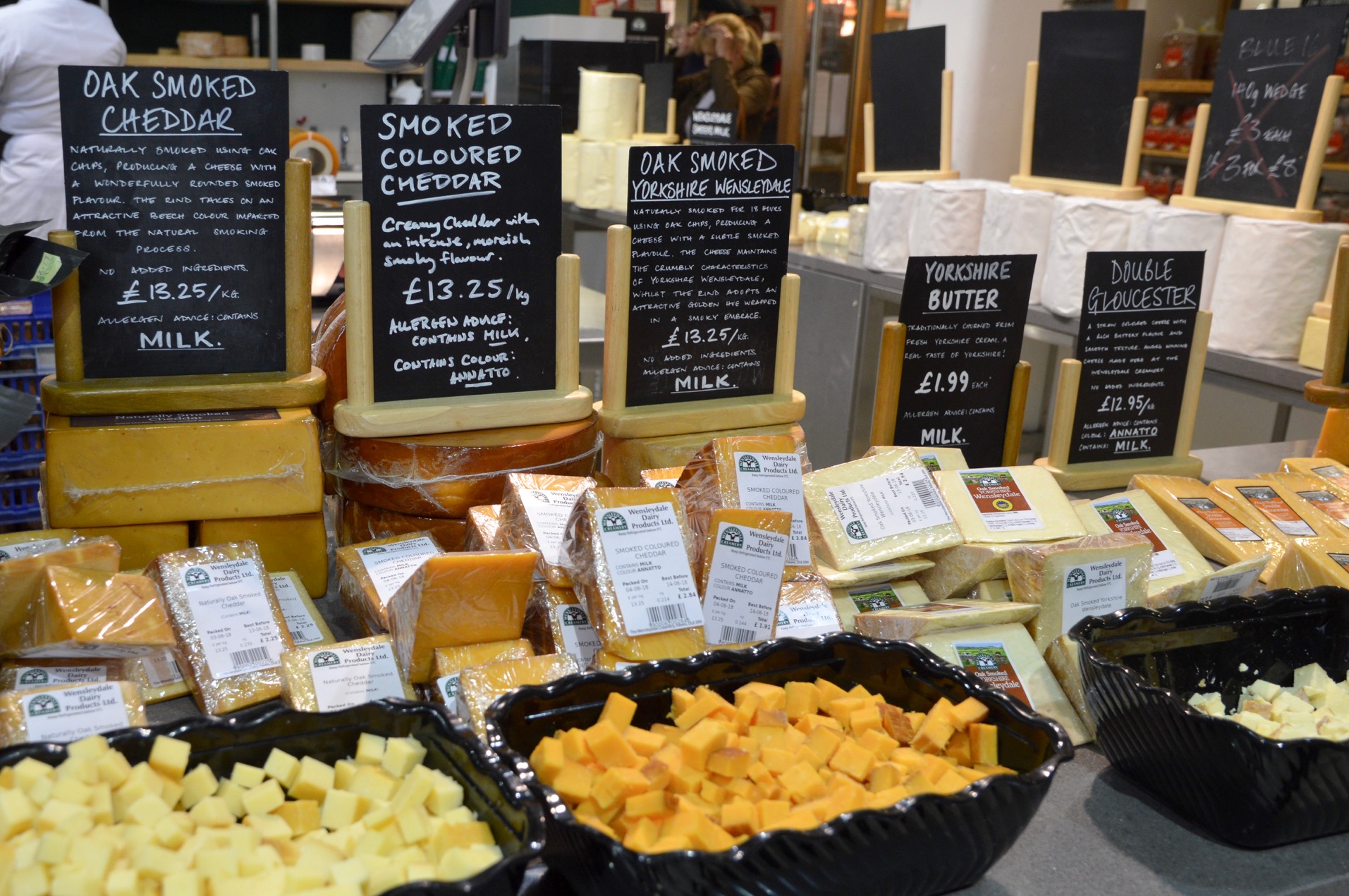 The best part of the Wensleydale Creamery is its tasting room, where you can taste – and buy – a ridiculous number of cheeses. We particularly enjoyed visiting after we worked up an appetite on a very long walk. If you want something a little more substantial, you can grab a proper lunch at their cafe. They also have ice cream, which given their expertise, is probably delicious.
Breweries in Masham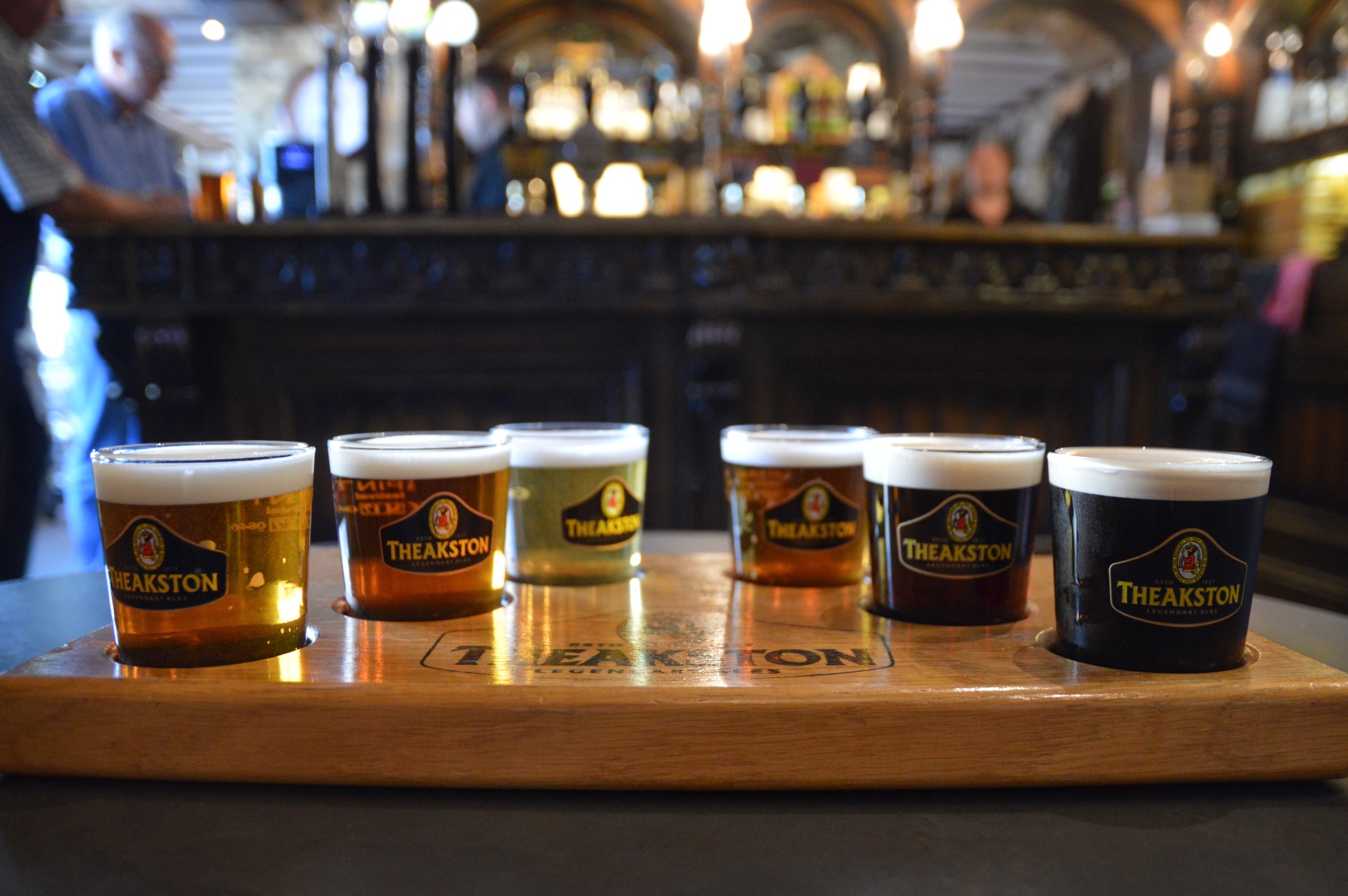 If you're a beer drinker visiting the Yorkshire Dales, you'll likely have a pint that was brewed in Masham. Theakston Brewery has been around for almost 200 years, having been established in 1827. They make the most famous variety in the area, Old Peculiar. It's an easy to drink bitter, but a bit darker than most. Black Sheep Brewery is much younger, having opened in 1992. But its owner has history living and brewing in Masham, as he is a descendant of the original founder of Theakston! Their most popular beer, which we saw all over the Dales, is Black Sheep Best Bitter.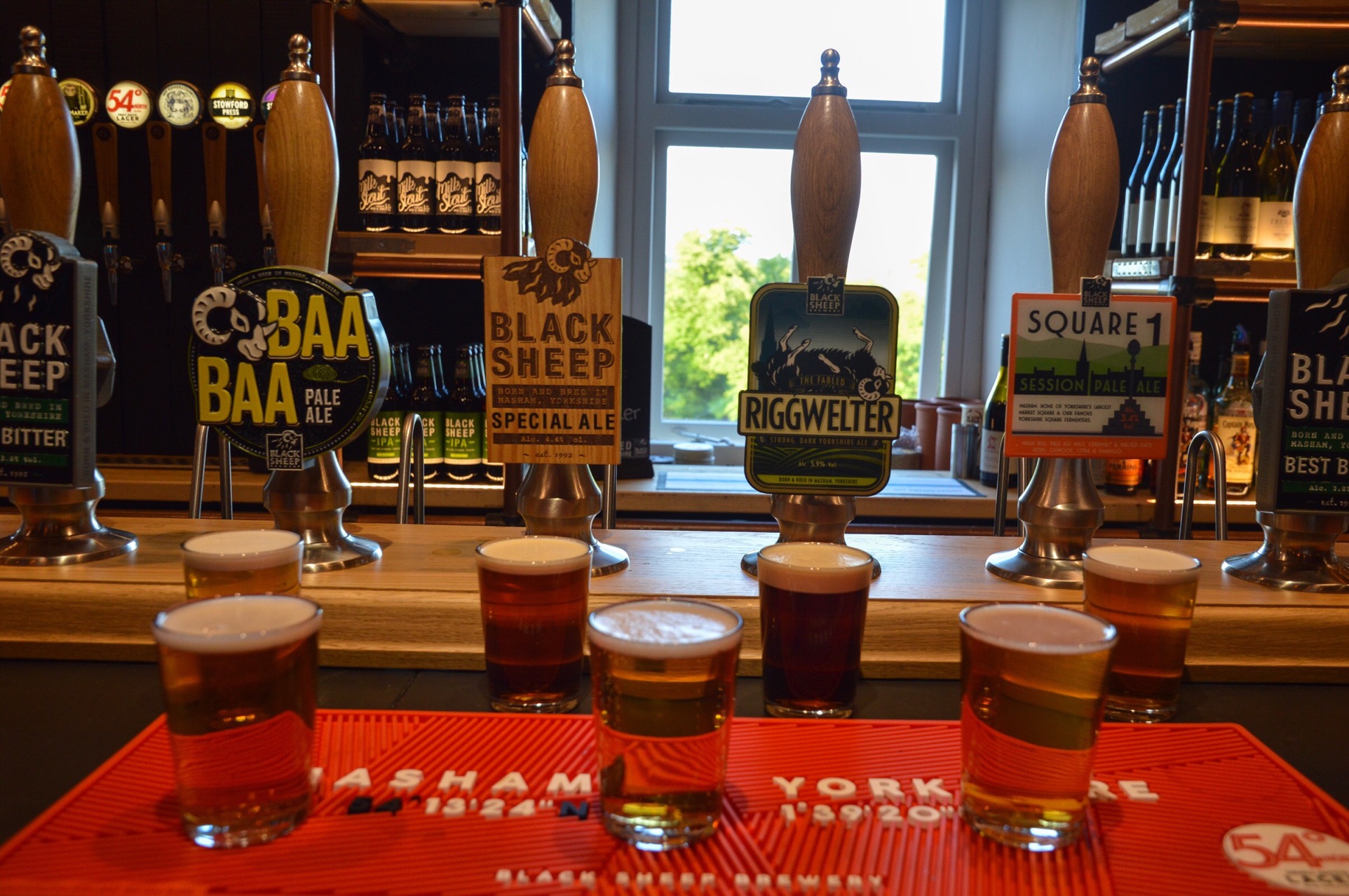 Theakston Brewery and Black Sheep Brewery both offer tours and tastings. We partook in the latter in both (for the sake of research of course). We think bitters are nice, especially when they are hand-pulled from the cask, but it was cool to try some of their other varieties. Theakston Brewery is only open during the day, and we just made it in for last call around 4pm after one of our walks. Black Sheep Brewery is open every day for tours and lunch, but only Thursday-Saturday for dinner (which we enjoyed!).
A little bit more about Hawes and Masham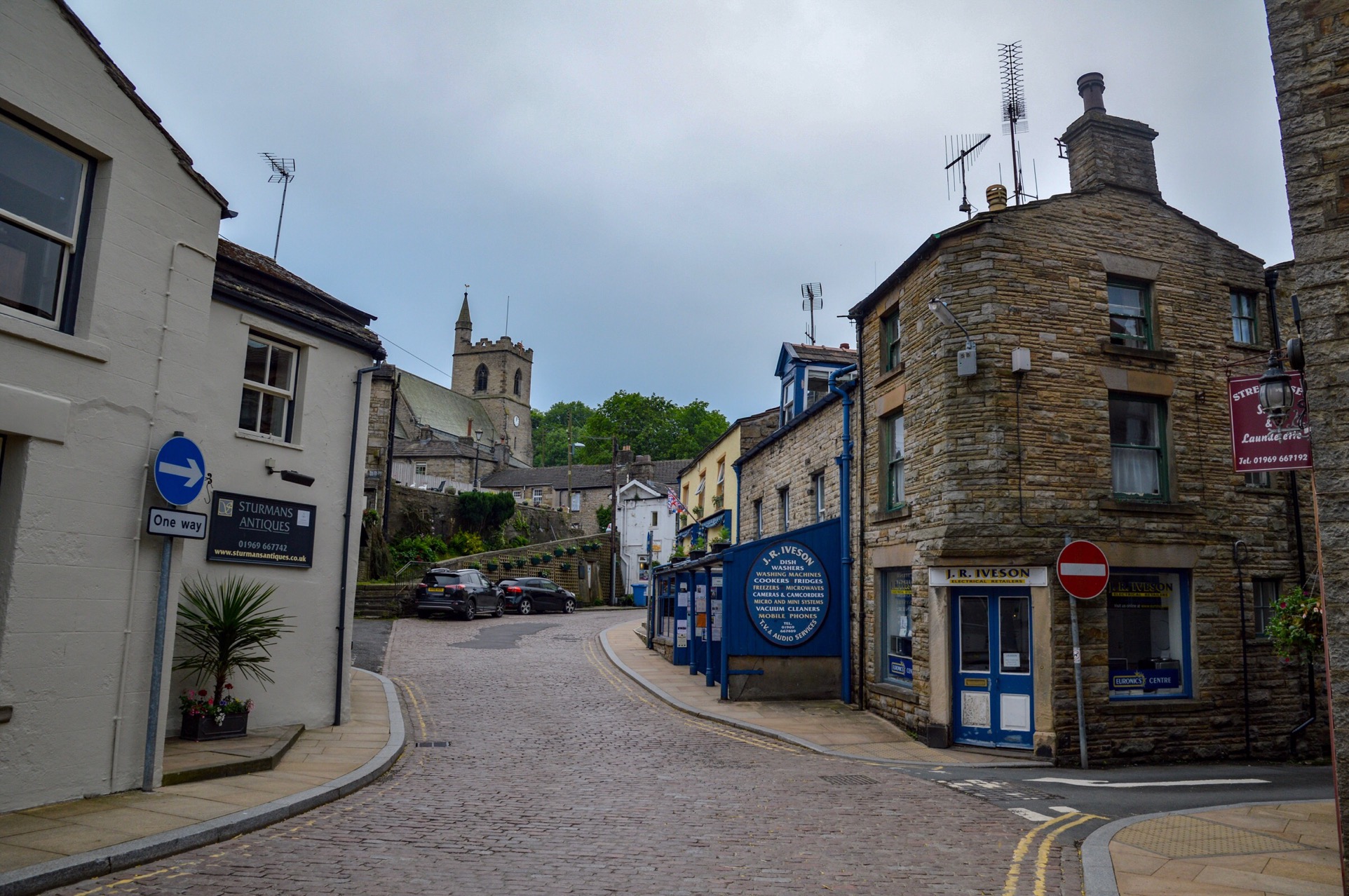 In addition to having these great culinary attractions, Hawes and Masham are quite lovely towns to visit and explore. They looked and felt exactly as we would imagine British towns in North Yorkshire to look and feel, with stone buildings and winding, narrow, cobbled streets. We particularly loved the small waterfalls in Hawes. And Masham has the loveliest buildings with ivy and flowers growing all over them.
Of course each of these Yorkshire market towns also has a market. You can visit the market in Hawes on Tuesday and the market in Masham on Wednesday and Saturday. We happened to be in each town while the markets were on and though they are small, they definitely add a lively atmosphere. So while you shouldn't go out of your way to plan a visit around the markets (unless you're a market fanatic!), if you have the opportunity, check them out. There are also a whole bunch of cozy pubs and other great places to eat and drink in Hawes and Masham. And there were quite a few accommodation options in each town as well. We provide our recommendations for where to eat, drink, and stay in Hawes and Masham later on.
We really enjoyed the relaxing walks we took around both Hawes and Masham. So even if you're visiting these towns for their access to the countryside, definitely take the time to explore the nooks and crannies of the towns themselves. And then you can get to the real Yorkshire Dales walks!
Walking in the Yorkshire Dales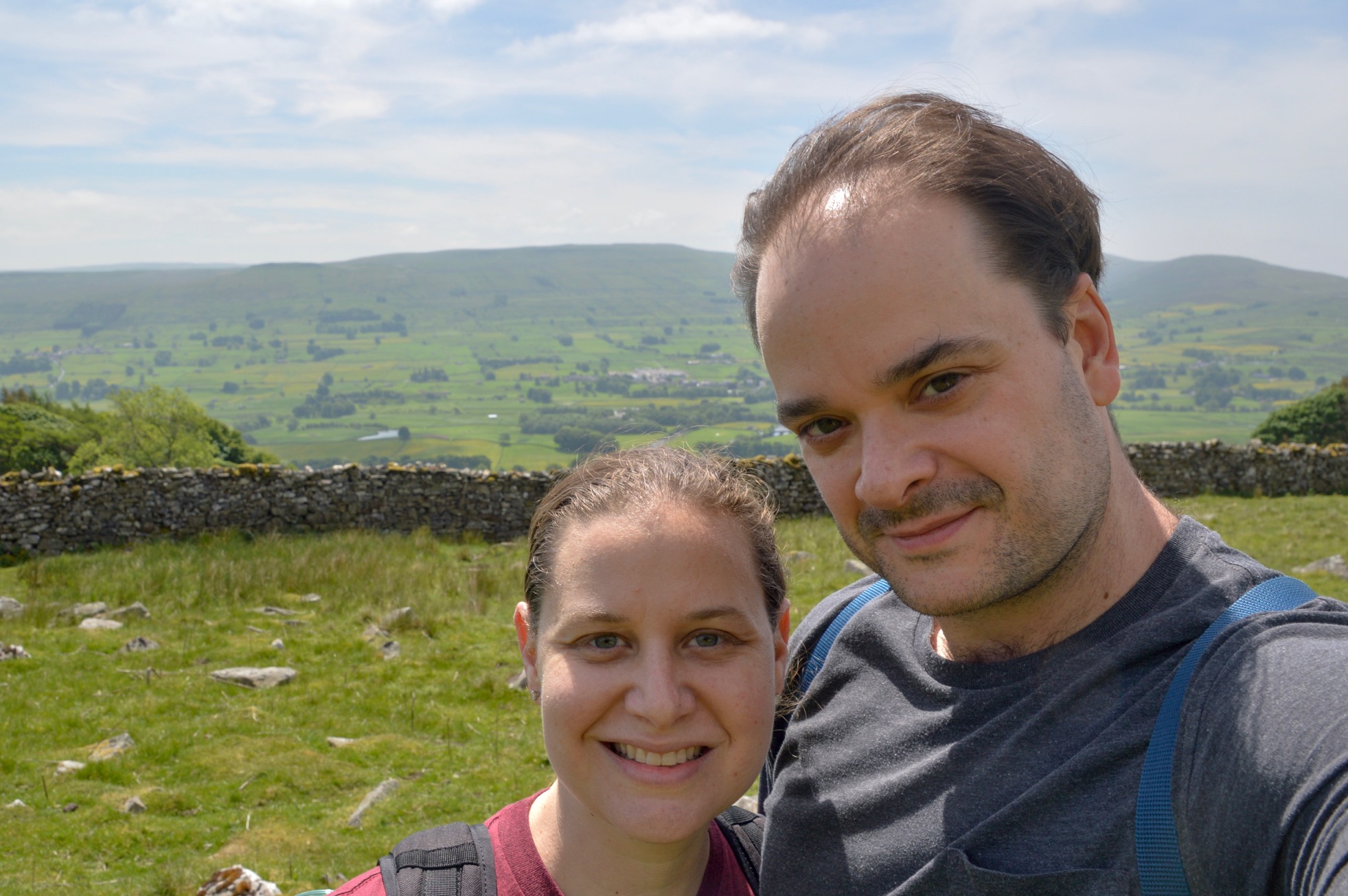 The best thing to do in the Yorkshire Dales is walk. And we love walking, so we were excited to get out there. Although we were the least professional walkers on the trails, what with our lack of walking sticks and a dog. There are public walking trails everywhere. You'll see these tiny little paths winding behind and through people's property and you won't believe it's actually a public footpath, but it is! It's wonderful. Both Hawes and Masham had access to some great walks. Given our amateur walker status, as well as Sarah's lung disease, we chose easy to medium level walks. It's better that we not try to describe these walks to you. We'll just let our pictures of the green landscape dotted with stone structures and a whole lot of sheep do the talking for us.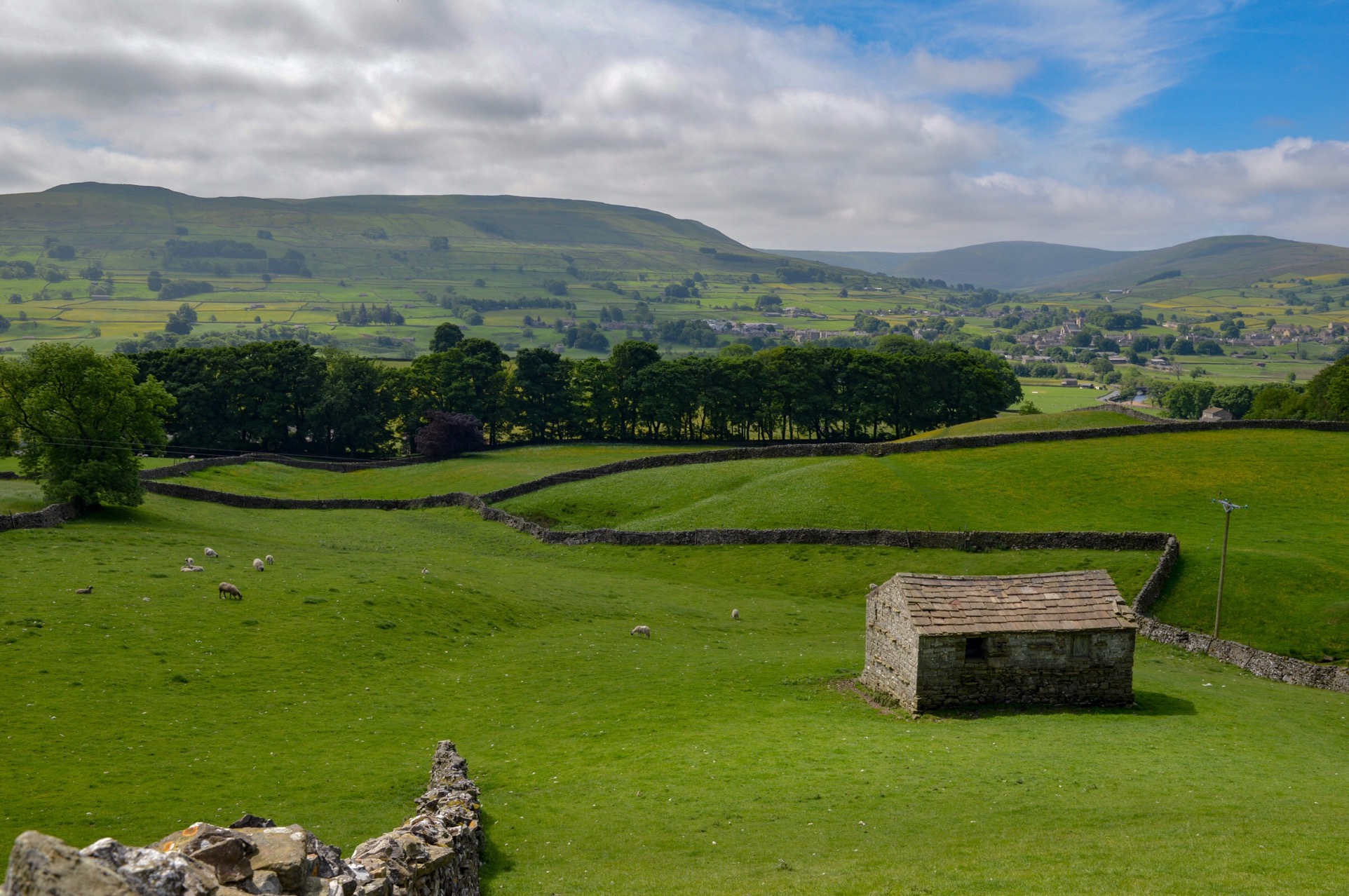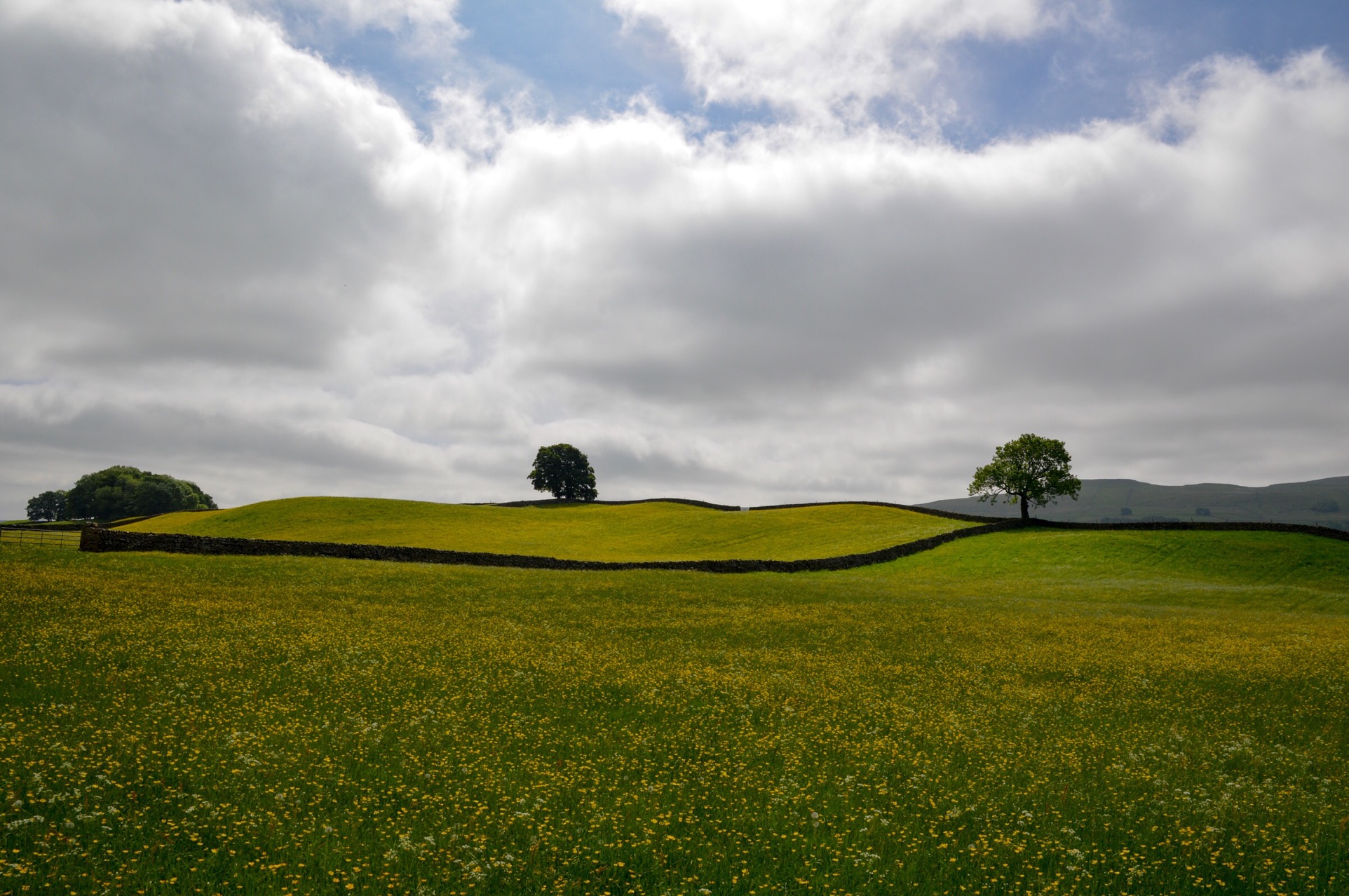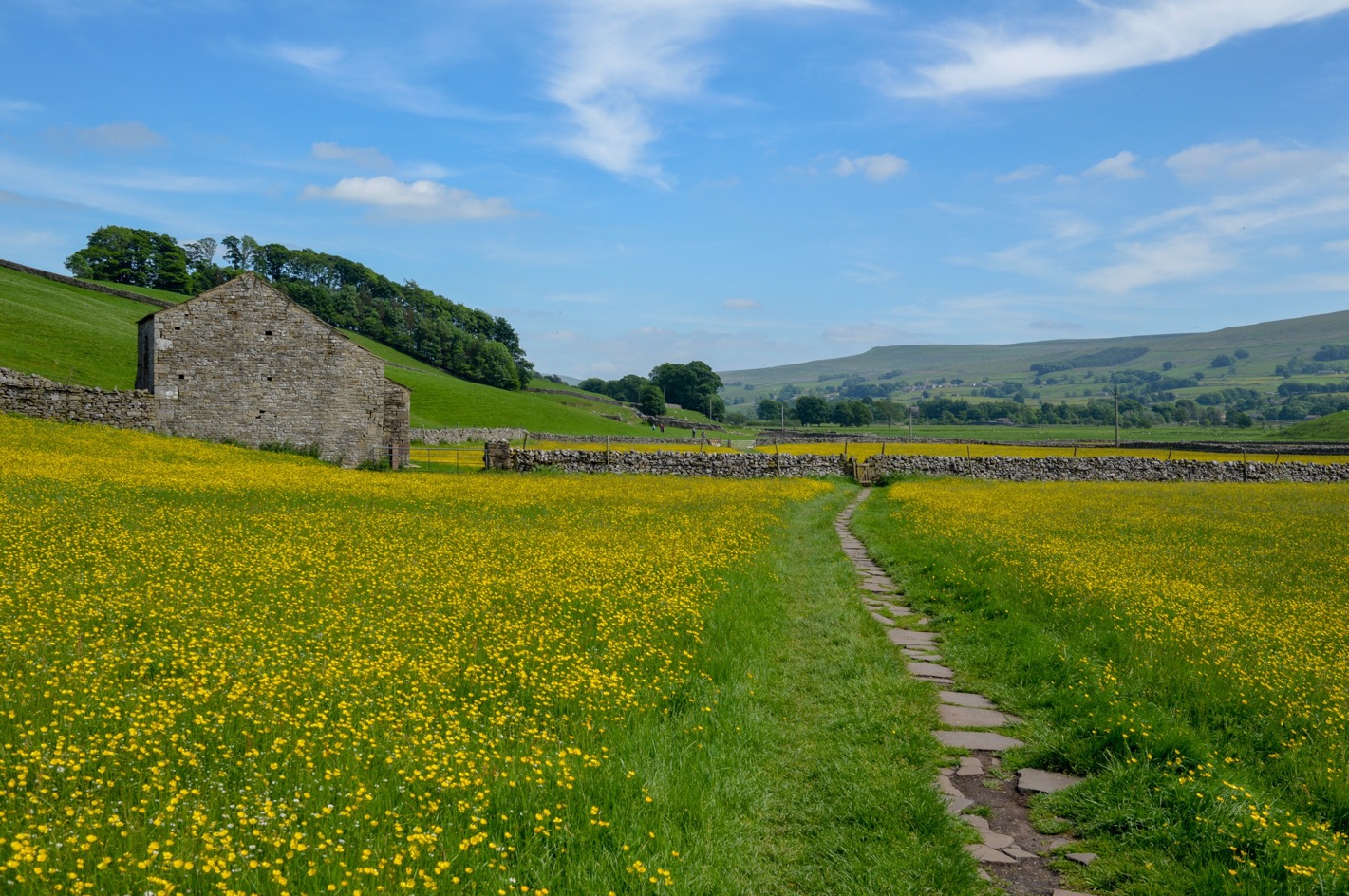 There are two walks in these areas that we would recommend seeking out. In Hawes, we walked to see the Hardraw Force (pictured below). You must pay a small fee in the Green Dragon Inn to access it, it's definitely worth it. Also worth it is stopping at the Green Dragon Pub to rest and recharge with a pint! And from Masham, we drove about ten minutes to Hackfall Woods. There you can choose from several walks of varying lengths and difficulty as are detailed in this super handy brochure. It was quite different from the other walks we took since we were in a forest for much of it. There were also ruins and a cool fountain which you hand pump to turn on.
Tips for walking in the Yorkshire Dales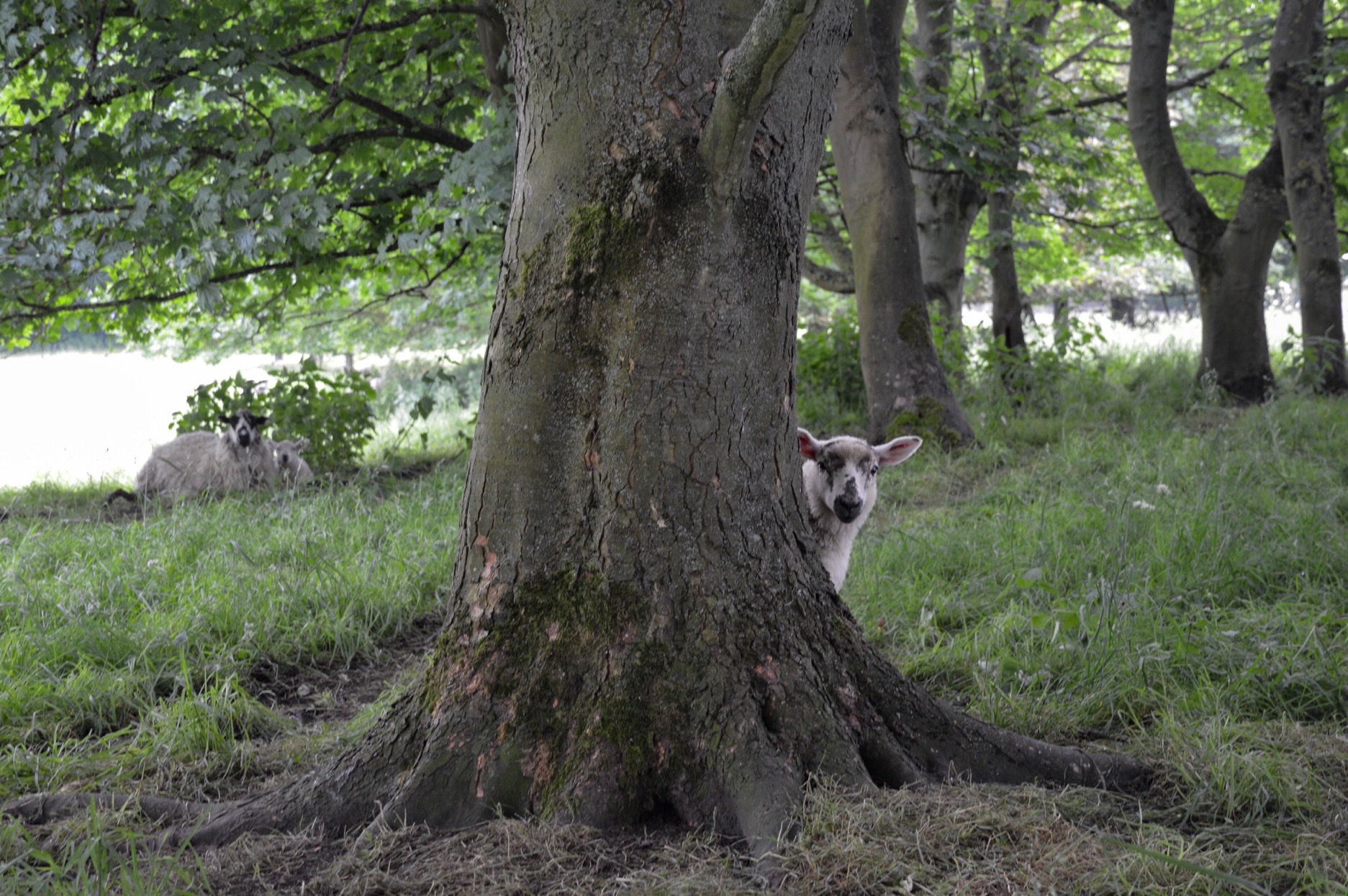 If you're an amateur walker or this is your first time in the Yorkshire Dales, we highly recommend getting a map for your walk. In Hawes, our friendly and experienced B&B owner gave us maps and books and told us all about the walks we were interested in doing. In Masham, we bought a map (for only ten pence!) from the Masham Community Office before setting off. They also told us some needed adjustments to our routes. Of course even with all that preparation, we still got lost on basically every walk we took. So go prepared with extra water just in case. And if you get stuck in between stone fences with the sheep (not that ever happened to us… more than two or three times), just stay calm and look for a way out. You'll eventually find one. Lastly, don't feed or otherwise engage with the sheep. And watch your step!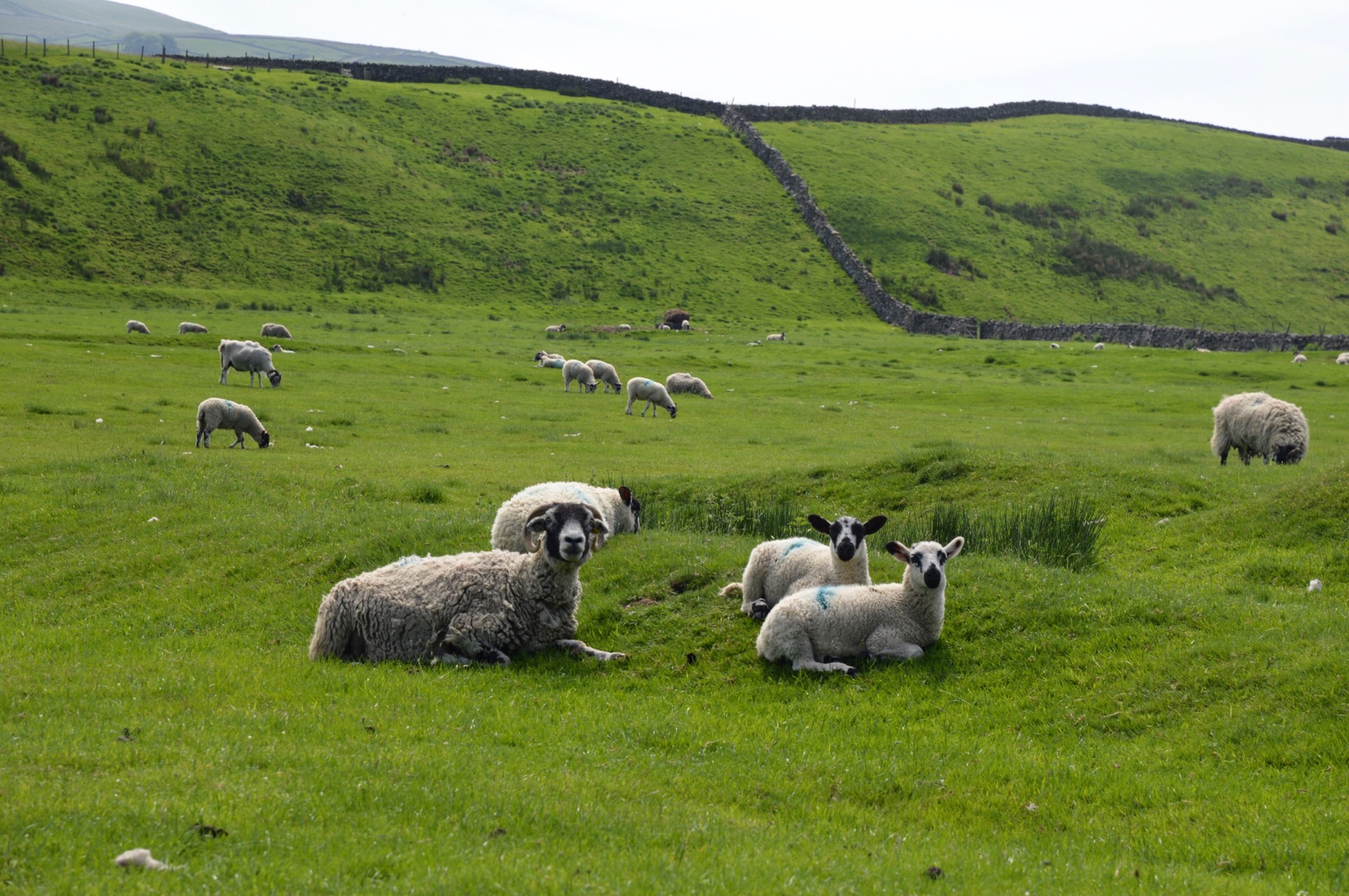 Yorkshire Dales attractions
Though we really went to the Yorkshire Dales for the walks, we enjoyed seeing a few of the area's attractions as well.
Ribblehead Viaduct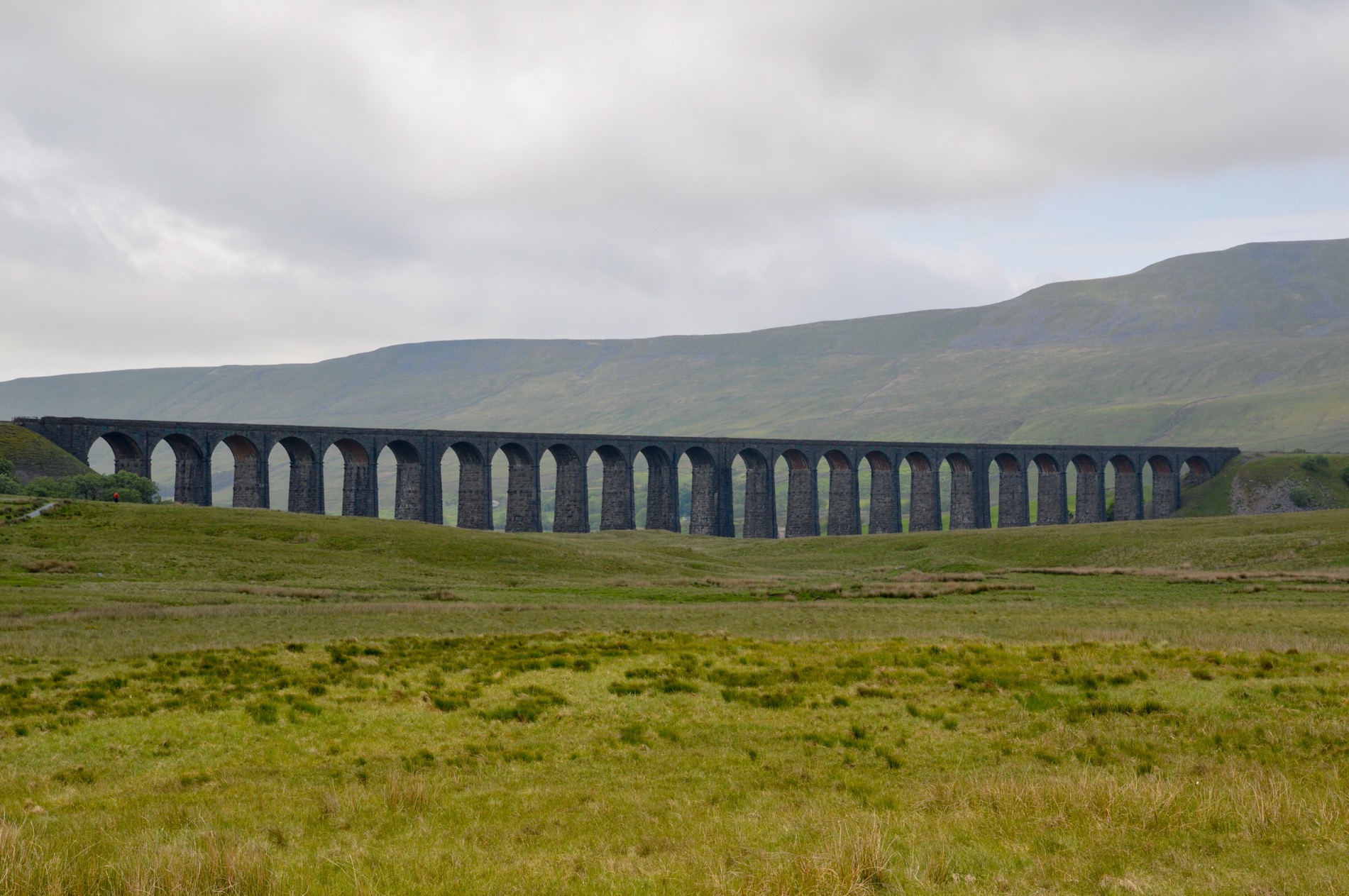 We took a longer route driving from Leeds Bradford Airport to Hawes to enjoy the scenery and to stop off at Ribblehead Viaduct. It's only about a 15-minute drive from Hawes, so easily doable as a quick trip from there as well. Built in the late 19th century, it has 24 arches. The Settle-Carlisle Railway passes over it. It's a massive viaduct in the middle of a field. It sort of comes out of nowhere. After parking on the side of the road, you can walk to and under it.
The arches look enormous from up close. There are also other trails to take for a view of it from above. We didn't do that, since we wanted to get to our destination. You can also time your visit to when the train passes over it, which must be a wonderful sight.
Bolton Castle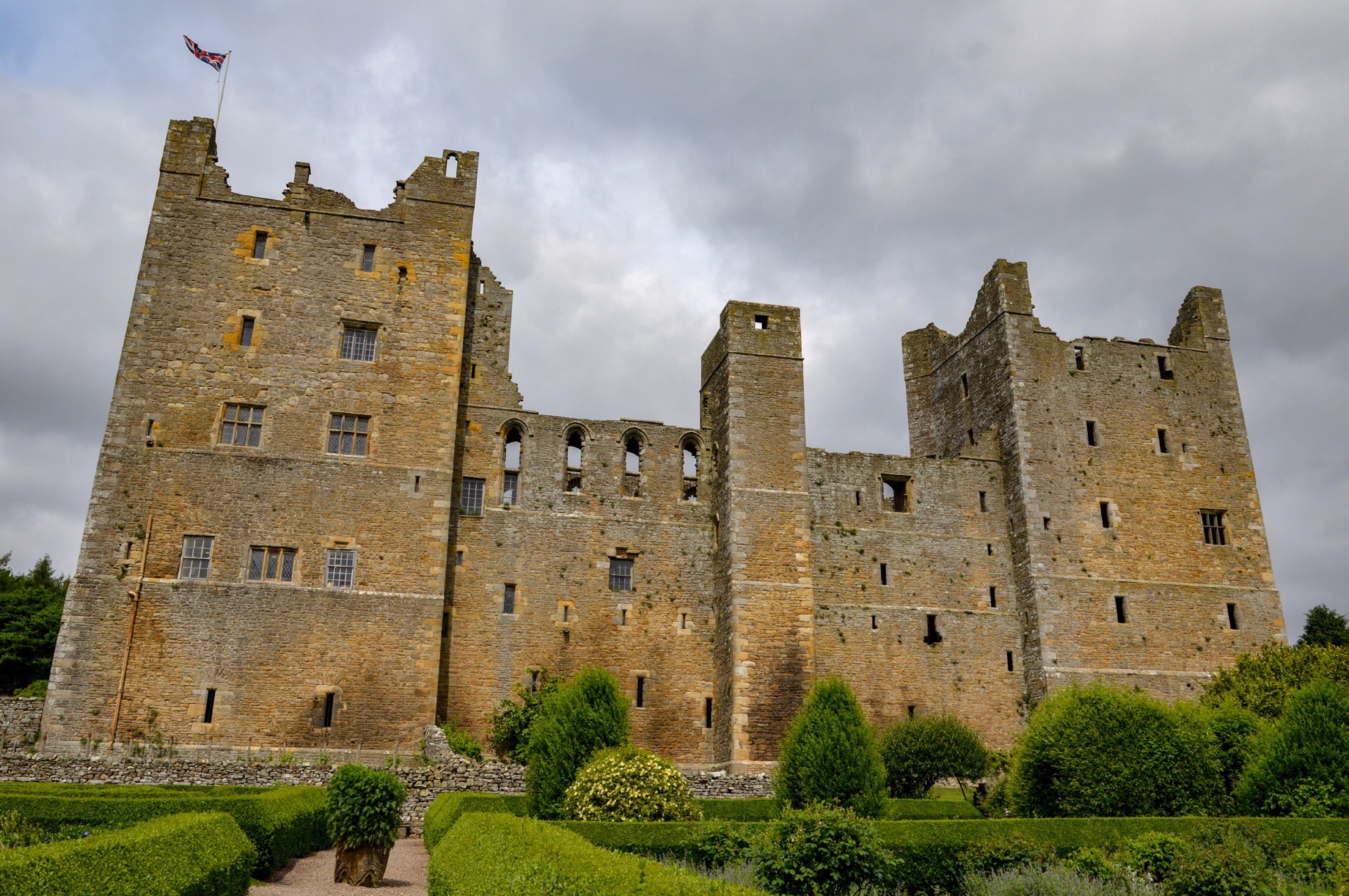 There are quite a few castles in the Yorkshire area. We picked Bolton Castle as the one to visit and fully explore because it looked beautiful and, well, Game of Thrones. We couldn't help ourselves! It's closer to Masham, but we visited on our drive from Hawes. We paid the full price to explore the castle inside as well as the grounds outside.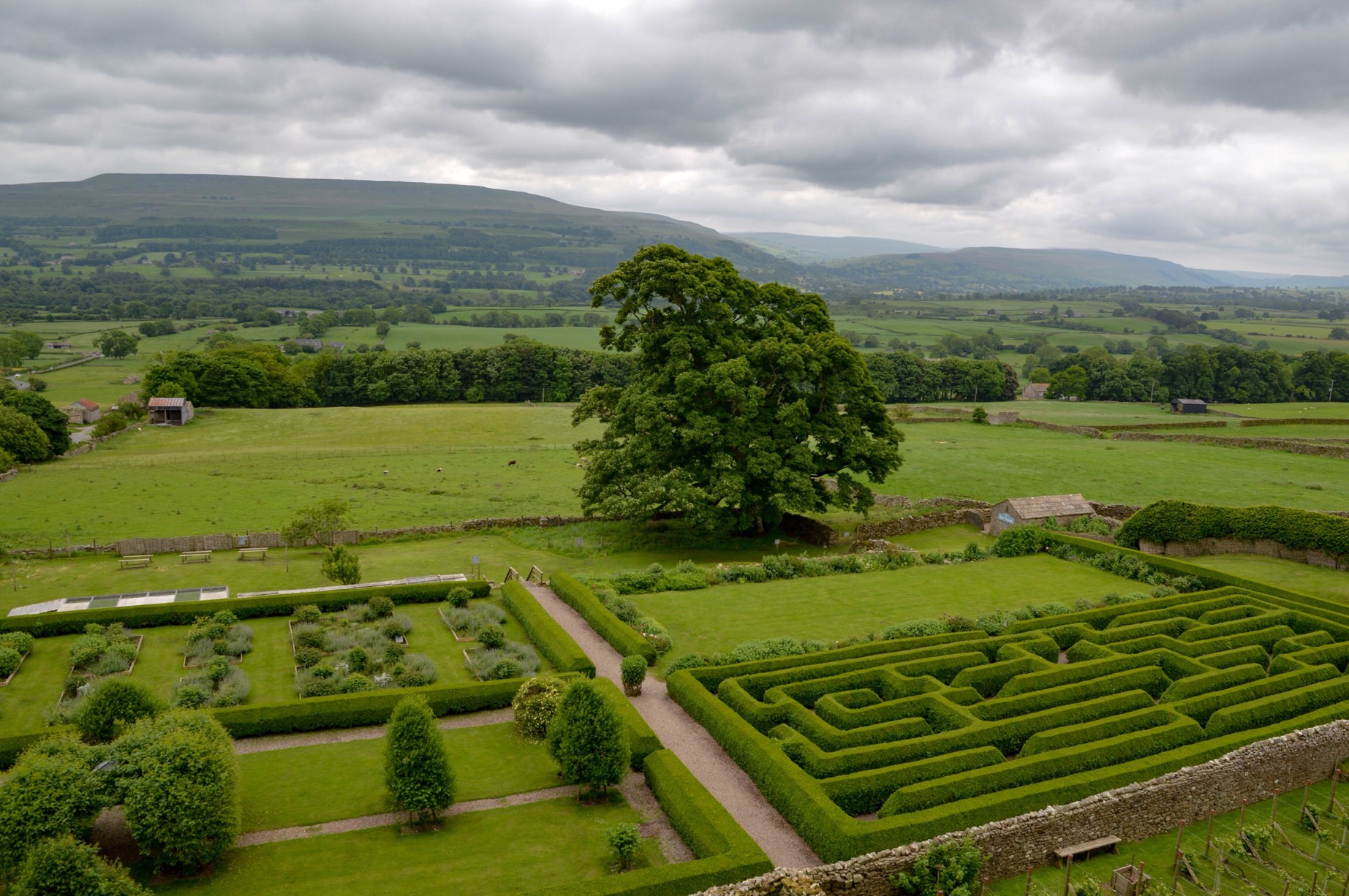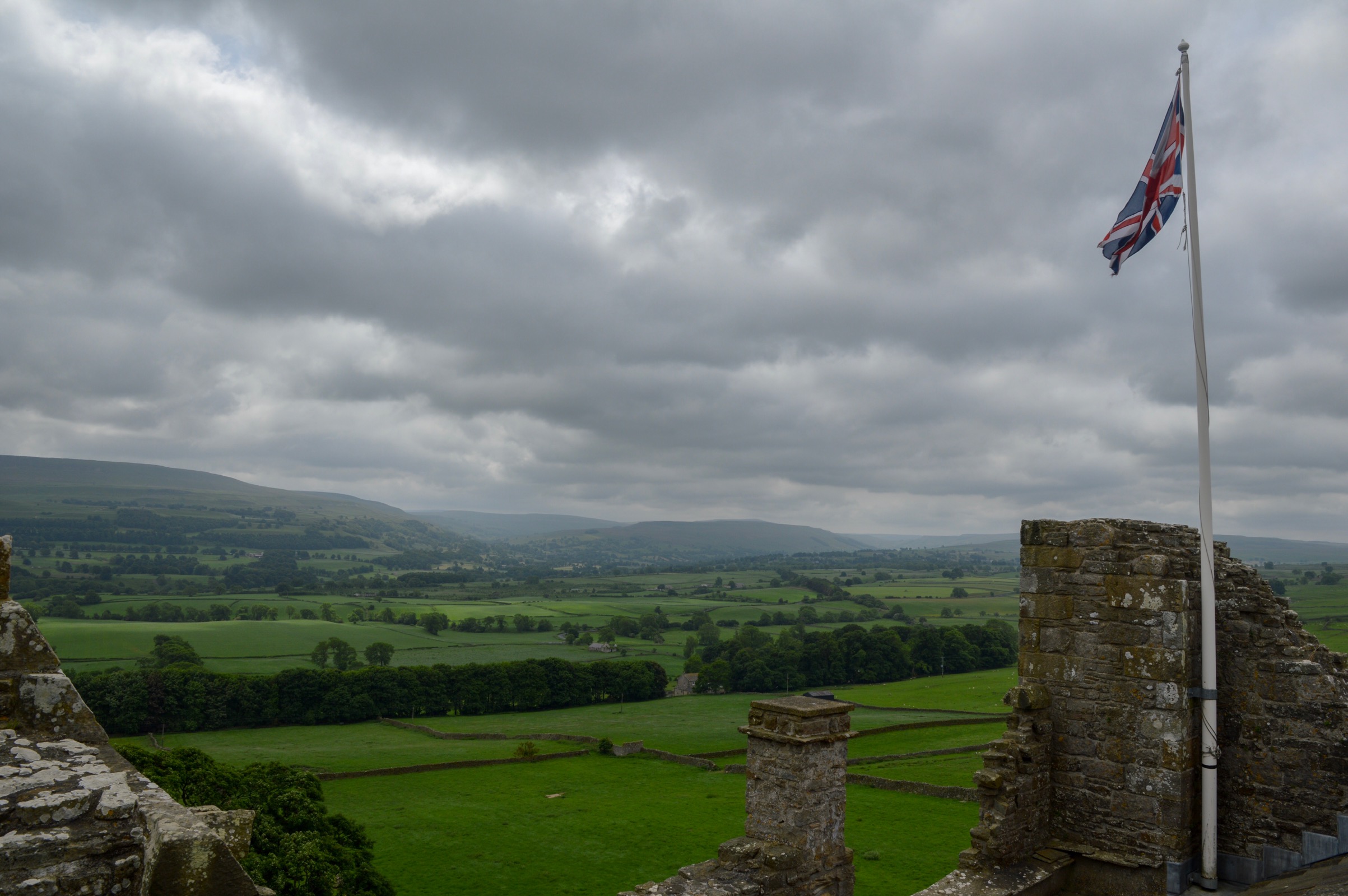 The grounds and gardens are beautiful, but not that big. And we enjoyed climbing to the top of the castle for some great views (and to stand on top of a castle!). If you just want to see the castle from the outside, you'll have to pay for parking (you get a refund if you buy a castle ticket).
Buttertubs
Near Hawes is a natural attraction called Buttertubs. It's just on the side of a very steep winding road. You'll have little notice to stop and we were glad our Hawes B&B owners gave us very specific directions (you'll see a fence after the second cattle guard). To actually see these big holes in the earth, you have to climb over the fence that it says not to climb over. Justin did this, Sarah did not (and couldn't look when Justin did). It's honestly not that impressive, so if you don't stop, don't worry. The drive, on the other hand, was pretty incredible. It's a winding, narrow road with steep drops and beautiful views. Drive carefully!
Tan Hill
To see more of the beautiful Yorkshire Dales scenery, we drove a longer route from Hawes to Masham. We passed by the Buttertubs and continued north to Tan Hill, which is home to the highest pub in Britain, the Tan Hill Inn. We then drove east to Bolton Castle and eventually Masham. The landscape was really interesting.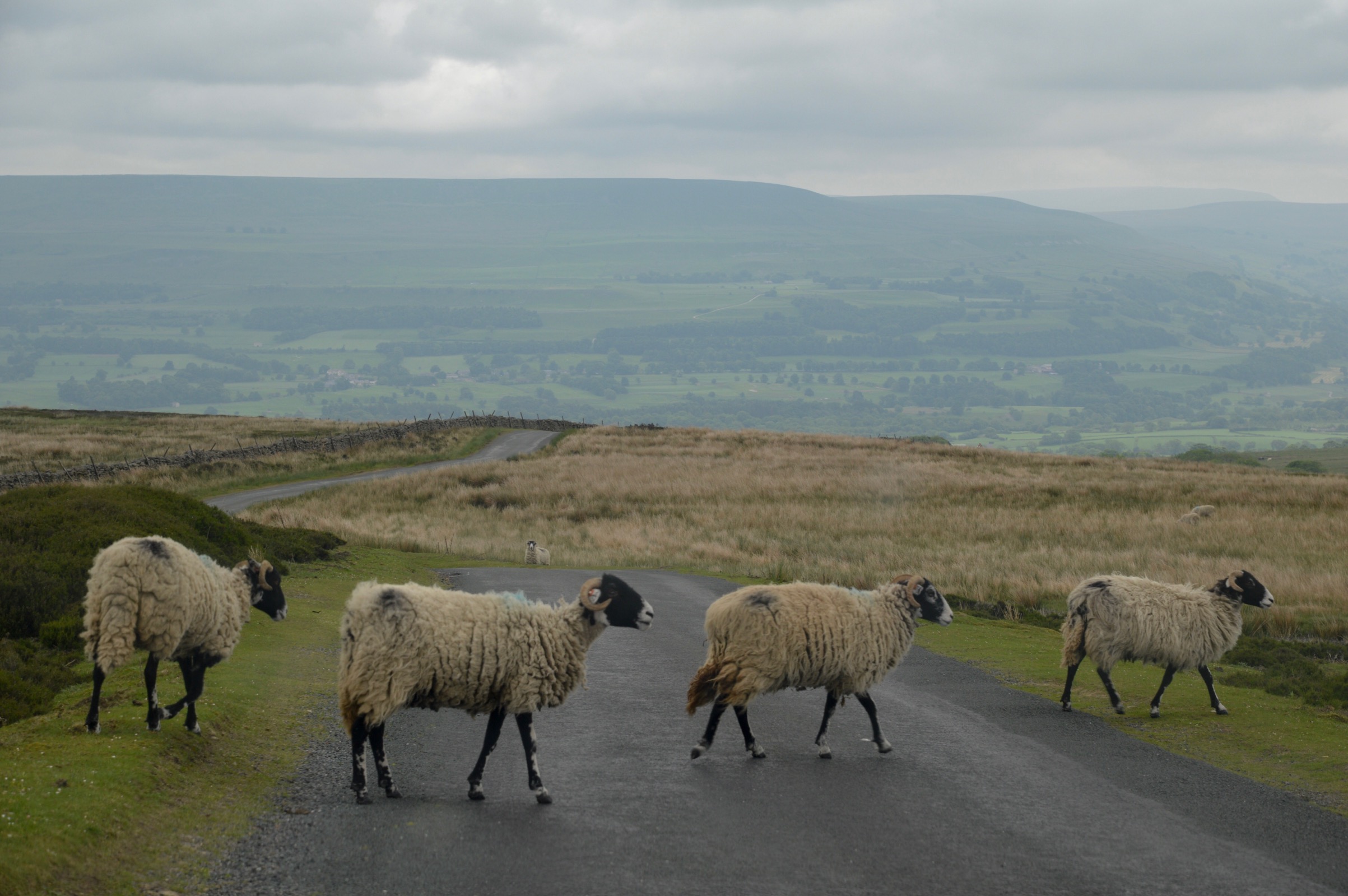 Once you get to the top of Tan Hill, the steep drops subside, but the scenery is just as lovely. There are a gazillion places to stop along the way to take some walks, but we just enjoyed our slow drive, stopping for sheep and taking pictures.
Places to stay in the Yorkshire Dales
We can highly recommend our accommodations in both Hawes and Masham.
Spring Bank House, Hawes
In Hawes, we stayed at the B&B Spring Bank House. Our room was lovely and comfortable and there was big bathtub for soaking our aching muscles after all that walking. The owners were extremely friendly and helpful, giving us many tips for our walks and drives. Breakfast was delicious, especially the eggs benedict. They had private off-street parking which was also great since we didn't touch our car during our stay.
To book a stay at Spring Bank House, you should contact them directly via their website. If it's not available, click here for some other hotel options in Hawes.
The Bay Horse, Masham
In Masham, we stayed at the Bay Horse, a pub with rooms above it. Everything was clean and quiet (which we were a bit worried about, it being a pub and all). Again, the owners were very nice and breakfast was hearty and tasty. They didn't have parking, but you could easily park in the main market square right across the street, which had an honesty box.
To book a stay at the Bay Horse or another accommodation in Masham, click here.
Places to eat in Wensleydale
Here are our picks for places to eat and drink in and around Hawes and Masham. One thing super awesome about these places is that they are all dog-friendly! So if you have a dog, or just love dogs like we do, you'll be happy.
White Hart Country Inn, Hawes
Our top recommendation for where to eat in Hawes is the White Hart Country Inn. Actually, if you're staying anywhere near Hawes, we'd recommend a trip here We were advised by our B&B to make a reservation and it was definitely necessary. They offer traditional Yorkshire dishes, just a slightly bit more refined. And lots of their dishes feature the delicious Wensleydale Creamery cheese! And of course they have a really great beer selection We were so impressed by the food the first night and wanted to try some other things on their menu, so returned our second night as well. Save room for dessert: their sticky toffee pudding was out of this world.
The Bay Horse, Masham
After reading the reviews, we wanted to check out the food at the place we were staying the night in Masham. Just our luck, the night we dined there they had a burger and beer special! The portions were massive and the food was quite delicious. The pub also seemed like quite the happening local spot. So we can highly recommend the Bay Horse for drinks, dinner, and a place to rest your head.
The Green Dragon Pub, Hardraw
We savored our pints at the Green Dragon after our long, long walk through the area. The pub was really cool with a ton of different small rooms throughout. It's definitely a place one could get cozy. The food looked and smelled good as well.
Brymor Ice Cream, Masham
This ice cream shop is located on a farm just about ten minutes outside Masham. We stopped after our long drive and visit to Bolton Castle. Their ice cream didn't disappoint.
Tan Hill Inn, Richmond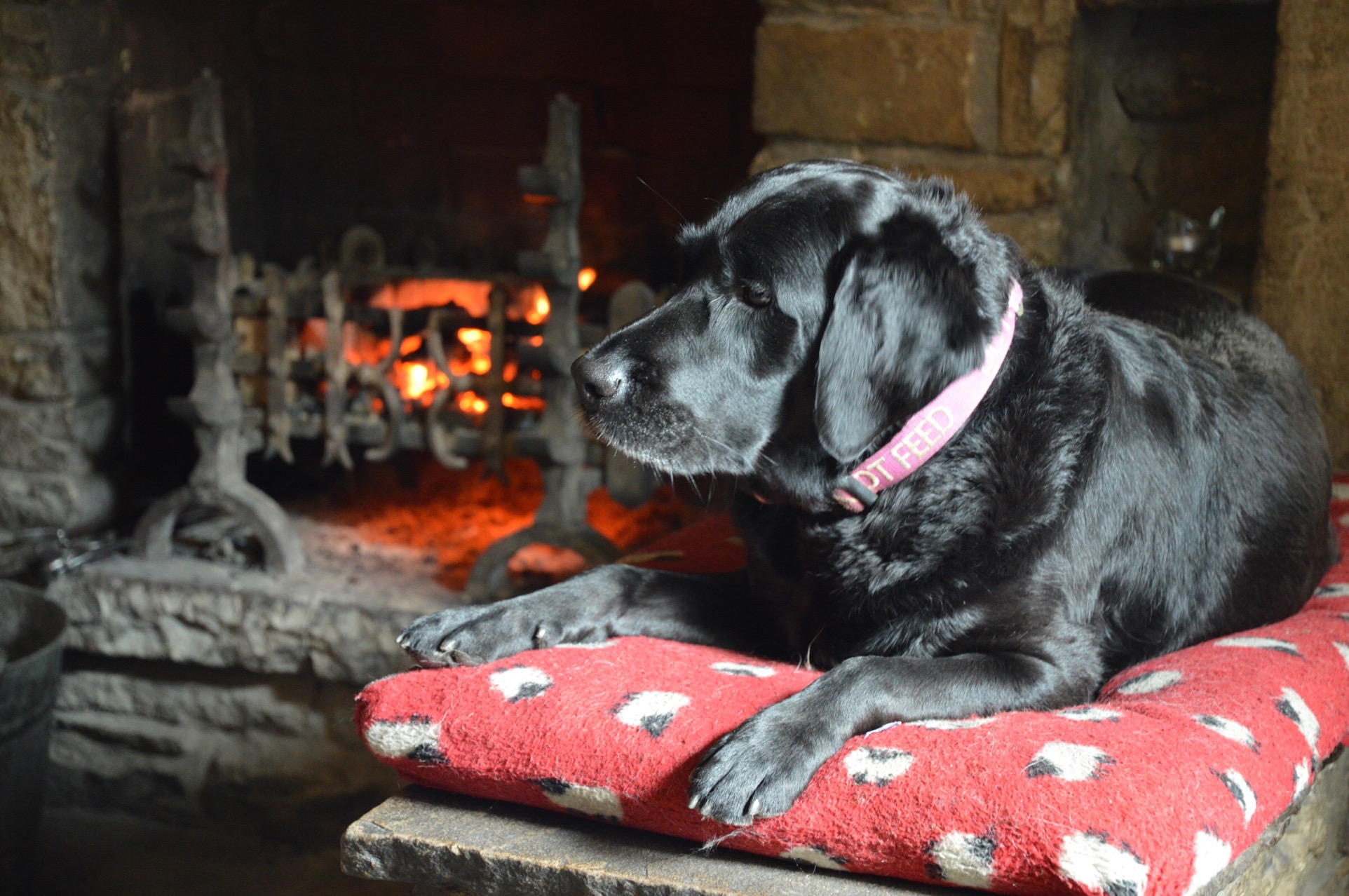 If you're in the area, you would be remiss to not visit Britain's highest pub, Tan Hill Inn. During our scenic drive from Hawes to Masham, we made a point to stop here and recharge a bit. We had coffee, not beer, as the narrow roads require strict attention! It's a cool place to stop, made all the better by the inn's resident canine.
Other pubs in Hawes and Masham
We had a pint at both The Crown and The Fountain, two local pubs (and inns) in Hawes. The food menus at both looked pretty similar, and perfectly fine. The Fountain was bigger than it looked from the outside, so if you have a large group, this would be a good choice. We also had a pint at The Bruce Arms in Masham. There are quite a few cozy looking pubs in town and we wandered into the first one we saw that looked welcoming and enjoyed a pint, and the company of several dogs.
Accessibility in the Yorkshire Dales
The Yorkshire Dales are not the most accessible destination. It's pretty hilly, and Sarah used her oxygen on all of our walks. The streets of the towns are quite cobbled. And the public footpaths that go through the countryside have narrow entrances, typically requiring climbing over or passing through stiles. Additionally, both accommodations we stayed in were not wheelchair accessible. We had to climb stairs to get to our rooms. Bolton Castle itself was not wheelchair accessible, but the grounds were. If you have accessibility needs or mobility issues and want to visit the area, it might be necessary to stay in a larger town or city that has more accessible options and hire a car to take you around to see the outdoor sights.
Like this post? Pin it!