Last Updated on 8th January 2019 by Sarah and Justin
The Rotterdam Market Hall (Markthal) is the number one tourist attraction in this city we're currently calling home. And we absolutely love it (and find ourselves there several times a week). But there's another food hall in Rotterdam and it's most definitely worth a trip across the Nieuwe Maas River. Fenix Food Factory is like the Markthal's younger, cooler, hipster cousin. For example, while the Markthal is a sleek, modern building – itself now an icon in this city of incredible architecture – Fenix Food Factory is just a big old warehouse. But with its laid back vibe, it feels welcoming to anyone who wants to taste some great food and chill out by the water. Even older folks like us. It's honestly one of our favorite places to spend an afternoon or to take guests. So if you find yourself visiting this city, definitely add Fenix Food Factory to your list of things to do in Rotterdam.
Fenix Food Factory location on Katendrecht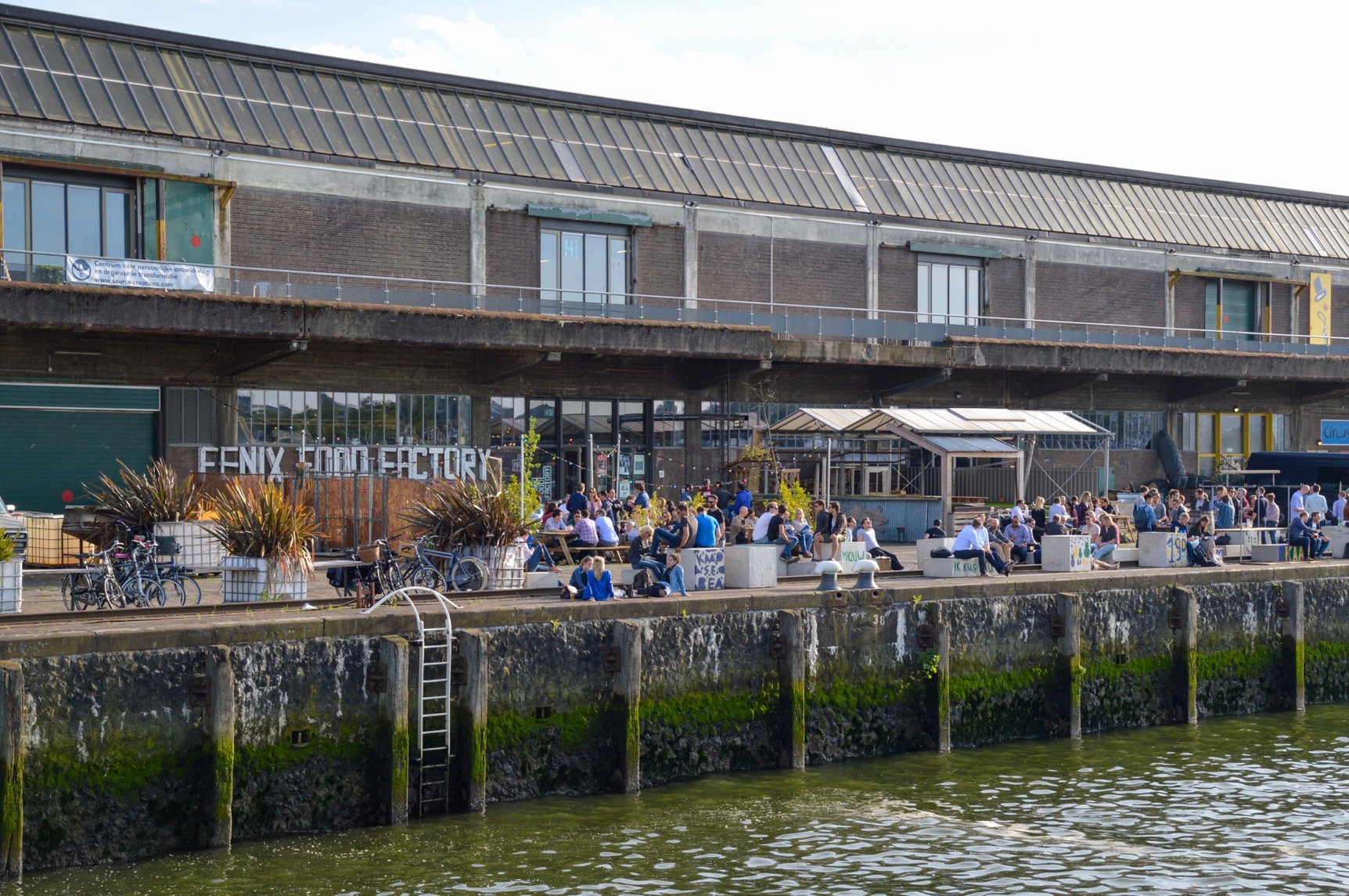 Fenix Food Factory is located across the Nieuwe Maas River from Rotterdam Centrum on a peninsula called Katendrecht. This is basically the northernmost part of the south of the city. It's in a large warehouse that's open on two sides. The main entrance is directly across from the famous Hotel New York, so you'll have a superb view of the iconic building and the water while enjoying a beer or a bite in its main outdoor seating area. The other side leads out to Deliplein, a main square on Katendrecht which is now chock full of great restaurants.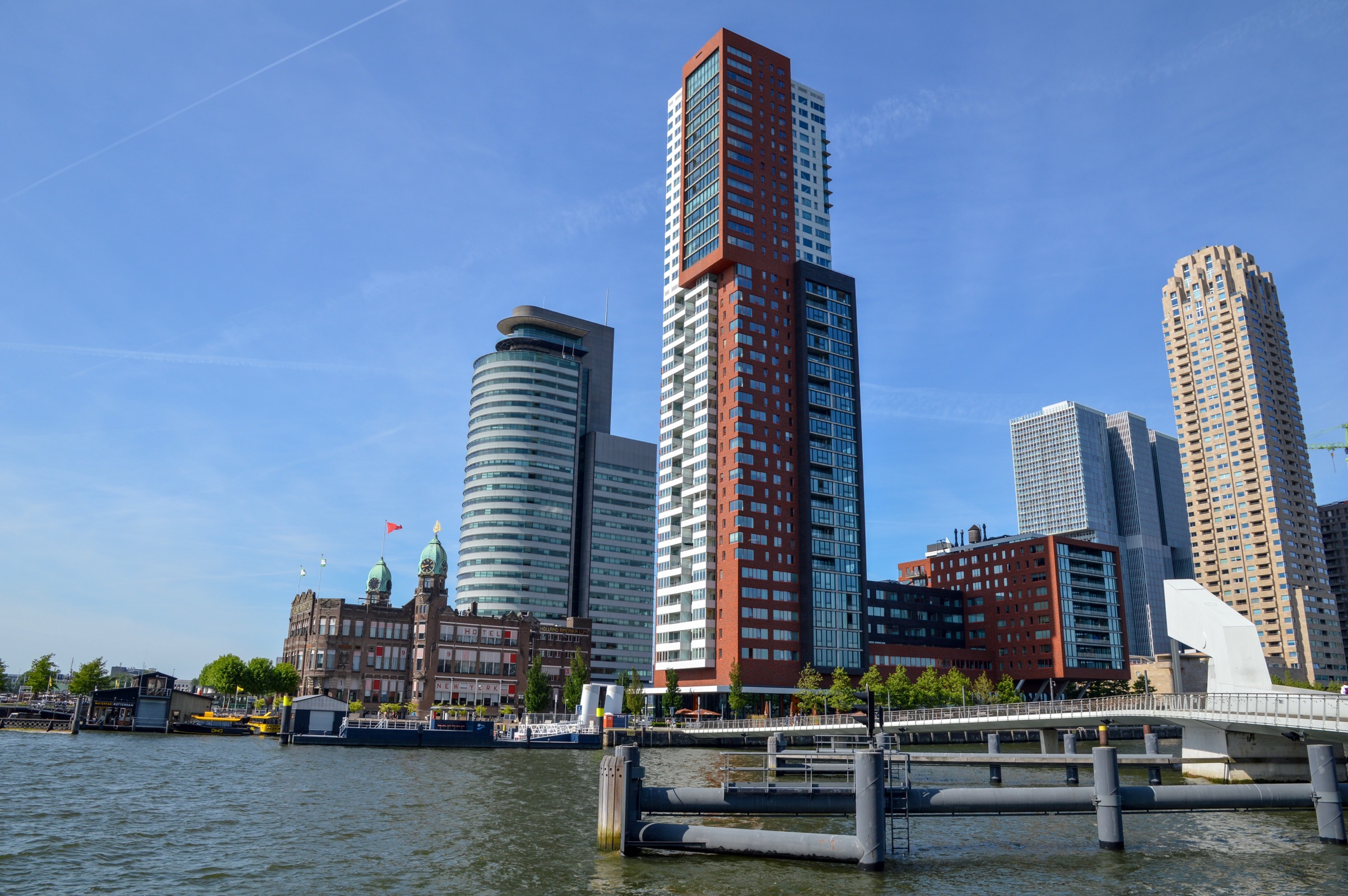 The most scenic way to get to Fenix Food Factory from Rotterdam Centrum involves a bit of a walk or a cycle over the Erasmus Bridge (that's the big white one that looks kind of like a guitar). The views from the bridge are pretty incredible. Once you make it over the bridge, you'll be at Wilhelminaplein, which is also a public transportation stop so, if you prefer, you can take the tram or metro directly there. Then you can walk through the streets or along the water, past the Hotel New York, and across the small pedestrian bridge that goes over Rijnhaven. Fenix Food Factory is right there – you can't miss it.
What to eat and drink at Fenix Food Factory
Obviously the most important thing a food market should have is delicious food. Fenix Food Factory has less options than the Markthal, but the food is just as tasty and fresh and local. Among others, there's a cheese monger, a butcher, a fresh vegetable market, a bakery, and a specialty purveyor of uniquely flavored stroopwafels. During warmer months, there's a bbq outside. There's also the Kaapse Kitchen, which has an ever-changing menu depending on the featured chef of the week.
Our pick for where to get food at Fenix Food Factory is Meneer Tanger, a Moroccan spot which offers platters of delicious spreads and olives and bread. Whatever you choose, you can sit with it anywhere, inside or out.
When it comes to drinks, Fenix Food Factory has two coffee spots and a specialty hard cider bar. But the crown jewel is the brewery…
Kaapse Brouwers at Fenix Food Factory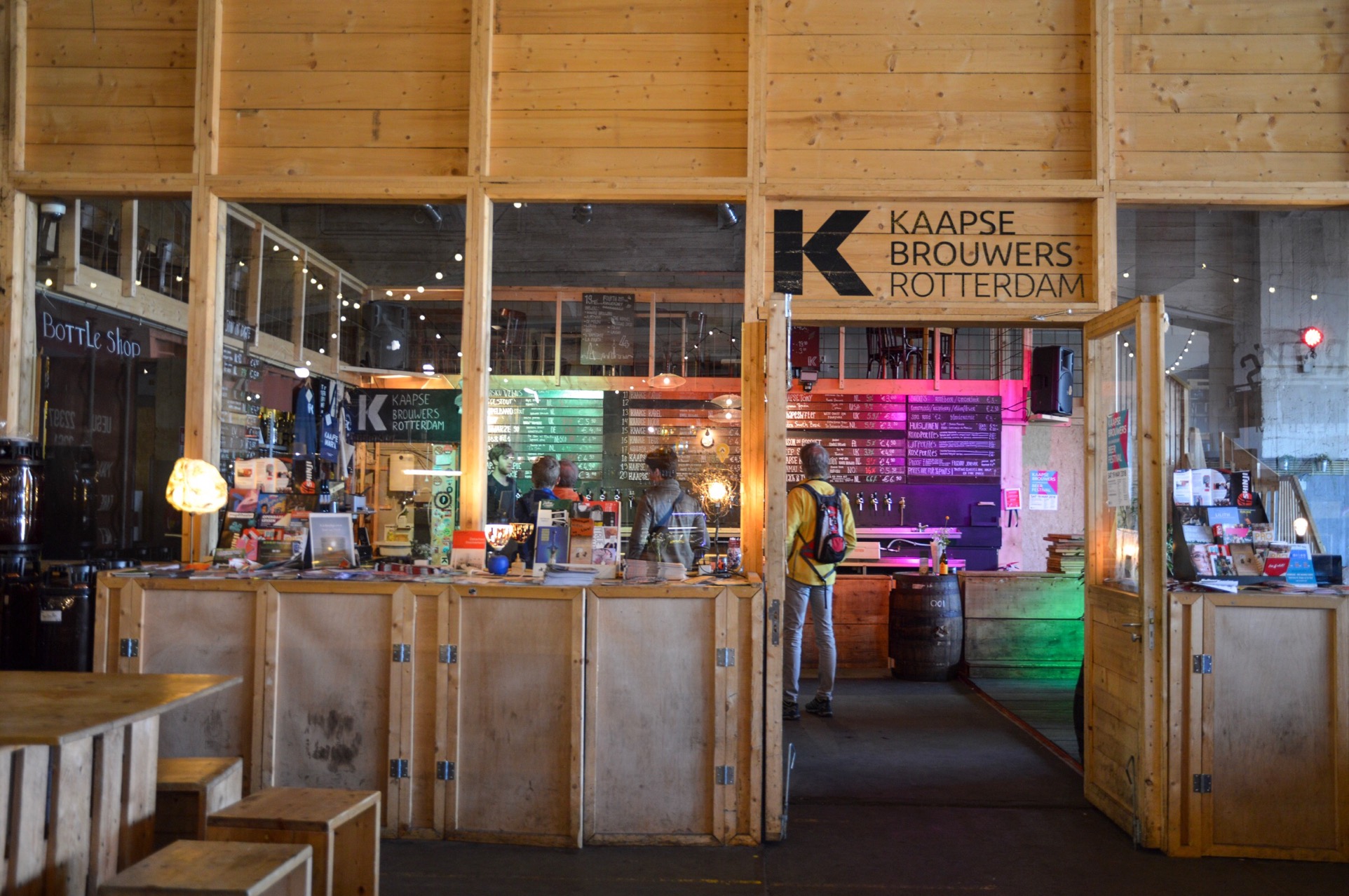 Ok, we'll be honest with you. The real reason we originally went to Fenix Food Factory was to check out the local brewery that calls it home. Kaapse Brouwers is one of three breweries in Rotterdam. And it's our favorite, although we might be biased since we haven't actually been to the other two yet! But seriously, it's awesome. They have 30 (!) beers on tap. And their beers are interesting and unique and good. Really good. Especially on tap. You can taste before ordering and the staff is super nice and friendly (and as if it even needs to be mentioned here in the Netherlands, they speak English).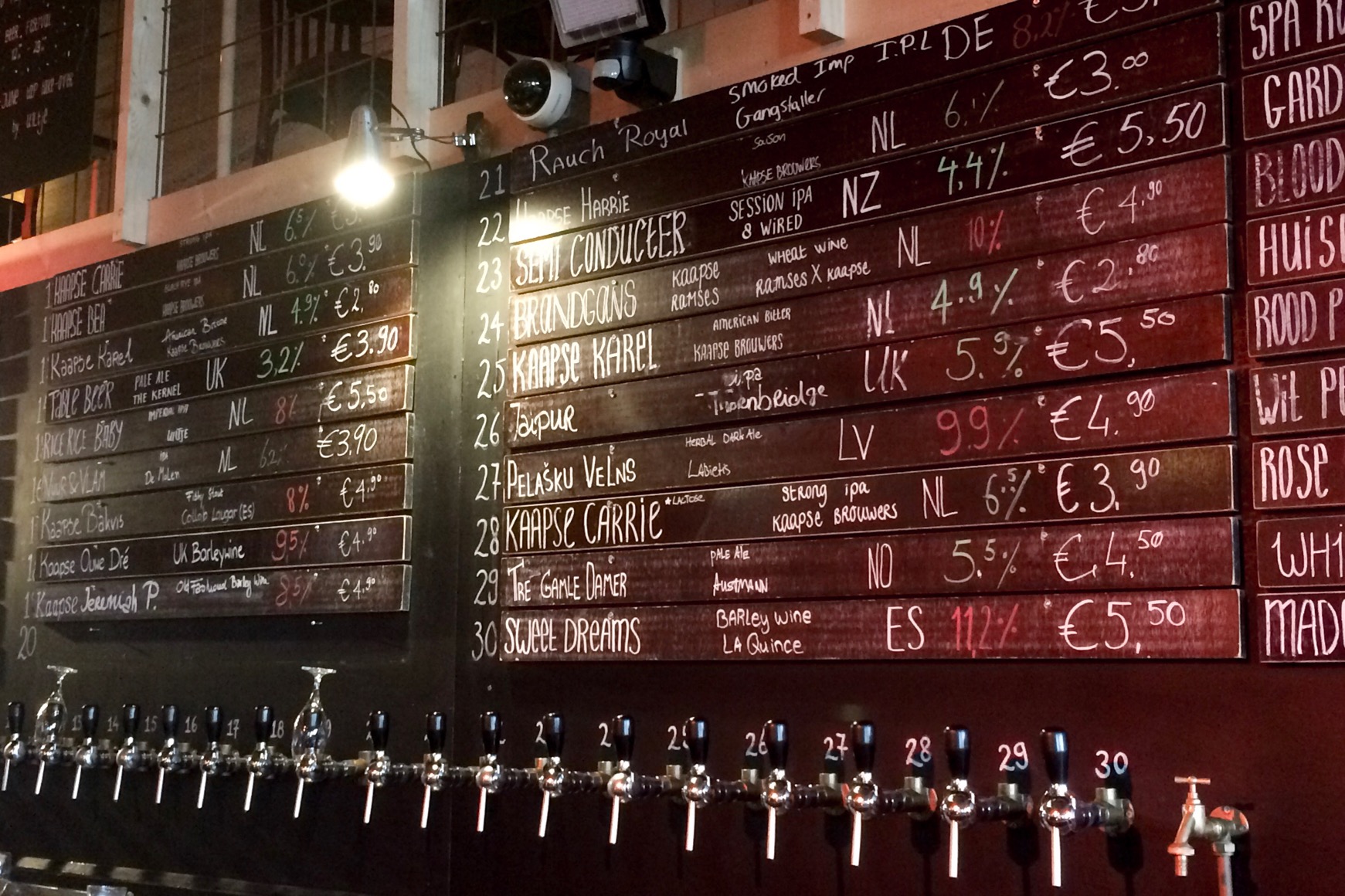 Don't be discouraged if you've arrived too late (like between 3-6pm on a sunny Friday) and the line is out the door. It moves pretty fast. Oh and they also have a bottle shop with an incredible local and international selection. We've spent much time in there just ogling all the beers.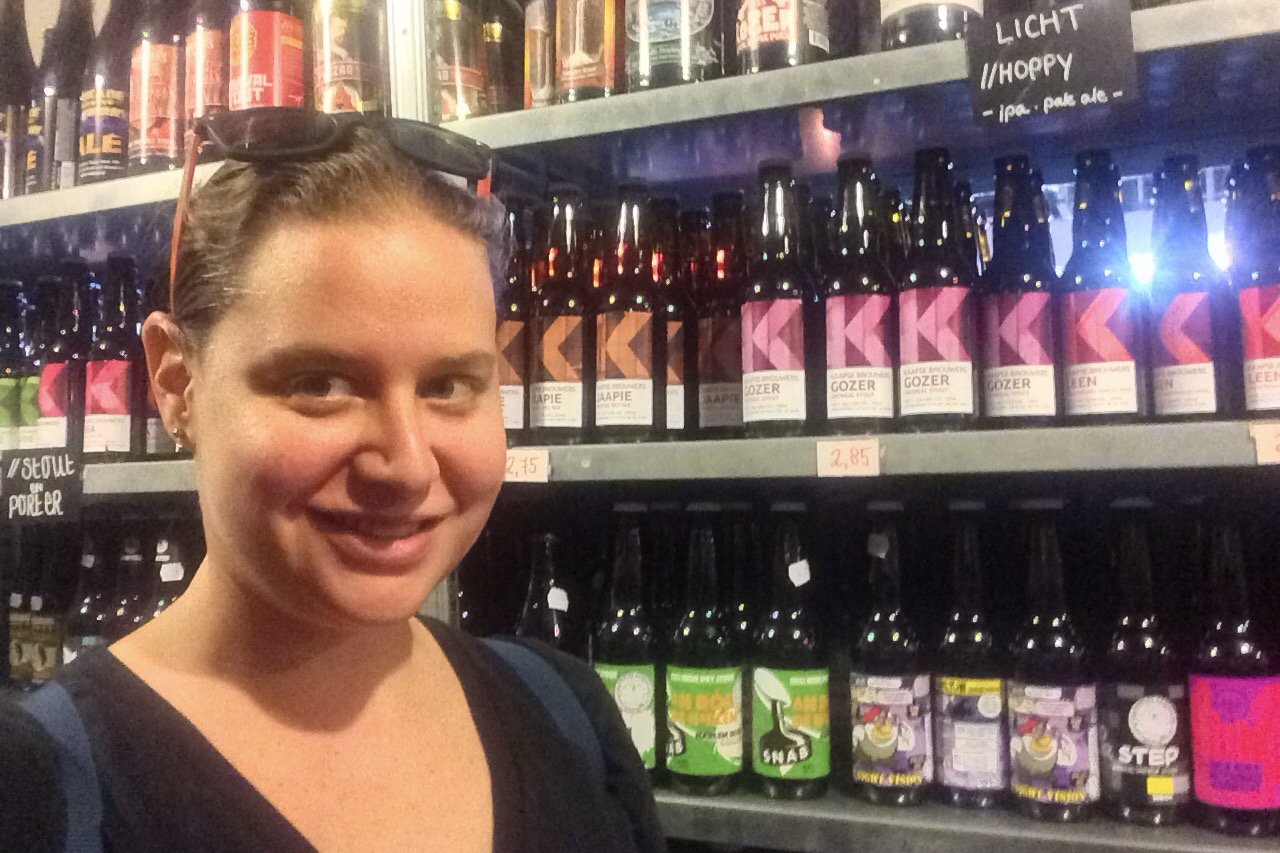 So we'd recommend grabbing a platter from Meneer Tanger, and a beer from Kaapse Brouwers, and enjoying it all outside with the super view.
Fenix Food Factory is gezellig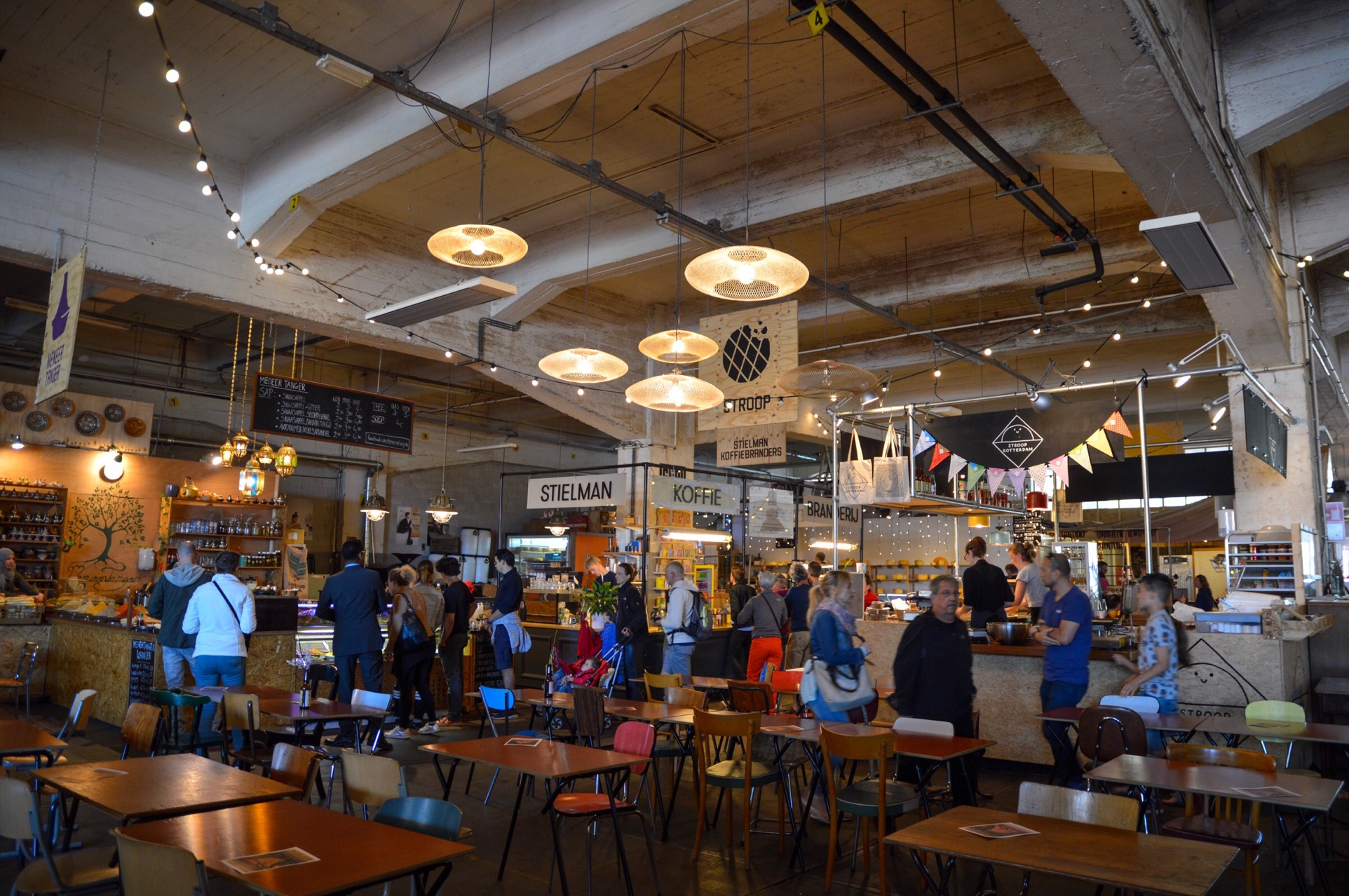 "Gezellig" translates to "cozy" in English, but means so much more than that. It's sort of like the concept of "hygge" in Denmark, but less overtly trendy and cool. (Read more about the difference between the two here and even more about the concept of gezellig here.)
Things we Americans would never refer to as cozy – like an outdoor square or an old warehouse turn food market – can be referred to as gezellig. And so, yes, we think Fenix Food Factory is definitely gezellig. If you're hanging out outside, you'll be entertained by the din of locals and tourists chatting, with the smell of bbq around you, while watching the sunset. Inside, you're surrounded by local businesses making customers happy. It's a very nice place to hang out all around.
So have we convinced you? Are you going to head to Fenix Food Factory to enjoy some local tastes of Rotterdam? If you do, let us know how it was in the comments. Just remember, it's closed on Mondays!
Want to check out that other market hall in Rotterdam too? Read all about it here.
Like this post? Pin it!