Last Updated on 4th March 2020 by Sarah and Justin
Everyone should be able to enjoy the outdoors. There are so many benefits to being outside and in nature. But for some of us, due to mobility limitations or other challenges, it's not as easy as just going for a hike or a ski or a kayak. Fortunately, there are specific accessible outdoor activities and programs that help more people get outside.
Our latest guest author Karen is an expert in outdoor adventuring and shares everything she knows about making the outdoors more accessible. This post includes information about: accessible outdoor activities (in all seasons), adaptive outdoor recreation equipment, outdoor access programs, volunteering opportunities, and tips for participating in outdoor activities for people with disabilities.
The need for accessible outdoor activities for people with disabilities
Many years ago I had a friend who loved the outdoors but had an accident resulting in a disability. As a result, she used a wheelchair for mobility for the rest of her life. She was determined to continue adventuring outdoors, especially her favorite activities of canoeing and fishing. In those days, outdoor adventure programs for people with disabilities were rare. In addition, outdoor equipment adaptations for people with disabilities were just being developed.
However, that didn't stop my friend. First, she bought a canoe with foam outriggers that was almost impossible to tip over. She fashioned a make-shift canoe seat that provided the back support she needed in the boat. Finally, she figured out a transfer method from her wheelchair into the canoe. She enjoyed many days fishing on the local ponds. She also did camping trips to the islands in Maine. Her persistence to make outdoor activities more accessible was a model for other outdoor enthusiasts.
Fast forward to today. With the passage of the Americans with Disabilities act of 1990 (ADA), opportunities for people with disabilities opened up. Outdoor adventure programs joined in. DIY outdoor activities for people with disabilities are no longer the only way to enjoy nature.
Accessible outdoor programs
Partnerships of state parks and the National Park System with outdoor adventure programs has increased programs for people with physical, cognitive, emotional, mental and learning disabilities. Many parks have accessible trails. These trails are wider, smooth graded, with low inclines to accommodate various mobility needs. In addition, accessible picnic tables, boat launches and shore-line fishing areas are showing up more and more. The US government also provides free Access Passes to people with disabilities that cover entry fees to all National Parks and other federal wildlands—a total of over 2000 areas to enjoy.
An early outdoor program providing equitable access to the outdoors was Wilderness Inquiry originally offering canoeing and winter camping trips in the Northwoods of Minnesota. Other programs took inspiration and followed suit. Now hundreds of specialized outdoor adventure programs provide inclusive activities in the natural environment. Many programs are structured so individuals of all abilities can participate together.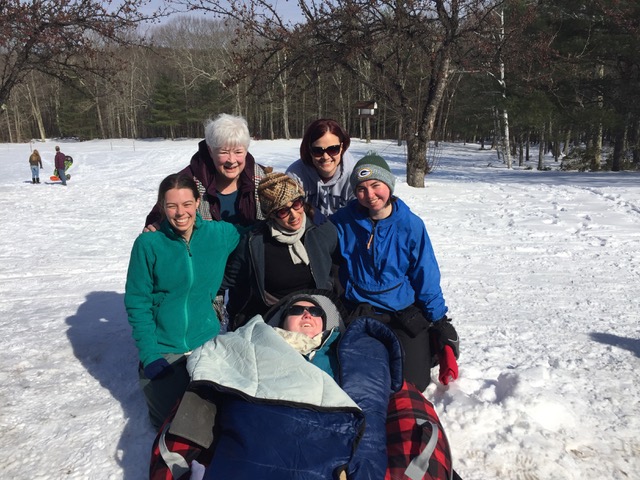 My role in making the outdoors more accessible
As an outdoor adventure educator for university outdoor leadership programs over the past 45 plus years, I felt it was important for my students to have a first-hand understanding about accessibility in the outdoors. The idea that anyone and everyone should be able to experience the tremendous benefits from being in nature is the foundation of my teaching philosophy. Therefore, I brought students in my classes to different local accessible outdoor programs. They learned how to make the wilderness inclusive of all. Students often said these experiences were the highlight of the course. It was not only a lot of fun, but it also showed them the possibilities to get everyone outdoors.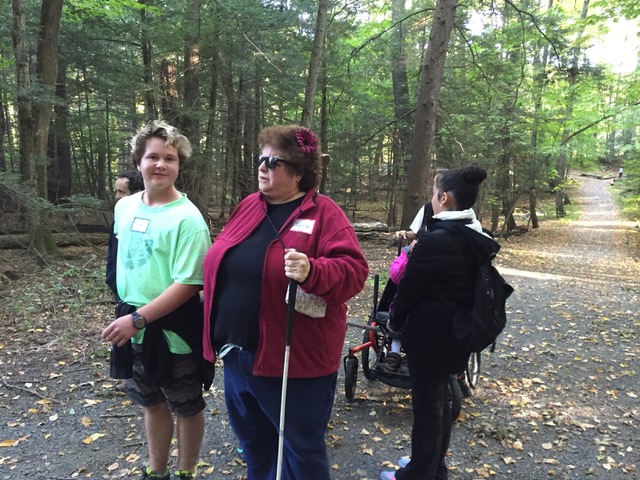 Accessible outdoor activities in the winter
Outdoor activities for people with disabilities are quite popular in the winter. Adapted equipment has made activities such as ice skating, snowshoeing, cross country and downhill skiing, and ice hockey accessible.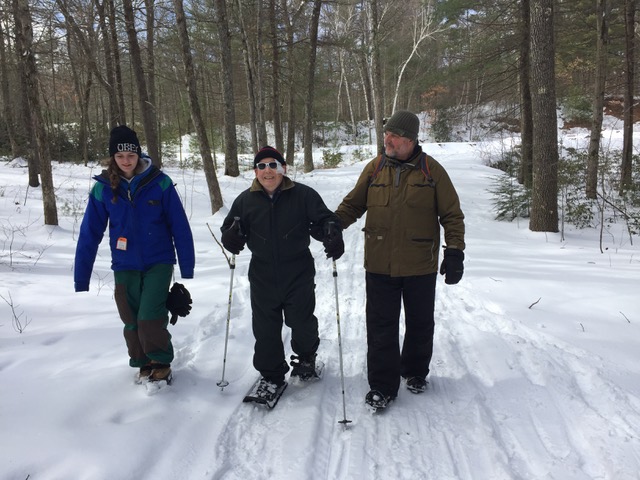 Sled hockey or sledge is a good example of how equipment design is used to create an opportunity for people with disabilities to play hockey. Sled hockey players strap into a two runner sled and use two shortened hockey sticks with a blade on one end and a pick on the other. The pick end is used to propel the player in their sled. The sport was invented in Sweden in the 60s and is a popular Paralympic event.
Accessible outdoor activities in warmer weather
Almost any outdoor adventure activity you can imagine can be adapted to include people of all abilities. I had the opportunity to visit the Breckenridge Outdoor Education Center (BOEC) in Colorado this past summer. BOEC is a national leader in adaptive outdoor adventure. Their summer programs include accessible hiking, paddling, cycling, rock climbing and many more. Their high ropes course has participants of all abilities flying high up in the trees.
When I was visiting, BOEC provided outdoor recreation for people with traumatic brain injury. Flatwater kayaking on the nearby reservoir was a wonderful chance for participants to set and accomplish goals. One participant stated he wanted to paddle one hundred strokes without stopping. He was ecstatic when his goal was attained.
<<
Read about the
Bastei Bridge hike
including level of difficulty and other accessibility information
>>
Tips for participating in accessible outdoor activities
These tips for people with disabilities and their family and friends attending accessible outdoor programs will help make the experience more enjoyable, safe and adaptable.
Check with the program beforehand to make sure they have the proper adaptive equipment available for you to participate. If program managers know in advance, they can staff properly and have suitable equipment at the program site.
Find out the anticipated physical activity level for the specific outdoor program. This will often vary according to who is participating. You want to make sure the activities planned match your expectations, as well as those of companions or aids.
Make sure everyone in your party is dressed appropriately for the outdoor conditions. There is often waiting time when getting everyone in the group ready for the adventure. People can get cold while waiting. Get helpful tips for proper dressing for cold weather conditions.
Bring water and snacks such as energy bars. Staying hydrated and fed is important and many outdoor areas won't have water or food on site.
Stay flexible. Nature offers many surprises so being able to adjust to changes is key. It may mean veering away the expected activities and substituting something else. A slower pace might be necessary for different group members. A sudden rainstorm may alter plans. Be ready to go with the flow and enjoy nature on its own terms.
Set some goals. Having specific achievable goals may make the experience more valuable and memorable.
Do it again soon. Getting outdoors often involves complicated logistics for anyone. Don't let the details discourage you from participating. As you do more things outdoors, the preparations and the skills become easier. The benefits of nature for health, mood boosting and fun are worth the effort.
Volunteering with accessible outdoor programs
One way to have transformative experiences in the outdoors is to volunteer with a program that works to increase accessibility for people with disabilities. Volunteers can give valuable service and gain insight on new ways to adventure outdoors by helping in accessible outdoor recreation organizations.
Rocky Mountain Adaptive (RMA) in Canmore, Alberta, Canada runs 22 outdoor programs, providing over 2200 adaptive outdoor experiences in the past year alone. RMA focuses on an individuals' strength within their physical and cognitive abilities to welcome participants with any physical, intellectual, cognitive, or developmental challenges. While alpine skiing/snowboarding is the biggest program, other opportunities include rock climbing, cross country skiing, hiking, biking, paddling and more all led by professional staff highly trained in the outdoor activity as well as working with people of all abilities.
Volunteering to assist in adaptive programs is a fantastic way to stay involved in outdoor adventures while making a difference in the lives of people who face challenges in getting outdoors. Retired or semi-retired people and students are often very dedicated volunteers for these programs.
Concluding thoughts
Hundreds of research studies show that experiences in nature reduce stress and provide many physical and mental health benefits. Nature even makes people kinder! Having a disability should not stop people from enjoying these benefits. Fortunately, there are now many opportunities to get out in nature with family, friends, or independently.
About Karen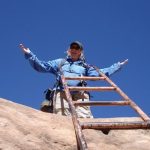 Karen recently retired after a 45 year career as an outdoor educator and wilderness trip leader in higher education in the U.S. She writes an outdoor adventure travel blog Outdoor Adventure Sampler to inspire people of all skills and abilities to adventure in the outdoors. You can follow Karen on Twitter, Facebook, Pinterest, and Instagram.
Like this post? Pin it!