Meet Carole, our latest guest author. She has several chronic illnesses that cause her pain, fatigue, and weakness. But she loves to go camping with her family, so she and her husband Joe came up with ways to make that possible.
Carole lives with three chronic illnesses. 
Post-polio syndrome is a new condition affecting polio survivors many years after their acute illness. Common symptoms include pain, fatigue, and weakness. Some people have problems with sleep, breathing, and swallowing and experience muscle atrophy or wasting.
Generalized dystonia is a disorder that causes muscles in the body to contract and spasm involuntarily.
Sjogren's syndrome is a systemic autoimmune disease which can cause excessive dryness, profound fatigue, and chronic pain. The disease may also cause disfunction with many major organs. People with Sjogren's have a higher risk of lymphoma.
Despite all this, Carole and Joe love the outdoors and do whatever is necessary to get out and enjoy it. Read on for her innovative and replicable accessible travel tips. 
A trip to Yellowstone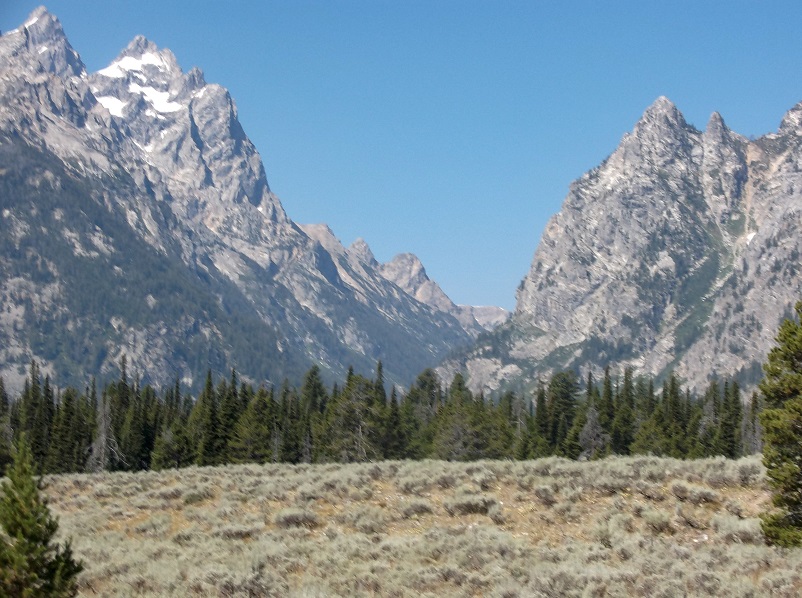 July 15, 2016. 50th Anniversary BBQ celebration with friends. But our true celebration was still to come: a three week camping trip with our sons and their families. 400 miles to Yellowstone National Park with our younger son, Bill. Then across Idaho and Oregon to the coast with our older son, Tom. Total miles: 1600. Expecting a trip within my capabilities. Anticipating marvelous times.
A daunting prospect for a woman living with dystonia, post-polio syndrome, and Sjogren's. But Joe and I love camping; so we have adapted our equipment and our plans and taken long camping trips most summers.
A peek at my daily life
What is my life like? Fatigability, weakness, and pain. If I just got tired, I could deal with that. But the fatigue brings weakness and pain, lasting hours, days, or weeks.
I can walk, but not far even when rested. My back spasms easily. My arms tire. I cope by trying to take wise care of myself, getting proper rest periods, exercising appropriately, and paying attention to what my body says. Since no one condition by itself is totally disabling, no big deal, right? When I can't stand, couldn't I sit? But sitting causes other difficulties. And so it goes. Makes for interesting camping experiences.
Our adapted camping setup
For traveling and lodging
We have a pickup and self-contained (when hooked-up) 22-foot travel trailer. The RV is all on one level since I can no longer climb to an upper bed. It has a kitchen with all appliances and hot/cold water (when hooked up) and a small bathroom/shower. And, of course, a table, cabinets, bed, heater and air conditioner. A step-stool is necessary for me to reach upper cabinets, and Joe has to get items from the lower ones. This compact, well-designed trailer meets our needs and enables us to spend time in beautiful nature.
Special need: extra padding and plenty of pillows for knees and arms to keep my bed comfortable for me, allowing me to sleep well. Joe kids me that I am the proverbial Princess and the Pea.
For mobility
For this trip, I took my cane, wheelchair, and scooter. My scooter saves Joe's back, but the chair can go places the scooter can't. The scooter needs to be charged daily but some campgrounds didn't have electric hookups, so we bought a generator. It also charges laptop and TENS unit.
For resting and relaxing
At home, I spend much of my day in my recliner. That being impossible in a campsite, we searched for a lounger that fits me well. Using pillows behind my back, head, or knees as needed makes it quite comfortable. To hold my laptop or book, I place two stacked pillows, staggered, in my lap to hold the laptop or book. It is surprisingly comfortable, enabling me to be outdoors and still rest.
Plans and preparations
Itinerary
We discuss where to go; I plan the specific itinerary. Travel days are kept short, since I fatigue so quickly. Campgrounds have to be chosen carefully. I try to do this weeks ahead, especially if we want reservations.
Campgrounds and campsites
In 2016, electric, water, and sewer hookups were important, but not essential. Because of Joe's help, a disabled campsite is not essential. Good news for those who need one: they have greatly improved recently. They have cement areas for wheelchairs, so you can get to the table, firepit, and trail to accessible restrooms/showers.
Preparing the RV
Joe takes care of checking out all things mechanical; he gets stuck cleaning the trailer; he prepares the camping equipment; he does his packing; he carries the food out. I store the food, check supplies, do my packing, and put food in the cabinets. Since getting in and out of the trailer tires me, I can only make 1-3 trips a day. Consequently, we begin work several weeks prior to our trip.
And finally – the fun part!
We spent a week camping and sightseeing in Yellowstone. Afterward, going south, we camped at Glacier National Park. Leaving Glacier, we crossed Montana and then drove through Idaho to Oregon on our way to the coast.
Sightseeing and "hiking"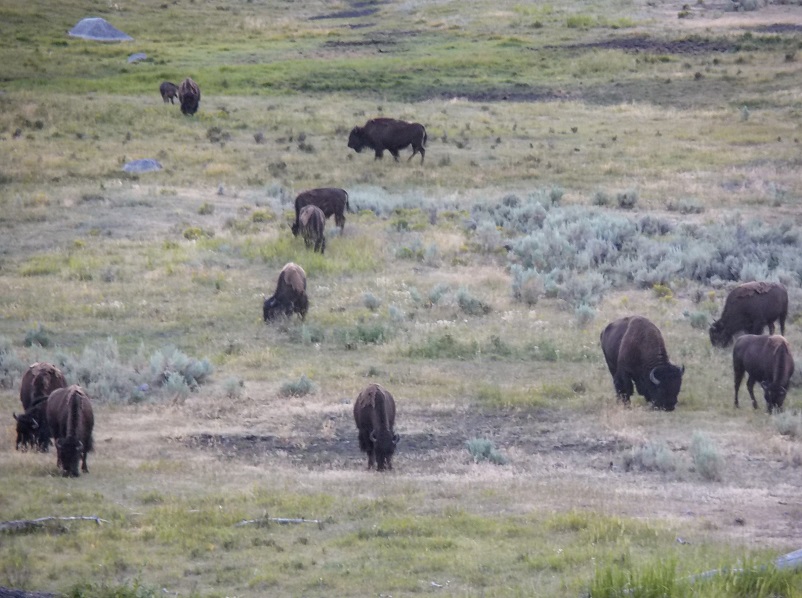 Natural wonders abound at Yellowstone. We saw several herds of buffalo—upfront and personal. Too close! They have the right-of-way, so all the cars had to wait until they crossed, sometimes hours. Elk were plentiful. Magnificent animals. We enjoyed seeing water formations—geysers, mudpots, waterfalls. Of course, we watched Old Faithful Geyser.
On these sightseeing days, we took our pickup, so I could rest when needed, while Bill took his family in their car so they could see and hike more. Most places were accessible, so I was able to join in the fun.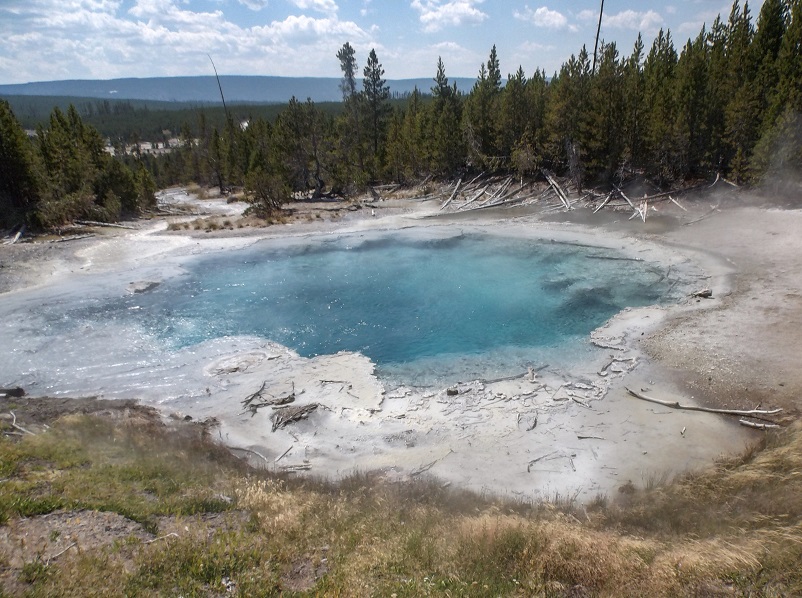 Tom provided transportation for our day trips. Our granddaughters enjoyed seeing the John Day Fossil Beds. We saw the 1870s Kam Wah Chung Museum. It had housed a Chinese medical clinic, store, community center, and residence. We visited the Sumpter Valley Dredge State Historical Area. The dredge, used for digging out gold, was built in 1935 and ran until 1954.
Sightseeing poses challenges for me, especially if we're traveling with others. We have to pack the wheelchair (or scooter) everywhere. With the chair, I have the option of standing up when we hit a short, inaccessible place.
Lazing around camp
Whether we spend hours or a day in camp, we stay outside as much as possible. I read or do computer work while reclining in the lounger. That allows my whole body to rest. Climbing into the pickup or the two steps to enter the trailer becomes more challenging as I fatigue. Sometimes, I can't do it without help. So, I try to think ahead and combine tasks. Cold increases fatigability and weakness. I cover up with lots of blankets to keep the cool out as we all sit around the campfire at night enjoying our time together.
So, is all the hassle worth it? You bet. Whatever your challenges, if you have equipment tailored to you and someone to help, you can get out into nature. Have fun enjoying the beauty!
About Carole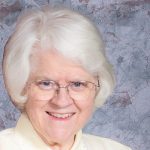 Carole lives in northeast Washington state with her husband who is her best friend and who takes care of her when she can't take care of herself. They have two happily married, successful professional sons. There are three adult grandchildren, three teens, and one still-growing grandchild. Writing as Connected Carole, she designed and runs the website Navigating the Storms for and about those living with invisible disabilities. She seeks to encourage and inform, including tips for dwellers and observers. Her dream is to see it be a place to find info and resources for those who struggle and for compassionate people who want to help.
You can also follow Carole on Facebook or Twitter.
Like this post? Pin it!