Last Updated on 13th September 2020 by Sarah and Justin
After much painstaking research, we can confidently say that Poland is our favorite country in Europe for craft beer. Our recent trip to Katowice proved this point yet again. We wrote this post to share some of the best places to try craft beer in Katowice. If you're a beer lover, a visit to at least one of these bars should be a must-do on your trip to the city.
Four bars to drink craft beer in Katowice
Over the course of two nights, we checked out four Katowice bars. They were all a bit different but all really cool and all great places to drink Polish craft beer in Katowice.
Kontynuacja
Kontynuacja was our favorite craft beer bar in Wroclaw, so we knew we had to visit it in Katowice. It was our first stop so we only stayed for one beer. It definitely had the same airy and hip vibe as the place in Wroclaw. They had 16 beers on tap from Polish and international breweries.
Kontynuacja also serves burgers and sandwiches – much of which is pastrami-based. We didn't dine there, but the menu looked good.
What we drank at Kontynuacja:
Luna from Browar Palatum – oatmeal stout (cask)
Hop Trilogy III from Piwne Podziemie – NEIPA
Where to find Kontynuacja: Staromiejska 8, 40-013 Katowice, Poland
Upojeni
We had a really fun night out at Upojeni. It has cooler, sleeker looking decor, but the vibe was still incredibly chill and relaxed. The bartenders there were very friendly and helpful. They let us taste most everything on their tap list (which had 14 beers) and made some stellar recommendations from their cooler of bottles.
Speaking of which, Upojeni has an amazing selection of bottles, both from Polish and international breweries. Standouts include the selections noted below, plus the B.O.R.I.S. The Crusher, an imperial oatmeal stout we discovered a decade ago and haven't found in many places.
Upojeni also serves a wide selection of food. We can only comment on the pizza, which was very good. We had a more traditional meaty spicy pizza (it was both meaty and spicy) and a more interesting pizza with pastrami, pears, and stinky cheese.
What we drank at Upojeni:
Cookie Monster from Inne Beczki – chocolate oatmeal stout (bottle)
1000! from Browar Pracownia Piwa – barley wine
Po Prostu Stefan from Browar Recraft and Upojeni (collab) – APA
OFYMD from Evil Twin – imperial stout with pineapple and coconut (can) – note, this is not a Polish beer, but is from one of the best craft breweries in the world and was indeed stellar
Where to find Upojeni: Świętego Jana 10, 40-012 Katowice, Poland
Biała Małpa
Biała Małpa is probably the most well-known and popular craft beer bar in Katowice. With up to 24 beers on tap it's not hard to see why. We were impressed with the range of options and really enjoyed our time hanging out there.

The bar is larger than it seems when you first walk in. Downstairs there are some tables plus a few seats at the bar. Then there's also an upstairs area plus a spacious outdoor area (heated in the winter).

Across the way there's also a Biała Małpa Mexico, which serves some pretty tasty Mexican food. You can order it there and eat it at the bar – they'll bring it right to you.
What we drank at
Biała Małpa

:
Milcoffell from Recraft – coffee stout (cask)
Jumbo Jungle from Inne Beczki – DDH IPA
Imperialny Porter from Bałtycki Browar Bury and Mason, The Garage Monks (collab) – imperial porter
Tropikalna Machlojka from Mermaid Brewing – passion fruit retro IPA
Where to find Biała Małpa: 3 Maja 38, 40-097 Katowice, Poland
Absurdalna
Absurdalna was the last stop on our craft beer tour of Katowice. We're glad we didn't call it an early night. Even though it's pretty big, it retains a super cozy atmosphere. There was art all over the walls and it was just very chill. They had an impressive selection of 15 beers on tap.
Absurdalna serves food as well, so it's a great place for a full night out.
What we drank at Absurdalna:
Porter Mass BBA from Pinta – Baltic porter with coffee, coconut, and maple syrup
Urgose from Ritterguts – Marzen Gose
DDH DIPA from Browar Jana – DDH double IPA
Where to find Absurdalna: Dworcowa 3, 40-012 Katowice, Poland
The best bottle shop for craft beer in Katowice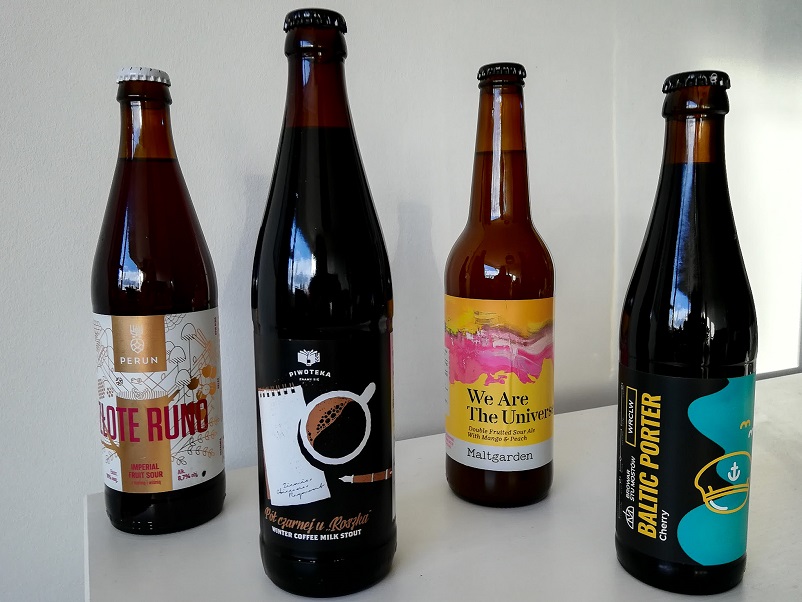 We wanted to bring some delicious Polish craft beer home with us, so we stopped by the highly rated bottle shop Chmielobrody – piwa kraftowe. It's a small store, but its walls are lined with a fantastic selection of beers. Most of their stock is Polish, and it was all pretty well-priced. There were things from breweries we'd heard of and tried and some completely new ones. It was incredibly fun to peruse our options, although we stuck true to our porter and sour loving selves with our picks.
What we bought at Chmielobrody:
Pół Czarnej U Roszka

from Piwoteka – winter coffee milk stout
WRCLW Baltic Porter Cherry Nitro from Browar Stu Mostow – cherry Baltic porter
We Are The Universe from Maltgarden – double fruited sour ale with mango and peach
Złote Runo from Perun – imperial fruit sour

Where to find Chmielobrody – piwa kraftowe: Słowackiego 31, 40-093 Katowice, Poland
The results
Our favorite bar for craft beer in Katowice
It's really hard to choose a favorite bar to drink craft beer in Katowice. If you only have time to visit one place, head to Absurdalna. We really enjoyed their tap list and the whole vibe of the place was super cool and unique.
Our favorite Polish craft beer in Katowice
Our favorite Polish craft beers we drank in Katowice are easier to choose. For Sarah it was the Cookie Monster at Upojeni. This was a beer the bartender recommended after Sarah tasted but didn't love two stouts on draft. It was sweet but not saccharine. Plus extra points for the label and name. Justin's favorite beer was Jumbo Jungle, a double-dry-hopped (DDH) IPA. We once didn't love IPAs but the new brewing styles have made them more accessible (or our tastes are changing as we age).
Turns out our two favorite beers were from the same brewery: Inne Beczki. We'd honestly never heard of them, and looking back at our notes from our other Polish craft beer pilgrimages, haven't tried them before. They're in Warsaw, and we did love Warsaw, so maybe we'll taste them again.
Na zdrowie!
Like this post? Pin it!