Last Updated on 23rd December 2019 by Sarah and Justin
Though we most often take city trips, we really do love the outdoors. We always seek out parks and gardens, and we also try to find fast and easy excursions out of a city into nature. Most recently, we found a great day trip from Dresden where we could do just that. We took a quick train to a small boat to hike to Bastei Bridge (Basteibrücke). It was the perfect way to get get a little exercise and see some beautiful scenery.
It was a really fun trip, so we wanted to share our experience especially for people worried about the level of difficulty (like we were). This post includes: how to get from Dresden to Bastei by public transportation, information about the difficulty of the Bastei Bridge hike, as well as beautiful pictures of Saxon Switzerland to hopefully inspire you to go.
About Bastei Bridge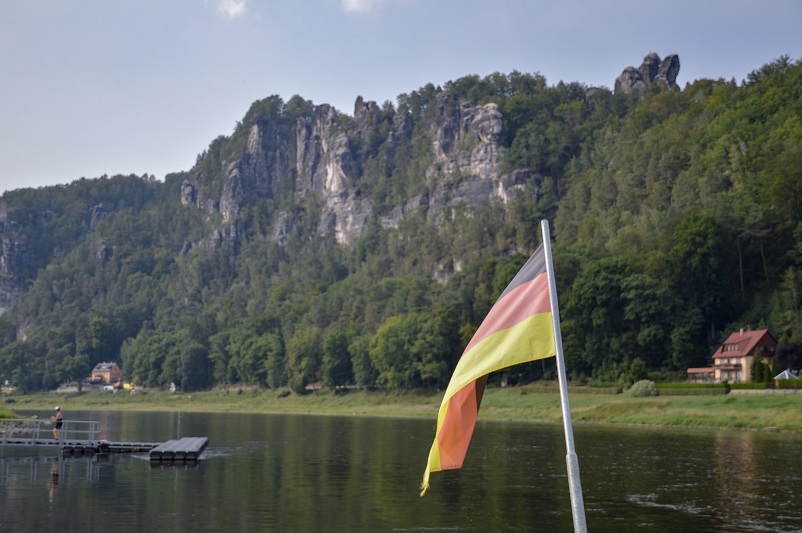 Bastei is a famous rock formation located in Saxon Switzerland National Park. It is a very popular tourist attraction (and has been for hundreds of years). It attracts hikers of all ages and levels and photographers. We read many reports about how crowded it can get, but it wasn't too terrible when we went.
The top attraction is Bastei Bridge (Basteibrücke). It is a sturdy and photogenic sandstone bridge connecting the rock structures. It replaced a wooden bridge that was originally built in the early 1800s.
Dresden to Bastei: step by step on public transport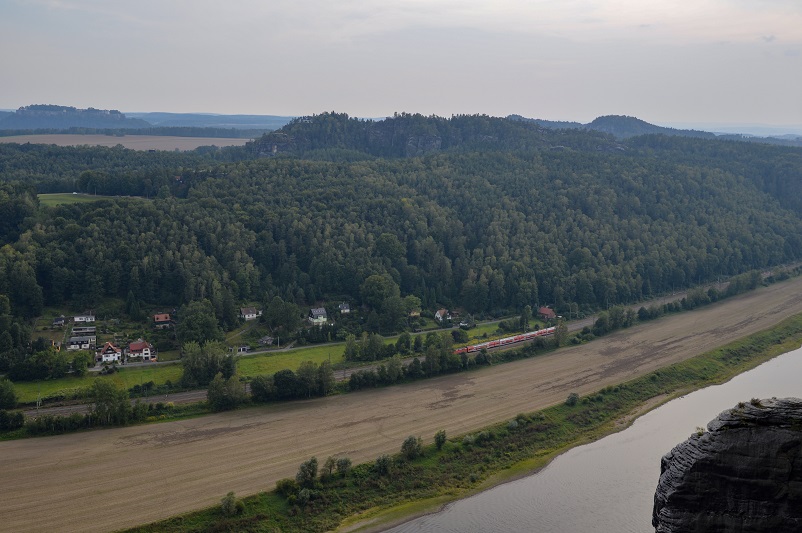 As far as day trips from Dresden go, this is probably one of the easiest. In just a half hour, you're out of the city and in the middle of beautiful Saxon Switzerland!
We were staying close to Dresden Hbf, so that's where we started our journey. But you could start from any other main train station in Dresden as well. There's a direct train from Dresden to Rathen Kurort every half hour. That's where you want to get off to start your hike up to Bastei.
One-way tickets cost 6.50 EUR, but you can also save money by buying a family or group ticket. For example, we bought a family day ticket (which is good for two adults and two children) for 20 EUR. If you use the DB website or app to buy your tickets, you'll see a bunch of different options at check-out.
After getting off the train, follow the small road to the Elbe River (less than 5 minutes) and you'll see a small dock. Here you have to buy a boat ticket, which was 2 EUR for a round-trip. Note, they only take cash. The boat trip across the river takes another 5 minutes.
You're now on the other side of the Elbe in the very adorable town of Rathen. Just follow the main road along the small stream and turn left when you see the sign for Bastei. And then you're ready to start your journey up.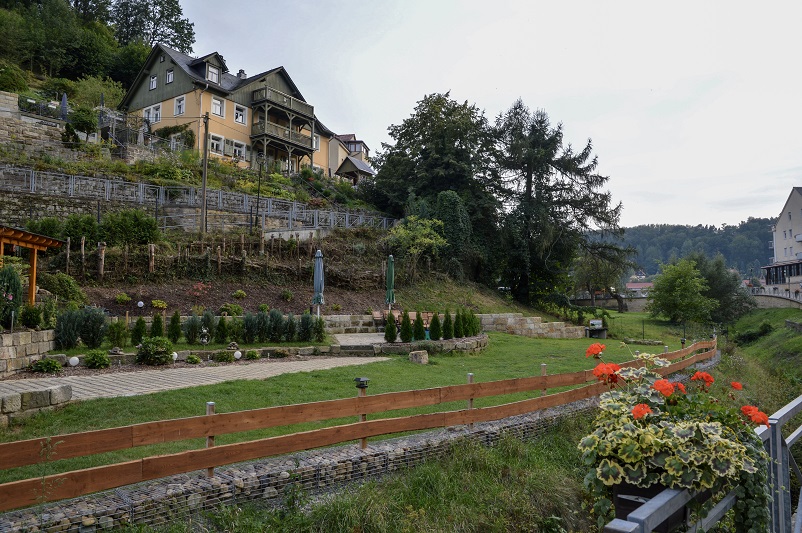 How long do you need for a day trip from Dresden to Bastei
Our trip from Dresden to Bastei could easily have been combined with something else in the region. In total, it took us 3 1/2 hours.
Our train out of Dresden left at 3:29pm, and we arrived in Rathen a little after 4pm. Our return train left at 6:21pm and arrived at Hbf a little before 7pm. This was probably the quickest we could have done the trip. We only had to wait about 10 minutes for the ferry boats (total for the round-trip journey) and 10 minutes for the return train. As you'll read in the detailed report below, we didn't linger long at the top of Bastei. And we didn't stop for an ice cream in Rathen (though it was tempting).
Bastei Bridge hike: difficulty and accessibility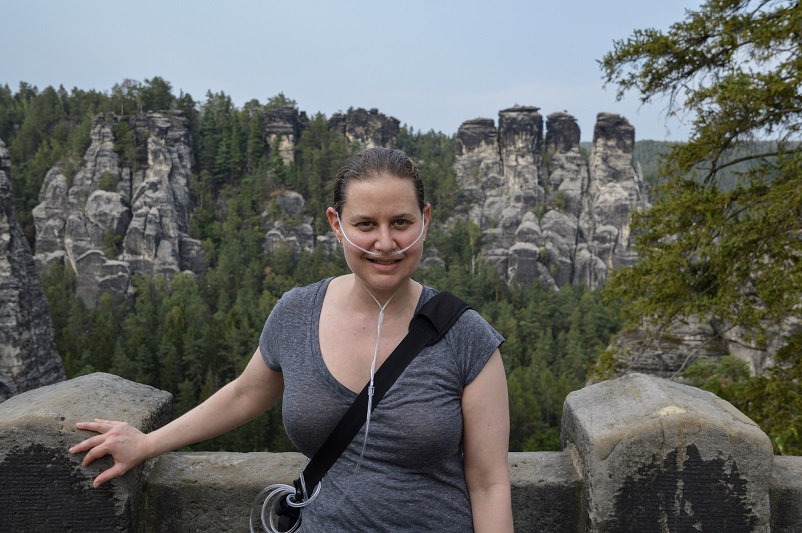 Given Sarah's condition and mobility limitations, we were a bit hesitant to go on this hike. We read as much as possible about what it entailed to try to determine the level of difficulty, but when we searched for things like "difficulty of Bastei hike" or "how hard is the hike to Bastei Bridge" or "Bastei accessibility," we didn't find exactly what we were looking for. Many people said it was easy, while many others said it was quite difficult.
We went for it (with Sarah's portable oxygen concentrator of course) thinking if it was too difficult, at least we'd gotten out of the city for a bit.
And it was a great decision: the hike was taxing, but quite manageable. We wanted to write up exactly how hard it was and what the hike entailed to help others who might be looking for similar information.
Detailed hike report
The hike up to Bastei consists mostly of a lot of very well-maintained stairs. There are no trails to find or rocky bits to scramble over, but it is up up up the whole way. It took us about 45 minutes to hike up to the tippity top. Along the way we stopped twice for pictures, and of course did the same at the top (all totaling about 15 minutes). It took us about 15 minutes to walk down. In total, we were on the hike for about an hour and 15 minutes.
The first half of the hike is through forest. On the really hot day we went, the shade was quite welcome. There are no flat bits during this part. So rest came just whenever it was needed.
When the forest cleared for the first time, came the first big viewpoint with a nice flat and an opportunity for a break. This was about 15-20 minutes in for us. This may not sound like a lot to more experienced hikers, but when going up hill or up stairs, Sarah needs to stop to catch her breath relatively frequently (even with the help of her oxygen machine).
The view from this first point, behind a large rock, is of the Elbe River below and the region spread out around it. Even at this lowest lookout, we understood the name "Saxon Switzerland." If we had decided that the rest was too hard for Sarah, we would have been happy to have just gotten here. But after the short rest, we were ready to move on and continue upward.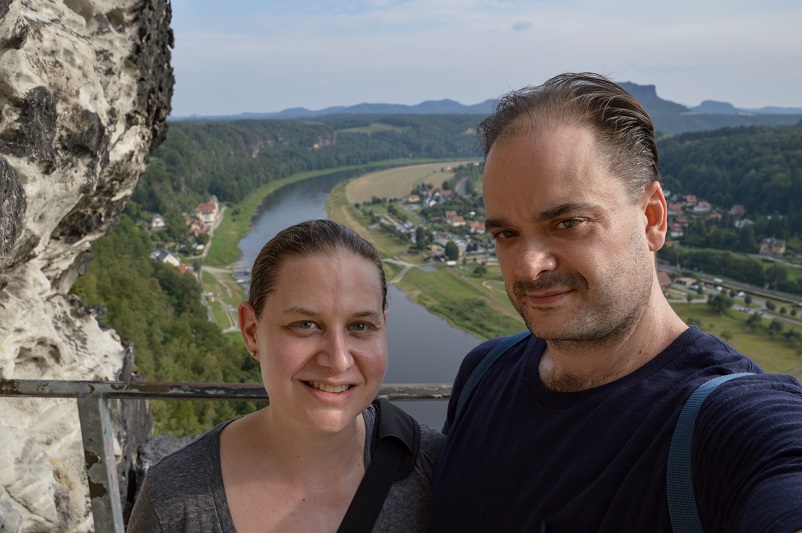 Neurathen Castle
After going up more stairs, you'll reach the entrance to Felsenburg Neurathen. It's a paid part of the hike, where you can explore the ruins of this medieval rock castle. It only cost 2 EUR, but we were more interested in getting to Bastei Bridge and the other viewpoints, so didn't go in. You can read more about the history of the castle and the experience on their website here.
Bastei Bridge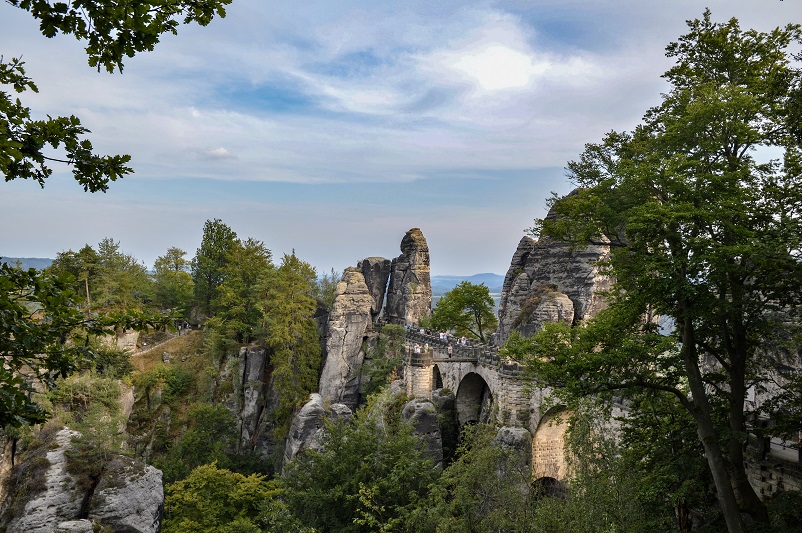 After passing by the entrance to Neurathen Castle, and up a few more stairs, we were finally at Bastei Bridge (Basteibrücke in German). This is definitely the highlight of the trip. You walk on a bridge surrounded by rock formations and gorgeous panoramic views. It's an incredibly unique spot.
Unfortunately, the most popular viewpoint on the hike (from where all the really great pictures are taken) was closed when we visited. But we were able to get the above pretty good shot of the bridge from a small spot close by. Just turn right before heading up the stairs to the final viewpoint.
Final viewpoint: Berghotel and Panorama Restaurant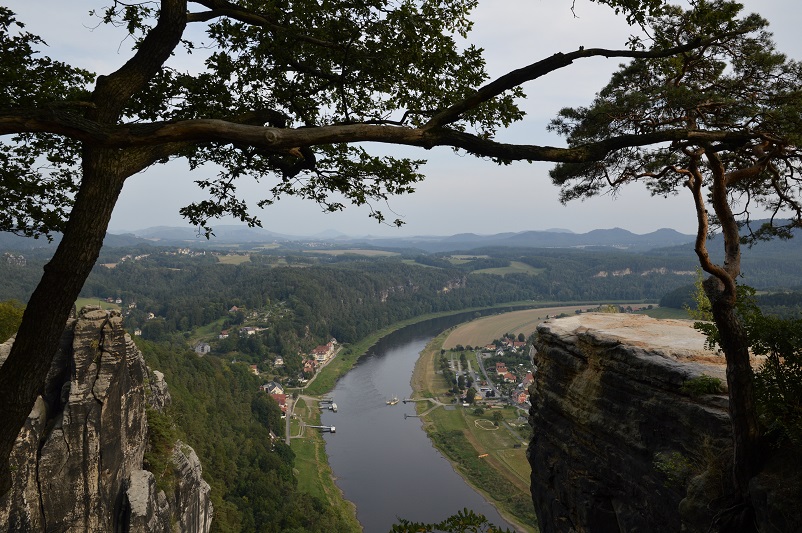 Just a few more flights of stairs will take you to the final, highest viewpoint where you can truly see the whole region spread out beneath you. If you want to spend a bit more time up here relaxing and enjoying the view, you can grab a drink or a meal at the restaurant or you can even stay the night at the Berghotel. We just took it all in before heading back.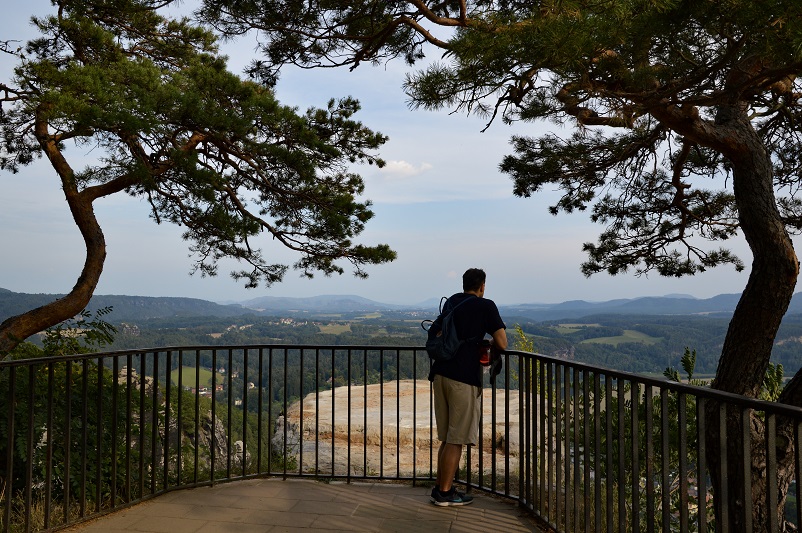 The return trip
We contemplated continuing on a longer hike to the next town, Stadt Wehlen, to catch the train from there. It's a well-trodden route known as the Golden Triangle. But we hadn't done our research on the level of difficulty of that part of the route, and Sarah's oxygen machine had less than an hour of juice left. So we decided not to take the risk. Instead, we just made our way down all those stairs (much to the dismay of our aging knees).
Level of difficulty and accessibility of Bastei hike
Here's our general assessment of the level of difficulty of this hike. If you're an experienced hiker and/or you're fit, you'll find it very easy. If you're in less good shape, but have no problem climbing a whole bunch of stairs, you'll also think it's pretty easy. If it's hard for you to negotiate stairs, you'll likely find it difficult. If you need to use supplemental oxygen for exertion but otherwise have a pretty good level of fitness (like Sarah), you'll find it challenging but doable.
We saw people of all ages on this hike and no one was in trouble. We saw people in all types of footwear but would always recommend wearing comfortable, sturdy shoes any time you're hiking. We saw someone with a pram, which we thought was very impressive. As is probably obvious from the many mentions of many stairs, this hike is not at all wheelchair accessible.
Best time to hike to Bastei
We visited Dresden, and completed this hike, in late August. Unluckily for us, the region was in the middle of a heat wave, with temperatures reaching 33°C. Given this, we waited until later in the afternoon to take our trip to Bastei. Even though the temperature was still high, we avoided the sun.
We also read that this is one of the most popular tourist attractions in the region, so we went at this time to avoid the crowds as well. There were people with us on the trail the whole time, but we did have some quiet moments to ourselves to enjoy the scenery. Bastei Bridge was most crowded, and we had to wait our turn for a picture at the most scenic spot. We also saw a photo shoot at Neurathen Castle.
It would have been lovely to see sunset, but that happens a bit late in summer. And of course visiting during autumn, when the leaves are changing, would be stunning.
Like this post? Pin it!