Last Updated on 8th January 2019 by Sarah and Justin
We've visited several different places in Poland and truly loved them all. Wroclaw has been on our list for a while, and is the type of city break that we imagined we would take once we were living in Europe. So when we saw a super cheap fare to fly there from Eindhoven, we jumped on it. After spending three nights in Wroclaw, we can confirm it makes for an easy, inexpensive European city break. Here's everything you need to know to enjoy your time there including things to do in Wroclaw, where to eat in Wroclaw, and (we think most importantly) all about the Wroclaw gnomes.
Introduction to Wroclaw, Poland
Wroclaw is one of the bigger cities in Poland, and a growing one. It's nestled in the southwest part of the country, convenient to Kraków, Poznan, and the mountainous region on the border with the Czech Republic. The currency in Poland is the Polish Zloty. Prices aren't what they were 15 years ago, but will still be very good value for anyone coming from the US or most EU countries.
Every post on Wroclaw mentions this but, we would be remiss if we didn't as well… So you're clear on how to pronounce the name of the city you're visiting, it's not "row-claw" – it's "vrots-waff."
Getting in and out of Wroclaw
Served by some smaller, budget airlines (we flew on Wizz Air for 15 EUR each) Wroclaw airport (WRO) is small, easy to manage, and well-connected to the city center. There's a public bus that goes right into the center of Wroclaw in about 45 minutes. You can buy tickets at a machine at the bus stop or on the bus itself.
The Wroclaw train and bus stations are about a 20 minute walk from the center of the Old Town. We walked through the train station and took the bus from the bus station (to Prague!). Both of them seemed very well organized and easy to navigate. And there are supermarkets located in both buildings so you can stock up on supplies before a trip out of the city.
The gnomes of Wroclaw
So now that you've successfully made it to Wroclaw it's time to search for gnomes. That's right. Wroclaw is known for its gnomes (locally called "krasnale"). You can find hundreds of very small sculptures throughout Wroclaw. They started as a peaceful protest to communism. Now they are Wroclaw's number one tourist attraction (ok… we don't have a source to back that up, but they were surely one of the main reasons Sarah wanted to visit the city).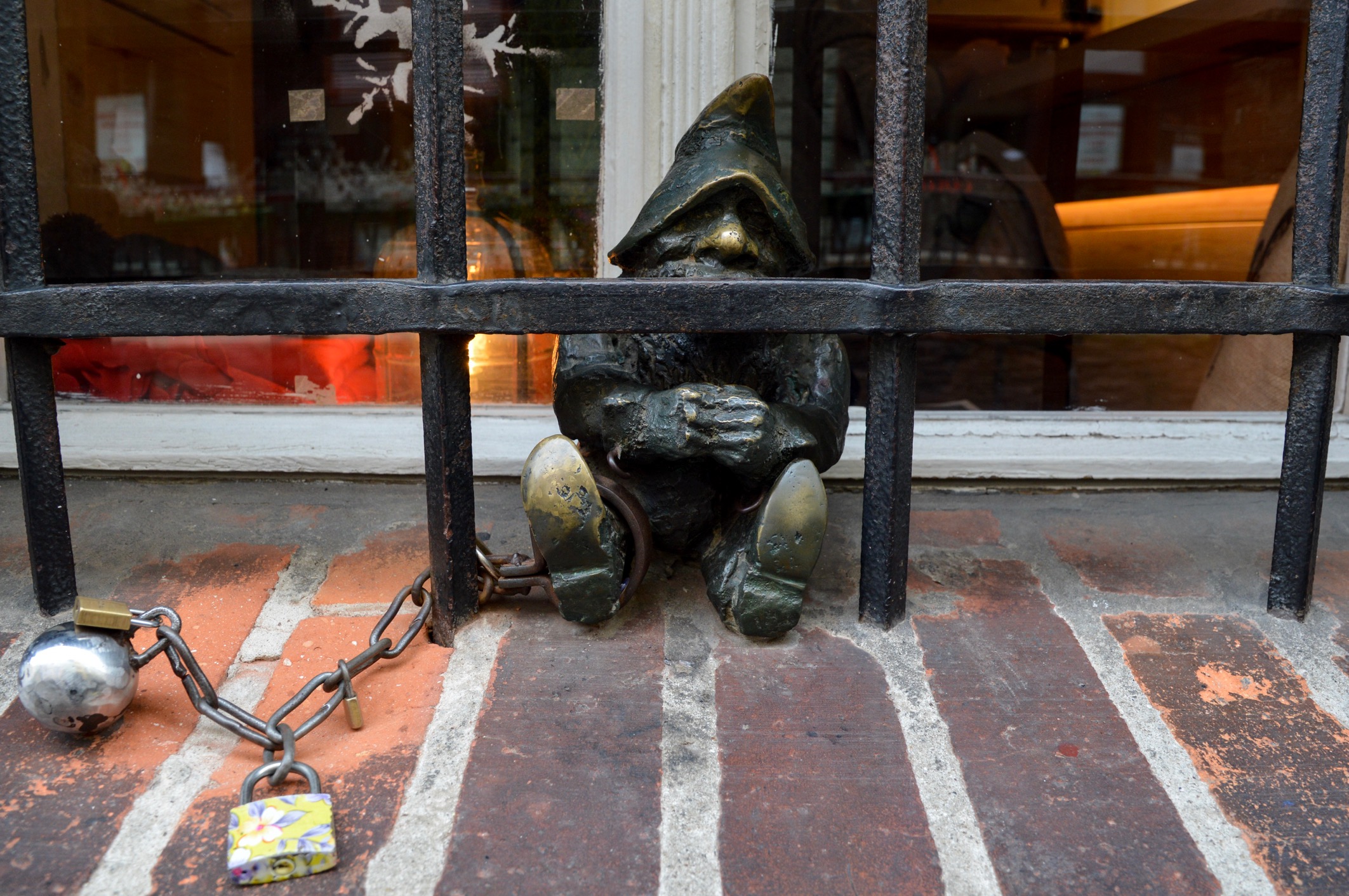 So where can you find the Wroclaw gnomes? Everywhere! Seriously… they are all throughout the city. You'll see these diminutive fellas hanging out on street corners, in windows, in front of stores, on the waterfront… you name it! You can take a tour where they'll point them out to you and tell you some history, or buy a guide from the tourist information office, but we really enjoyed stumbling upon (or into if we weren't careful) them ourselves.
There is a large congregation of gnomes in the Market Square (Rynek), so that's a good place to start finding them. But just keep an eye out wherever you're walking because you never know when one will sneak up on you. Also, taking pictures of the Wroclaw gnomes is good exercise… Sarah did a ton of squats to get down to eye level with these tiny little guys.
Does Wroclaw have the most beautiful market square?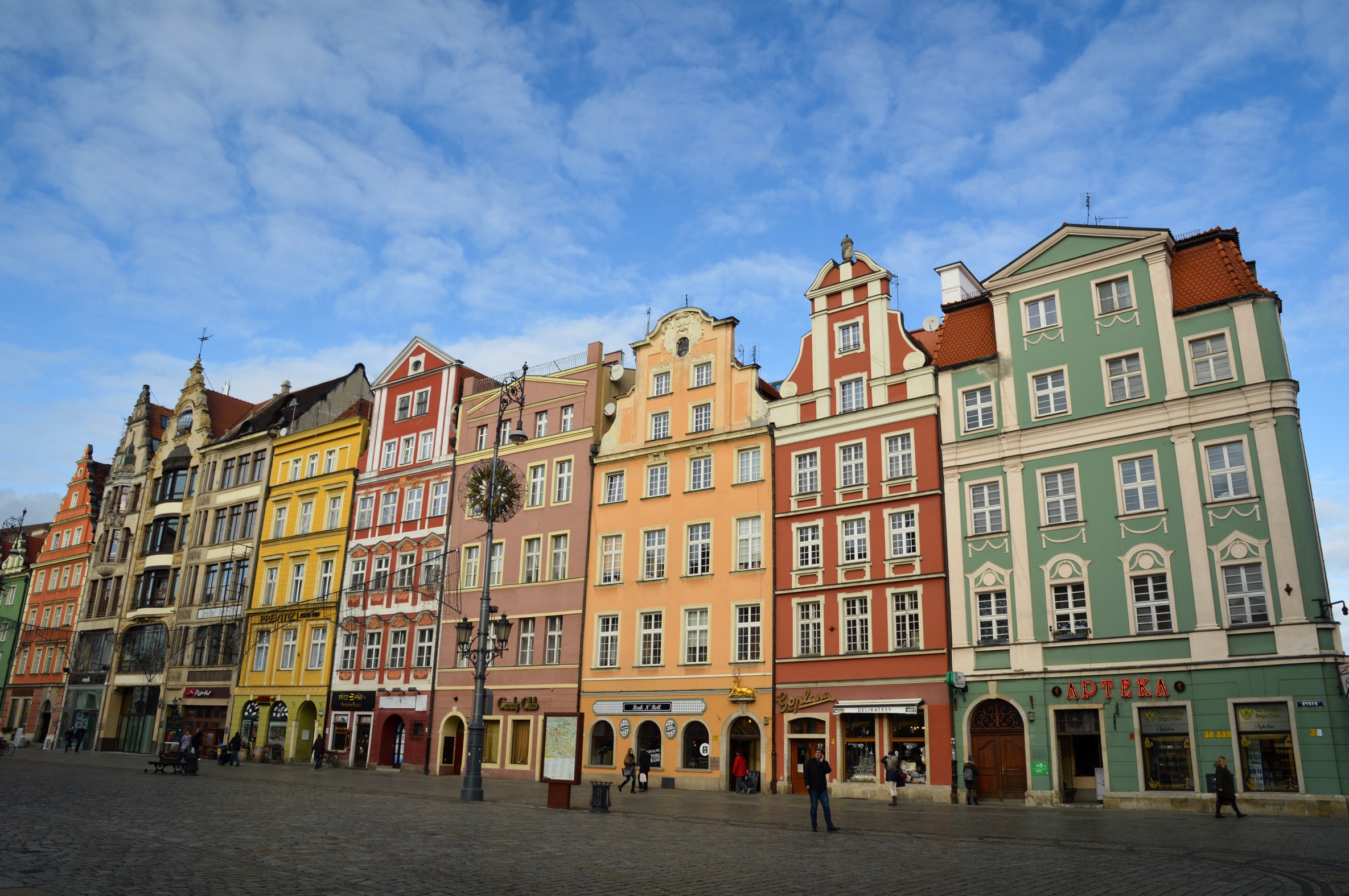 So we didn't visit Wroclaw just for the gnomes. We had seen pictures and knew its main market square was thought to be one of the most beautiful in Europe. We're not sure it can stake the claim as the most beautiful (Sarah still has a soft spot for Brussels) but the Wroclaw Rynek is close.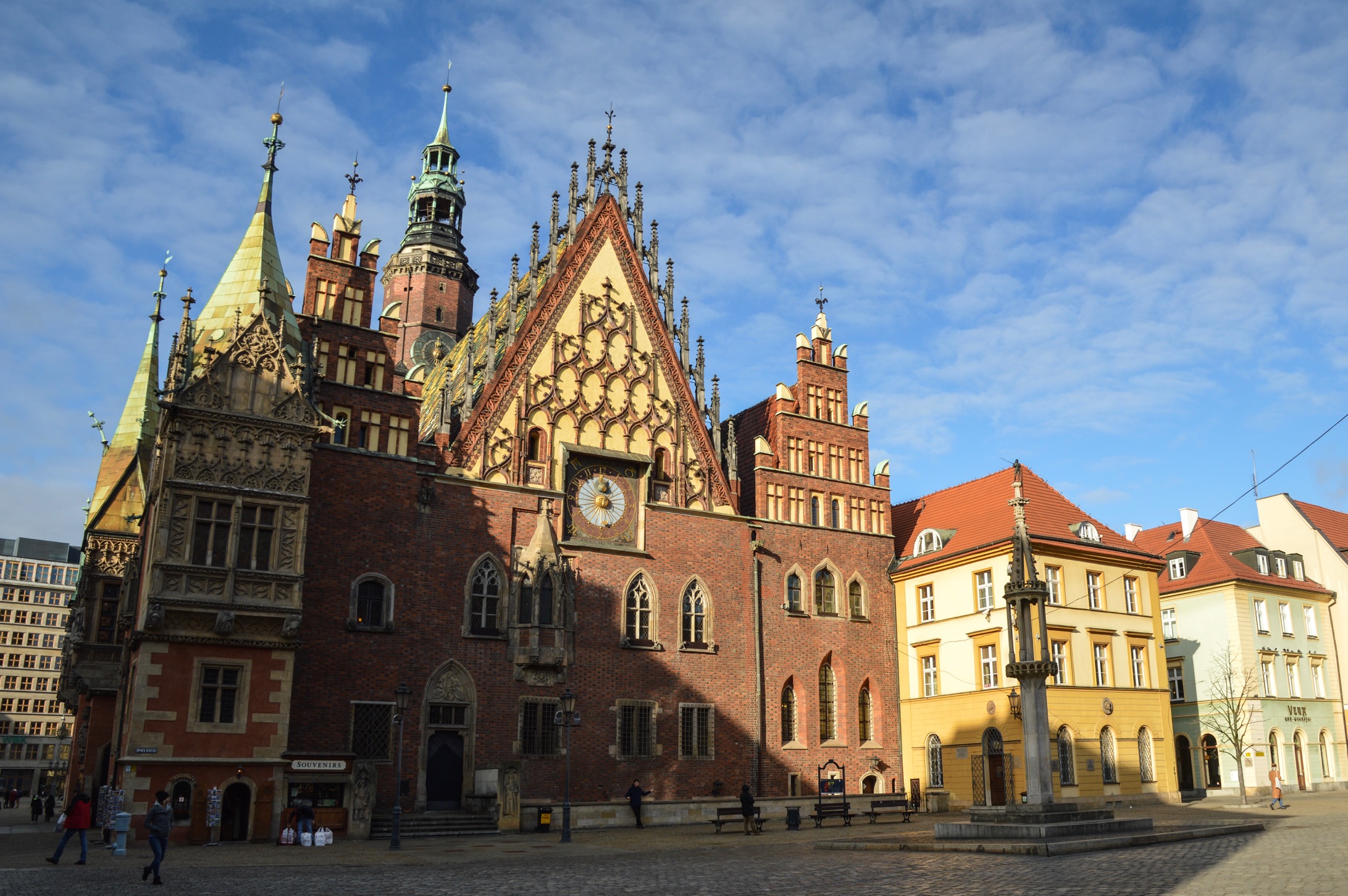 The ornate medieval Old City Hall building is the centerpiece of the Wroclaw Rynek. But all of the streets and colorful buildings in the Rynek are quite beautiful and impressive.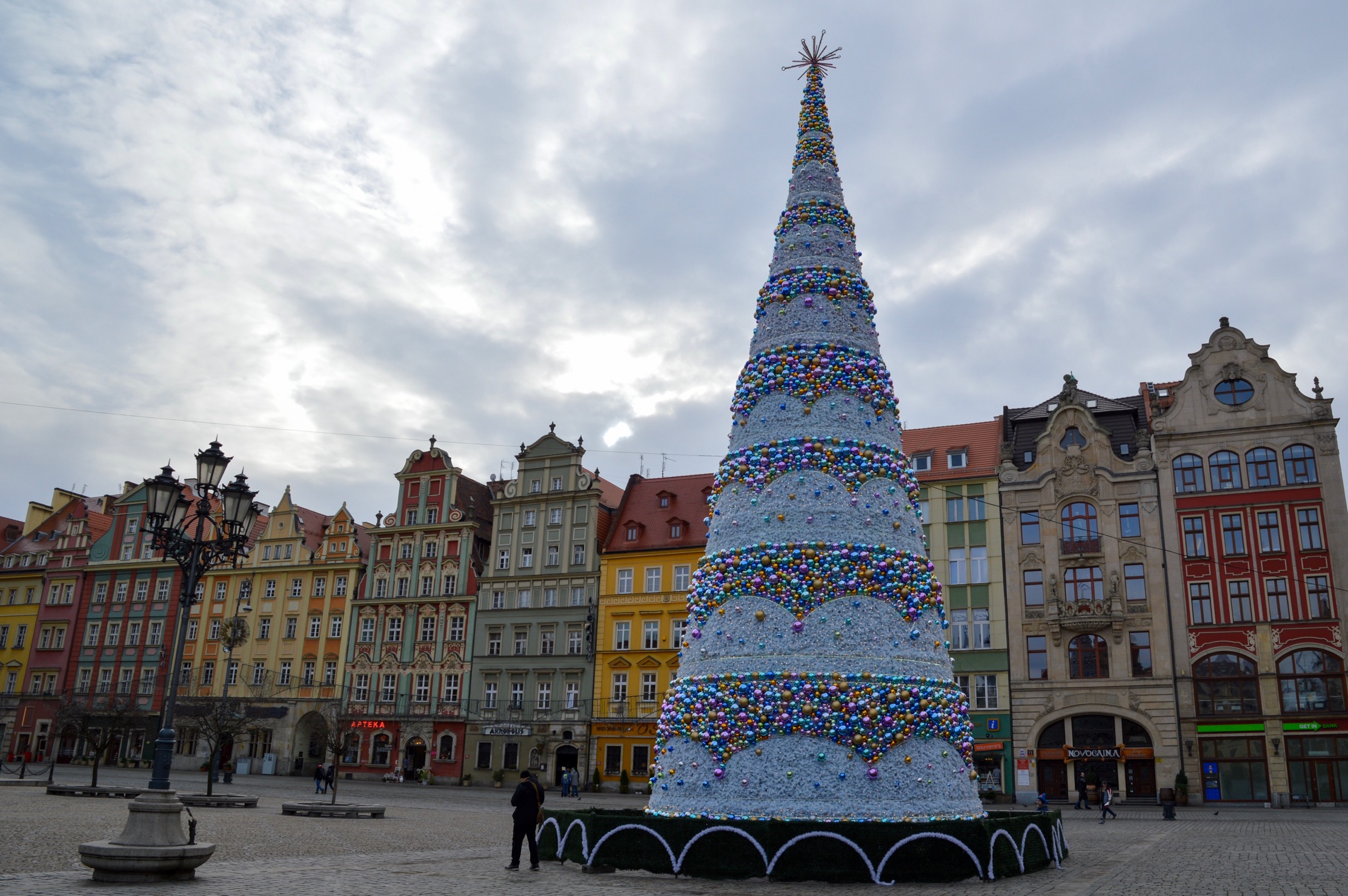 We visited in January and the Christmas decorations were still up, which made the square even more festive.
Beyond the Rynek
Wroclaw's Old Town further encircles the Rynek and is easy and relatively quick to walk through. Don't worry if you get a little lost walking through its small, winding streets – you're pretty much guaranteed to always find your way back to the Rynek or to the Oder River.
The Oder River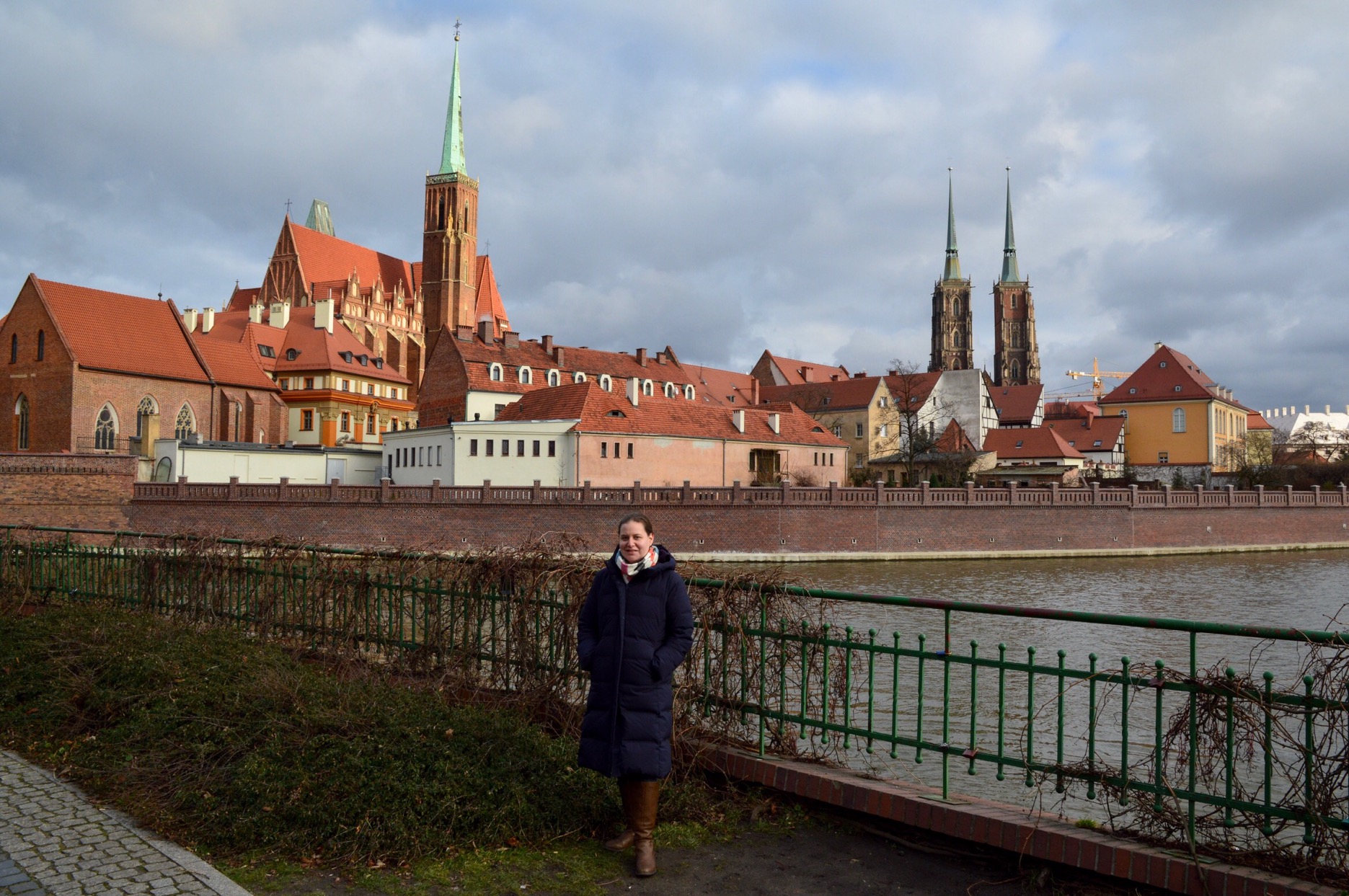 The Oder River runs up on the north side of the touristic center of Wroclaw. We suggest walking along it whenever you can. And definitely take a stroll across Most Piaskowy to the small islands.
The Cathedral of St. John the Baptist is across the way in an area called Ostrów Tumski (Cathedral Island). It's the oldest part of Wroclaw, with excavations showing people settled there as early as the 10th century. Of course, this name is now confusing since it hasn't been an island since the 19th century. Regardless, the cathedral is quite impressive and definitely a must-see in Wroclaw.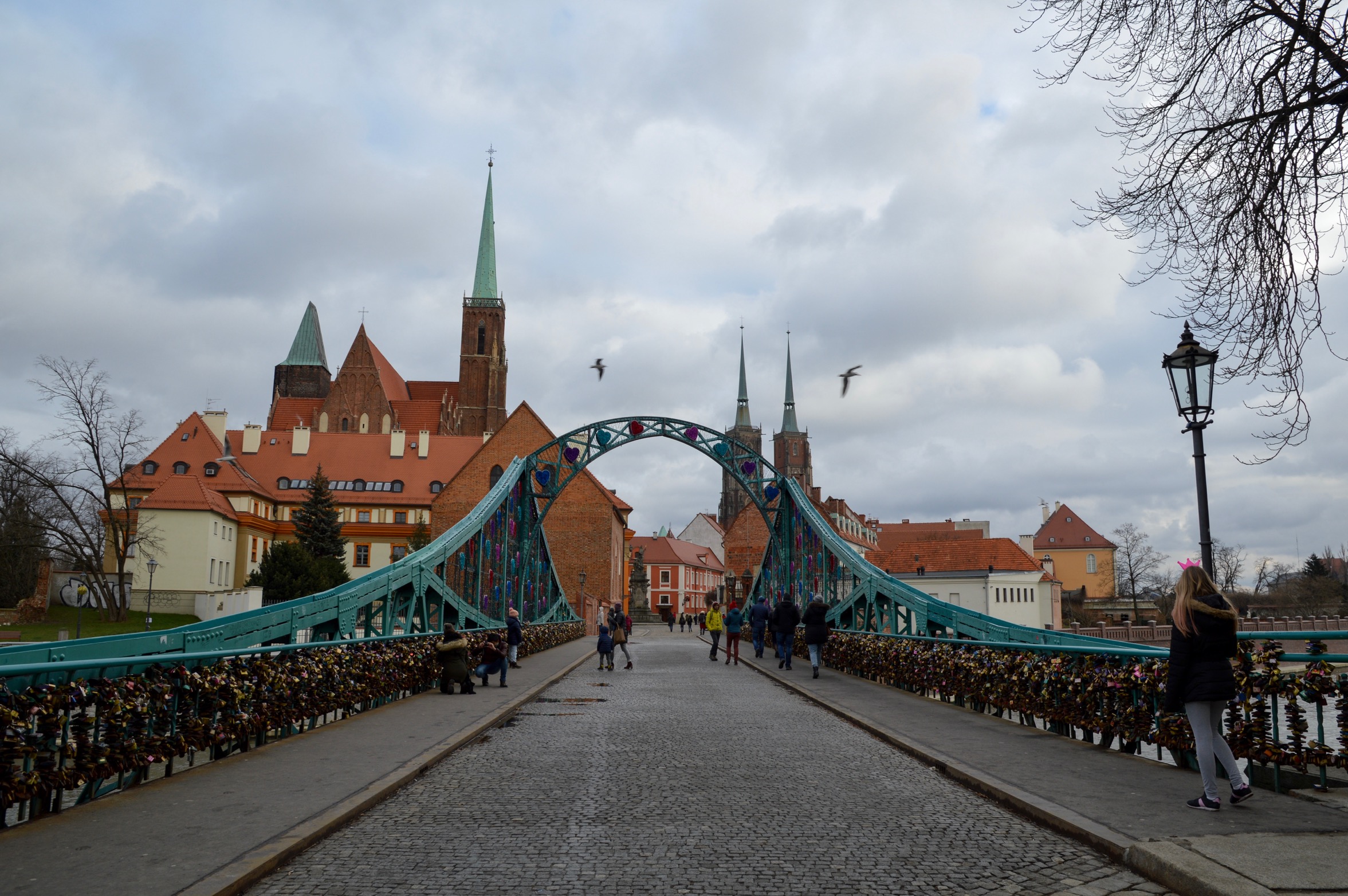 Most Tumski, a popular bridge for photographers given its bright colors and multitude of locks, leads up to Ostrów Tumski. If you want a picture without too many people get there early or use Photoshop.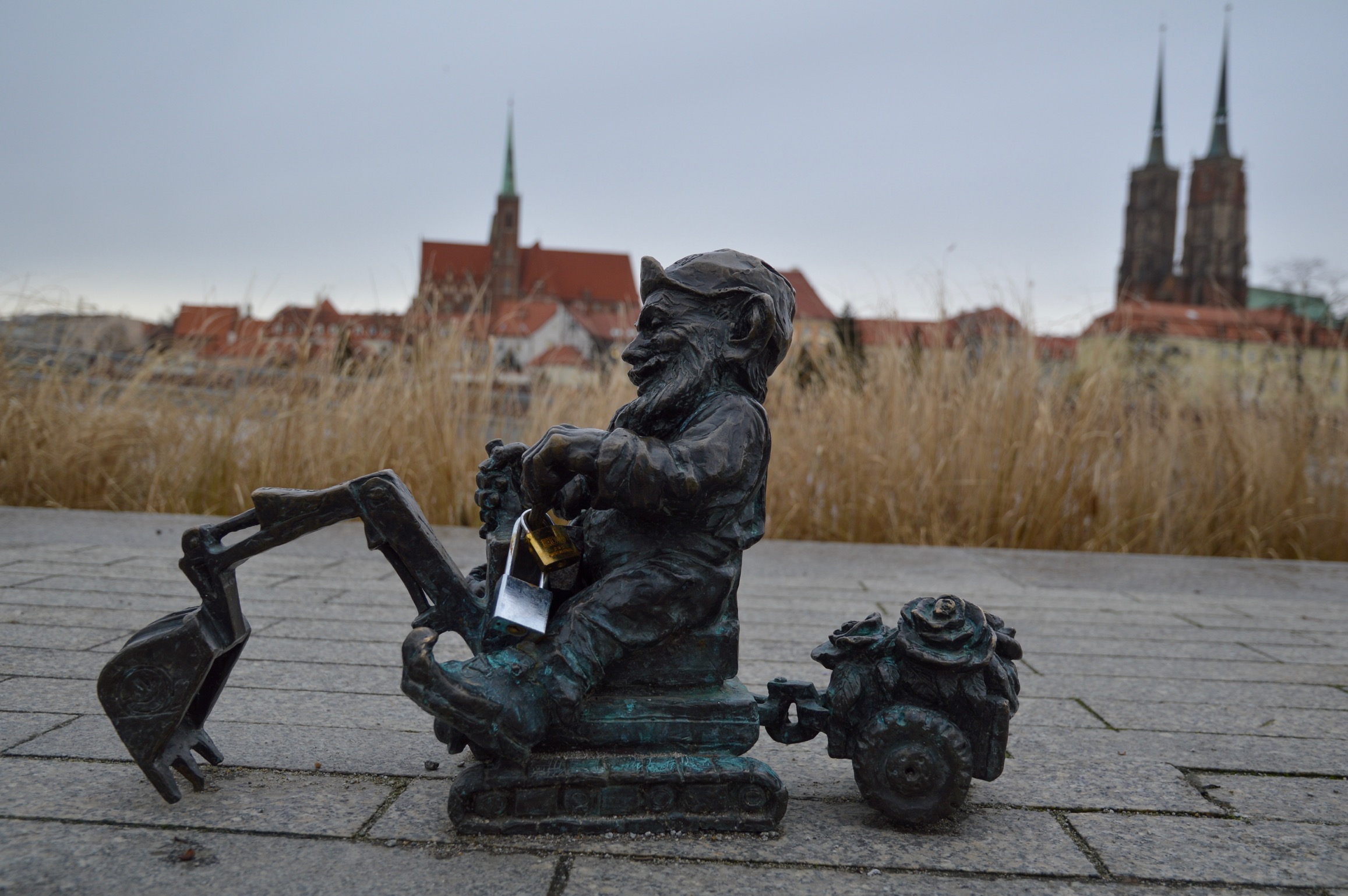 Though Ostrów Tumski is worth exploring, a particularly nice walk along the Oder River can be found back across the way on the banks of the main part of the city. There's a small park in front of a small hill/site known as Bastion Ceglarski. The walk back in the direction of the Old Town is picturesque and offers great views of the cathedral. And it was there we found our favorite gnome hard at work!
Wroclaw Museums
With its gnomes, Wroclaw itself is like one big open air sculpture museum. But if you want to see even more art or learn some history, there are quite a few real museums in Wroclaw. Here we only discuss two (although full disclosure, we only went to one).
Racławice Panorama
The Racławice Panorama is a very large circular panoramic painting depicting the battle of Racławice. It opened to the public in the late 19th century in Lviv and moved to Wroclaw in WWII. However, due to the communist government, it was not restored and reopened to the public until 1984.
The Historical Museum
We like free attractions and we like learning about the history of a city we're visiting. It also started snowing really hard one day, so we went to the Historical Museum in Wroclaw. The museum has exhibits you have to actually pay for, so when you ask for tickets, they will tell you the price assuming you are going to pay. Just say you want to go to the free section and they'll point you in that direction. It's a pretty impressive three floors about the history of Wroclaw.
The Anonymous Pedestrians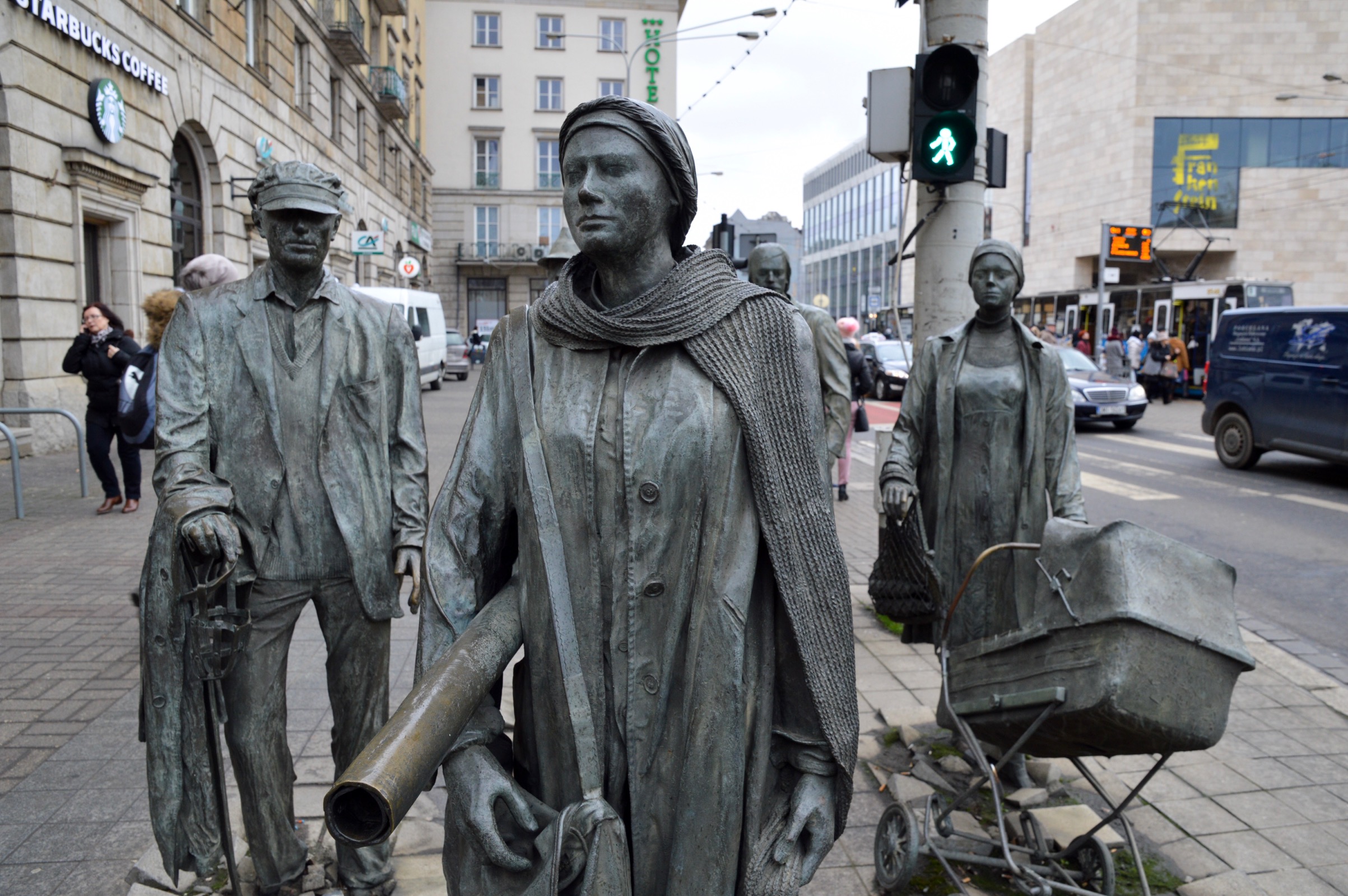 So this isn't a museum, but is a really cool public sculpture (that isn't shaped like a gnome) in the middle of one of Wroclaw's busy intersections.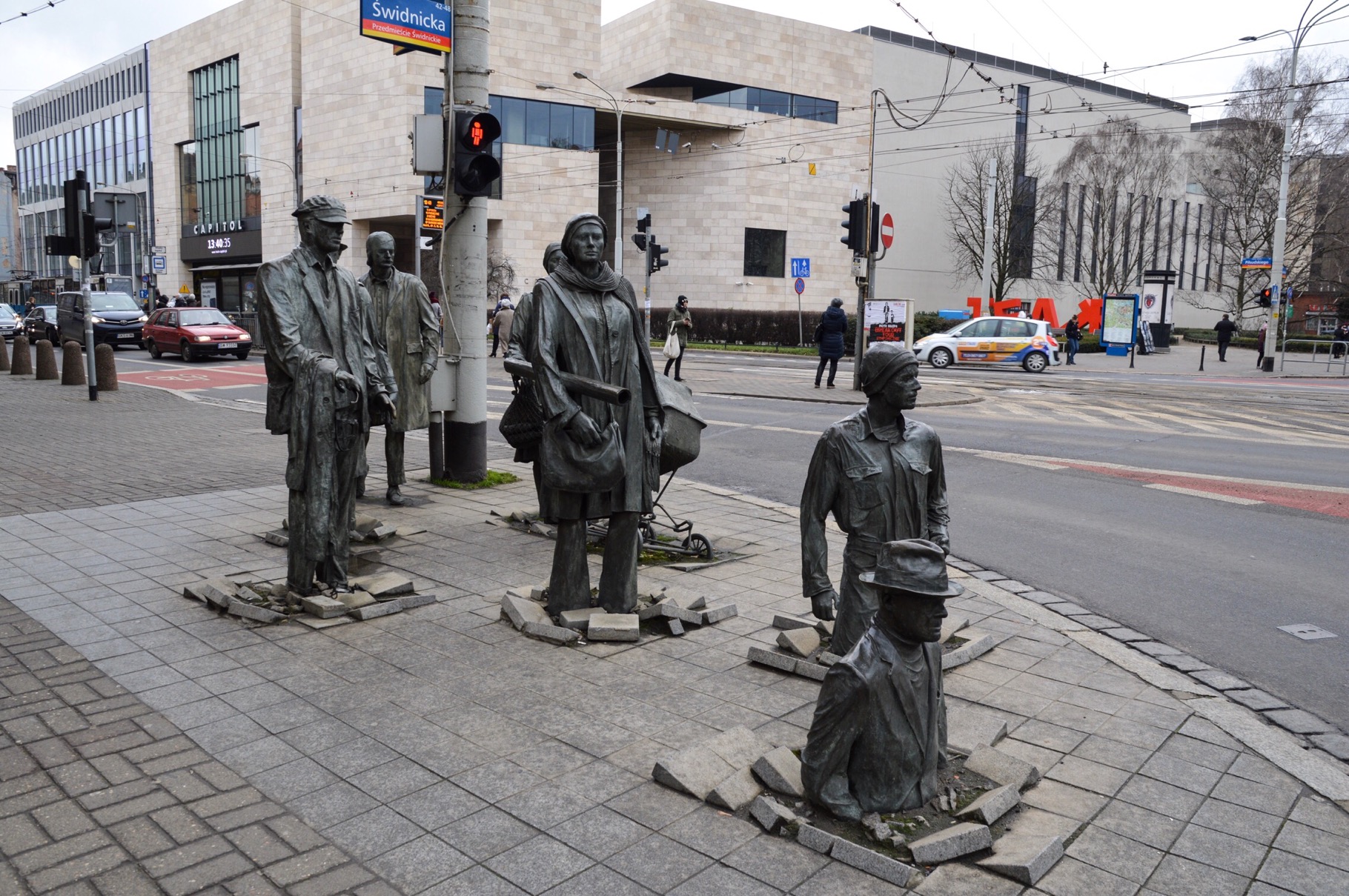 You can find the Anonymous Pedestrians sculptures at two corners of two big streets: Piłsudskiego and Świdnicka.
Where to eat in Wroclaw
Pierogarnia Stary Młyn
Pierogarnia Stary Młyn is the most popular restaurant in Wroclaw. As such, it's a bit touristy and we were hesitant to try it. Thank goodness we did. Yes, the restaurant looks and feels touristy. Yes, you'll be dining with plenty of other tourists. And yes, the prices are much higher than other pierogi places in Wroclaw. But, it's worth it. There are two types of pierogis: the standard steamed pierogis are quite good, but the baked pierogis are out-of-this-world delicious. Go hungry so you can try different types.
Jacek and Agatka Milk Bar
We wanted to go to a milk bar in Wroclaw so found a few on Google Maps and Jacek and Agatka was the one we ended up being closest to. We really really enjoyed it. Honestly, after all of our dining experiences in Poland, we don't think you can go wrong with milk bars! They have solid, inexpensive food and it always feels like you're eating in a local spot. Because you are. Even if you don't speak the language (which we don't), you can get by looking at what's on offer and pointing and shrugging and smiling (a lot!) and it always seems to work out. Worst case, just order the pierogis. They're always great.
Targowa Craft Beer and Food
Targowa looks touristy, but it didn't feel touristy. It feels more like a cool chain beer bar. But it's not a chain. It's just a really great beer bar and restaurant. The selection of beer on tap was incredible and the food was quite tasty. We even ordered salads! Granted (as you can see in the picture) it wasn't the healthiest of salads, but still… we ate fresh vegetables in Poland!
Zupa
If you're looking for something lighter and not so obscenely carb-heavy, we recommend Zupa, a small soup bar in the center of the city. They have a whole bunch of different soups every day and they'll happily explain to you (in English) what they are.
Where to drink in Wroclaw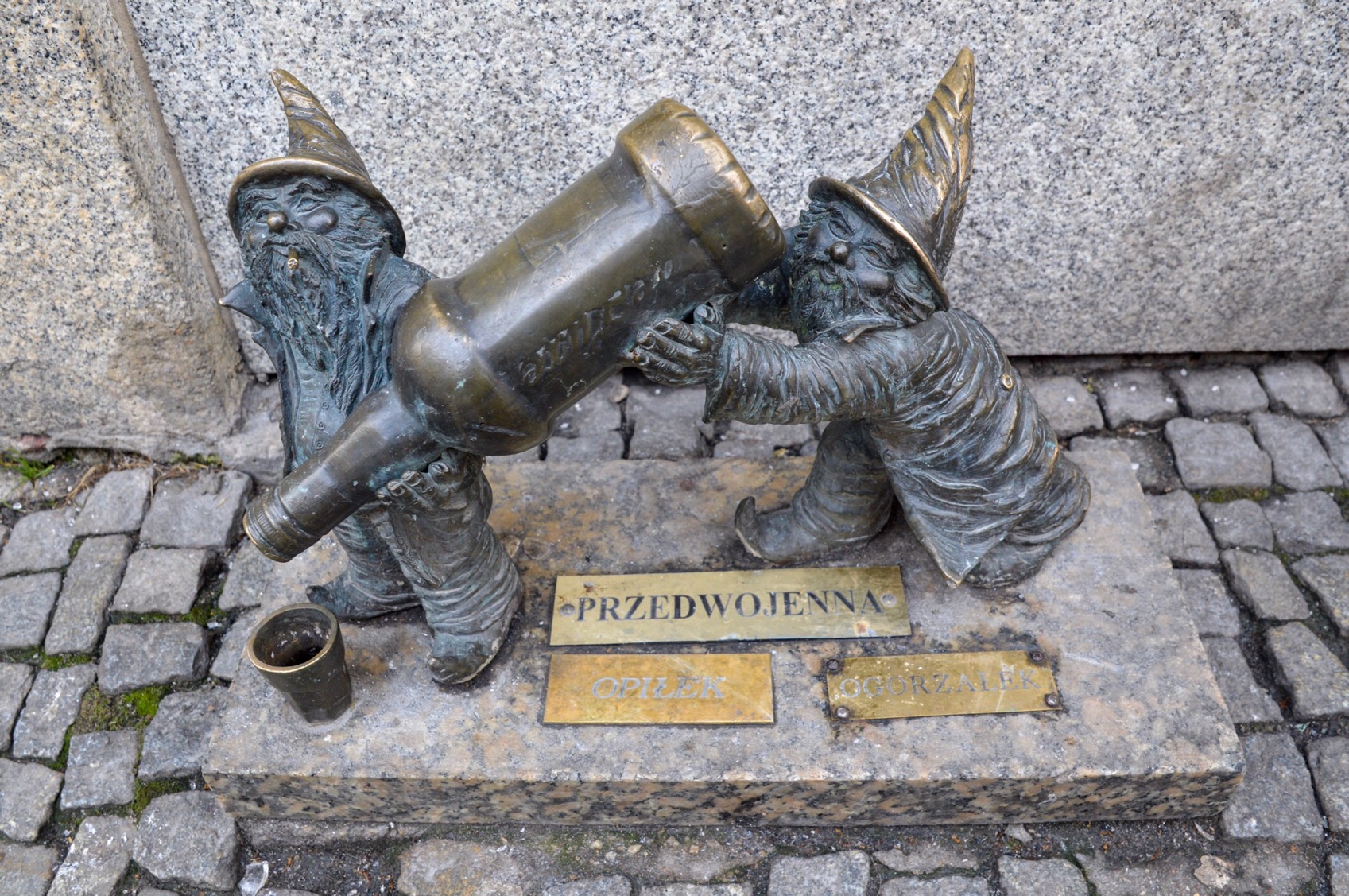 We drank a good deal of really good Polish craft beer in Wroclaw. Our favorite spots were the already mentioned Targowa and a smaller, more local feeling bar called Kontynuacja. If you want more recommendations, we actually wrote a whole separate post all about craft beer in Wroclaw.
Accessibility in Wroclaw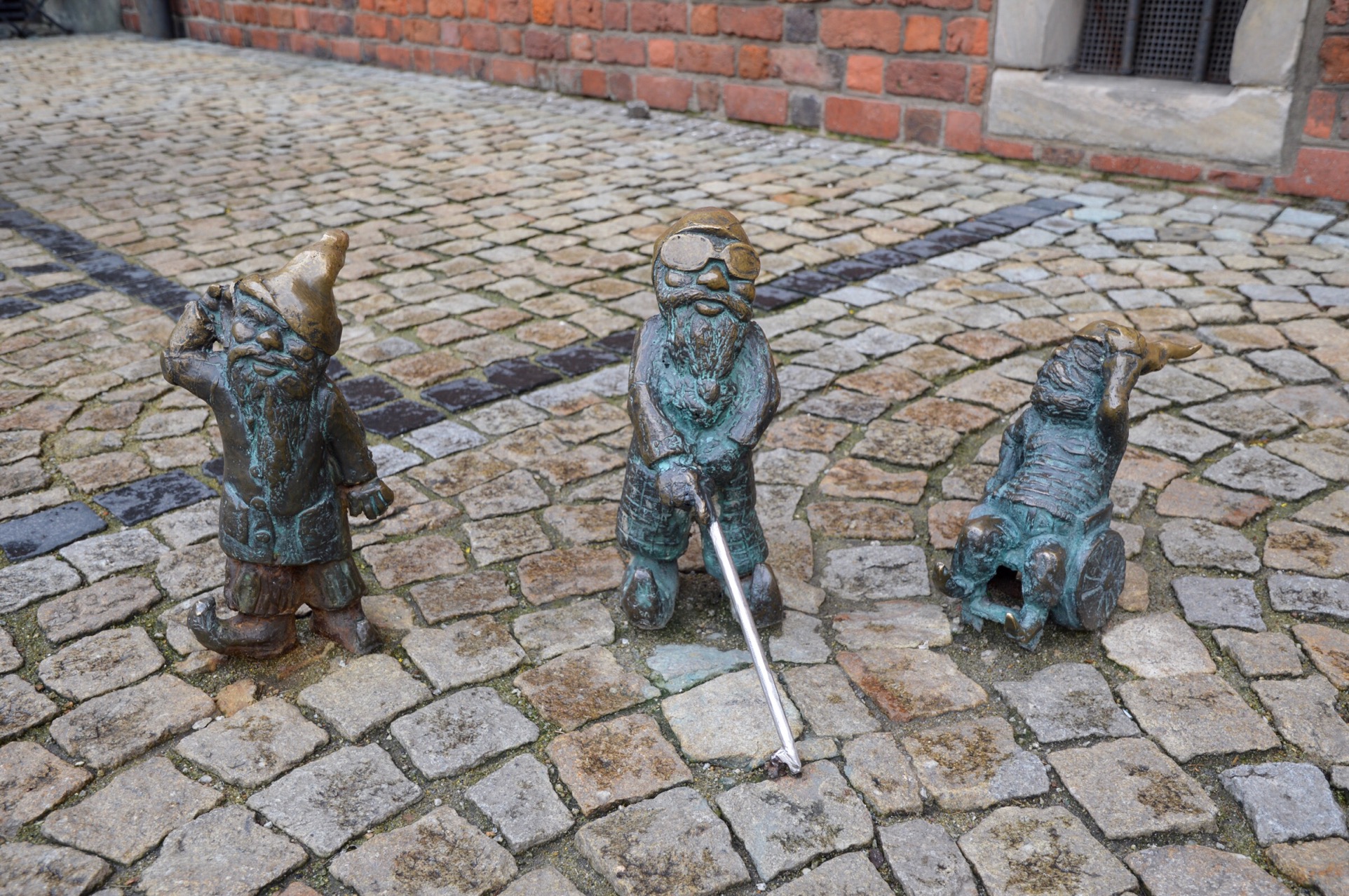 Wroclaw is a fairly flat city, so it was easy and manageable for Sarah to walk around. However, in the Old Town there are plenty of narrow, cobblestone streets. Public transportation in Wroclaw is plentiful, and the buses are wheelchair-accessible. Unfortunately, the tram system is not fully accessible, although it is currently being updated.
Visiting other destinations in Poland? Read our guides to Kraków and Warsaw next. 
Like this post? Pin it!