Last Updated on 8th January 2019 by Sarah and Justin
We visited Bremen, Germany during a Christmas Market trip this past December. We would have been happy enough to just sip Glühwein and enjoy all the general German Christmas Market merriment in the city. But we* found two unique Bremen attractions that made the trip even more worth it: the Schnoor and Böttcherstraße.
*We're using the royal "we" here. In fact, Justin was a bit under-the-weather in Bremen, so Sarah explored the city on her own. We're going to switch to "I" now when appropriate.
Popular Bremen attractions
Ok, so here's where we acknowledge that the Schnoor and Böttcherstrasse are two of the most popular attractions in Bremen. But… we didn't know that at the time! We didn't research Bremen very much before arriving. Based on extensive experience, we know we love Christmas Markets and Germany and, yep, Christmas Markets in Germany. So we can confidently plop ourselves down in the middle of any German city or town in the middle of winter and be happy. Also, with Justin being laid up, we weren't focused on touristy things right before we got there. All of this to say, when I (Sarah) set out to see Bremen, I really didn't know what to expect. I knew there was a famous Rathaus and a cool statue of a pile of animals, but that's about it. So that made "finding" these two places in Bremen all the more fun!
The Schnoor in Bremen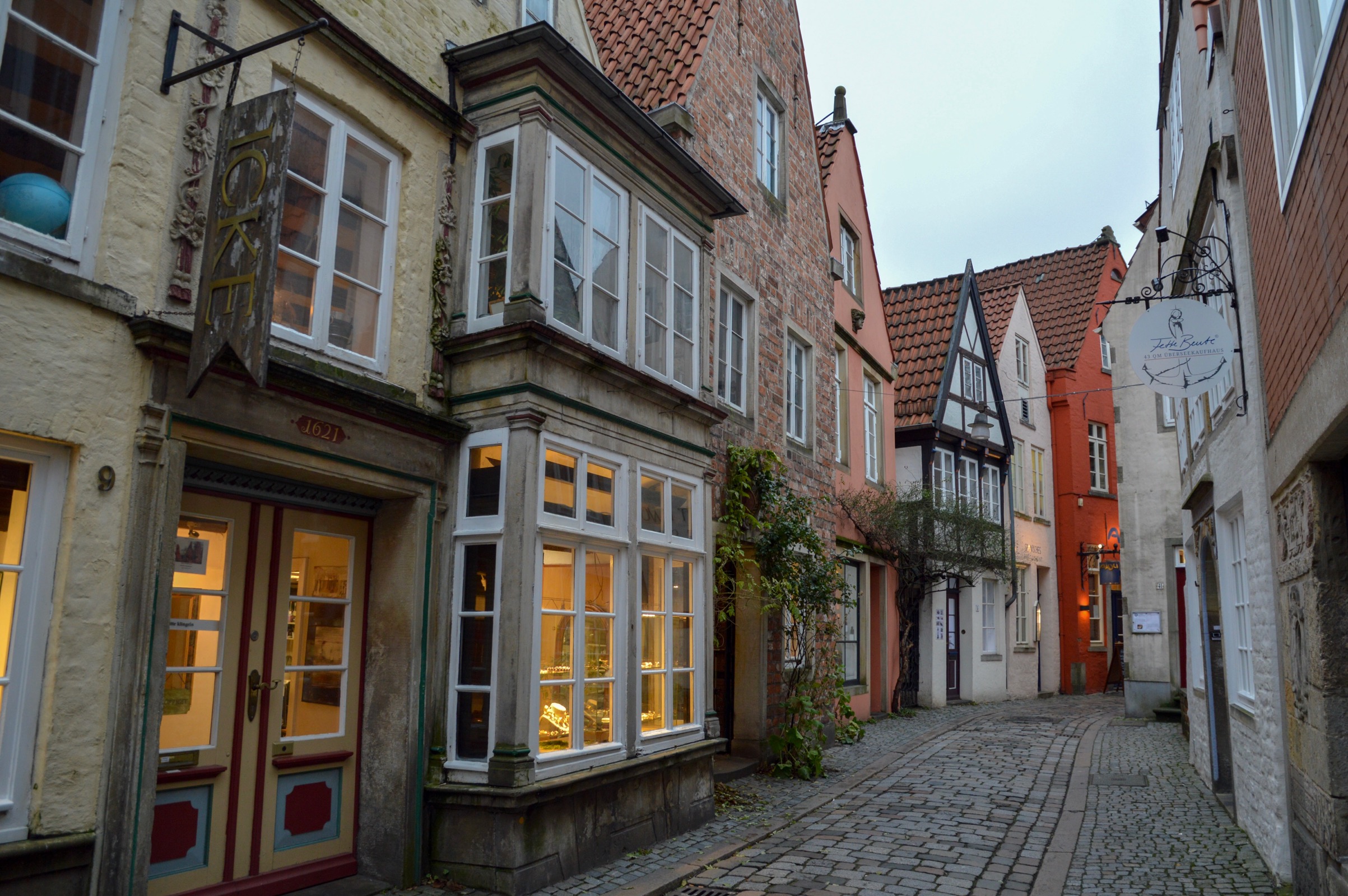 I was trying to find a small sculpture museum I'd read about (Gerhard-Marcks-Haus – I enjoyed it, but it's not worth going out of your way for) when I came across a narrow street with interestingly designed, pastel colored buildings. It was the colors that really drew me in. Bremen is otherwise full of the rich, but muted, colors. I started down this street, stopping to take multiple pictures, when I realized there were many people around me. I saw there were narrow alleyways and turned onto one of them. I was transported to a completely different place and time. I was surrounded by old, small houses and buildings – some of them in slight disrepair, others gorgeously kept up – and old fashioned looking signs and tiny streets going off in all different directions. It definitely didn't feel like modern Germany. It actually reminded me more of Edinburgh! And (as you can see from the pictures) it was completely different from the brightly colored, more modern buildings that had led me there in the first place. Only once I saw I was at the river, and saw a sign (!), did I realize that I was in this particular part of Bremen called the Schnoor.
Interesting facts about the Schnoor:
Today, the Schnoor is a very well-preserved medieval part of Bremen, but that wasn't always the case – the area had fallen into disrepair, so in 1959, residents were given funds to restore their homes
The name "Schnoor" comes from "Snoor" or "Schnur" which is a German word for "string" – it's said to describe how the houses were positioned, close together like beads on a string
Bremen Böttcherstraße
Finding Böttcherstraße is a similar story. I actually did have this street marked on my Google Maps map, but didn't realize I was at it until I saw a sign. Located in the Bremen Old Town, a few blocks from the Rathaus, Böttcherstraße is a narrow alley with covered passages and shops on different levels. It's quite cool and I ended up there twice during my day in Bremen. I first walked through the street when it was still light out, and then again at night when I returned to go to a museum there (the Paula Modersohn-Becker Museum – which I recommend). A highlight of the museum is its balcony that has a great view of the street below and surrounding buildings.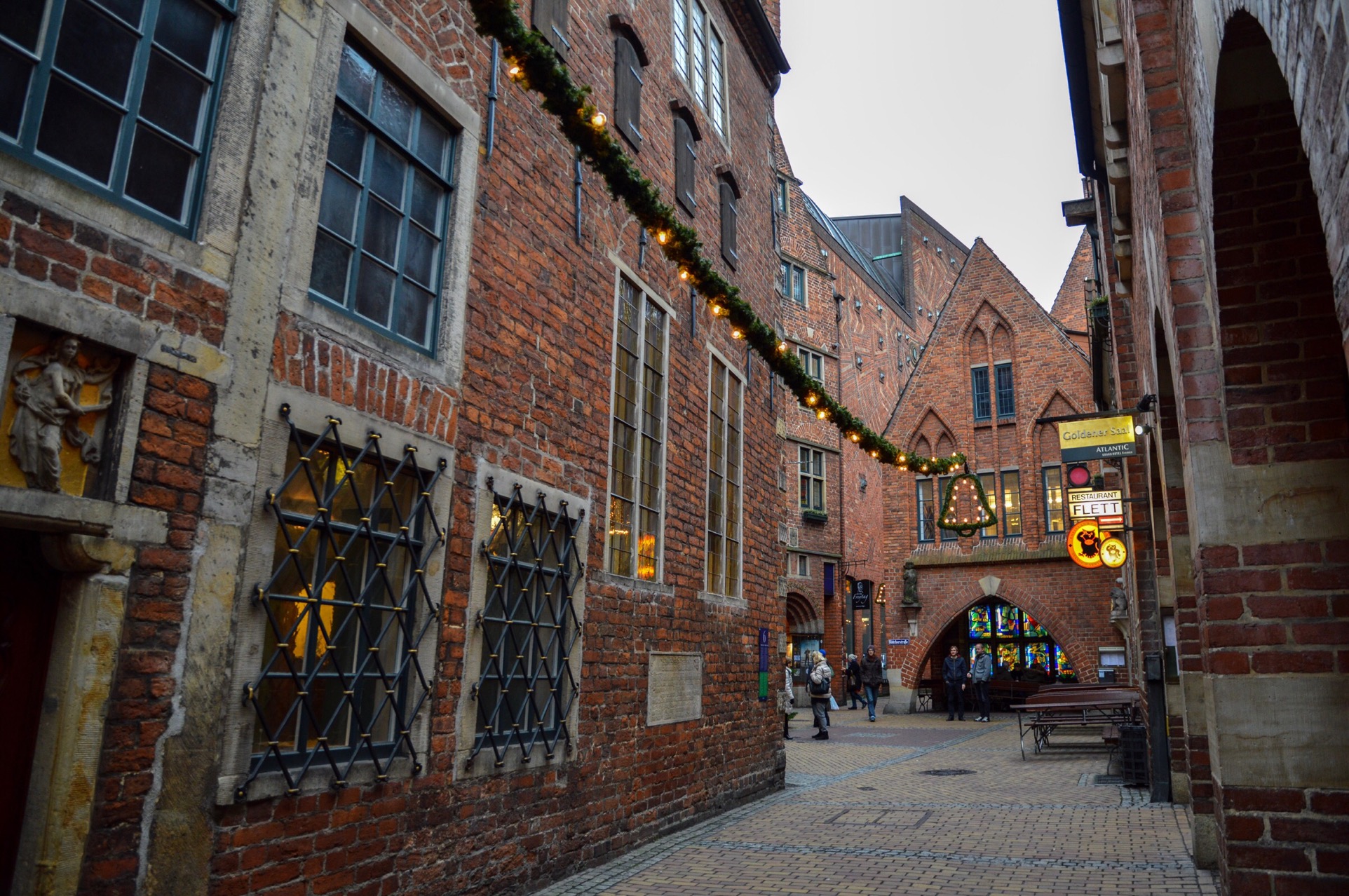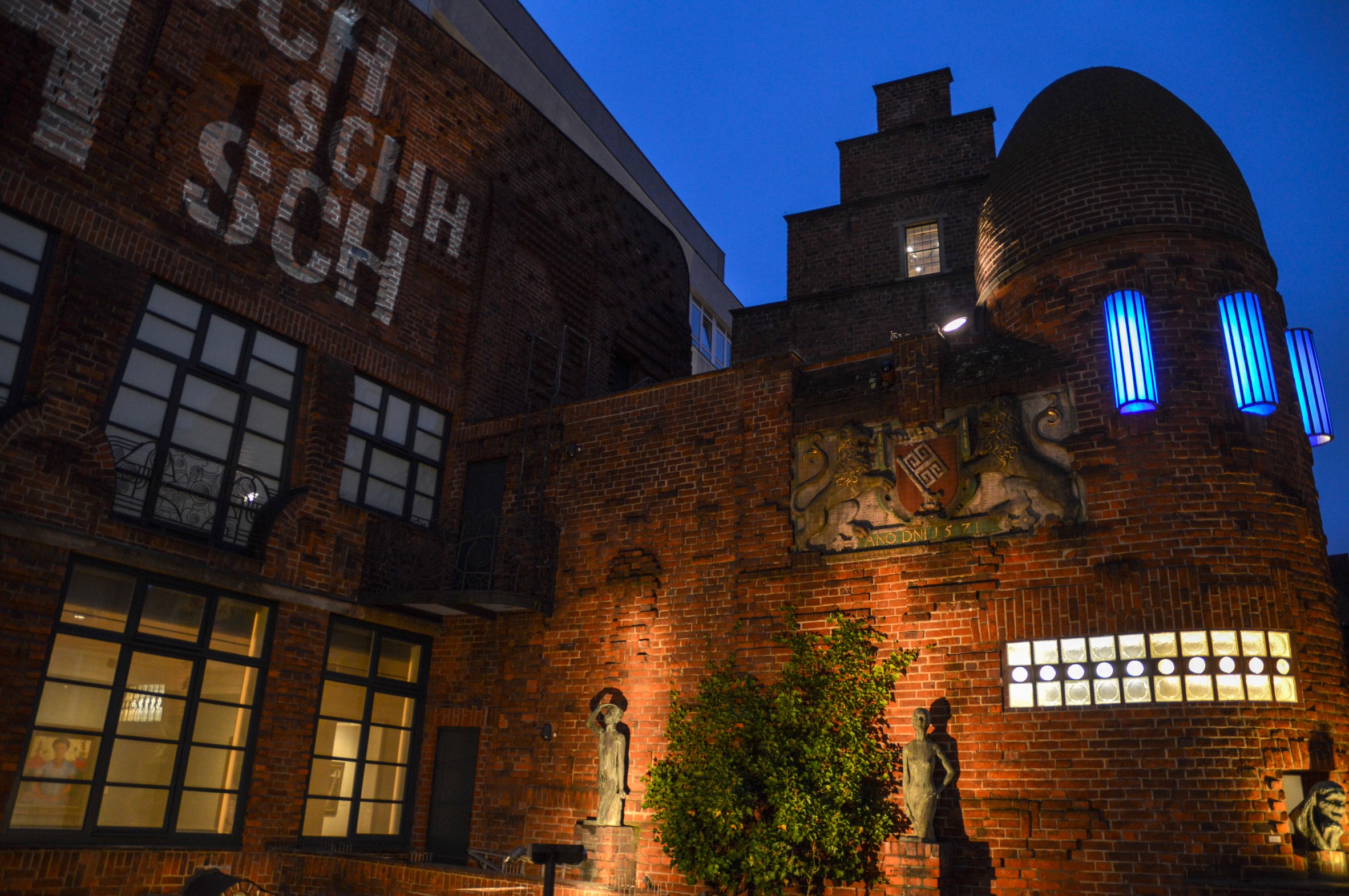 Interesting facts about Böttcherstraße:
Böttcherstraße dates back to the Middle Ages
Much of Böttcherstraße was destroyed during WWII, but was quickly reconstructed within a few years
One of the buildings on Böttcherstraße is called Haus des Glockenspiels and is essentially one big musical instrument that chimes several times a day
I fully enjoyed my day in Bremen, and especially my time exploring the Schoorn and Böttcherstraße. And since my travel partner in crime didn't get to see much of it, we'll definitely go back.
Like this post? Pin it!