Last Updated on 3rd March 2019 by Sarah and Justin
Nuremberg (Nürnberg) was a new city for us and our 13th destination in Germany! And what a city it was. We had read about how beautiful Nuremberg is, but it's always nice to have our expectations exceeded – especially so close to the end of our year-long trip around the world. Nuremberg is truly stunning, and probably the most beautiful city in Germany that we've visited. We spent five days in Nuremberg, so got to know the city pretty well. Here are our picks for what to do in Nuremberg and of course a whole bunch of pictures to show you how pretty it is.
Visiting Nuremberg in summer
We visited Nuremberg during high season (a rare thing for us) in late June. It was hot, but not stifling (the heat wave we suffered through in France had dissipated), and the sunny, blue skies made everything in the city look that much more charming. It's also quite manageable: its center is small enough to explore by foot, but large enough to not feel overwhelming (especially when it is – as it often is – swarming with tourists). And of course, it's a city steeped in history (albeit some of it quite dark). Exploring the city, you really can see why Nuremberg has always held such an important position in Germany.
Things to do in Nuremberg
Visit Nuremberg Castle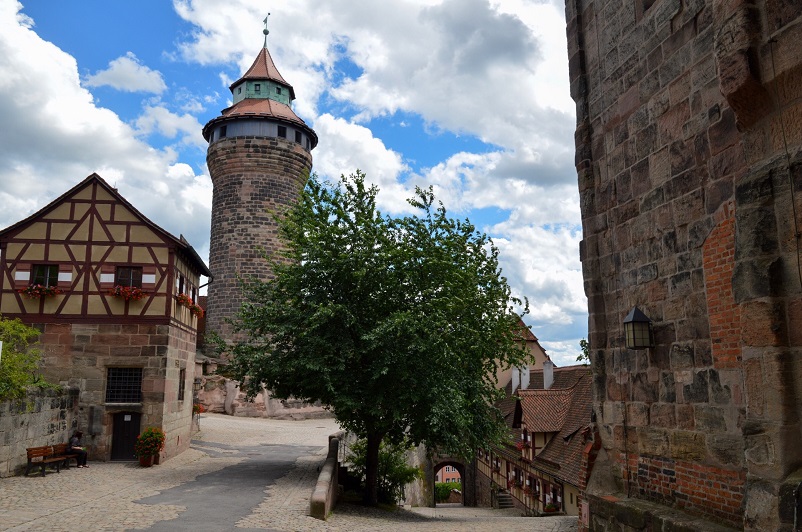 Yes, Nuremberg has a castle right in the middle of the city. It's easy to get to, beautiful to look at from below, and of course offers stunning views of the city from its heights. Approaching Nuremberg Castle, we walked through the old town, and were especially enamored with Tiergärtnerplatz.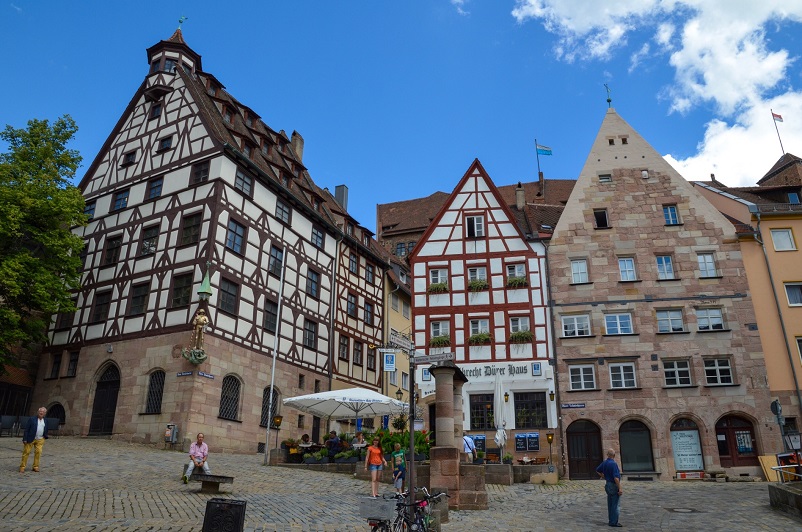 The castle is (as castles typically are) up a hill. You can take a more direct (quite steep) route, but we accidentally stumbled on a longer, more gradual route up to the top. We walked through the Tiergärtnertor, and found a path through a park that takes you behind the castle. The incline is much less steep and it made it manageable for Sarah to make the climb without her oxygen. Once at the top, we were greeted with expansive views of the city. We toured the castle grounds (you can pay for a tour inside, but we opted not to do that), and then took the steeper, quicker way down.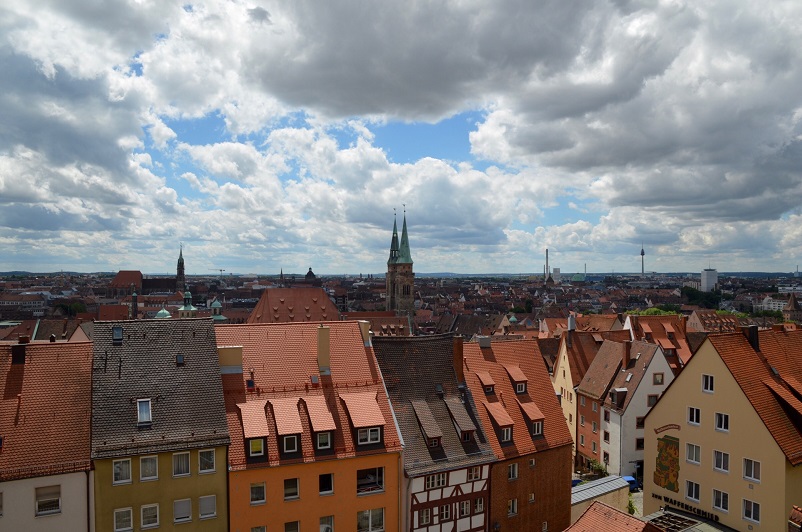 See Nuremberg Hauptmarkt (Market Square)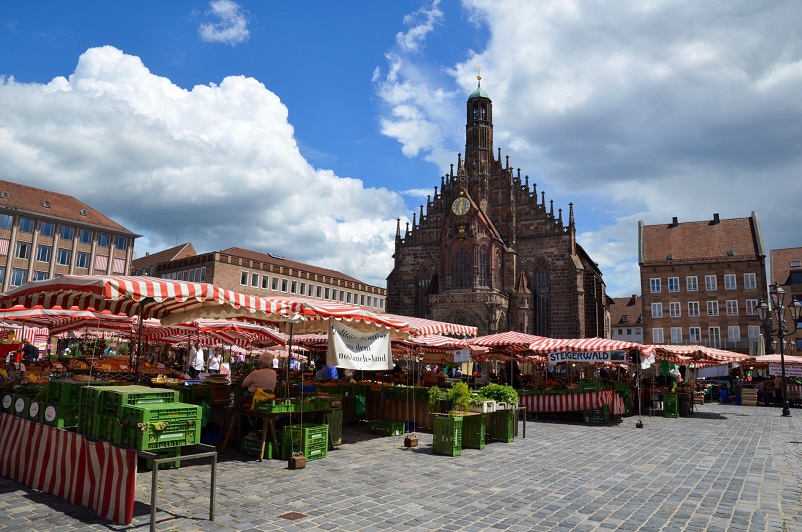 In the center of the city is Nuremberg Market Square (Hauptmarkt in German). It's a big food market open every day where locals shop for fresh fruits and vegetables and other Nuremberg specialties like Lebkuchen (a type of ginger bread). The Hauptmarkt is also home to the Nuremberg Christmas Market, which is known as one of the best in the country. Given our love of Christmas Markets, we'll definitely try to return to the city during winter to check it out.
The ornate, imposing building at the top of the square is the Frauenkirche (Church of our Lady). Its Gothic architecture is beautiful day or night. In the middle of the square, located in front of Nuremberg City Hall, is the Schöner Brunnen. This "beautiful fountain" (how it translates) was built in the 14th century. It's said that spinning the two rings on the fountain will bring good luck, so of course we did that!
Where to eat in Hauptmarkt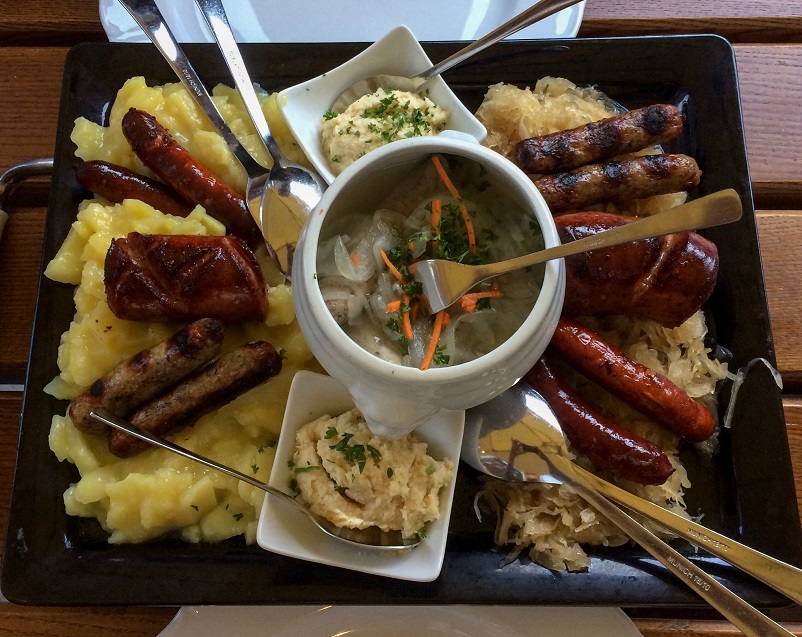 There are plenty of places to eat in and around the Hauptmarkt and though they are a bit touristy, we've found we actually don't mind the German version of touristy when it comes to eating and drinking. We had a delicious dinner one night at Bratwurst Röslein. And yes, we had Bratwurst. Quite a bit of it in fact.
Every single thing on this plate was truly the best of the best when it comes to German sausage and accoutrements. The smallest sausages are the specialty sausage of Nuremberg: Nürnberger Rostbratwurst. As you can see, they are much smaller than most other German Bratwurst, so you can eat many of them! A typical way to eat them in Nuremberg is "Drei im Weckla" – or three in a roll. Lecker!
Walk along the Pegnitz River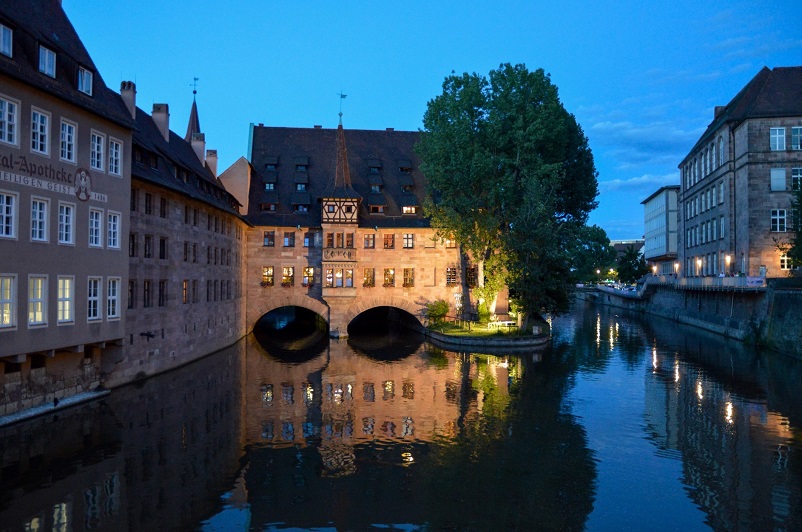 The Pegnitz River runs right through the center of Nuremberg. We walked along it and over it many times on Nuremberg's many small bridges. One of the most famous viewpoints is from Museumsbrücke of the Heilig-Geist-Spital (Hospice of the Holy Spirit). It was a 13th century hospital that is now (unsurprisingly given its picturesque location) a restaurant.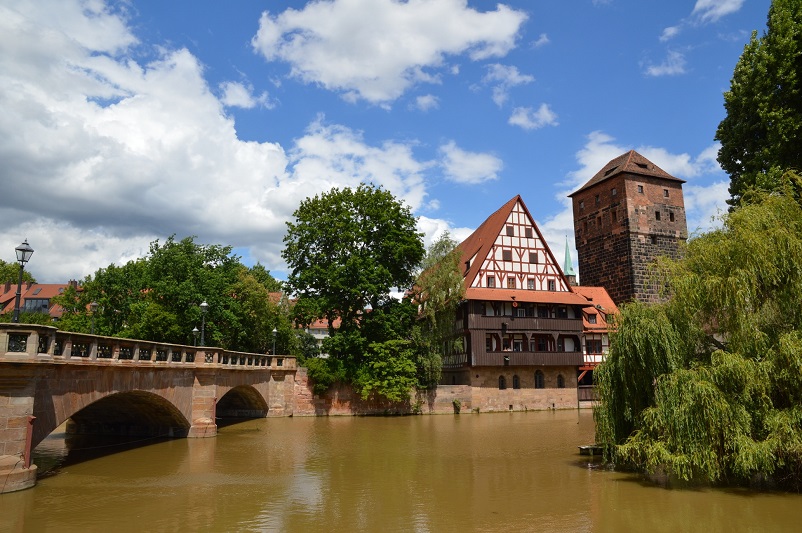 A second super picturesque building on the river is the Weinstadel. We were just wandering through the little streets of the city when we came upon a covered bridge to walk through and a gorgeous view of this building on the other side. There is also the nice and amusingly-named Fleischbrücke (Meat Bridge) that most definitely deserves crossing.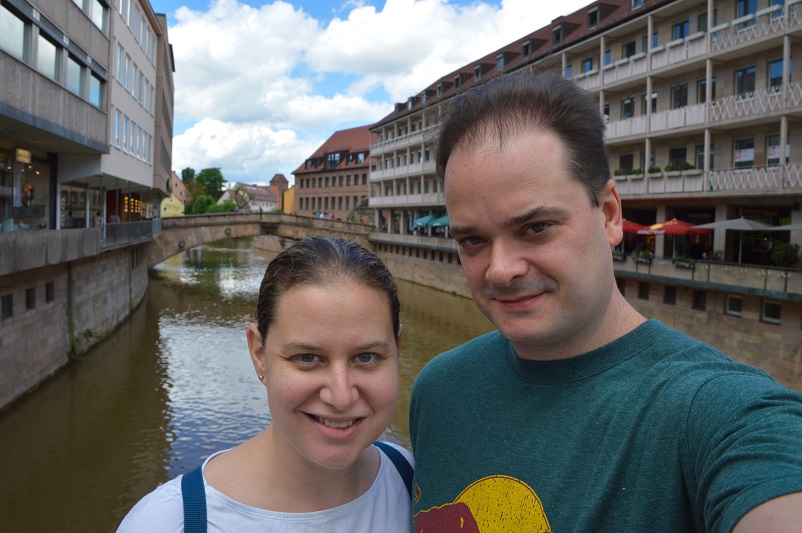 Watch the Nürnberger Entencup 2017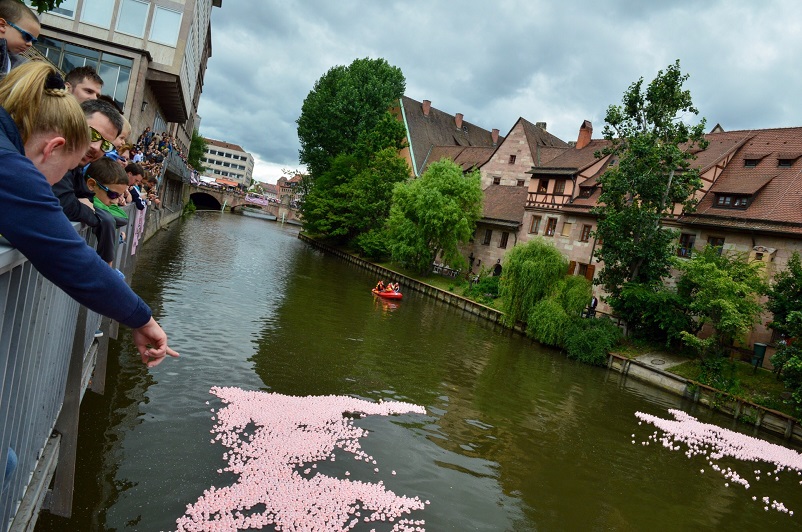 The most fun we had on the river, however, was witnessing the Entencup 2017, Nuremberg's annual rubber duck race ("Ente" means "duck" in German). No, we didn't plan our trip around this event, but if we ever return we might have to check the dates! Hundreds of pink rubber ducks, all purchased in advance by competitors (ie, normal people making charitable donations), were dropped into the river by a very large crane. It seemed like the whole city turned out to cheer on their little ducklings as they raced from one bridge to another.
See Nuremberg's grand architecture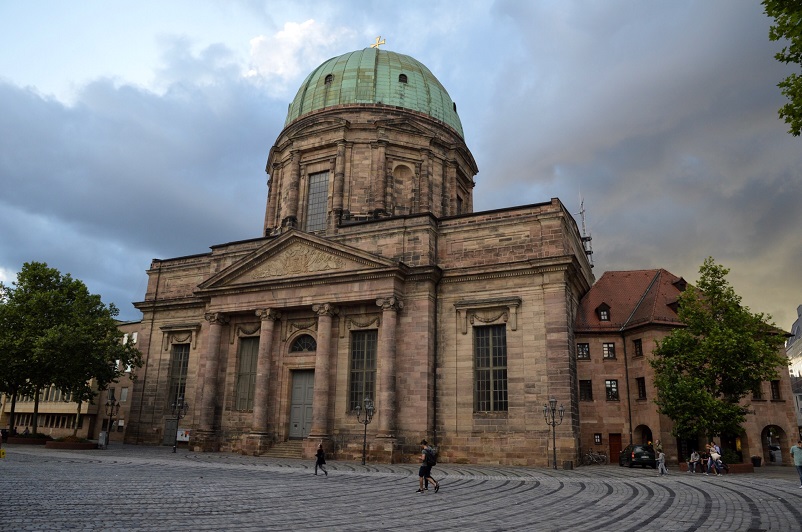 Nuremberg's architecture is a dichotomy of grand and quaint. Within just a few blocks, you'll behold enormous, stately buildings and small, colorful, half-timbered houses. When it comes to the former, two of our favorites were St. Elizabeth's Church (above) and the Opera House (below). Not to mention the impressive, towering Gothic church St. Lorenz (not pictured).
Explore Nuremberg's city walls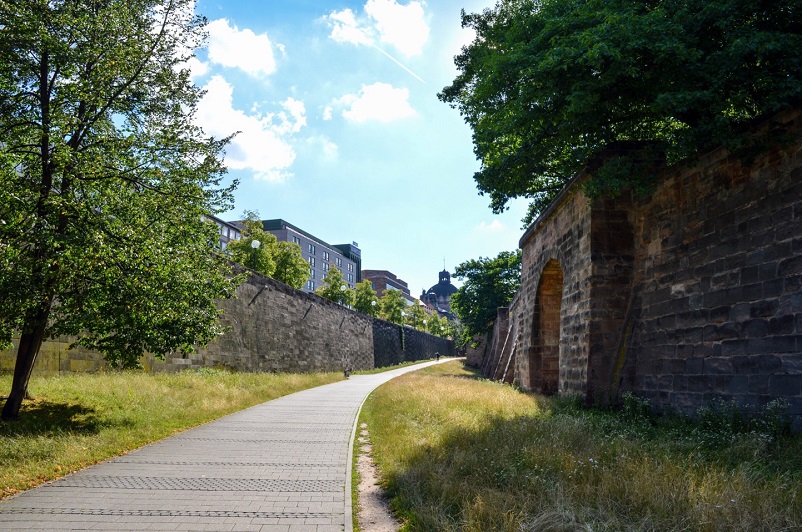 Nuremberg was a walled medieval city, and much of those walls and city gates are still standing. We walked along the walls up near Nuremberg Castle. And we took a lovely stroll beneath Frauentormauer, which is now green and leafy and park-like, and also home to a sculpture garden.
Learn more about the history of Nuremberg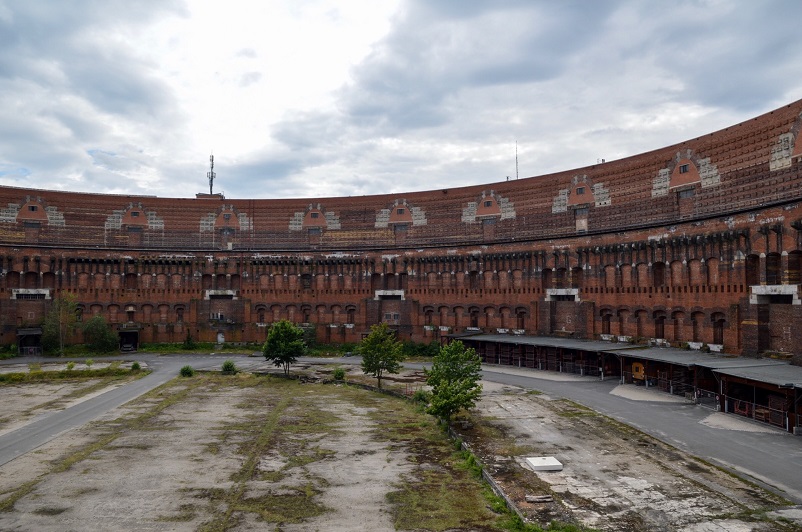 Nuremberg was one of the most important cities in Nazi Germany. The annual Nazi rallies were held in Nuremberg from 1933 (after Hitler came into power) until 1938. The rallies were a massive showing of Nazi power and propaganda. We visited the Documentation Center Nazi Party Rally Grounds, where there is now museum. We knew most of what was presented in terms of the history of the Nazi party and the Holocaust. But it was interesting to learn more about the rallies and the propaganda and to see on what large a scale everything was operating. You can also visit the Palace of Justice where the Nuremberg Trials were held.
Walk through the Way of Human Rights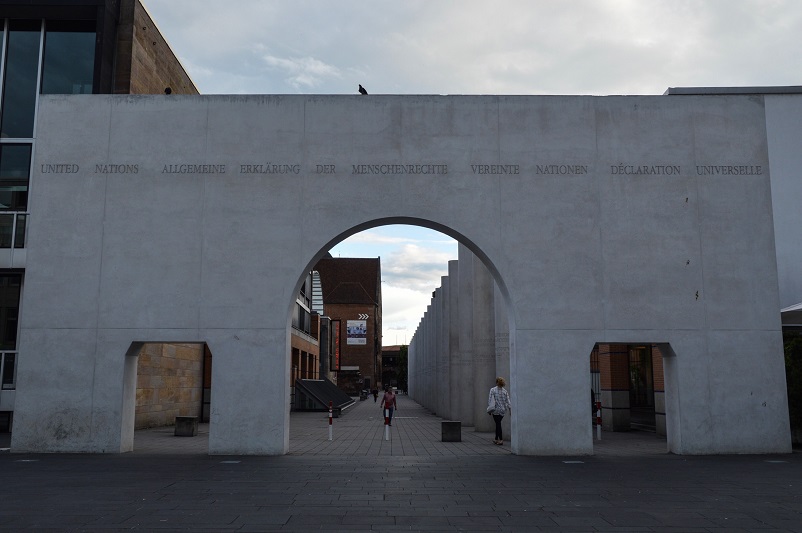 We got lucky that the Strasse der Menschenrechte (The Way of Human Rights) was right next to our hotel because otherwise we may have missed it entirely. This outdoor exhibit opened in 1993. The articles of the Universal Declaration of Human Rights are engraved on columns that line the pedestrian street. It is meant to be a reminder of the crimes of the Nazis as well as the crimes against human rights that persist throughout the world.
Throughout our travels in Germany we've been impressed by the pervasive acknowledgement of the country's dark past and an imperative to continue as a force for good.
See the oldest globe in the world
Next to the Strasse der Menschenrechte is the Germanisches Nationalmuseum. The collection is unique as it includes many different cultural, historical, and artistic items from throughout German history to present day. The crown jewel of the collection is the world's oldest globe. It's known as the Erdapfel (which means "Earth Apple!") or the Behaim Globe (after the man who made it in the 15th century). It was quite beautiful and for lovers of all things cartographic (that's us!), a must-see. Another piece in the museum featured one of our favorite things: German street signs! Visit to see them yourself.
Plan your trip to Nuremberg and book a hotel now!
Nuremberg public transport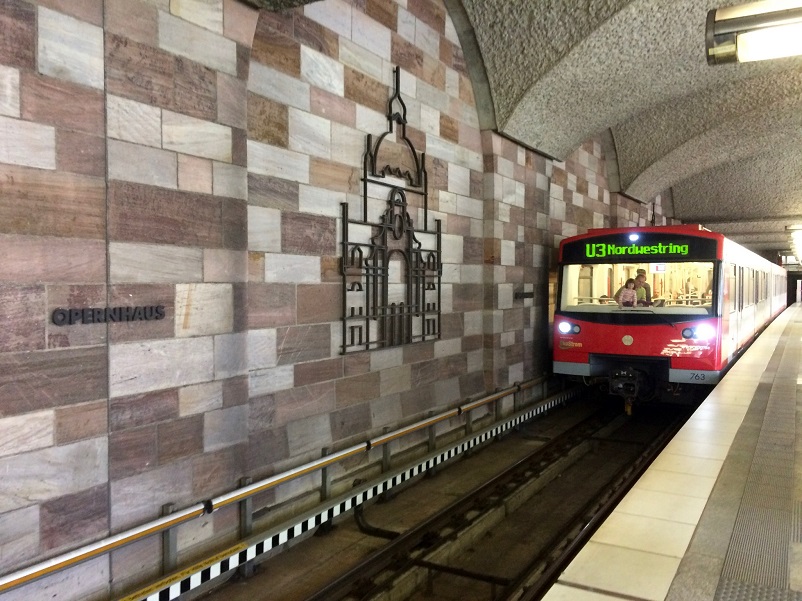 Most everything you'll want to see in Nuremberg is walkable. The only reason we used public transportat in Nuremberg was to go to the Documentation Center Nazi Party Rally Grounds, which is quite a bit outside the center. In researching the tickets, we discovered that Nuremberg has one of the best public transportation deals we've seen! Their day pass is valid for one day during the week, but the whole weekend! During our visit, a day pass for one person cost 8.10 EUR. But there was a ticket that 2-6 people can use if they are traveling together that was only 12.30 EUR. This was a great deal for the two of us, but imagine what an amazing deal it would have been for a family! We took both the U-Bahn (metro) and the bus, and as in pretty much every German city we've been to, the transportation is very easy to use and figure out. We especially loved the decor of the U-Bahn stations as they were all different.
Read next about another beautiful city in Germany: Freiburg
Like this post? Pin it!