Last Updated on 8th January 2019 by Sarah and Justin
We spent our longest stretch so far in Berlin. 12 days. We wish it were longer, but we hope to be back. Given that this was our fifth time here, it's safe to say we will be.
Why do we love Berlin?
It's hard to say exactly why we love Berlin so much. Yes, we love big cities. Yes, it has a wonderful public transportation system. Yes, it's very flat and walkable and bikeable. Yes, we know a little bit (and we mean a really little bit) of German. But it's not the prettiest of cities by any means. And German food isn't the best. We think it's more an overall feeling we get when we're here. Everyone and everything just feels very relaxed. Which is unique for such a big city. Maybe it's because you can drink on the street. In any case, just walking around this place makes us very happy.
Prenzlauer Berg
We stayed in an apartment in our favorite neighborhood: Prenzlauer Berg. It's in the eastern part of the city. Parts of it are beautiful and parts of it are gritty (much like Berlin as a whole). The prettiest parts of Prenzlauer Berg resemble Park Slope in Brooklyn with its stately, prewar buildings, big trees, small parks, cafes lining the streets, and lots and lots of families.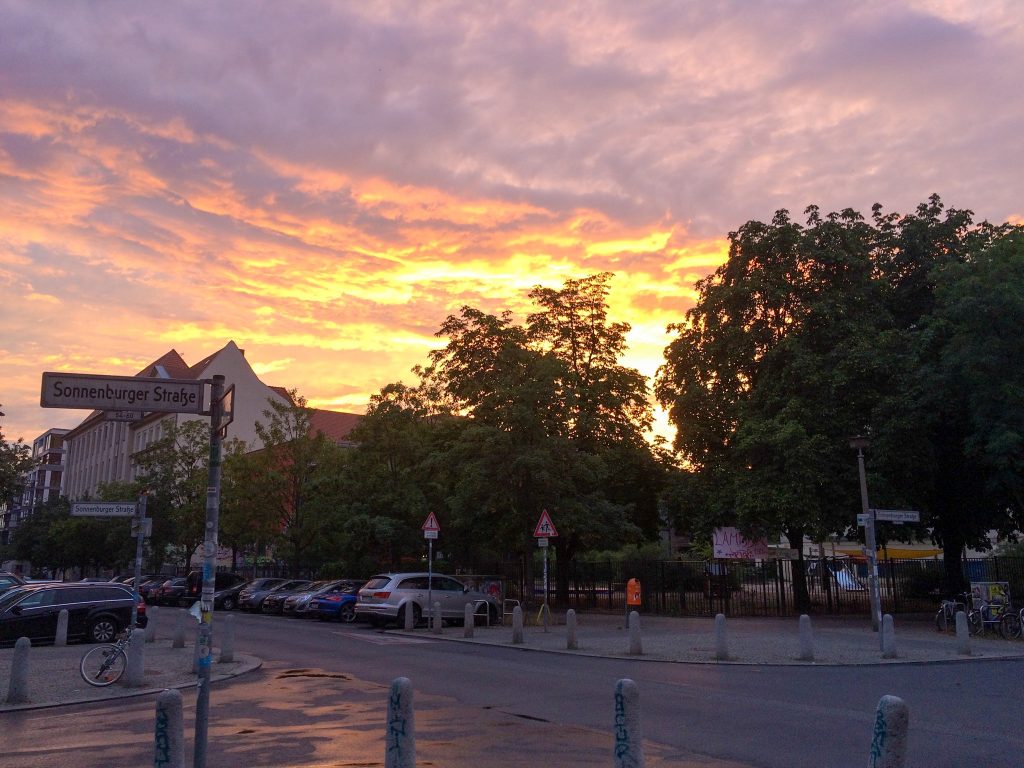 One of our favorite things to do in the Prenzlauer Berg is to (try to) watch the sunset from a bridge over the S-Bahn tracks. It's right next to a bar where people lounge outside in a square of sand that serves as a makeshift beach. Kinda dirty, kinda weird, very Berlin.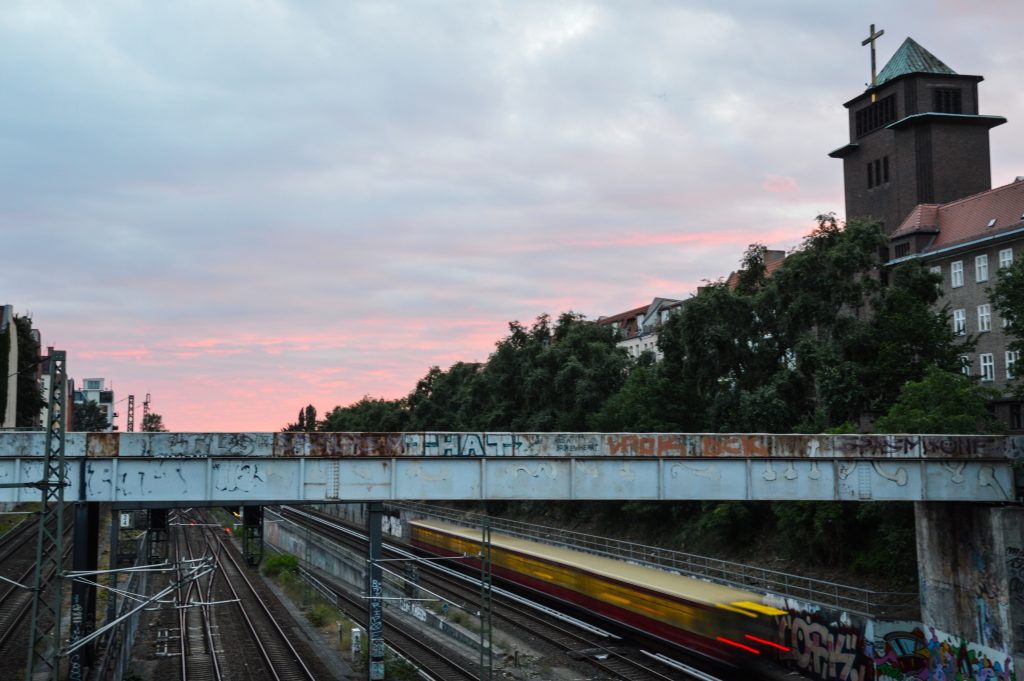 Mauerpark
Our apartment was a block from Mauerpark, which translates to "Wall Park" since it is right where the Berlin Wall and the Death Strip (the noman's land between the two layers of the wall) used to be. Now it's a popular place to grill (in most supermarkets in Germany you can buy disposable grills) and hang out with beers from a Spätkauf (convenience stores with an unbelievably diverse selection of cheap beer). Sundays, there's a massive flea market and Bear Pit Karaoke, where anyone can embarrass themselves on an outdoor stage.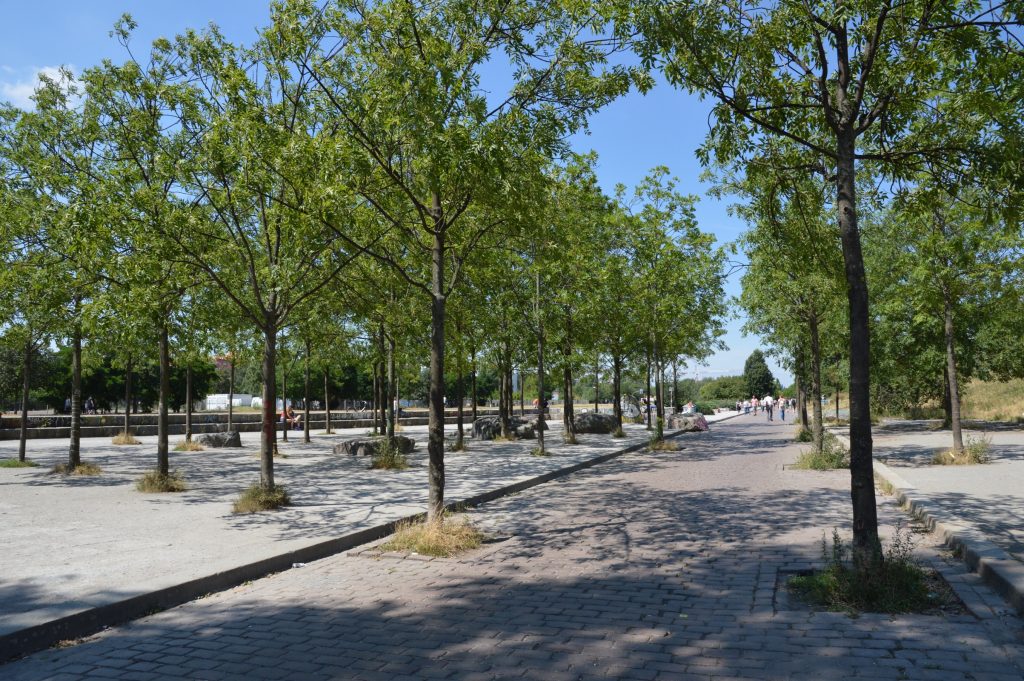 While we are partial to Prenzlauer Berg, there are a ton of great neighborhoods in Berlin. Our friends just moved here (we are jealous!) and they live in Schöneberg in the western part of Berlin. They live near a huge, beautiful park where you can see people from all walks of life thoroughly enjoying themselves.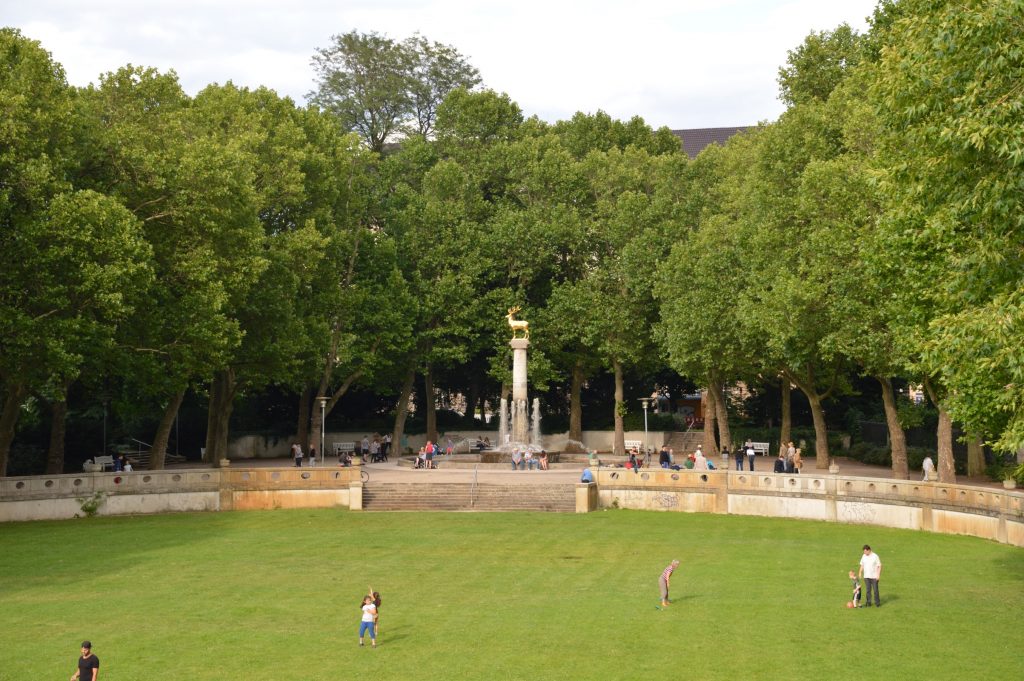 There are so many things to see and do in this city, but you can also just hang out and be. We tried to do both.
Sightseeing in Berlin
We did the typical sightseeing walk around Mitte (with our friend Jess who came to visit!) to see…
Alexanderplatz
With the cool yet sorta ugly Fernsehturm (TV Tower).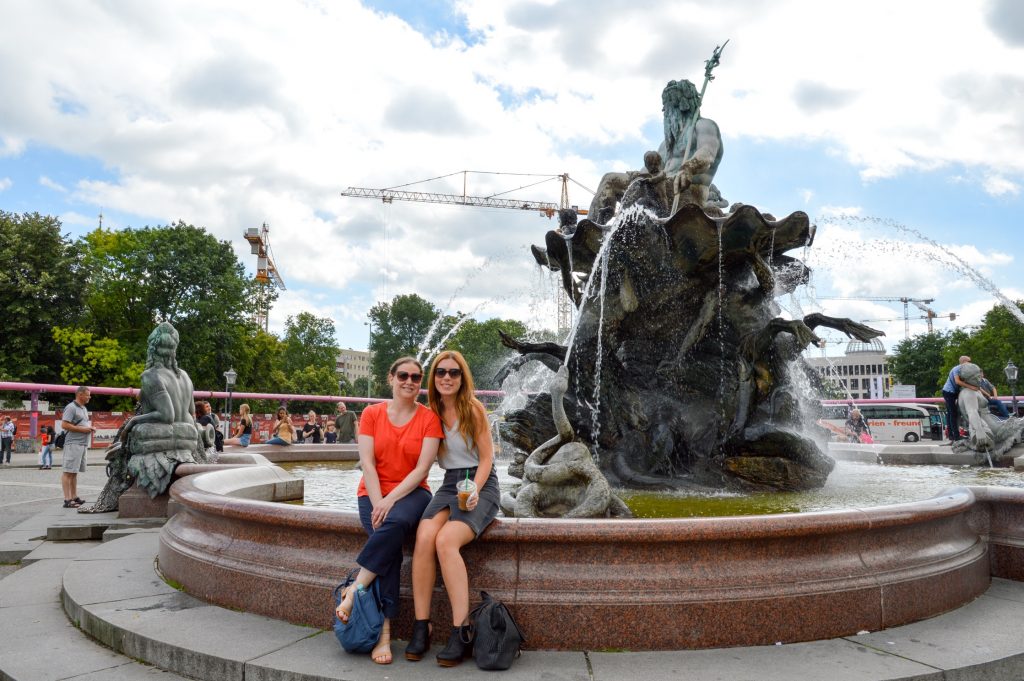 Museumsinsel (Museum Island)
Home to the beautiful Berliner Dom, which is Sarah's favorite building in the world. We didn't visit any of the museums this time since we'd seen them previously, but they are all pretty great.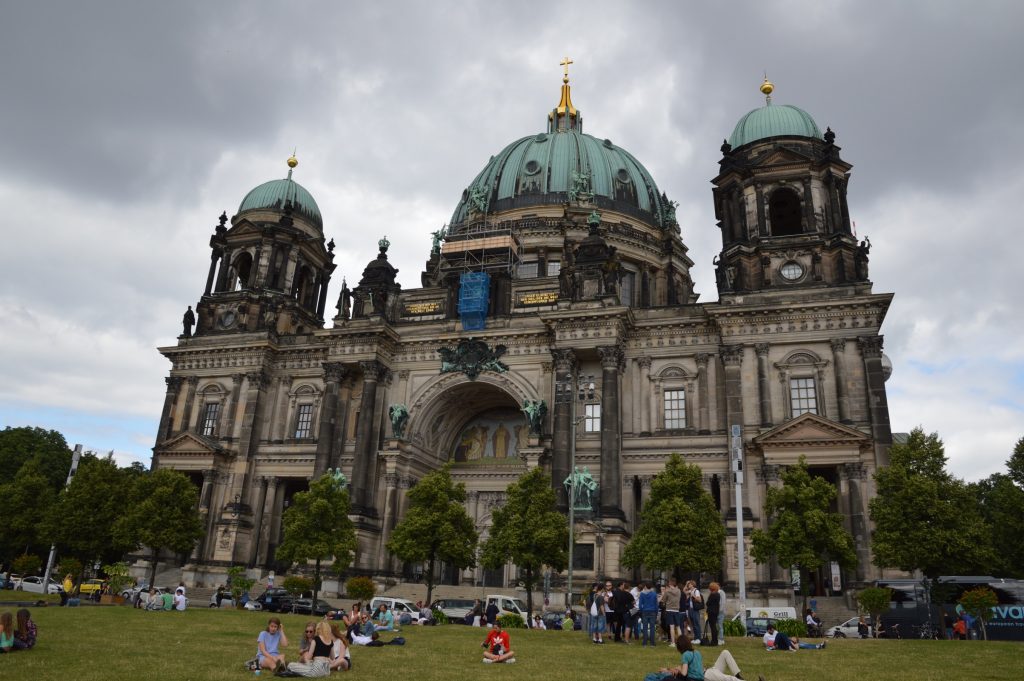 Neue Wache
The beautiful and moving war memorial on Unter den Linden. This is Justin's favorite.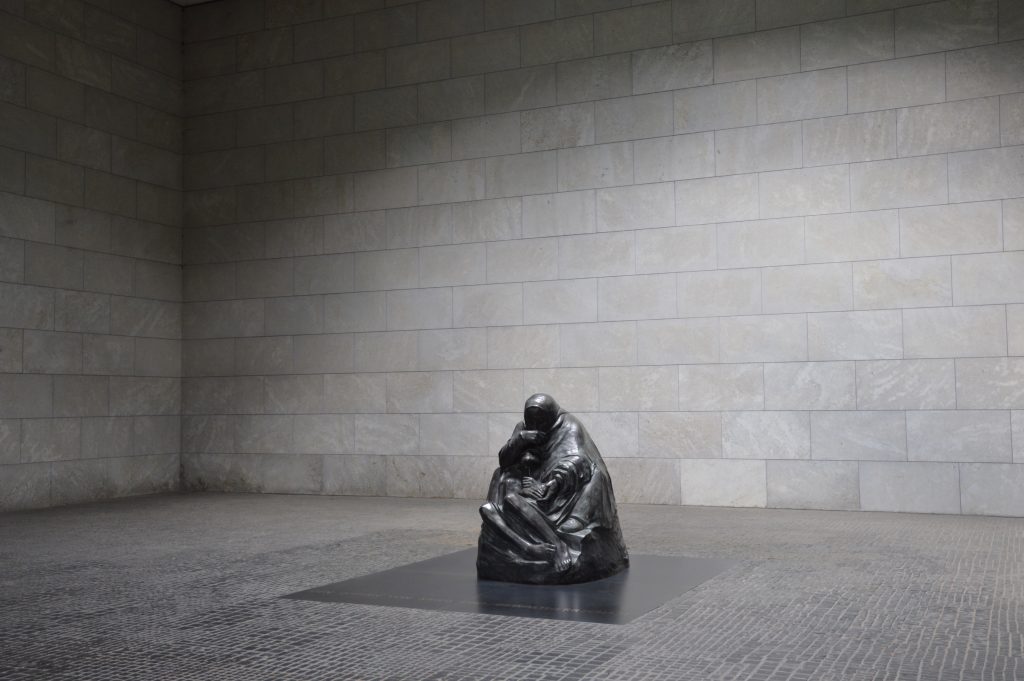 Memorial to the Murdered Jews of Europe
An outdoor expanse of almost 3,000 concrete slabs of different heights. You can easily get lost in this maze reflecting on the past.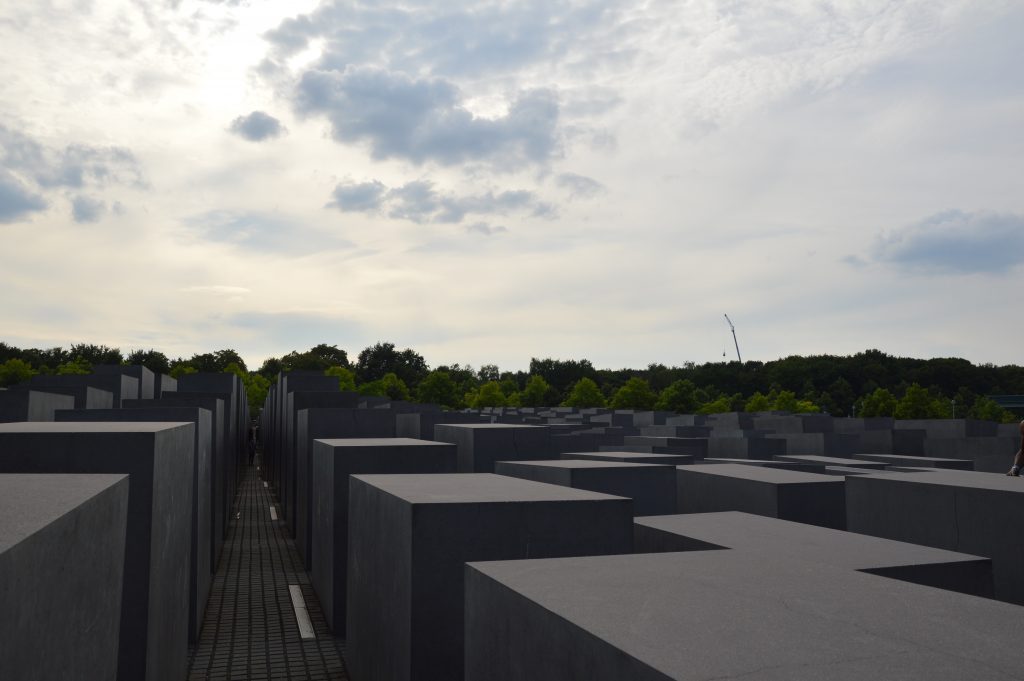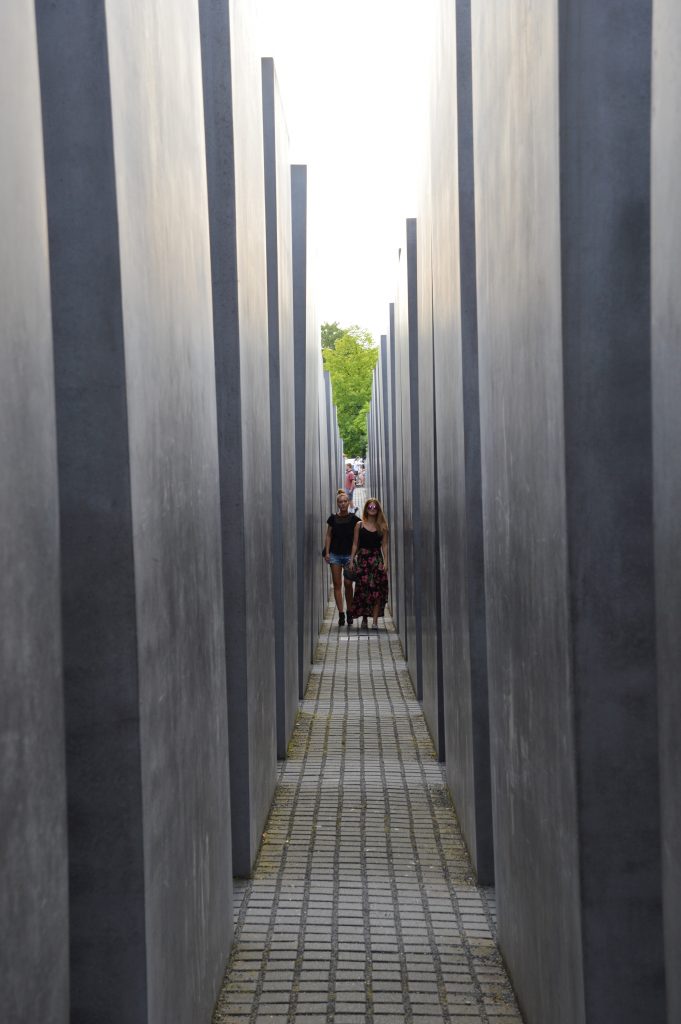 Berlin's parks
Since it was summer, we also spent quite a bit of time this visit exploring Berlin's parks (there are a lot!). Tip: there are ping pong tables in almost every park, just bring your own paddles and balls.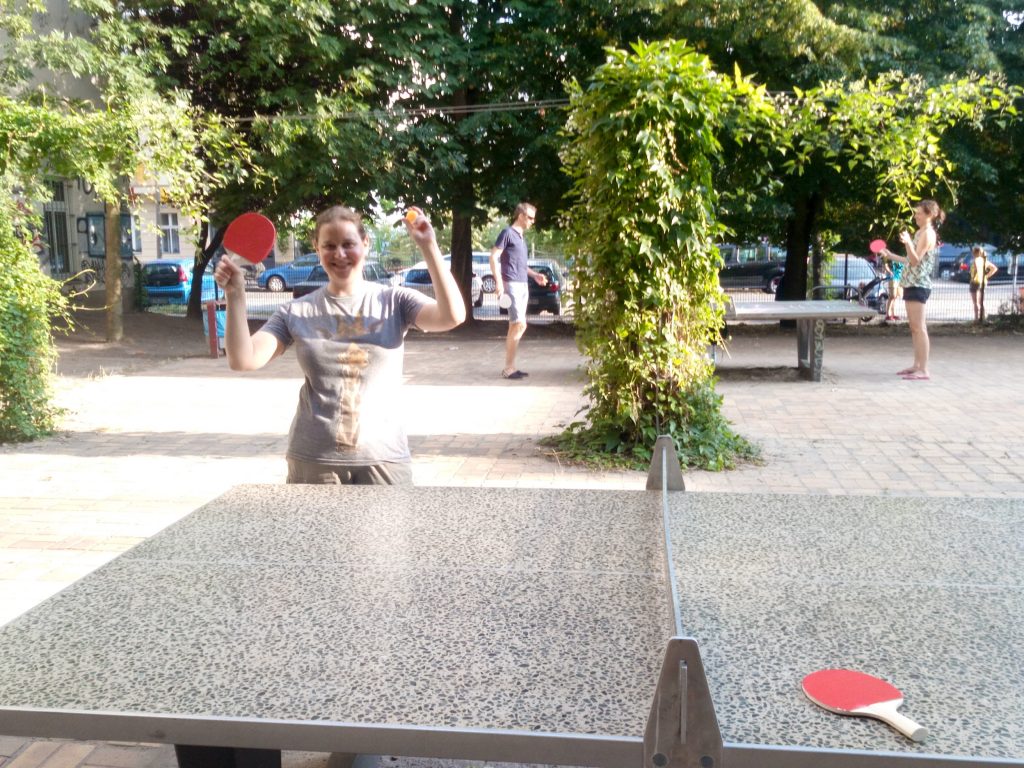 Tiergarten
A vast and fun to walk or bike through. There's also a zoo with the most animal species worldwide.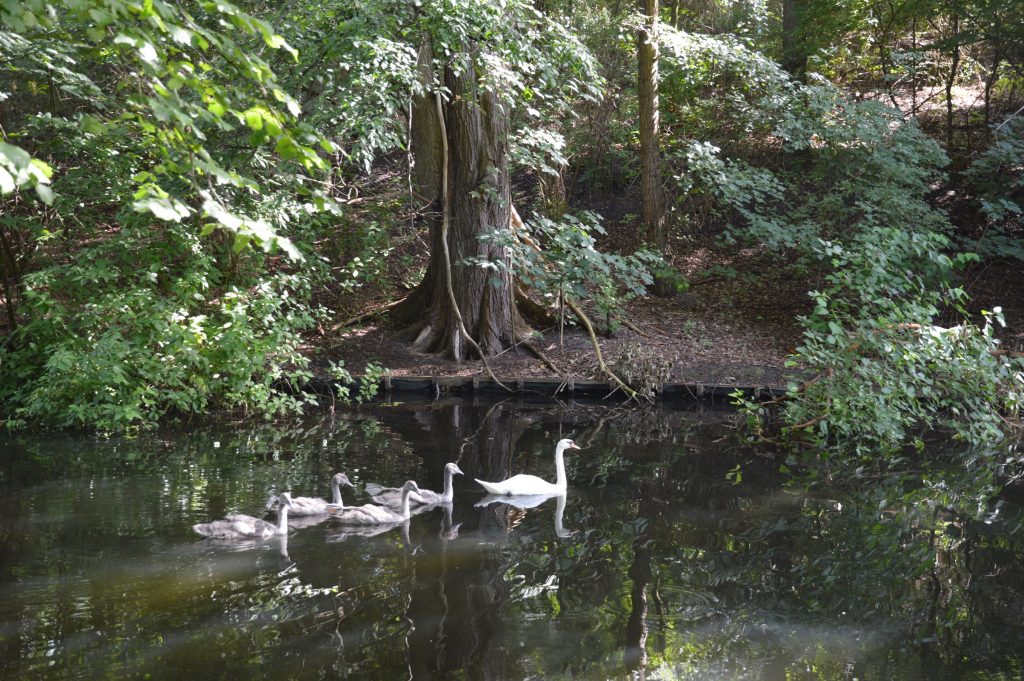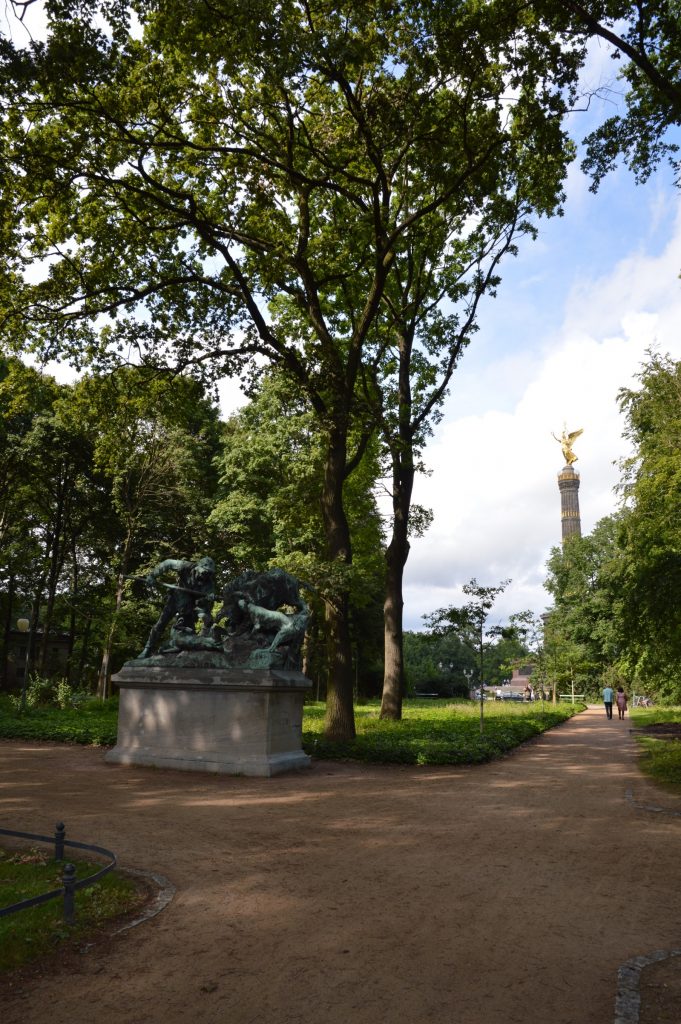 Grunewald
At the edge of Charlottenberg-Wilmersdorf, it's essentially a forest in the middle of the city. Or one big dog park…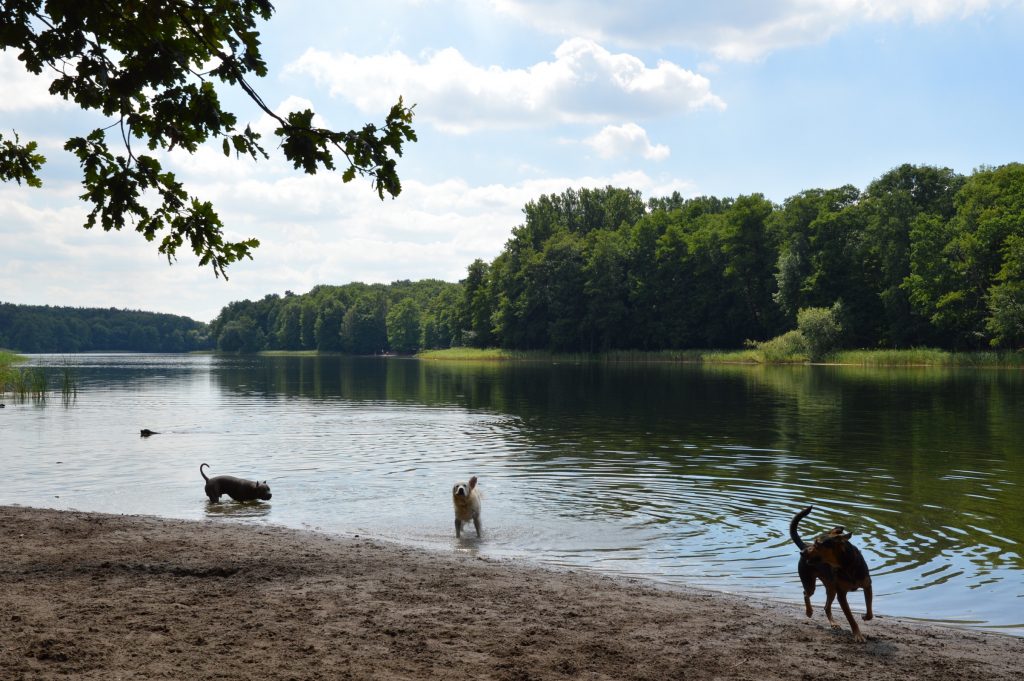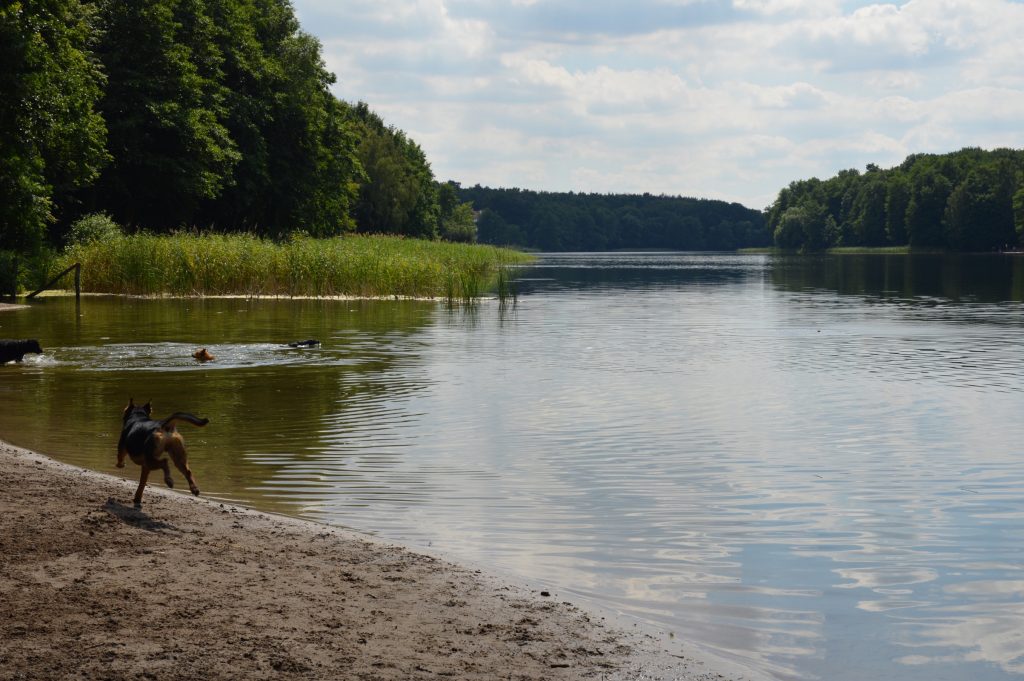 …with a hunting lodge/art museum in the middle. Special thanks to our friend Jason who lives in Berlin now for bringing us to this awesome place.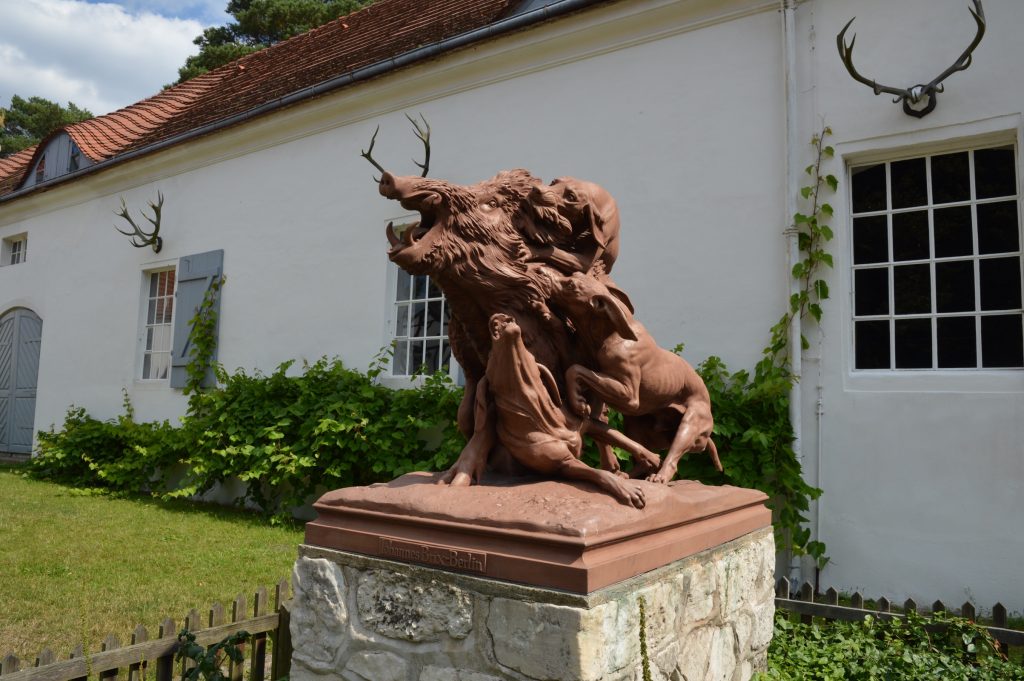 Volkspark Humboldthain
A 15-minute walk further west from our apartment in Prenzlauer Berg, this is a lovely place for a rest, a run, or a swim since it has a pool (with a waterslide!).

Where to see the Berlin Wall
There are a few places to see the remains of the Berlin Wall. We re-visited all of them on this trip, and would recommend all to anyone visiting the city (note, they're all free). It's still hard to imagine this amazing city being divided in two – families and friends separated – but it really wasn't so long ago.
Berlin Wall Memorial
An open-air, multimedia exhibit that runs for 1.3km on Bernauer Strasse.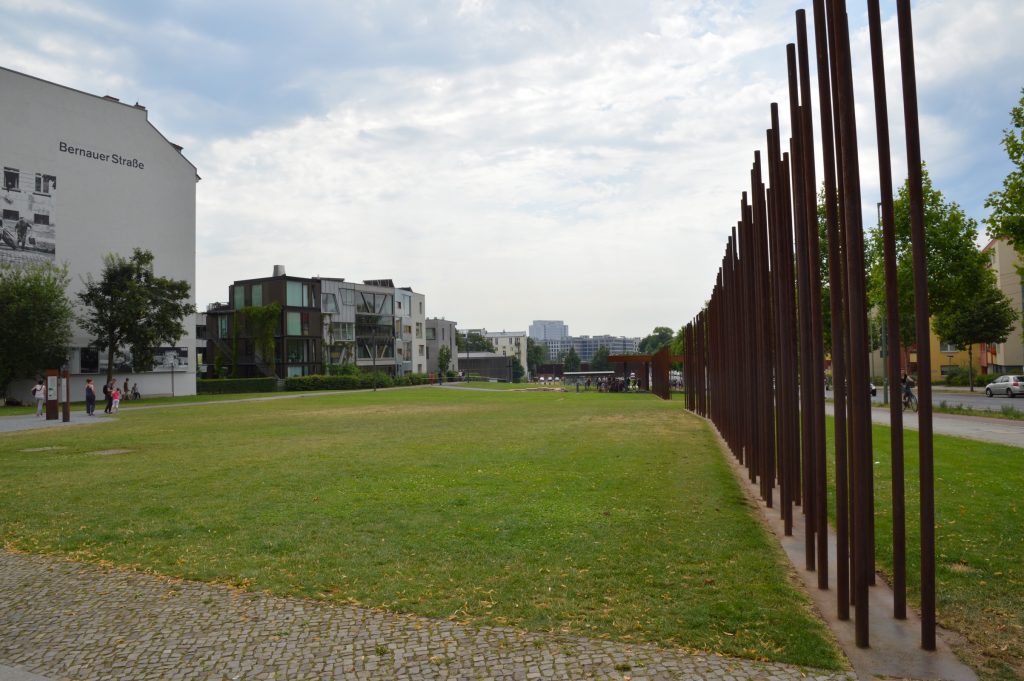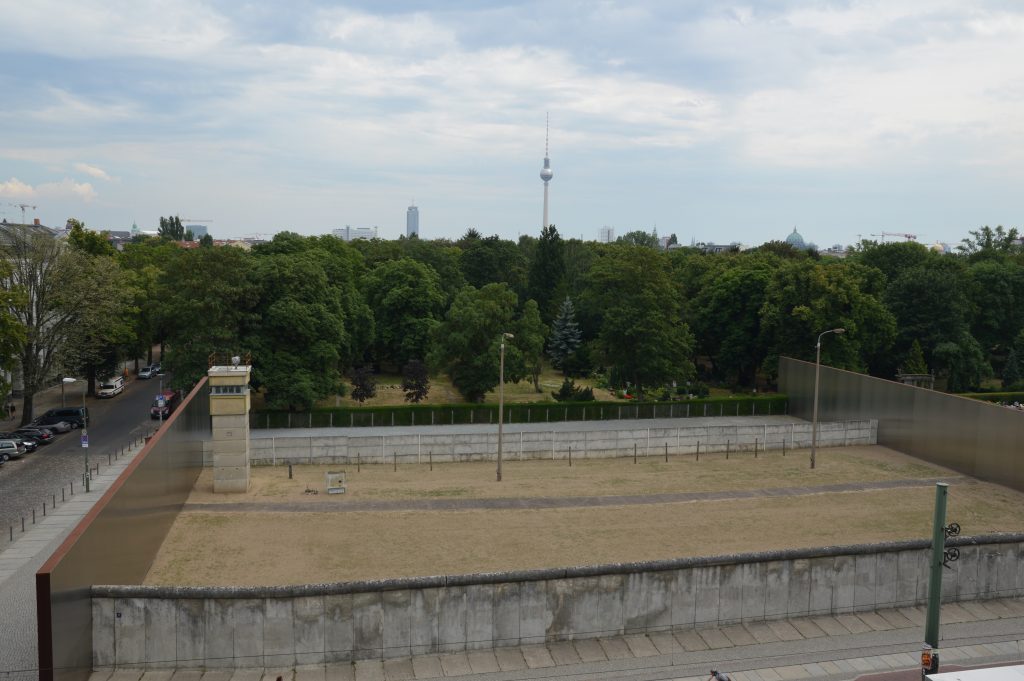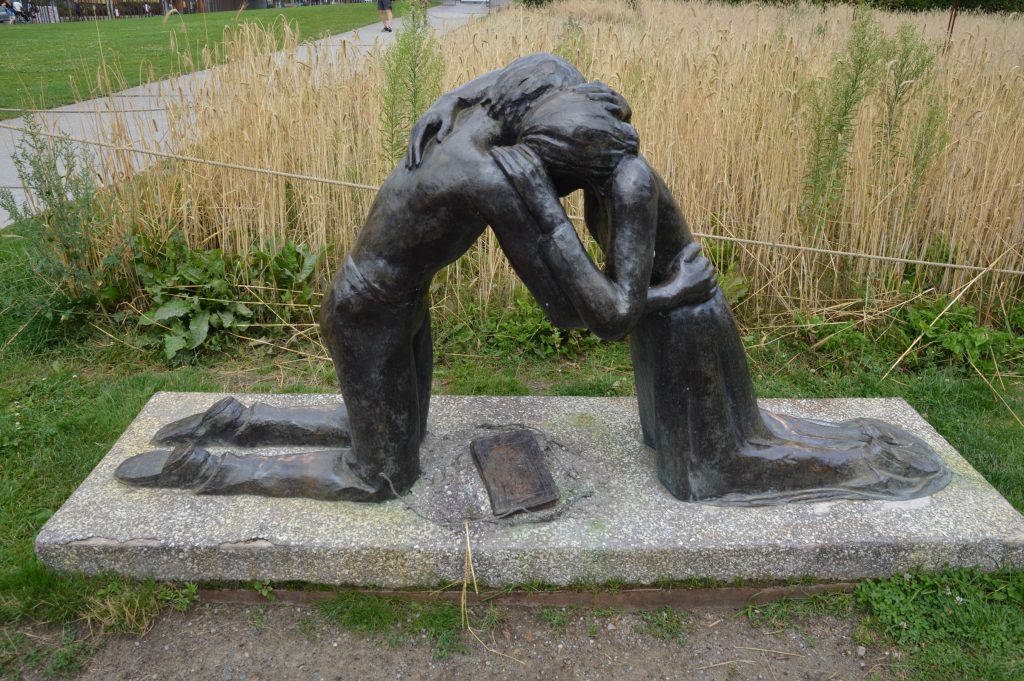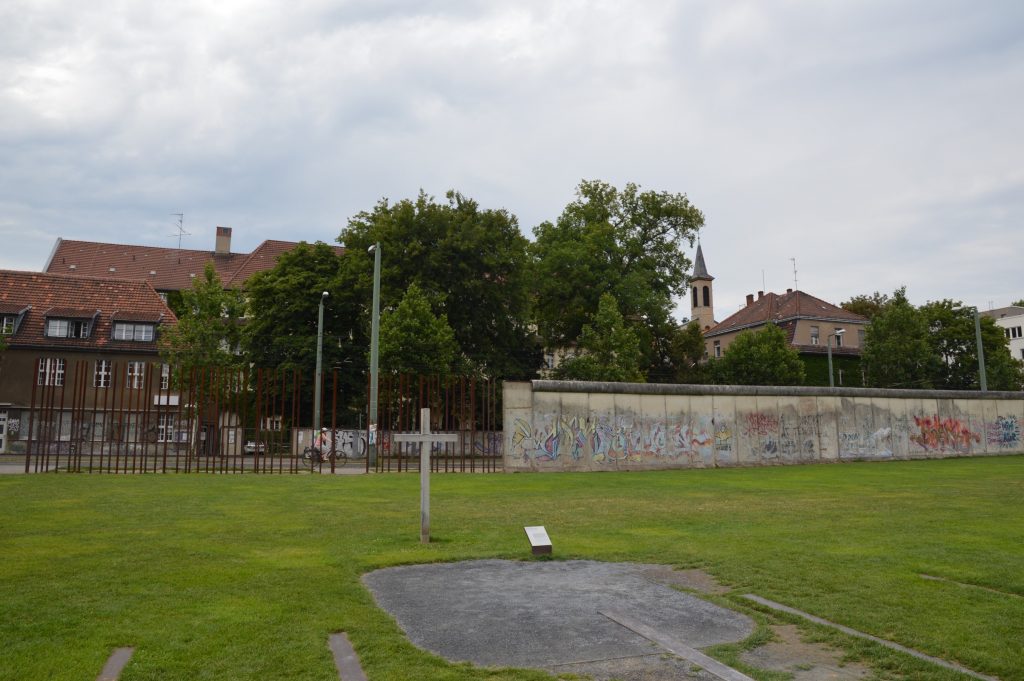 East Side Gallery
A long section of the wall which was first painted by artists in 1990. Sadly for us, but probably best for all, there's now a fence protecting most of it. People like graffiti in Berlin.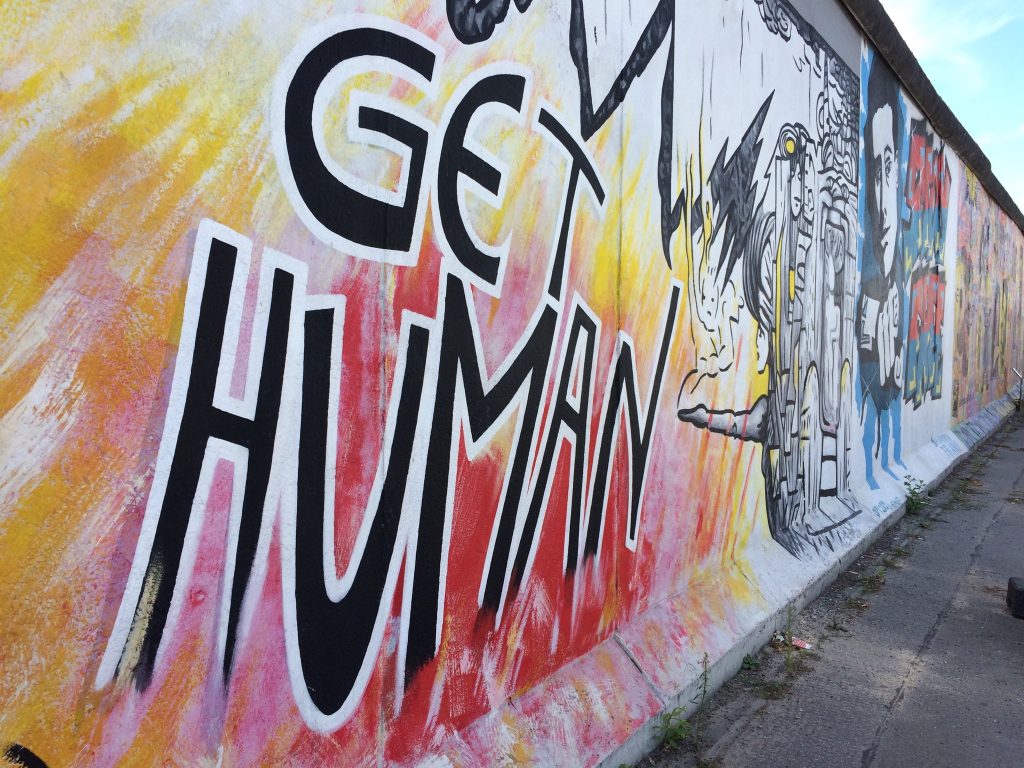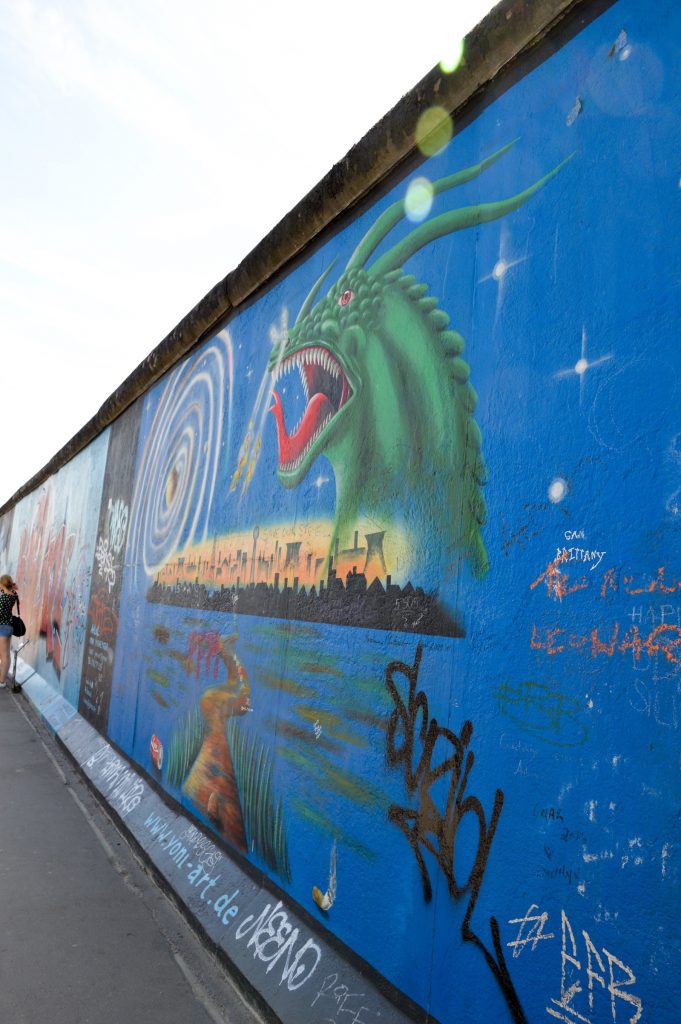 Topography of Terror
Located on the former grounds of the headquarters of the SS and Gestapo, it includes a long segment of the wall as well as exhibitions about terror and propaganda used by the Nazi regime.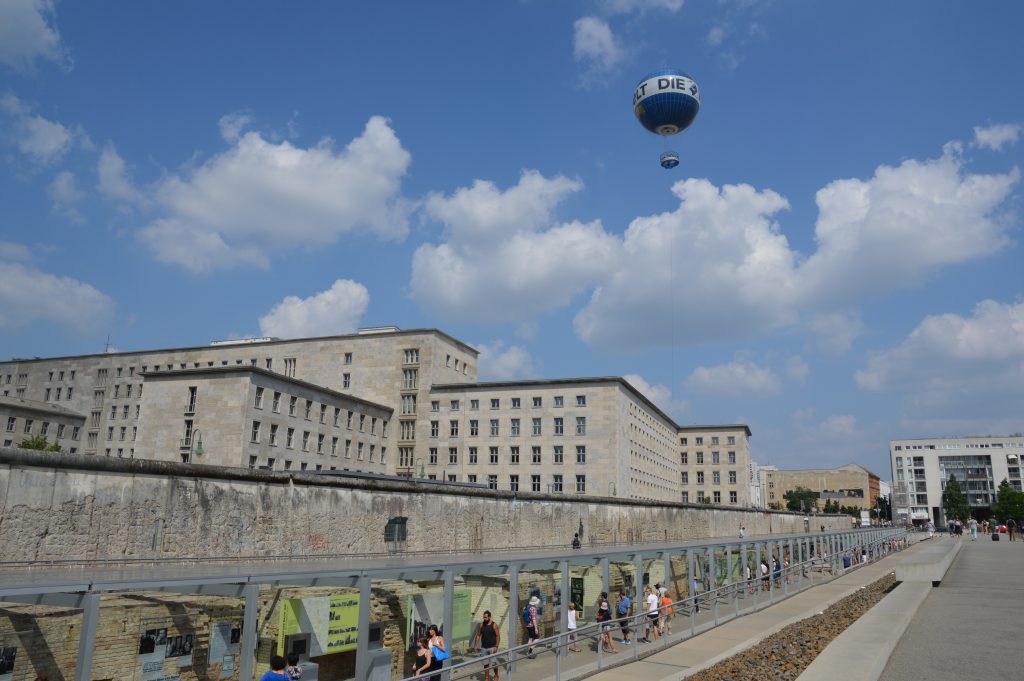 How to see the Reichstag
We visited the Reichstag thanks to our friend, Jason, who booked for us in advance. We visited the dome, which you walk up and around on a gentle incline (very doable for Sarah especially since you want to walk slowly to enjoy your surroundings) and the outdoor area where you can see great views of the city. Tips: register for free tickets online a couple weeks early to get your desired timeslot and don't forget to bring your passport when you visit.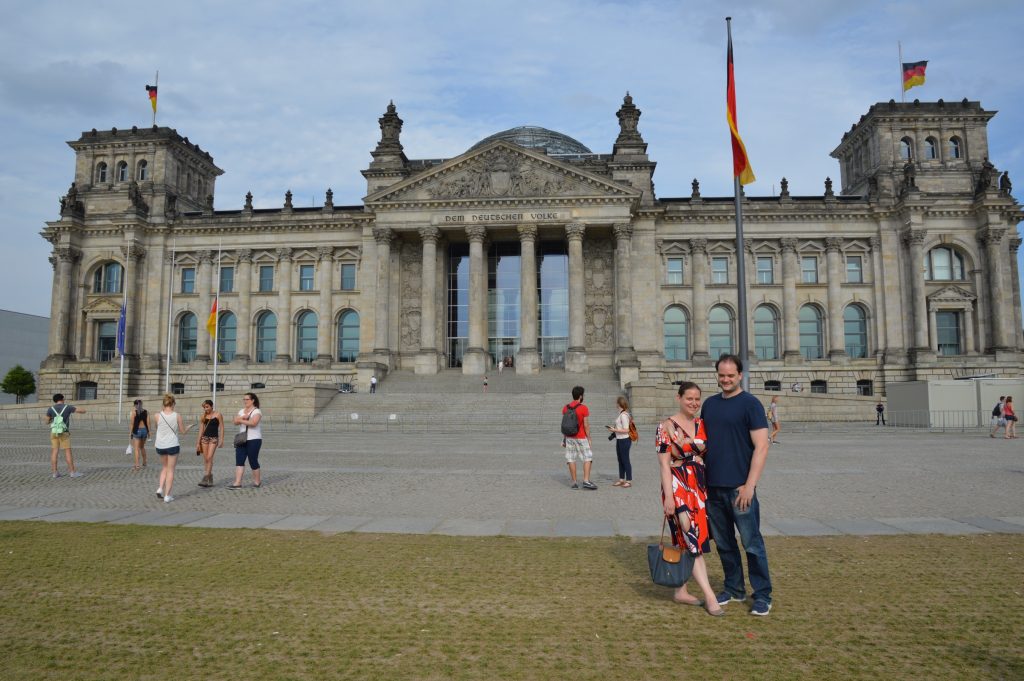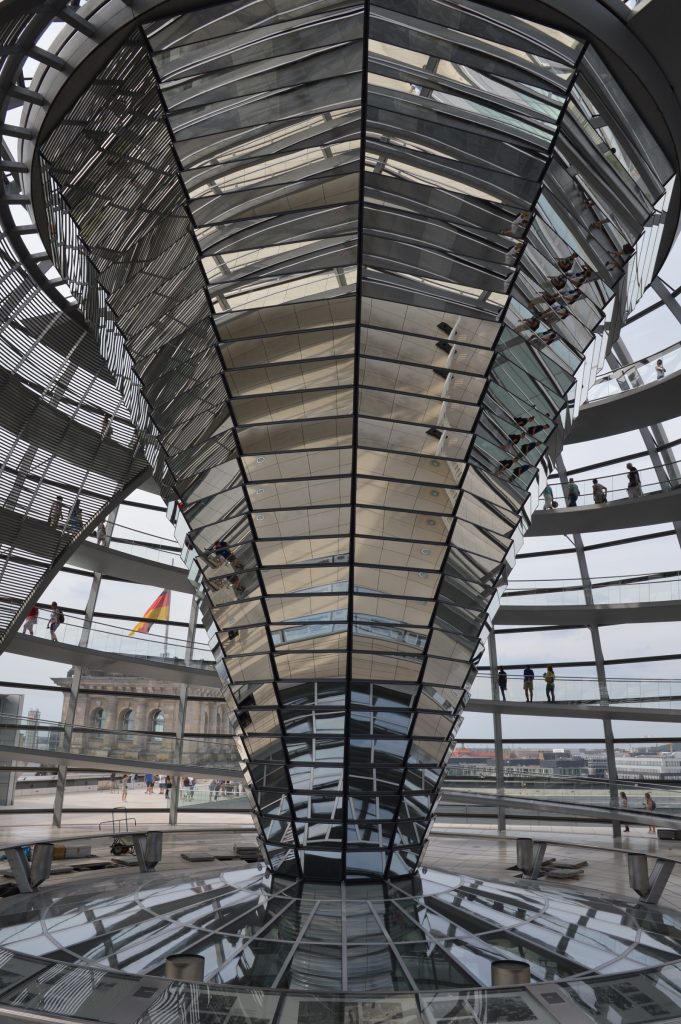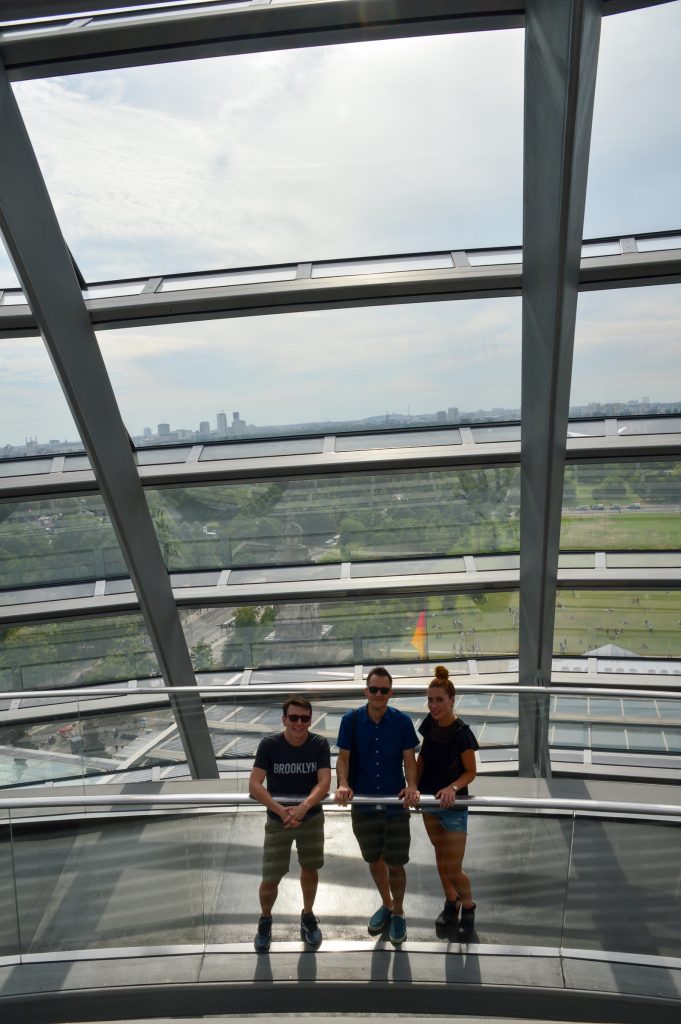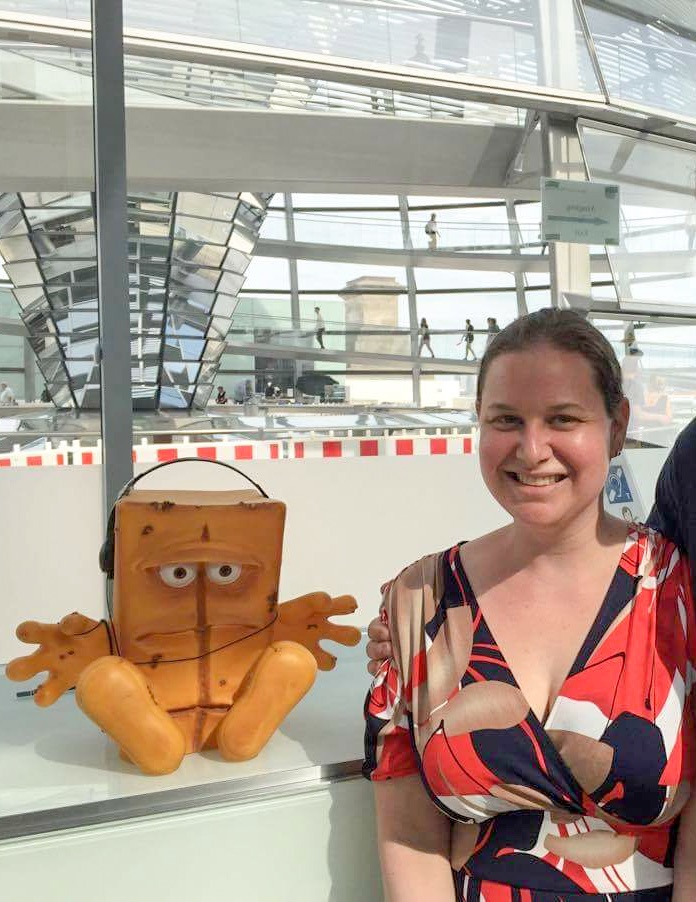 Note above, Sarah with her favorite German TV star, Bernd das Brot. Note below, the view of the Brandenburg Gate from the top of the Reichstag.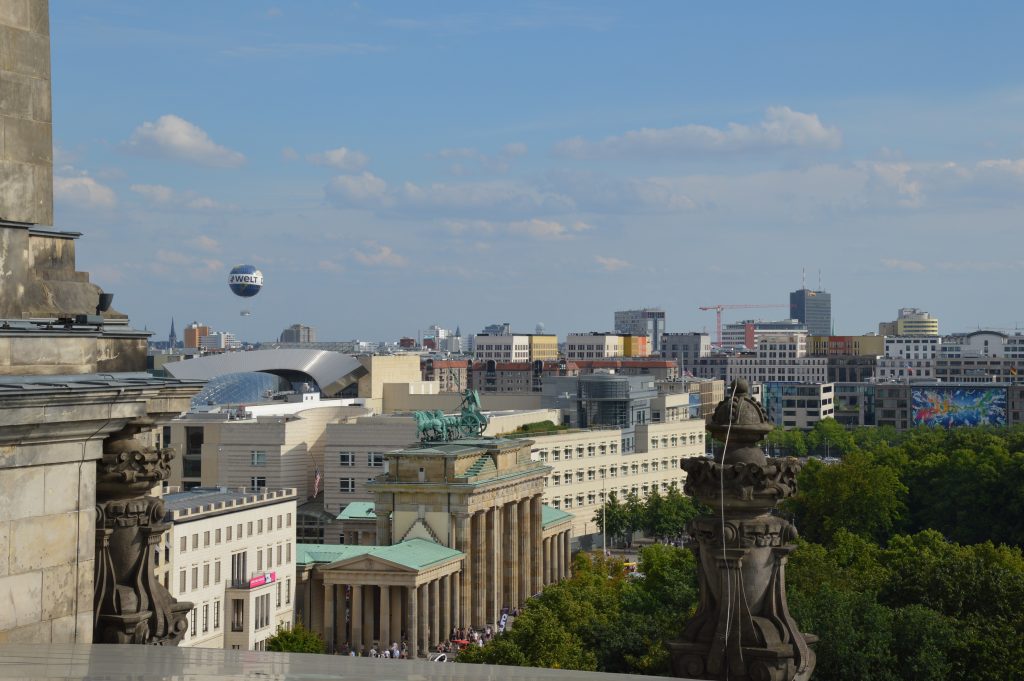 Eating and drinking in Berlin
We didn't really explore Berlin's restaurant scene since we just wanted to relax and eat casually when we weren't cooking. But we ate and drank very well (per usual).
Our favorite food in Berlin is the Döner Kebab. It's actually one of our most favorite foods anywhere. We mentioned it in our wedding ceremony – that's how serious this is. On previous visits we'd already tried most of the most well-known kebab shops, so this time we tried one at a new spot right near our apartment, Dubai Gemüse Kebab, and one new to us place in the Döner Kebab hub of Kreuzberg, Kottiwood. We would recommend them both! But then again, we've rarely eaten a Döner Kebab in Germany that we wouldn't recommend 🙂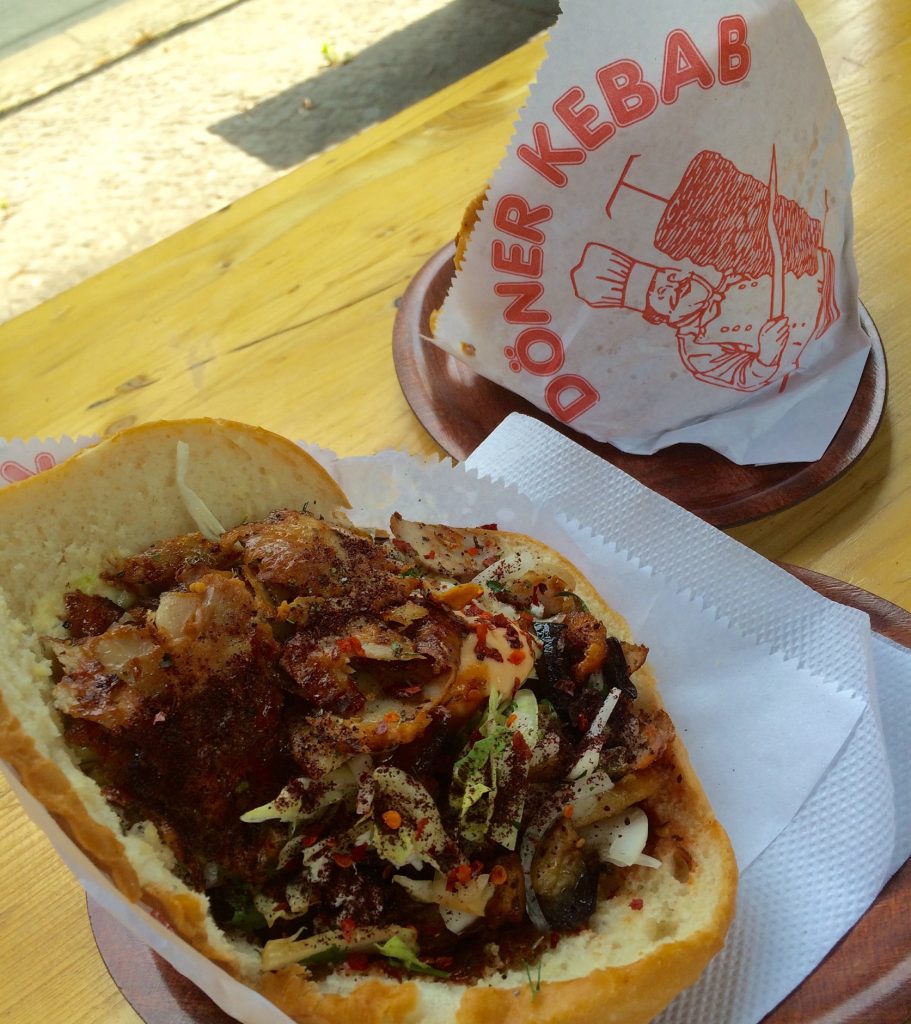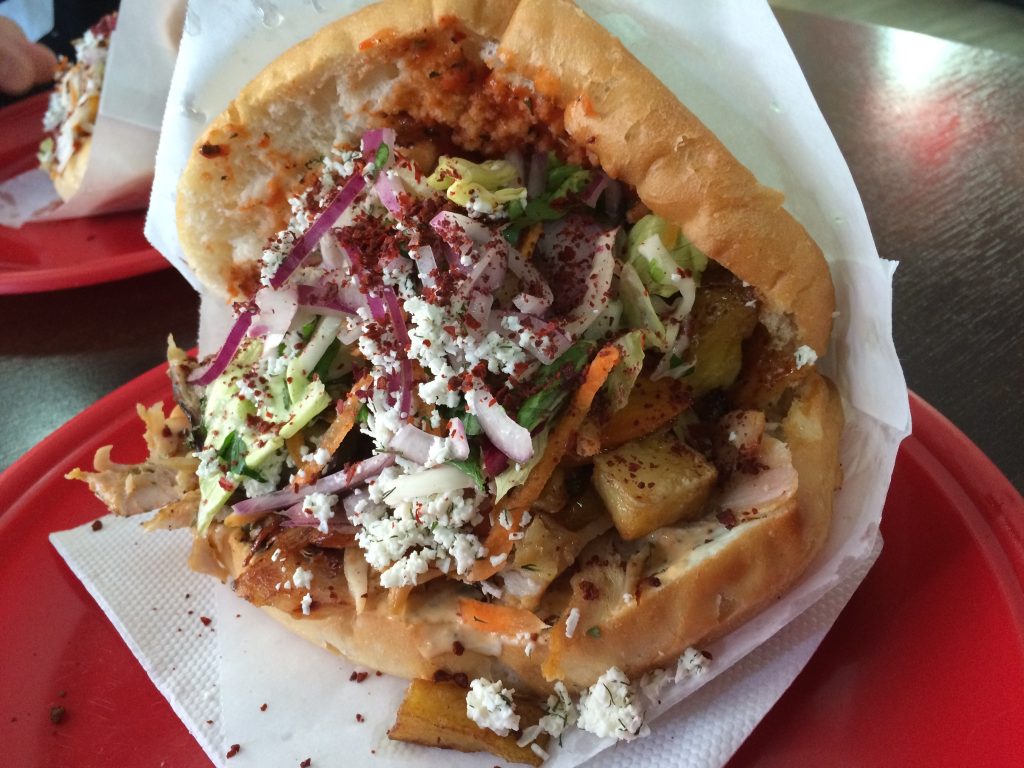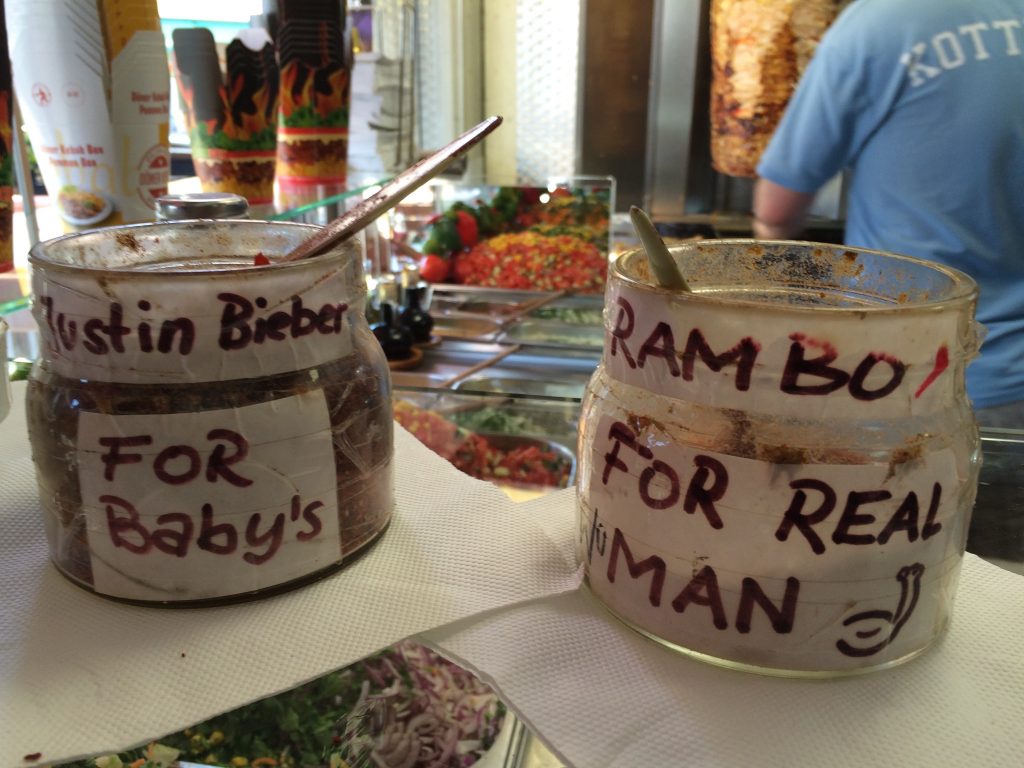 Not gonna lie – we were babies.
The street our apartment was on was home to countless Asian restaurants. Our favorite, which we had tried during our last visit, was Onkel Ho – a Vietnamese restaurant with delicious pho.
We love Prater Garten – the oldest beer garden in Berlin which also happened to be a 10-minute walk from our apartment. It's fun during the day and at night. The food – especially their delicious bratwurst – is much better than they could get away with since they also have great beer.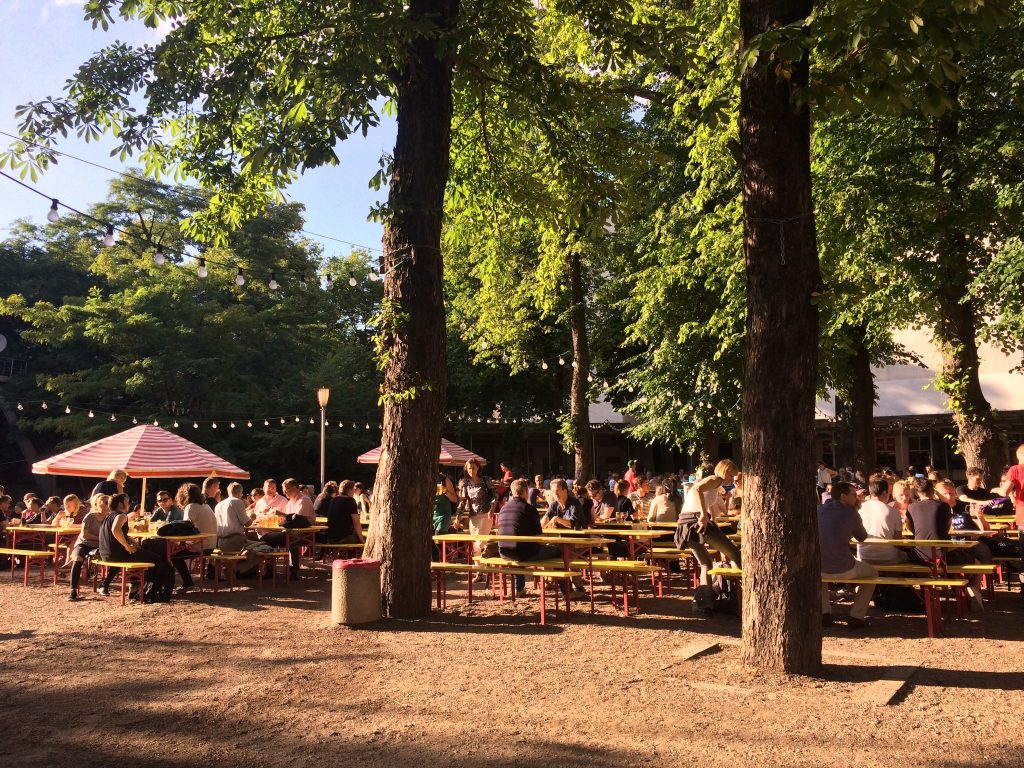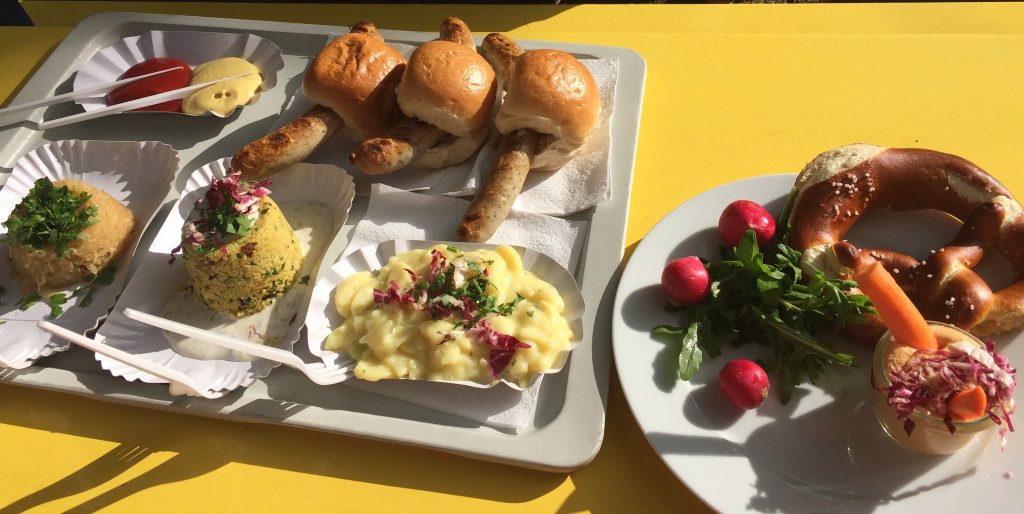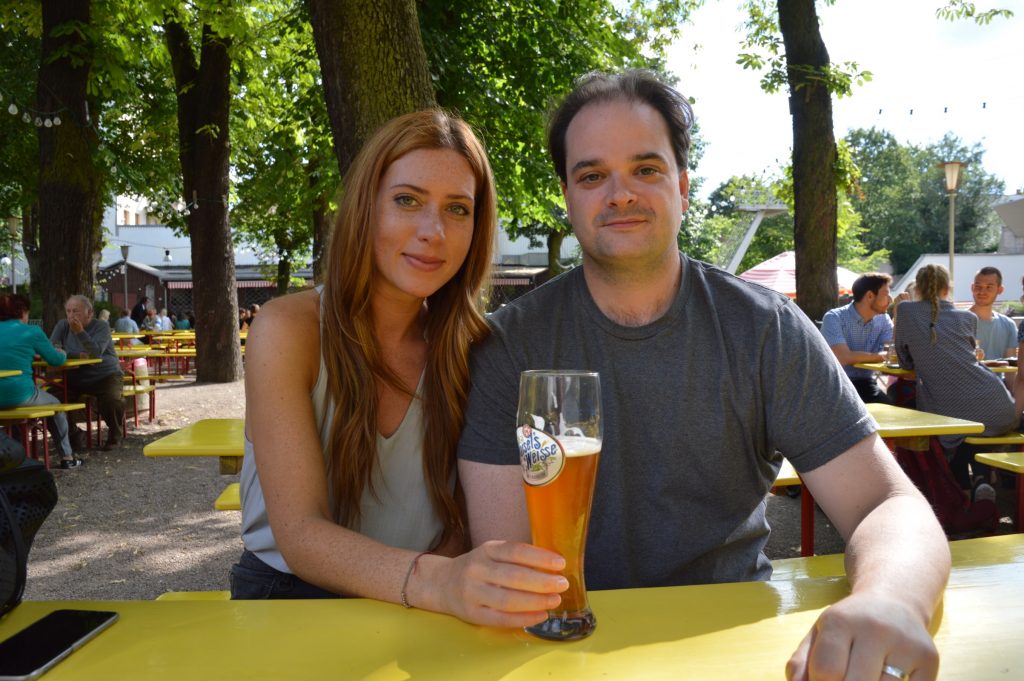 Sarah's favorite spot is Anna Blume, a combination flower shop and cafe which serves delicious cakes. Kaffee und Kuchen is an afternoon German custom and this is a wonderful place to enjoy it. They also do a mean brunch, but good luck trying to get a table outside on the weekends.

Travel Breathe Repeat… with friends!
We were very happy to see old friends and make new ones during our stay in Berlin. As mentioned above, two of our friends, Jason and Todd, just moved to the city and were kind enough to hang out with us a bunch and show us some new things. And one of our friends Jess came as part of her vacation. And another friend, Kate, surprised us by joining Jess! And last, we were thrilled to meet and hang out with Sina, another woman with LAM. Thanks to all for making our time in Berlin even better.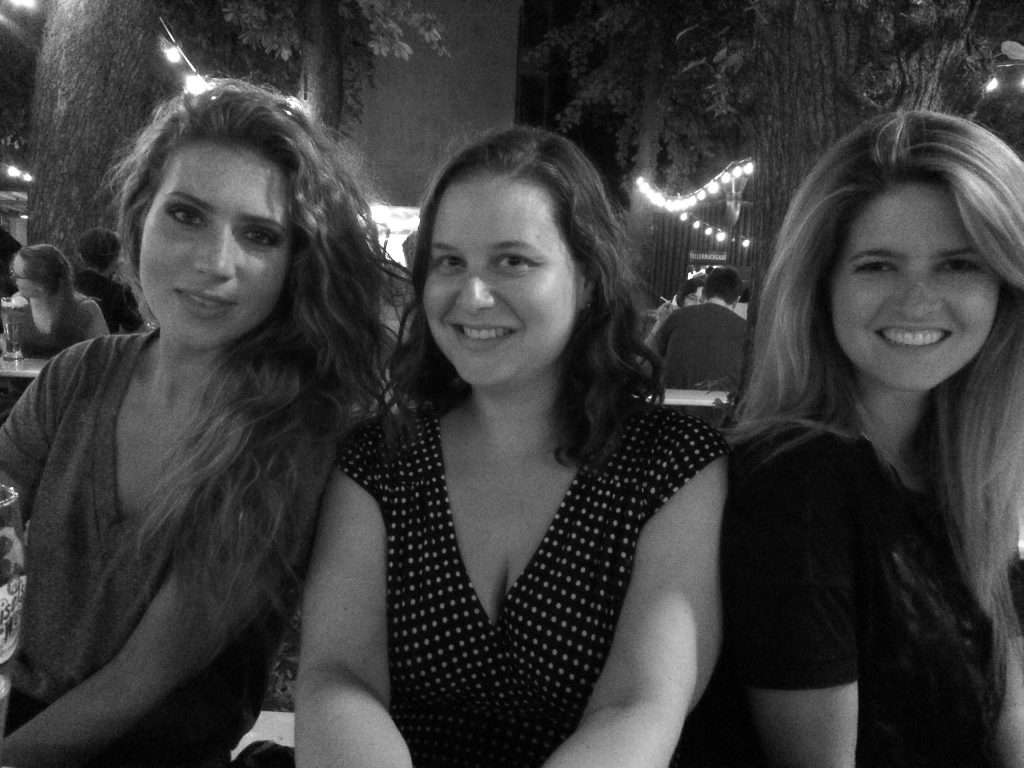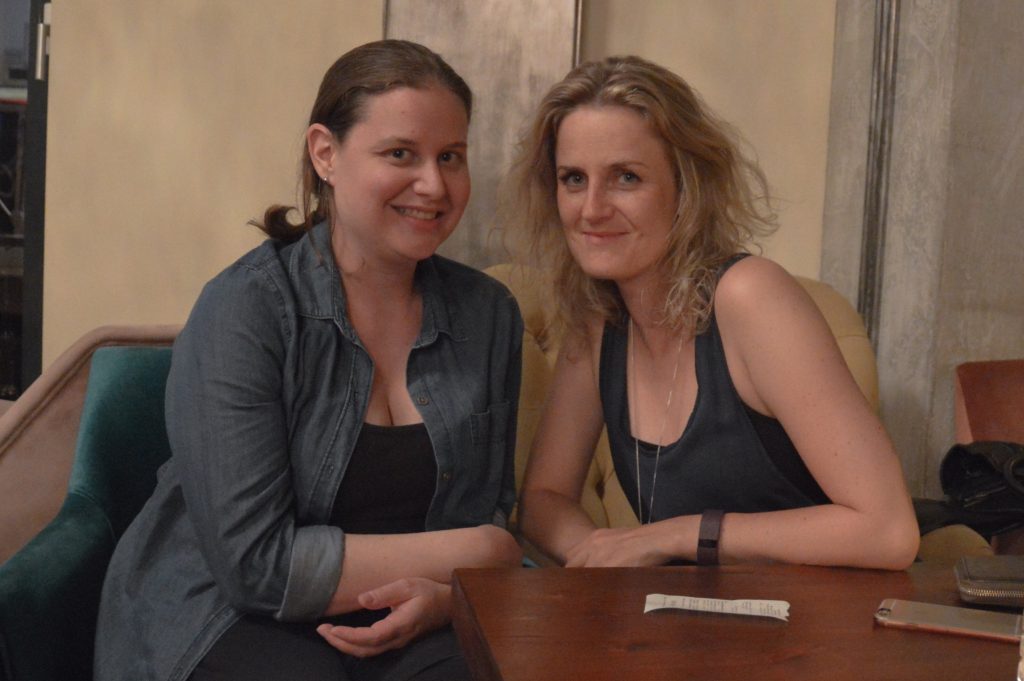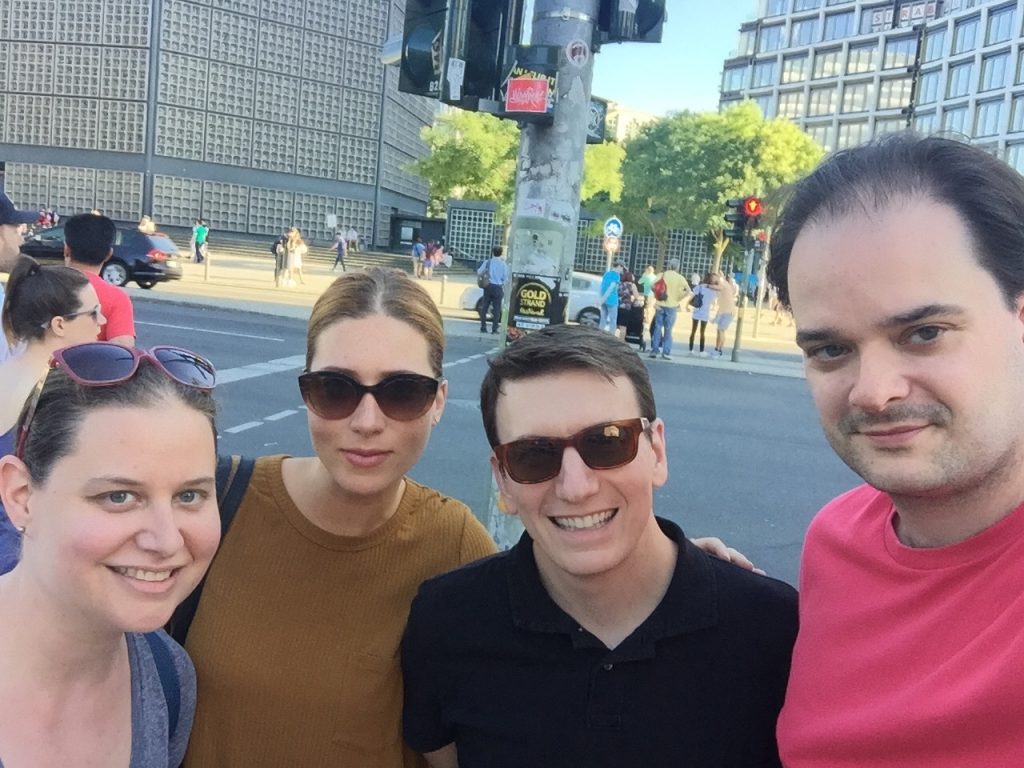 Pin it!