Last Updated on 23rd March 2019 by Sarah and Justin
We decided to end our 13-month world trip back in the country where we truly discovered our love of travel together: Germany. We started in Freiburg im Breisgau, a small city in the Black Forest. We had visited Freiburg once before and loved for its overall relaxed vibe, its pretty location, and its food (specifically Flammkuchen). We were excited to return and our memories did not deceive us. Freiburg is indeed one of the loveliest and most enjoyable cities we've visited. And, as a bonus, it's the sunniest city in Germany! We're happy to share our recommendations for things to do in Freiburg and where to eat the best Flammkuchen.
Things to do in Freiburg
Get out into the Black Forest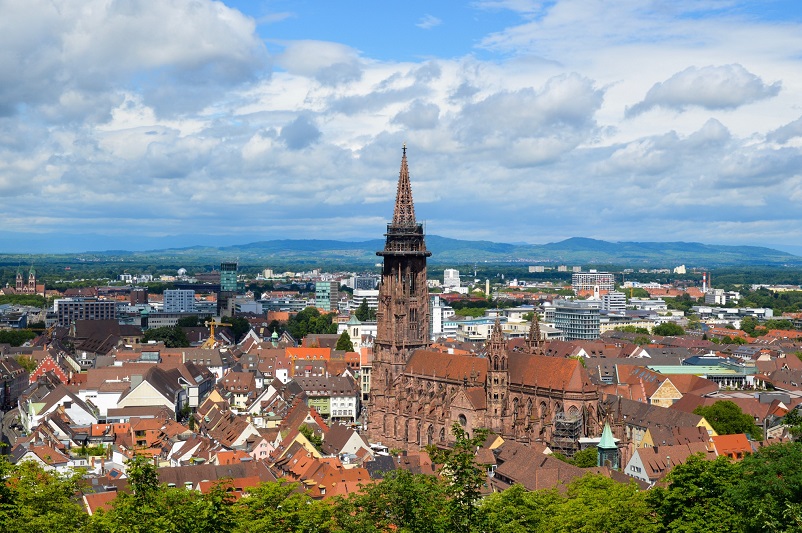 Freiburg serves as a gateway to the Black Forest for many tourists. Even if you're not fully exploring the area (we haven't), you can still see some of what the Black Forest has to offer right in Freiburg. In the middle of the city is Schlossberg, a big hill that was once fortified. You can hike up the whole thing, but we took the Schlossbergbahn (the wonderfully-named funicular) up most of the way and then hiked a bit further to the top view point (and yes, Sarah needed her portable oxygen concentrator for that).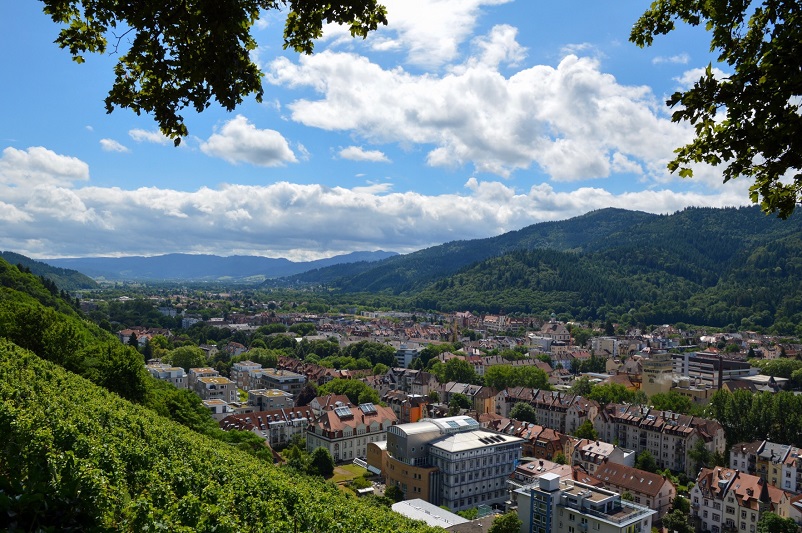 It was nice to walk in the forest up there, but honestly, the views are best at the level where the funicular lets you off. There you can see the entire city of Freiburg, including its beautiful cathedral, spread out right in front of you. If you want to take a longer hike, you'll have access to many paths and trails.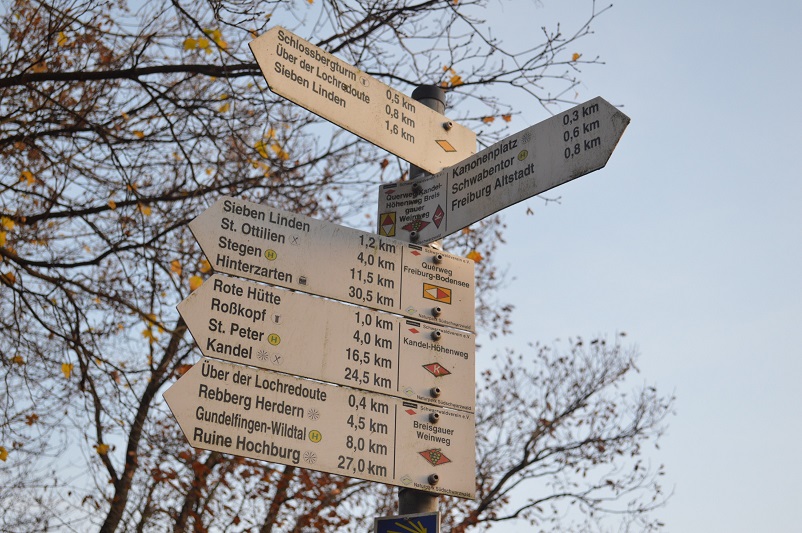 After taking the funicular up, we walked down. If you do the same, you'll find yourself right in the middle of Freiburg's Old Town (Altstadt).
Explore the Freiburg Old Town
Want to see colorful and half-timbered buildings as you walk along cobblestone streets? Freiburg's Old Town is the place for you! There are also two old city gates (Schwabentor and Martinstor).
The big gorgeous Freiburger Münster also deserves some attention. The Gothic cathedral has lovely pink brick and flying buttresses.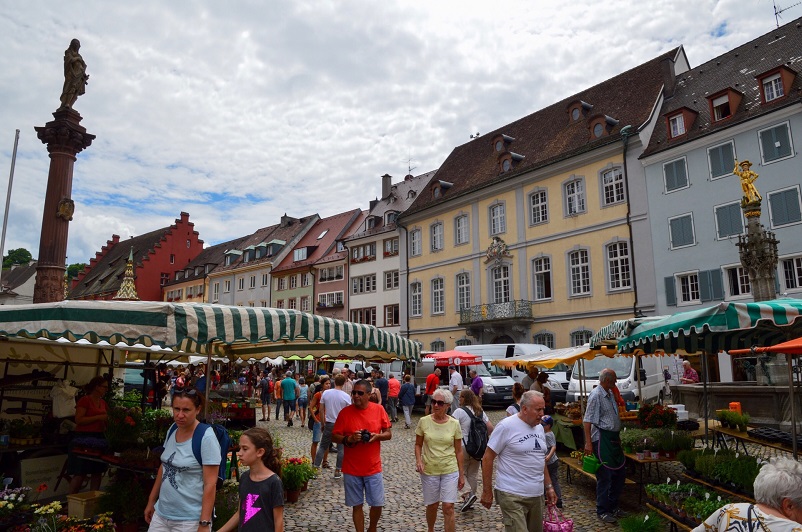 During the summer, Münsterplatz is bustling with a great green market. And during the holidays, you can enjoy some Glühwein at their Christmas Market.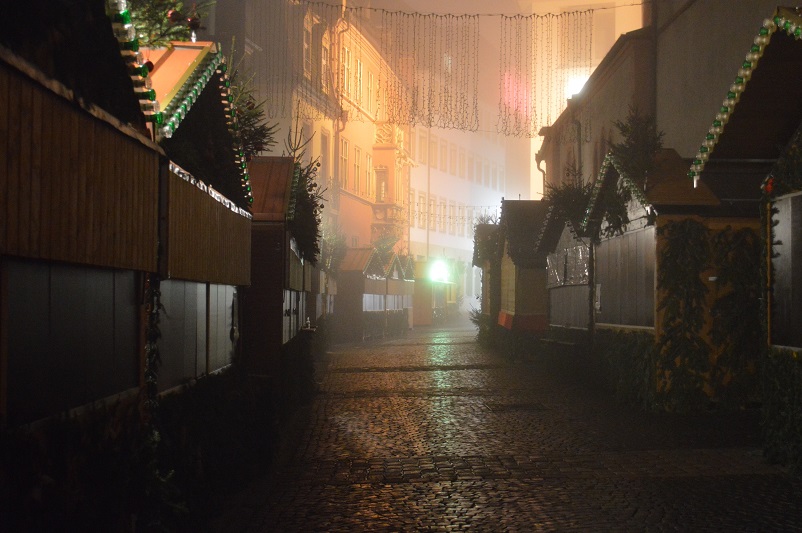 Venture further afield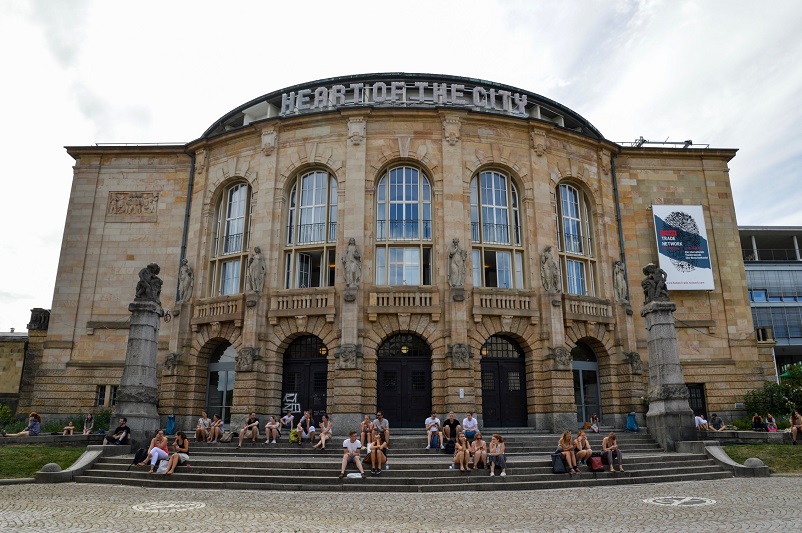 During our first visit to Freiburg, we mainly stuck to the Old Town. This year, we had more time and had to do mundane, long-term travel things like laundry, so got to explore the non-touristic parts of the city a bit further. Freiburg is a university town, and we found some interesting looking buildings in that area of the city.
We'd also recommend going back near the Freiburg train station, to see this scenic view of the blue Wiwilibrücke against a backdrop of mountains. The bridge is a popular place to have a sit, and even though it's not as precarious as it might look from afar, we weren't that adventurous. If you cross the bridge, you'll find Herz-Jesu-Kirche. It's a bit kitschy looking with its bright green spires. Much different from the grand Freiburger Münster.
Enjoy the Freiburg Bächle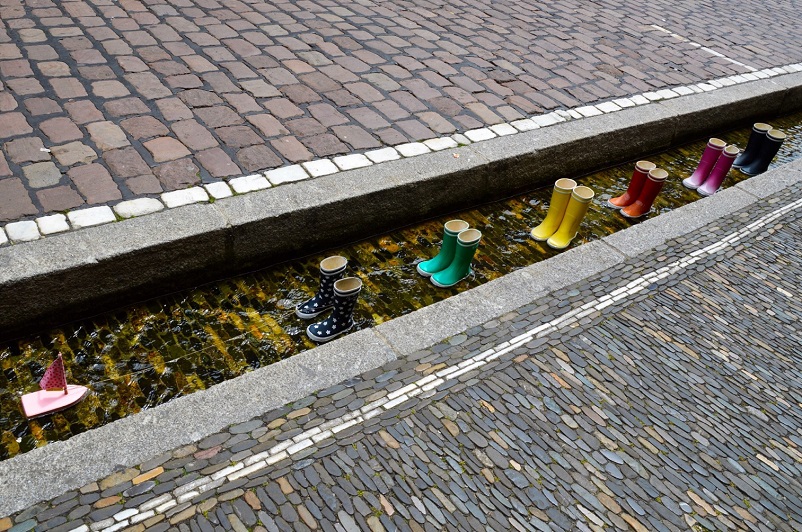 Freiburg is also known for its canals. These aren't like the grand waterways you'll find in Italy or the Netherlands, but rather narrow gutters that line most of the streets in the city. They're called Bächle in German and locals say that if you accidentally fall in one (or more like step in one since they're quite shallow), you'll marry a Freiburger.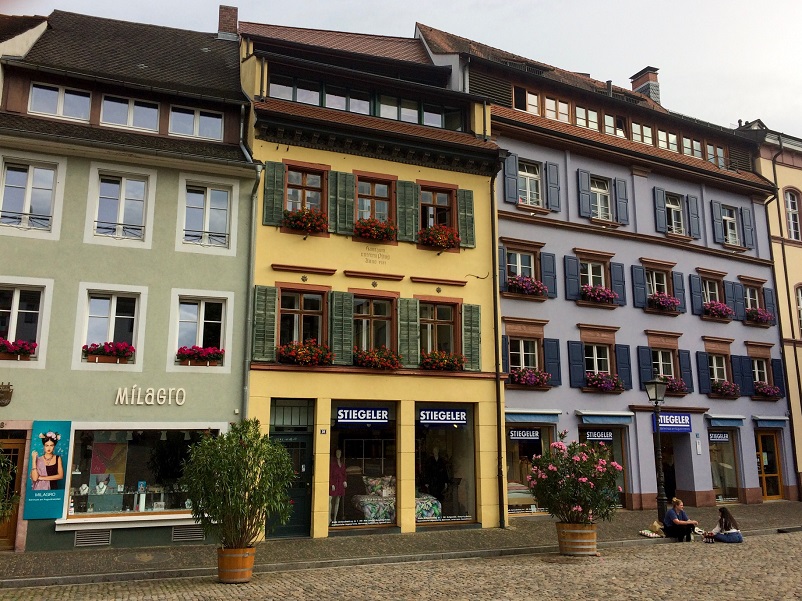 We were most recently in Freiburg in June and one of the things people like to do most there in the summer is sit with their feet in the Bächle. You can take your shoes off and cool your feet in the Bächle that have running water, or do like we did, and just use the dry ones as a resting spot. But whichever you choose, definitely bring a beer or a picnic.
Don't miss the crocodile of Freiburg
Okay, so there is one larger canal in Freiburg, the Gewerbekanal. Perpetually swimming in the canal is a crocodile. We quite like him (and the German sense of humor in general). And the canal itself is quite pretty as well.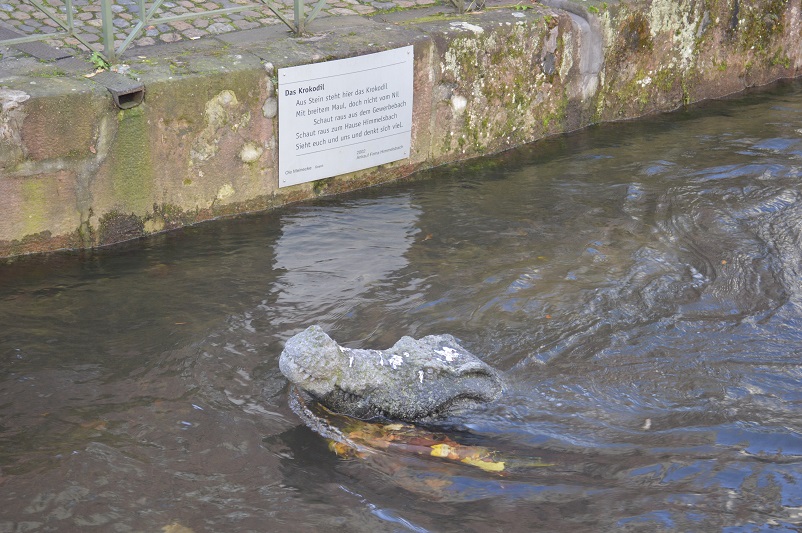 Where to eat Flammkuchen in Freiburg
Flammkuchen is one of our favorite foods. We first discovered it in its French form – tarte flambée – on our honeymoon in Strasbourg. Freiburg is right across the border from the Alsatian region of France, so shares in this culinary delight. Flammkuchen is somewhat like extremely thin crust pizza, but the dough is much thinner and much lighter. The classic recipe is a crème fraîche base topped with onions, bacon, and cheese.
In Freiburg, there are many places to get Flammkuchen, and many different varieties. You can even make your own Flammkuchen (and enjoy a great selection of beer) at the very popular pub, Schlappen.
Or eat a slightly fancier version at Der Kaiser, which is about a 15-minute walk outside the touristic center.
Where to drink the best beer in Germany: Hausbrauerei Feierling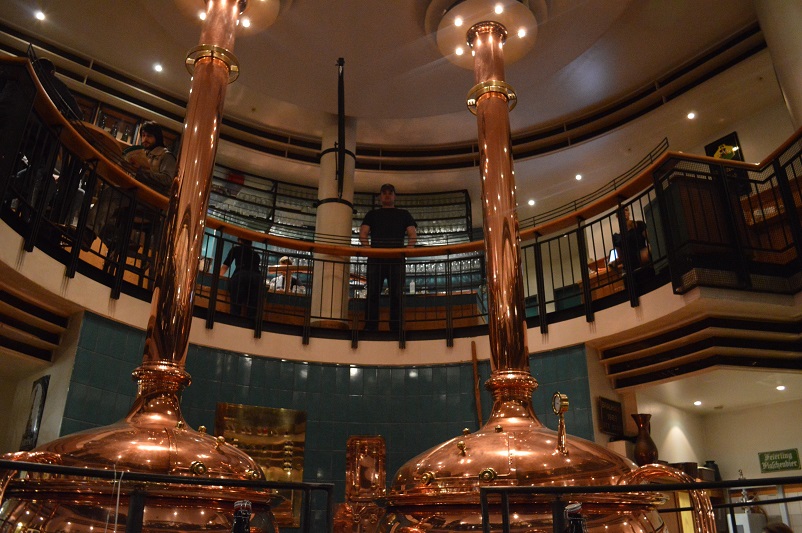 As is evident on this blog, we are beer lovers. And we've tasted a lot of beer in Germany. We can say with confidence that the best beer we've had in Germany is in Freiburg at Hausbrauerei Feierling. The beer to have at Feierling is their unfiltered pilsner. It's perfectly balanced, not too heavy, and quite refreshing. Hausbrauerei Feierling has an indoor bar/restaurant open year-round and an outdoor beer garden open when the weather is warm enough. It's the most popular place to get beer in the city so come early!
Prost!
<< Did we inspire you to plan a trip to Freiburg? Book your hotel now! >>
Like this post? Pin it!