Last Updated on 6th September 2020 by Sarah and Justin
See the Netherlands off the beaten path by visiting these nine hidden gems. Get your fill of picturesque canals, intricate architecture, peaceful parks, and impressive museums while avoiding crowds and tourists.
You'll also find some of the most beautiful places in the Netherlands among our recommendations. You may have never heard of these places to visit in the Netherlands, but they're definitely worth exploring.
Getting off the beaten path in the Netherlands
We selected our list of Netherlands hidden gems after extensive travel in the country.
Having lived here for several years, we've have quite a bit of time riding public transportation to see some of the places to visit in the Netherlands that are lesser known to most tourists.
Of course we started with the bigger, more well-known destinations. And who doesn't love the famous canals of Amsterdam or the unique architecture in our home city of Rotterdam or museums in Den Haag or the Gouda cheese market? But we have found even more beauty and gezelligheid in some of the smaller spots.
The country is so small and well-connected by public transport, it's very easy to explore. We included the train travel times to these places from Amsterdam to prove it to you, and more detailed information about how to get around at the end. You can easily visit many of these places as day trips, but you could easily spend at least one night in all of them and not get bored.
Netherlands hidden gems
Amersfoort
We'd seen Amersfoort on many a train schedule and when we looked it up we saw this impressive city gate that looked like a medieval castle. So we decided to pay it a quick visit. It's in the Utrecht province of the Netherlands. The walk from the train station is not so impressive, but once you get into center you'll be transported.
We had no idea before visiting, but Amersfoort has a very well-preserved and very beautiful medieval center. There's a series of narrow canals and small bridges leading to people's houses which you'll be instantly jealous of. Amersfoort also has one of the tallest medieval church towers in the country, which you can climb.
If you're a fan of Mondriaan, you can visit the house in which he was born, which is now a museum. And of course, there's that gate. Koppelport was part of a wall built in the 15th century. And it does look like a castle and it is just as impressive up close as it is in pictures. Oh, and right nearby is a brewery, Stadsbrouwerij De Drie Ringen, so you can stop in and enjoy a local pint or take a tour.
Amersfoort is only about a half hour from Amsterdam by train.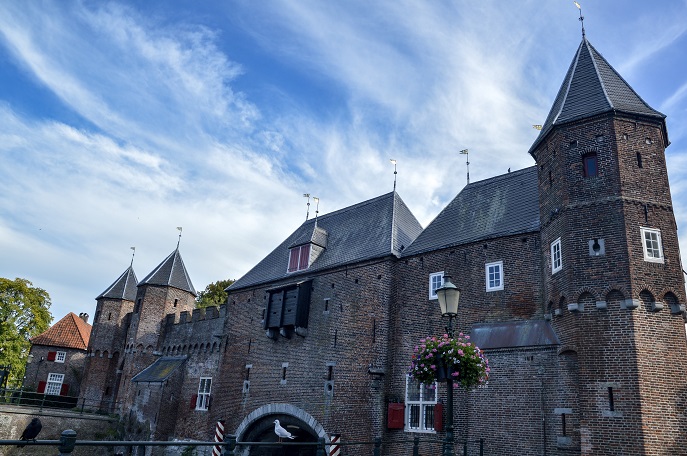 Dordrecht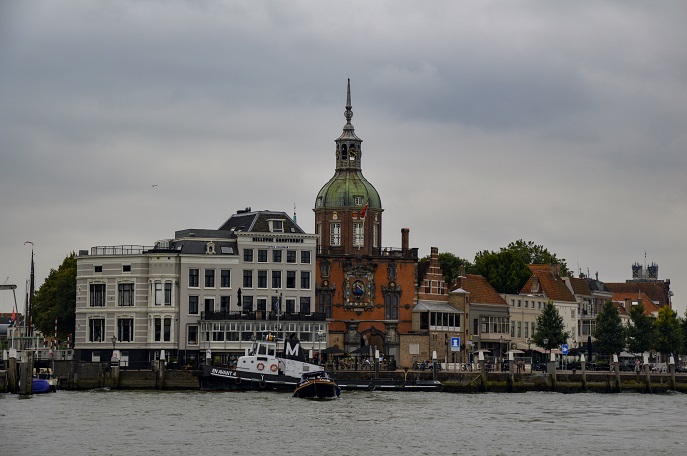 Maybe we're biased since one of our best Dutch friends lives here, but Dordrecht is one of the most beautiful cities we've visited, even under grey skies! It's in the South Holland province of the Netherlands, very close to Rotterdam. It's one of the oldest cities in the country and was very important due to its location.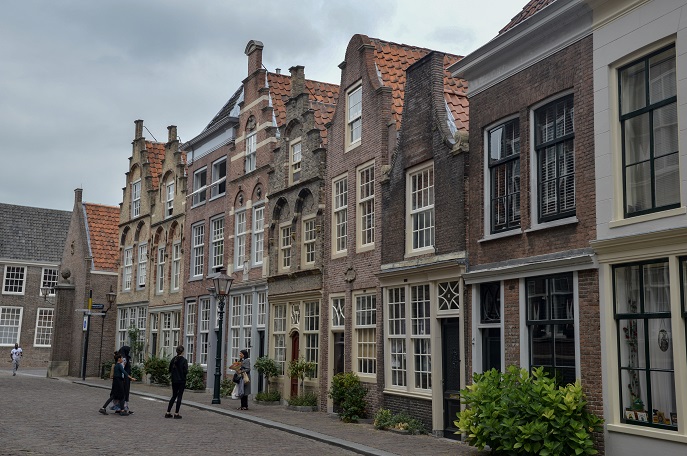 Its historic center is absolutely stunning, with a variety of waterways and small streets, beautiful boats and picturesque Dutch houses. You could wander for hours and not get bored, but if you get hungry or thirsty, just sit at one of the cafes in its bustling squares and relax and people-watch.
Dordrecht is about an hour and a half from Amsterdam by train. The most picturesque way to arrive is via Waterbus from Rotterdam- that takes about an hour.
Eindhoven
Eindhoven is definitely off the tourist track in the Netherlands, but it's one of the biggest and most international cities here. It's known as a technology and design hub, and attracts many expats to work at its companies including Philips. Eindhoven is located in the North Brabant province.
We typically just pass through Eindhoven on our way to other countries altogether, as it's home to an airport serving several budget airlines. But we decided to actually spend a day there earlier this year and really enjoyed our time there. Like Rotterdam, the city center is pretty modern and has some incredibly cool architecture. Of course, as with most Dutch cities, there's a big church and some traditional Dutch architecture to be found as well.
Eindhoven also has some impressive museums, including one of Sarah's favorite museums in the country, the Van Abbemuseum. It's a modern and contemporary art museum and has a renowned permanent collection. It's a really interesting building to walk through inside and is worth exploring outside as well (as you can see in the picture below).
And last, Eindhoven is home to a big, historic football team, PSV Eindhoven. Going to a match would be quite fun.
Eindhoven is about an hour and 20 minutes from Amsterdam by train.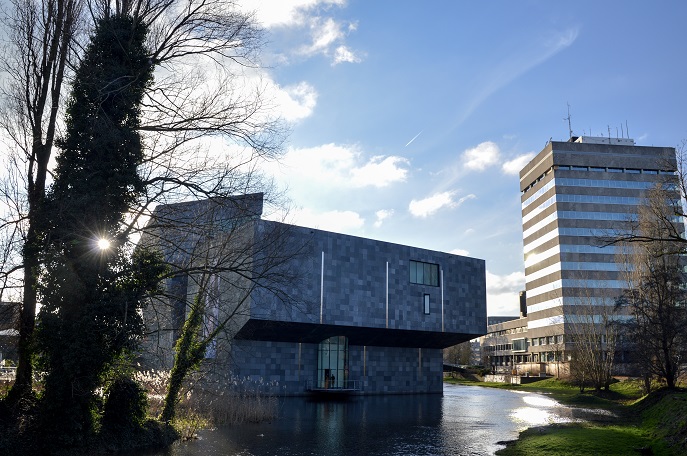 Hoorn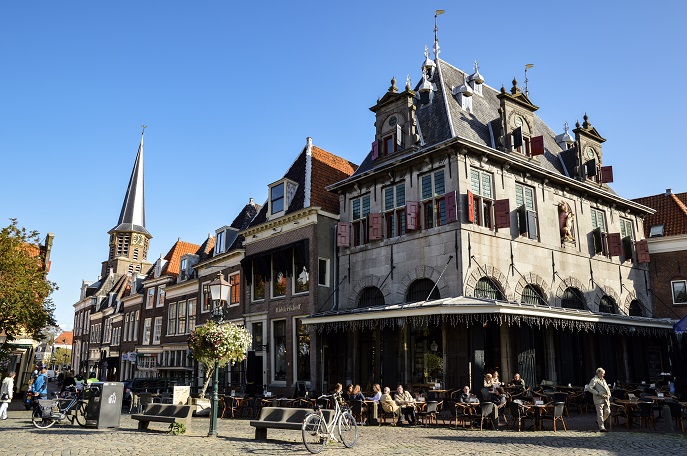 Hoorn is a lovely city in North Holland. It's not well known for any major museums or tourist attractions, but if you want to see what a typical small Dutch city looks like, it's a top contender. Wandering the small streets and alleyways, your eyes will consistently go up to the incredible architecture. The buildings in Hoorn are truly some of the most beautiful we've seen in the Netherlands. And it's quiet! There's hardly another tourist around.
Hoorn does have a superb looking museum – the Westfries Museum – which apparently has a VR experience that takes you back into what the city looked like centuries ago. We haven't had time to visit it ourselves, but spent quite sometime admiring its stunning, elaborate facade. And definitely take advantage of Hoorn's position on the water and enjoy a walk through the harbor.
Hoorn is off the beaten path, but not so far! It's only about a half hour from Amsterdam by train.
Leeuwarden
Leeuwarden is the capital city of the province of Friesland, which is in the north of the Netherlands. It's also one of the cultural capitals for 2018 so it's seen an influx of tourists recently, mostly from Germany. We finally got ourselves there to enjoy the city last year while the fall weather was still doing its thing. There are canals running through some of the bigger streets, but the most picturesque spots are on the narrow winding streets. Lovely little houses and beautiful leafy trees line these streets giving them a romantic feel.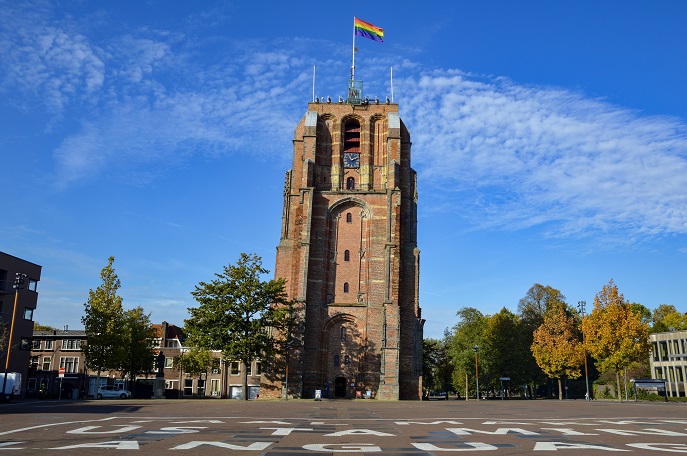 The main sight is their leaning tower, Oldehove, which stands precariously at one end of a expansive plaza. Construction on the tower began in 1529, but was never finished. Right now it's surrounded by an exhibit about language, which is quite cool. You'd an also climb to the top of the tower to get a view of the city.
If you want to learn about Frisian culture and history you can go to the Fries Museum. And another must-see destination is a prison that was renovated and turned into a hostel, shopping center, and hot spot for restaurants.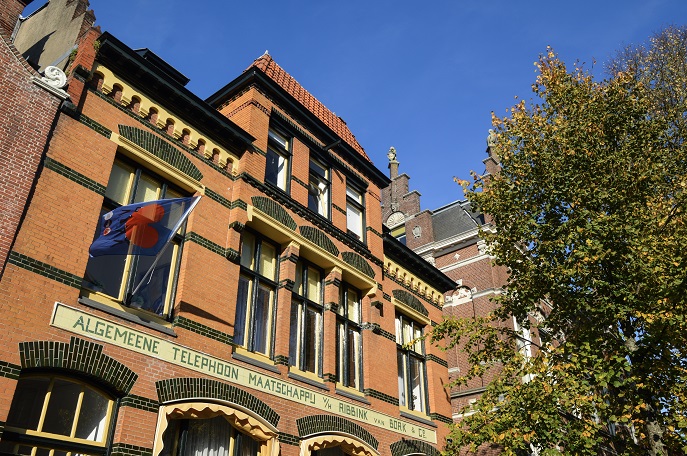 However, we must admit, our favorite place in Leeuwarden was a beer bar. Speciaalbier Café De Markies has hundreds of craft beer to try from all over the world, although we were especially impressed with new Dutch varieties we tried. It was super cozy and the staff was friendly and it was honestly one of our favorite bars in the Netherlands.
Leeuwarden is just over two hours from Amsterdam by train.
Leiden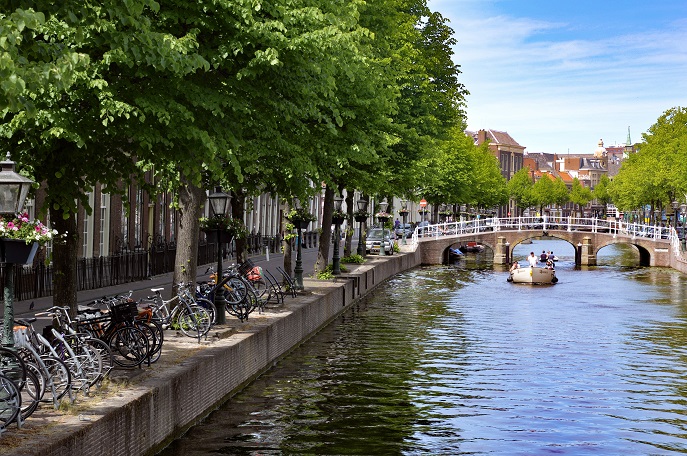 Leiden is located between Amsterdam and Den Haag, in the South Holland province. If you're visiting the Netherlands during tulip season and want to see Keukenhof you may want to consider staying in Leiden. It will be easier and less crowded to take a bus from there than Amsterdam.
<< Read next: tips for visiting Keukenhof >>
But Leiden is also a great destination in its own right. Leiden is home to the oldest university in the Netherlands, and within the country it's known as a bustling, youthful city.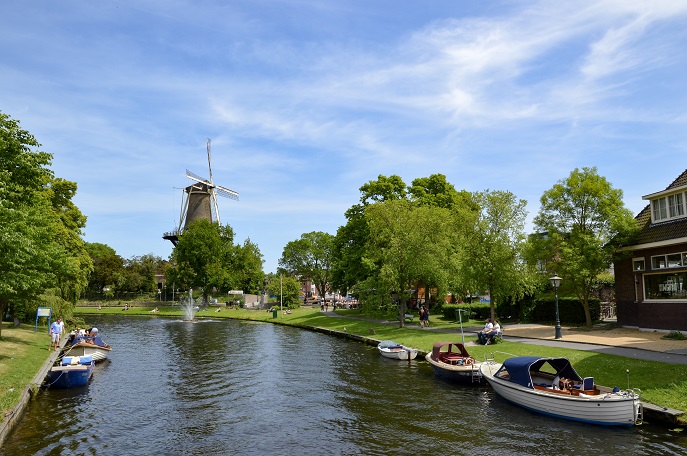 Leaving the train station, you'll be greeted with a windmill and there are big beautiful canals that you can lose yourself walking around. Leiden has a ton of interesting museums, including the Rijksmuseum van Oudheden, which focuses on Egyptian antiquities.
Another unique place to visit is the Burcht, an old structure you can climb in and around and from which you can see great views of the city. Leiden also has a wonderful market every Wednesday and Saturday on one of its canals which is a great way to soak up local life.
By train, Leiden is about 40 minutes from Amsterdam but only 15 minutes from Schiphol Airport.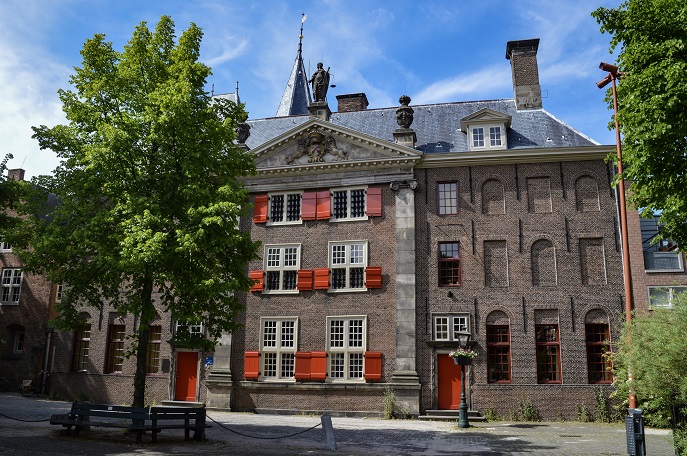 Maastricht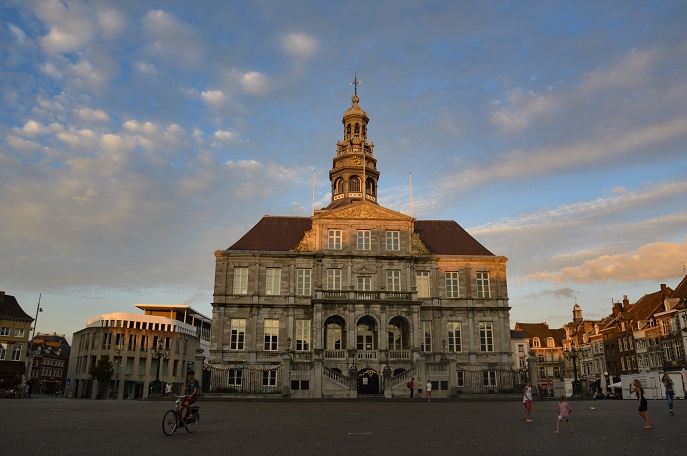 Maastricht is the capital of the Limburg province and tucked in a funny spot at the bottom of the country, between Belgium and Germany. So it's got an interesting and different feel from other Dutch cities we've been to. It's actually hillier than most other places in the Netherlands (although, that isn't that hard to accomplish). And instead of having canals through the city, it's located on a big beautiful river.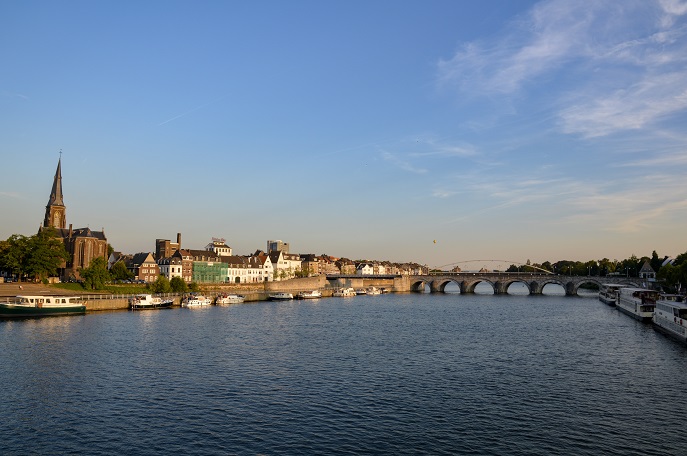 There are two parts of the city, and though most of the tourist attraction are in the old side, the newer side is definitely worth exploring for its great shops and cafes. Walking along and across the Maas River is definitely a must-do, and you'll get great views of all sides of the city from its various bridges. There are some stunning churches worth seeing, and a series of caves you can visit. We also think Maastricht is the best destination in the Netherlands for delicious food and beer (you're close to Belgium after all).
Maastricht is about two and a half hours from Amsterdam by train.
<< Read next: things to do in Maastricht >>
Nijmegen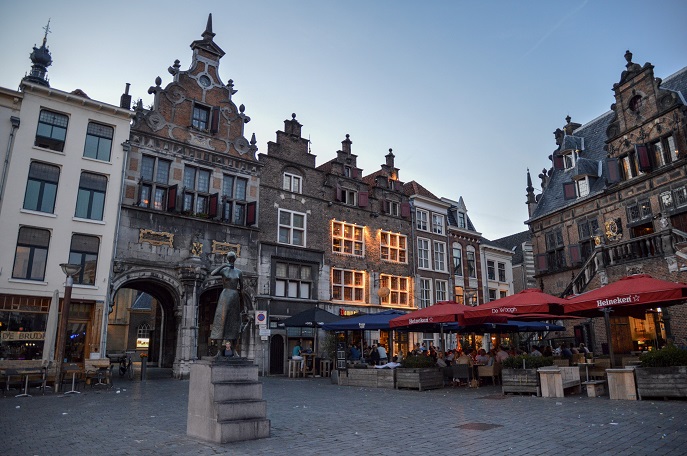 When we first visited Nijmegen, we didn't know how to pronounce it (which made telling people where we were headed a bit tricky). But we made it, and fell in love. Located in the Gelderland province, Nijmegen is the oldest city in the Netherlands and it has the ancient ruins to prove it. But it's also a university town so even though the streets and buildings look old and beautiful, the vibe feels young and energetic.
Nijmegen is also quite close to some nice cycling areas, so you can rent a bike and get out of town quite easily. Our favorite part about Nijmegen was just wandering through its cobbled streets admiring the old architecture. It's a place where you can easily feel transported to another time.
Nijmegen is about an hour and 20 minutes from Amsterdam by train.
<< Read next: things to do in Nijmegen >>
Zwolle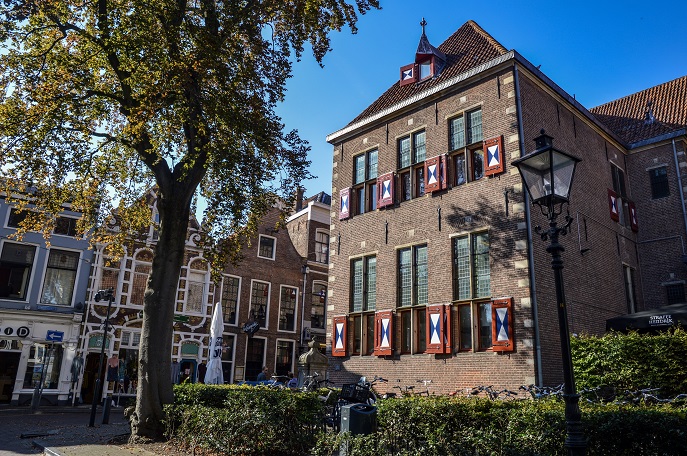 Zwolle is located in the Overijssel province of the Netherlands. Just on a map Zwolle looks super cool because the center is star-shaped, surrounded by zigzagging water called the Stadsgracht.
Walking along the water, on the outskirts of the center is quite nice; there are some nice parks and leafy places to relax. It was especially lovely during fall when we could admire the different colors of the trees.
Heading into the center of Zwolle, you'll see nice shopping streets, old city gates, and beautiful churches. There's also a wonderful art museum, Museum de Fundatie, which has superb special exhibitions. And even if you don't like art, it's worth seeing from the outside (as you can see below).
Zwolle is about an hour and a half by train from Amsterdam.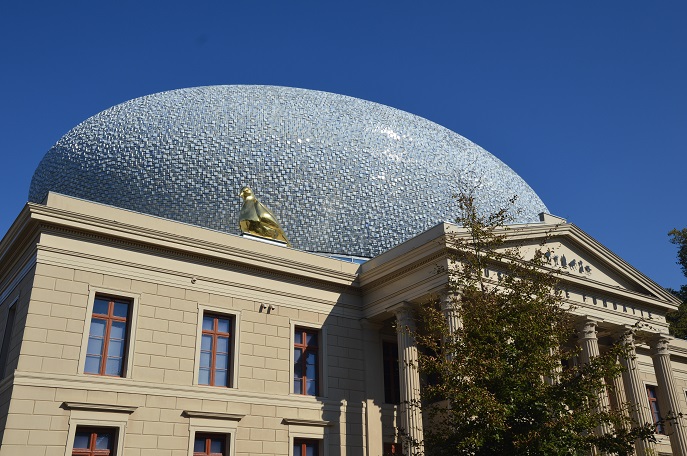 Visiting Netherlands hidden gems by public transport
We saw all of these beautiful places in the Netherlands via public transport (NS). In the Netherlands, you can ride all forms of public transportation (trains, trams, buses, and metros) using the same card (OV Chipkaart). If you're a tourist visiting the Netherlands for more than a few days and want to see more of the country, we recommend purchasing what's called an anonymous OV Chipkaart when you arrive at Schiphol or Amsterdam Centraal. The people at the NS counters all speak English and are very helpful. The card costs 7.50 EUR but will save you money (and hassle) in the long run.
The NS website is a great resource for train schedules. They also have an app, so if you're visiting the Netherlands for more than a few days, we recommend downloading it. And keep an eye out for deals on day passes on the NS site as well.
In the Netherlands, public train transportation is accessible to people with disabilities requiring assistance. If you are traveling in a wheelchair, you must contact the NS ahead of time to arrange assistance.
We hope this post has inspired you to visit some of these Netherlands hidden gems. Is there anywhere you love that we didn't include? Let us know in the comments!
Like this post? Pin it!