Last Updated on 8th January 2019 by Sarah and Justin
Nijmegen was the last new destination on the first leg of our year-long journey. So we were a bit sentimental coming here. We tried to take it in slowly but explore as much as possible. Its picturesque inner city and accessible outskirts made that pretty easy.
Why Nijmegen?
People here were surprised that we chose Nijmegen as part of our tour of the Netherlands – it's more well-known by locals than tourists. And truth be told, one of the reasons we visited was the lure of an out-of-the-ordinary-looking apartment. The study of a historian, its walls are lined with books and other curiosities. Our proprietor also taught us some Nijmegen history.
As mentioned in our previous post about Maastricht, some consider Nijmegen to be the oldest city in the Netherlands. (Actually, Nijmegen officially won that battle.) And while the buildings and streets and random Roman walls (found while building a casino) certainly felt that way during our visit, it's also one of the more youthful places we've visited. We learned from the owner of our apartment that of the 170,000 people who live in Nijmegen, 30,000 are students. Of course we were in Nijmegen just at the time that the students were returning to school, so they were everywhere. And the Dutch tradition to welcome (or haze?) new students is quite conspicuous, with loud public displays of silliness.
A beautiful city
As per usual, we most enjoyed wandering around Nijmegen looking at all the interesting buildings and streets. It has a massive church in the center which made for a good directional landmark, two beautiful parks with old city walls, and a bunch of cozy squares.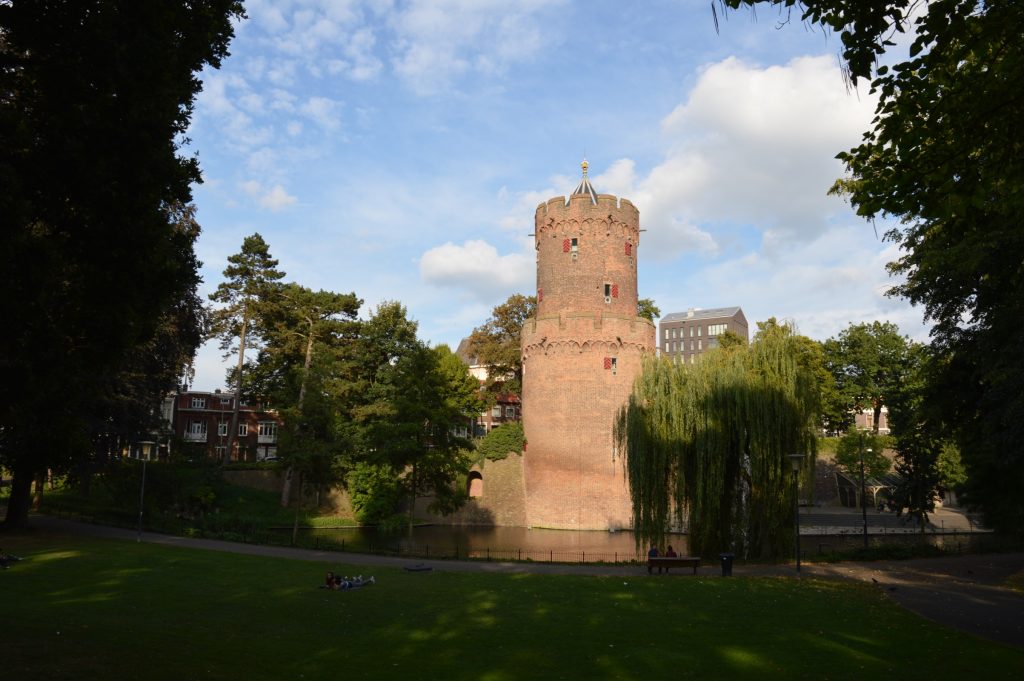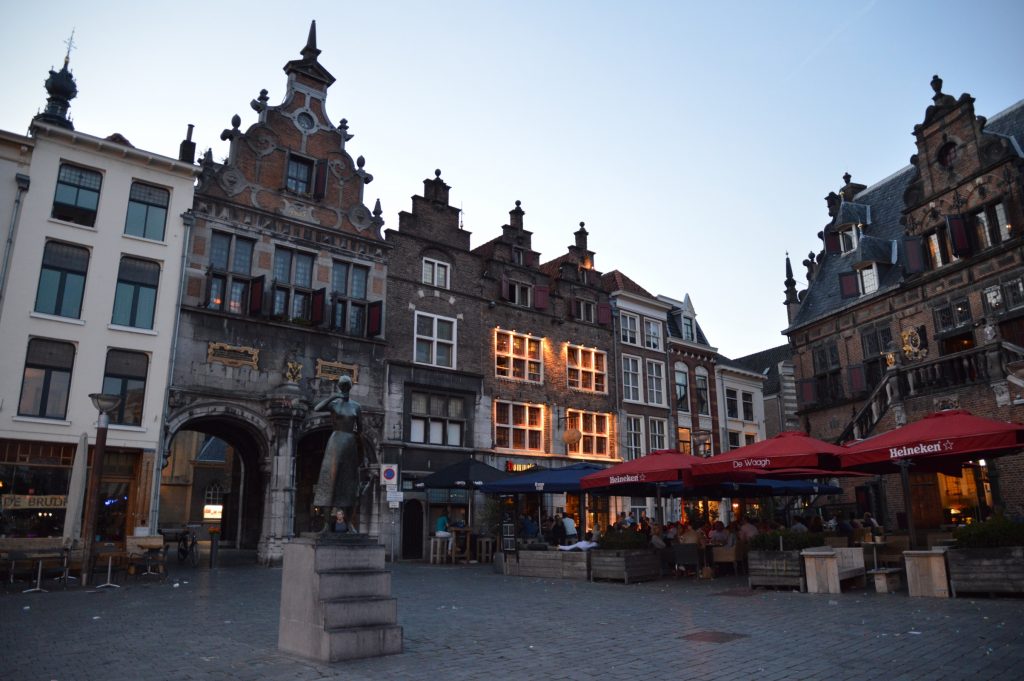 Biking from the Netherlands to Germany
We did the Dutch thing and rented bikes one day. We biked through fields of cows and corn, along the river Waal (which is actually the same as the Rhine) and its beaches, and ended up in Germany. About half-way through, it downpoured on us. But it let up after 10 minutes and an hour later we were completely dry. Tip: we knew about Scottish weather, but didn't know the weather in the Netherlands is so fickle, so if you set out a long-ish bike ride, bring a poncho or be ok getting wet!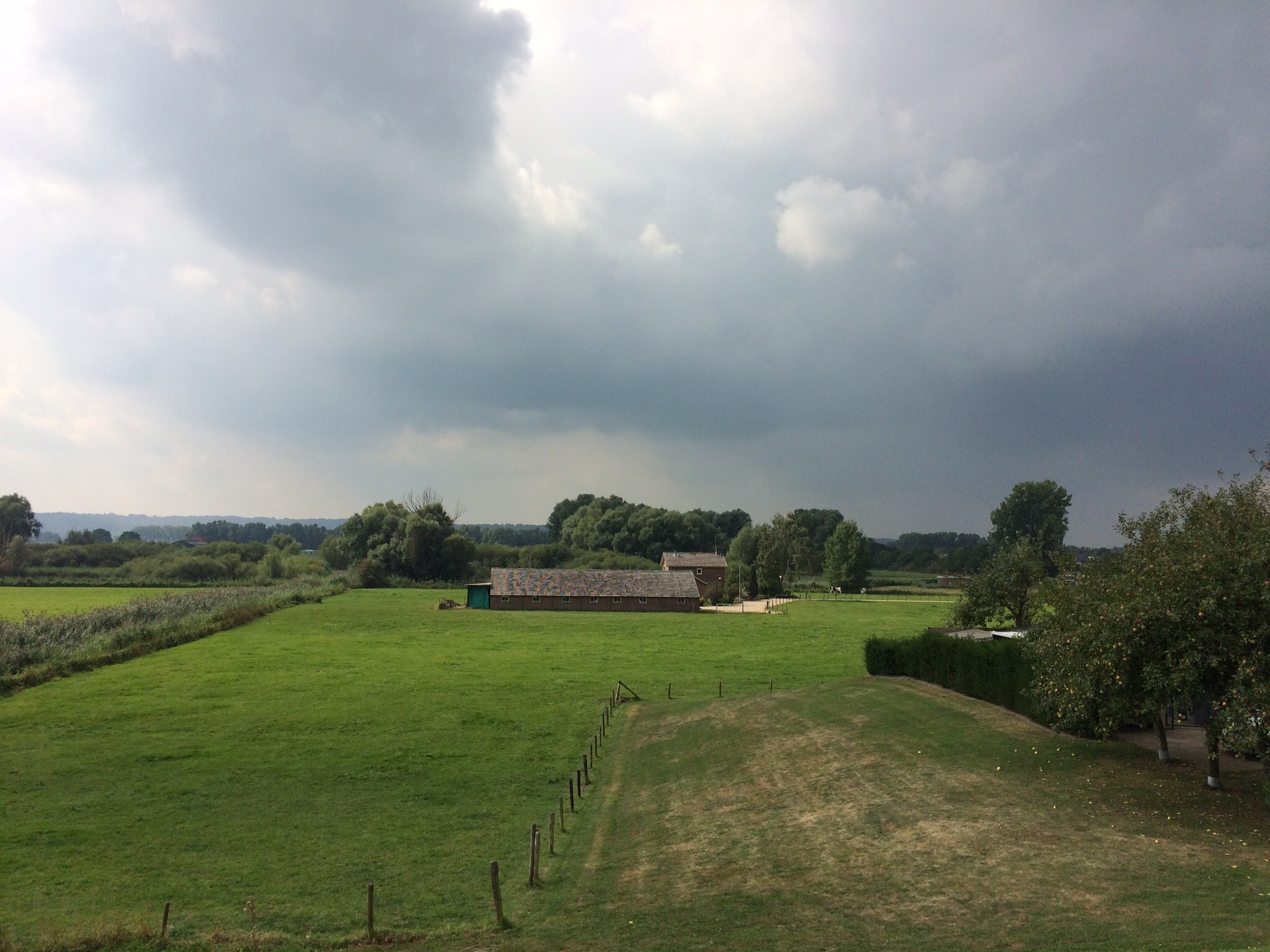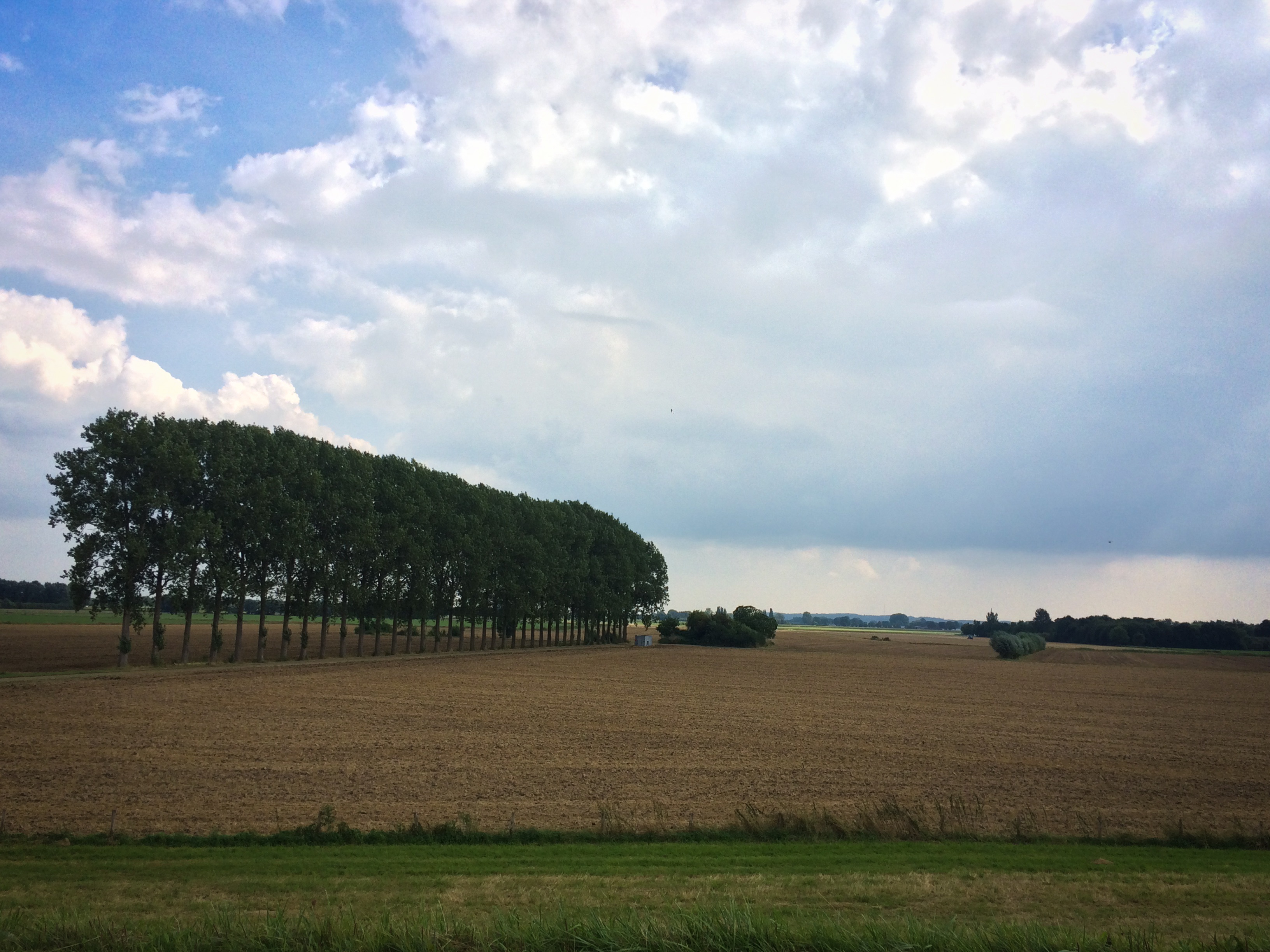 Day trip to Nationaal Park De Hoge Veluwe
We also took a day trip from Nijmegen to Arnhem and the Nationaal Park De Hoge Veluwe, which is home to the wonderful Kröller-Müller Museum. The park has all these free white bikes that you can use during your visit. We arrived a little late to the most popular entrance (Otterlo) and weren't able to get bikes upon arrival, so had to walk 2.5 km to the museum, where there were many bikes for the taking.
The highlight of the museum is the huge sculpture park, which is one of the largest in Europe and has over 160 sculptures.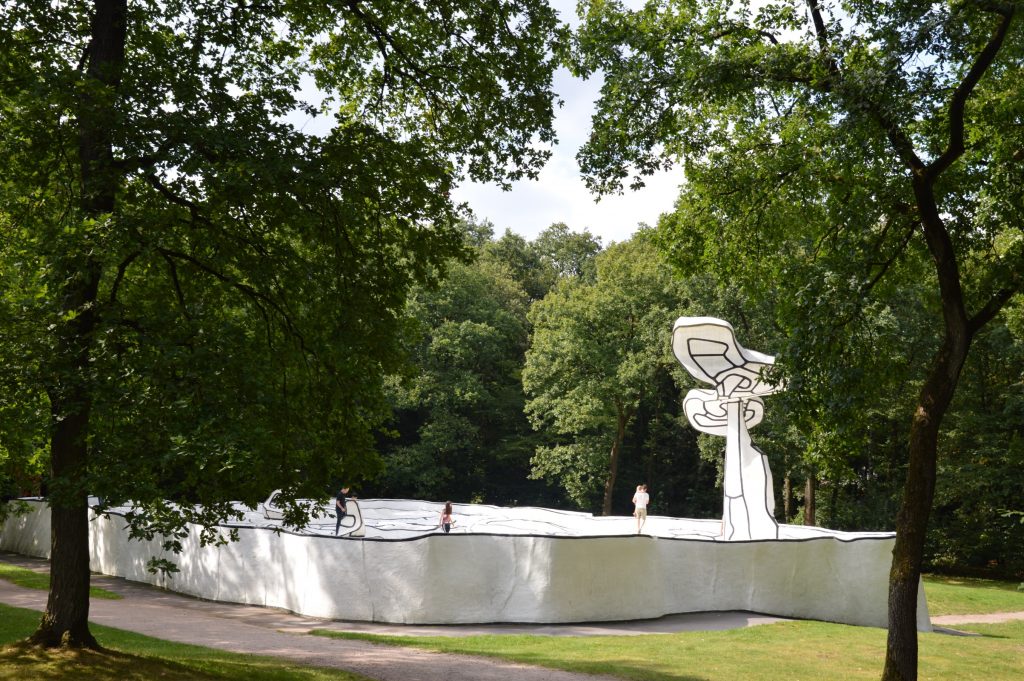 And inside is the second largest Van Gogh collection in the world, and quite a few cubist paintings (among others).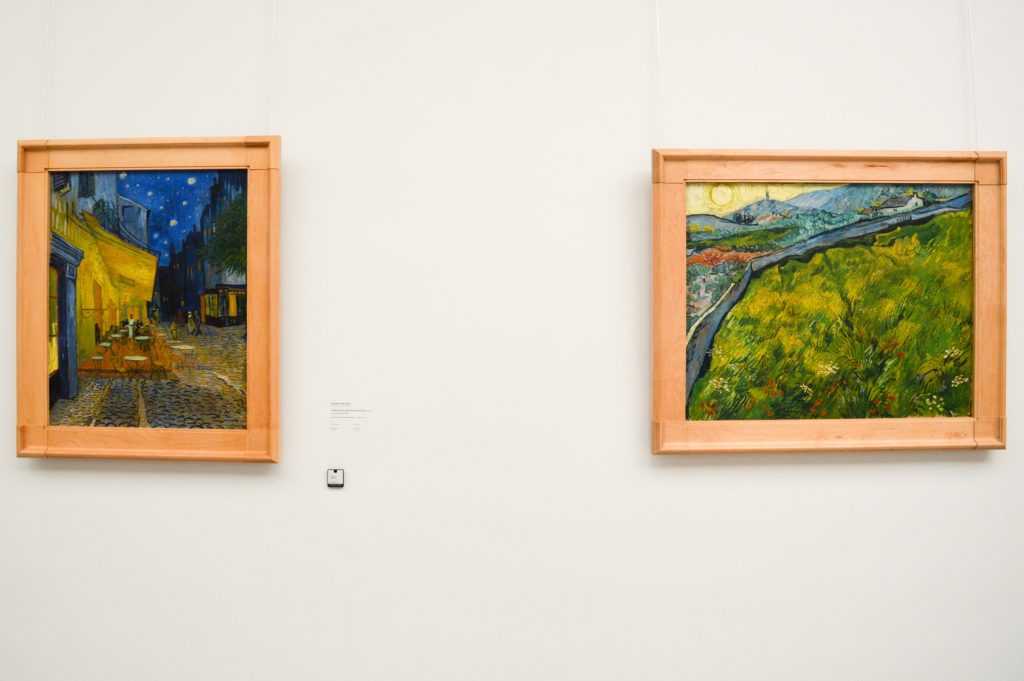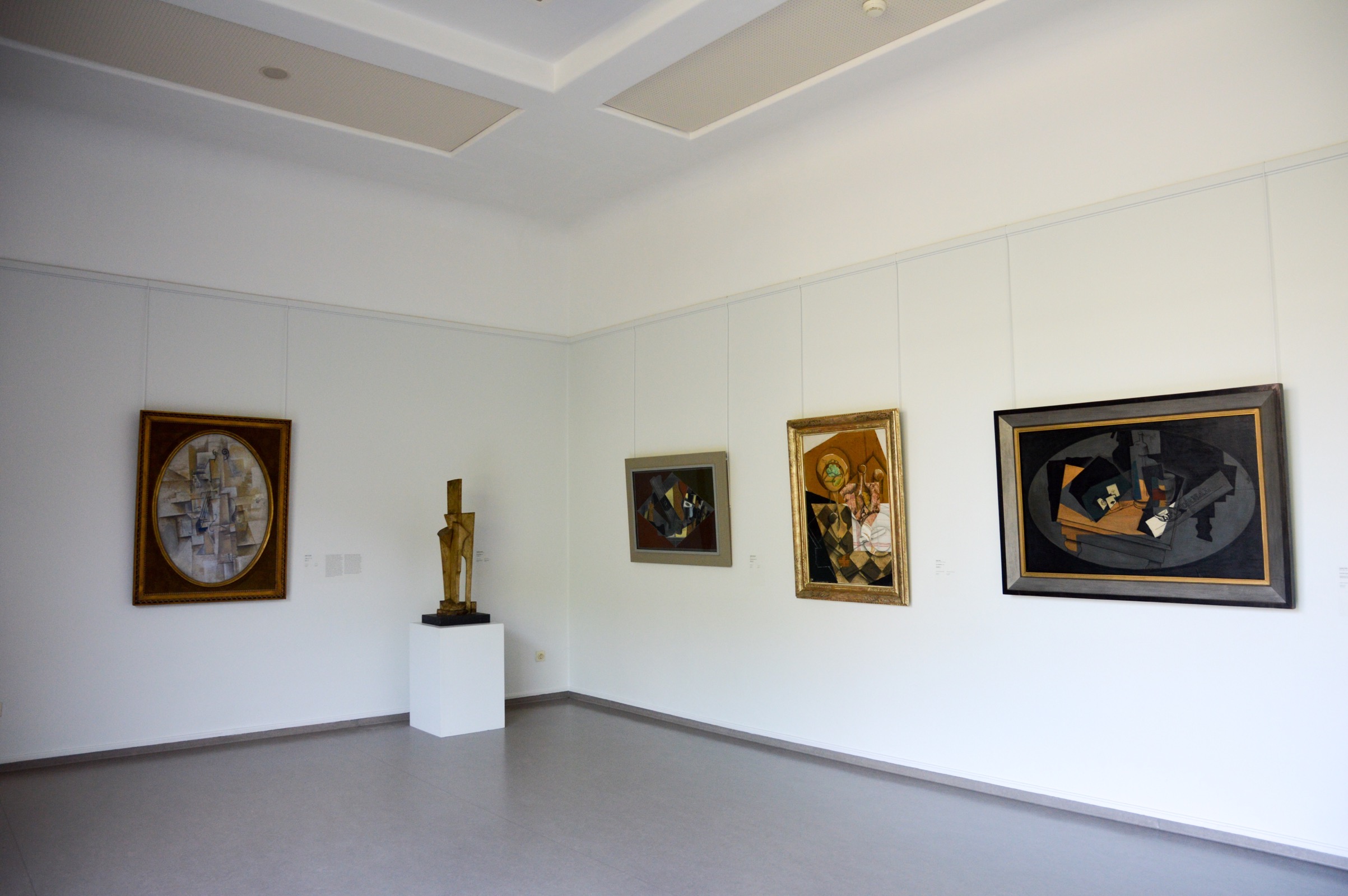 Sarah was also delighted to find the Futurist work of two artists she enjoyed studying in school: Gino Severini and Umberto Boccioni.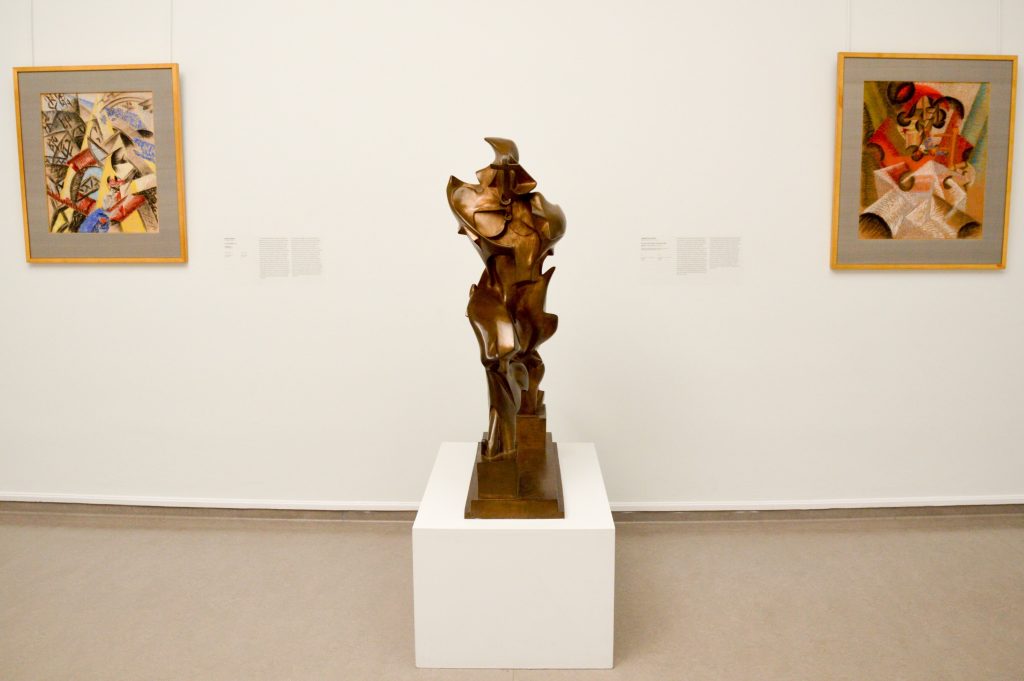 The park itself had landscape different from what we've seen in the Netherlands. Parts were very dry and seemingly barren, save for some heather. And other parts had more traditional forests. Throughout it all, though, you can bike on your free white bike!
Eating and drinking in Nijmegen
Established in 1542, Café In de Blaauwe Hand is the oldest bar in Nijmegen (and one of the oldest in the Netherlands). Of course we went. It was one of the loveliest bars we've been to and had great food. We enjoyed their Flammkuchen (German)/tarte flambé (French). It's always nice to find friendly staff, reasonable prices, and a low-key environment at a place that could be supremely touristy.
Cafe Samson is a popular spot for good reason. It supposedly has the best coffee in the Netherlands, but we didn't try it. We did, however, partake in their Kasteel Rouge and La Chouffe on draft, both of which are just so delicious out of the tap.
Cali is relatively new and was close to our apartment. Their bitterballen are not filled with meat, but rather beets! Genius! It made us feel healthy!
Sorry for the lack of food pics… we were hungry.
Pin it!