Nara is a famous city in Japan known for its temple with a humongous Buddha and wild deer that roam free begging tourists and locals alike for food. We took a day-trip there during our time in Kyoto, but it's also close to Osaka.
When you get to Nara, if you're hungry, it makes most sense to eat by the train station. There's several streets of food stalls and shops that you can pop-in before you head off into the more touristy areas. Shockingly, we ate ramen and not shockingly, it was quite tasty.
Nara's deer
In the Shinto religion, deer are thought to be messengers of the gods. The entrance to Nara Park is about a 10-minute walk to the station. Along the way there you'll start to notice the deer. At this point, you'll just see a straggler or two off to the side or in the middle of an intersection. Or in a planter.


A few minute later you realize they're everywhere. You start to see the locals selling their "deer cookies" for 150 yen on every corner. Some of the smarter deer go straight to the source…


And you notice the signs with the deer rules of engagement.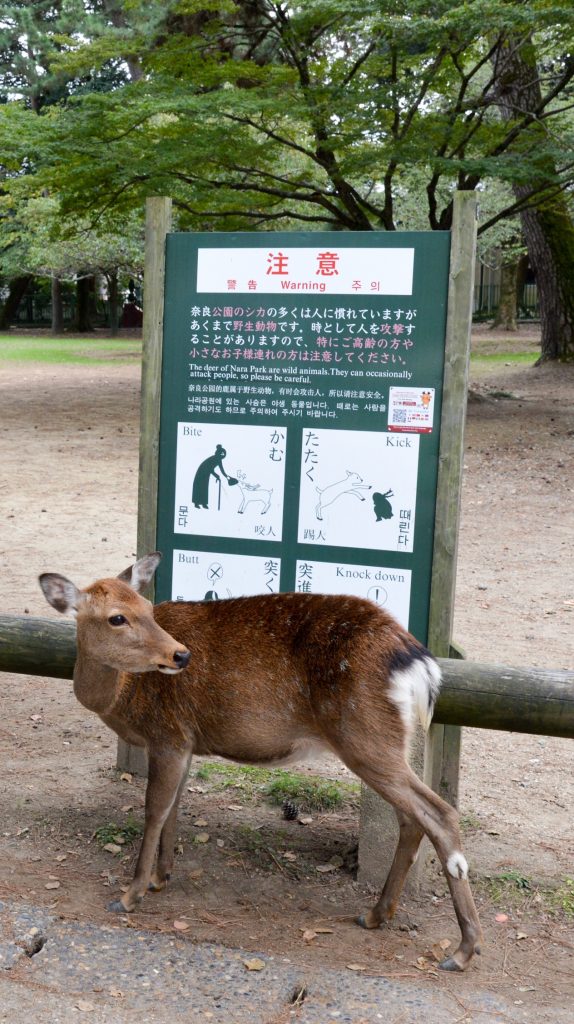 The deer are not shy. They will approach if they suspect you have cookies or any food or anything they can munch on really. We saw one eat a map out of the hands of a girl in a wheelchair and another head-butt a man who was not being generous with his deer cookies. Despite this everyone is having a lot of fun feeding and petting the deer. One can spend an afternoon just enjoying them. Which is what we did.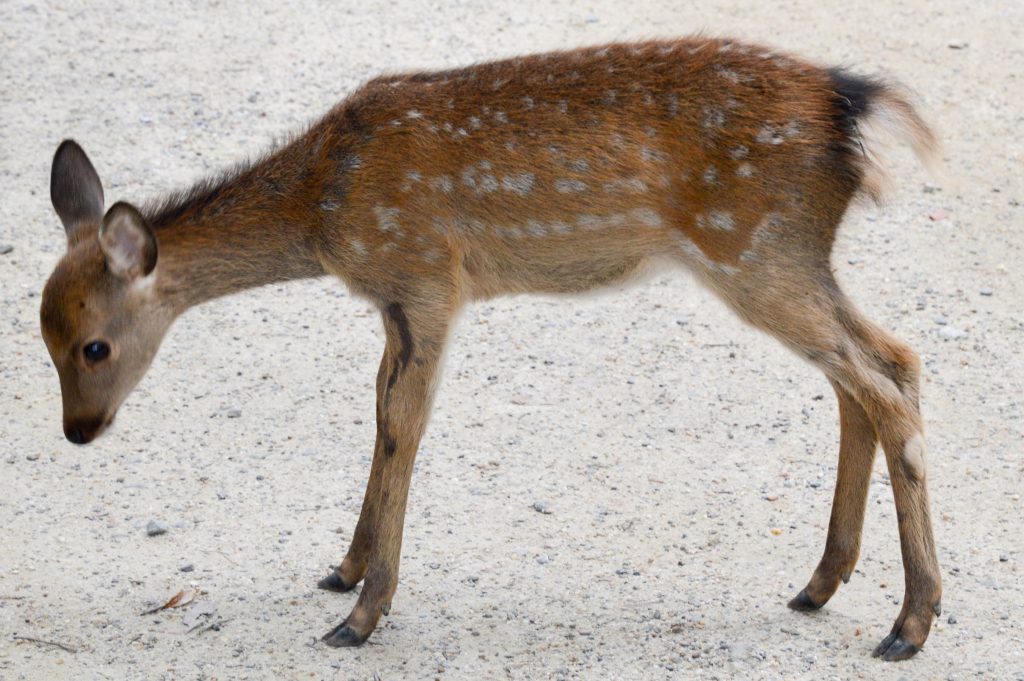 Oh yeah, we saw a couple temples too.
Tōdai-ji
Tōdai-ji is the temple that houses a really big bronze Buddha. It actually has an entire collection of Buddhist statues in its Great Buddha Hall.








There were a lot of Japanese school children at Tōdai-ji when we were there. And apparently one of there assignments involved asking foreigners if they spoke English and asking them a series of questions. We were very popular among the middle school set and were approached several times. It was pretty cute and we were beyond impressed with their English-speaking abilities and courage.
Kōfuku-ji
Kōfuku-ji is a much smaller temple. Still nice to visit. And it has a pagoda.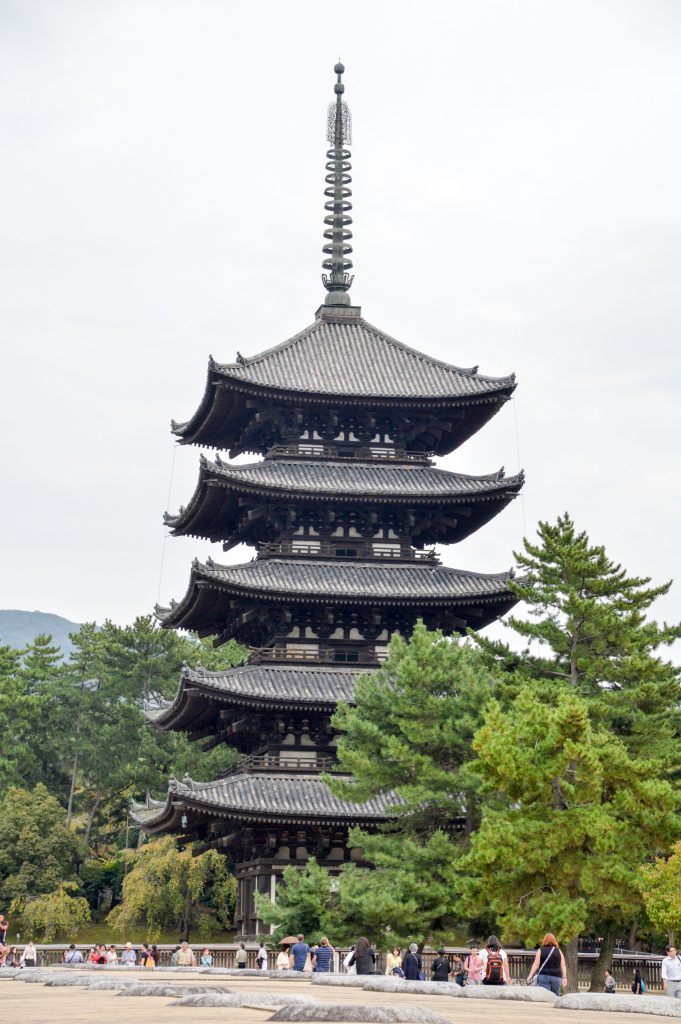 But back to the deer…
Some of them bow for their cookies!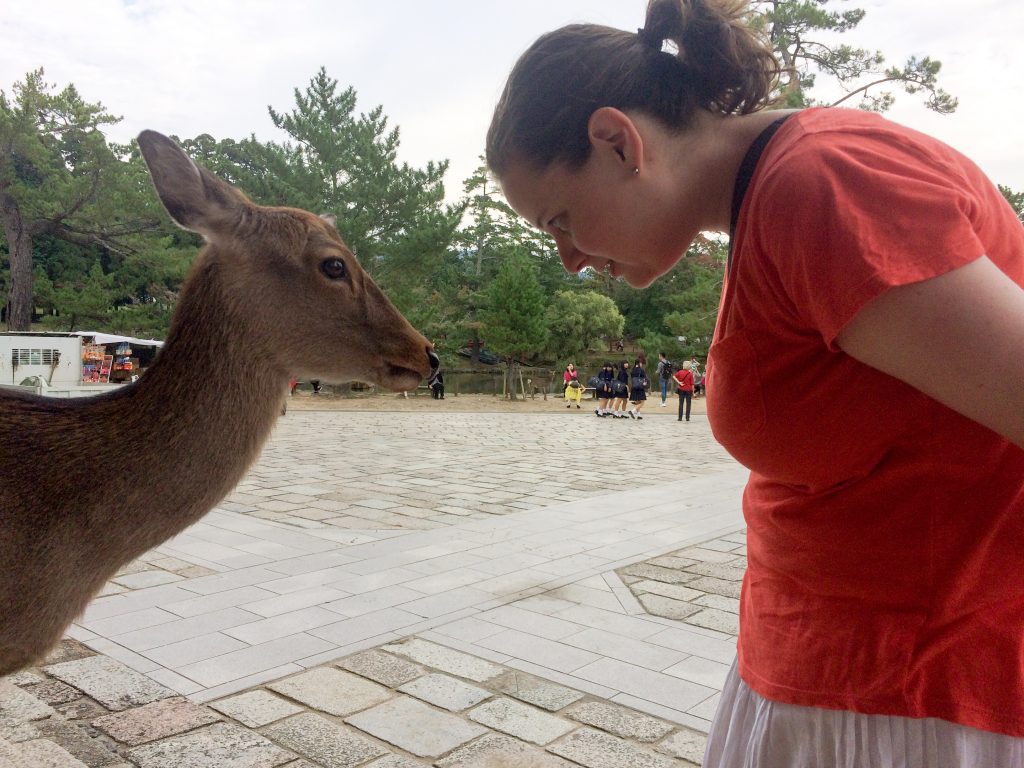 Pin it!