Last Updated on 8th January 2019 by Sarah and Justin
When people think of Munich, the capital of Bavaria in Germany, they usually think of Oktoberfest. We haven't actually been to this king of all beer celebrations. Sure we love beer, and (as we've previously discussed), we love German celebrations like Christmas Markets. But we're less in love with massive crowds. And we're too old now. Seriously, it wouldn't be pretty.
Despite this, we have been to Munich twice. And we found a whole bunch of cool things to do in Munich, some of which are more appropriate for an upcoming Winter holiday, but many of which you can do anytime (even during Oktoberfest).
Visiting Munich in Winter and Spring
Our first trip to Munich was in Winter 2014. We went during Christmas Market season (our favorite season in Germany, as you may have previously read). Most recently, we visited in Spring 2017 after our weekend in Salzburg. Since it was pretty frigid on our first visit, it was great to see the city in a whole new light (cause, you know, the sun was actually shining!). There are specific things to do in Munich during Winter and Spring, so we've called them out first.
Go to the Christmas Markets
As mentioned above, Munich is a great place to visit for Christmas Markets, which run from the end of November through Christmas Eve. There are many throughout the city. The biggest, most popular Christmas Market is the one in the center of the city in Marienplatz.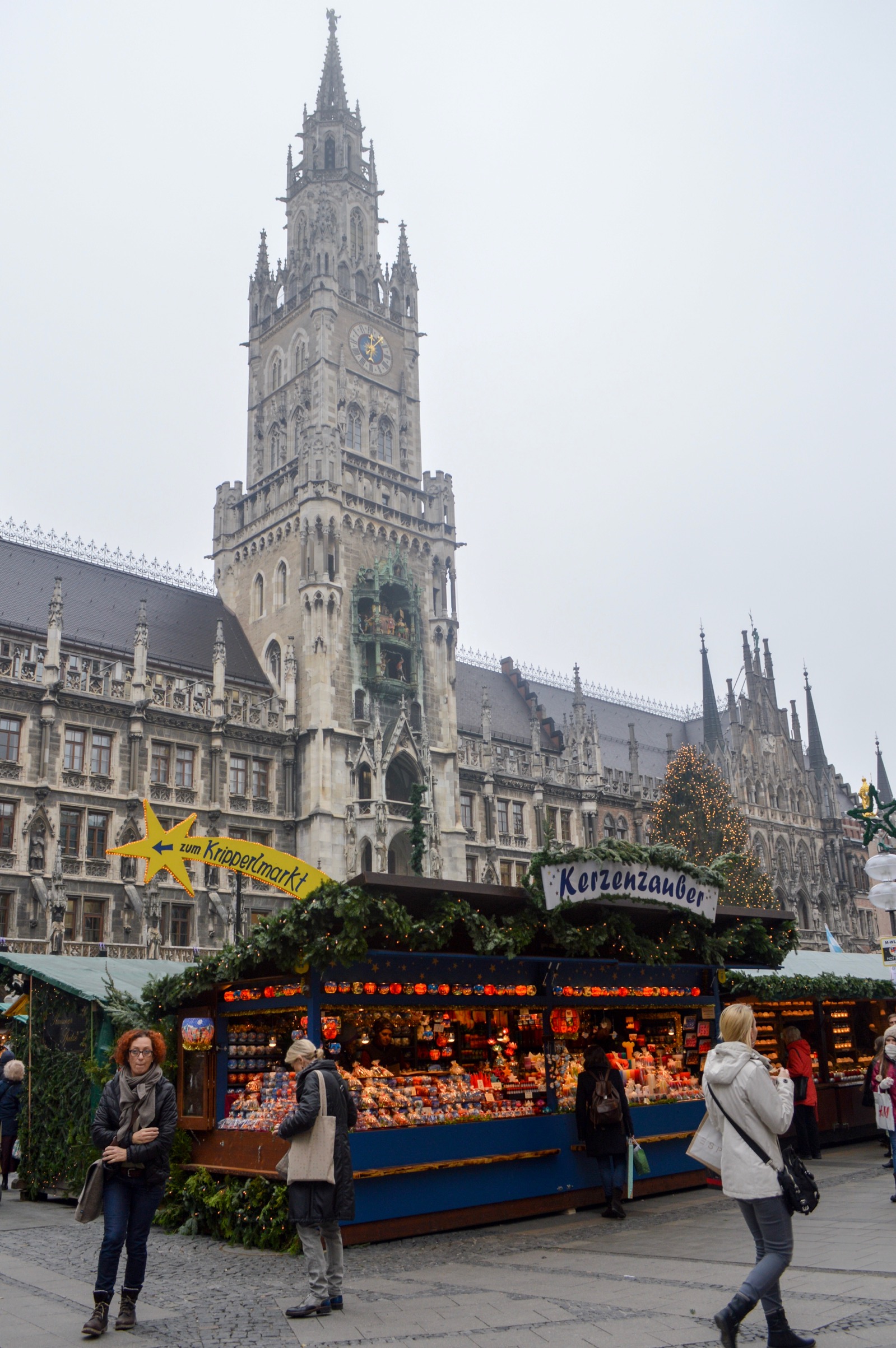 There are also a few more in the immediate area surrounding the center, including the Mittelaltermarkt where everyone is dressed up in Middle Ages attire.
Our favorite Christmas Market in Munich was a smaller one close to where we were staying, the Haidhauser Christmas Market. It was located in a small park in the middle of the neighborhood and just had a more local feel.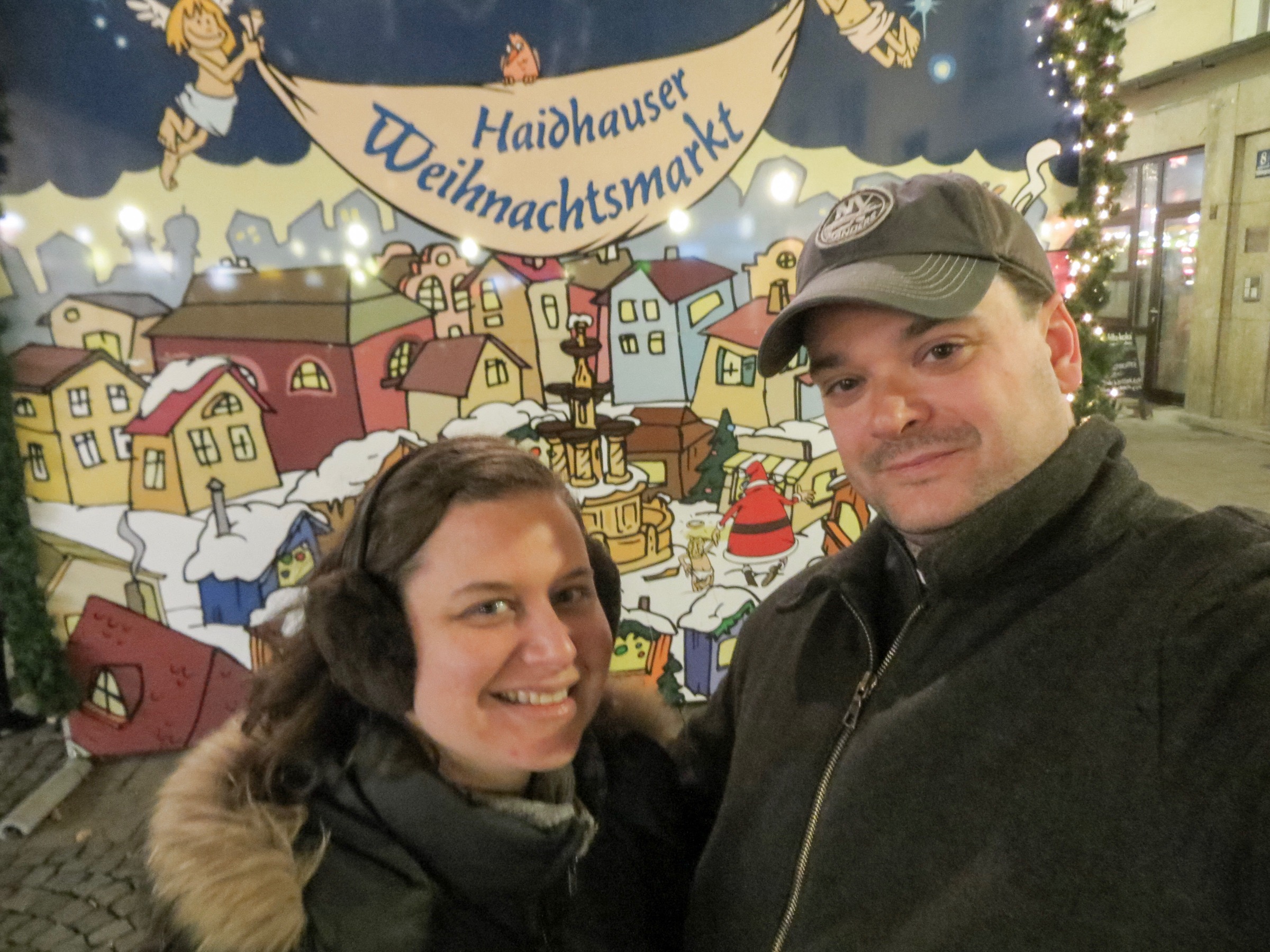 Drink Glühwein
Yes, this goes hand-in-hand with Christmas Markets, but deserves its own mention because Glühwein (hot mulled wine) is the best, and when it's absolutely freezing in Munich (or really any city in Germany), it's also a necessity. We especially enjoyed the flaming variety, apparently known as Drachenglut in the Middle Ages.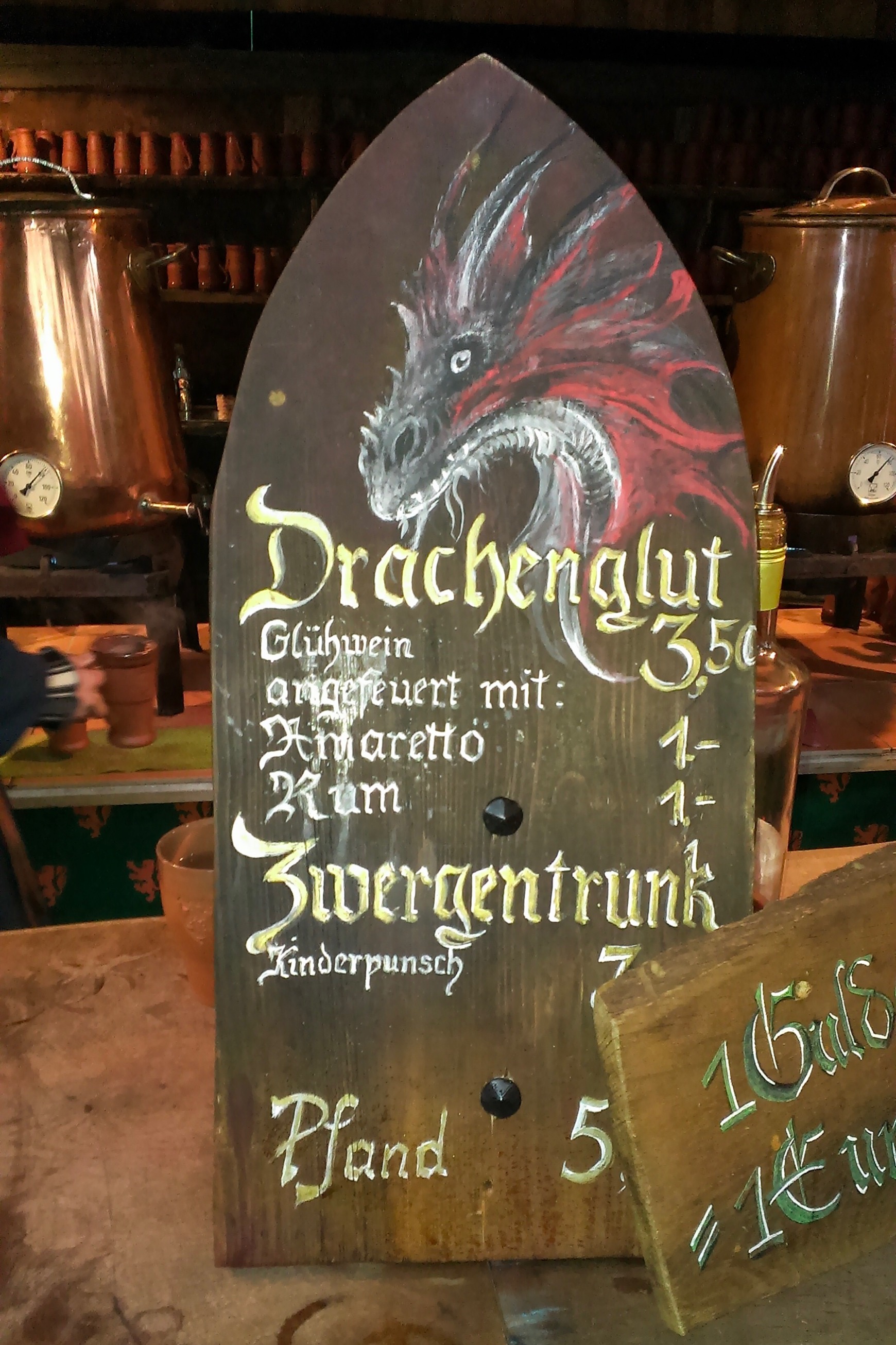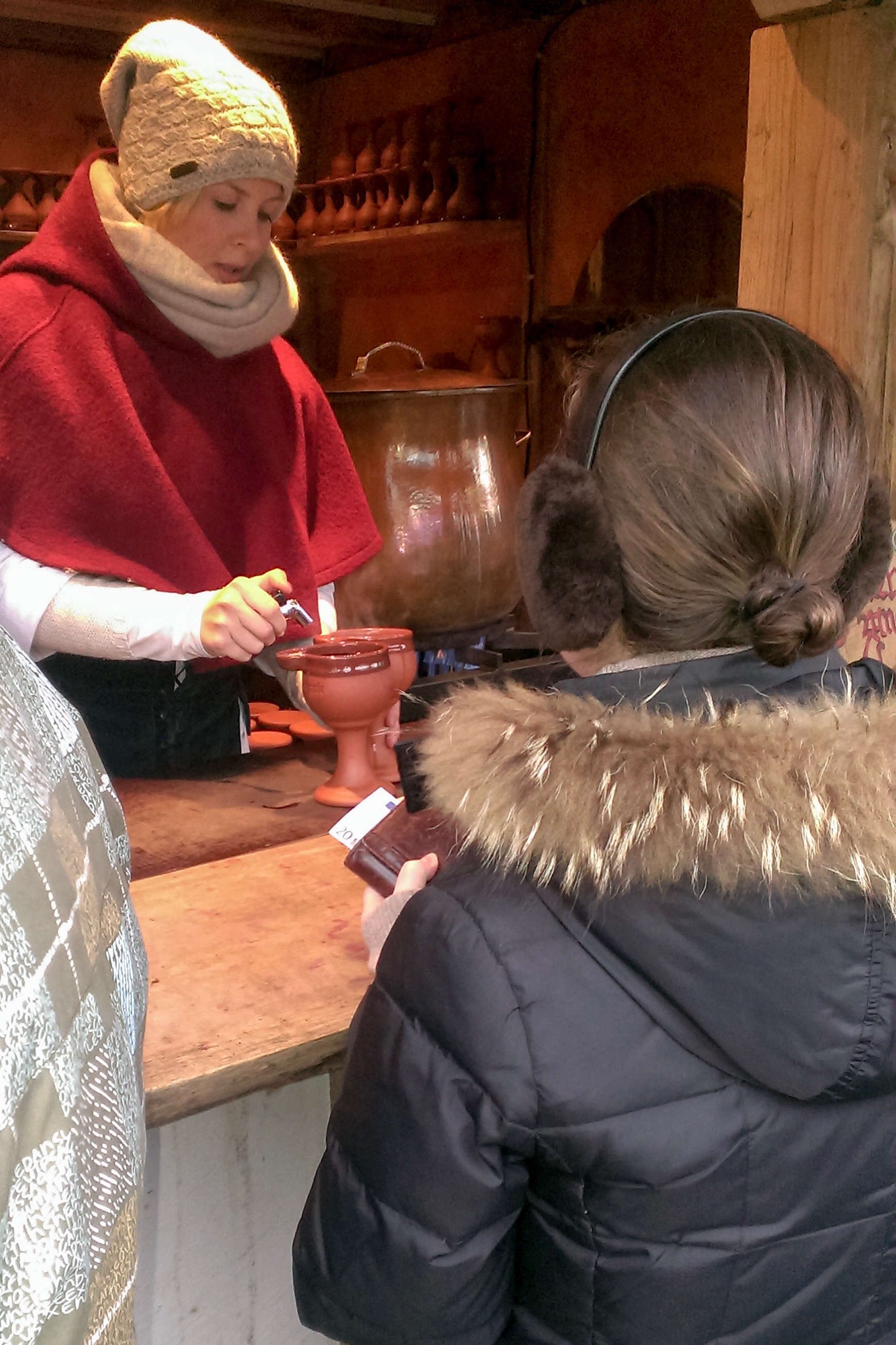 Go to a Red Bull München hockey game
Hockey season in Germany is from August to April, but going to a Red Bull München game in the Winter is much more season-appropriate. We had a lot of fun at this hockey game. The crowd was incredible (not atypical of German hockey games). And we were celebrated as honored guests! That's right, we were introduced to the arena on the big screen and gifted with a scarf because we were the people who had traveled the furthest to attend the game. Yeah, everyone around us thought we were pretty cool.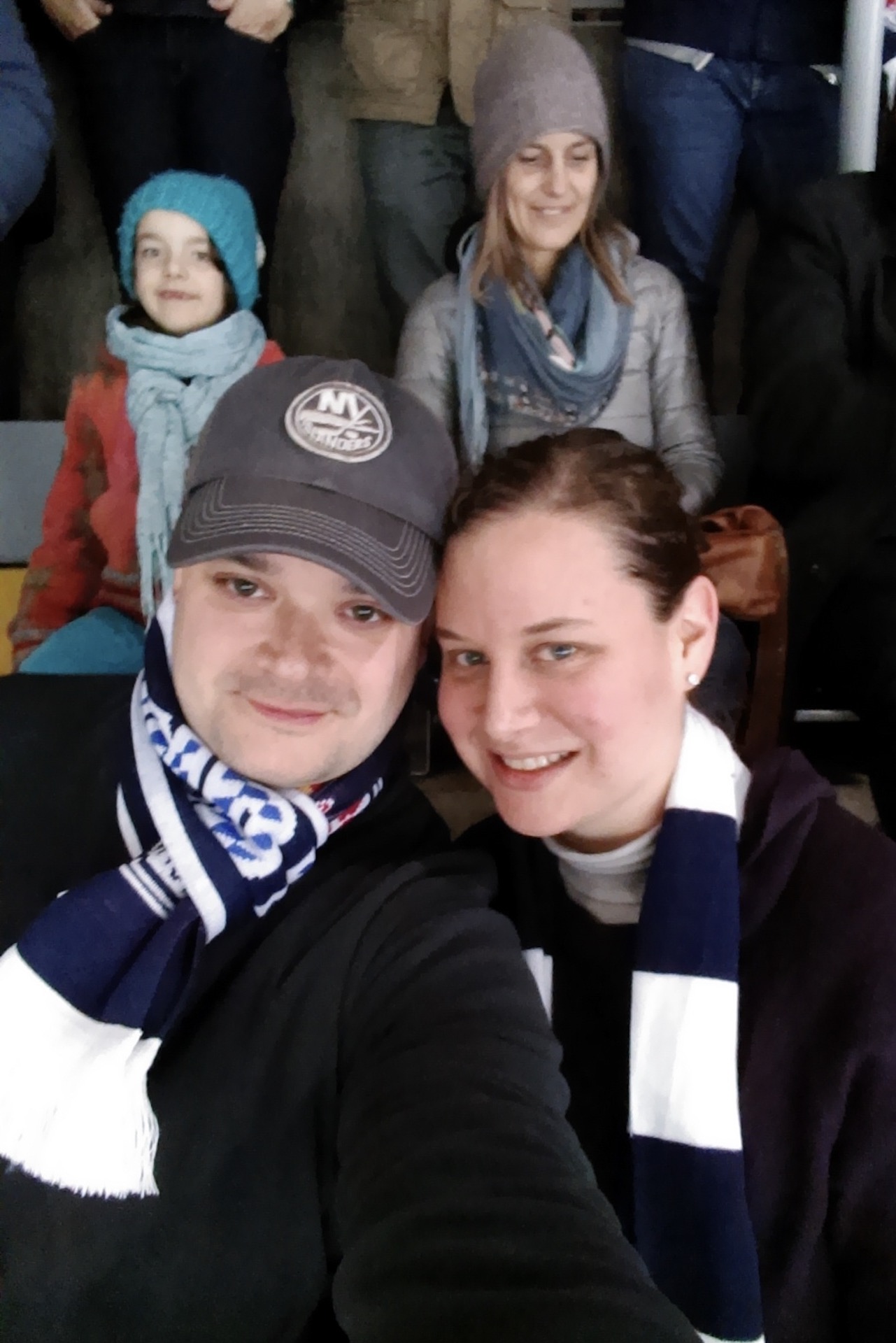 Eat Spargel
If you visit Germany (or Austria, as we found out in Salzburg) during the Spring, you may be lucky enough to find yourself in Spargel (asparagus) season. The delicacy is the white asparagus, which only grows during Spargelzeit (of course the Germans have a specific name for this). In Germany, it's typically from late April through late June. Green asparagus are everywhere as well. We went to many restaurants that had special Spargel menus, when you could eat asparagus for all courses. We had a lot of asparagus soup that week.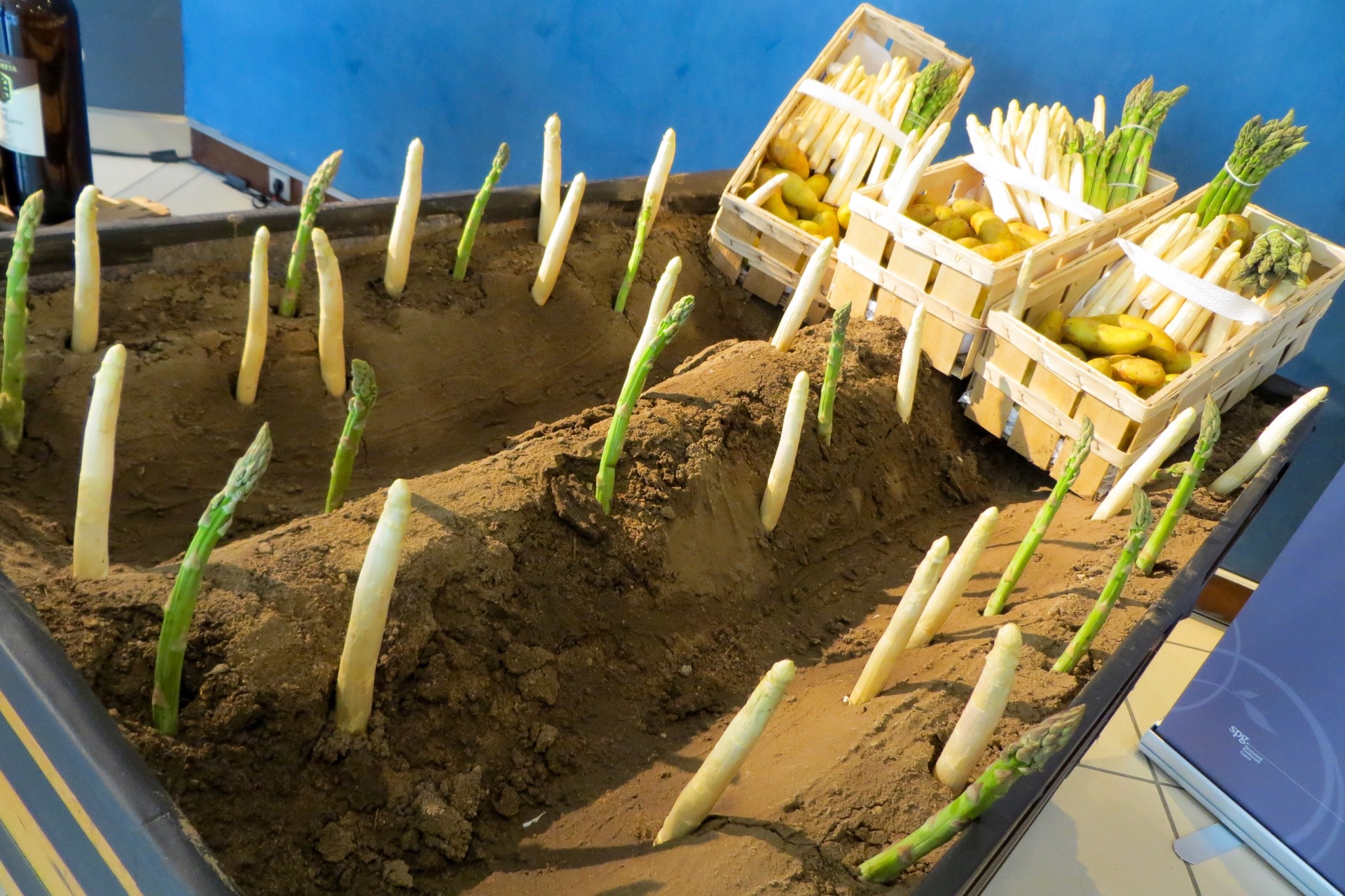 More things to do in Munich
Of course there are a gazillion other things to do in Munich, and most are season-agnostic. So here are more ideas – perhaps when you're there for Oktoberfest but need a break from all that drinking, singing, and general German merriment.
Check out Marienplatz
Marienplatz, the main square of the center of Munich is quite beautiful. Specifically, the Neues Rathaus (New Town Hall) is a gorgeous, ornate building. There's a whole big todo at noon when the glockenspiel in the middle of the tower plays comes to life.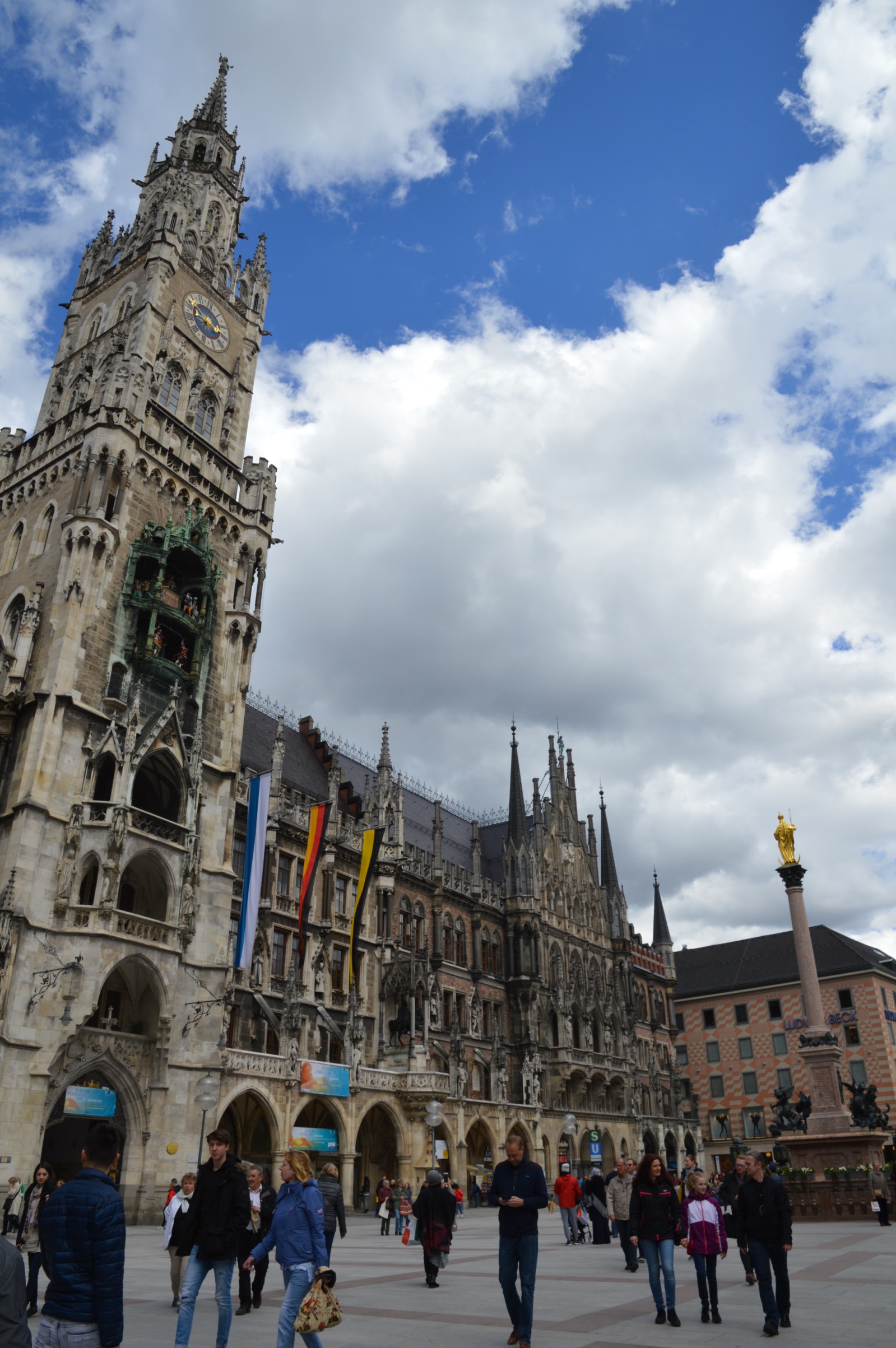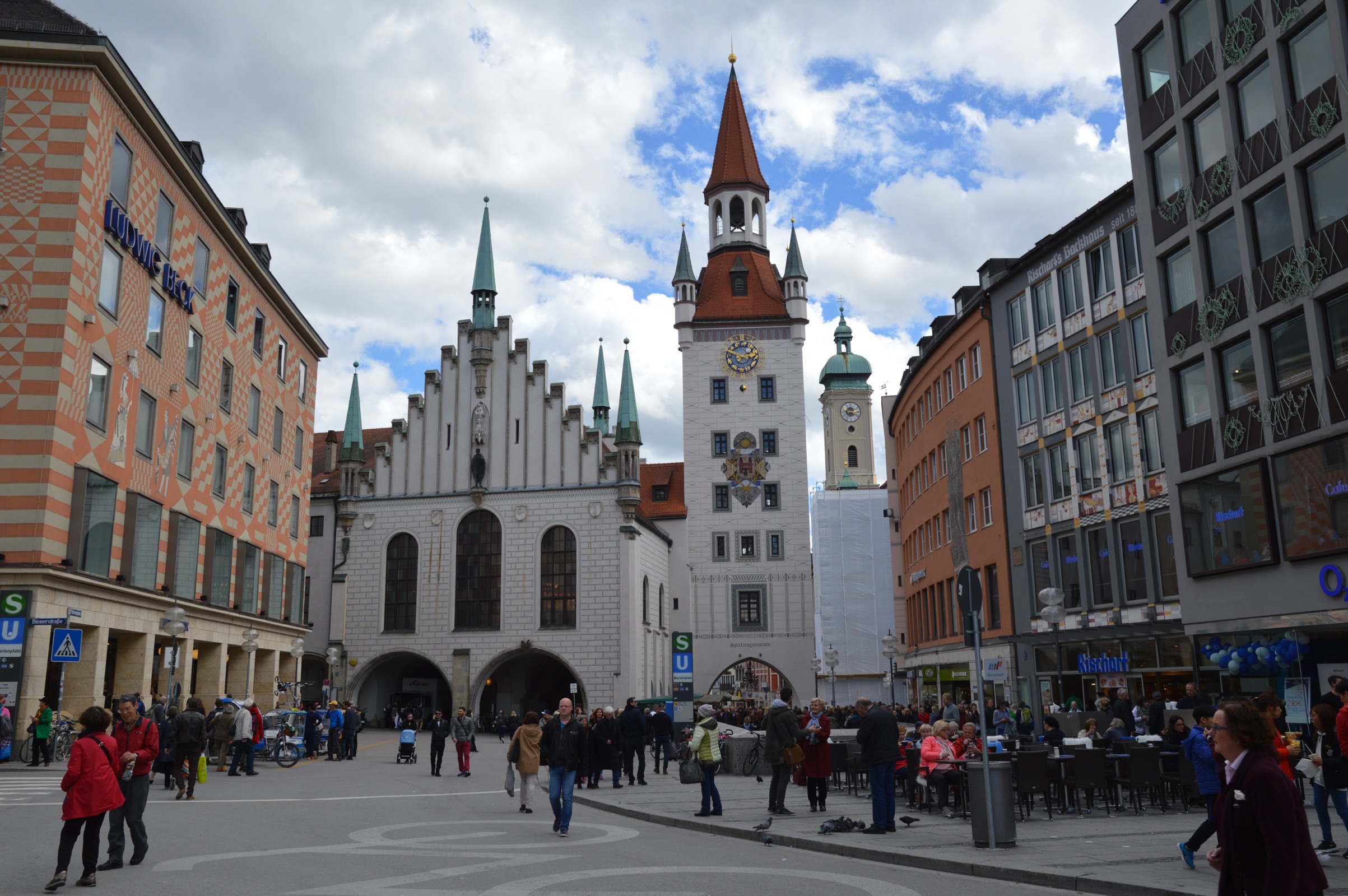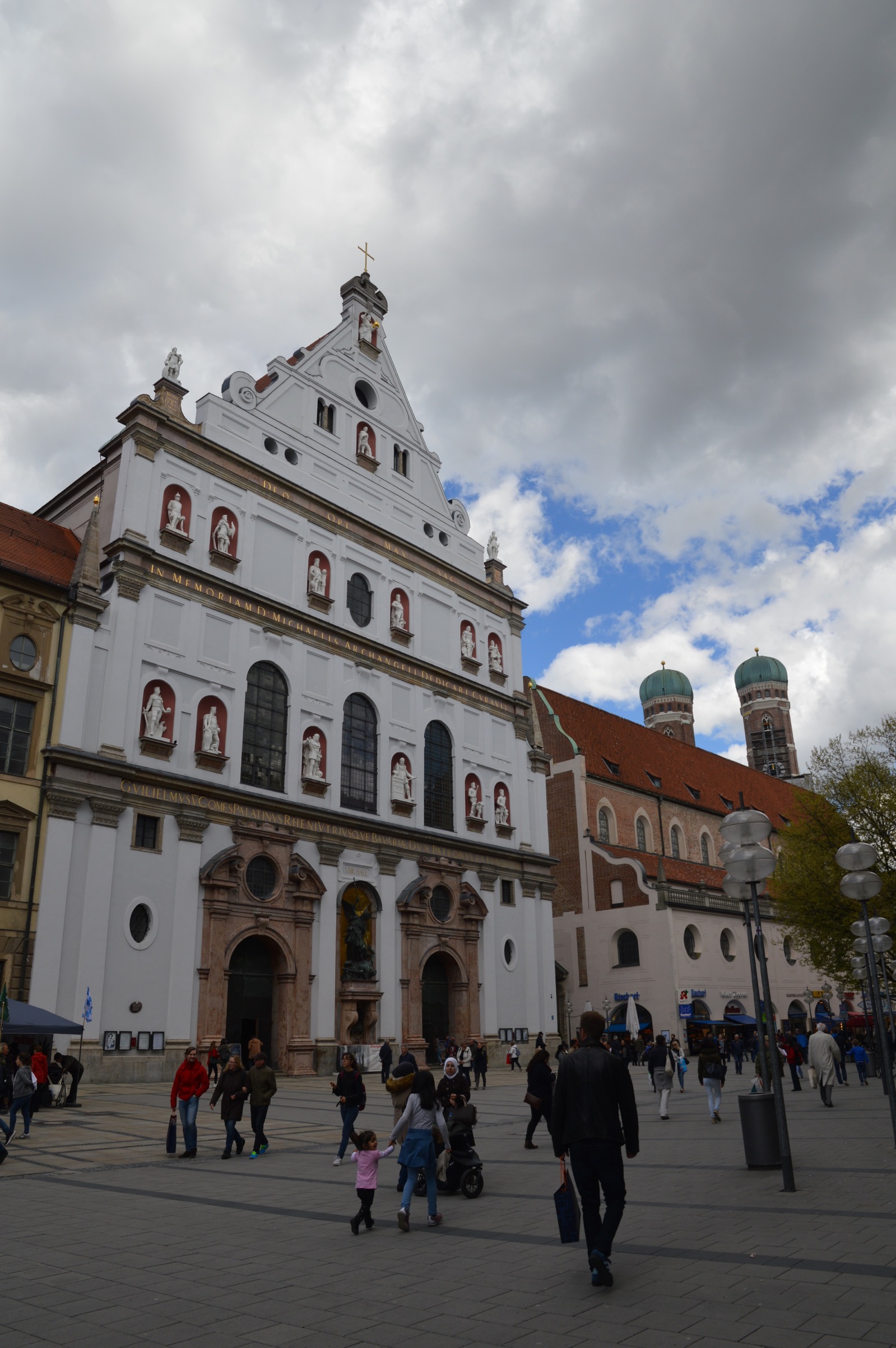 Visit the Englischer Garten
It was way too cold for us to visit the Englischer Garten (the biggest park in Munich) on our first trip so we made it a priority to go there this Spring. We took the U-Bahn up to a northern stop in the park and walked all the way down to where it meets Marienplatz. It is a beautiful place and would be great for bike riding too.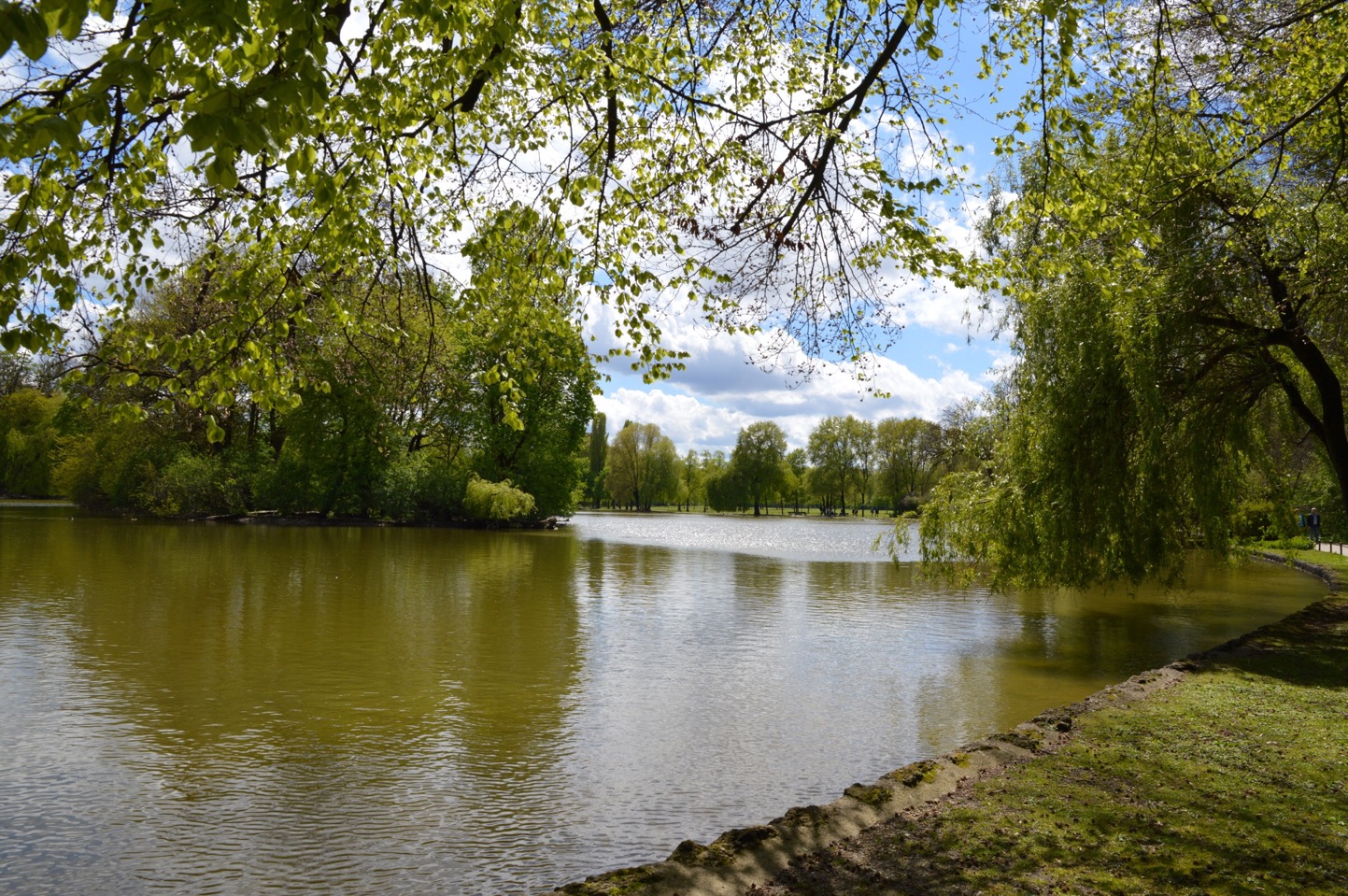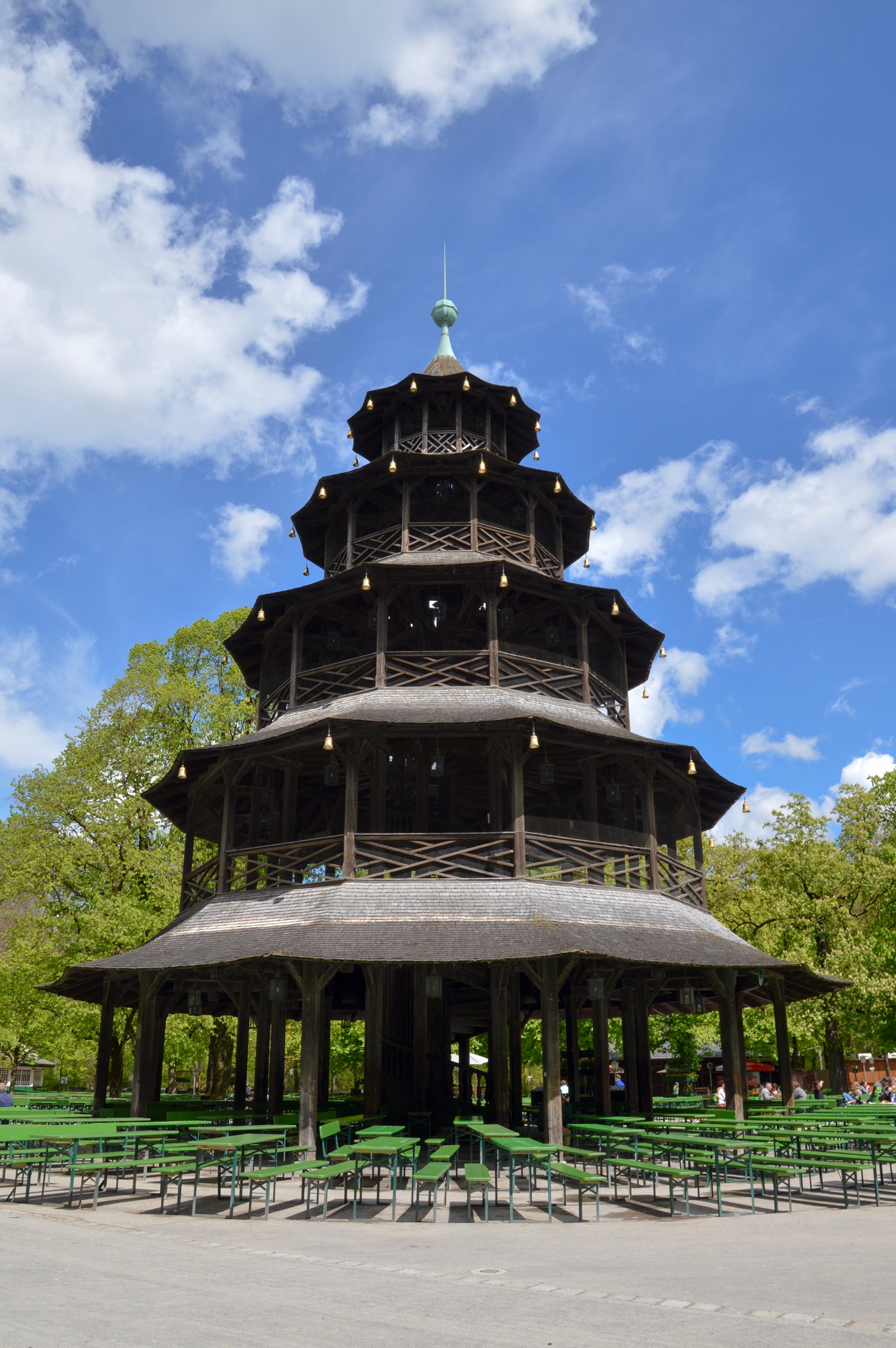 Walk through the Hofgarten
Just out of the Englischer Garten and near Marienplatz is the smaller Hofgarten. And the area right in front of the Bayerische Staatskanzlei (Bavarian State Chancellery) is a lovely, peaceful spot.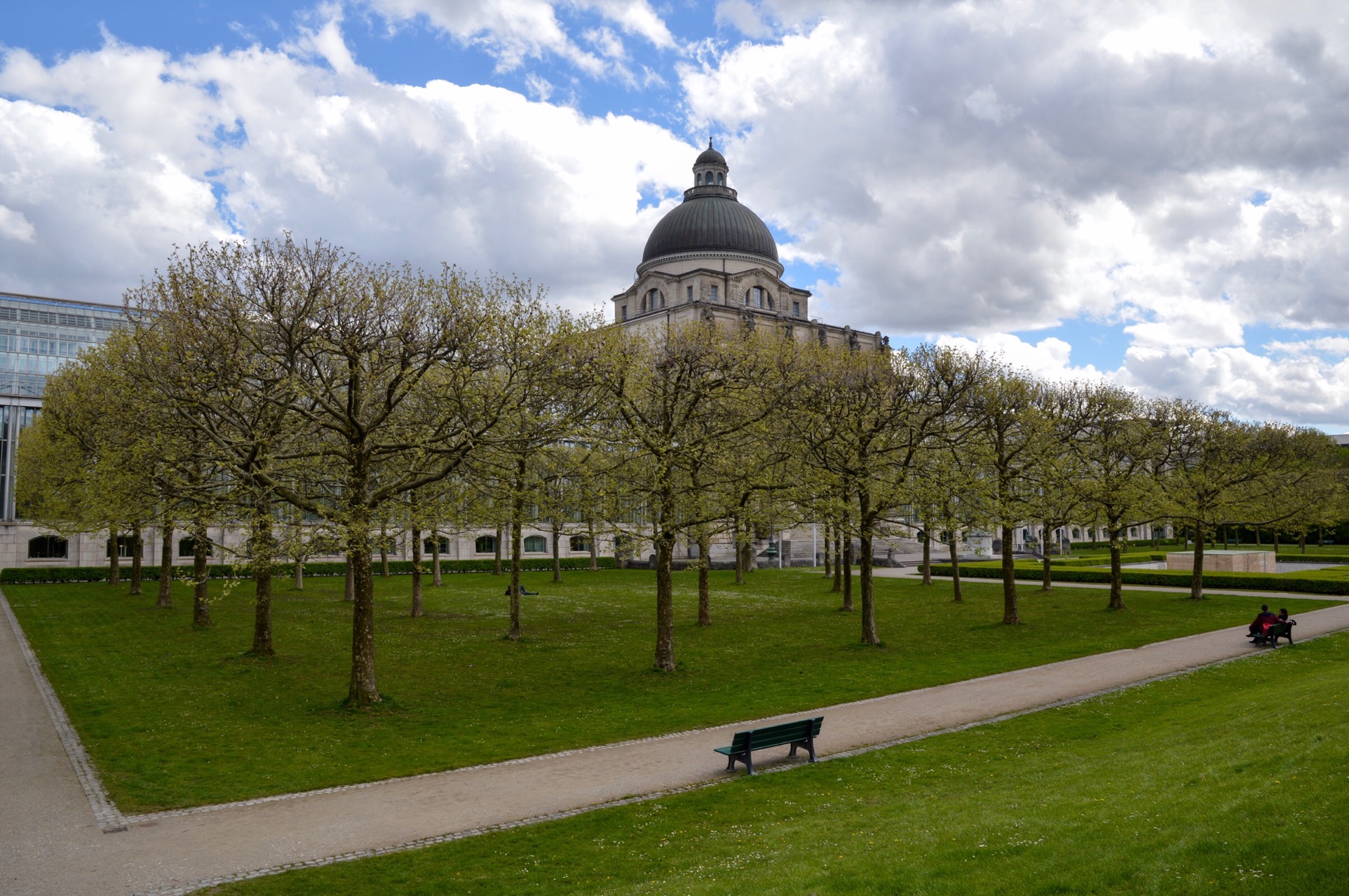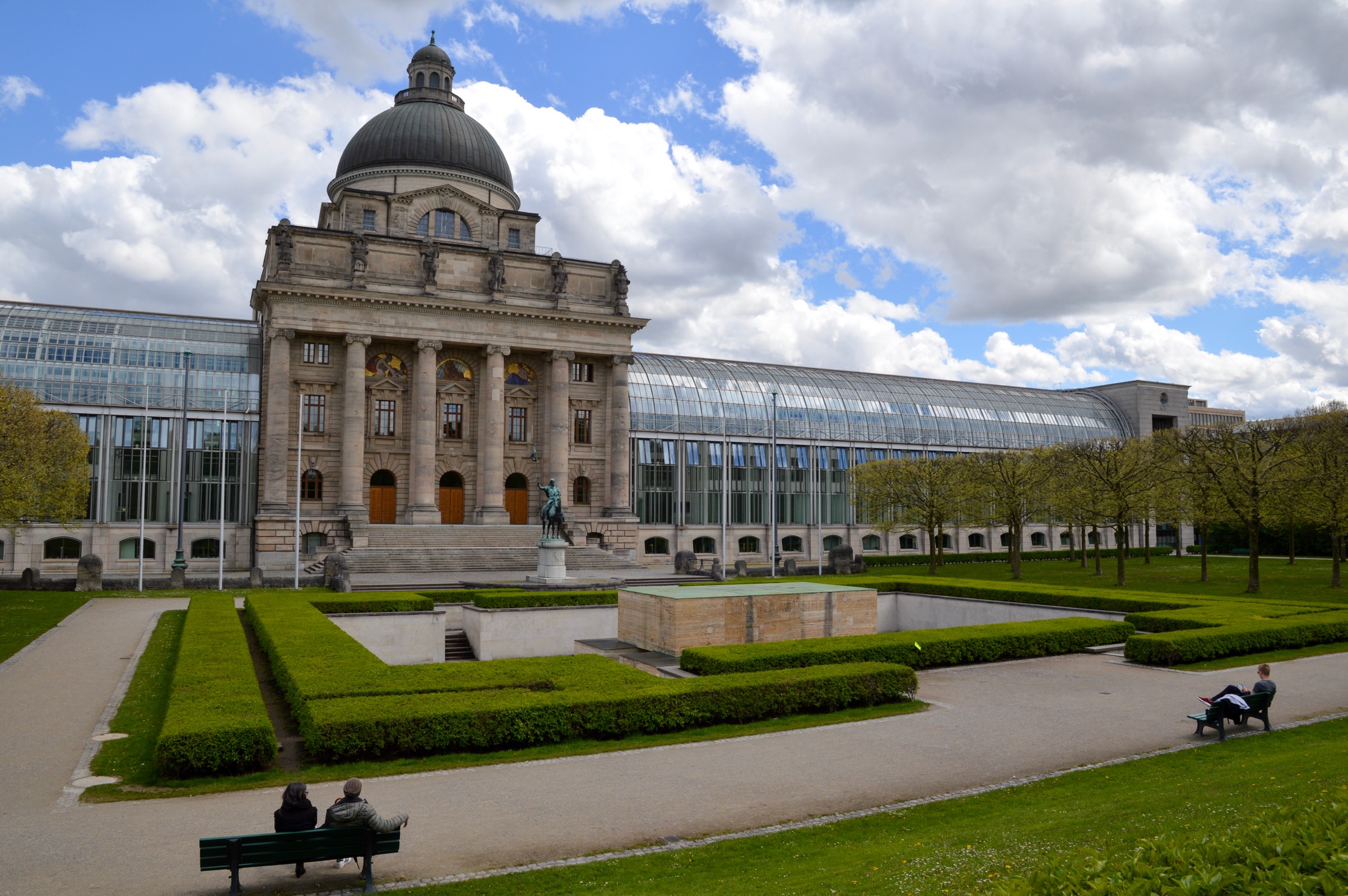 Go to the Deutsches Museum
The Deutsches Museum is the biggest science and technology museum in the world! It's an incredibly fun and informative place to visit. It's definitely a great place to take kids, but we truly enjoyed it ourselves, looking at planes and submarines and interacting with the science exhibits.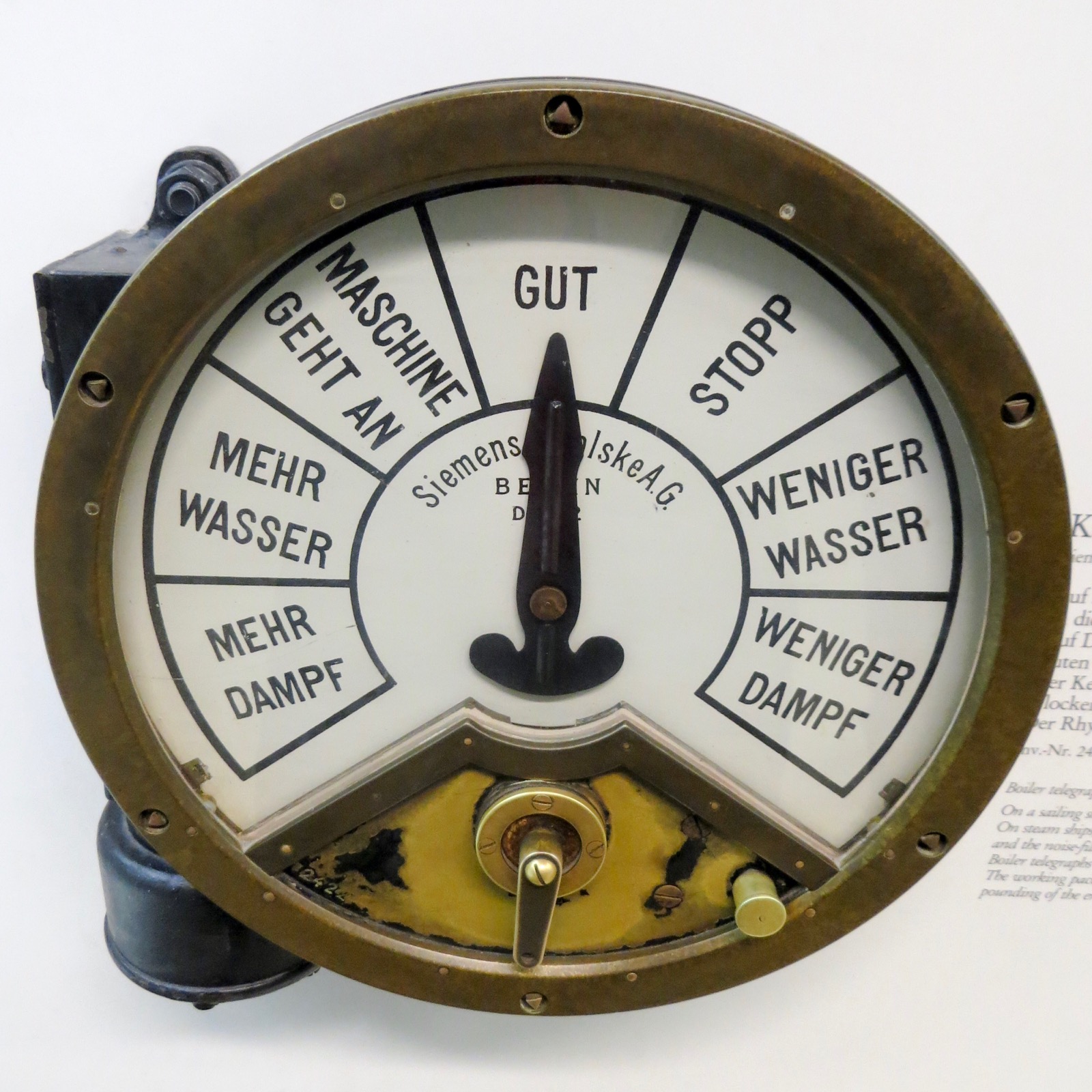 Go to an art museum
As Sarah is prone to do, we visited a modern art museum in Munch, the Pinakothek der Moderne. It was a great one! The building itself is gorgeous and it has a great collection. It's in the Kunstareal – or Museum Quarter – so you could easily make a day of checking out Munich's art museums if that's your thing.
Go to BMW Welt
BMW Welt (World) is awesome, even if you're not that into cars (Sarah doesn't even drive). You can check out all the cars and motorcycles (by literally sitting in them) and there was even a live demonstration where a guy rode up and down the escalator. It was pretty cool and a fun way to spend a couple hours.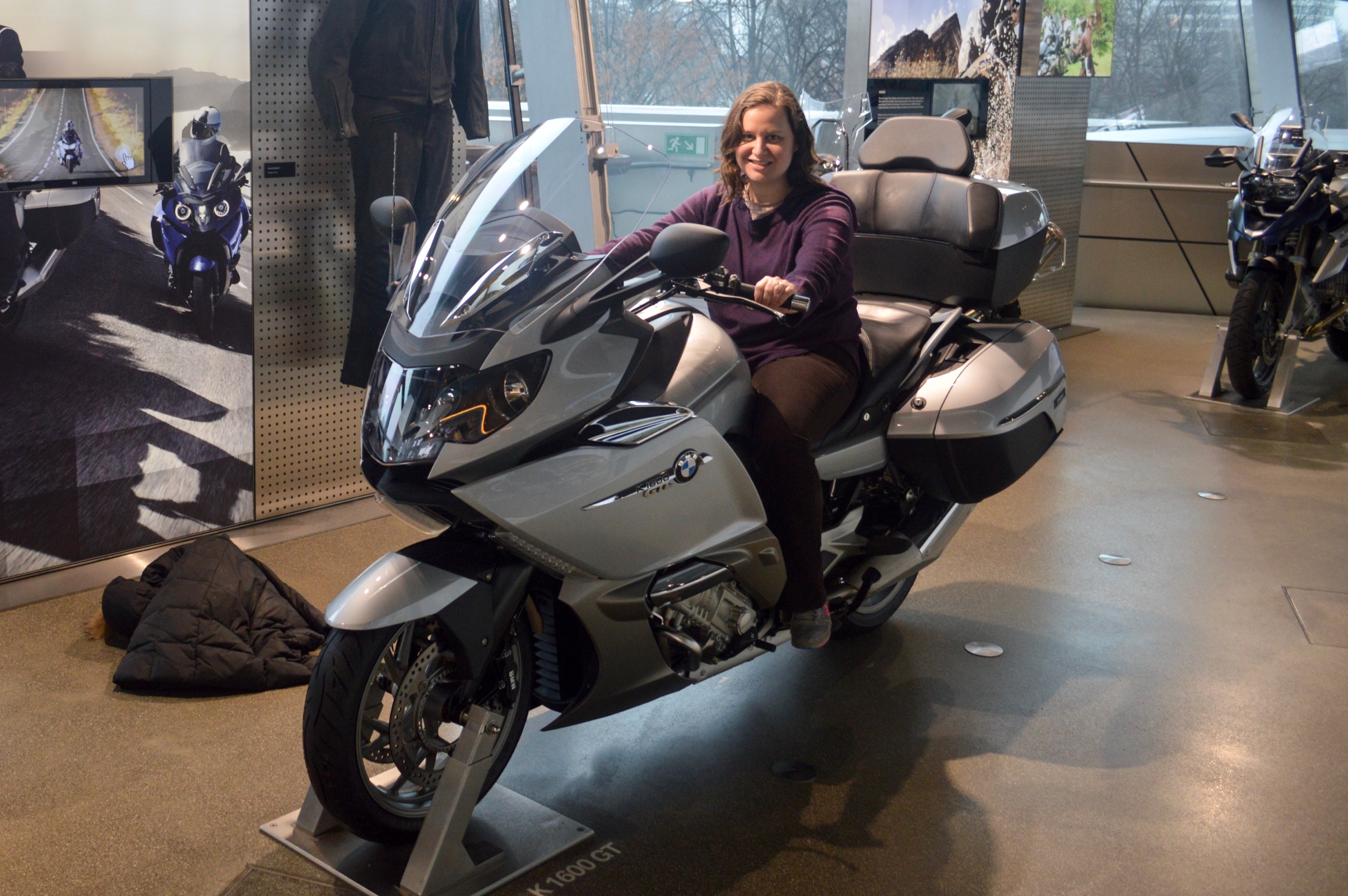 FC Bayern München
The most famous and most successful sports team in Germany is their football team, FC Bayern München. If you have the opportunity to attend a match (we haven't), we'd recommend it. The crowd is sure to be amazing.
Check out the city gates
There are three medieval city gates still remaining in Munich. They are pretty close to the touristic center of Marienplatz and easy to get to. We visited two of them – Sendlinger Tor and Isartor – but missed the Karlstor.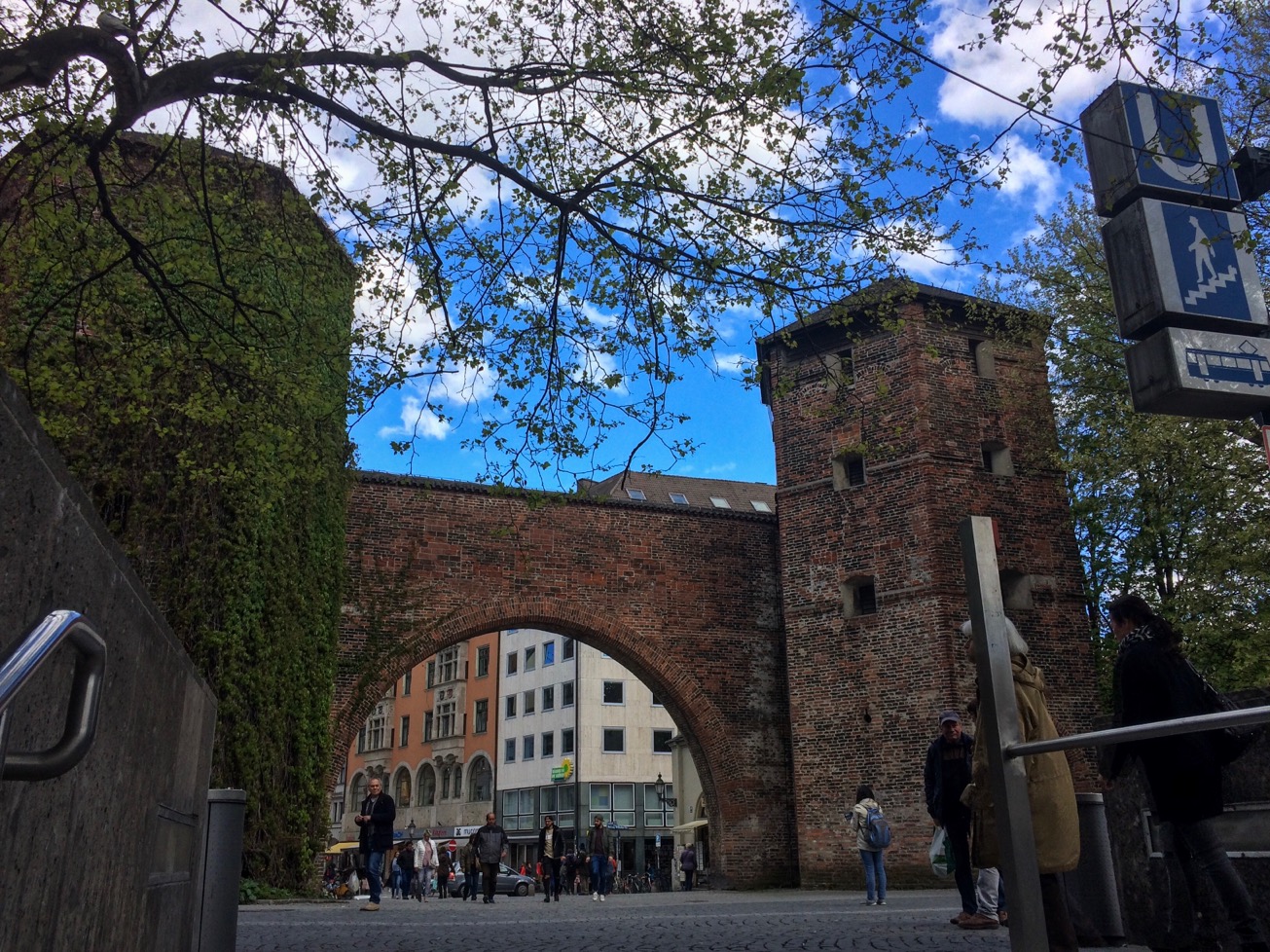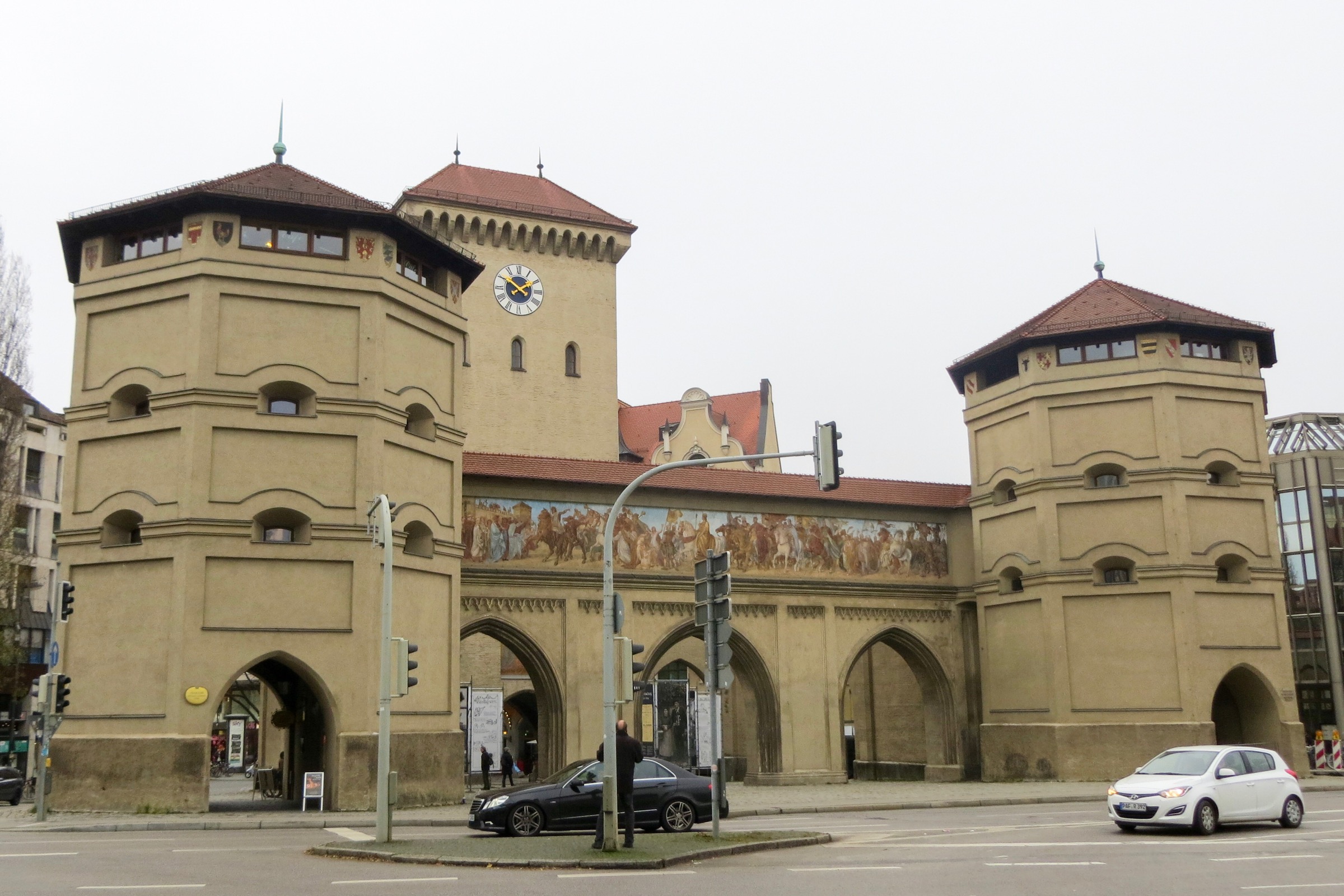 Eating and drinking in Munich
Munich is an easy place to both eat and drink well. Very well. Over the course of two visits to the city, we enjoyed more than our fair share of great German food and drinks (ie, beer). Here are our recommendations.
Eat Spätzle and/or Schupfnudeln (different types of hand-rolled dumplings). We enjoyed a Spätzle/Schupfnudeln sampler at an outdoor market during our last visit. The former is easy to find at pretty much any restaurant. The latter is easy to find at any Christmas Market. They're both delicious.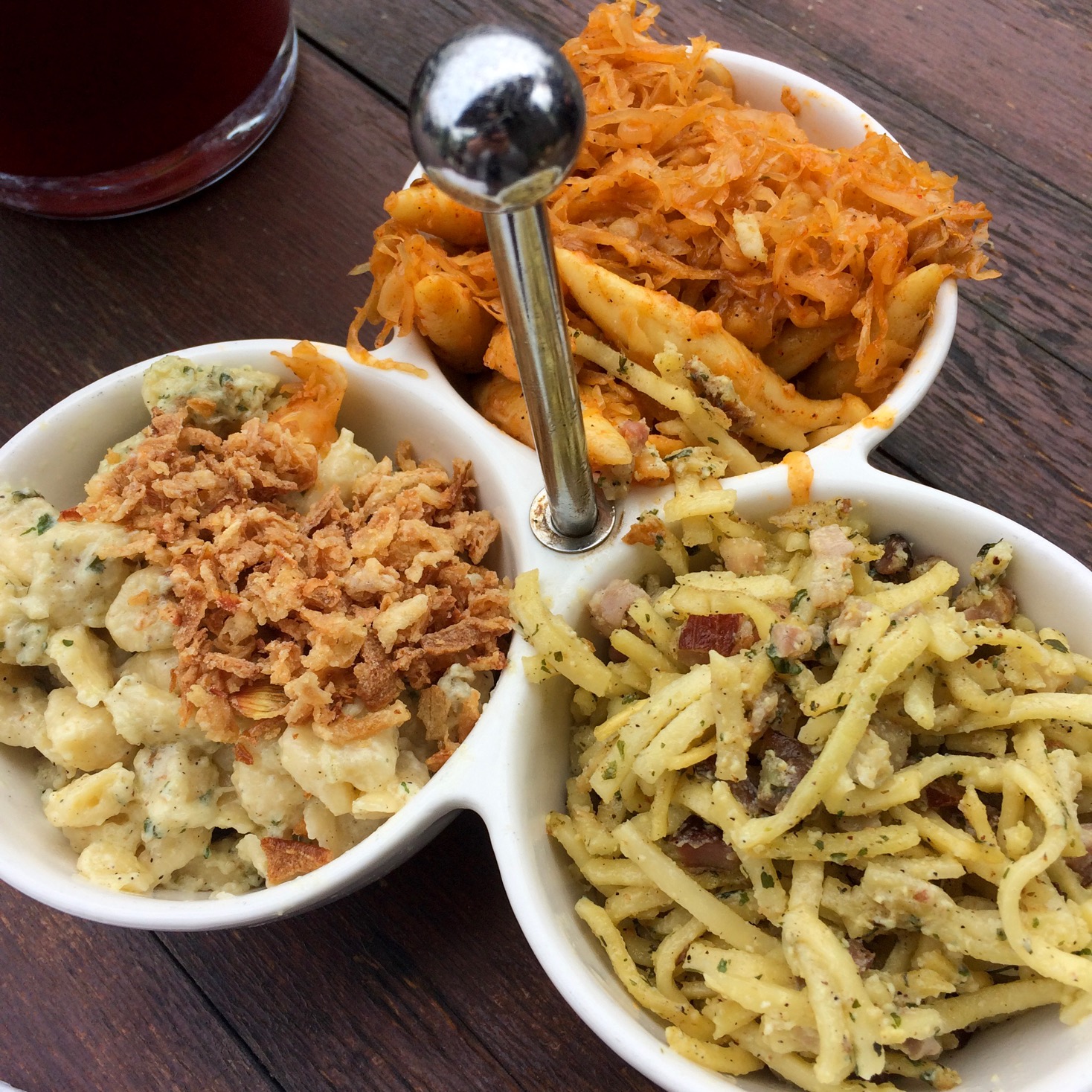 Eat Kaiserschmarrn. True, it's actually an Austrian dessert, but we've only ever had it in Munich. It's basically like a pancake that's been baked and cut up into little pieces, but it's way better than that sounds.
Go to Hofbräuhaus. Yes, it's touristy, but you're in Munich so you have to go. Suck it up and order a liter of beer and drink it like the good German tourist that you are.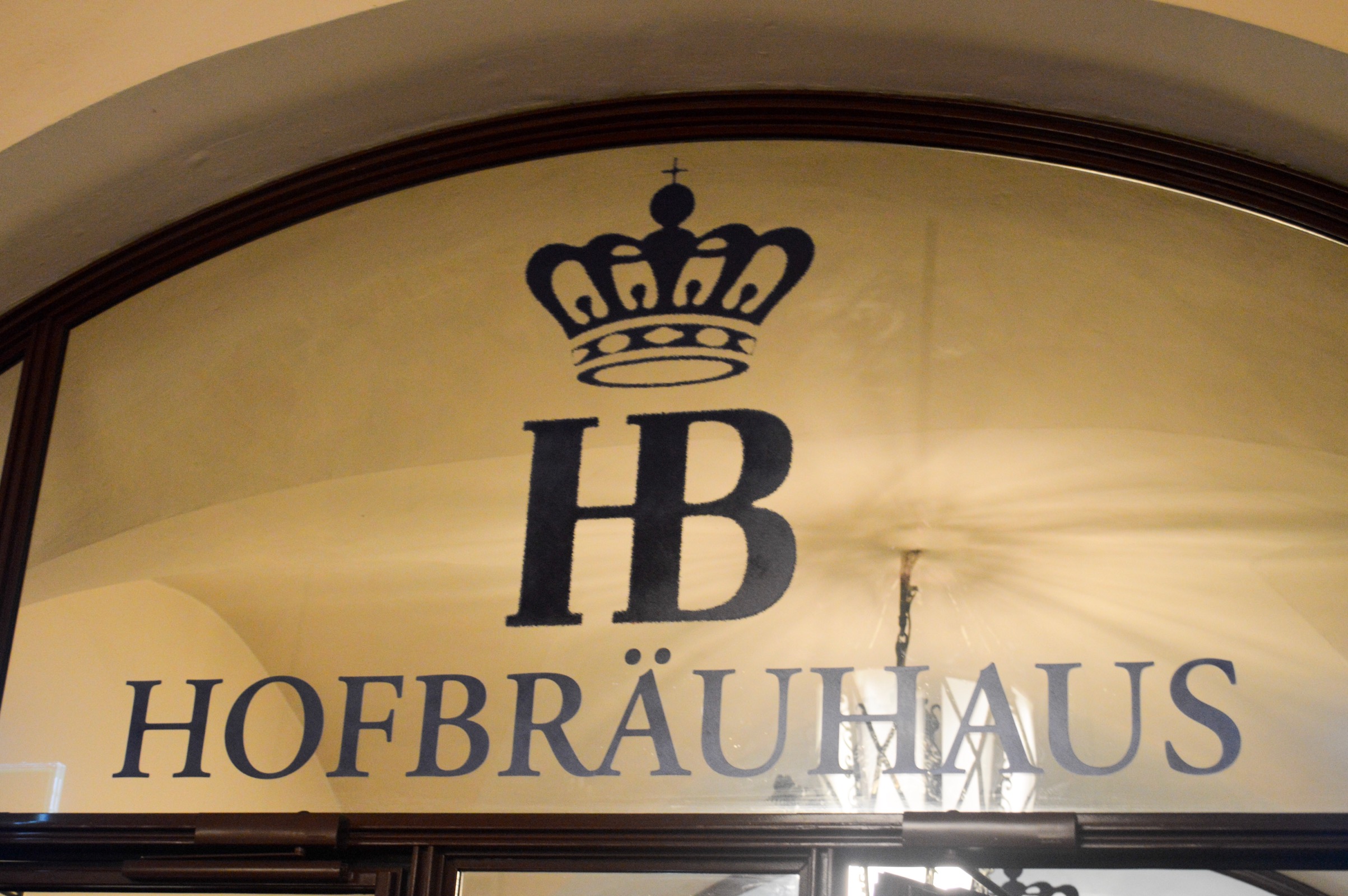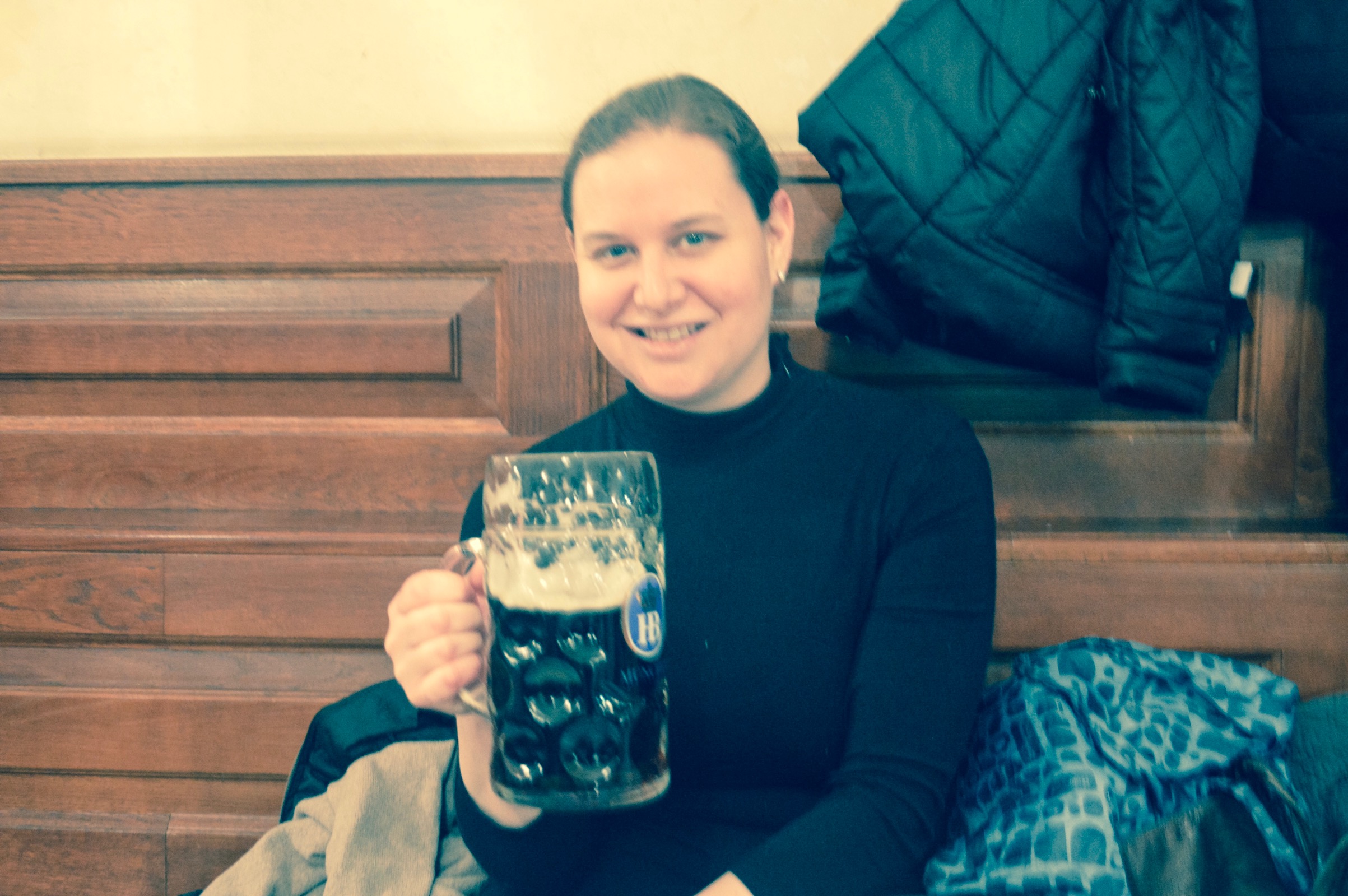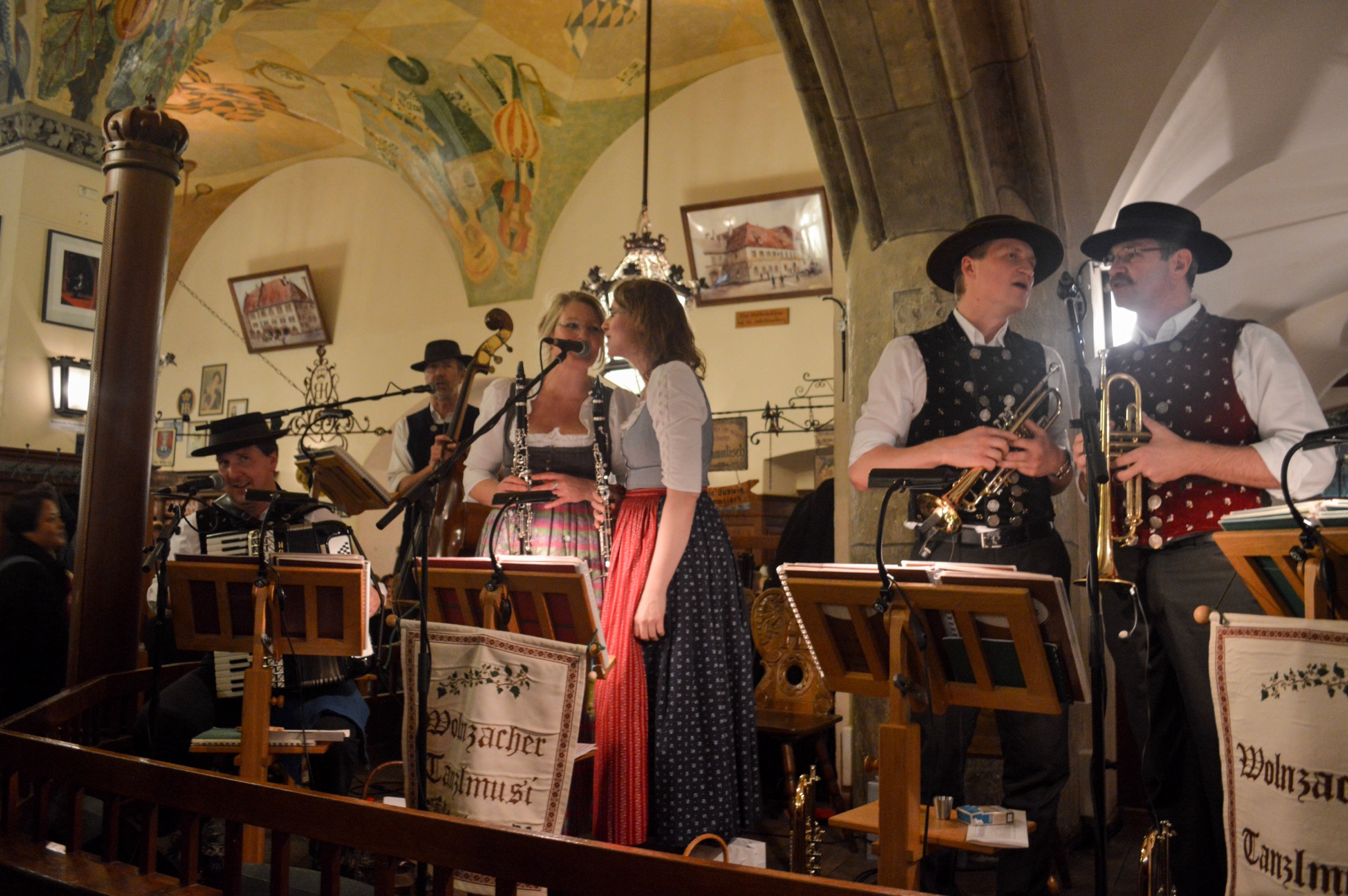 Eat Döner Kebab. This is not unique to Munich, but you're in a big German city, so the Döner is of high quality and should be eaten. We found a really unique and delicious spot during our last visit called Türkitch. It's a little hipster, but very very good. Be prepared to wait in line.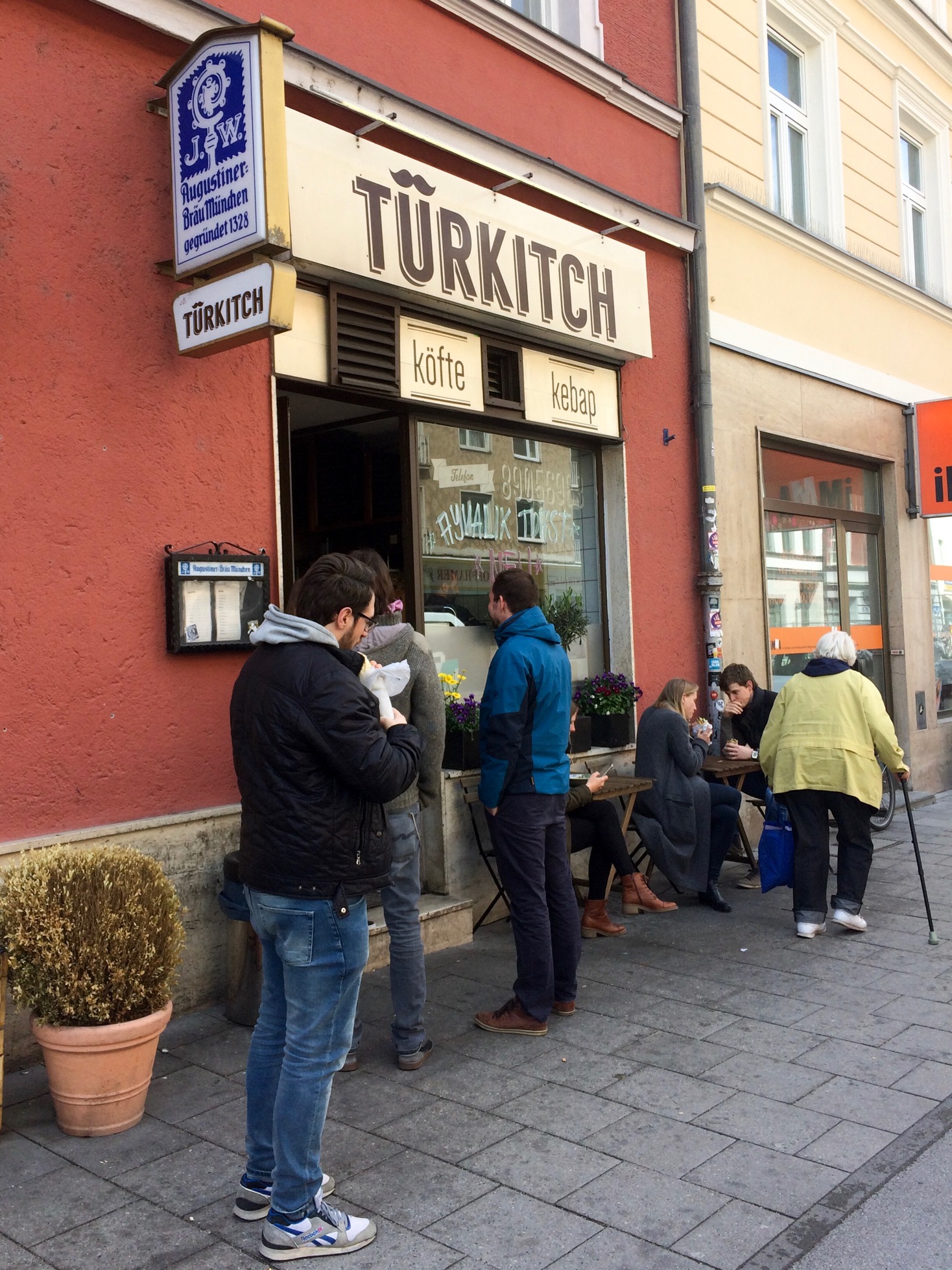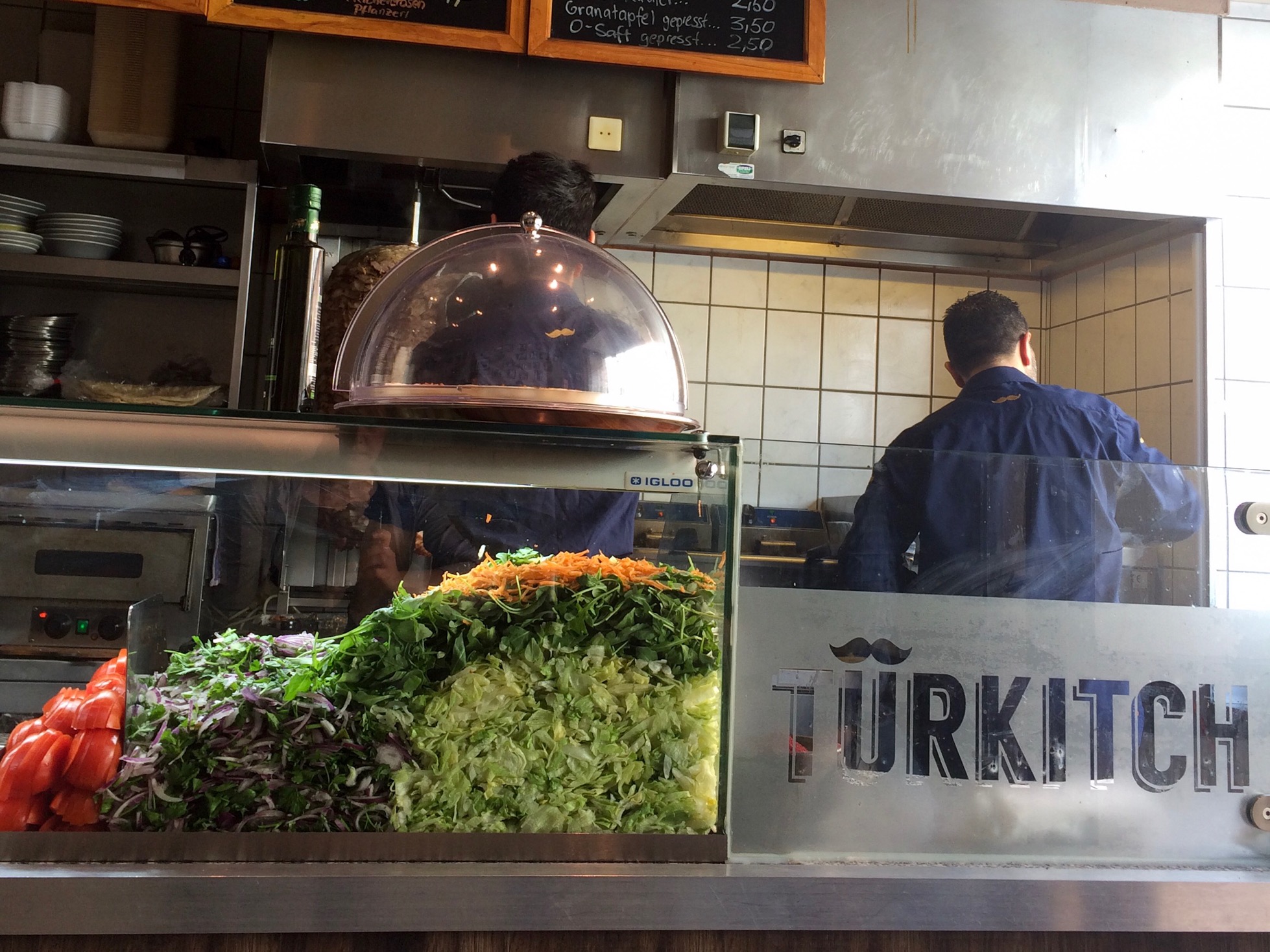 Eat Knödeln – bread dumplings. There is an entire restaurant dedicated to these called Wirsthaus in der Au. It was good, but be prepared for a heavy meal. They're bread dumplings after all.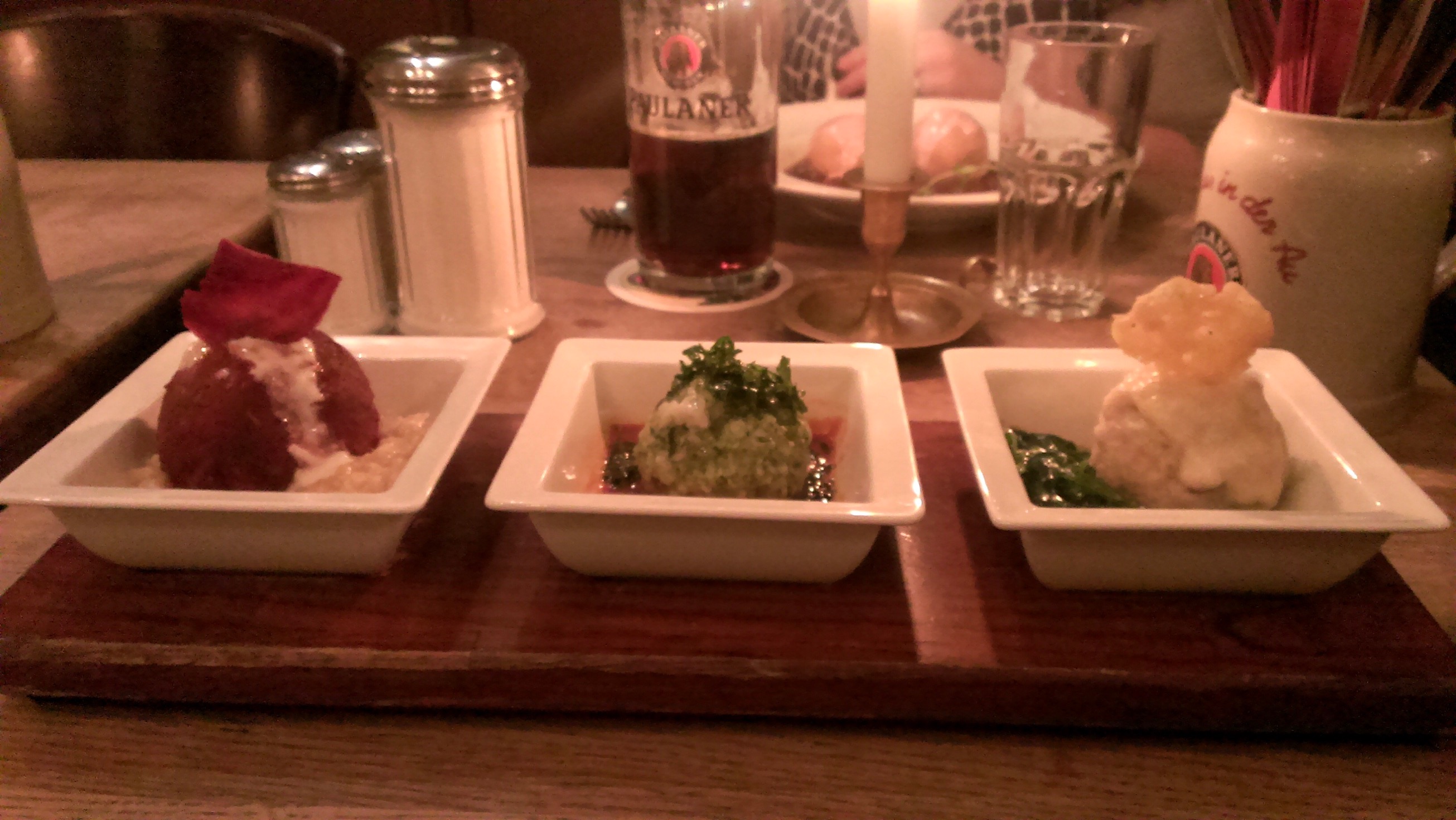 Go to a place with great, traditional German Bräuhaus food. Our favorite was Hofbräukeller, which we went to for Thanksgiving dinner three years ago. The food was outstanding.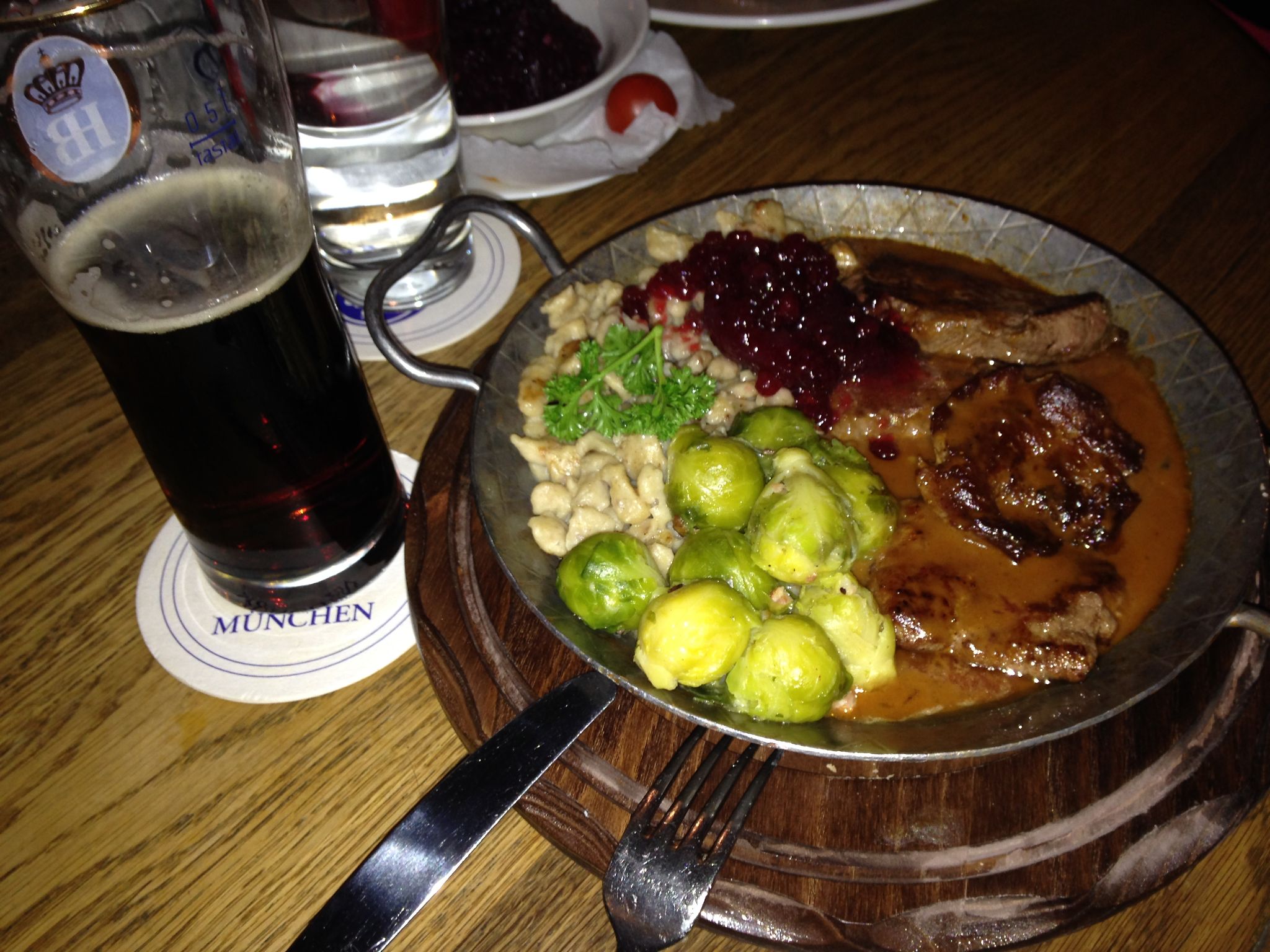 If you find yourself in the Giesing neighborhood (a little outside the center), check out Giesinger Bräustüberl. It's a local brewery with a cool (less touristy) vibe and good food too. Note, the gorgeous Kaisershmarrn pictured above is from this place.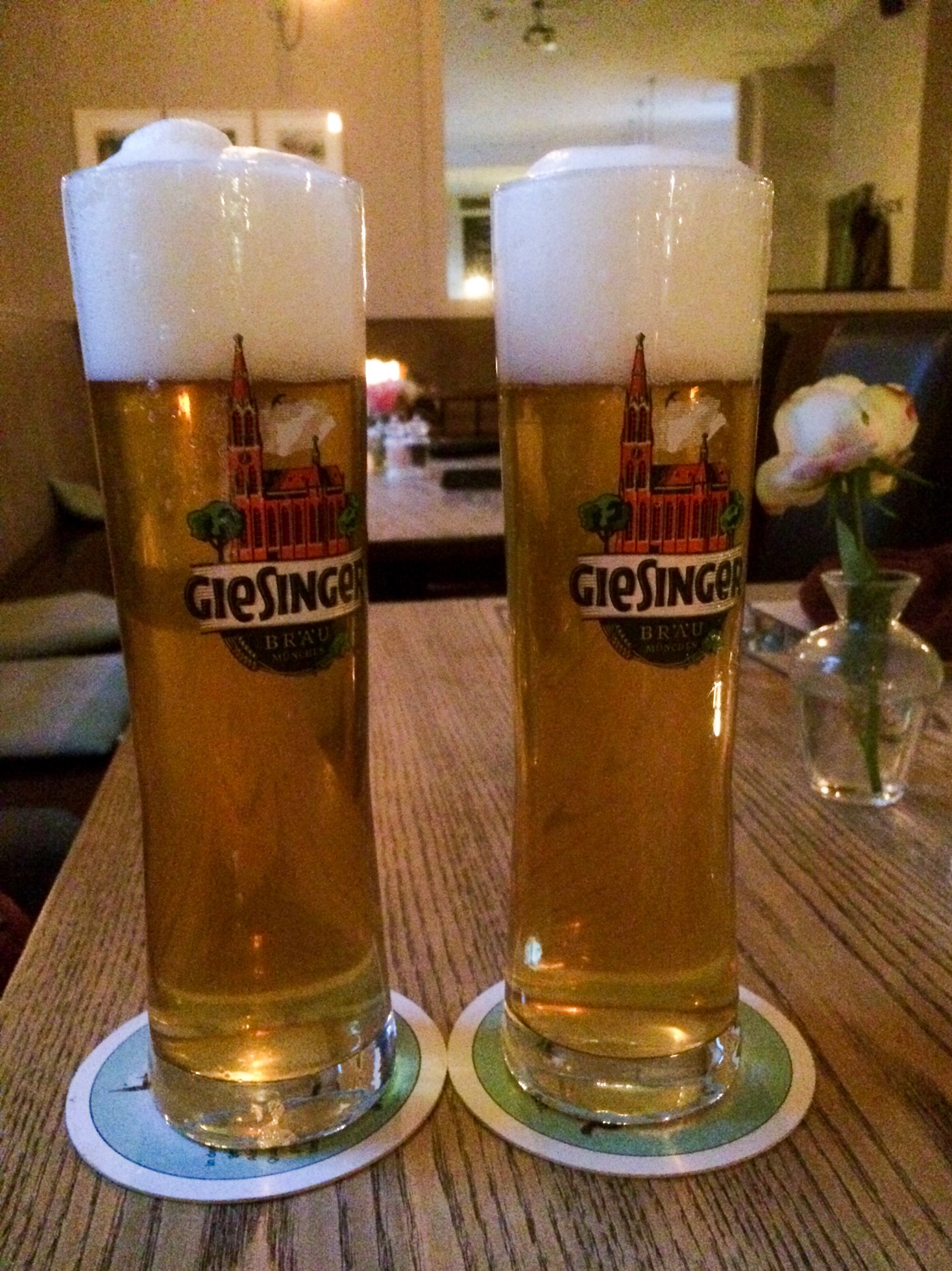 Another great restaurant in the Giesing neighborhood is Schinken-Peter. It was such a local spot. This ham platter was amazing.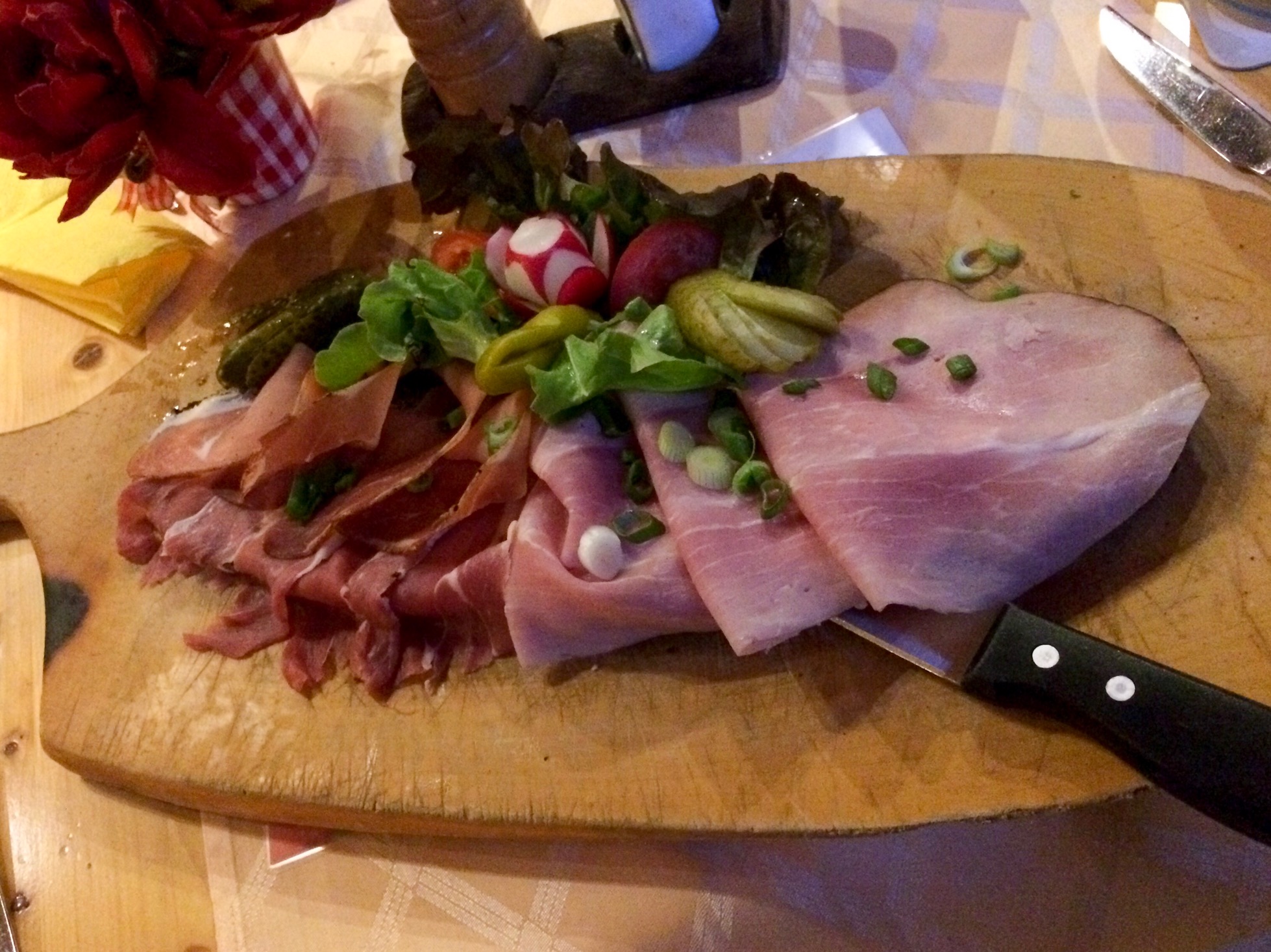 Where to stay in Munich
We stayed in two different hotels in two different neighborhoods during our two visits to Munich. First, we stayed at the Design Hotel Stadt Rosenheim right near Ostbahnhof. It's a small, boutique hotel with lovely rooms. Most recently, we stayed at the Leonardo Hotel & Residenz in the Giesing neighborhood. It was much less expensive, which was important given we were traveling the world for a year vs. taking a short vacation. What we learned from both stays is that, like all other German cities we've visited, Munich has fantastic, easy to use public transportation. It's really not necessary to stay in the (usually quite expensive) city center. It's also cool to check out neighborhoods you may not get to otherwise.
Like this post? Pin it!