Last Updated on 8th January 2019 by Sarah and Justin
We had been riding on a train from Ljubljana for a couple of hours when we went into a tunnel and everything went dark. When we emerged we were blinded by white. We were in the middle of the mountains and everything was covered in snow. It was the end of April and we'd had some lovely spring weather in Slovenia, so we were surprised by (but happy about) the sudden change in scenery. As we made our way further up and through the beautiful snowy mountains, we became more and more excited to arrive at our destination and spend a long weekend in Salzburg, Austria.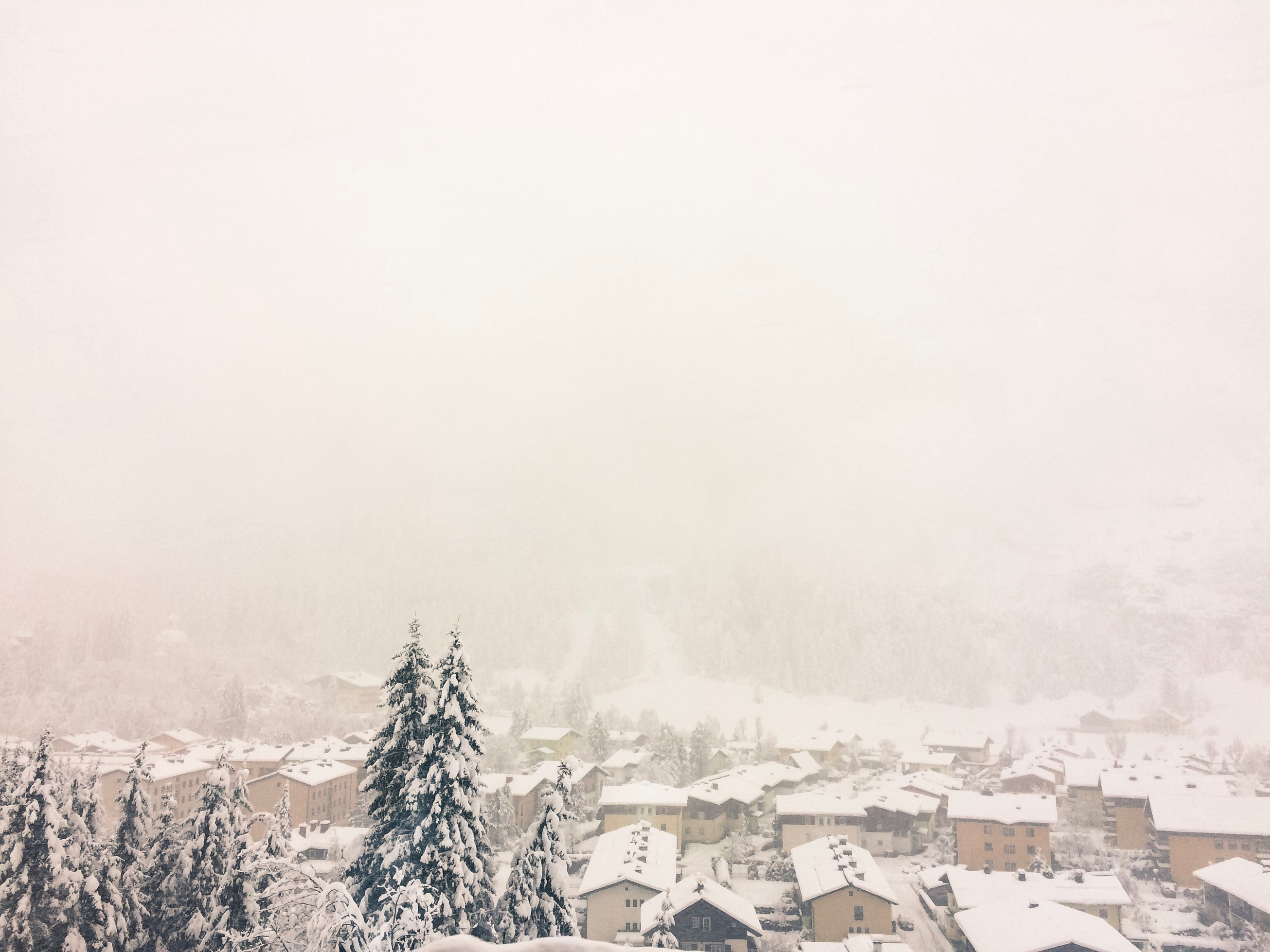 Getting situated in Salzburg
We arrived into Salzburg Hauptbanhof (the main strain station). It offers some of the most picturesque views we've been treated to at a train station.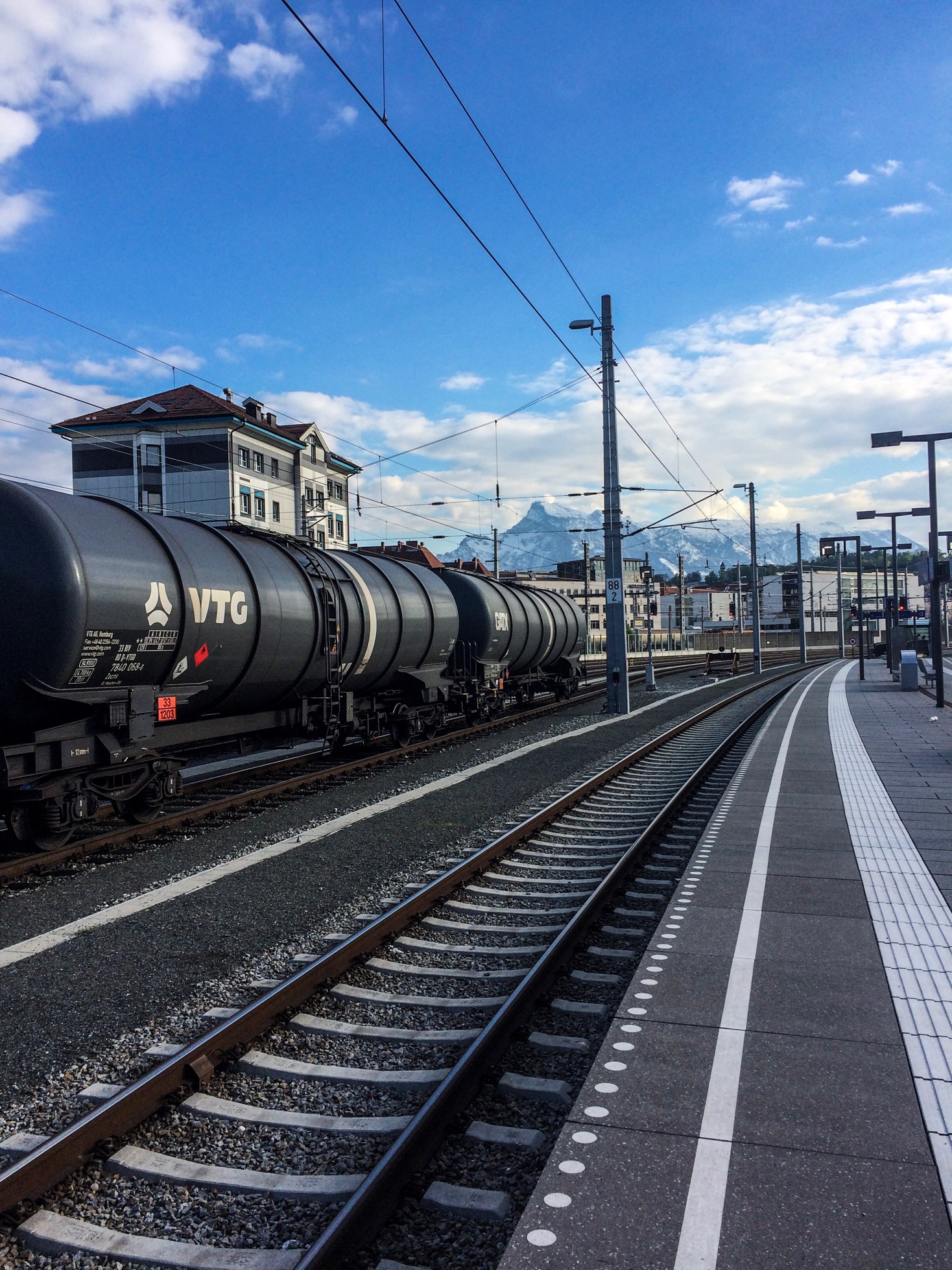 Salzburg Hbf is located a little far away from the Altstadt (the Old City, which is the most popular part of the city) but we weren't staying there. To be kinder to our budget, we stayed on the other side of the river in the Neustadt (New City). Our hotel was only about a 15 minute walk from the train station, although honestly, it felt a little longer given the colder temperatures and falling snow! After getting to know the city a little better, we were happy to be staying in Neustadt. The neighborhood felt less touristy, more residential, and had some great restaurant options. Plus, down one street, we could see the alps peeking through.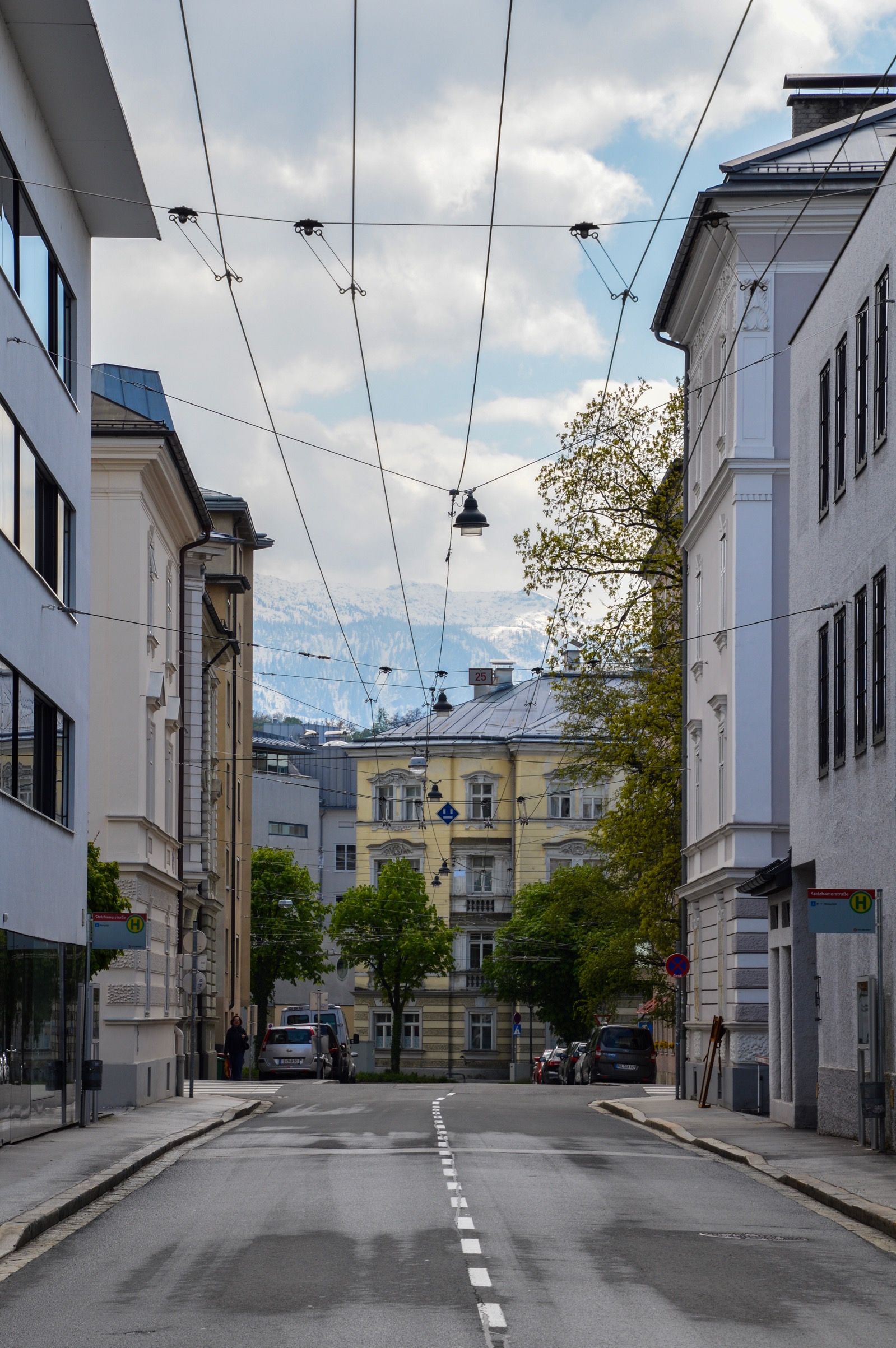 The Sound of Music and Mozart
So many tourists flock to Salzburg for two reasons: the Sound of Music and Mozart. While we have seen the movie and can appreciate good classical music, we did pretty much nothing related to either of those cultural phenomena. But we found it is still a really lovely city to visit and there was quite a bit to see and do to fill a long weekend in Salzburg.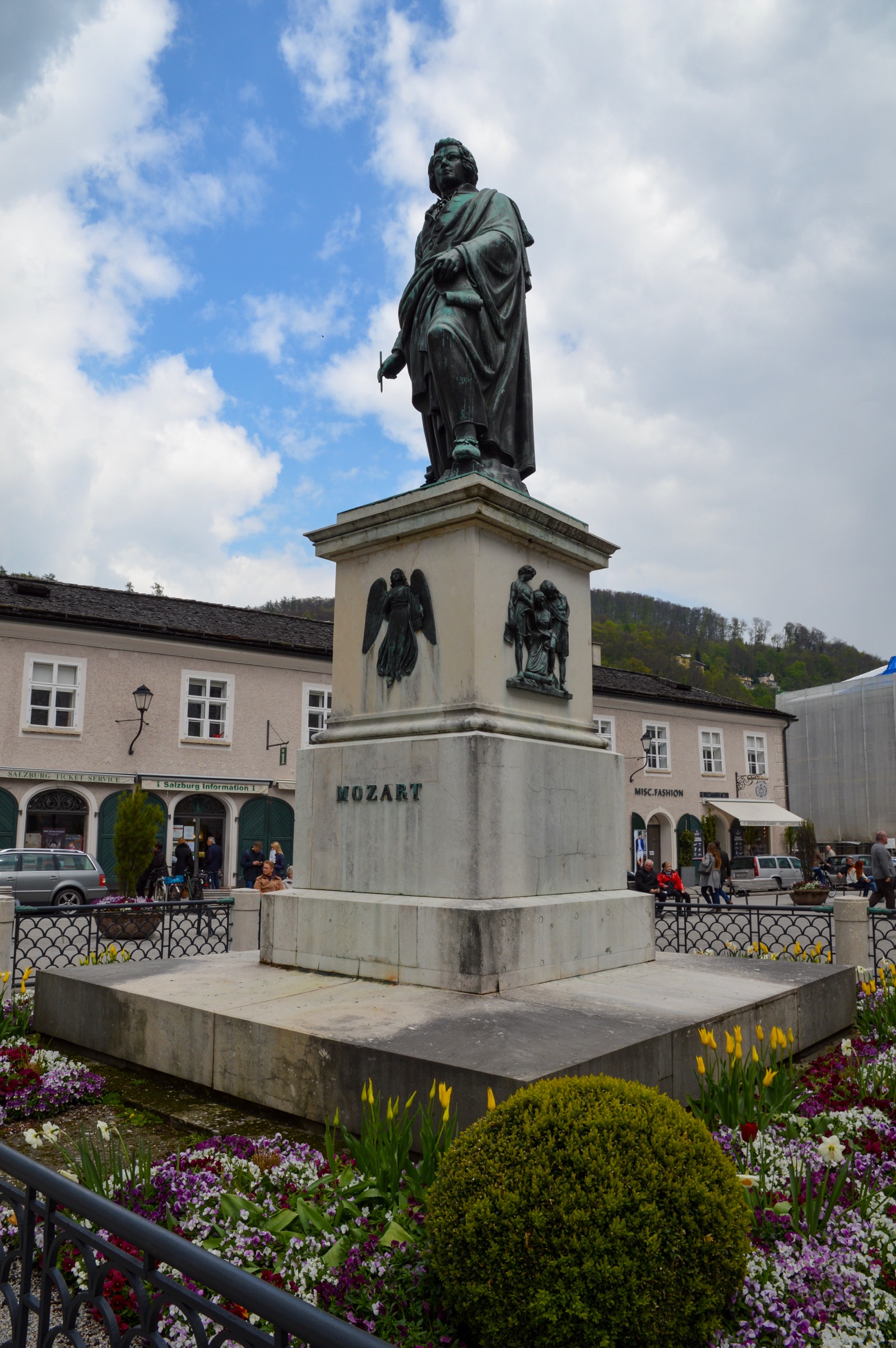 Mirabell Palace and Garden
One of the loveliest places to visit in Salzburg is in the Neustadt:  Mirabell Palace and Garden. The garden is free. We spent a delightful morning strolling through the grounds (disclaimer… with quite a few other tourists). The the garden is beautifully manicured with flowers and trees and sculptures and there is a super view of the castle as well.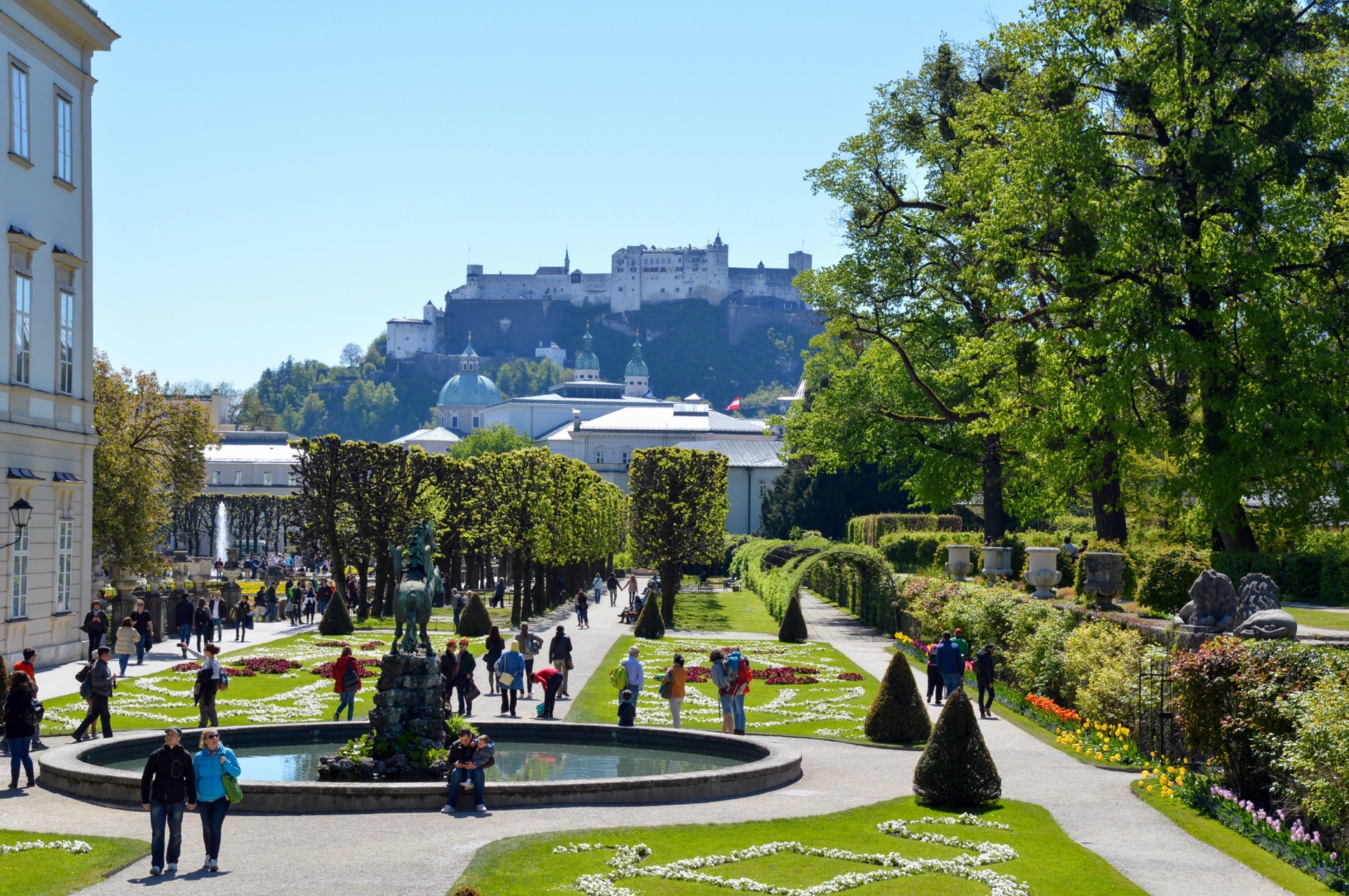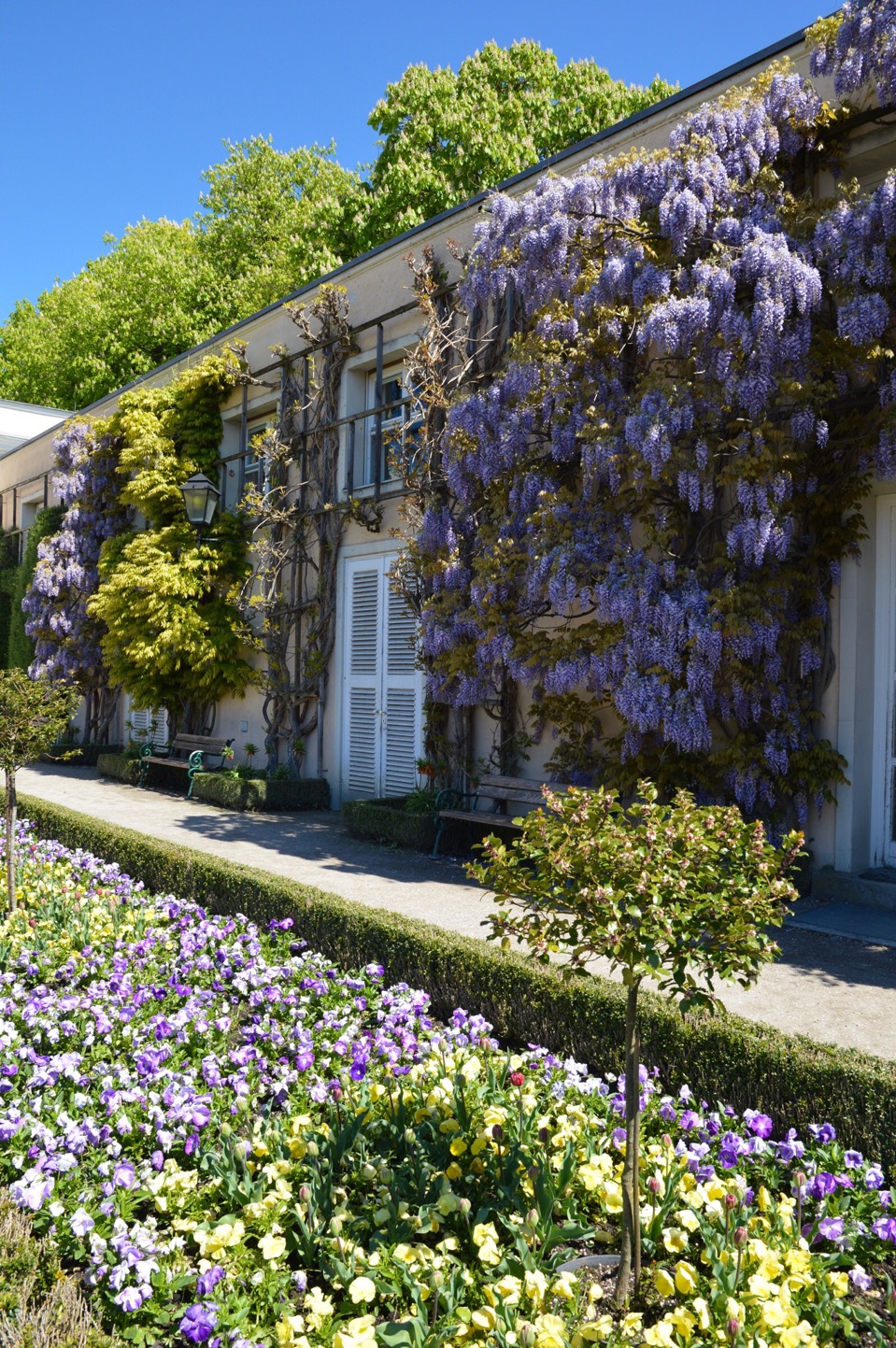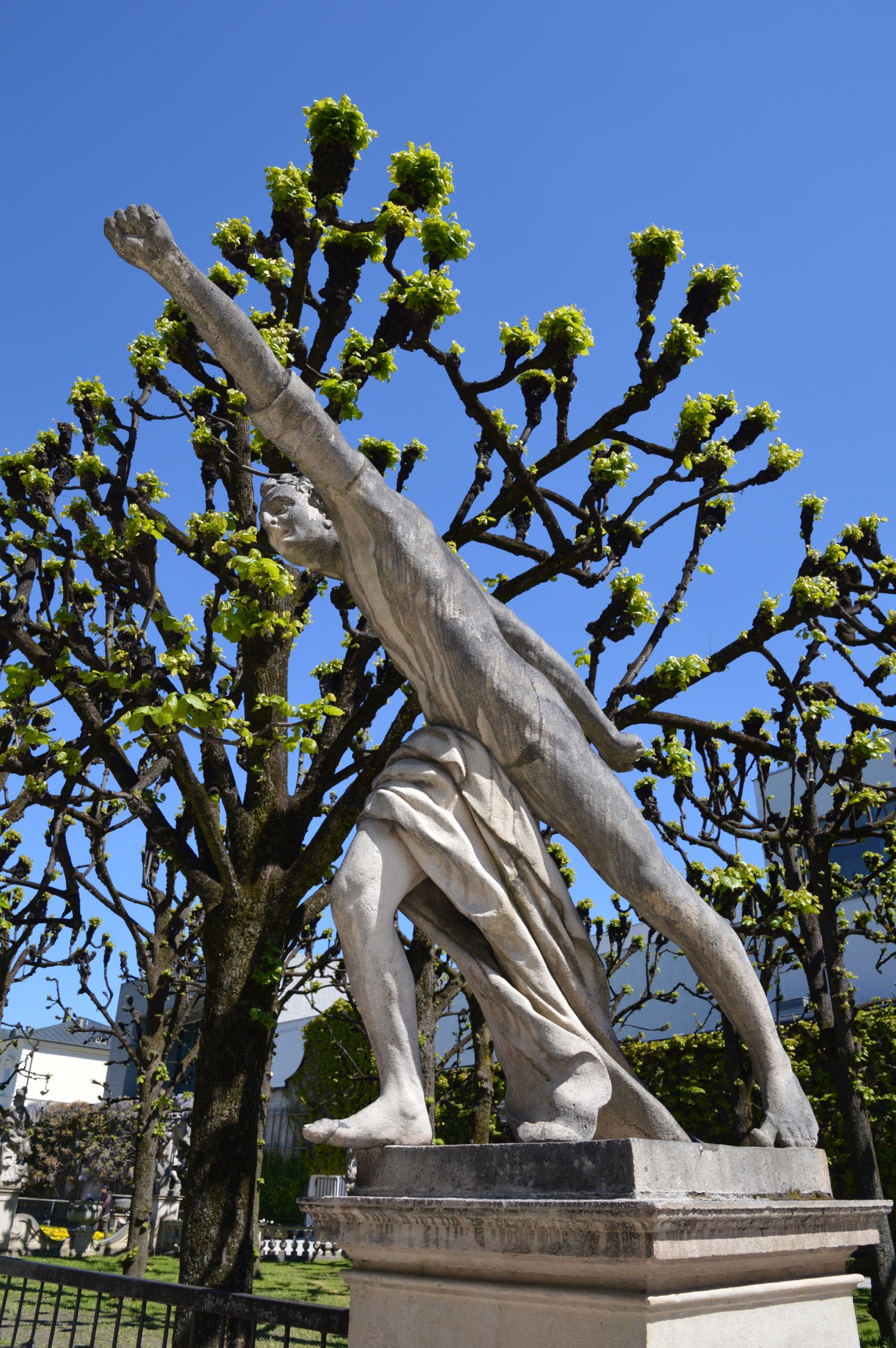 The Salzach River
If you walk down the main street in the Neustadt you'll be greeted with a fabulous view of the Altstadt and Hohensalzburg Castle and mountains, and then you'll hit the Salzach River. When we got there we understood the other reason Salzburg is so popular with tourists – it's really, really pretty.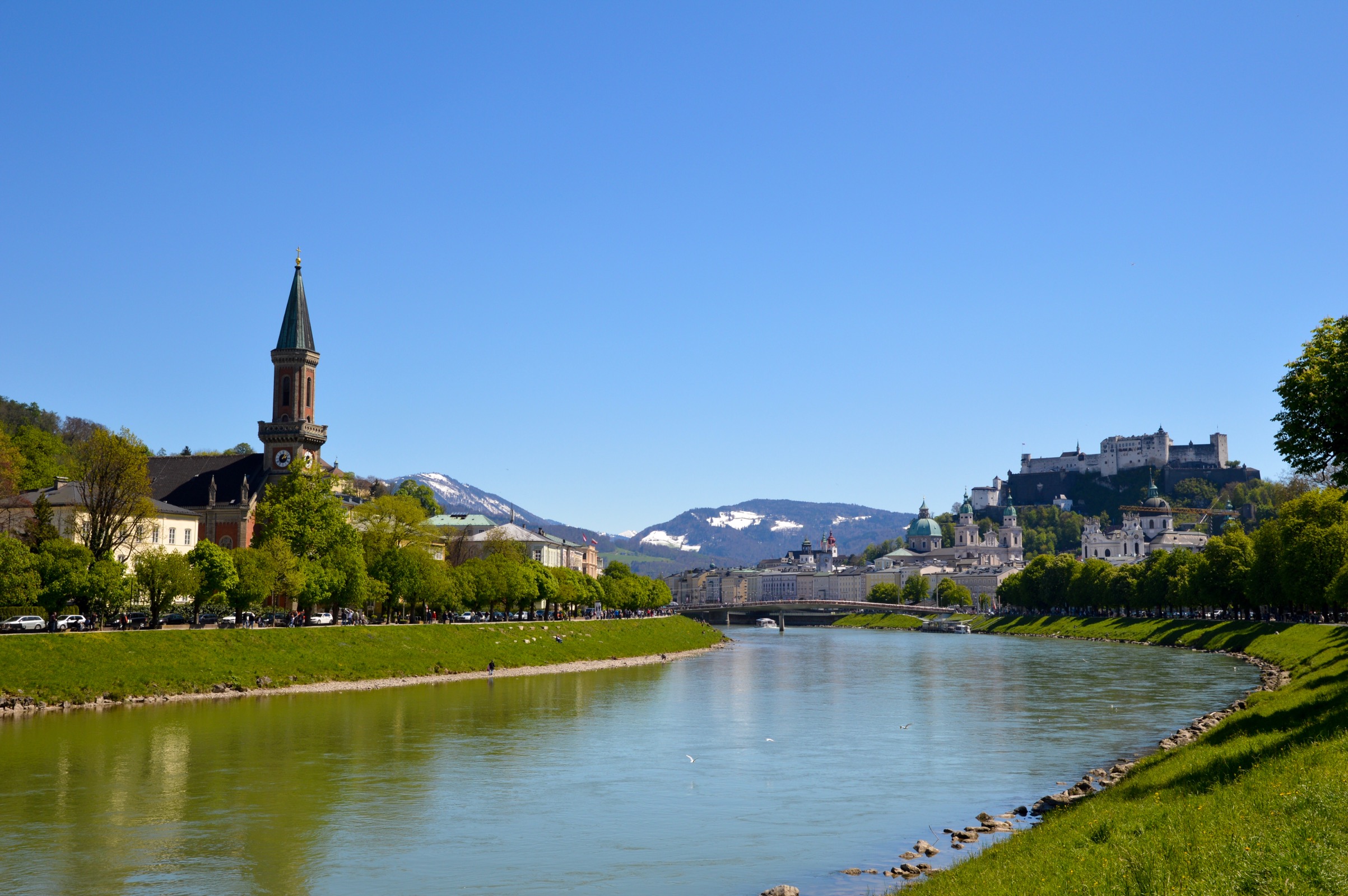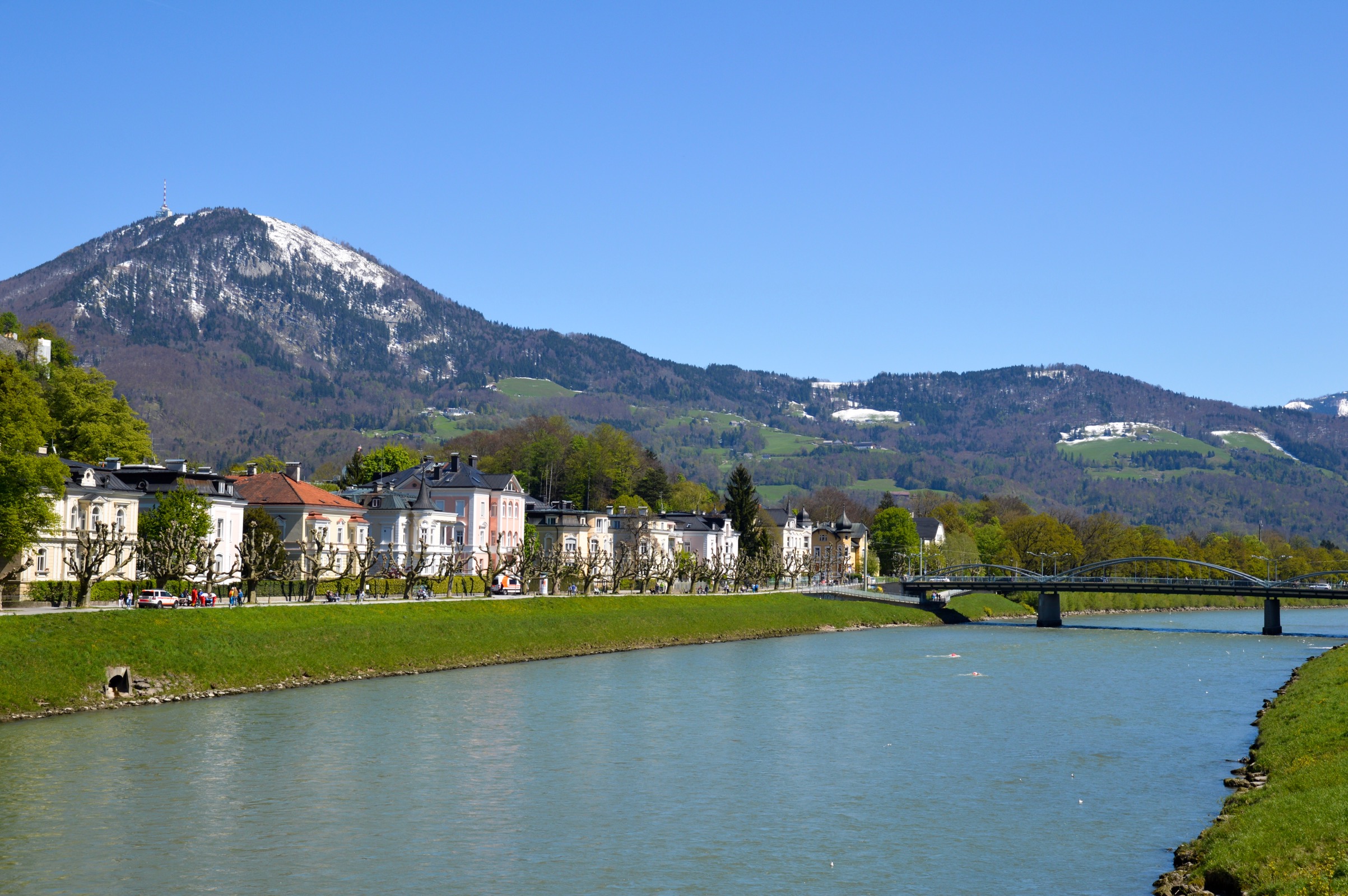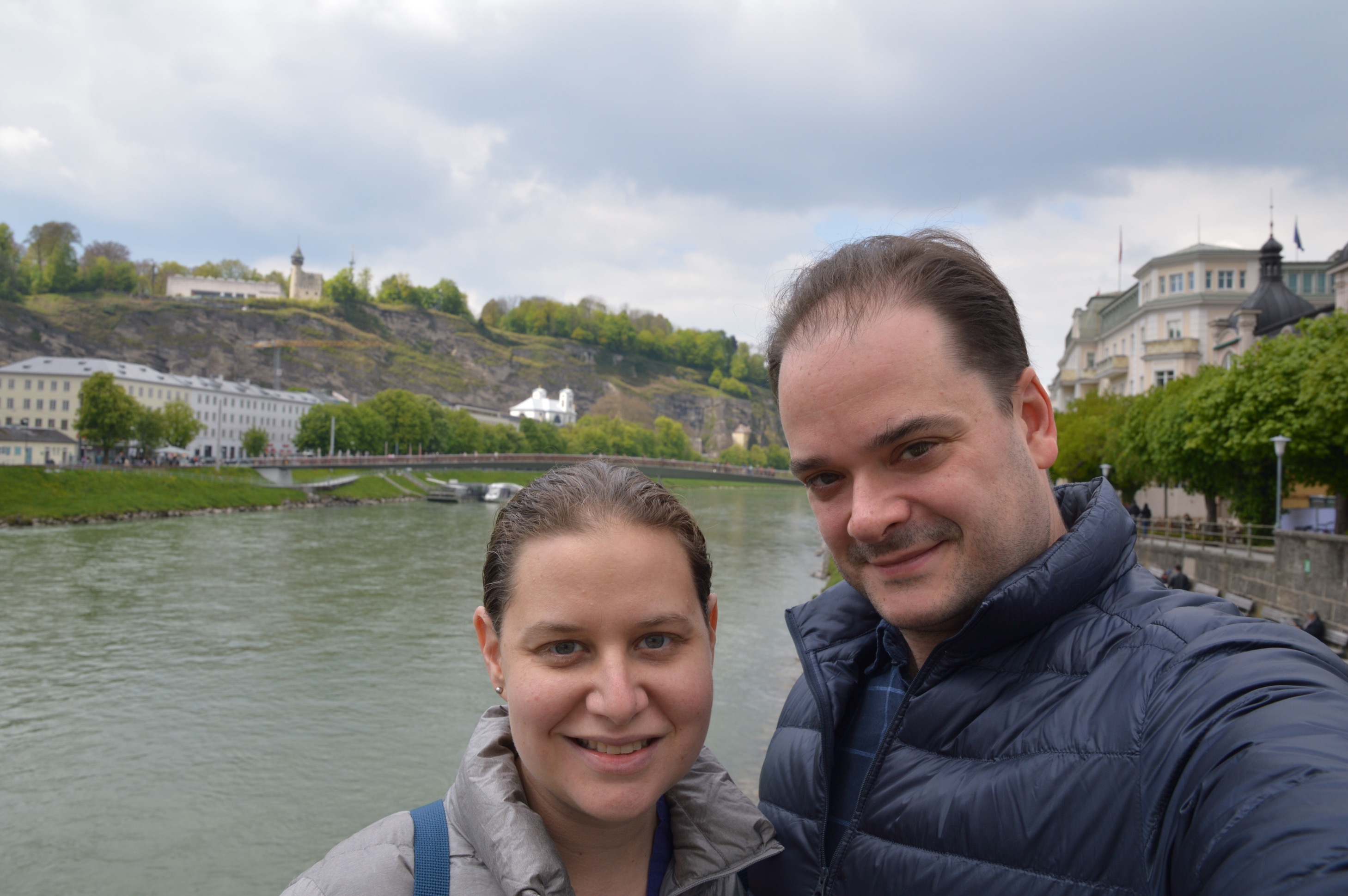 Salzburg Altstadt
As far as European Old Cities or Towns go, Salzburg's Altstadt is up there in terms of loveliness. It is extremely well-maintained and pretty big. It's a great combination of smaller, winding streets and bigger, stately squares (or Platzes as they're called in German).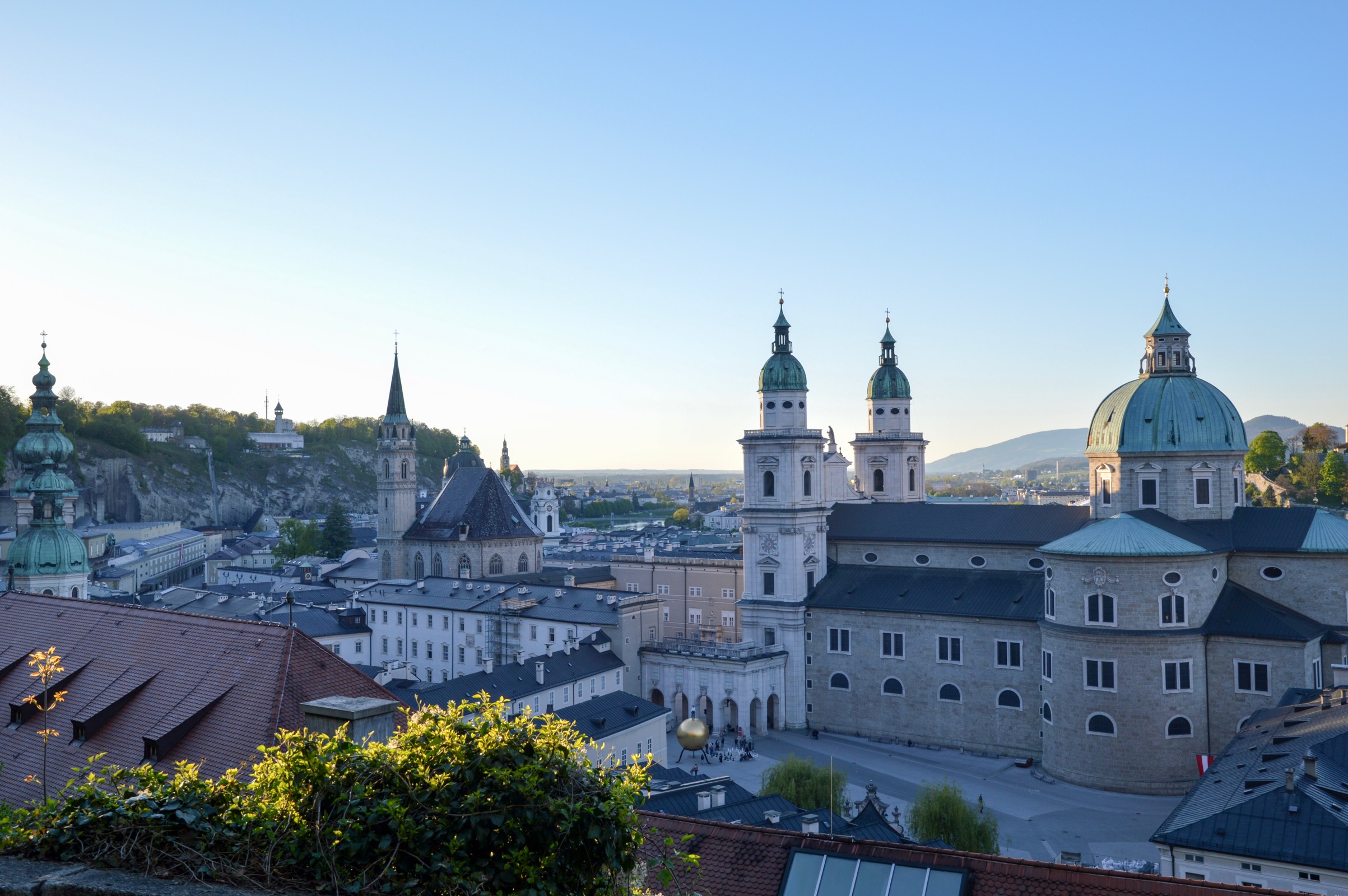 The Residenzplatz is one such square – where an ornate fountain stands in the center, surrounded by big buildings.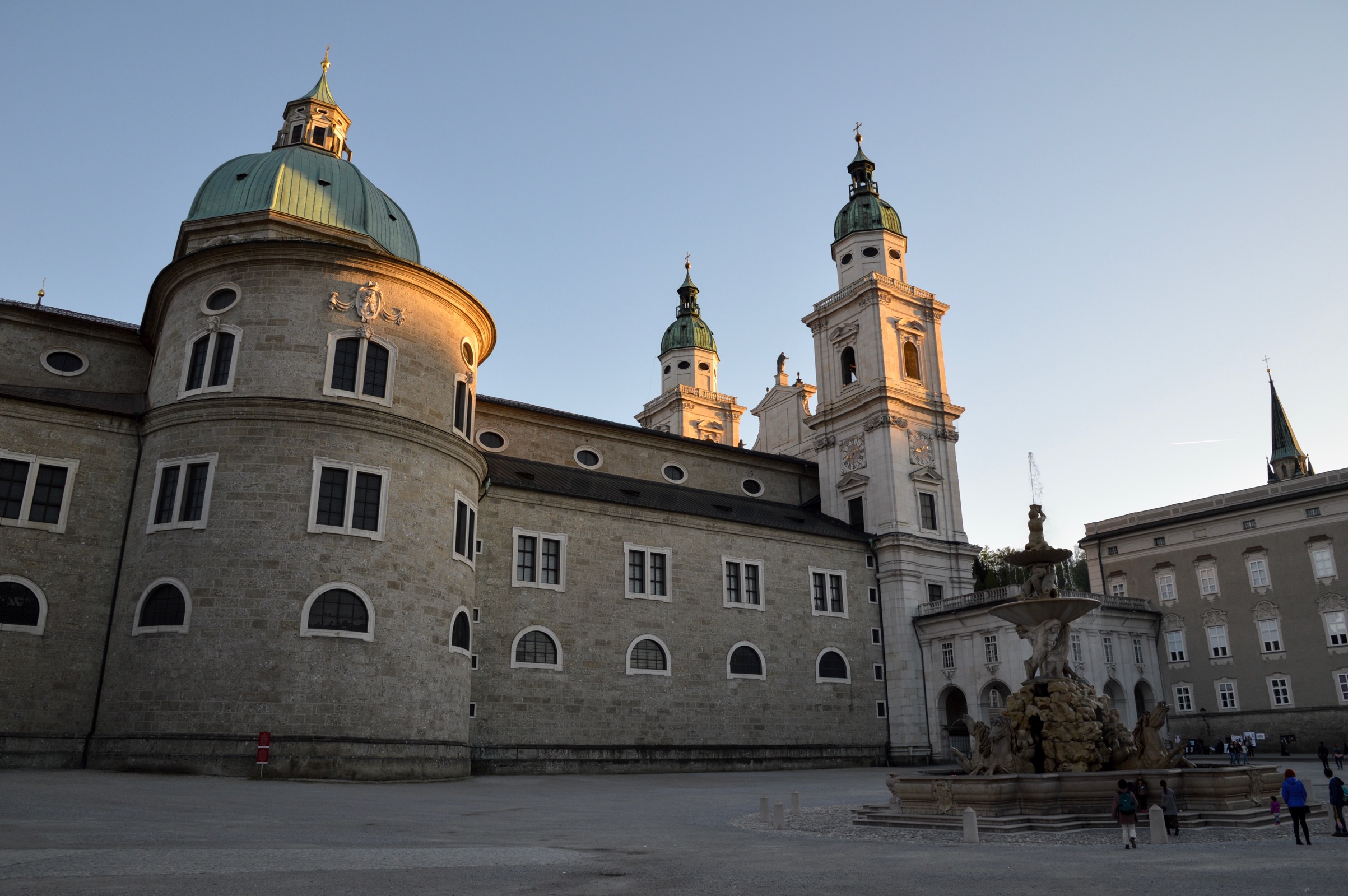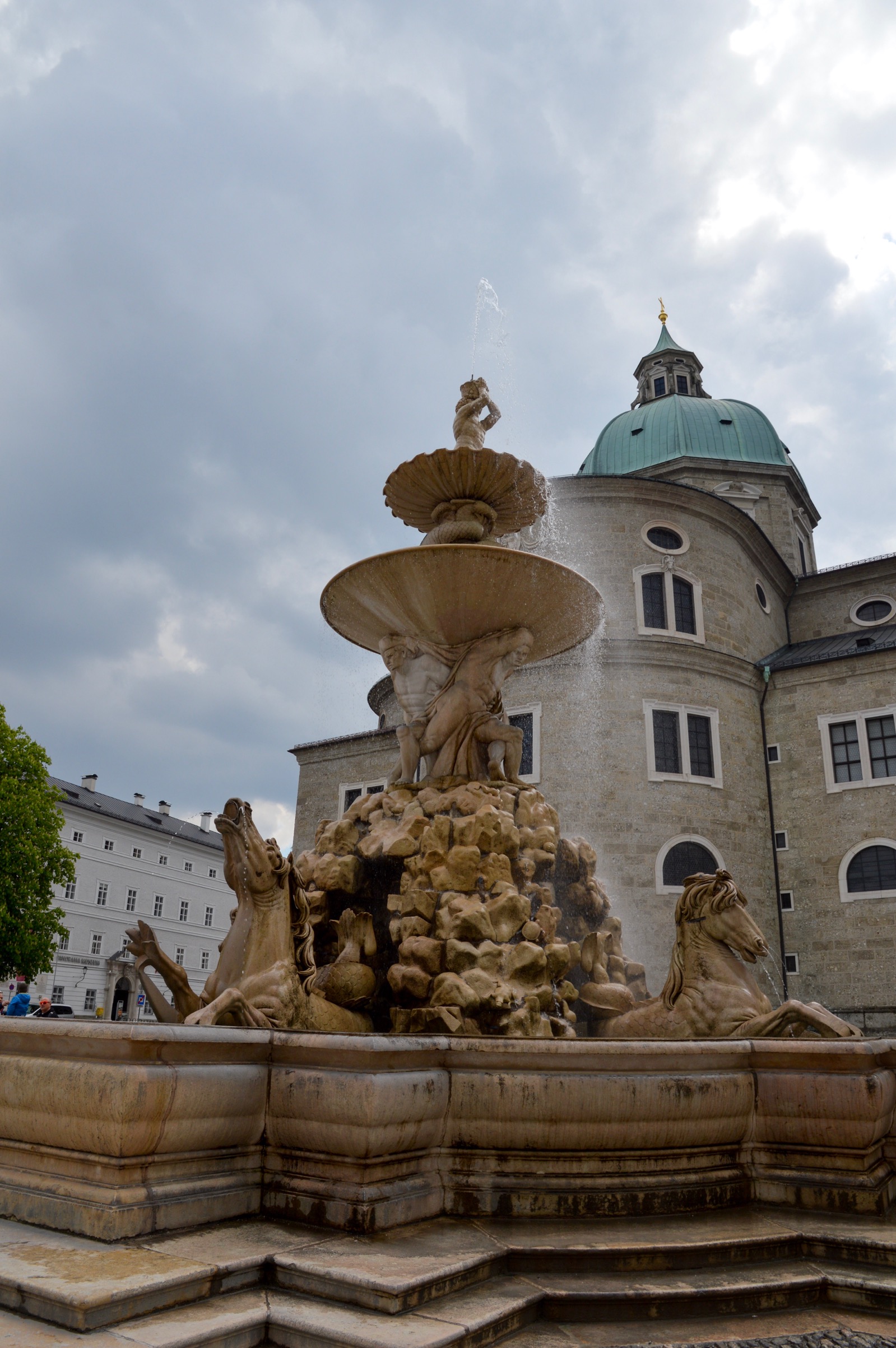 Nearby, Hohensalzburg Castle towers over Kapitelplatz.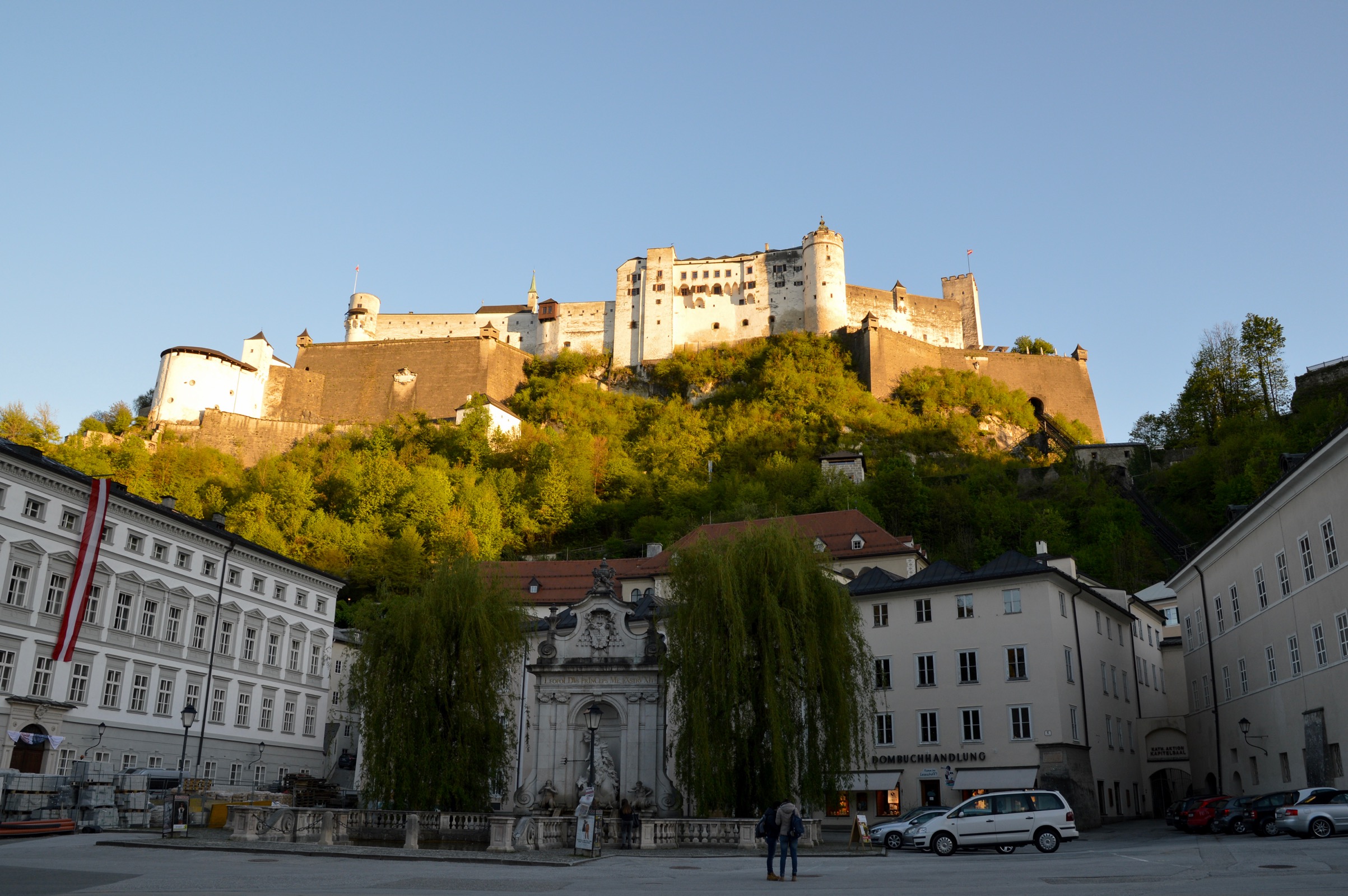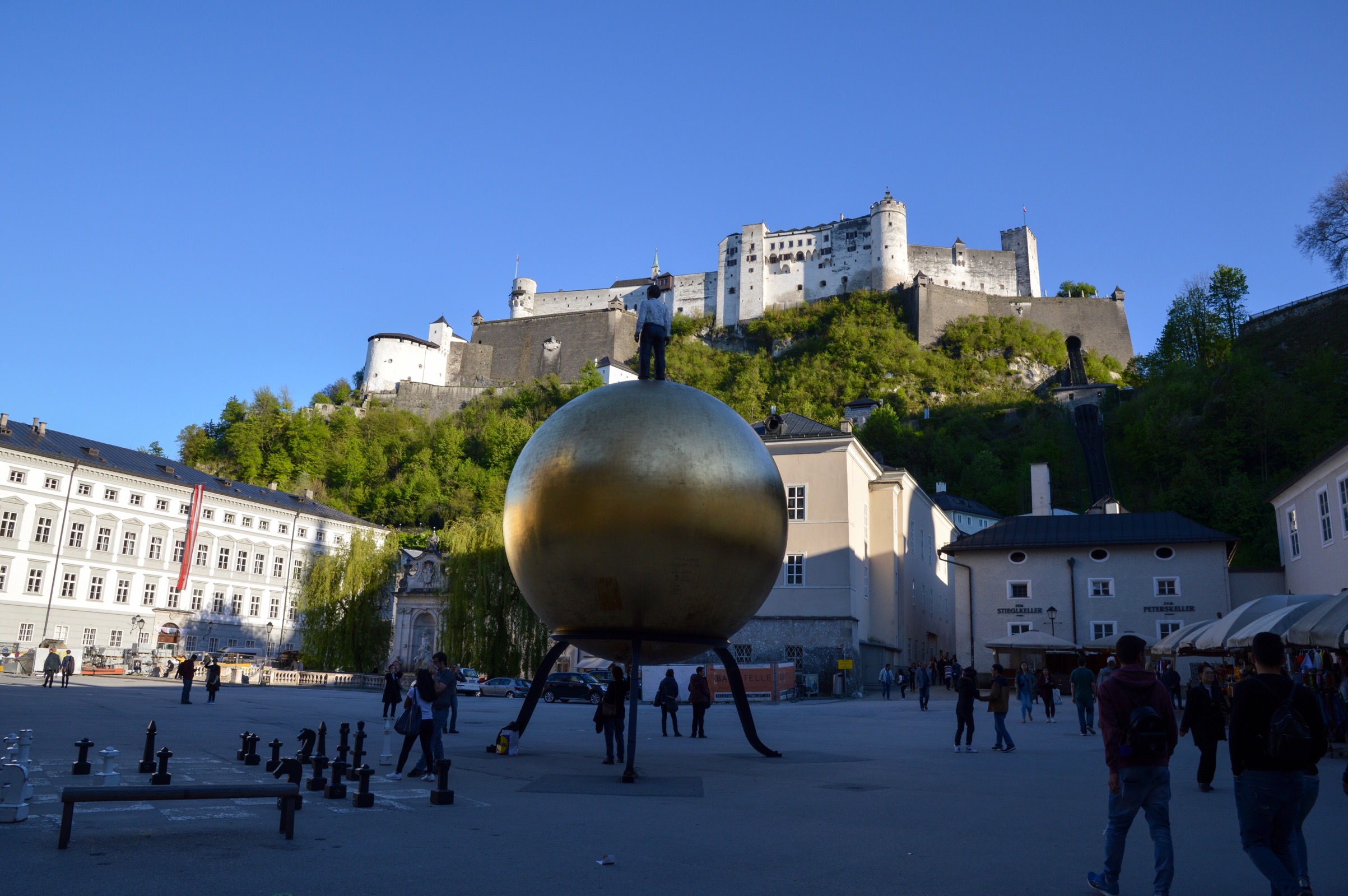 Through a small street on the side of Kapitelplatz is St. Peter's Church. The cemetery has hundreds of ornately decorated graves.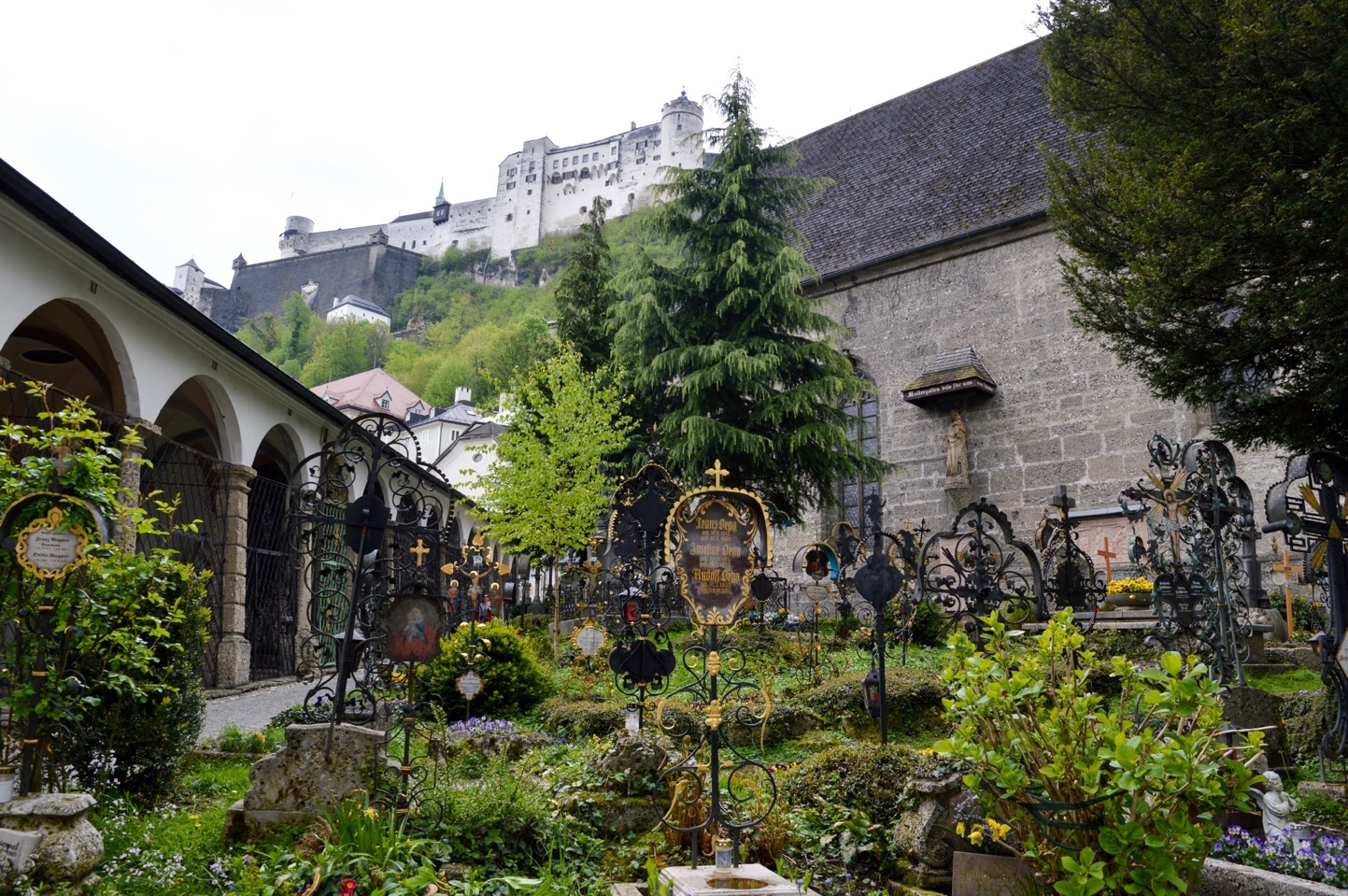 Hohensalzburg Castle
The highlight of our time in Salzburg was visiting Hohensalzburg Castle. It's a massively steep climb to get to the top, but luckily there's our favorite form of transportation – the funicular! The funicular costs less if you take it after the castle is closed, and since we really just wanted to go up there for the views, we took advantage of that deal. You can take the funicular both ways, but as per usual, we opted to walk down.
The views from the top were truly breathtaking. On one side we saw the greener part of the city surrounded by the snow-capped mountains.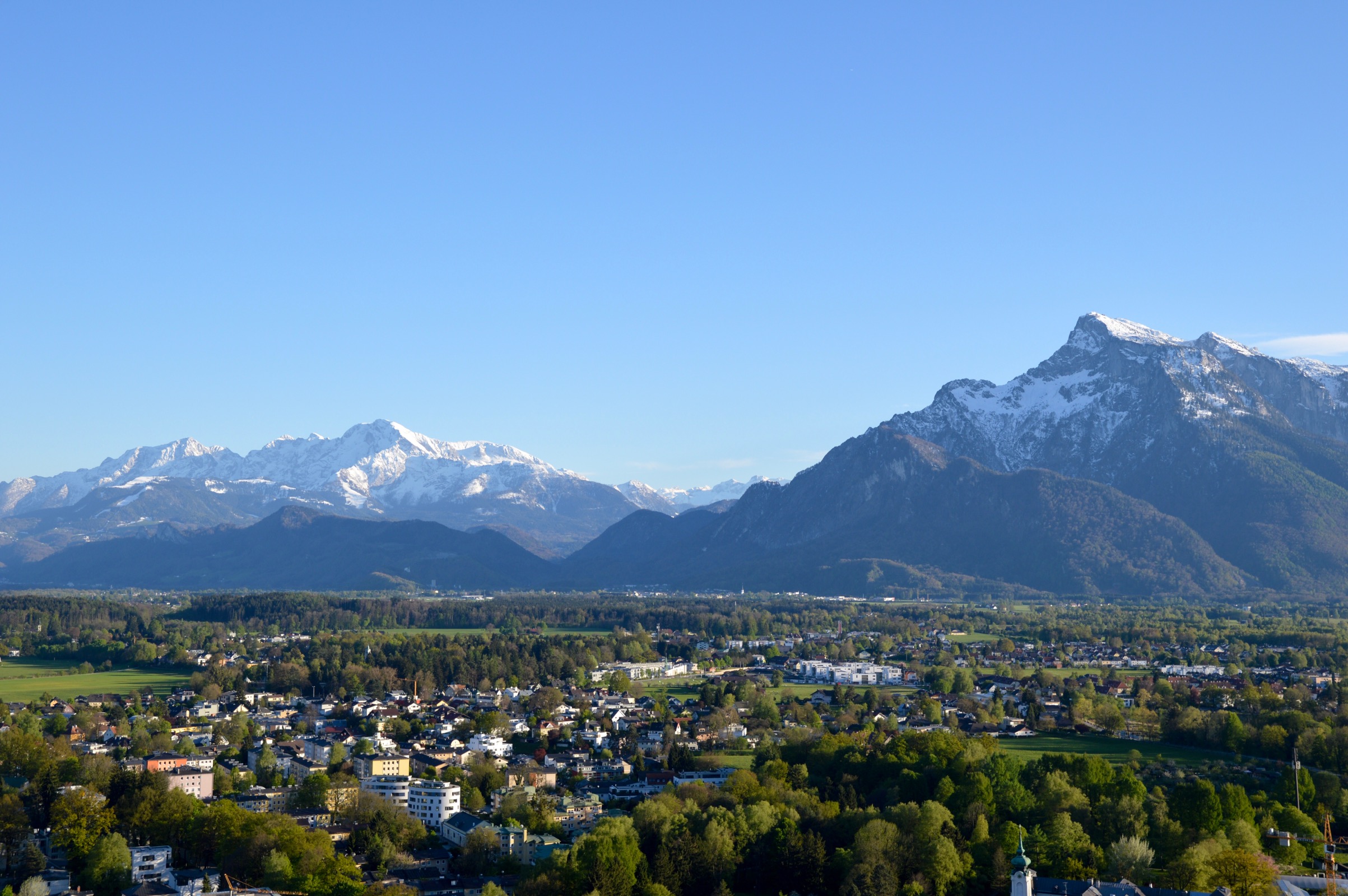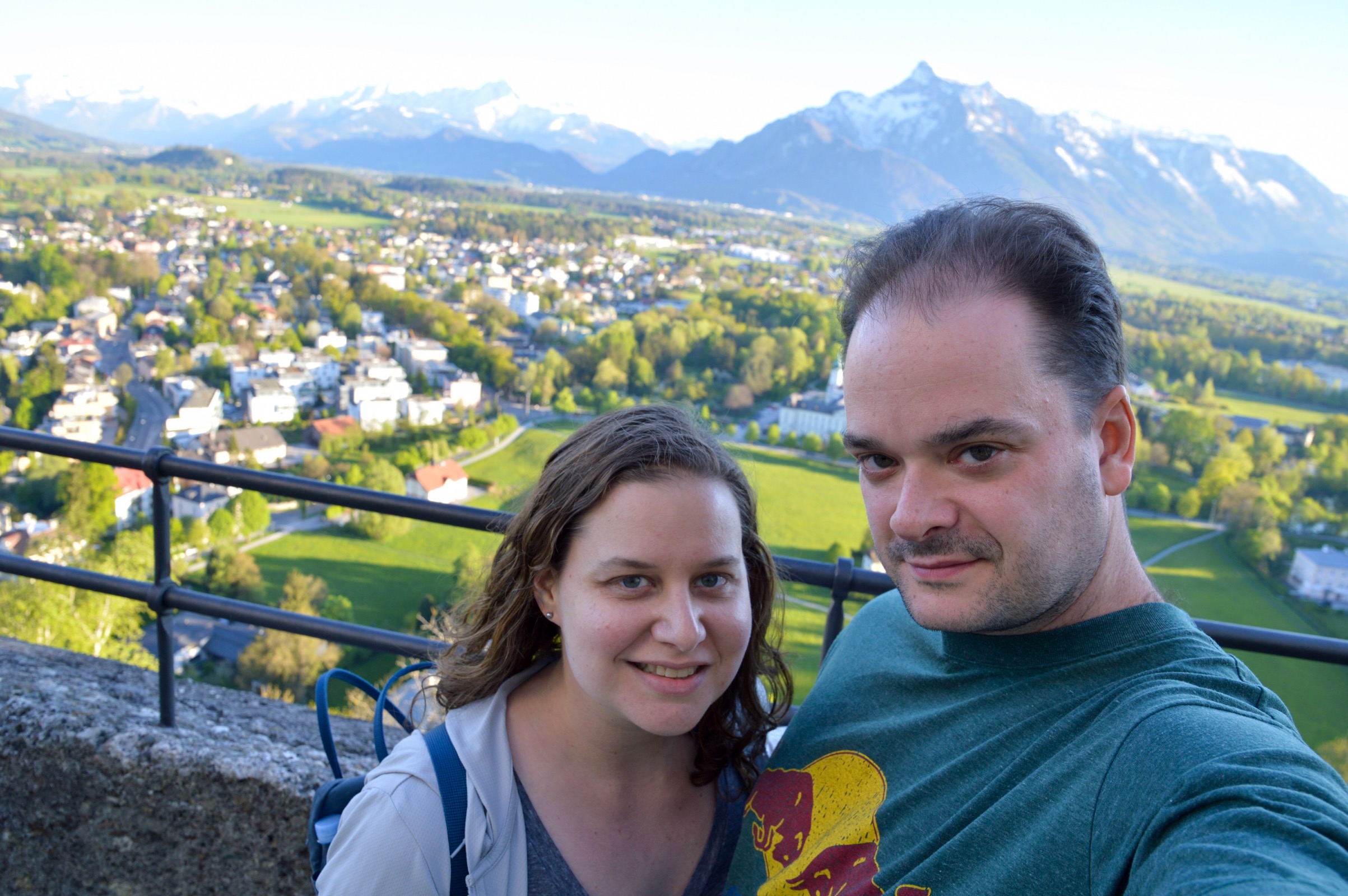 And on the other side are views of the main part of the city, especially lovely at the late hour in the afternoon that we visited.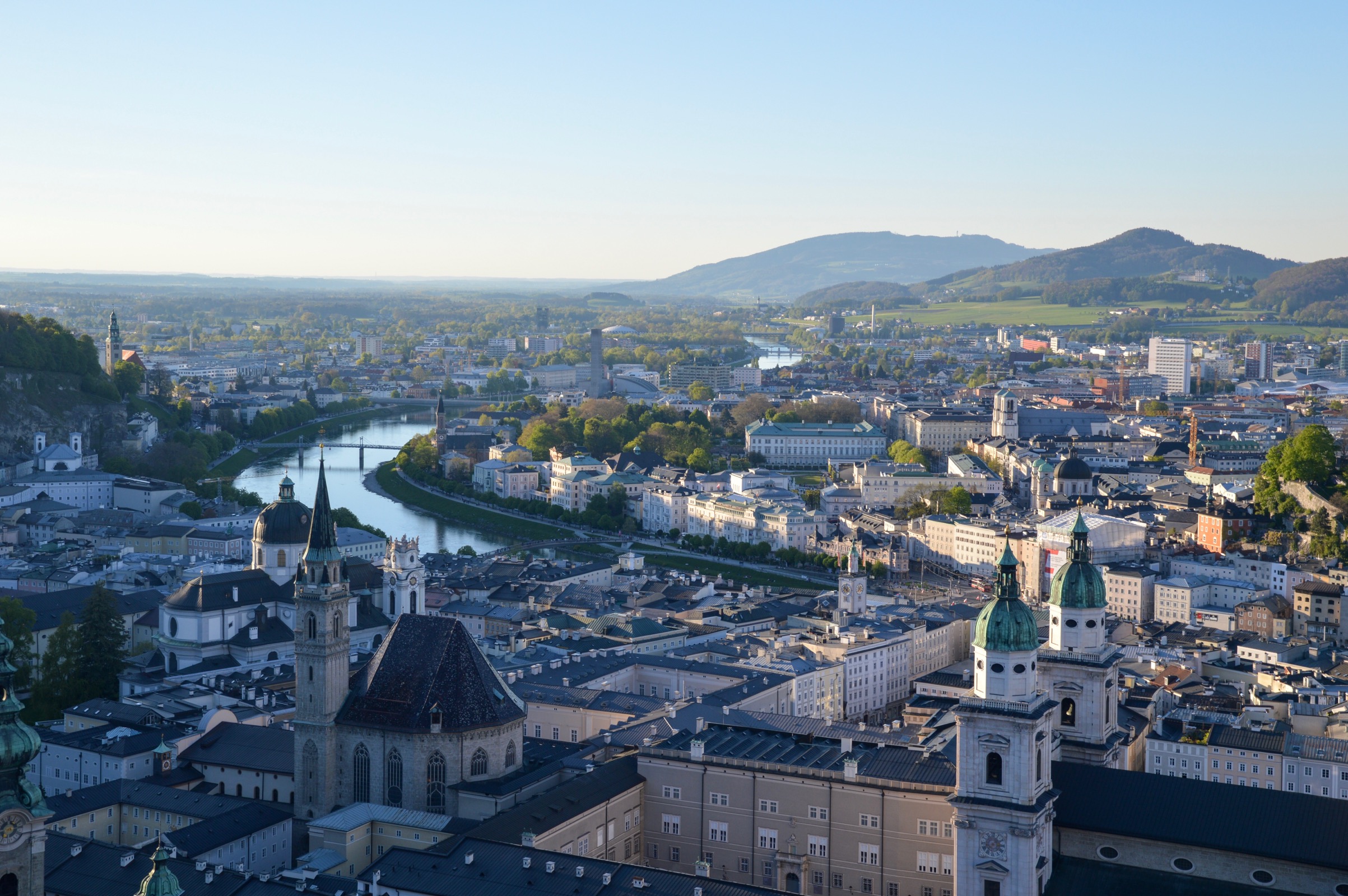 Salzburg FC
To add to our list of Red Bull teams we've seen, we went to see Salzburg FC one night. It's a pretty easy venue to get to (by train or bus) and the views of the mountains surrounding the city along the way make the trip worth it. One tip – get there a little early. We got there a little late and our seats had been taken and the crowd was already so into the match, it was useless trying to get to them. Although, we actually ended up getting slightly better seats in the end, so on second thought, maybe get there whenever you want.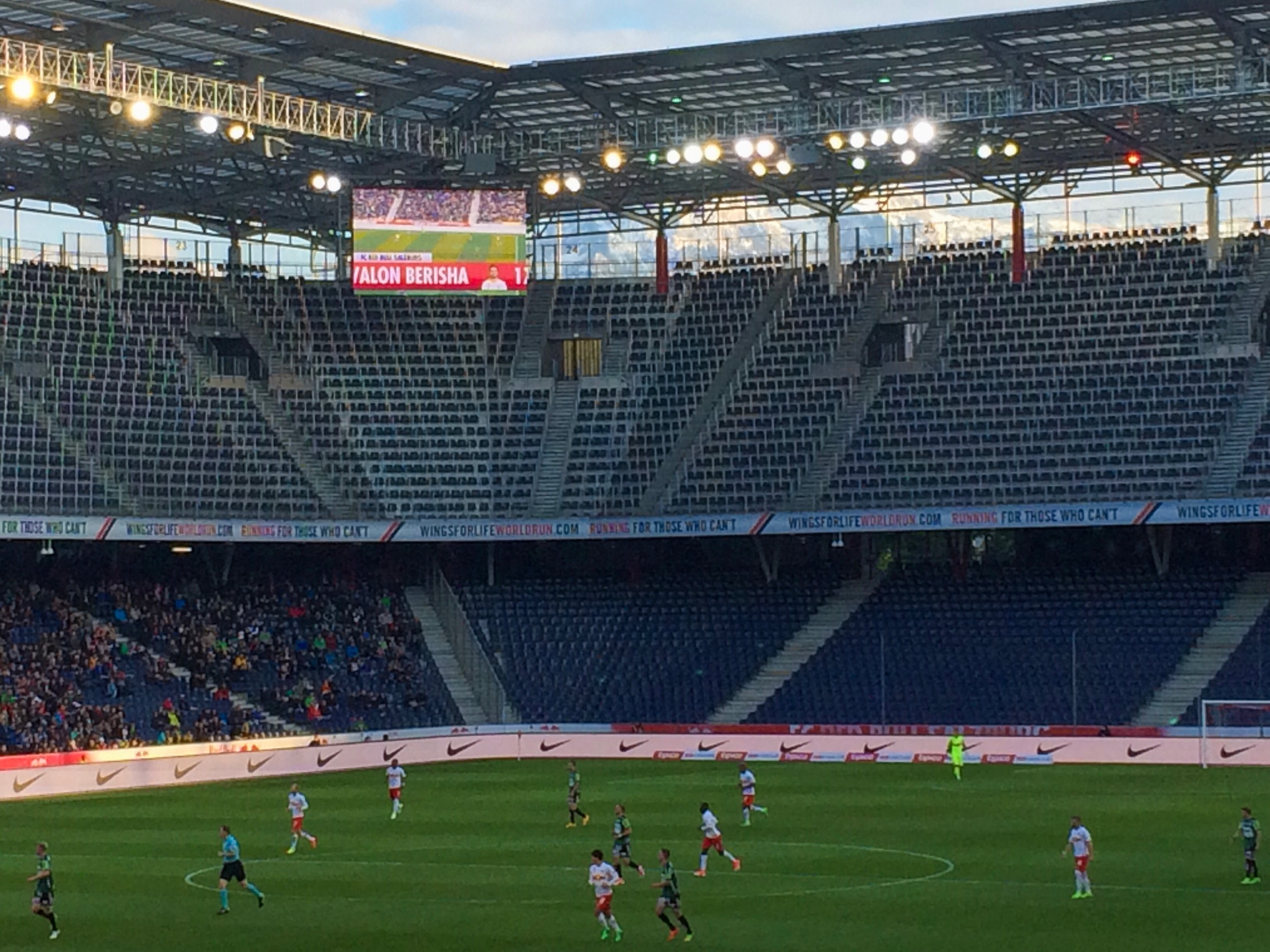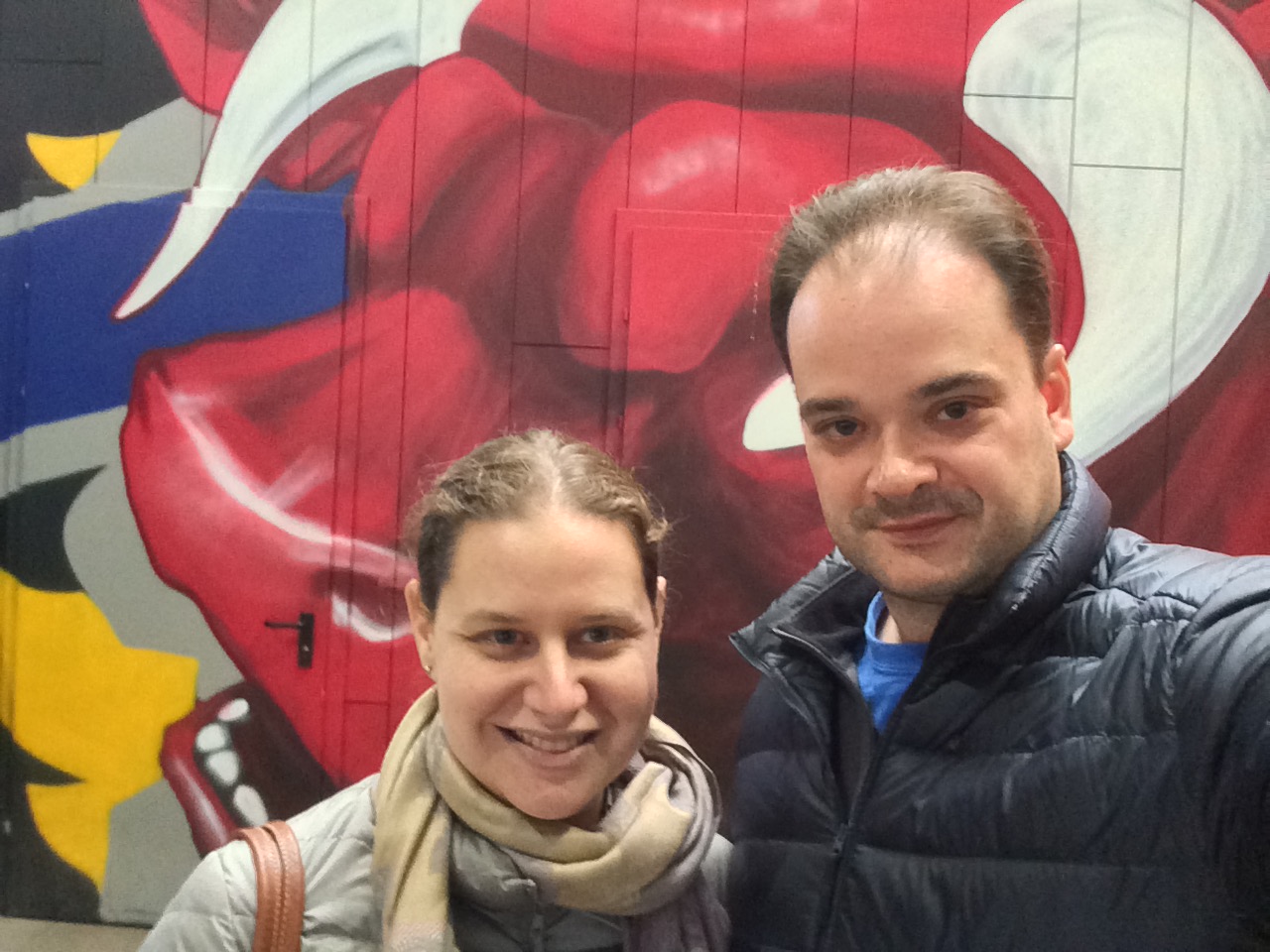 Eats and drinks in Salzburg
Austrian food is pretty similar to German food, but their schnitzel is better. We ate and drank quite well during our long weekend in Salzburg.
As we've mentioned just a few times, the day we arrived in Salzburg it was snowing and pretty cold (especially compared to what we had gotten accustomed to). So we stuck close to home and dined at Fuxn, a newer brewery near our hotel. But we're really happy it worked out that way. The food was very tasty and their house-brewed beer was quite good as well.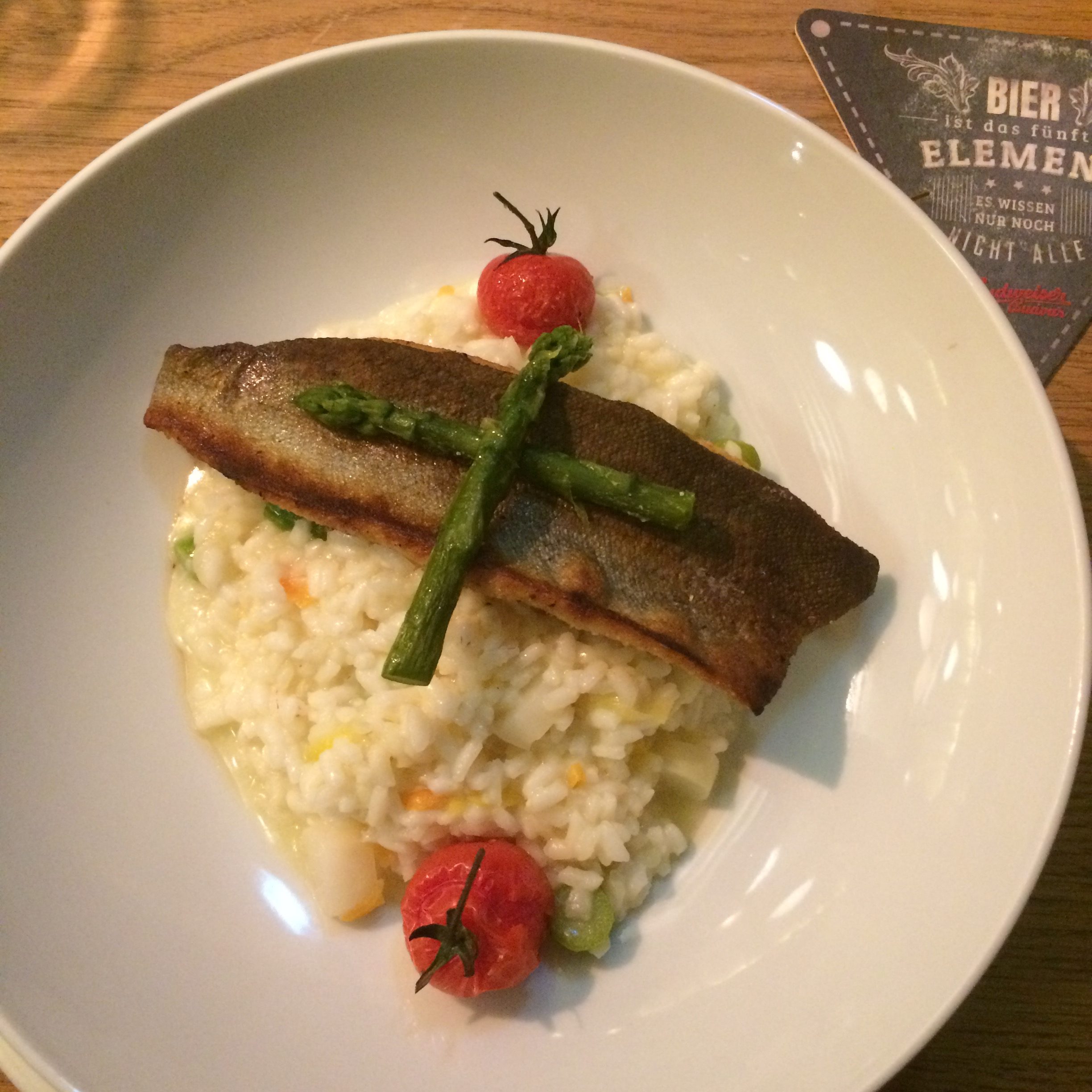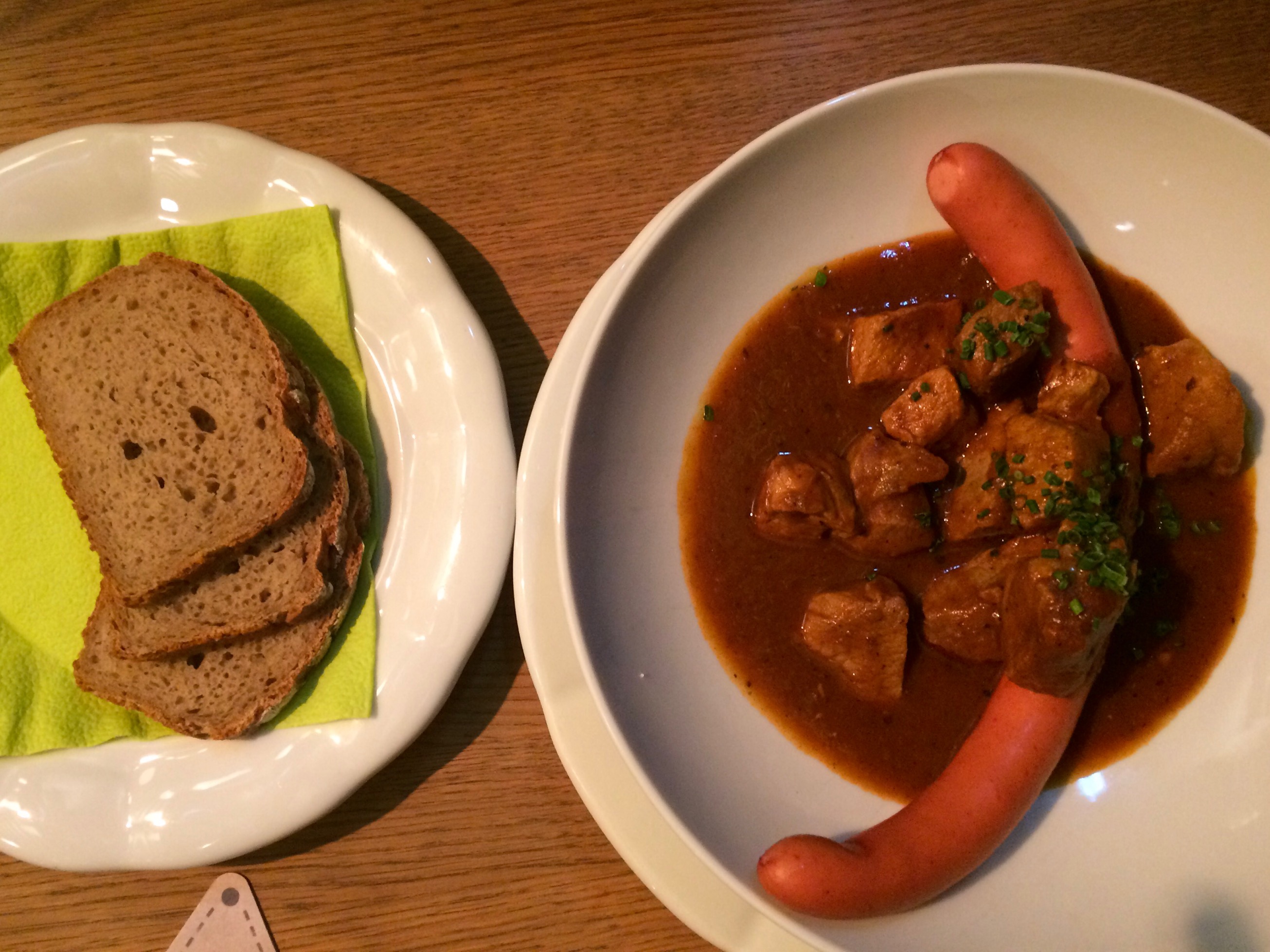 If you search for "best schnitzel in Salzburg" (which, shocker, we did), one of the places you'll find is Bärenwirt. We went there late-ish after the Salzburg FC match and were treated to enormous plates of food and refreshing pints of beer (German beer, but whatever). It's on the outskirts of the Altstadt, but definitely walkable.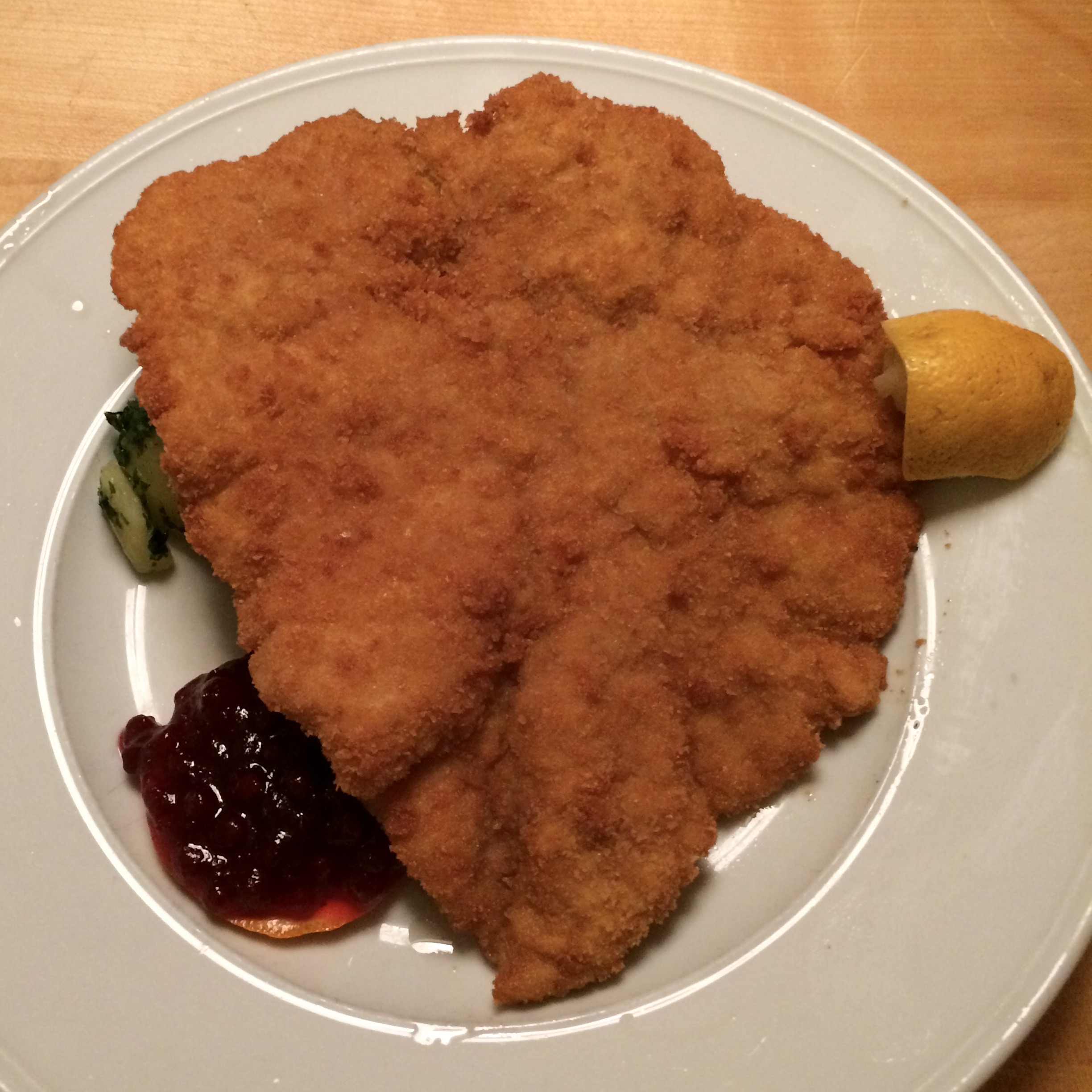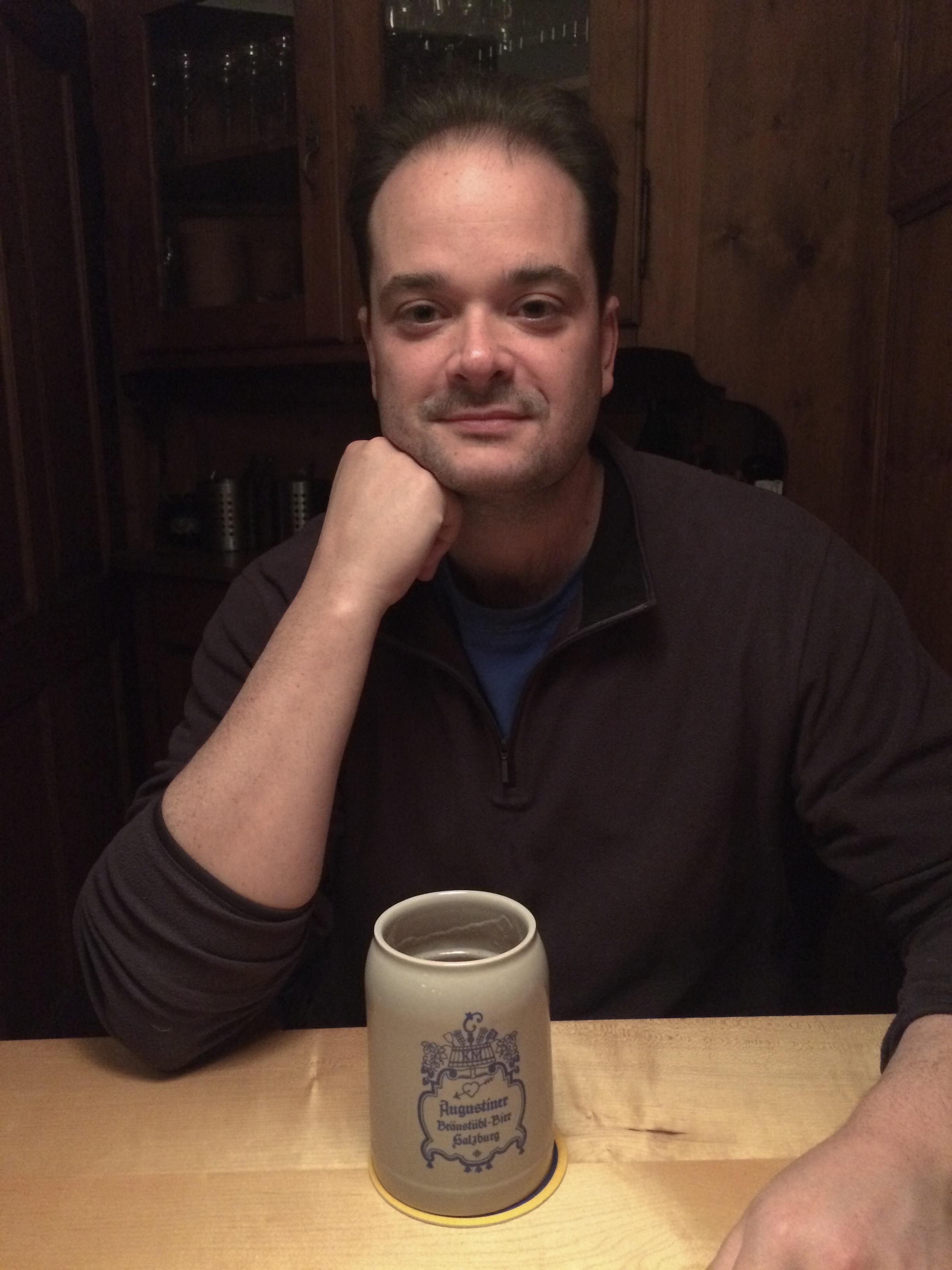 We wanted to eat at another popular brewery in our neighborhood called Die Weisse, but it was all booked up and/or closed the nights we were there. It gets great reviews and looked like a really cool place with lots of little rooms, so if you want to eat there we'd recommend making a reservation in advance (a few days before if on a weekend).
We splurged on Sunday brunch at Cafe Wernbacher. It was pricey, but a nicely sized feast of breads and eggs and meats and cheeses and sweets. We stayed for a couple relaxing, delicious hours.
The cheapest place to buy the city's ubiquitous chocolate/marzipan treat – Mozartkugeln (Mozartballs) – is the supermarket.
Saying Auf Wiedersehen
Saying goodbye to the beauty of Salzburg was rough. But we enjoyed another picturesque train ride on the way out to another one of our favorite cities… Munich!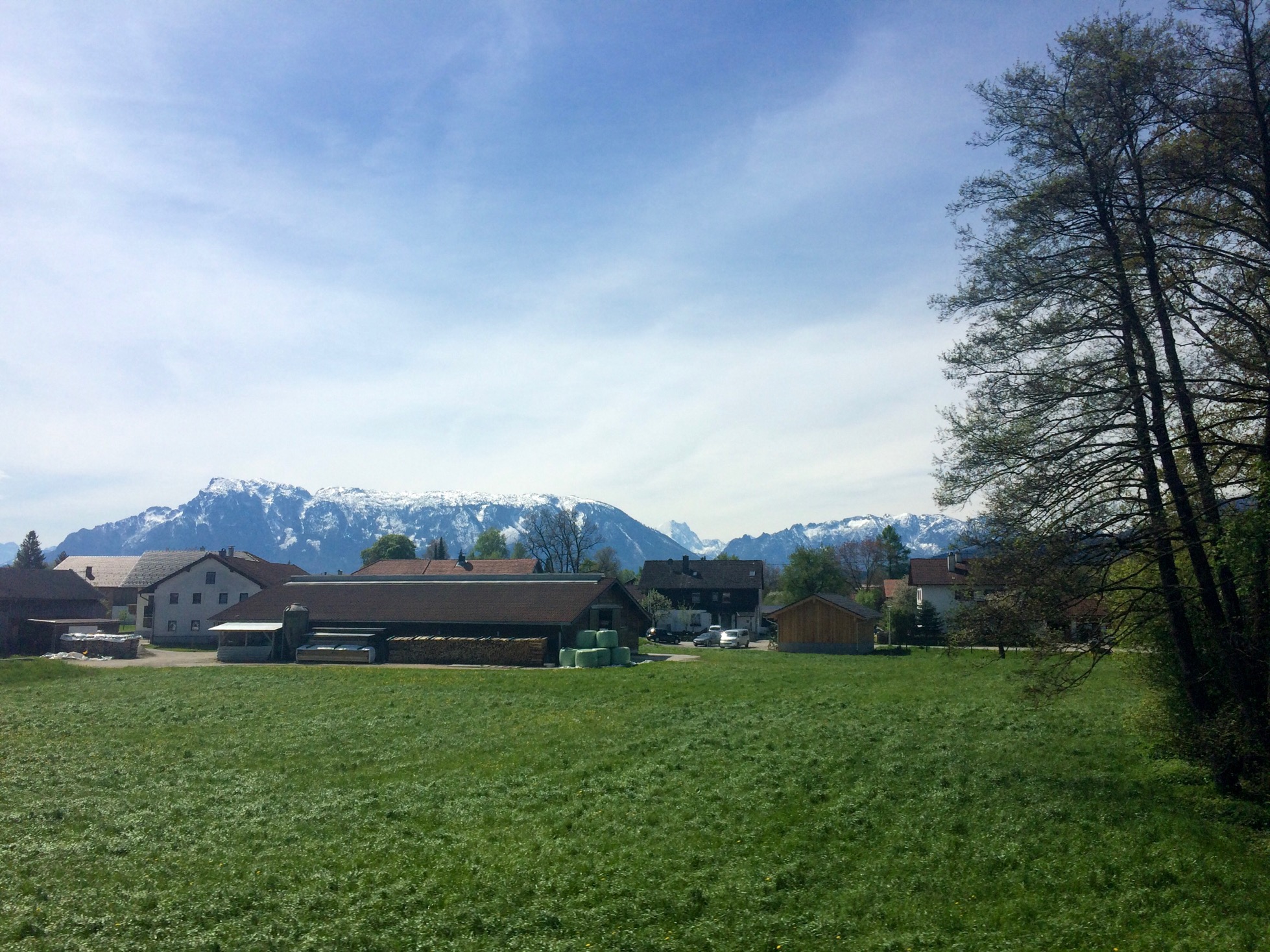 Like this post? Pin it!