Last Updated on 8th January 2019 by Sarah and Justin
We always knew we wanted to go to Seoul in South Korea. When we were researching options for how to get there from Japan, we discovered you can take a ferry from Fukuoka to a different city, at the southern tip of the country, Busan. We were lured by the idea of traveling from Japan to South Korea by boat and the ability to explore a second city in South Korea, so put Busan on our list.
In fact, Busan is South Korea's second largest city. And it's a major tourist destination because of its beaches. Since the weather was cool (and as those who know us know, we're not what you'd call beach people), we didn't actually go to the beaches. Instead, we did what we do best: wander around the city streets and parks people watching, taking pictures, and eating delicious food.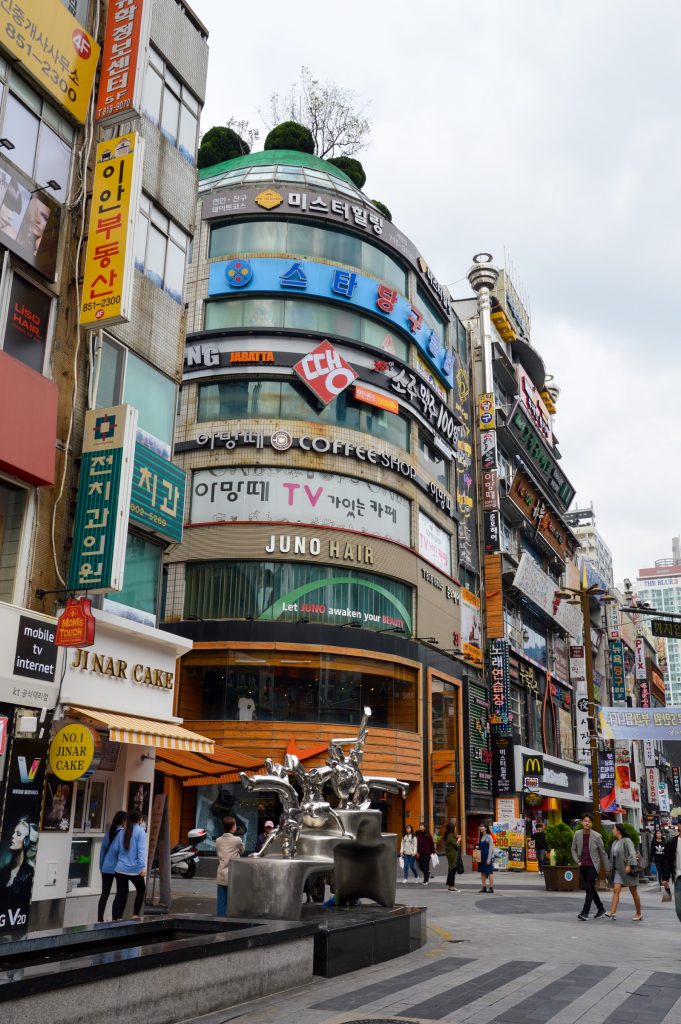 Seomyeon
We chose to stay in the Seomyeon neighborhood of Busan because it's central and has really good access to transportation. We were surrounded by a dizzying array of restaurants and bars and young people (gasp!). The streets were constantly teeming. It was a great introduction to the country and a good gateway between Japan and what we would find in Seoul.
We didn't do that many touristy things during our time in Busan. Most of the major sites worth seeing require quite a bit of travel to get to and once there steep hills or stairs to climb. But we did thoroughly explore our neighborhood and Nampodong.
Busan Citizens Park
Busan Citizens Park was built on the former grounds of an Imperial Japanese army base and US army camp (its interesting history is detailed in a free museum within the park). It's quite new – having opened in 2014. It's beautiful, with lakes and almost 100 different species of trees and pagodas and sculptures and fountains.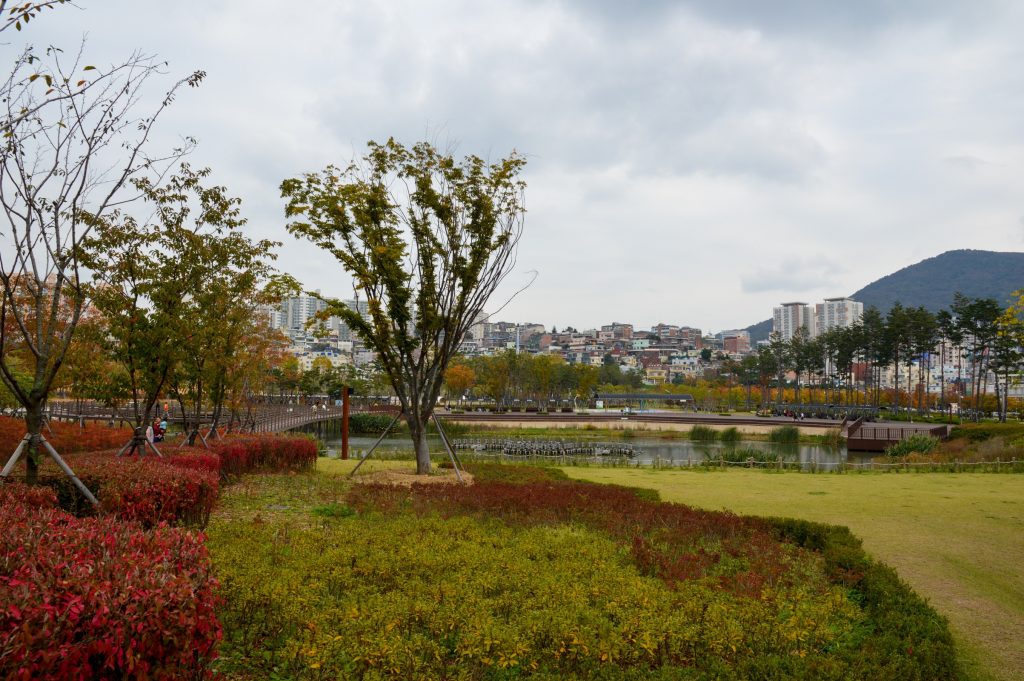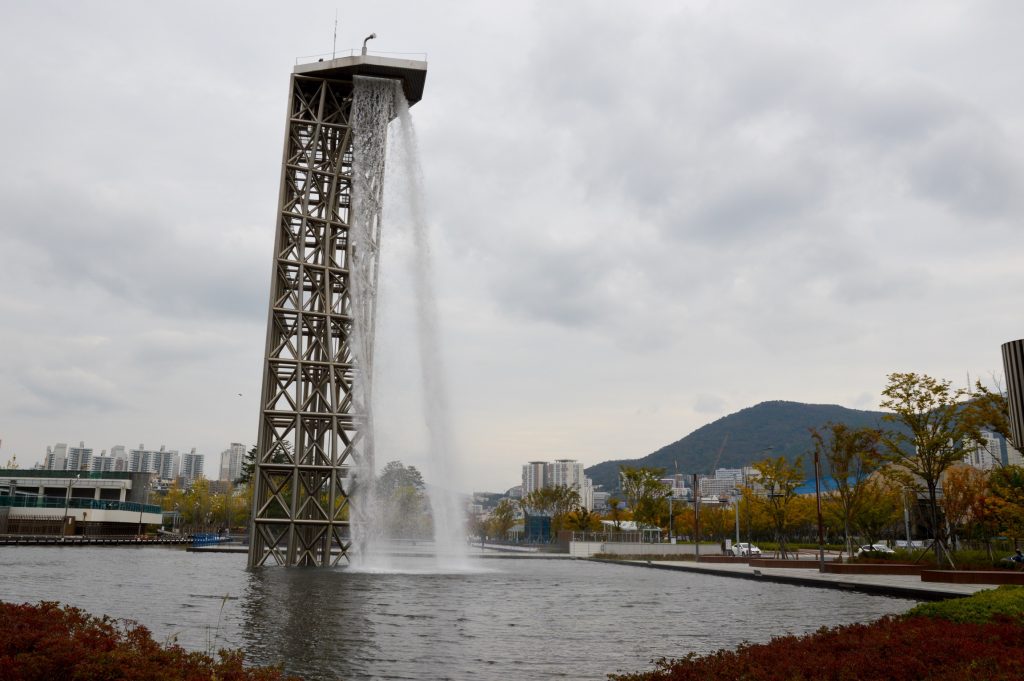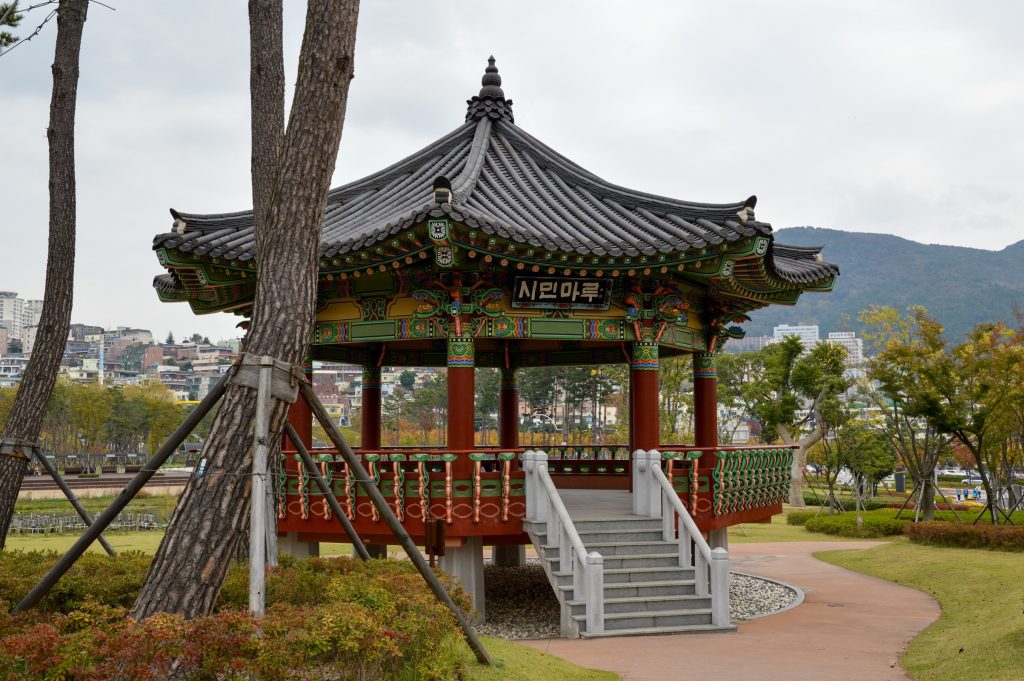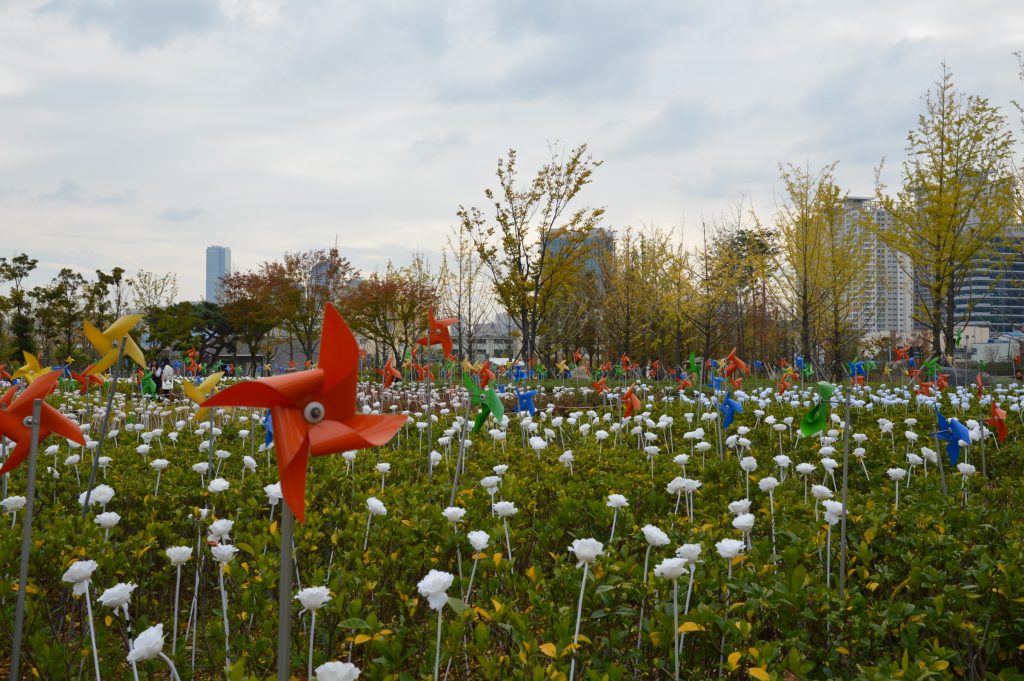 Bujeon Market
Bujeon is a big, busy market with a maze of covered streets and people selling so many different types of food it was hard to keep track: all manner of fruits and vegetables, fish with their guts hanging out, nuts and snacks. We didn't end up going to the famous Jagalchi fish market because we felt like we had seen enough at Bujeon.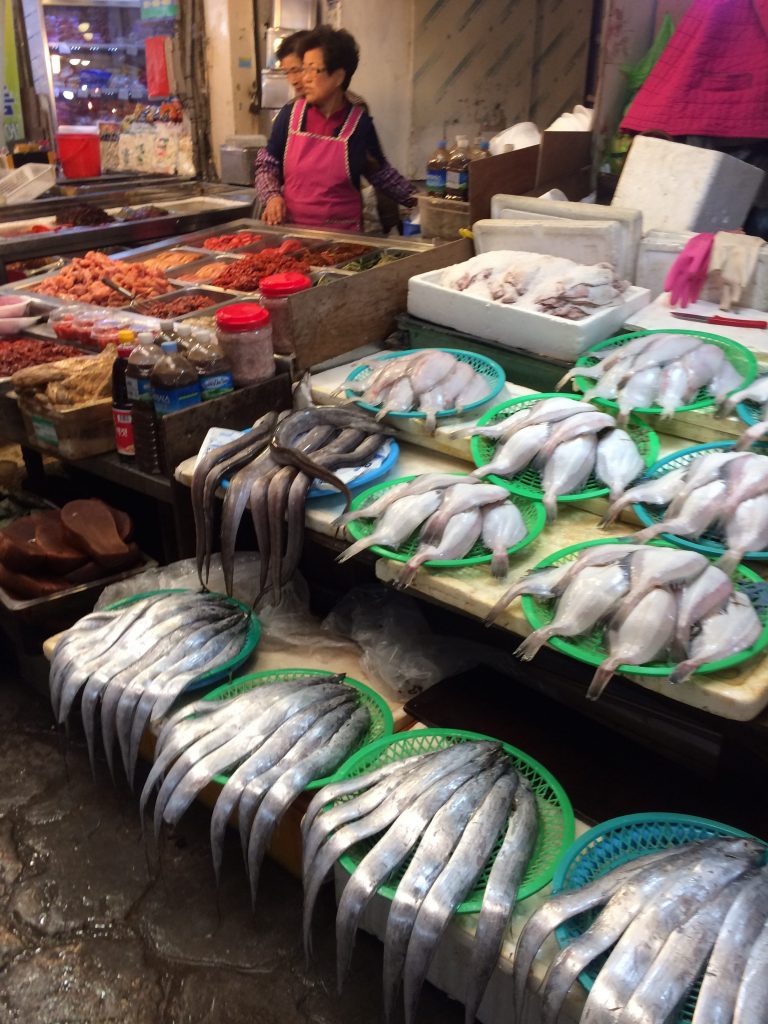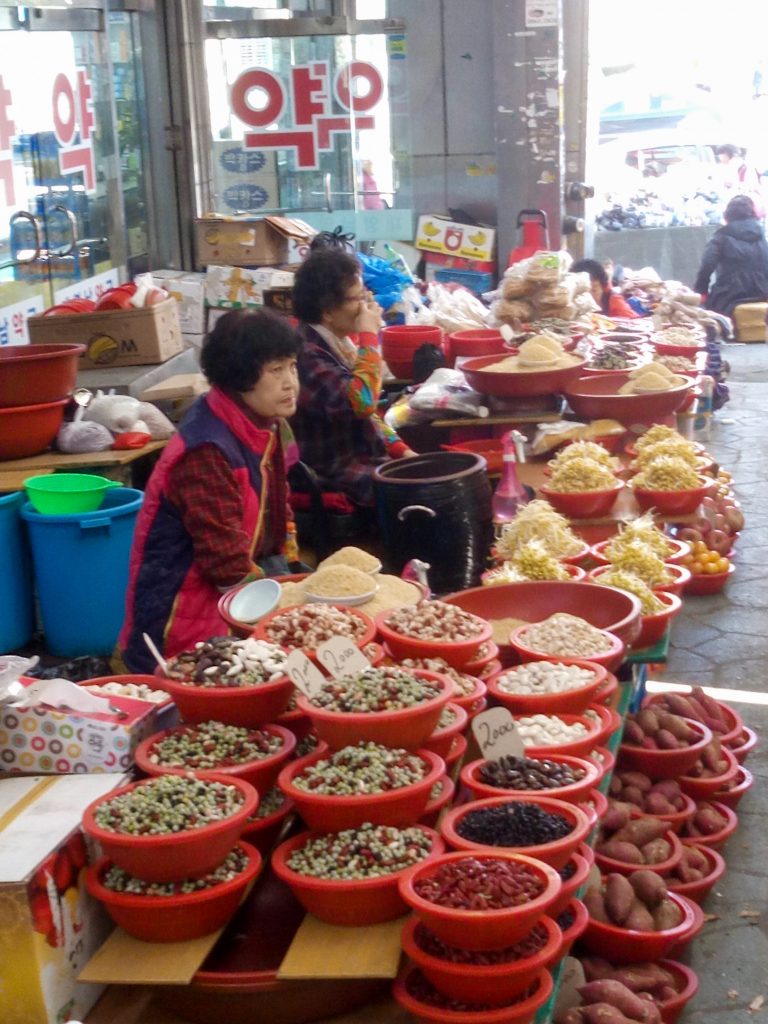 Nampodong Lotte Department Store
We went to the Lotte in Nampodong for the (free) 360 view at the top and it was worth it. We arrived just after sunset (which would have been beautiful) and so all the lights around the city were shining.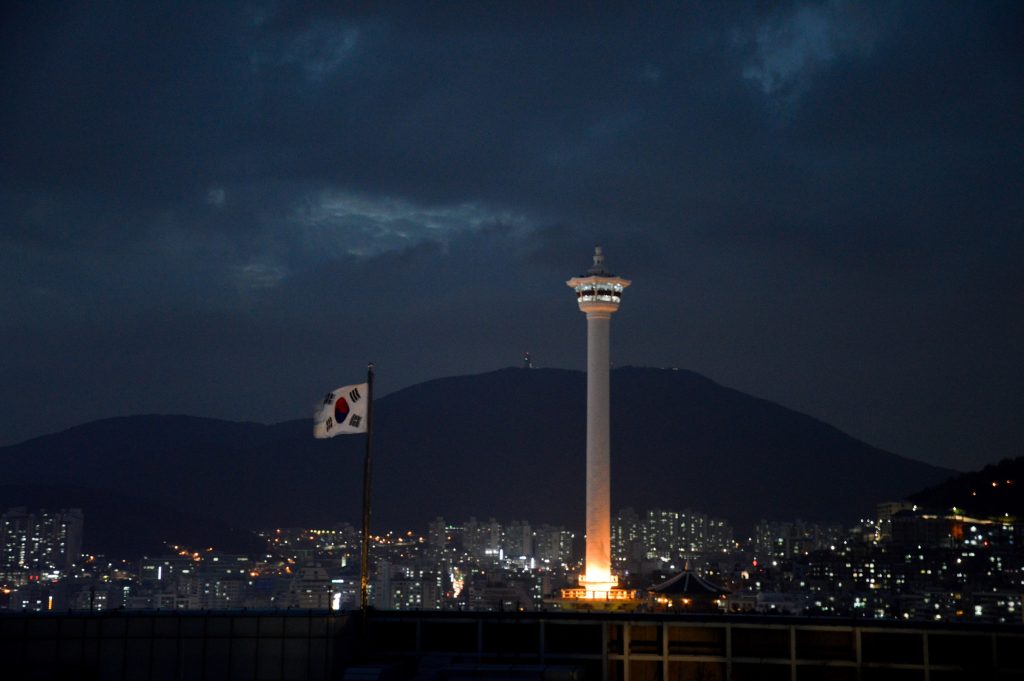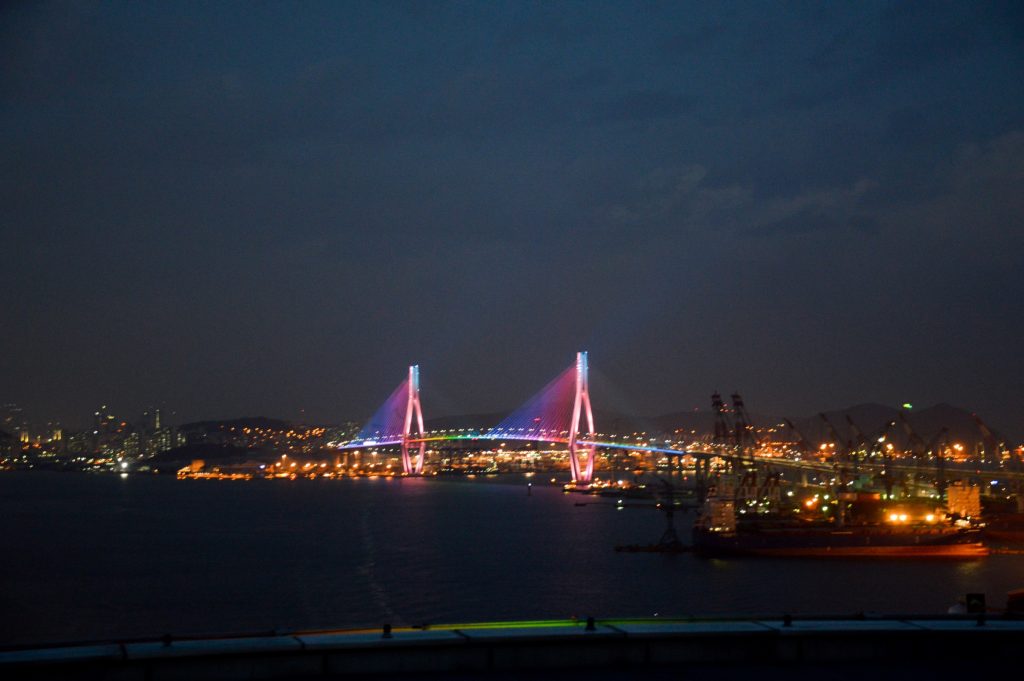 Tip! There's also a really awesome view of Gwangandaegyo Bridge (pictured above) and other parts of the city from a viewing platform at the back of Busan Station.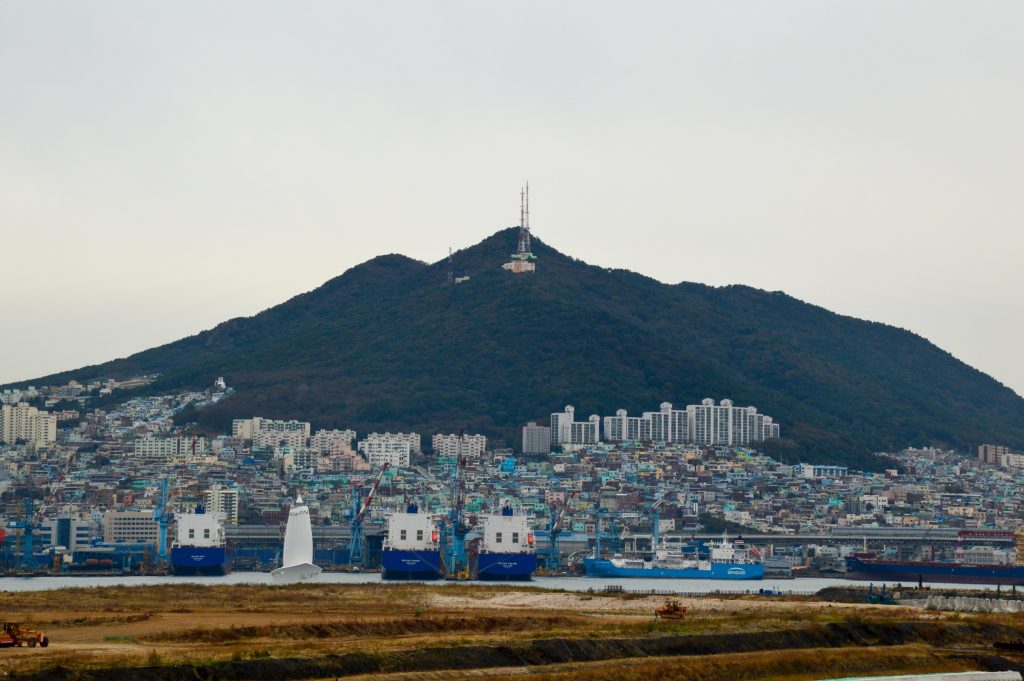 Biff Square
Biff Square is tons and tons of stalls selling all sorts of Korean fast food (including hot dogs wrapped in french fries) and housing fortune tellers.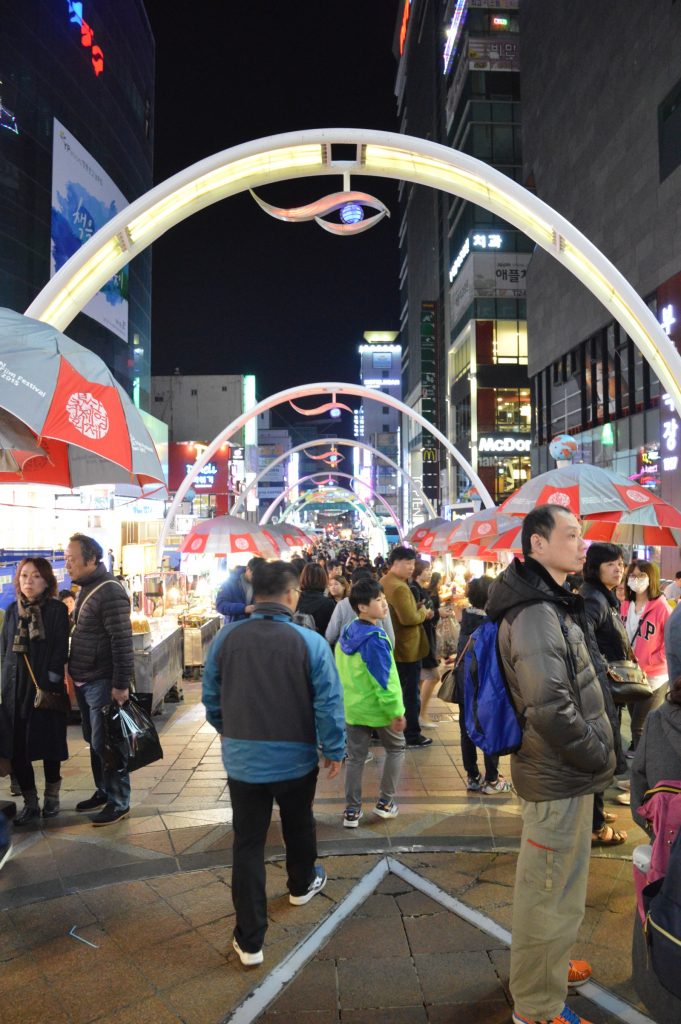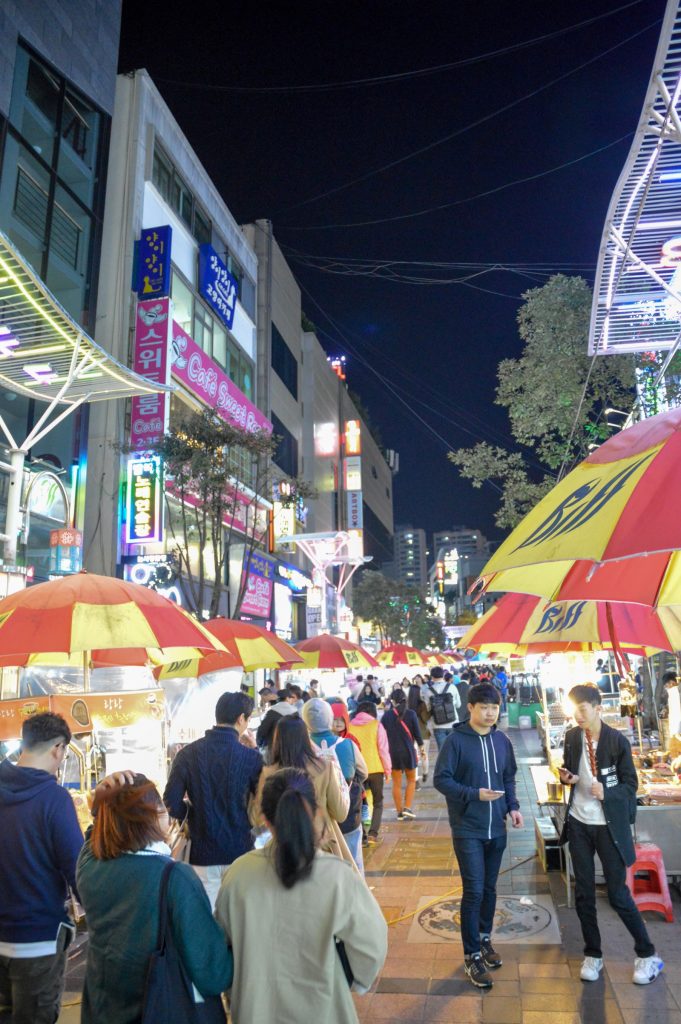 Yongdusan Park and Busan Tower
Yongdusan Park and Busan Tower were a bit anti-climatic, especially after the view from Lotte. Escalators are available to take you up to the top to Busan Tower, but you have to walk down a whole lot of stairs or wind down around the hill.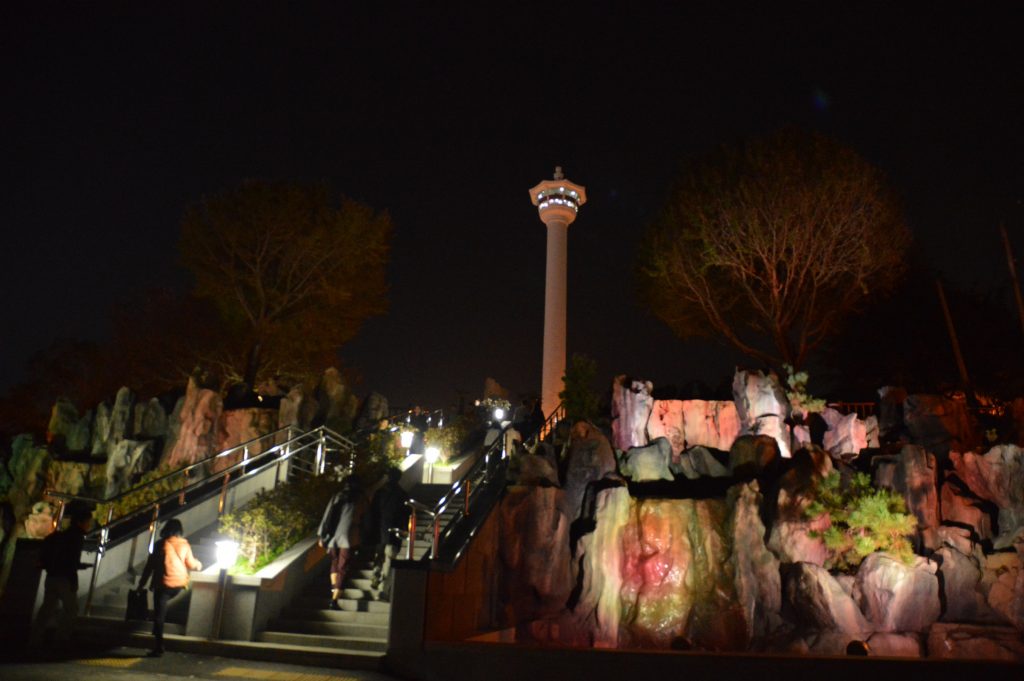 Accessibility in Busan
Busan has a great metro system. It's easy to figure out as a foreigner: you buy tickets from a machine with an English-language option, the cost of which depends on your destination; maps are straightforward and include English. The trains come frequently. The one pretty major hassle for people with mobility issues is that there aren't many elevators or escalators. And the escalators we saw only go up, not down. The metro exits are huge, with lots of different places to get out. Often you can't cross the street above-ground, so we climbed more stairs than we typically do. We also learned that Koreans are more similar to us native New Yorkers when they board transportation than the super polite Japanese are. There are no queues, and instead people cut in front of you and rush the train.
Easy and fast connection to Seoul
Traveling from Busan to Seoul is super easy and fast via their high-speed rail, KTX. You can book in advance online, but we just bought our tickets at Busan Station. There are trains to Seoul several times per hour. Tickets vary a little bit in price depending on how many stops they make. Our trip took a little over three hours. It was pretty scenic – and just nice to see more of the country. The train was very comfortable and had a fantastic internet connection (see below). We highly recommend it!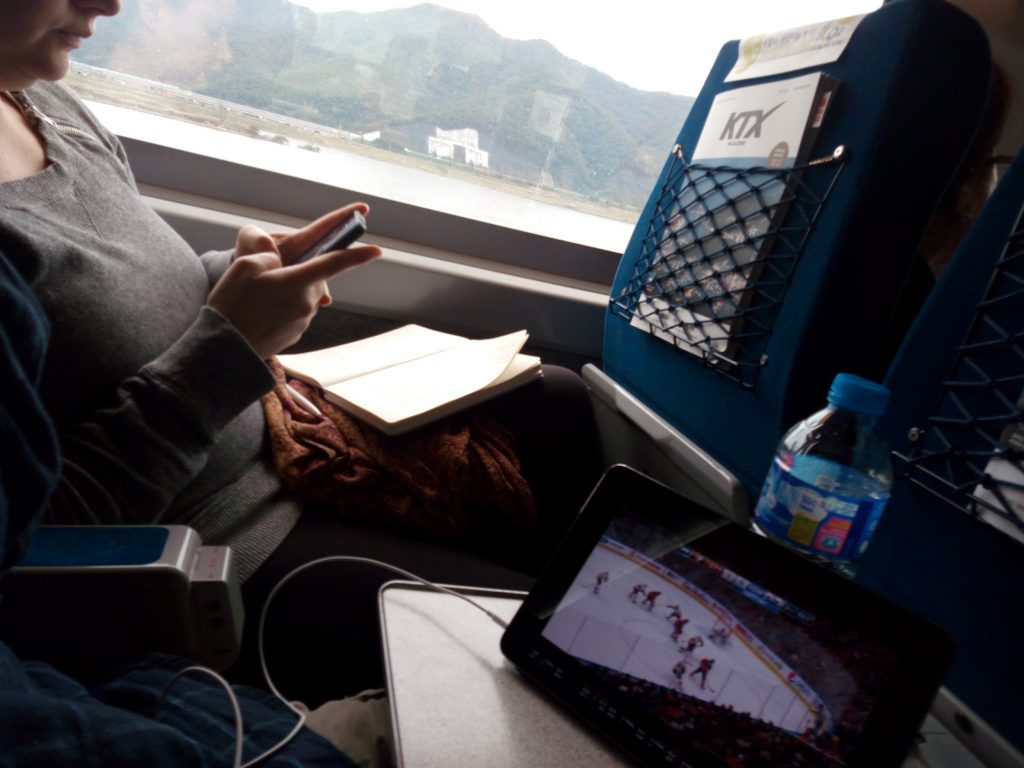 Eating and drinking in Busan
The most delicious snack we've likely had in any country was found in Busan: Ssiat Hotteok. Fried dough is stuffed with cinnamon honey and topped with seeds and nuts. They come in small cups, which ensure that only your mouth (not your hand) gets burned. We enjoyed ours at two stalls behind the Lotte Department Store (where they only cost 1000 KRW) but they can also be found at Biff Square (for a bit more KRW) and other outdoor food markets.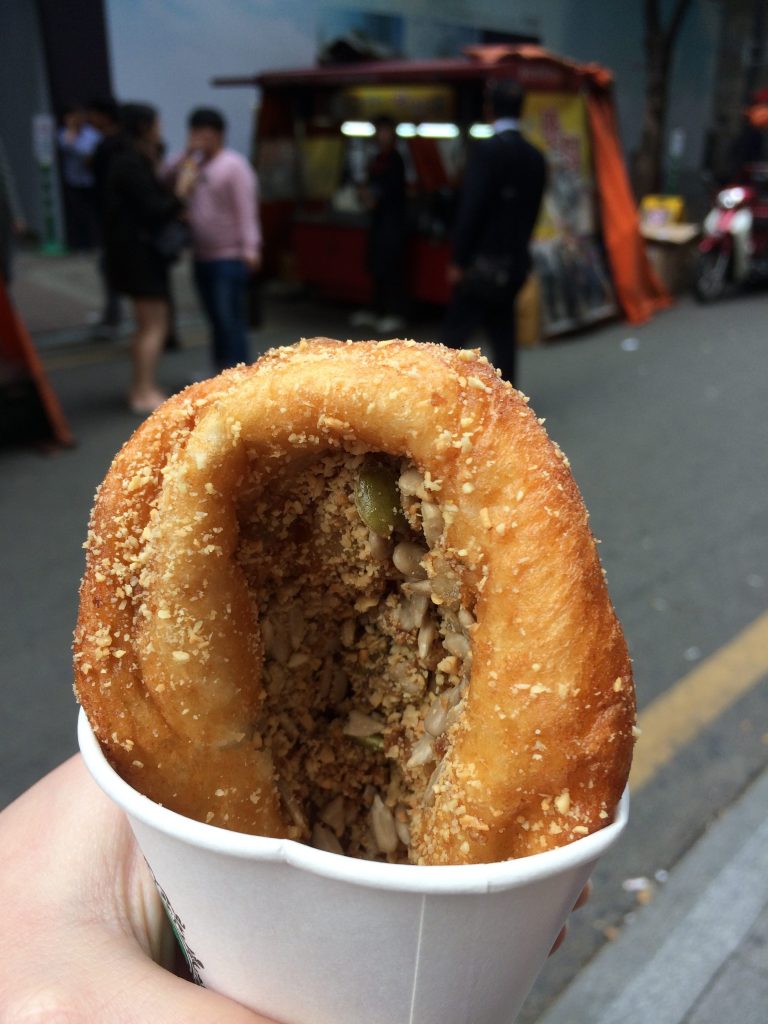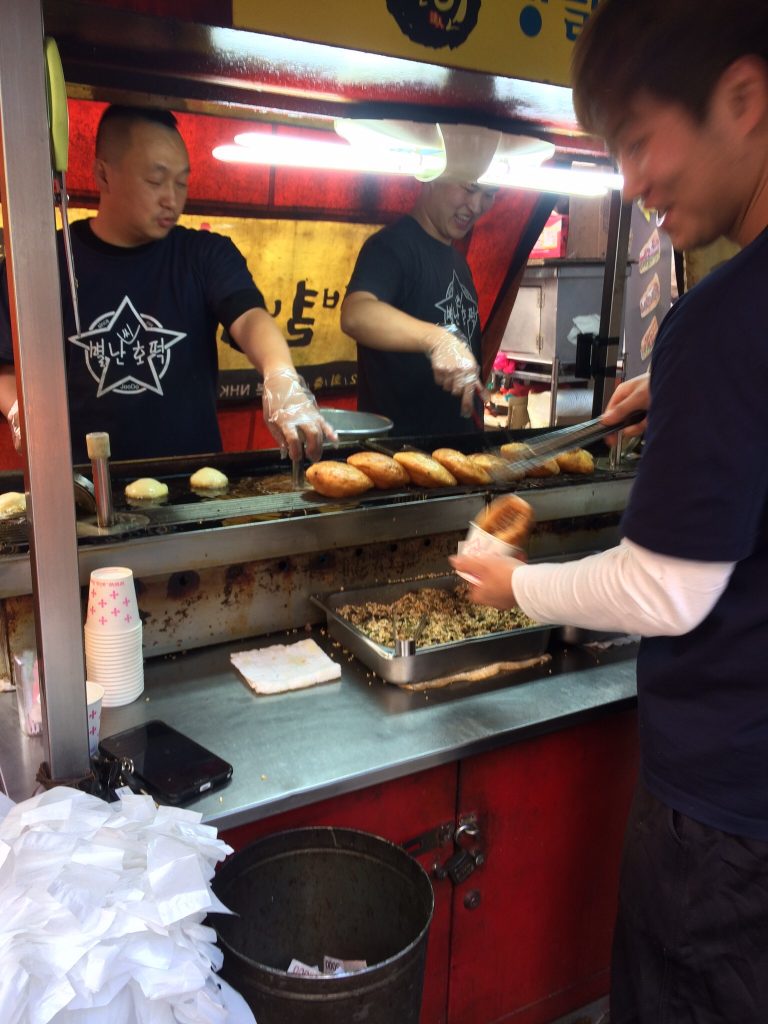 Mandu are dumplings. We enjoyed steamed mandus stuffed with pork and kimchee. They were steamed outside in front of us. They were delicious.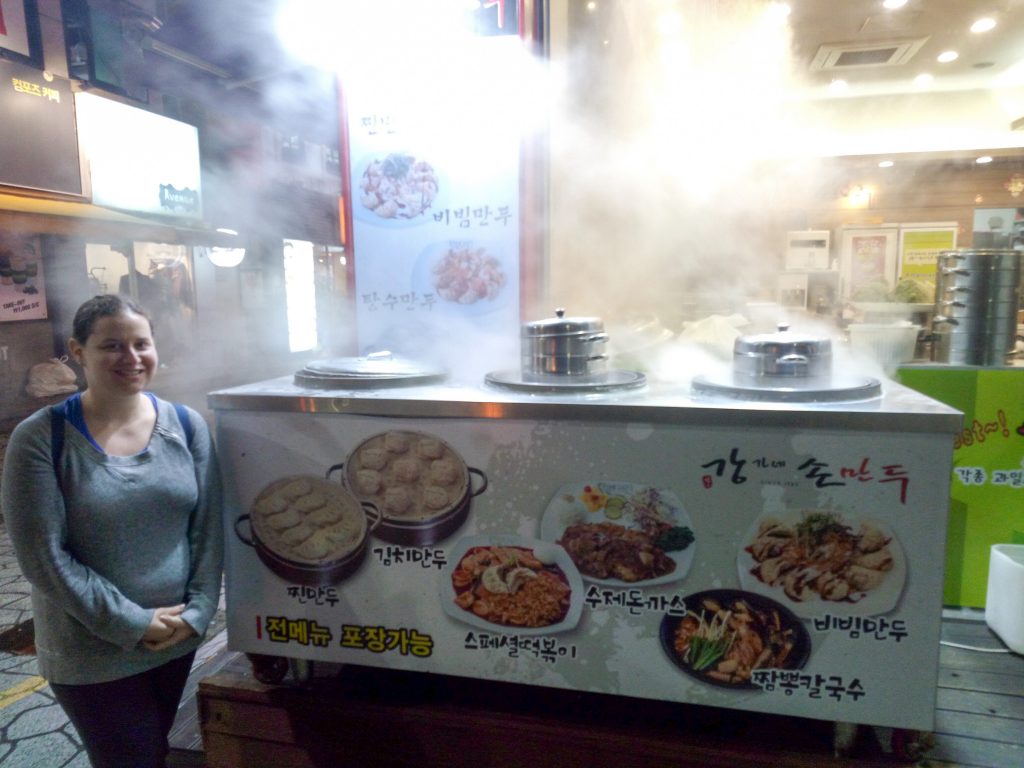 We went to a bibimbap restaurant near our hotel because it had a menu outside that we were able to translate (turns out they had an English menu inside). We both got bulgogi (beef) bibimbap that came with unlimited kimchee and pickled radish. It was so delicious and such a fantastic deal (~$10 dinner for two!) that we went there twice.
Like this post? Pin it!