Last Updated on 23rd December 2019 by Sarah and Justin
Are you visiting Berlin for the first time? Awesome! Are you overwhelmed planning a trip in such a big city with so much to see and do and eat? Don't worry! Berlin is our favorite city in the world. And we wrote this Berlin destination guide just for you. It has everything you need to make your first time visiting Berlin so incredible that you'll be booking a return trip before you leave.
Berlin destination guide introduction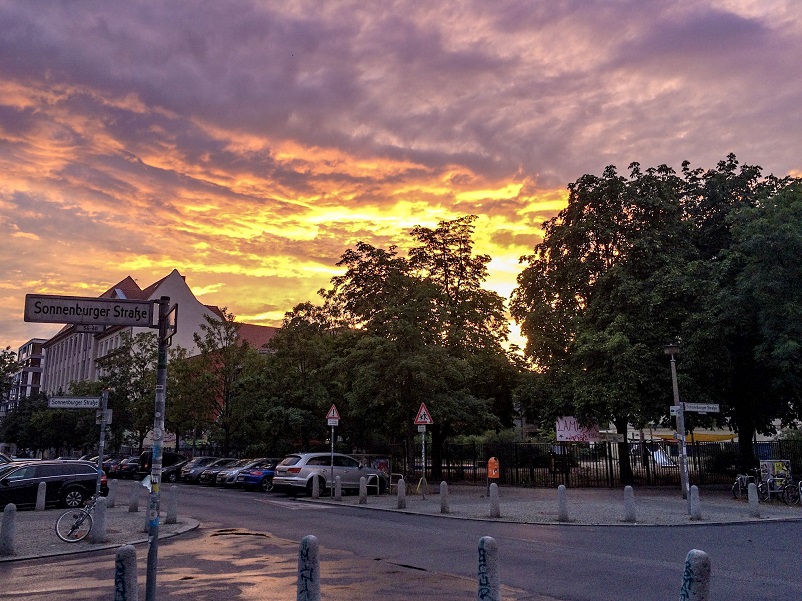 Berlin might just be the coolest city in the world right now. Everyone wants to visit Berlin or live in Berlin. But when you really think about it, it's a bit hard to describe. Even though it's in Germany, it has a unique feel all its own. Berlin is massive and multicultural. There are many distinct neighborhoods that feel and look very different from each other. The city was separated in two for almost thirty years, after all. And now, the wall has been down for longer than it was up.
Berlin is a city where you can be a tourist and see and do everything there is, or where you could just hang out for weeks and not feel like you missed anything. It has one of the best public transportation systems we've ever used, especially for a city so big and busy. There's great food and nightlife and the people are friendly and welcoming. Even though it's a bit rough around the edges, once you get to know Berlin, you'll fall in love with it. We sure did. We've now visited Berlin seven times and we'd gladly go back tomorrow.
Things to do in Berlin
Berlin has top-notch tourist attractions. From art museums to historical monuments to beautiful parks, the city has something for everyone. If you're visiting Berlin for the first time, here's a good place to start.
Most of the major tourist attractions in Berlin are accessible. You can find most of this information on the accessibility section of the Berlin tourism board website. We've included additional links with more accessibility information for specific attractions below as well.
Reichstag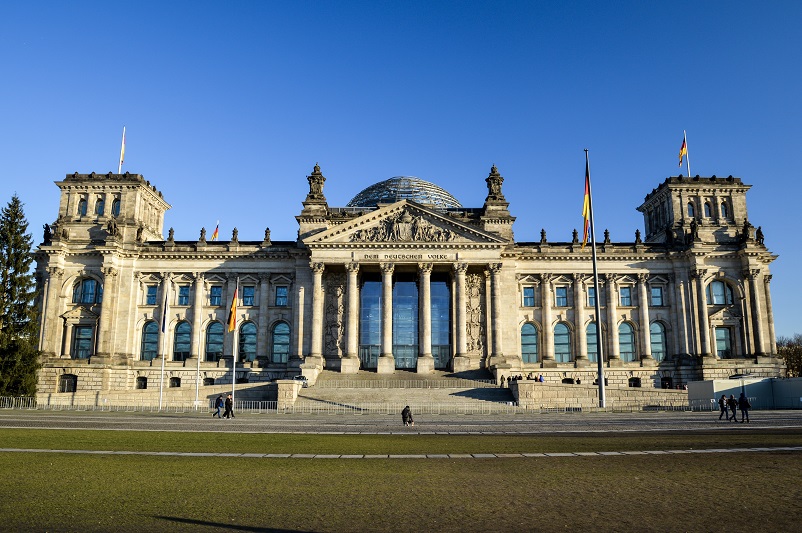 The Reichstag building is the meeting place of the German parliament in Berlin. It is an impressive building with both modern and traditional architecture. Once you climb to the top via a gradually winding ramp, you'll be able to see a super view of the city. You should reserve your free tickets online about a month in advance (or longer) to ensure you get your desired time slot.
The building is fully wheelchair accessible, and has numerous accommodations for visitors with other disabilities; try to contact them in advance for these. You can read more about Reichstag accessibility here.
Brandenburg Gate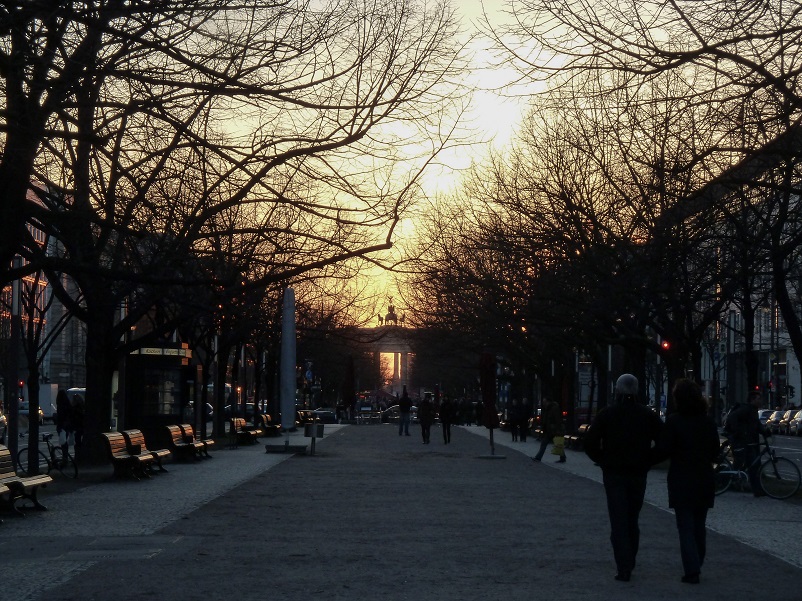 The Brandenburg Gate is an imposing and beautiful structure and makes for great pictures from either direction. We'd recommend walking down the Unter den Linden (one of the main streets in Berlin) to get to it, take some pictures, and continue under it to eventually reach the Reichstag. The short walk from the Brandenburg Gate to the Reichstag is along a lovely tree-lined path.
Holocaust Memorial in Berlin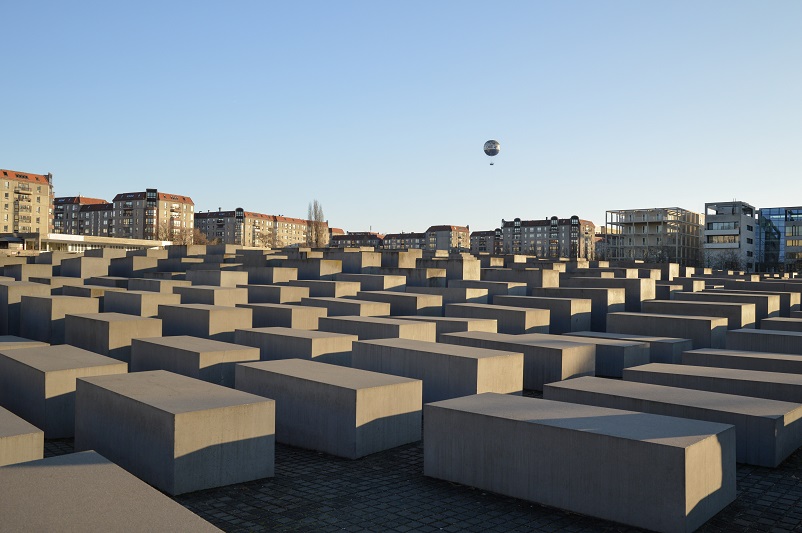 The major Holocaust memorial in Berlin is in this area as well. It's called the Memorial to the Murdered Jews of Europe. It's a stunning, severe display. Cement blocks of different heights fill a full city block. Walking through the space is like walking through a maze. Some of the blocks are so tall you can't see anything else, but then they'll decrease in height and the city will open up around you. It's a moving experience and we've gone every time we've visited the city. Even though it's quite photo-worthy, please be respectful when taking pictures and remember why it's there.
You can read all about the accessibility of the Holocaust Memorial here.
Berlin Wall memorials
There are three major Berlin Wall memorials in the city. We recommend them all, but have listed them in order of preference.
The Berlin Wall Memorial on Bernauer Straße is an open air exhibit that runs for 1.3 km. As you walk down the street, you can stop to read or watch videos of stories of people who lived in a split city. At one end you can also get a view from above of what the divided city looked like, including the no man's land section between the walls.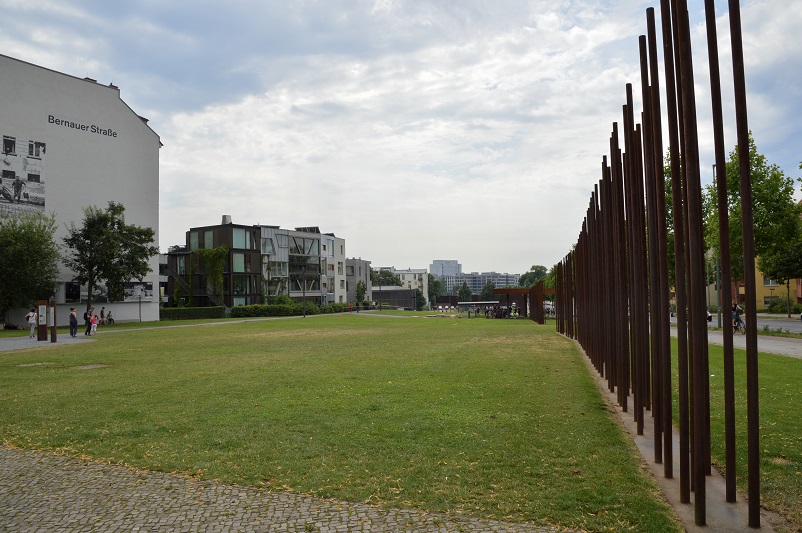 The Topography of Terror displays how the Nazi regime used propaganda in addition to fear to come to and maintain power.
The East Side Gallery is a long stretch of the Berlin Wall still standing which was first opened as an art exhibit in 1990. You've probably seen pictures of the paintings, some of which are hopeful and some which are scathing political statements.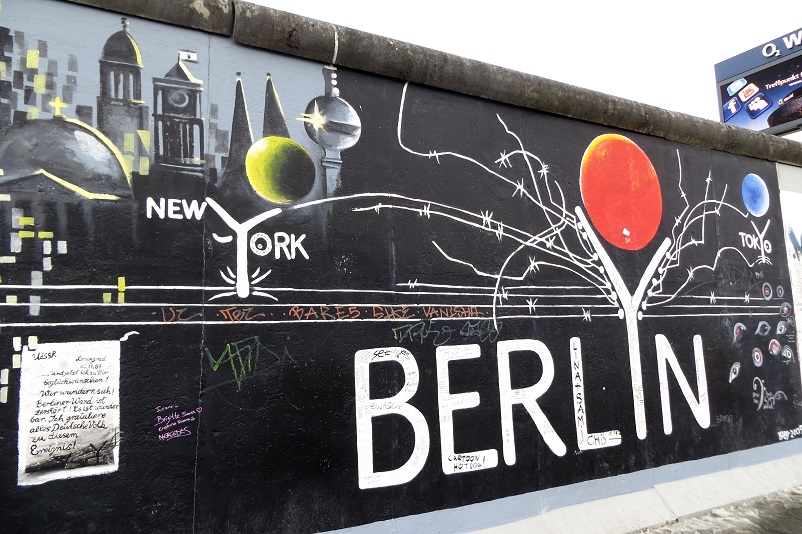 Museum Island
Museum Island is right in the center of Berlin and is home to five of the most important museums in the city: Pergamonmuseum, Bode-Museum, Neues Museum, Alte Nationalgalerie, and Altes Museum. You can buy a ticket to see all the museums in one day but that sounds a bit overzealous to us. We'd recommend seeing a maximum of two in one day.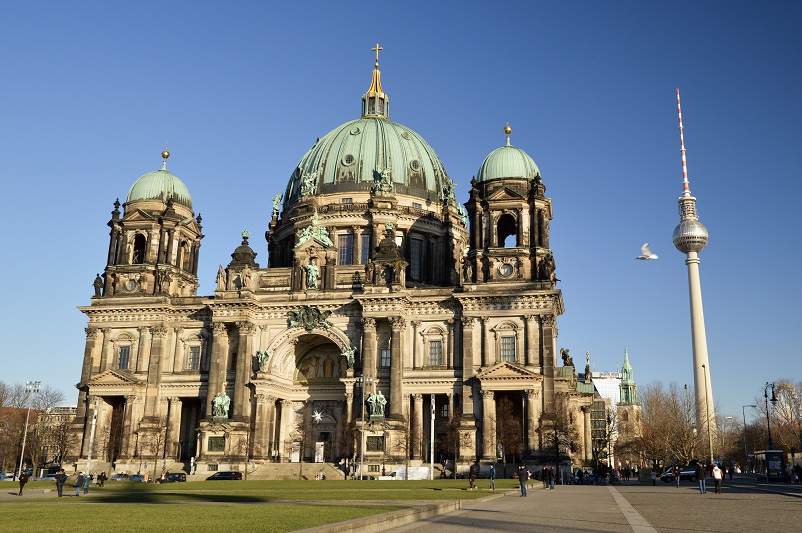 Also on Museum Island is Sarah's favorite building in Berlin (possibly in the world): the Berliner Dom. You can go inside to see the crypt or climb to the top for a view, but we've been content to just stare up at it from the grassy area outside.
Right across from Museum Island are two additional attractions well worth a visit. The German Historical Museum is an incredible museum all about German history. You could spend several hours here. Neue Wache is a quite moving war memorial. It will only take a few moments of your time to visit, but it will stay with you much longer.
<< visitBerlin has great information about accessibility of Berlin's museums >>
Tiergarten
Berlin is a bit gritty, but there are a ton of places in the city itself where you can get out into a little bit of nature. In fact, it's one of the greenest cities in Europe.
The Tiergarten is the most well-known – it's one of the biggest urban parks in Germany. It has everything you want in a city park: a zoo, ponds with ducks, paddle boats, huge fields, and (this being Germany) beer gardens. It's a green oasis and a lovely place to spend an afternoon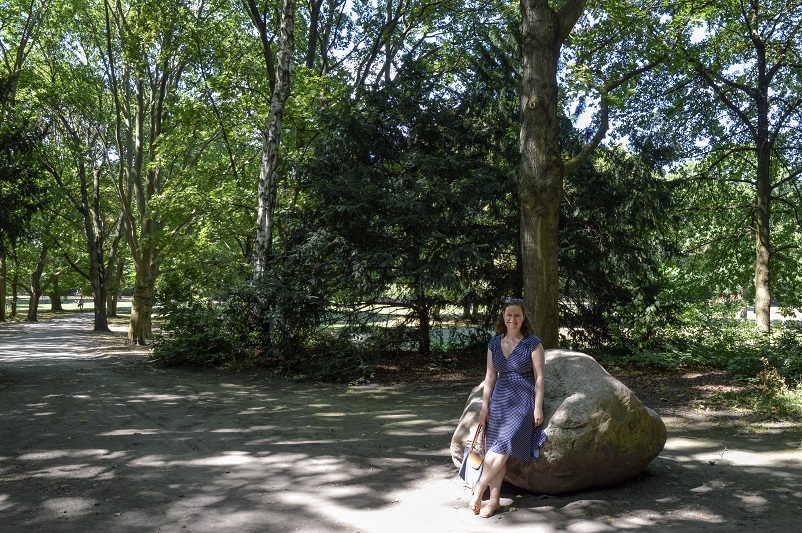 But there are even more parks and even forests throughout the city including: Mauerpark, Templehofer Feld, Volkspark Schöneberg-Wilmersdorf, and Grunewald. The River Spree also runs right through Berlin. You can enjoy it by crossing one of Berlin's many bridges (did you know Berlin has more bridges than Venice?), relaxing at a cafe or makeshift beach on its banks, or taking a river cruise.
Best food and drink to try during your first time in Berlin
Eating in Berlin
Berlin is a multicultural world capital city, so you'll be able to find pretty much whatever you want to eat. Berlin has it all: Michelen starred restaurants, schnitzel spots, cozy cafes, Vietnamese food, Turkish food, burgers, street food, and every chain imaginable. But in our humble opinion there is one absolute must-try in Berlin: Döner Kebab.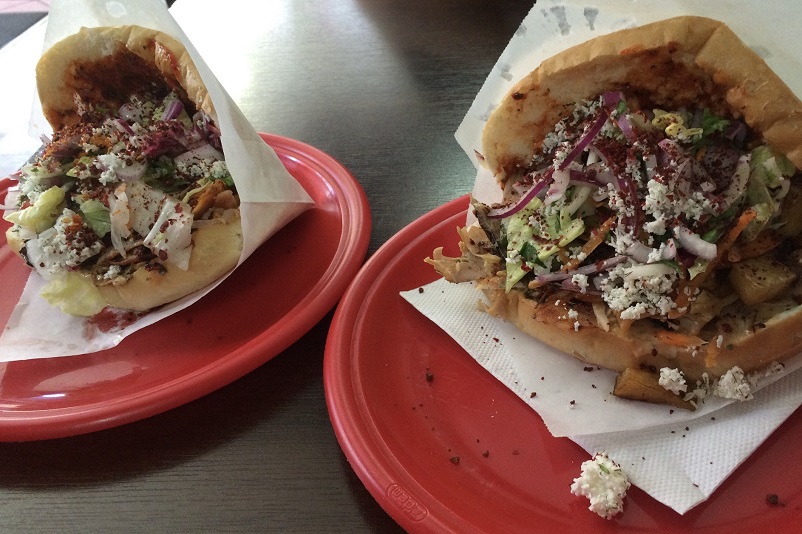 Though kebab shops are now prevalent throughout Europe, the best are in Germany, and the best of the best are in Berlin. Many people believe that Döner Kebab was born in Berlin, having been created by Turkish immigrants. (Since the 1960s, there has been a large Turkish community in Berlin.) The Döner Kebab is like fusion cuisine – a mashup of Turkish and German street food. Piping hot meat, crisp fresh vegetables, and garlicky, spicy sauces are all nestled within the most delicious Turkish bread. At around 4 EUR, they make for an inexpensive lunch or late night, after drinks snack.
There are Döner Kebab shops all over Berlin. But if you want a dizzying array of options of traditional Döner, go to the Kreuzberg neighborhood. The most famous Döner Kebab shop in Berlin is Mustafa's Gemüse Kebab. We attempted to try it once, but after 10 minutes waiting in a line that didn't move, we gave up. We may be spoiled, but we've had too many delicious Döner Kebabs elsewhere in the city to wait that long.
Full disclosure, we're a bit biased – we love Döner Kebab so much it was mentioned in our wedding vows. You can also follow our Döner Kebab eating throughout Germany.
Drinking in Berlin
The first thing to know about drinking in Berlin is that you can drink outside in public. There are countless convenience stores (called Spätkaufs) throughout the city where you can grab a beer (from an impressive selection), pop it open, and go on your merry way. As such, the street or a park or a bridge are our favorite places to drink in Berlin. But if you're looking for something a bit more stationary, Berlin has those too.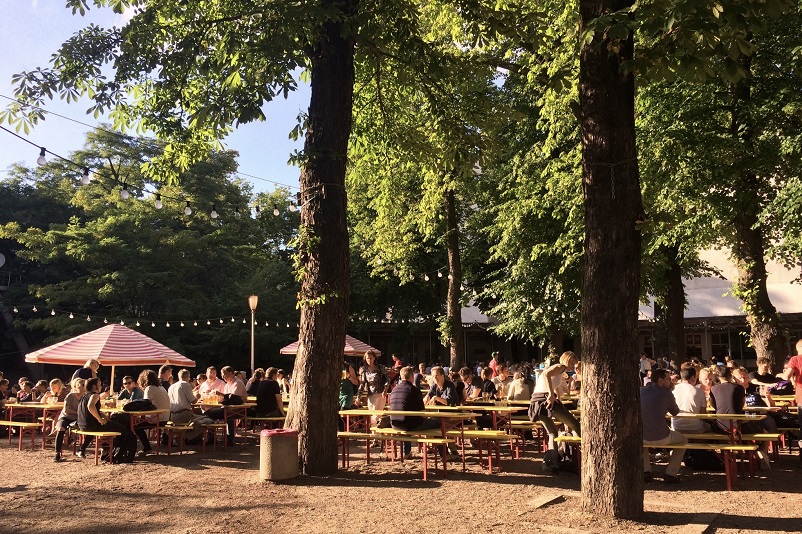 Certain places in Germany are known for their types of drinking culture. In Bavaria, you've got traditional beer gardens with women in costume serving liters of beer. In North Rhine-Westphalia, you've got surly servers doling out small glasses of Kölsch or Alt (depending on which city you're visiting) until you tell (beg) them to stop. Berlin being Berlin, it doesn't have any of that. Sure you can go to a beer garden, but at our favorite, Prater Garten, you serve yourself and no one is in costume. But if you just want a bar, you can easily find one. Berlin has trendy cocktail bars and dive bars and wine bars and craft beer bars… whatever you're looking for as you'd expect in such a massive city.
Getting around Berlin
Berlin is huge. Luckily, Berlin has a wide-reaching, incredibly efficient public transportation system consisting of buses and trains and trams and ferries. It is by far the best (easiest, fastest, cheapest) way to get around the city. The system is fully integrated into Google Maps so that's the best way to get directions. And most of the system is accessible to wheelchair users and people with other access needs.
How to buy and use public transportation tickets in Berlin
There are ticket machines in every U-Bahn or S-Bahn station. You'll need to use cash or a card that has a chip and pin. On buses, you can buy a ticket from the driver (cash only). There are single tickets or tickets for unlimited rides during a specific period of time from one day to one week. Whichever ticket you buy, you must validate it prior to boarding the train or as soon as you board the bus. And then keep your ticket with you in case it is checked.
Another great option for a first time visit to Berlin is the Berlin Welcome Card, which includes transportation plus discounts to attractions and restaurants. We bought them on our first visit to Berlin as it helped us feel comfortable getting around and seeing all the sights. Different cards for different zones for adults and children can be bought for two to six days.
Getting into Berlin from the airports
No matter where you're flying into, it's easy to get from the airport into the city center of Berlin. From Tegel (TXL), it's fastest to take the airport bus and from Schönefeld (SFX), it's best to take a train.
A cheaper bus tour in Berlin
The best way to see Berlin is by bus. But we're not talking about one of those expensive, touristy hop-on-hop-off tours. Instead, take the public transportation tour! Bus 100 and Bus 200 will take you in a giant circle around the city – from Alexanderplatz to the Zoo – and will stop at most of the major landmarks. If you purchase a day ticket, you can actually hop on and off at your leisure. Try to grab the front seat at the top level so you have the best view during the drive.
Where to stay your first time in Berlin
When thinking about places to stay in Berlin, we recommend thinking about what type of visit you want to have and what you want to be close to. Do you want to be near the main attractions? Or do you want to be in a more local feeling neighborhood? Honestly, you'll be fine either way – with Berlin's extensive transportation system, you can easily get wherever you want to go.
Hotels in Mitte
For first-time visitors to Berlin, you can't go wrong staying in Mitte, the most central neighborhood in the city. There is an enormous number of options and most of the big chains are there. You'll also be close to the main attractions. You won't get the most character during your stay, and you'll have to venture a bit further afield to find cozy dining options, but you'll be right in the middle of everything you want to see during the day.
Motel One
Motel One is a German hotel chain with stylish, reasonably priced rooms. They have ten (!) hotels in Berlin – some in the center of the city and some in the outer neighborhoods, so you have plenty of options from which to choose.
<< Book your Berlin hotel now >>
Key German phrases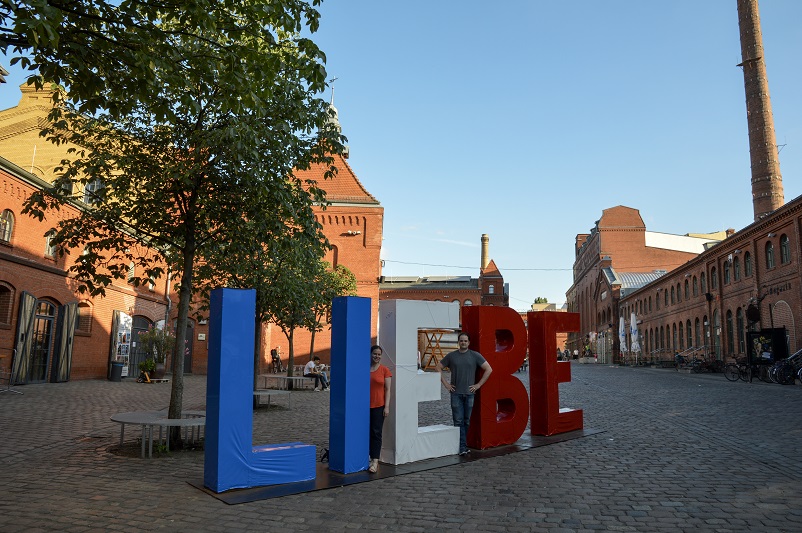 Germans appreciate when you make a little effort to speak their language. Here are some key phrases to help you get the most out of your trip to Berlin:
Hello: Hallo
Bye (informal): Tschüß (pronounced tchuuuuss)
Good day: Guten Tag
Good night: Gute Nacht
Where is the toilet?: Wo ist die Toilette? (the "w" in German sounds more like the "v" in English)
Thank you: Danke
You're welcome or please or excuse me: Bitte
Asking for the check: Die Rechnung bitte
Do you speak English?: Sprechen Sie Englisch? (the "s" in "Sie" sounds more like the English "z")
Two beers please: Zwei Bier bitte
I love you: Ich Liebe dich
Disclaimer
On our most recent trip to Berlin visitBerlin provided us with complimentary Berlin Welcome Cards. All opinions (and love of Döner Kebab and the German language) are 100% our own.
Like this post? Pin it!