Last Updated on 14th October 2021 by Sarah and Justin
We're excited. This post is about our favorite city in the world and our most passionate topic: Berlin accessible travel. Berlin is special. It has so much going on and can appeal to so many different types of visitors: lovers of art, history, culture, nightlife, and food. And we're happy to say it is also welcoming to people with accessibility needs. We've always loved how easy Berlin is for us to get around: it's flat and has far-reaching public transportation. Possibly more importantly, there is an incredible amount of information online about Berlin accessibility. So you have tools at your disposal to help you plan an accessible trip to Berlin. We wrote this post to help you do just that. It includes information about getting around Berlin, where to stay including recommendations for Berlin accessible hotels, and where you can find comprehensive accessibility information about the city.
How to start planning your accessible trip to Berlin
Truth be told, we don't typically visit tourism board websites when researching our trips. We like to read about other travelers' experiences and rely on personal recommendations. But after seeing the amount of information visitBerlin has on their website, we might just change that approach. And we were incredibly impressed by their approach to accessible travel. It's very clear that promoting Berlin to all types of visitors is a priority for them. visitBerlin has an entire section of their website dedicated to
accessible travel
including comprehensive information about sights, public transportation, accessible hotels, restaurants, wheelchair-accessible tours, and self-guided route ideas. It's definitely worth checking out as you start your trip planning.
Getting around Berlin
Berlin public transportation
We think Berlin has one of the best public transportation systems in the world. It's comprehensive and far-reaching, making a huge city feel manageable. It's easy to figure out and use, with well-designed maps, clear and colorful labeling, and prominent signage. And, the majority of the system is accessible for wheelchair users and people with other access needs.
Berlin public transportation accessibility
Berlin has trams, buses, trains (underground and overground), and ferries. Wheelchair users will find that most of the system is accessible to them. Most vehicles on most lines and most stations are wheelchair-accessible. There are still some outliers, but the city keeps working towards its goal of making the entire system barrier-free. The system also has tools to help make it more accessible to people who are blind or visually impaired, and deaf or hard of hearing. Most stations are equipped with visual aids such as tactile pavings on the ground and Braille in elevators. Station announcements are made on every form of transportation. There are display panels which show the route you're on and the next stop. Loud alarms and blinking lights are used to warn when doors are closing. More detailed information about the accessibility of Berlin public transportation including the specific lines that are not fully barrier-free, plus additional tools and resources, can be found can be found in this incredibly helpful
brochure from BVG
, which is the company that manages most of Berlin's public transportation.
Resources to help plan your journey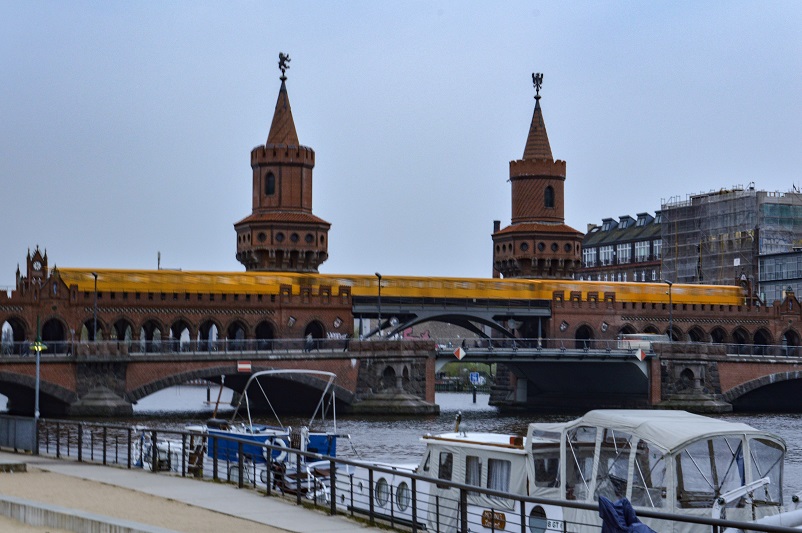 The BVG website is a good place to look for general information about buses, trams, ferries, and the U-Bahn (one of the city's train systems). They have a
route planning tool
, which also includes which stations are wheelchair-accessible. Similar information about the S-Bahn (the city's other train system, run by DB), including a route planner, can be found on the
S-Bahn mobility assistance page
. You can also use the Berlin Tourism Board's specially designed app,
accessBerlin
, to find similar information on all the city's public transportation. Additionally, the app provides detailed information about the best ways to get to the city's major sights and attractions. You can visit the
BVG website
or
BrokenLifts
to get current information about station elevator outages.
Buying tickets
The same tickets (Fahrkarten) are valid on all forms of transport, and can be bought from machines in train stations, on trams, or from bus drivers. We always buy an unlimited transportation pass when we visit Berlin, so we don't have to worry about hopping on and off the U-Bahn or bus whenever we want. There are day passes and week passes and small group tickets that may save you money. There is also the
Berlin Welcome Card
, which includes transportation plus discounts to attractions and restaurants. They can be bought for two to six days. We bought one on our first visit to Berlin to take advantage of as much of the city as possible.
Taxis in Berlin
We've only taken a taxi once in Berlin, due to an injury. Our hotel got one for us and the whole process was quite seamless. Wheelchair-accessible taxis, however, are a bit less common. You can find more information about how to order accessible taxis on the Access Berlin app. Or you can see a list of vendors (in German) on
this website
.
Where to stay in Berlin
Berlin is a huge city and each neighborhood has its own feel and its own list of things to do. Some are better as sightseeing bases while others are better for great dining and nightlife. If it's your first trip to Berlin, take a little time to think about what you want to see and do before booking a hotel. Because even though it is relatively easy to get from one side of the city to the other, it can still take a while to do so. We've stayed in a lot of different neighborhoods in Berlin during our various trips. Mitte is always a good choice for first-time visitors, since it has great access to the city's main attractions. But it's restaurant offerings aren't that exciting. We love Prenzlauer Berg for its real neighborhood feel and great places to eat.
Accessible hotels in Berlin
There is a good number of accessible Berlin hotels in different neighborhoods and for different budgets. We think the best place to start your search is the Berlin tourism board website, which has a comprehensive
list of accessible accommodations and booking mechanism
. All the accessible hotels offered by visitBerlin meet specific criteria necessary to be considered "barrier free." These criteria were established in collaboration with a national organization in Germany to help ensure consistency of offerings for people with different access needs. You can read more about
how visitBerlin evaluates their accessible hotels here
and more about their
commitment to tourism for all here
. We stayed in and can recommend two accessible hotels in Berlin during our last visit to the city.
Accessible Berlin hotel: Scandic Berlin Potsdamer Platz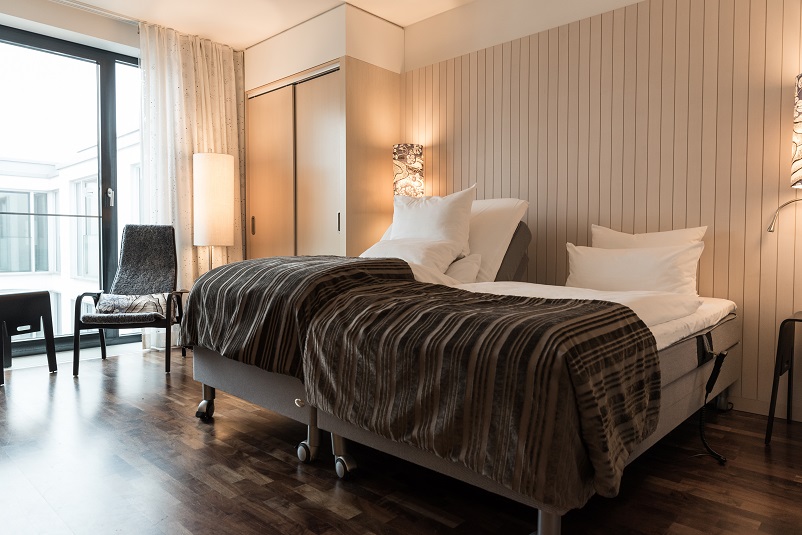 The Scandic Berlin Potsdamer Platz is a large hotel that caters to many different types of visitors to Berlin, including people with accessibility needs. An above-average 60 out of 561 rooms in the hotel are accessible. And all public areas of the hotel were designed to be accessible. Hallways are wide, there is Braille throughout, and the check-in desk and accessible rooms are equipped with hearing loops. At breakfast, they have a special section with a wide variety of offerings for guests with allergies (plus a section just for kids, which has nothing to do with accessibility but was just incredibly cute). And they offer free wheelchair rental.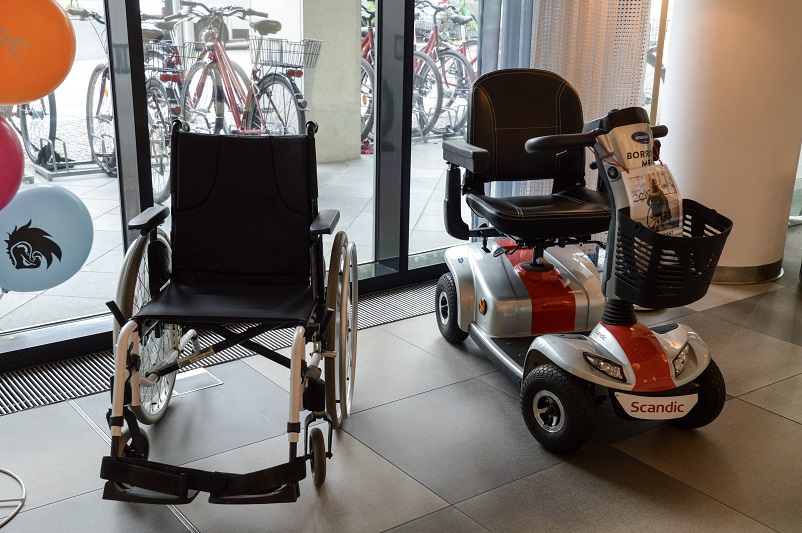 Our room was well-sized for two people, comfortable, and quiet. We enjoyed our two-night stay, including the complimentary breakfast that accompanied it. We did not stay in a wheelchair accessible room, but the hotel provided photographs so we could show the spaces here. As pictured, the wheelchair-accessible bathroom is a wet room with roll-in shower and handrails throughout.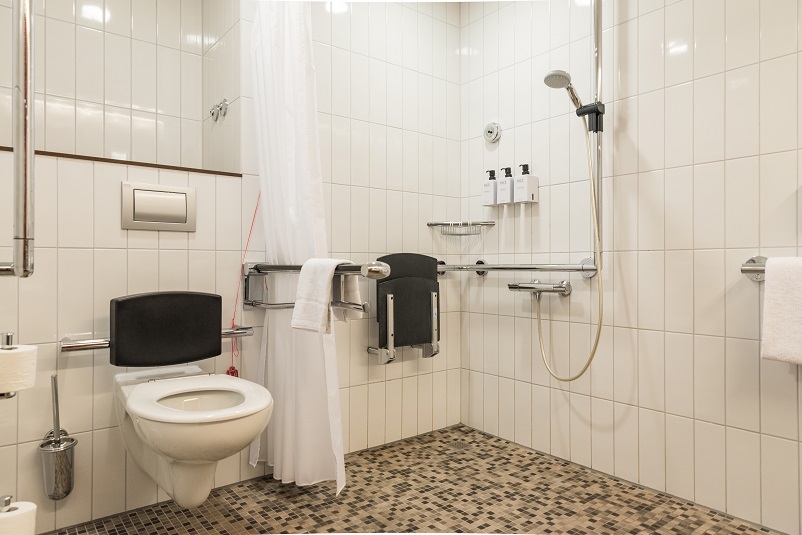 Perhaps most importantly and impressively, they have a page on their website that describes all of the
accessibility features of their hotel
. For people who just want to be able to plan their trip to Berlin by themselves, this information is invaluable. Contrary to its name, the hotel is located near, but not directly in Potsdamer Platz. This was a positive to us, since it's a pretty busy place. The hotel is located a bit further down the street, right around the corner from a (wheelchair-accessible) U-Bahn station and a bus stop. The main street the hotel is on is a bit bland, but if you head just a few blocks away towards the Anhalter Bahnhof, you'll find more of a neighborhood. We enjoyed exploring those streets and parks (and the Anhalter Bahnhof itself) and even found a cozy Kneipe.
<< Book a stay at the Scandic Berlin Potsdamer Platz >>
Accessible Berlin hotel: Boutique Hotel i31 Mitte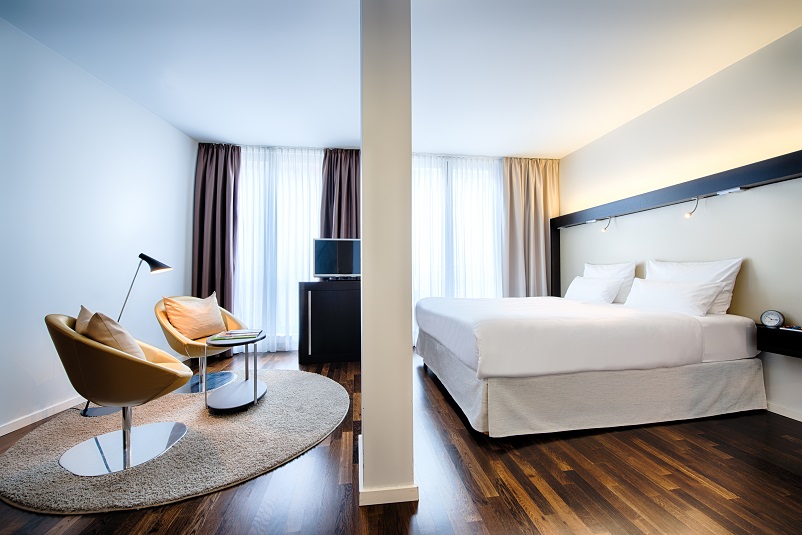 We also enjoyed a stay at the
Boutique Hotel i31 Mitte
. As the name indicates, it is a boutique hotel, so it's a bit smaller, and it is located in the Mitte neighborhood. Our room was a very nice size, with more than enough room to spread out and relax. The accessible bathroom was a wet room with roll-in shower and handrails throughout.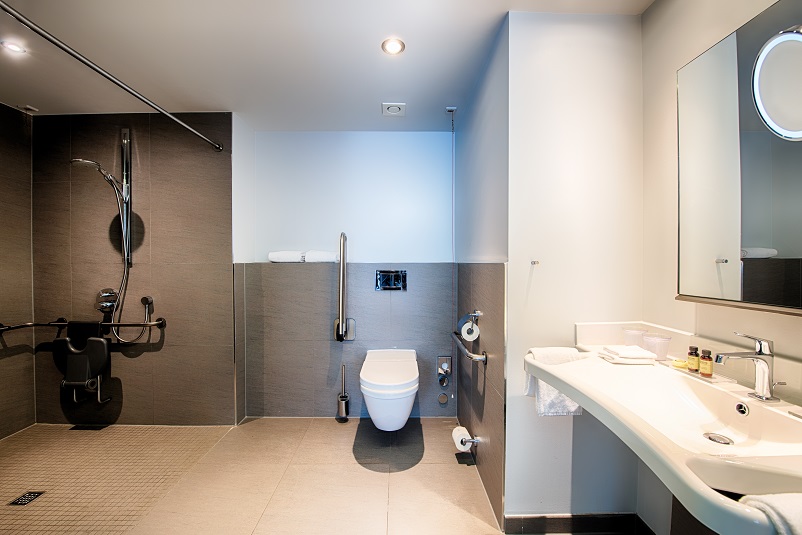 The breakfast at the i31 was a gorgeous and plentiful spread. The food was outstanding, and if the weather is nice you can enjoy it outside in their lovely garden. The i31 also offers two electric cars and three e-scooters that guests can rent free of charge.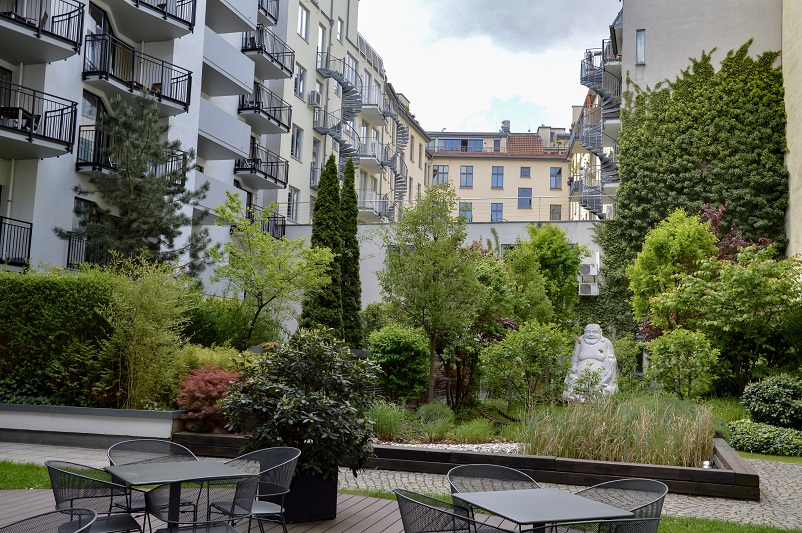 Mitte is a somewhat large and nebulous neighborhood. Hotel i31 is located in the northwest part of the area, also near Prenzlauer Berg. It's very close to the Berlin Wall Memorial, which is an absolute must-see for anyone visiting the city. Some other major art museums are also nearby. The closest U-Bahn station has an elevator at one end.
<< Book a stay at Hotel i31 now >>
Disclaimer
This post was written with support from visitBerlin and the Boutique Hotel i31 Mitte. visitBerlin provided us with complimentary Berlin Welcome Cards and a complimentary stay at the Scandic Berlin Potsdamer Platz. The Boutique Hotel i31 Mitte provided us with a complimentary stay at their hotel. All opinions and overuse of superlatives are 100% our own.
Like this post? Pin it!