Last Updated on 8th January 2019 by Sarah and Justin
We heard people either love or hate Bangkok. Coming from a big, loud, dirty, fun city ourselves, we actually didn't find it that extreme. We enjoyed our time there, but can understand why it may not be everyone's cup of tea. That said, the longer you spend there, the more the city grows on you. At least it did for us.
For our first stint, we spent five days in the city. And lucky for us, our good friend Lee joined us the whole time! We stayed in a really nice hotel with a rooftop pool and club access. So it felt like a bit of a vacation from… this extremely long vacation of ours.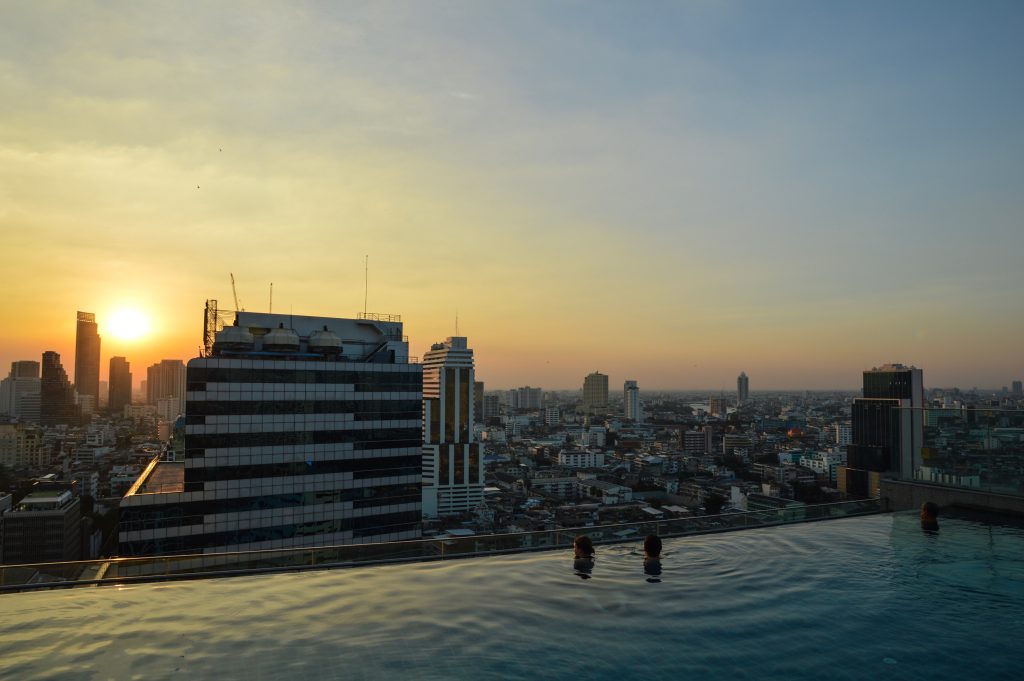 More recently, we stayed for eight whole days. This was due to Justin needing some dental work (more on that soon, but remember he had to get emergency dental work in Japan…). Over the course of 13 days, we feel like we got to know the city pretty well. Or, as well as anyone can get to know Bangkok. Honestly, similar to Seoul, it sometimes felt too big to really get our arms around. But we tried!
A city in mourning
The King of Thailand passed away in October 2016. The Mourning Period lasts one year. Lee told us that we should plan on wearing black all the time. This was a bit difficult for us since we had packed for our trip prior to the King's death. (And full disclosure, we didn't really believe her.) But upon arriving in the city, we realized she was 100% correct. Most everyone around us was wearing black. As if we don't already stand out as tourists in this part of the world, wearing clothing of any color made us even more obvious. Luckily, we had packed a couple black shirts, which we saved for the day we saw the temples. We would have been fine though. Black clothing was being sold everywhere. And we later learned that we could have gotten our clothing dyed!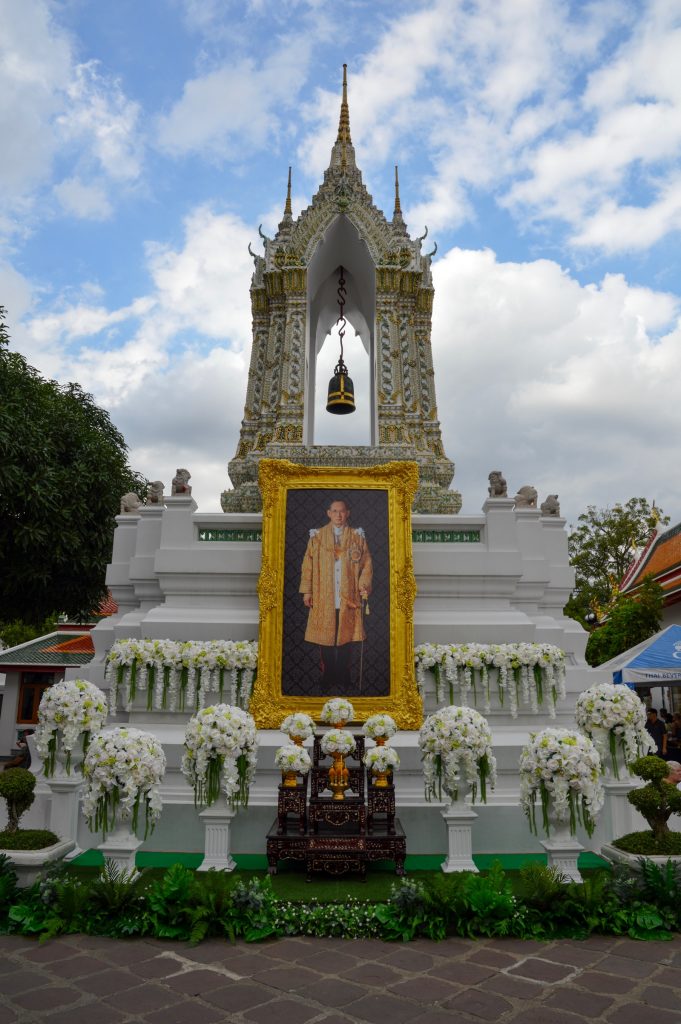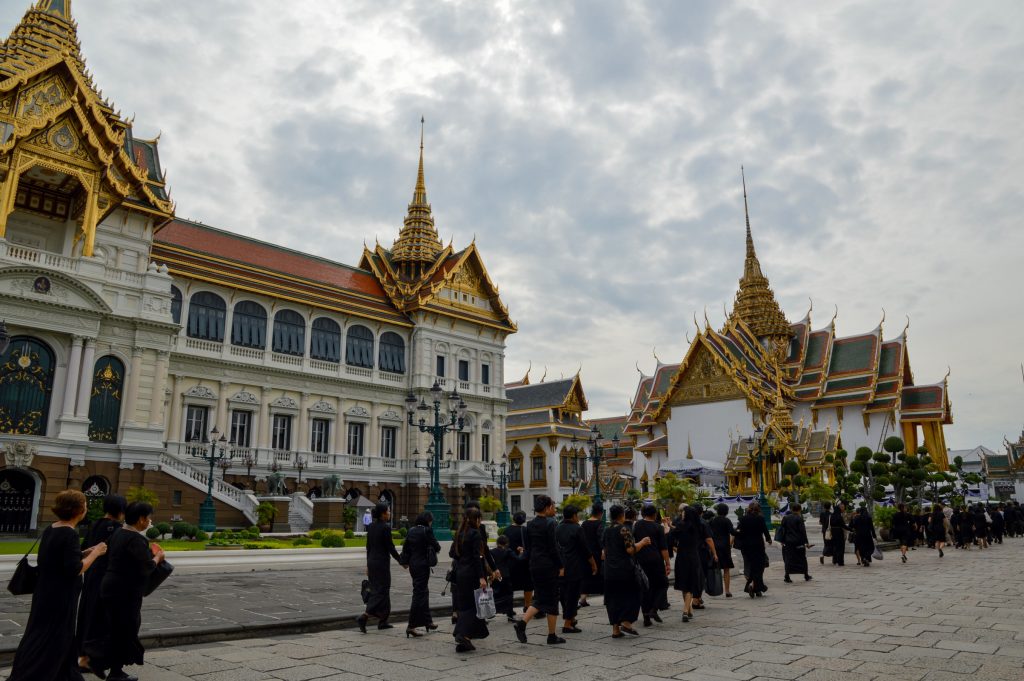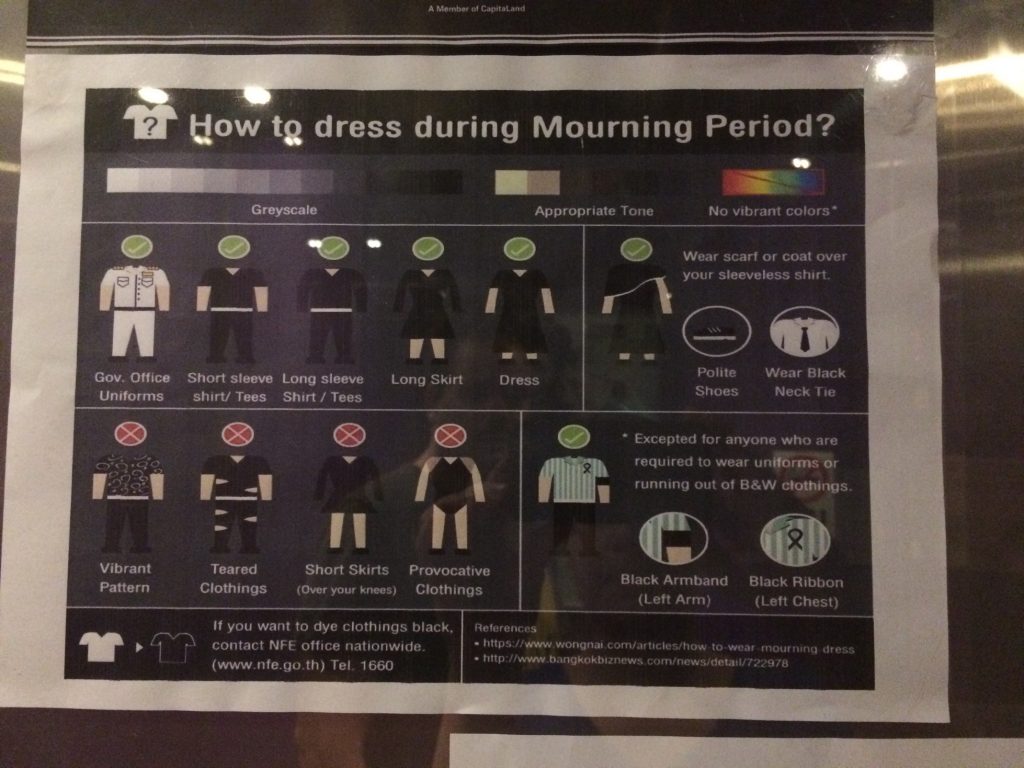 The temples
We visited several temples in Bangkok. There are temples all over the city – we could have visited hundreds more! But we felt pretty good about our choices. Note, one must dress respectfully at all temples in Thailand, meaning no shorts, no skirts above the knee (or anywhere near the knee), and no sleeveless shirts. 
Wat Pho
This temple is famous for its enormous Reclining Buddha. It's also very close to the Grand Palace so gets a lot of touristic foot traffic. The whole complex was stunning and really interesting. There are a lot of buildings and structures to walk around, all of which are different from one another. It was definitely our favorite temple in the city.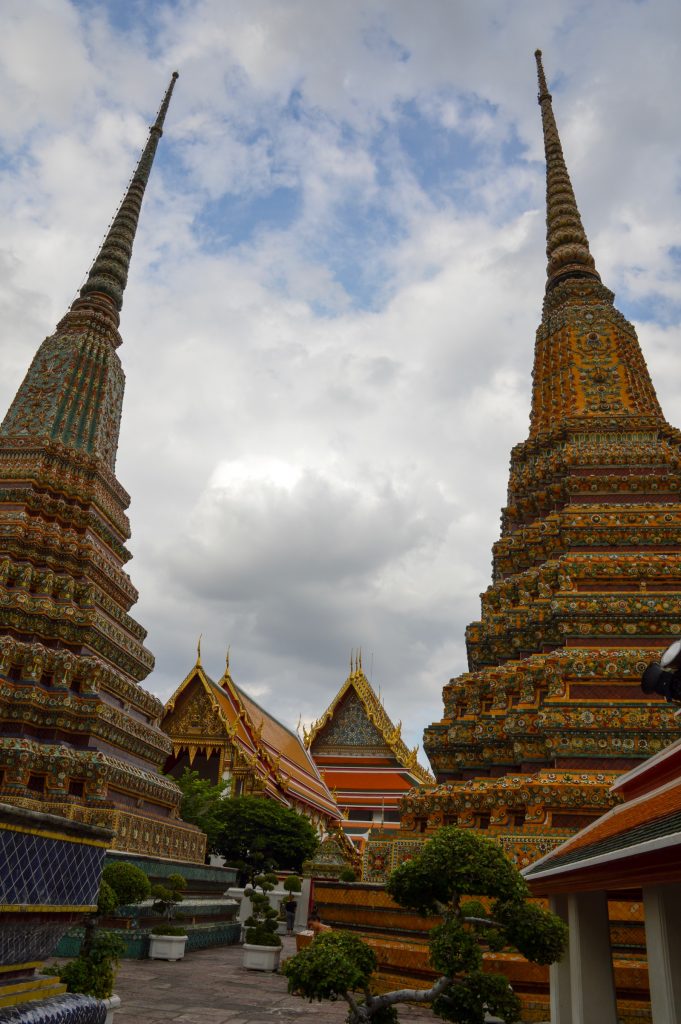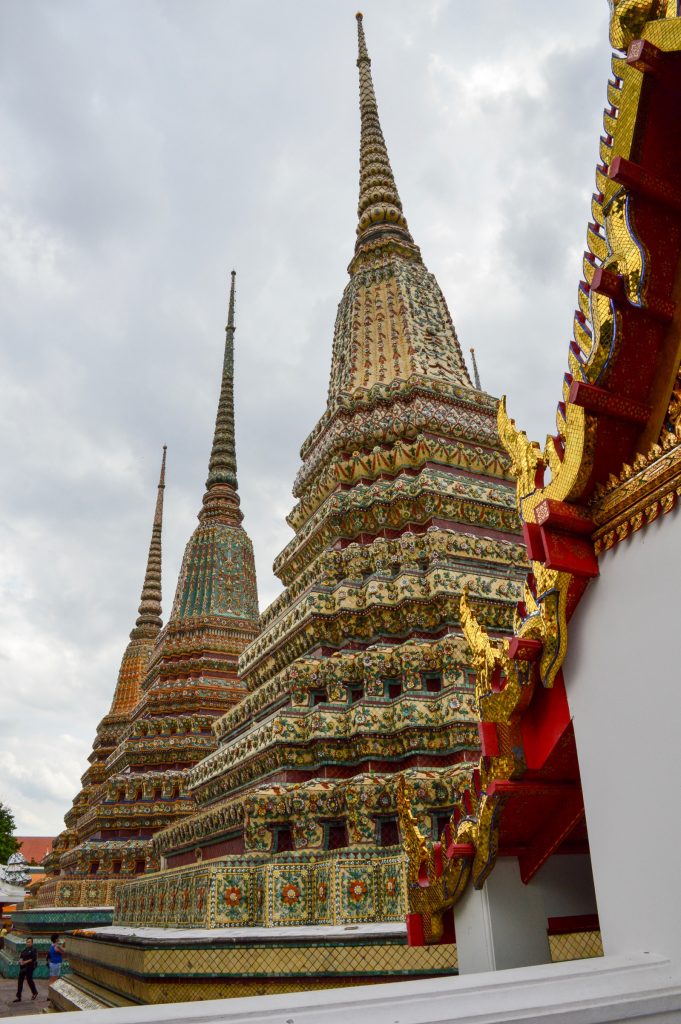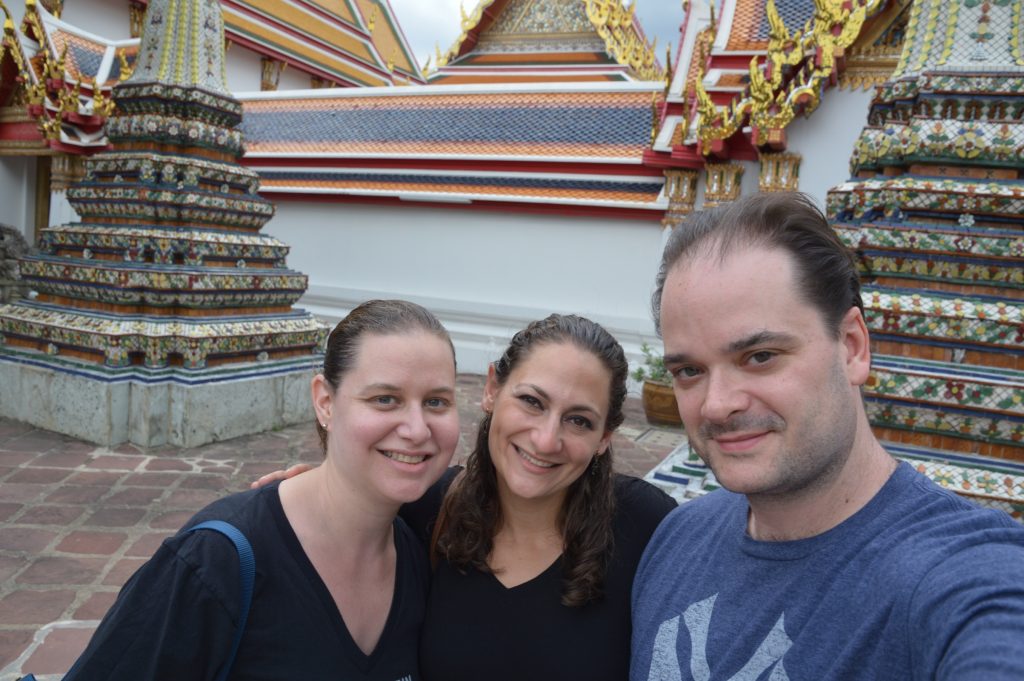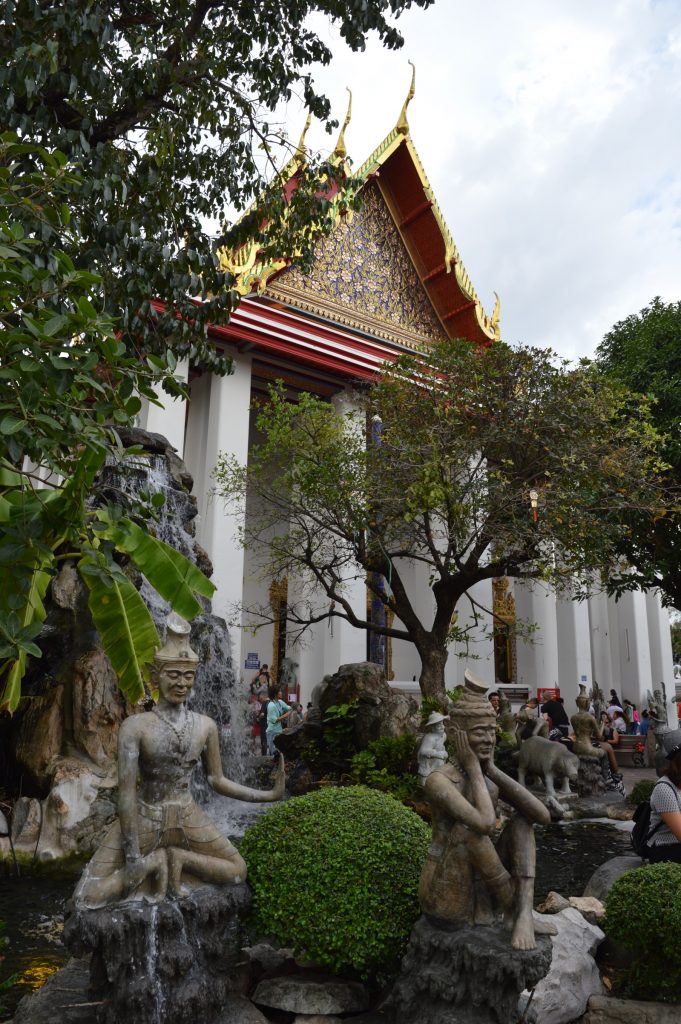 And the Buddha itself is quite impressive.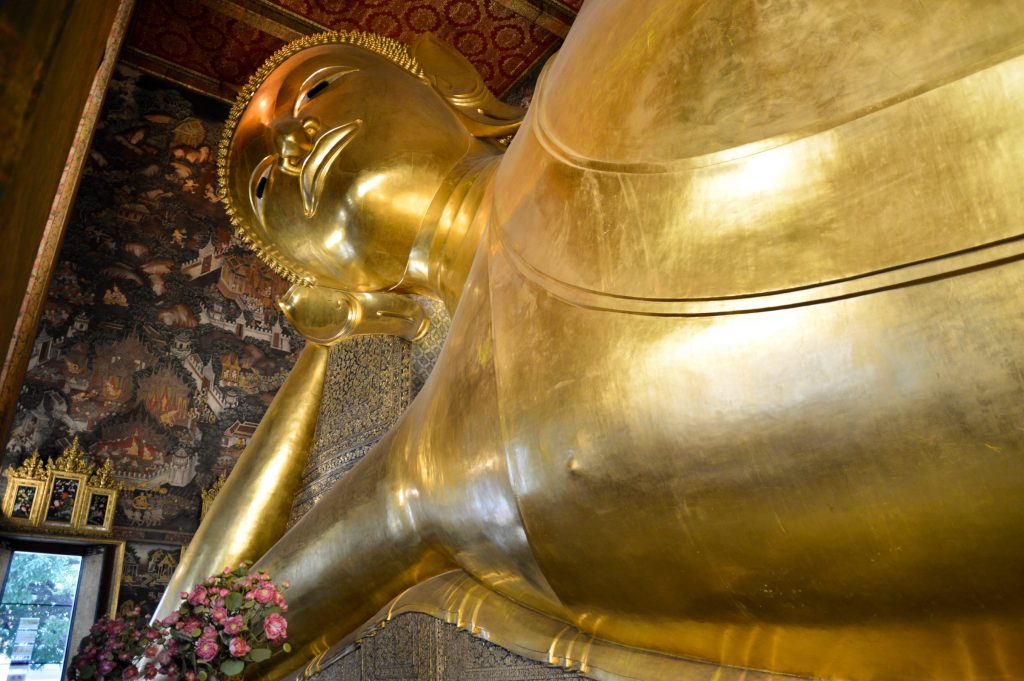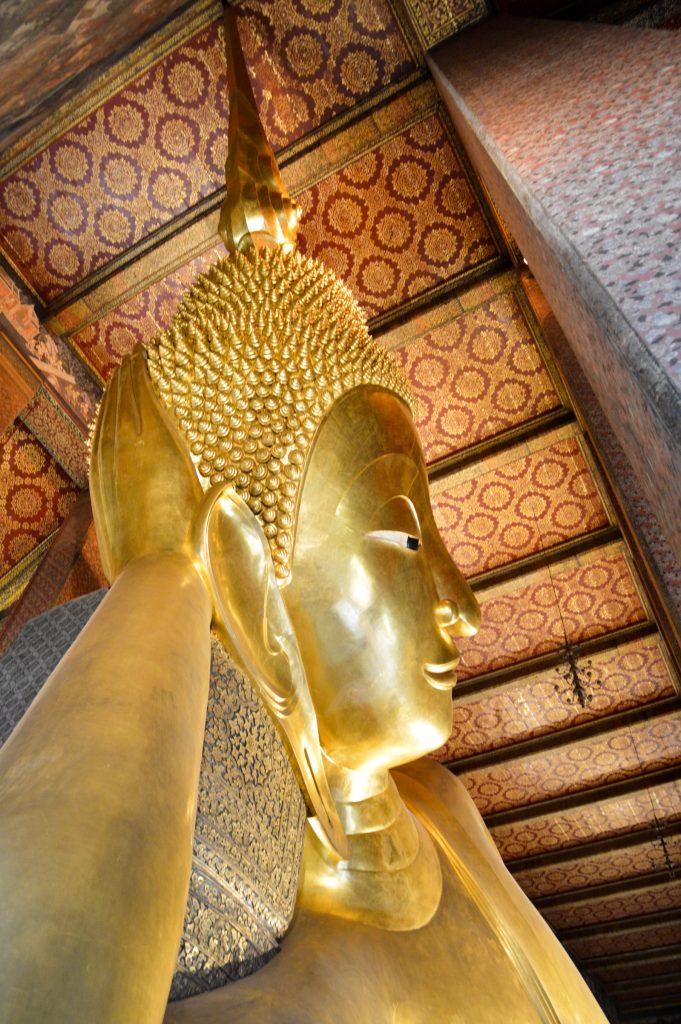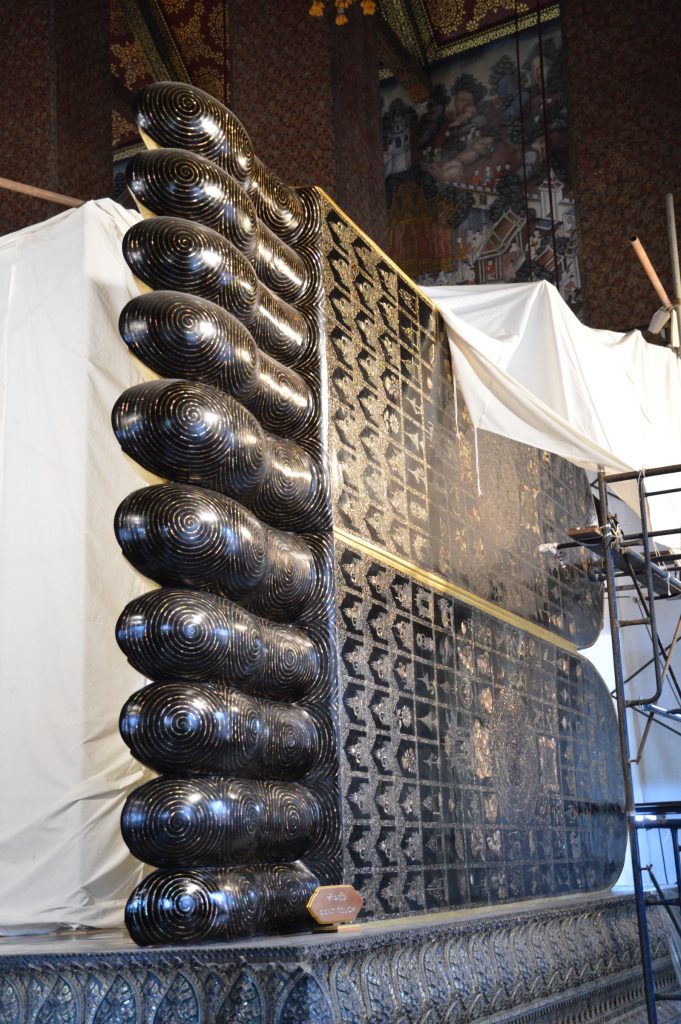 The Buddha's feet are so cool! 
Wat Arun
The main pagoda of this temple is undergoing construction, so it's not as beautiful a sight as it usually is. But the grounds themselves are quite scenic and you can see the pagoda without going into that area.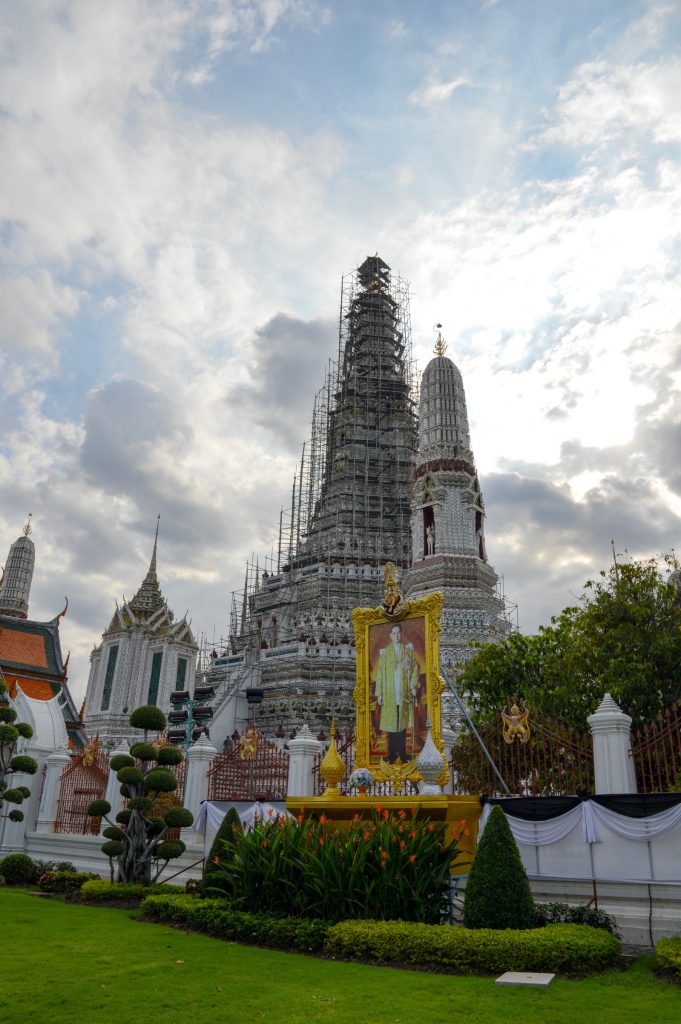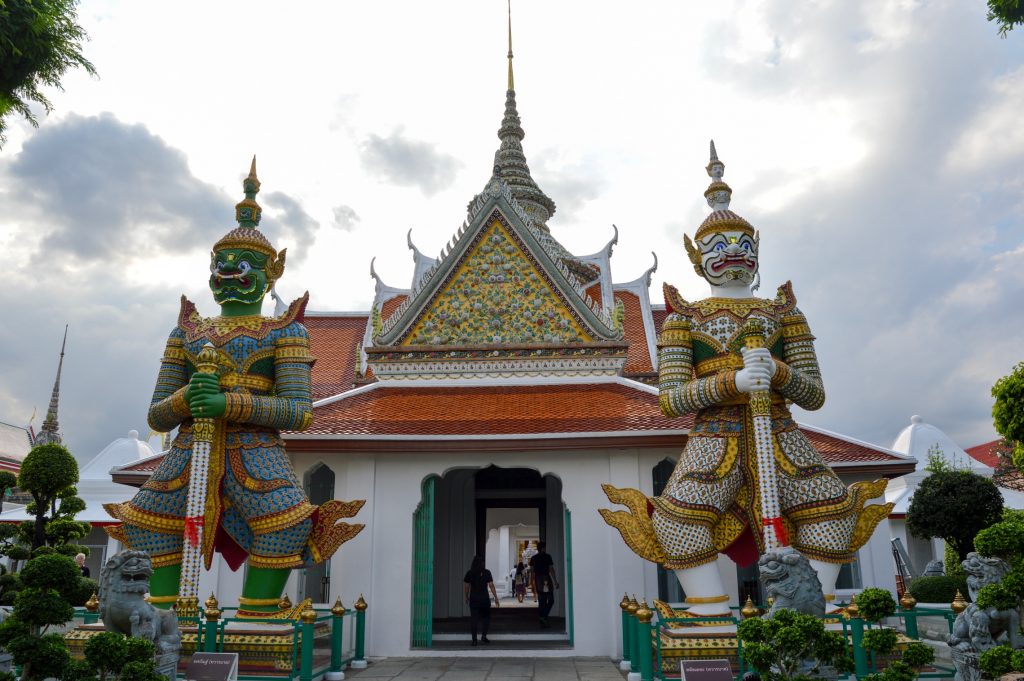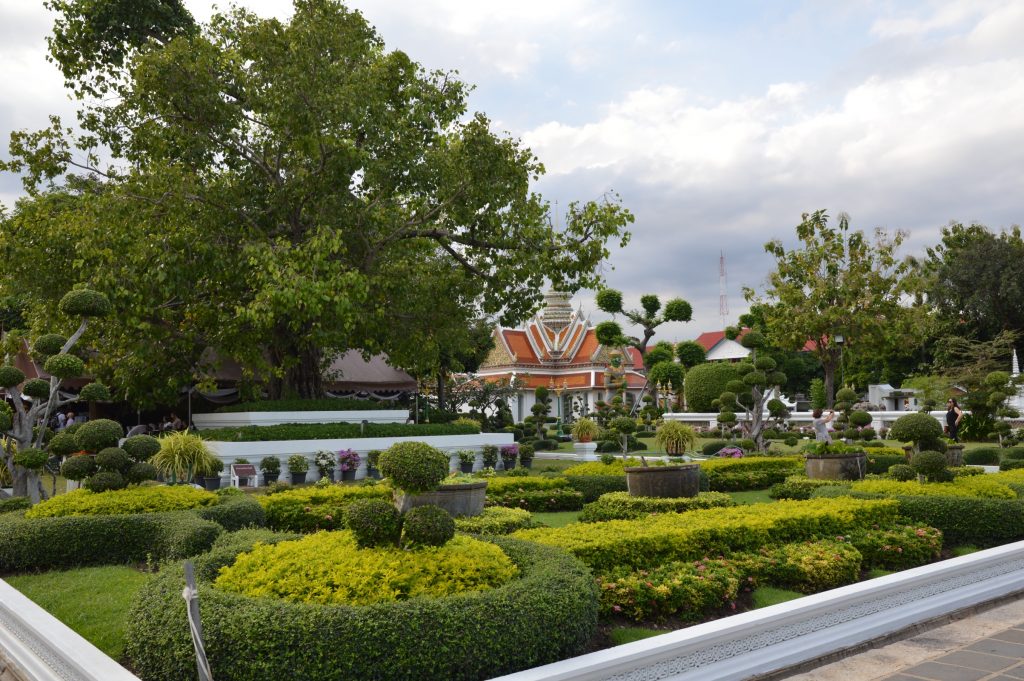 Wat Hua Lam Phong
We visited this temple because it was near our hotel. If we hadn't been staying where we were, we wouldn't have gone and that would have been a shame because it is a very nice temple with lots of different buildings and gold leaf just smack in the middle of the city.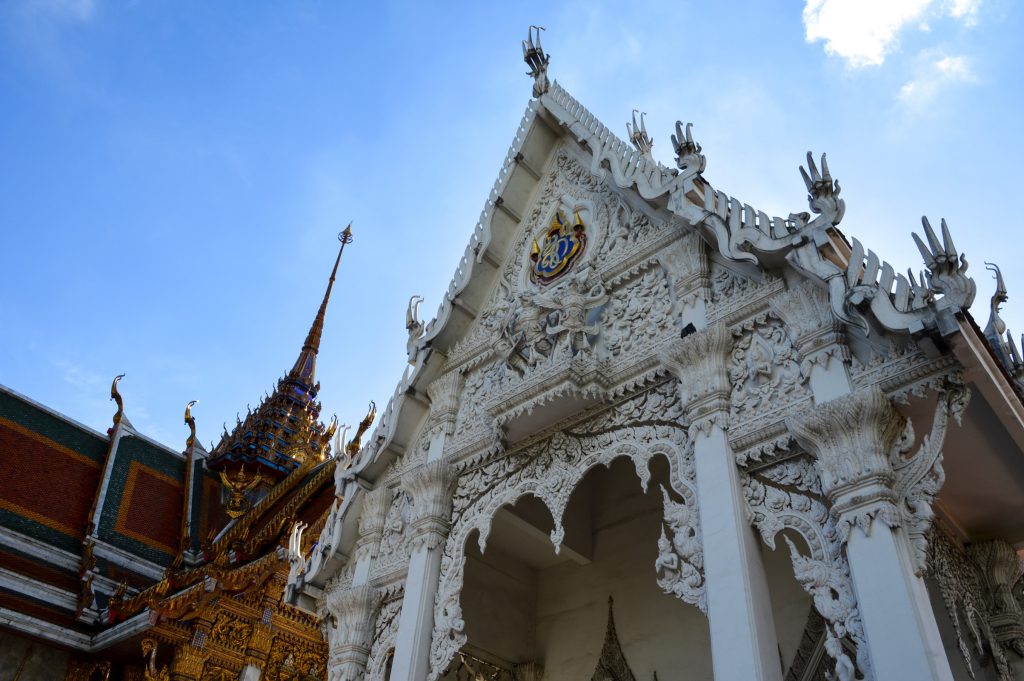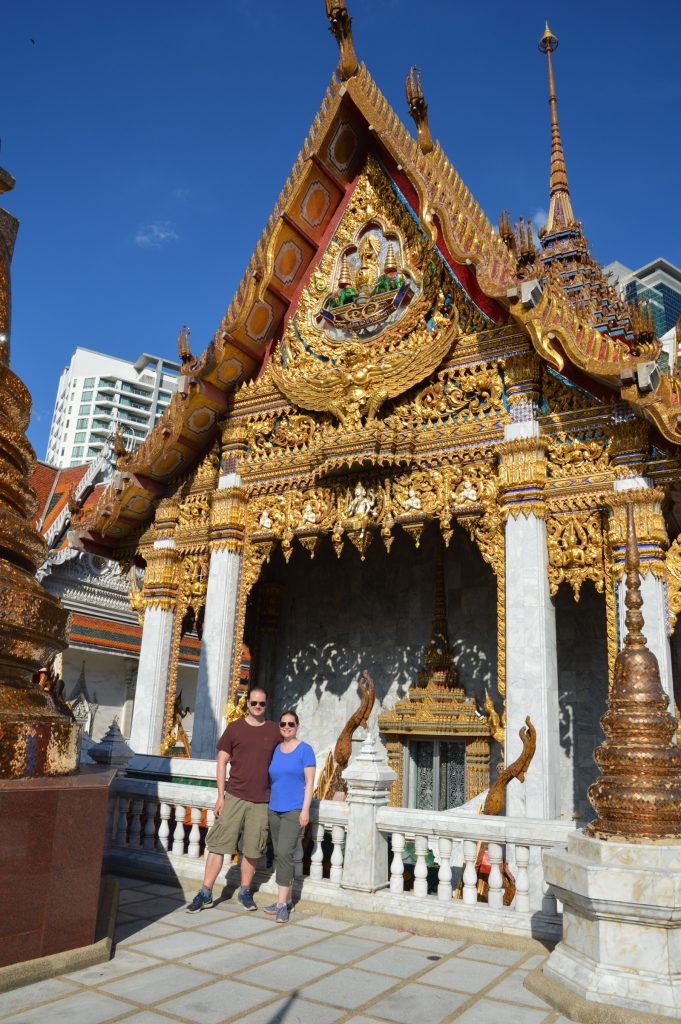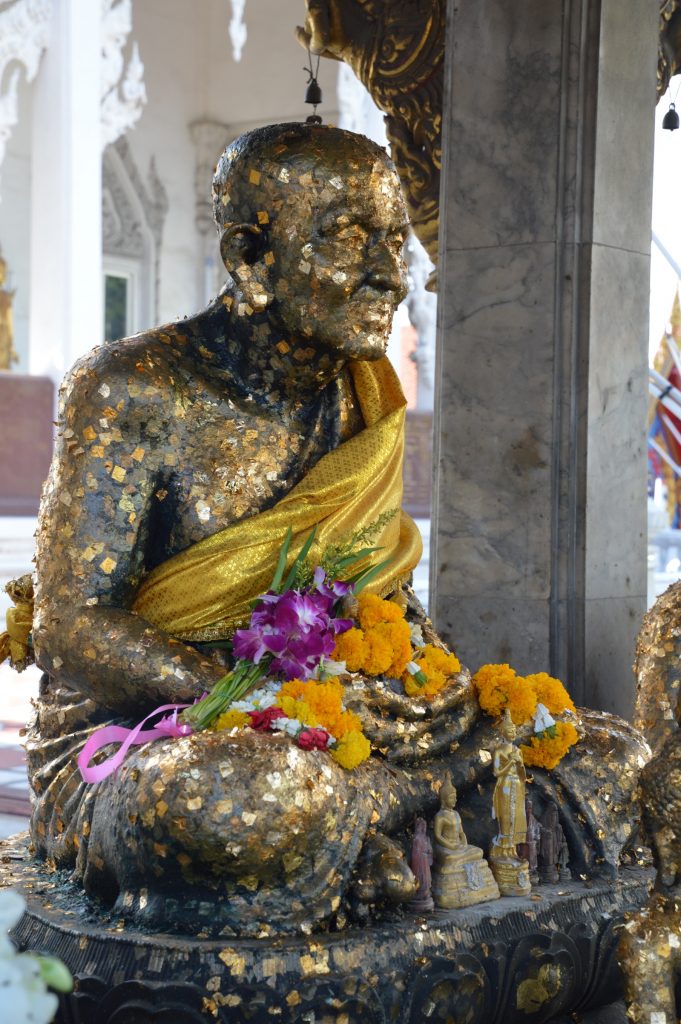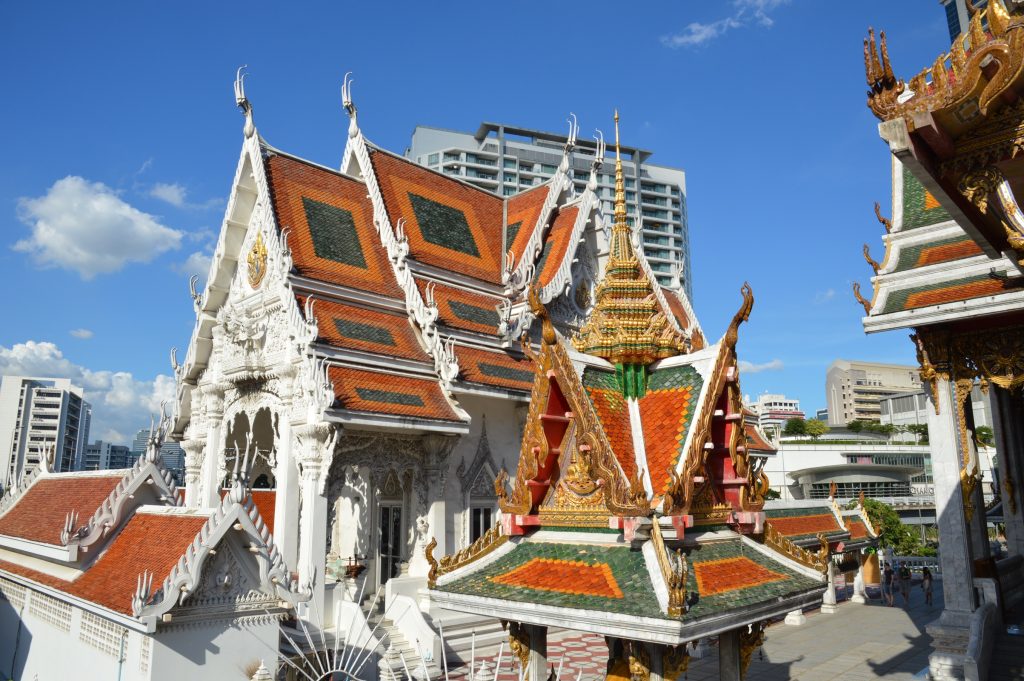 And to top it all off, there's a petting/feeding "zoo" too!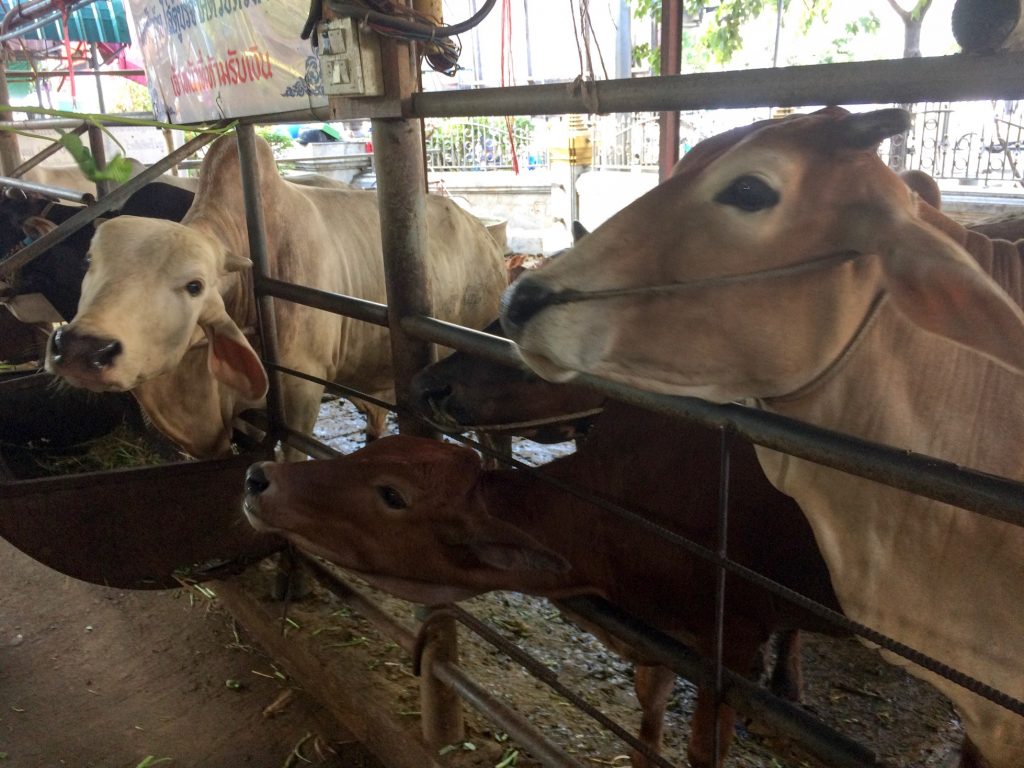 Sri Maha Mariamman Temple
We stumbled onto this temple while walking around the Bang Rak neighborhood. Its ornately decorated, brightly colored pagodas sticking out over the wall caught our attention.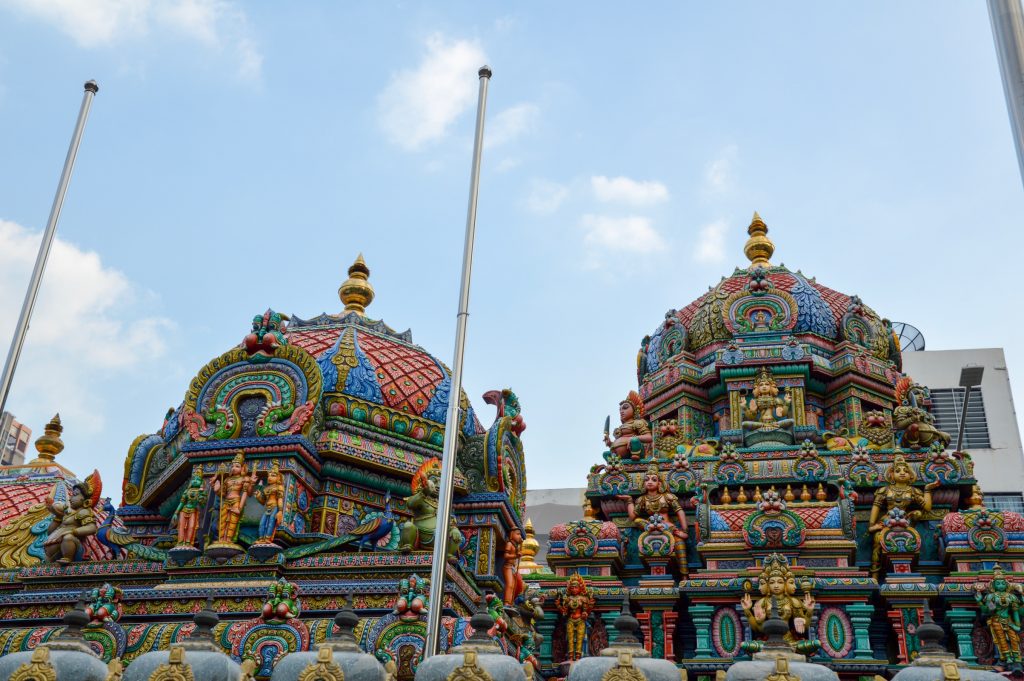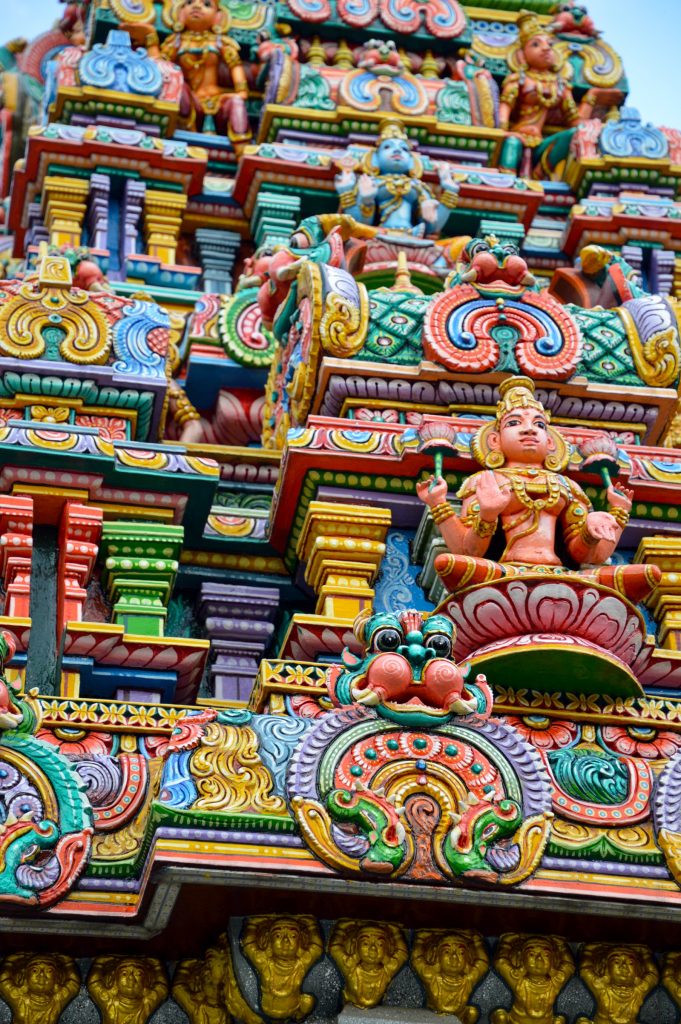 The Grand Palace
The Grand Palace seemed like a must-do. It is really quite grand.

But it's pricey at 500 THB per person. Since we were visiting during the Mourning Period, it was very crowded. One must pass through security just to get to the street that the Grand Palace is on. Passports are checked. They are very strict about wardrobe here and won't let you buy a ticket if you are inappropriately dressed (they provide sarongs if needed). The grounds around the entrance are lovely, although busy with tour groups gathering and people taking selfies everywhere.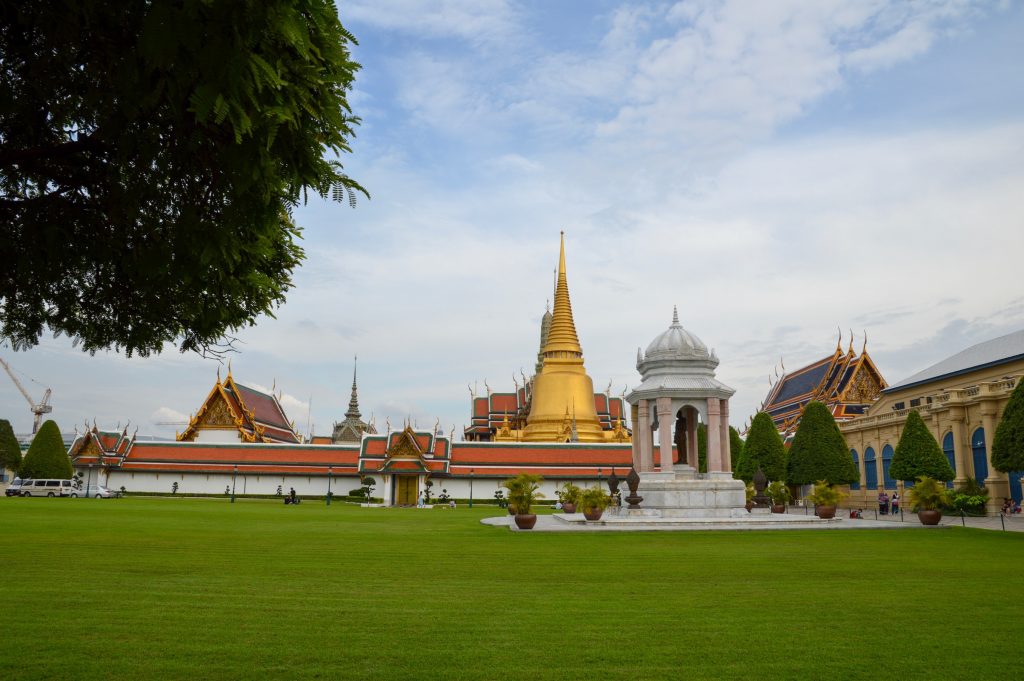 Inside, you first visit the temple area. The Temple of the Emerald Buddha is what some people come for, but we found all the other buildings in the area even more interesting.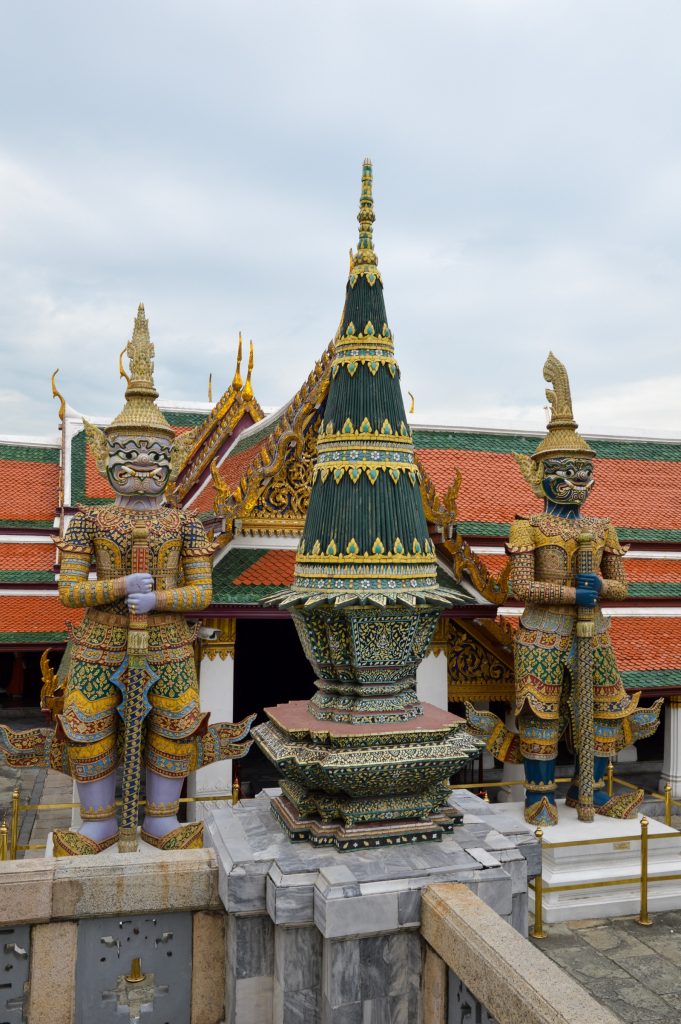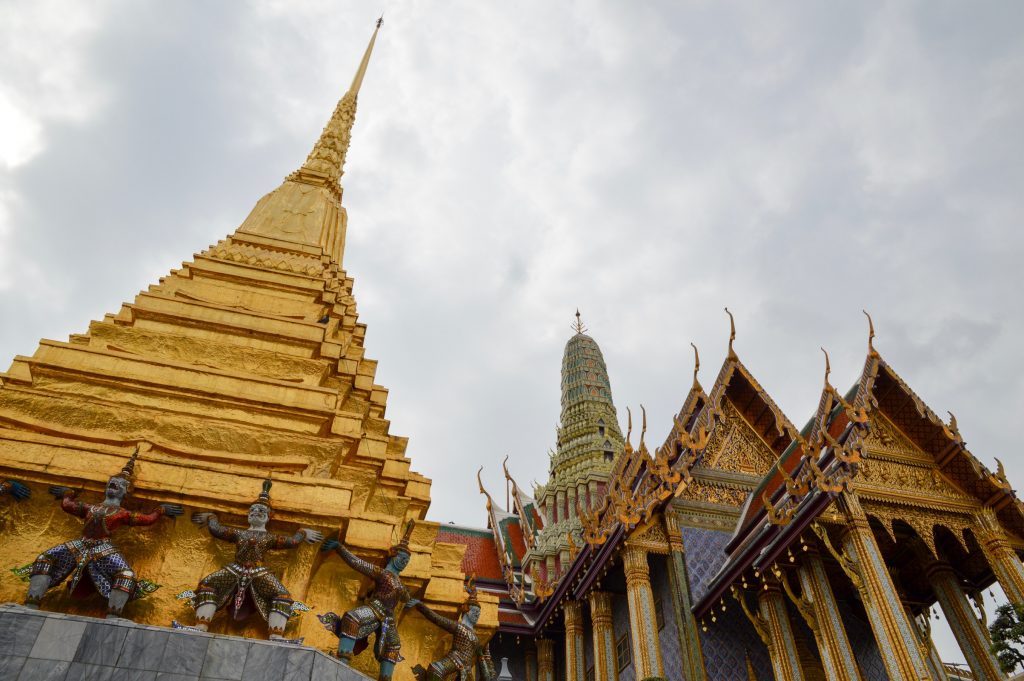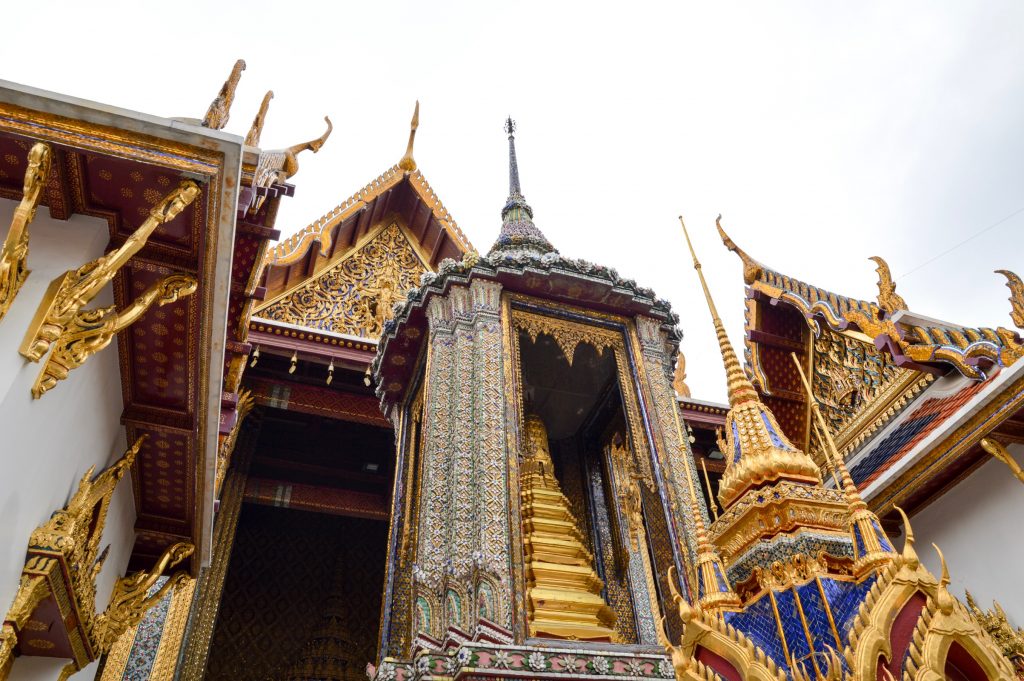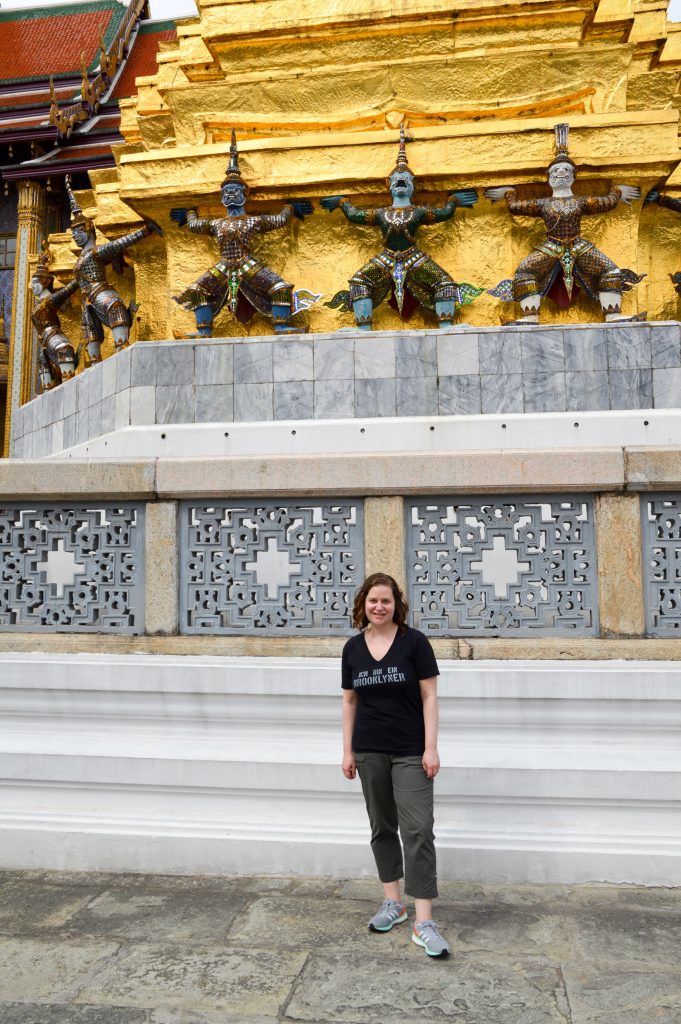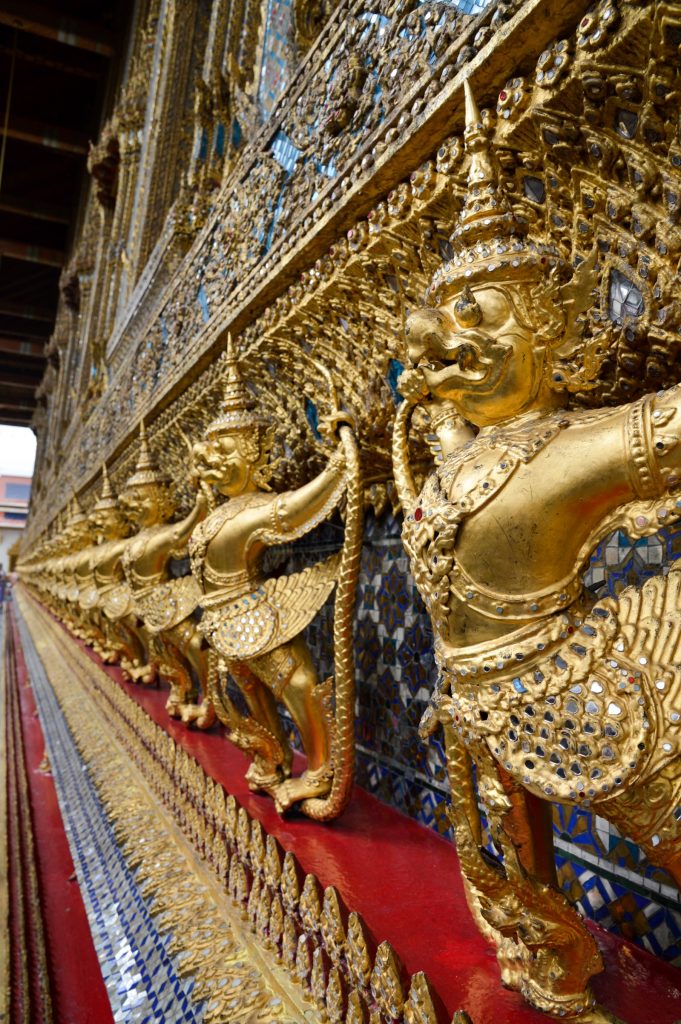 During this time, mourners wait on an endlessly long line to pay their respects.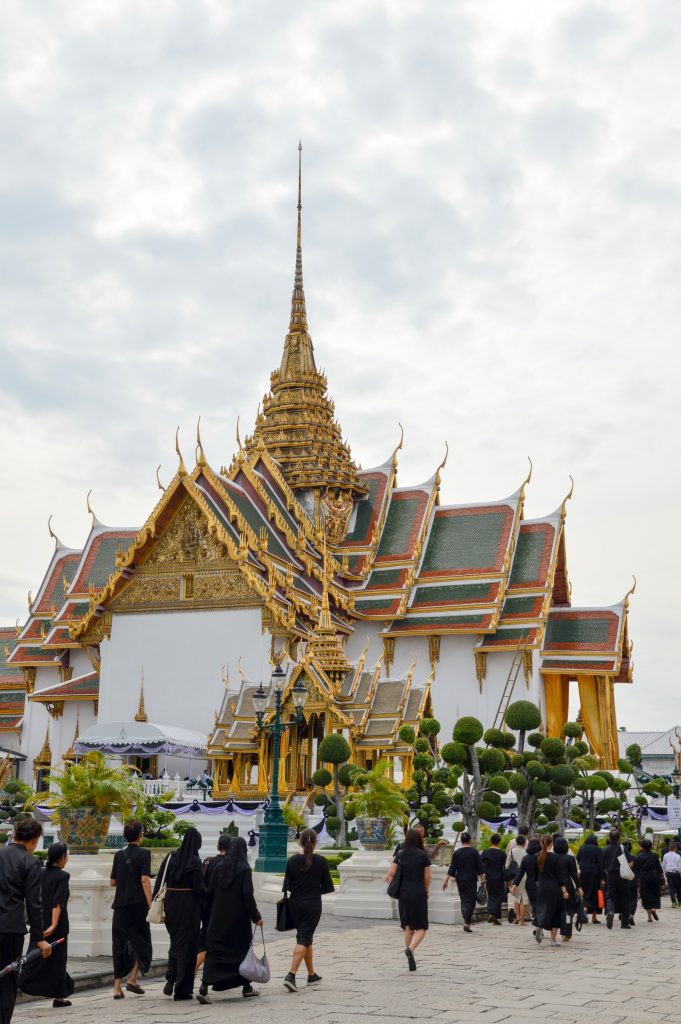 Chatuchak: a must-do shopping experience
If you're in Bangkok over the weekend, you must (absolutely must) go to Chatuchak Market. It's easy to get to via BTS or MRT. There are hundreds (maybe thousands!) of stalls of very cheap, cool things to buy. We've now been to markets all over Southeast Asia, and even having seen more relaxed places like the Night Market in Luang Prabang and cheaper places like basically every street in the Old Quarter of Hanoi, Chatuchak is our favorite. Many of the stalls are outside, and it gets really really really hot, but you can always duck into one of the covered areas (with even more stalls!) for respite. There are foot massage places with air conditioning as well. There's a ton of food and bathrooms too. Apparently we were too busy shopping to get any pictures.
Parks
Bangkok isn't a very green city. It's dirty and gritty with big huge buildings everywhere and a lot of traffic. But we seek out parks when we can.
Lumphini Park
Definitely the best and biggest park in Bangkok, Lumphini is located in the Silom neighborhood.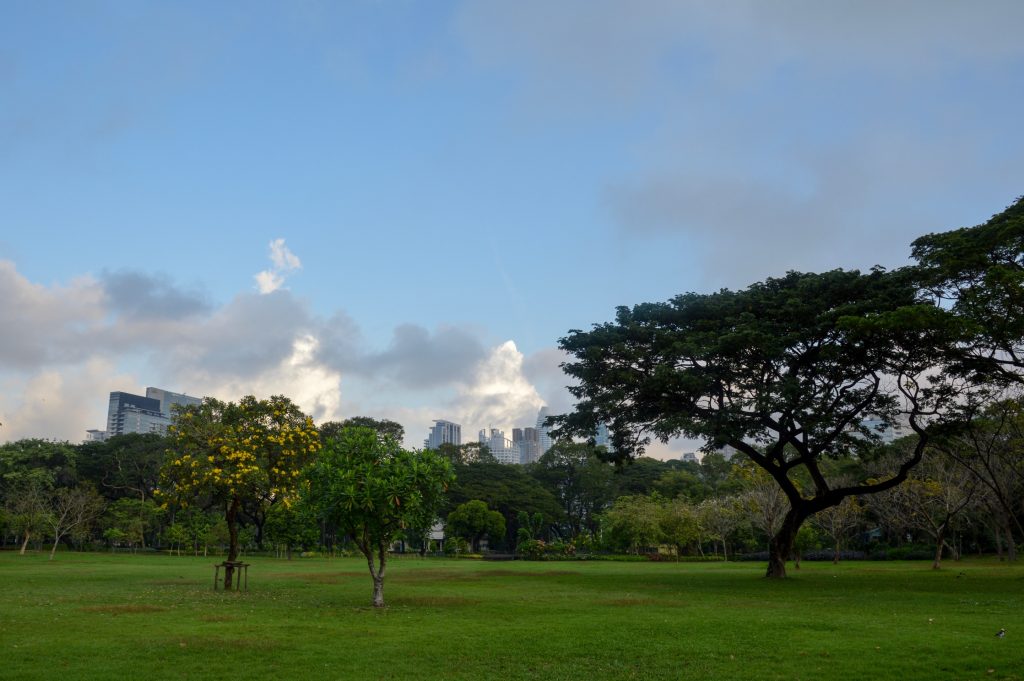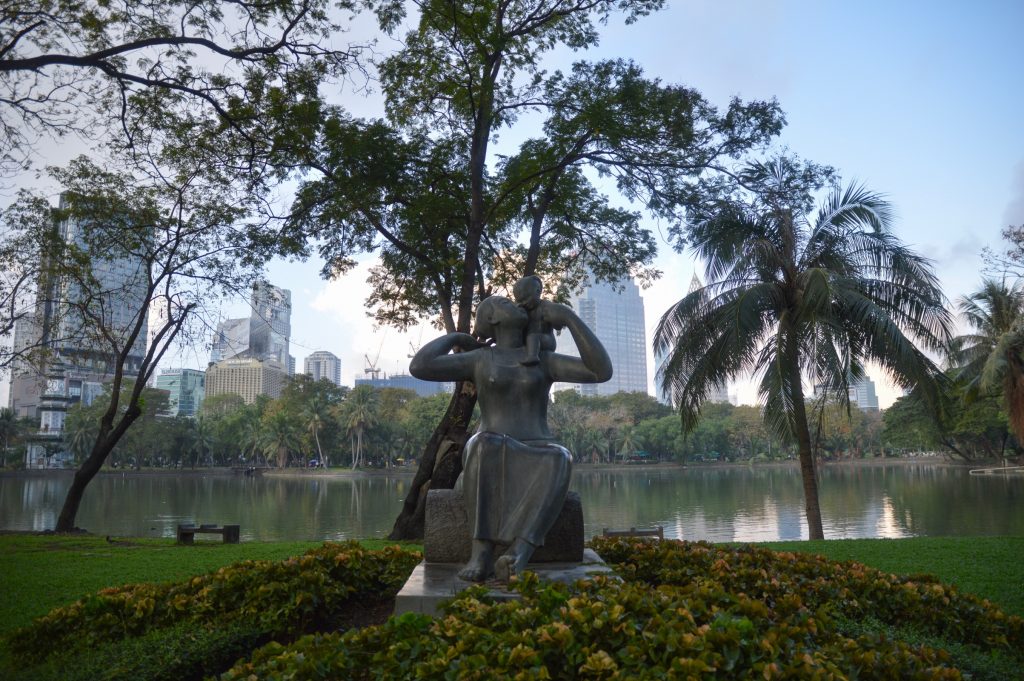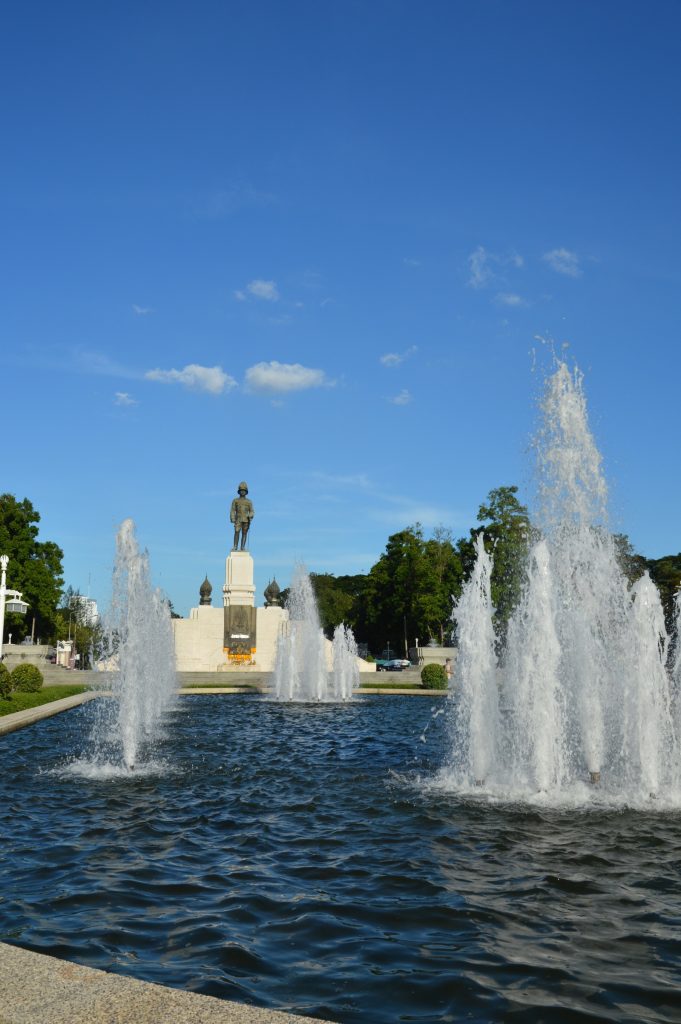 It's a great place for exercise too, with several areas with outdoor equipment.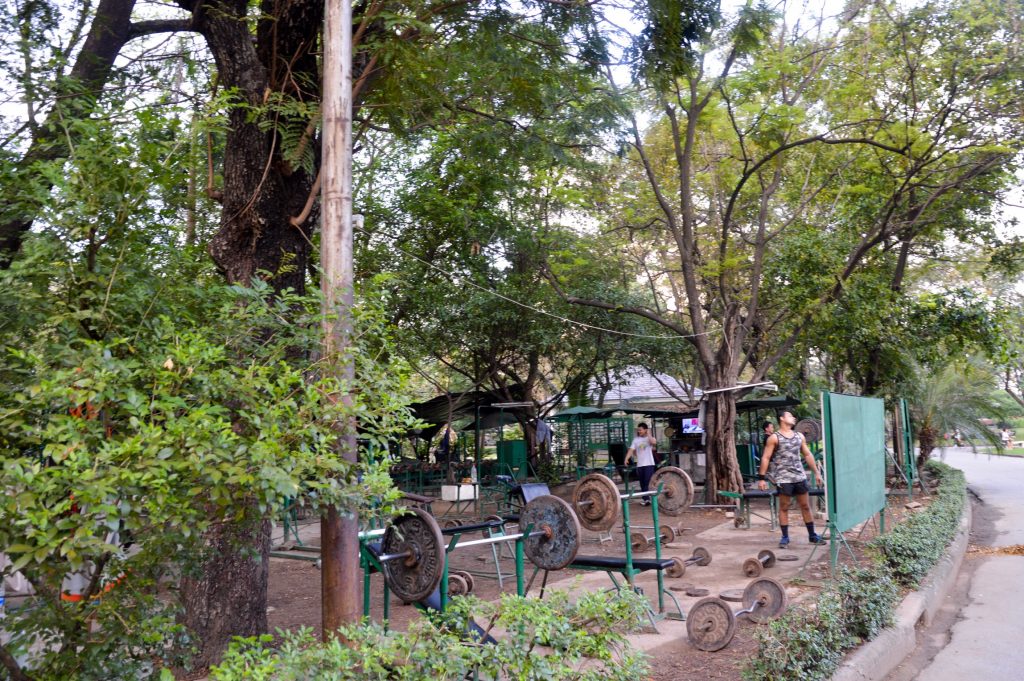 Note, this was the older weightlifting area. We saw several other areas with spanking new cardio equipment!
We especially enjoyed watching people do Tai Chi by the clock tower on one of our early morning walks.

There's also a Chinese Pavilion and a Japanese Sundial.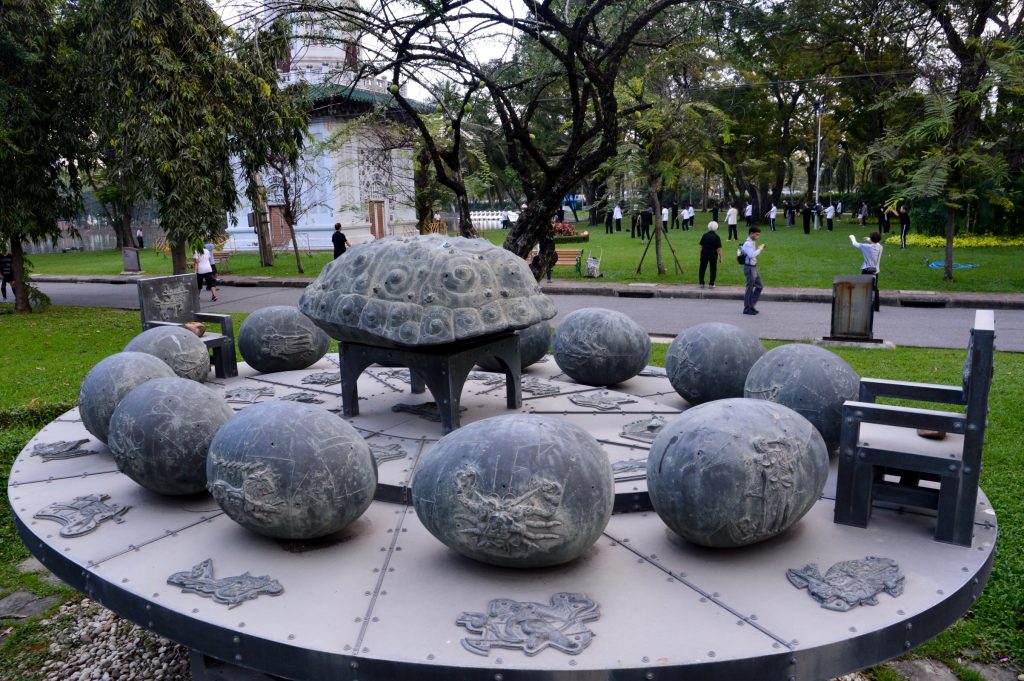 And it's home to humongous, somewhat terrifying water monitors.

Benjakitti Park
Benjakitti Park is not as big or as beautiful as Lumphini, but it's closer to the touristic part of Sukhumvit. The circuit around its man-made lake is good for a walk, a bike, or a run.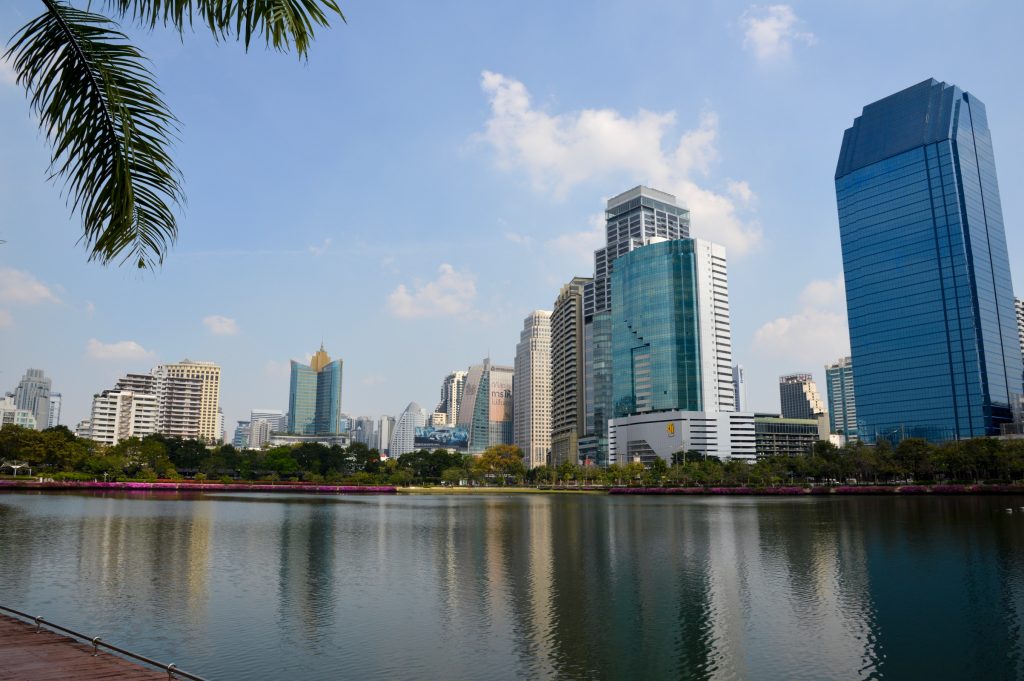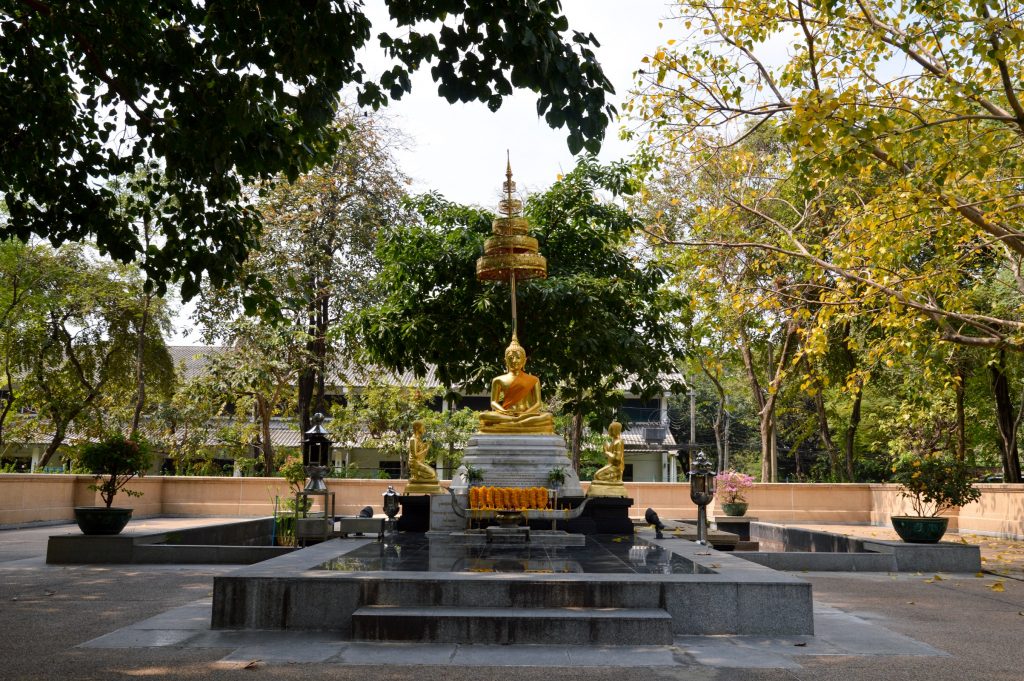 Chatuchak Park
We wouldn't go out of our way to get there, but after a visit to the market, it's nice to stroll through Chatuchak Park.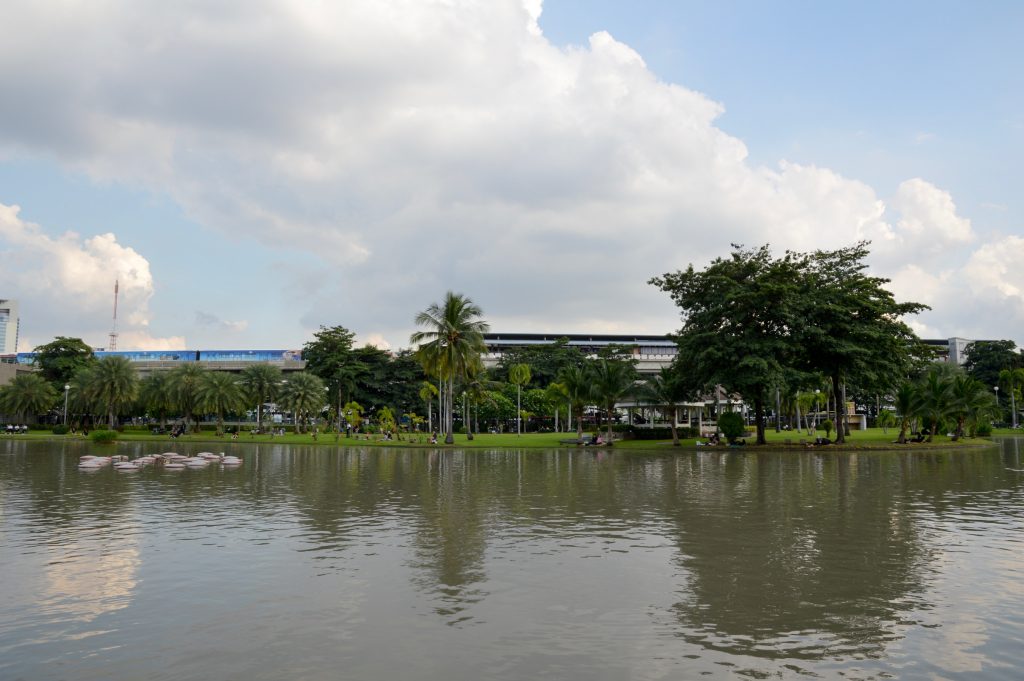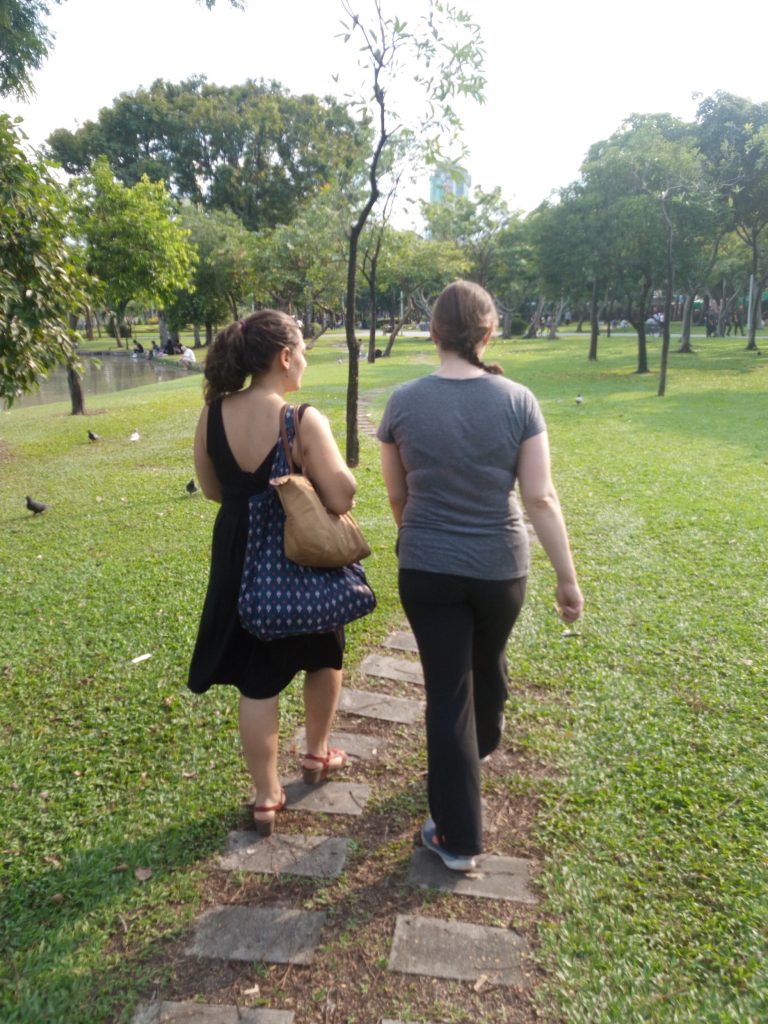 Transportation tips
Much of Bangkok is connected by public transportation, but some of the more touristic spots aren't. Here's what we learned after 13 days of being in the city.
BTS is the Skytrain. MRT is the subway. Fares for both are calculated by distance and it's really easy to use the machines in the stations (they have English). At most stations, you'll need coins if you don't want to wait on line to buy your ticket at the window.
Unless you're staying for a long time, we don't recommend buying the Rabbit card. It saves you the time of not having to buy individual tickets, but not money. There are day passes, but we never needed one.
Download the BTS and MRT maps. Don't always trust Google Maps. It often tells you to take the bus.
Take the Airport Rail Link into the city. It's cheap and much faster than taking a taxi and sitting in traffic. If you're not staying close to one of the stops, you can take a taxi from there vs. from the airport itself and you'll save time and money. Note, our last trip from the city to Suvarnabhumi Airport via MRT and Rail Link was the cheapest airport transfer we've taken anywhere in the world at $1.45 per person! 
Uber and Grab Taxi apps both work very well and are inexpensive. Grab Taxi uses metered taxis. Traffic is rough in Bangkok, though, so we recommend only taking cabs when you're going somewhere not serviced by public transport.
We wanted to use the bus, but never did. It was a bit unclear where the stops were!
The best way to get to the Grand Palace and other major temples is to take the Chao Phraya Express Boat (the boat with the orange flag) on the Chao Phraya River. When we first visited last year it was 14 THB, but when we returned a month later it had increased to 15 THB! Still a good value, though. If you get on at Taksin Pier and the trip to the Grand Palace stop is about 20 minutes. Once we took it as far as we could because it was so breezy being on the water and the ever-changing views are great.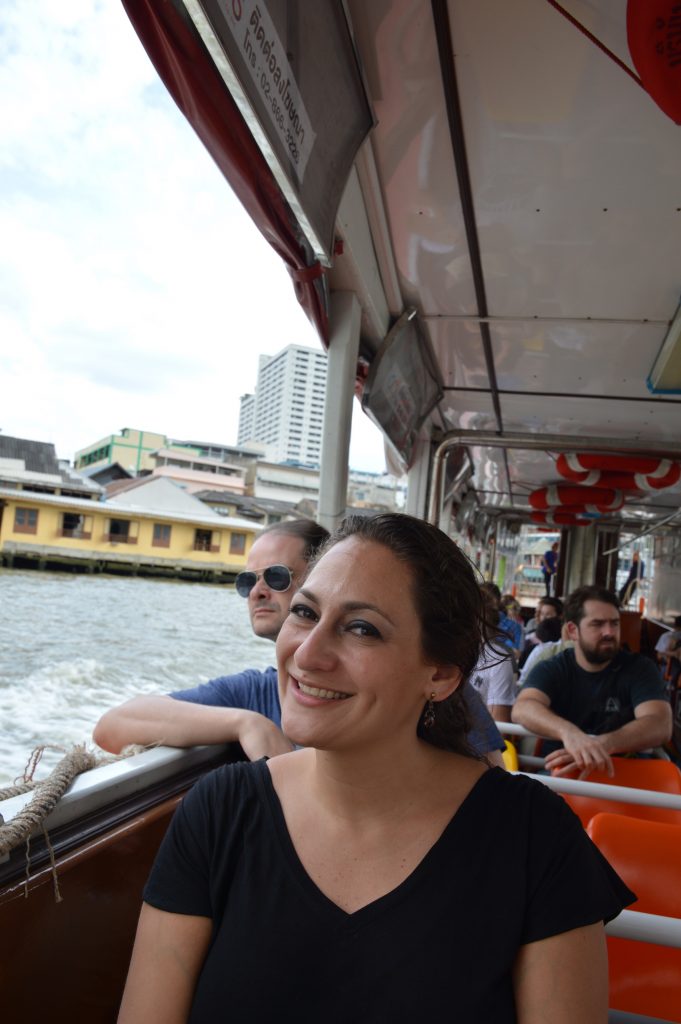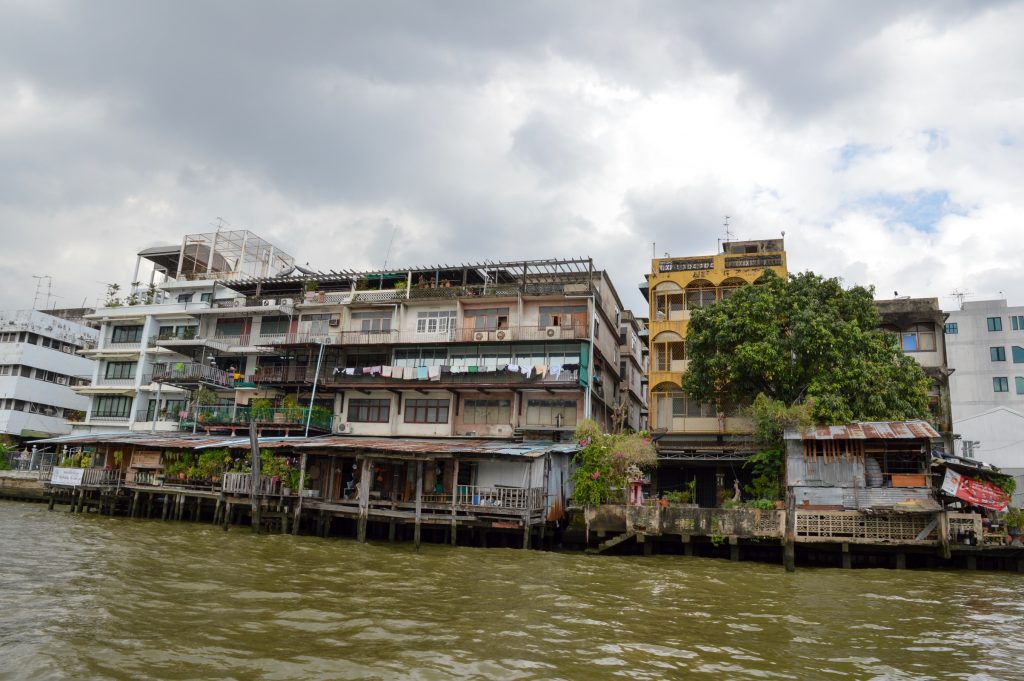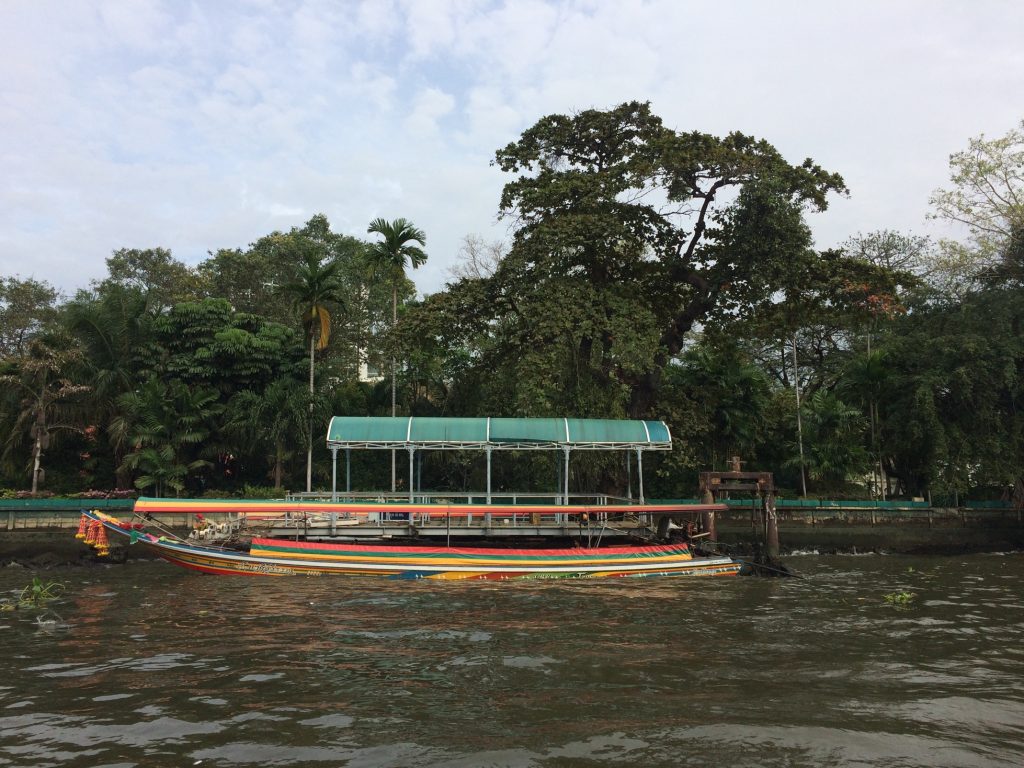 Be careful crossing the street. It's not as crazy as Hanoi, but often there are no street lights and you just have to make a run for it. Sometimes the locals on motorbikes will actually tell you when to go. And by all means, if you see a street-crossing flag, use it!
Thanks, Lee, for snapping this gem!
Eats and Drinks
First things first, go to Pier 21 at Terminal 21 and try everything for cheap.
Eathai is like an upscale version of Pier 21 in the Central Embassy shopping center. They also have street food options, but the good stuff is at their small restaurant-like stalls. We had green curry with three types of Thai eggplant and coconut milk and galangal soup which were both quite tasty.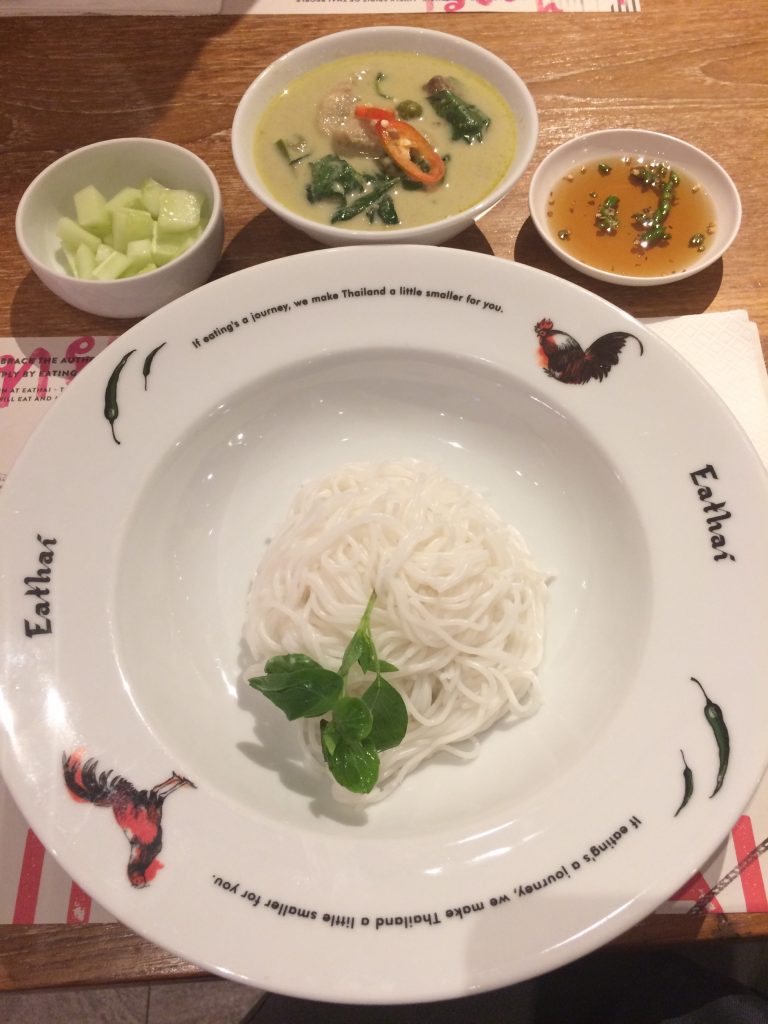 We had a really nice meal at Soul Food Mahanakorn in the Thonglor neighborhood. The food was delicious and interesting and we ate new things which is always good. We had our first taste of Khao Soi here, which we would end up eating almost every day in Chiang Mai. Reservations are required because it's a small spot. Also note, it seemed like Thonglor had a bunch of good restaurants and bars and would be a good neighborhood to hang out in.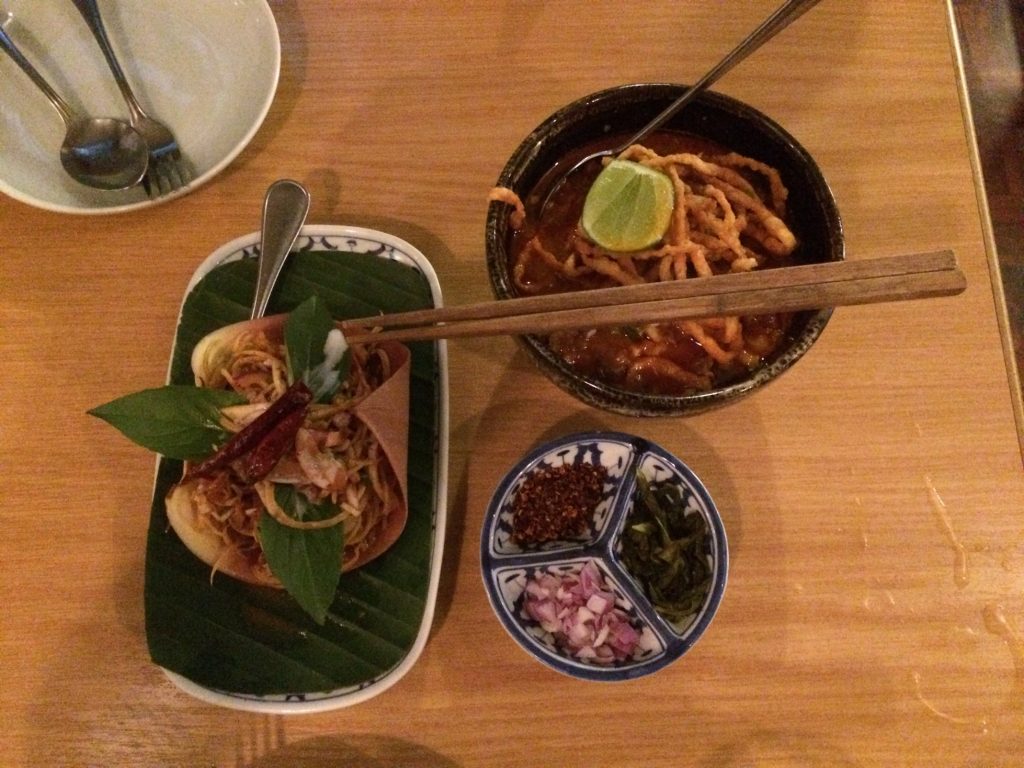 If you like Pad Thai, we highly recommend this super fun spot Thip Samai for dinner. They serve their Pad Thai wrapped in a thin layer of egg. You'll have to wait on line but it moves fast and it's worth it. Note, Lee was the master photographer at this joint.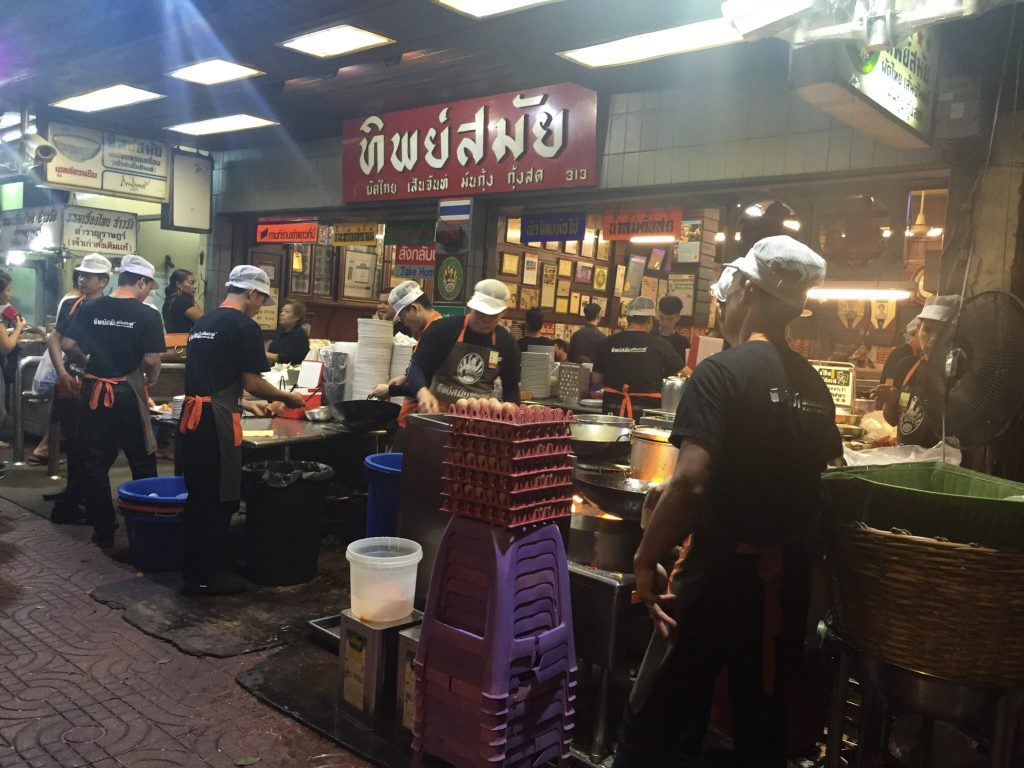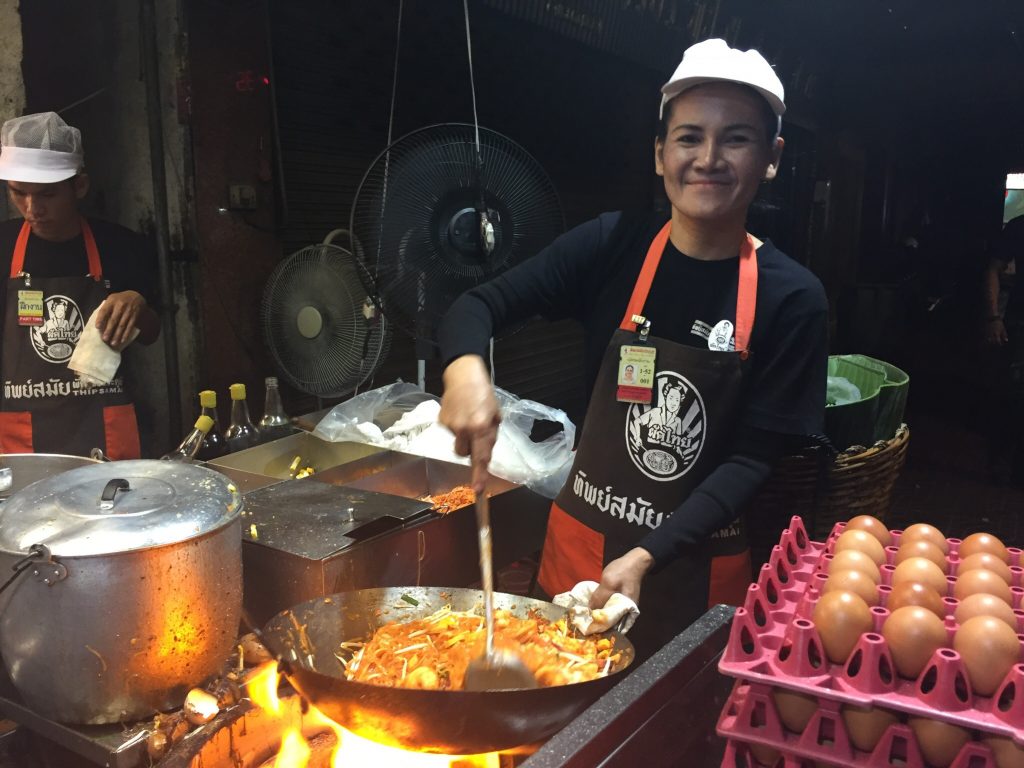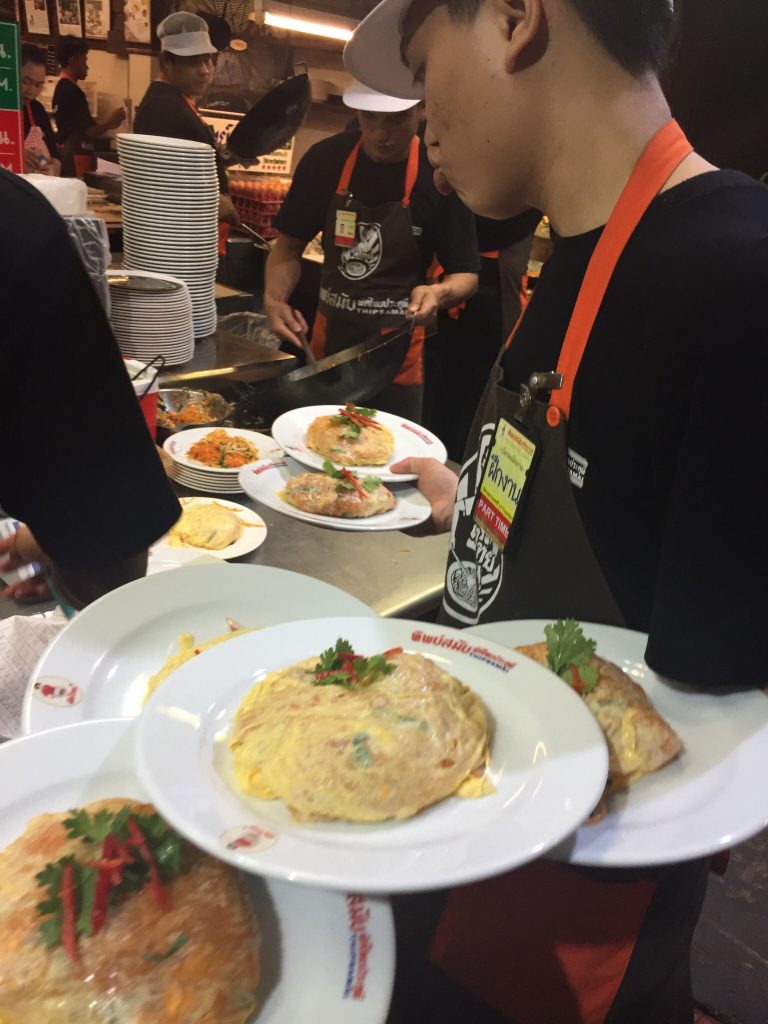 Go to Chinatown and eat a whole bunch of random street food and wash it all down with big beers (Chang, Leo, Singha, Tiger, whatever). We enjoyed Pad Thai (when do we not?), dumplings, fried chicken, weird mini-hamburger buns with sweet fillings (they were the hottest food in the area), and mango with sticky rice.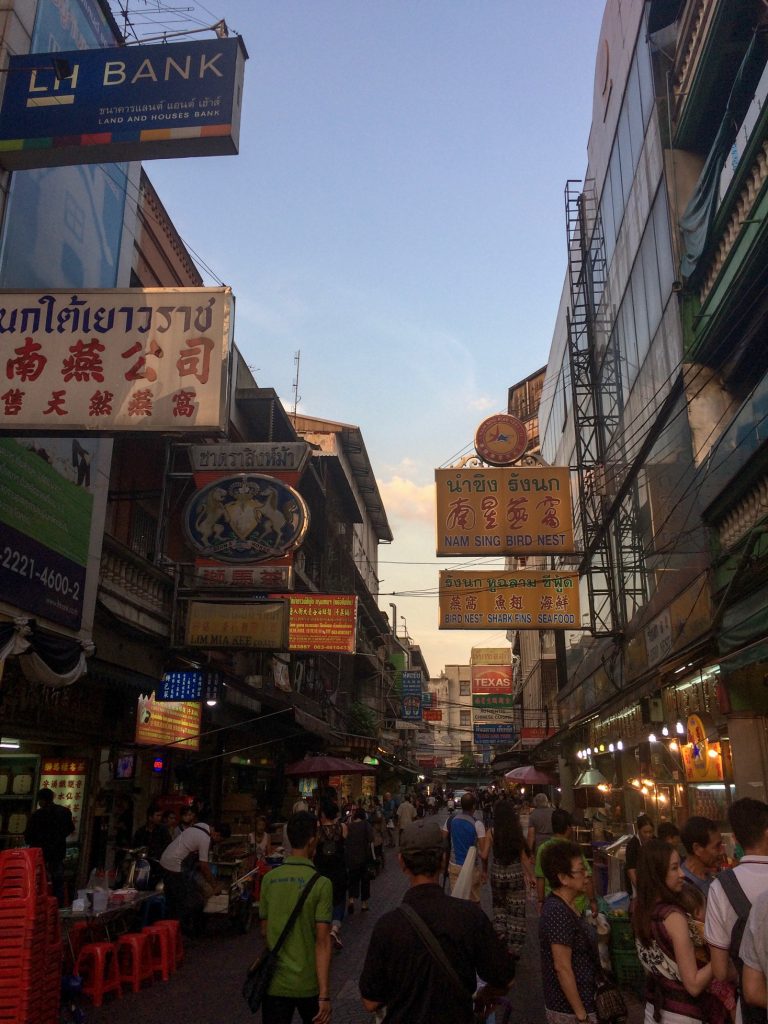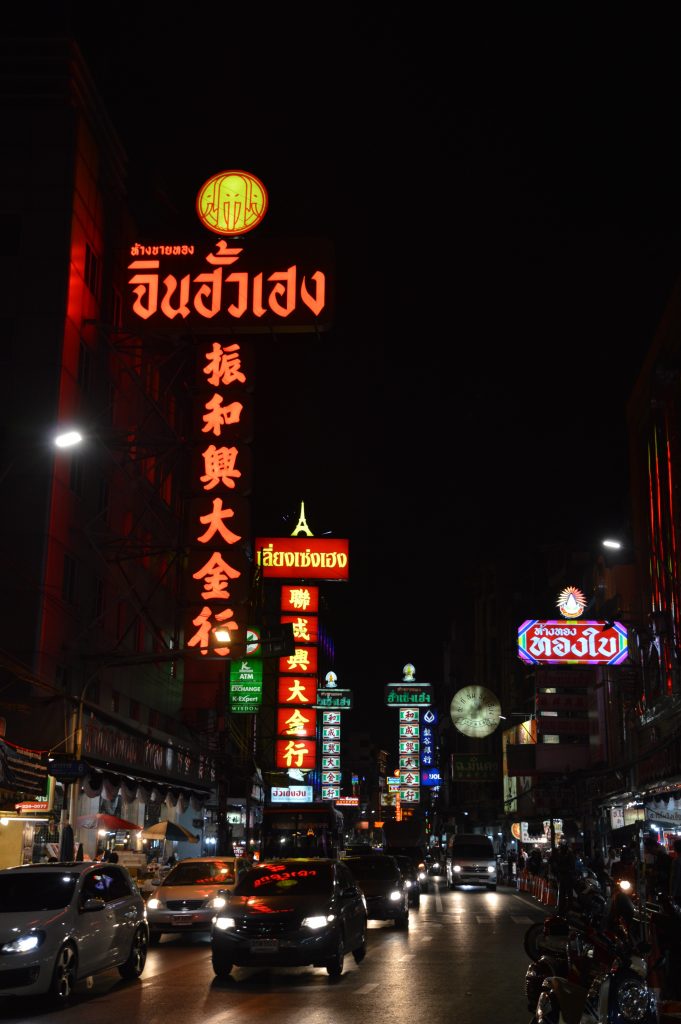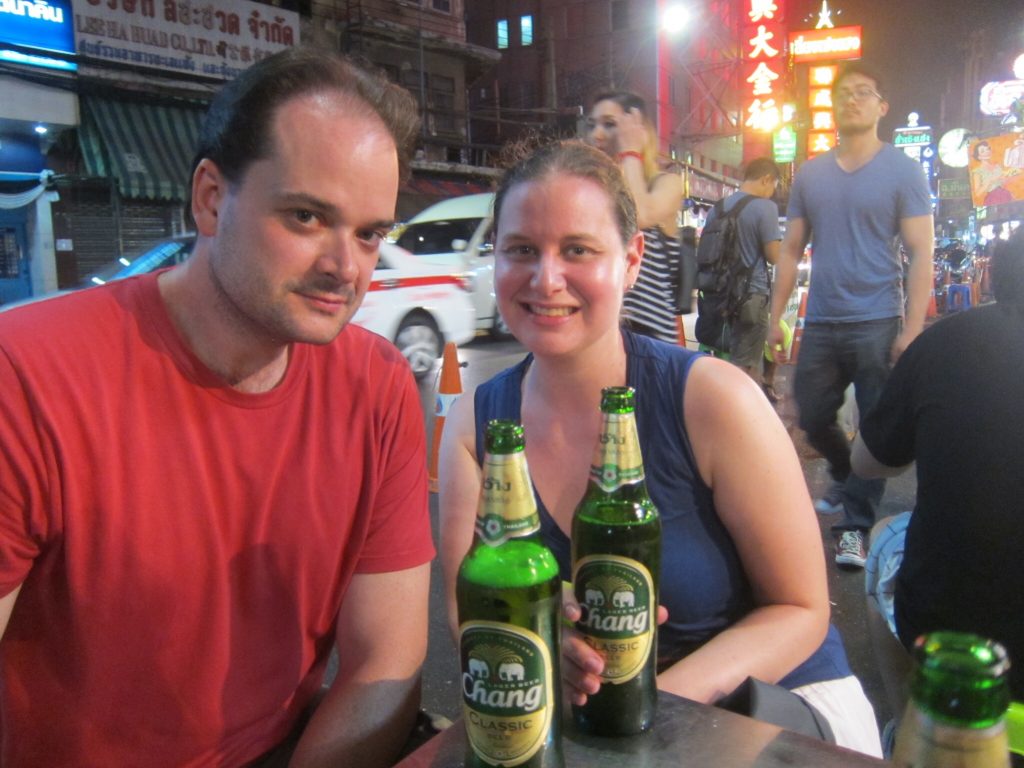 If you don't know by now how much we like ramen, you haven't been reading very closely. Fortuitously, one of our hotels was right next to a Uma Uma and amazingly, it was delicious (with black garlic oil and everything!).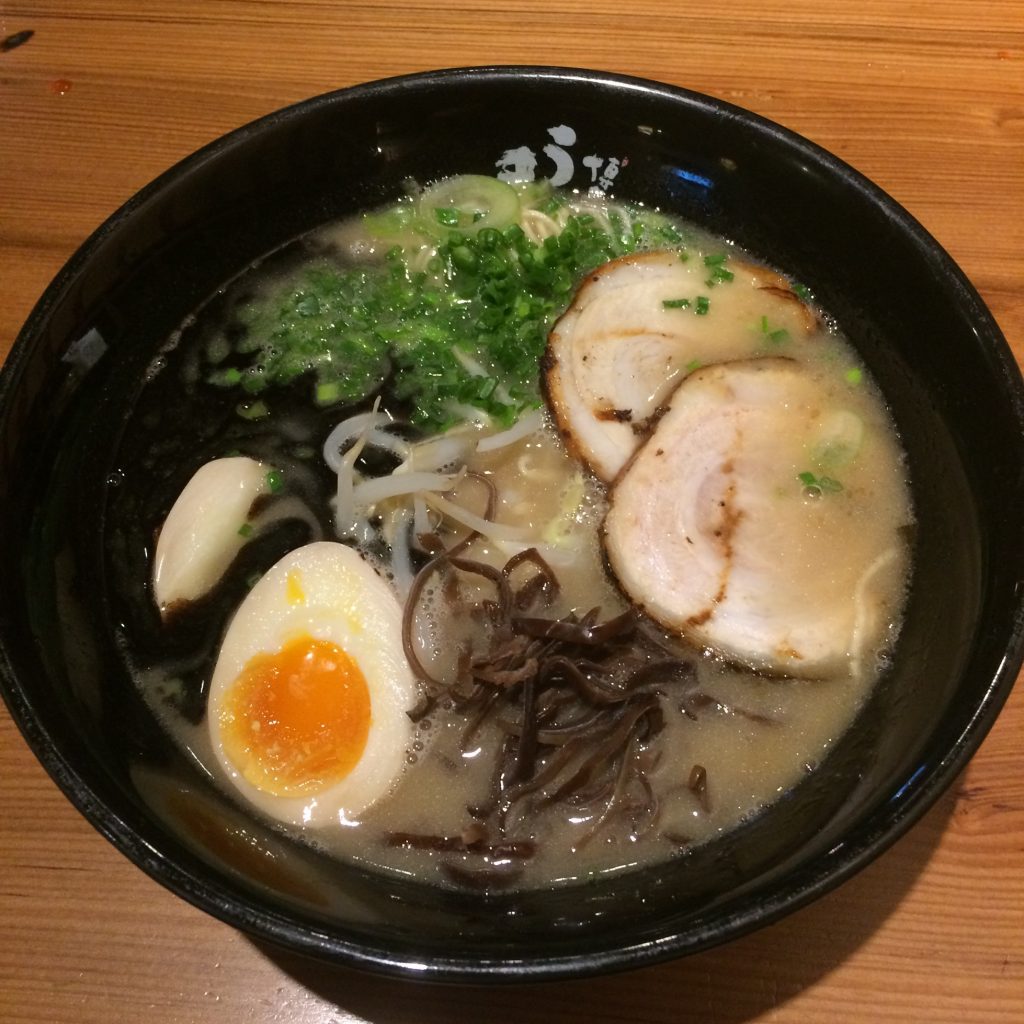 We thoroughly enjoyed the class we took at Silom Thai Cooking School. We learned how to make spring rolls, papaya salad, Pad Thai, massamam curry paste and curry, and mango with sticky rice.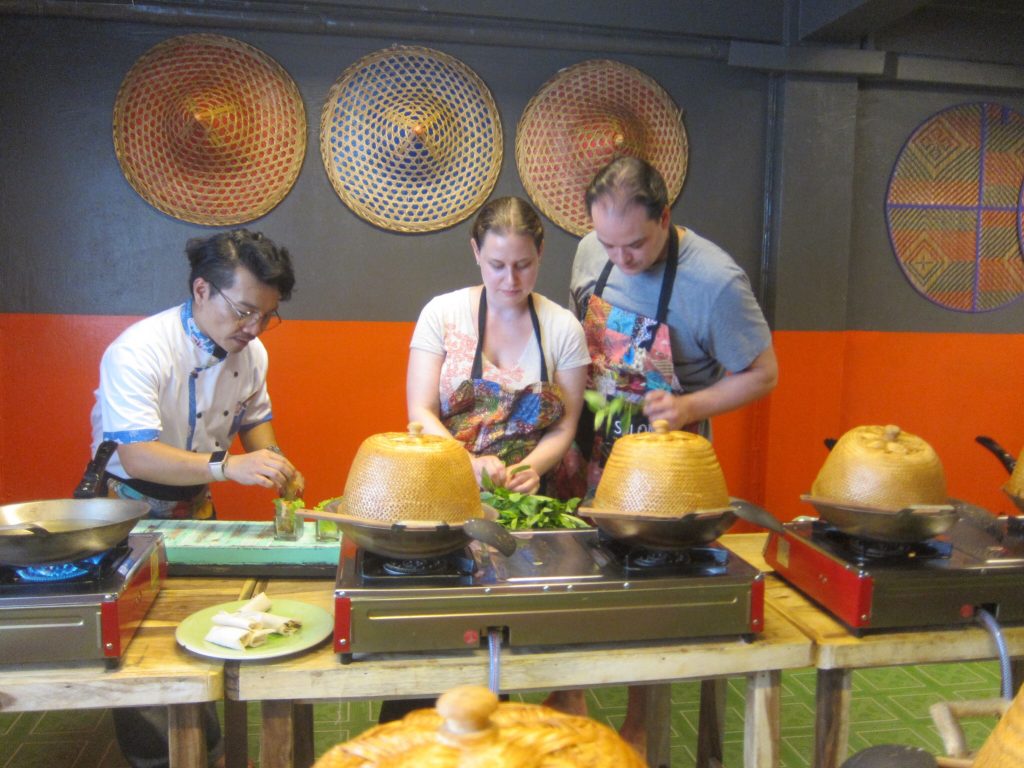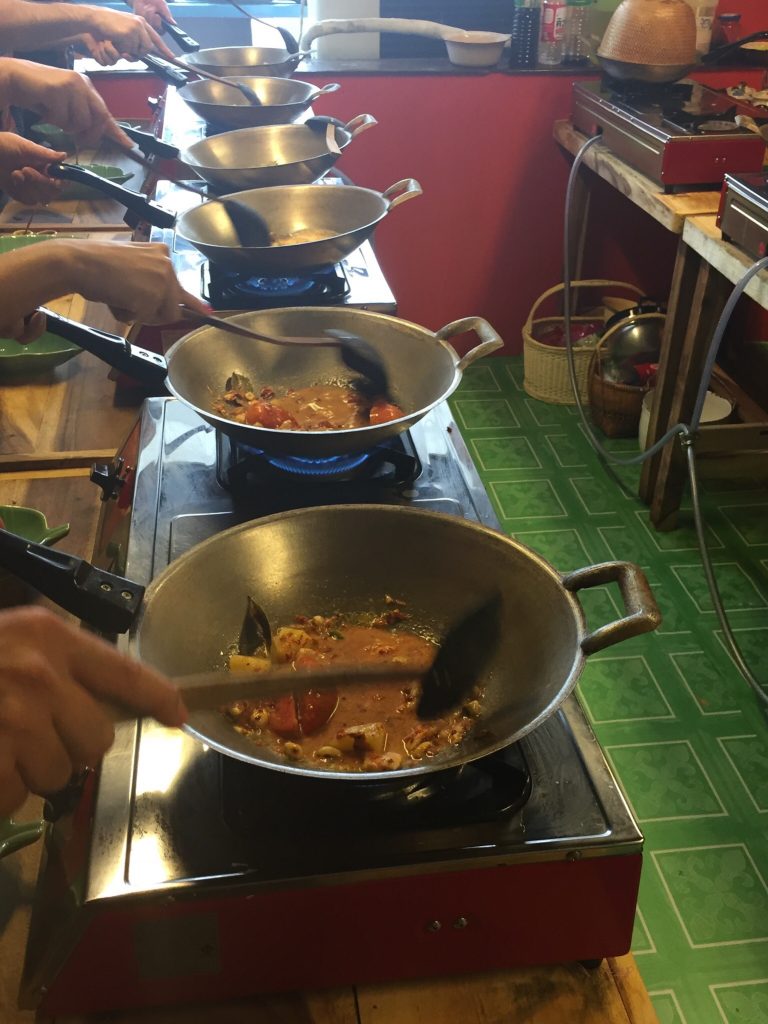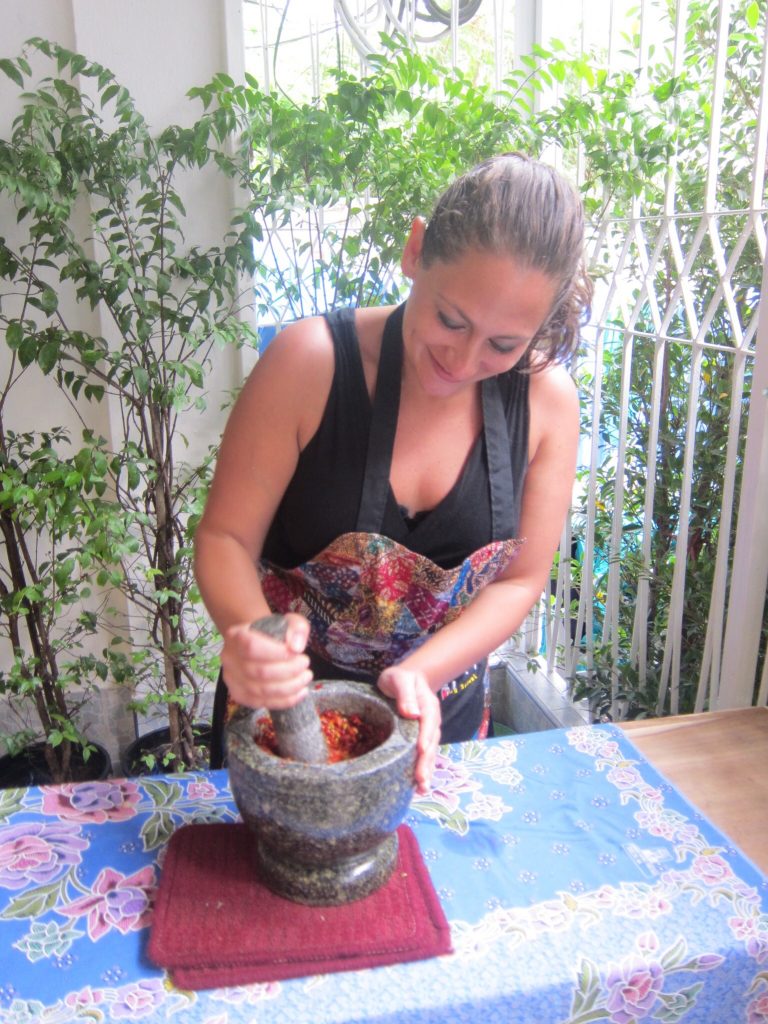 Big huge thanks again to Lee for flying all the way across the world to join us on this adventure of ours!