Last Updated on 8th January 2019 by Sarah and Justin
Luang Prabang is a charming and relaxing town in Laos. It's home to many monks who walk around the streets which gives it an even more peaceful vibe. It's definitely touristy – and we're sure there are a lot of other less popular, just as wonderful places to visit in Laos – but for Southeast Asia travel beginners like us, it was perfect.
A town between two rivers
The town of Luang Prabang is located at the meeting point of the Mekong and Nam Khan rivers. That means it's got stunning views from all points.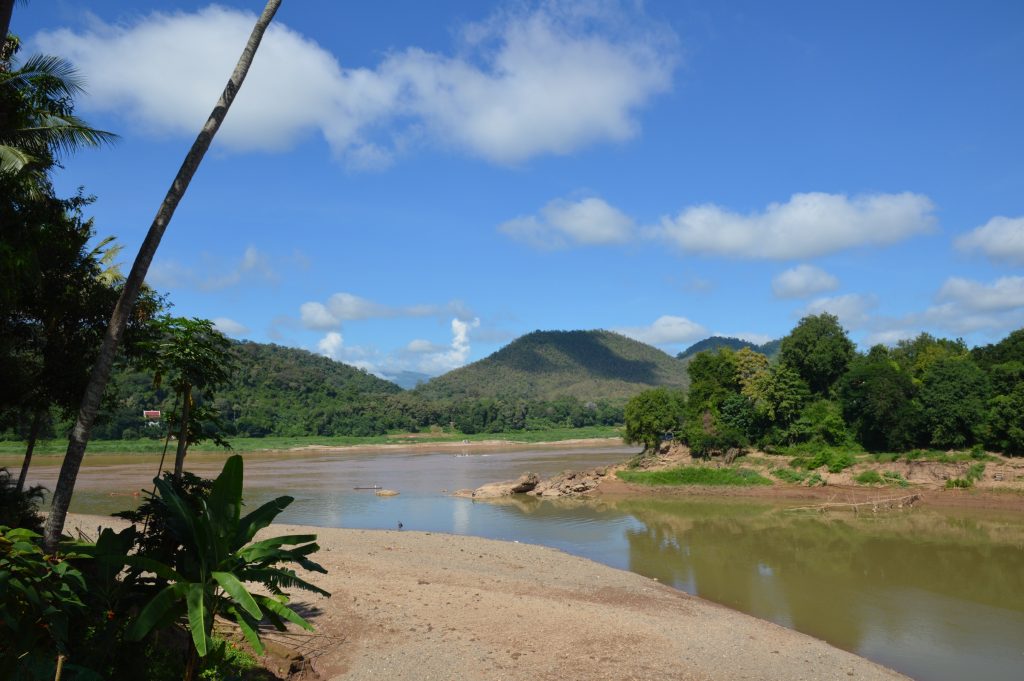 Where the Nam Khan meets the Mekong.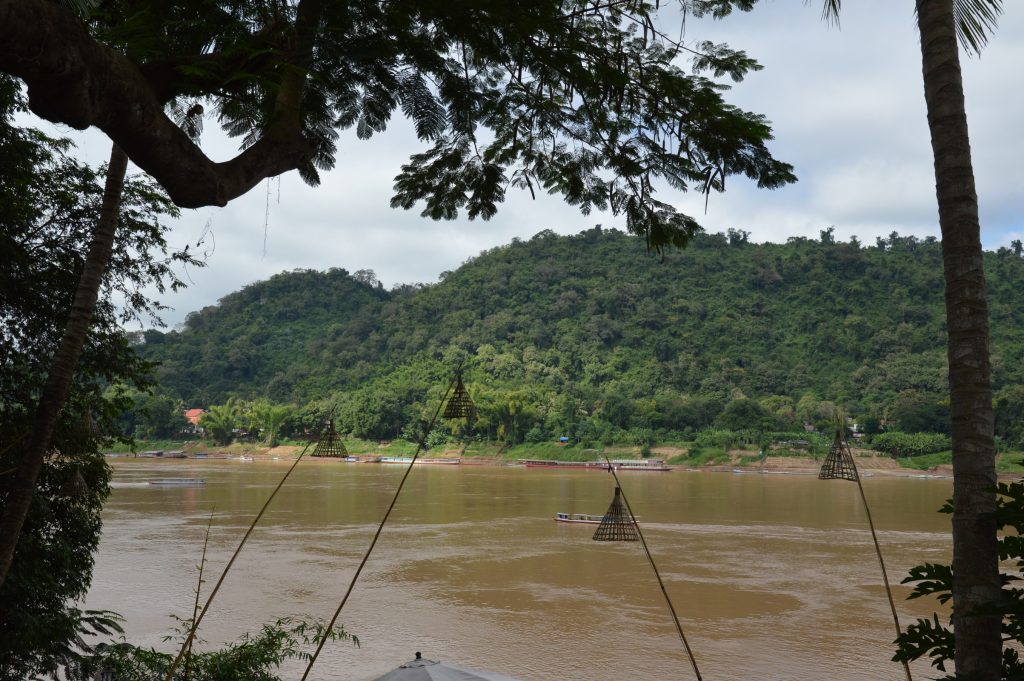 View of the Mekong River. 
While the main tourist center is located between the two rivers, we stayed on the other side of the Nam Khan.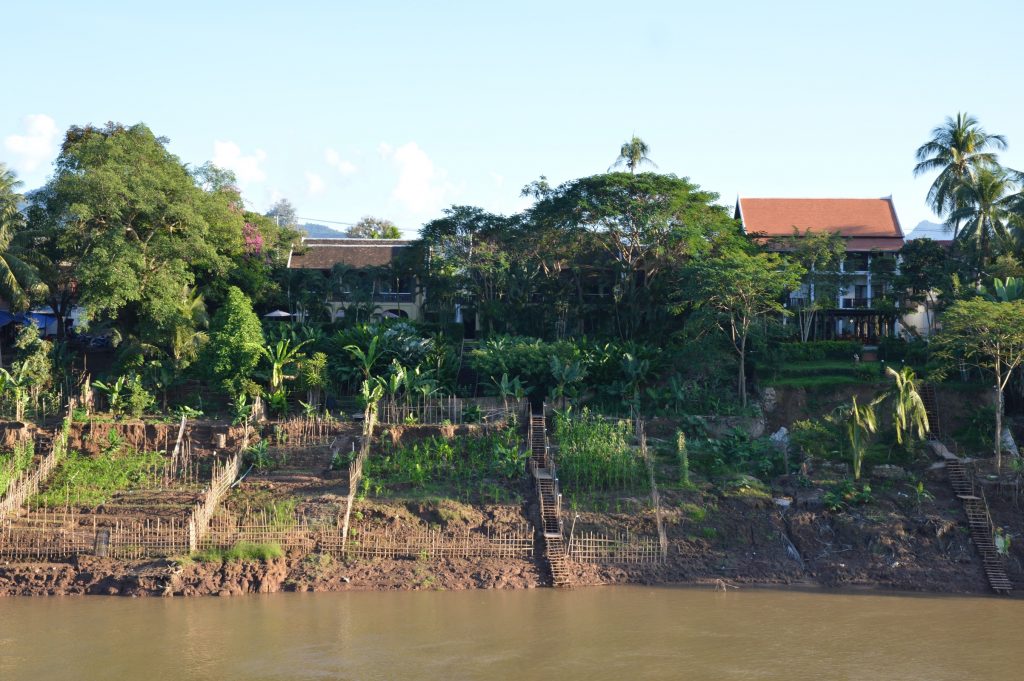 Here, it's quieter and less touristy (and accomodations are much cheaper). We stayed in the lovely (and well-air conditioned) Phonepraseuth Guesthouse just steps away from the river crossing.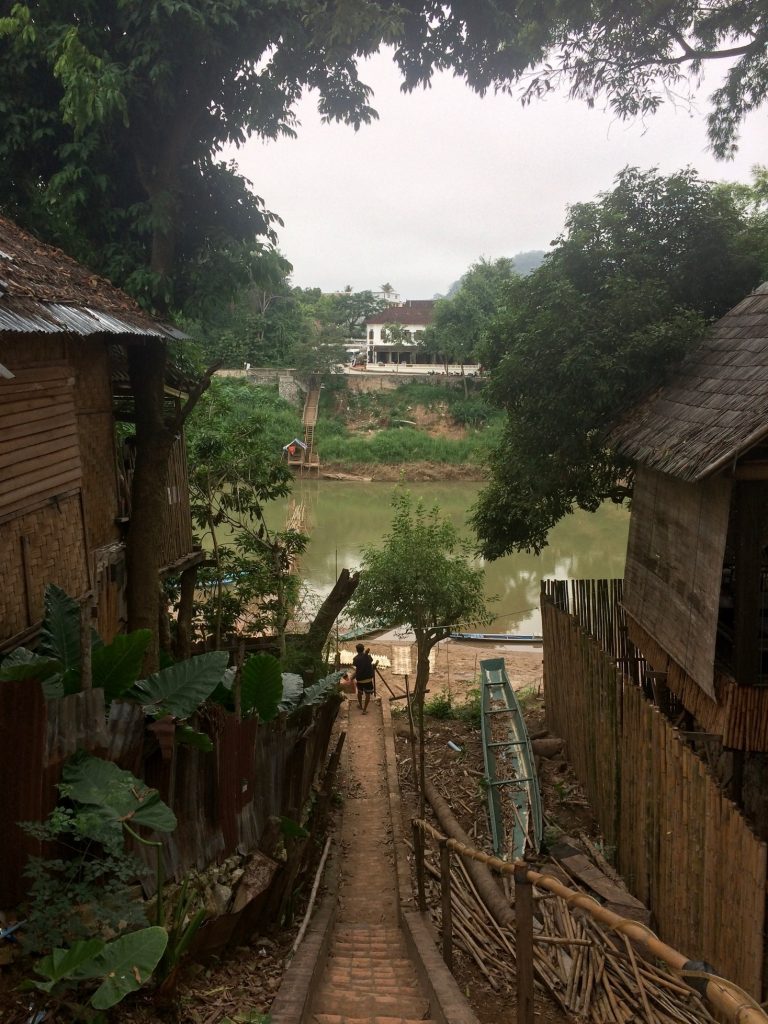 We were traveling during low tide, which led us to believe that there would be a bamboo bridge to cross the Nam Khan. But as it happens, tides were unseasonably high when we were there. The bridge had been built, but was washed away before we arrived and was again under construction.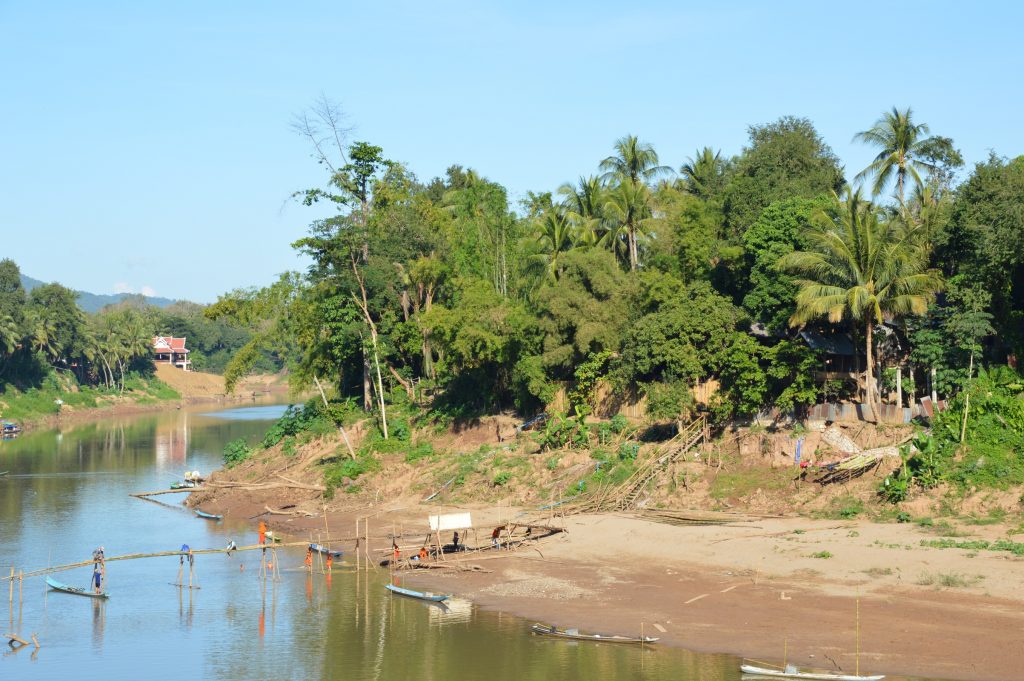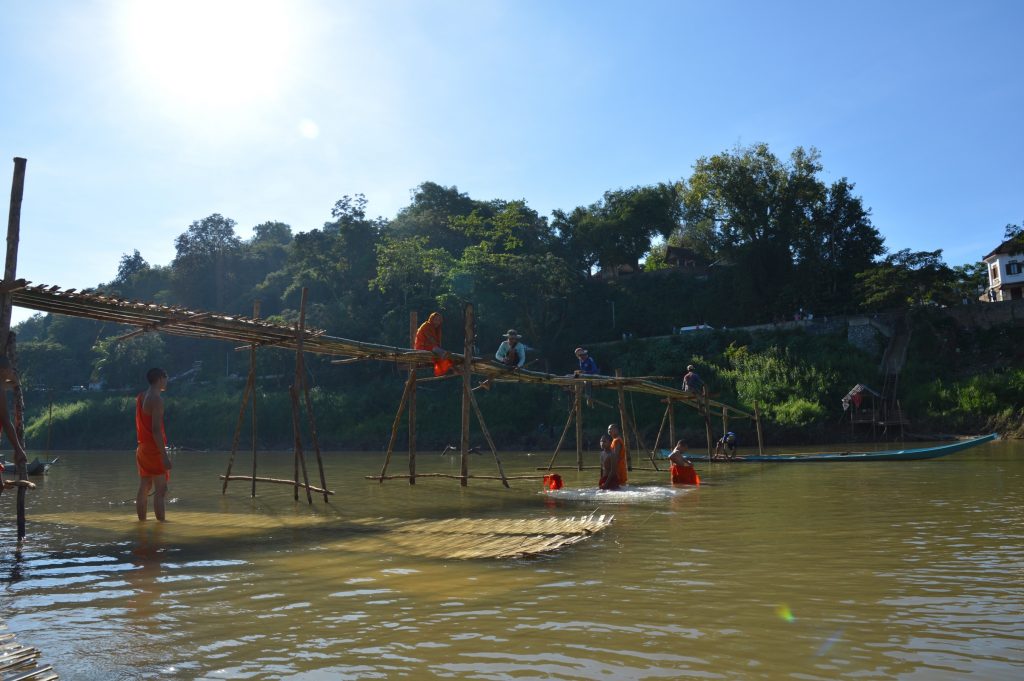 Luckily our guesthouse had free bikes we could use to travel into town and there was a boat to take us across the river. We're actually glad we were forced to use alternative means for a few days. Our bike rides around the town were our favorite parts of our time there.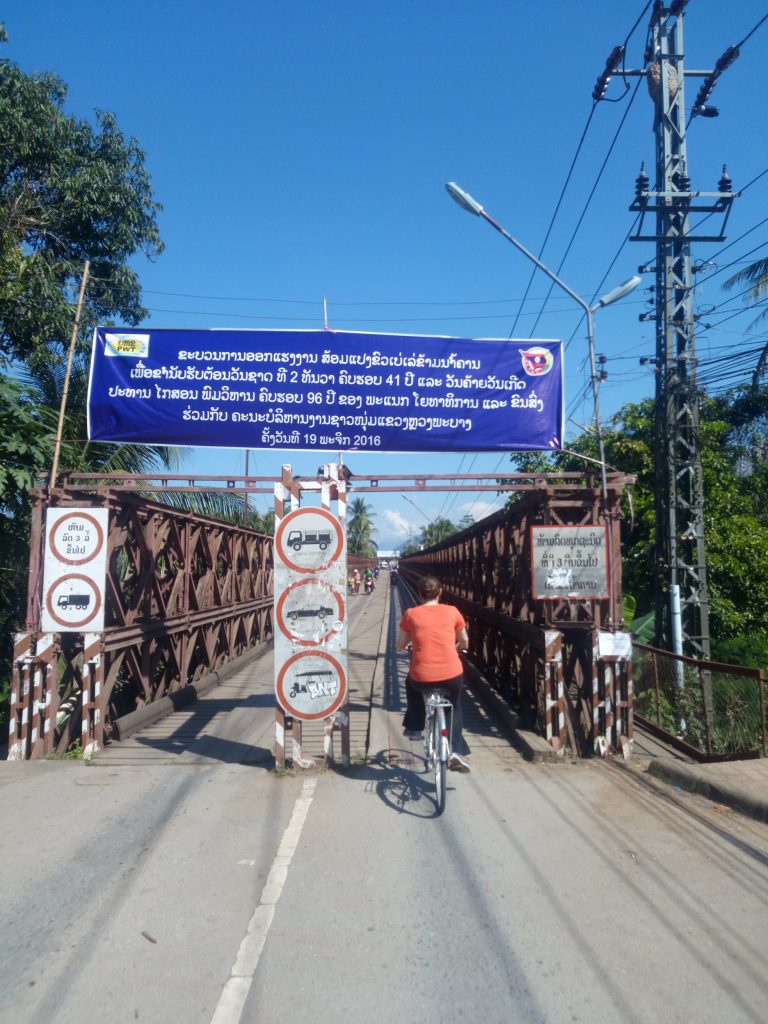 The first day we were treated to sunset over the Nam Khan from a bridge we never would have found otherwise.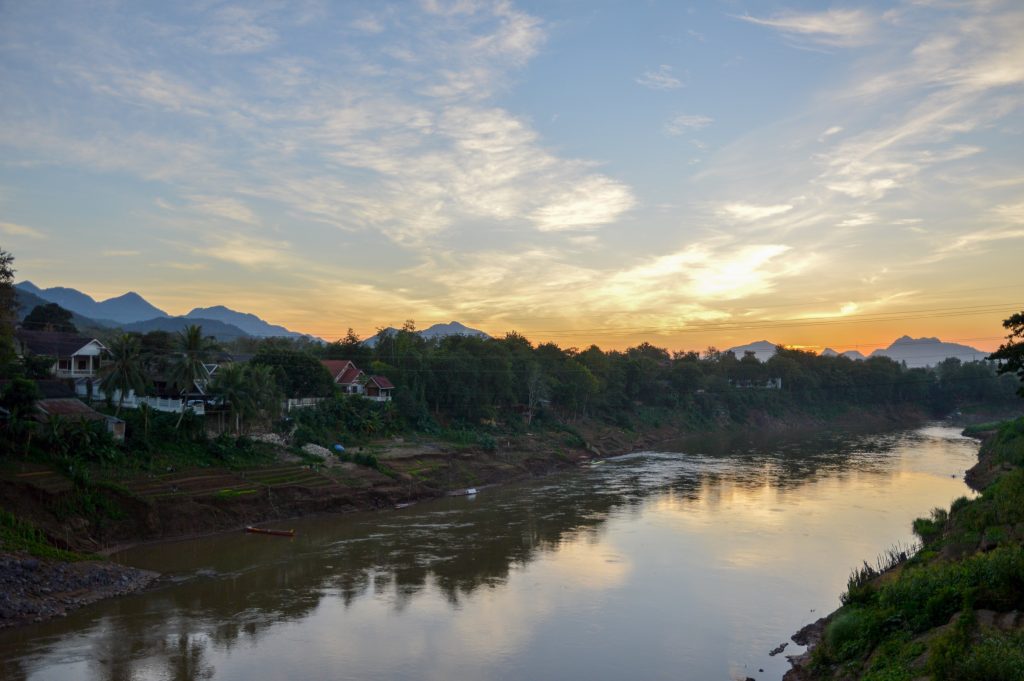 And the boat trips were pretty memorable (if not somewhat terrifying) as well.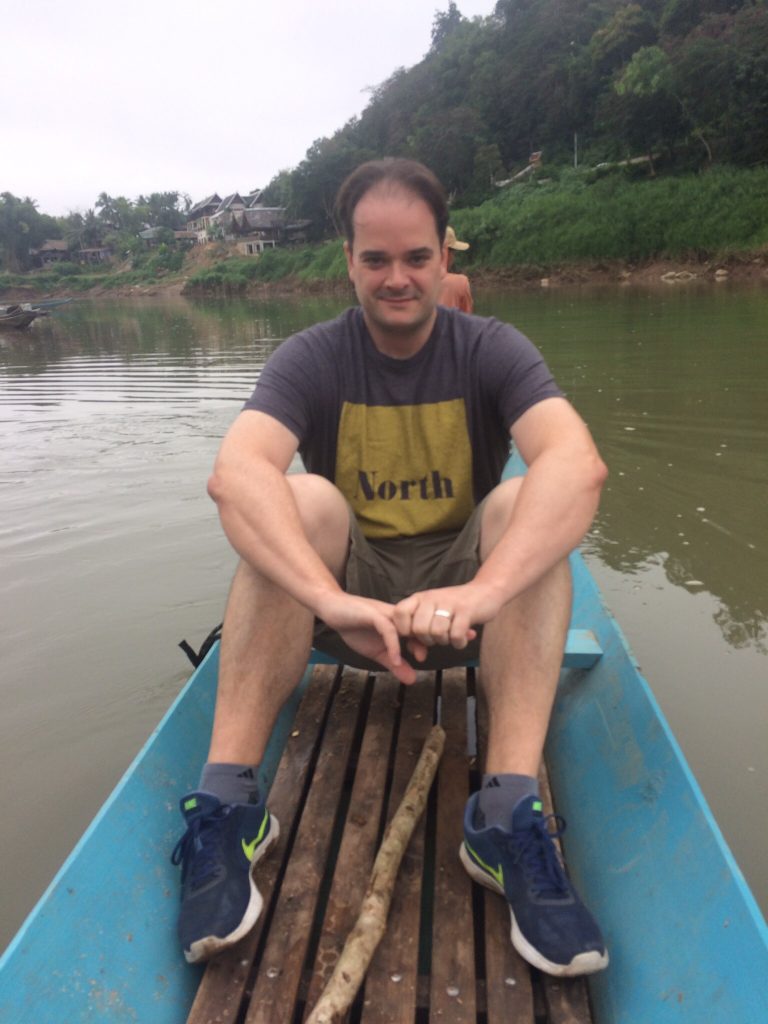 The monks are a wee bit more skilled at crossing the river by boat than we are.
Of course, we must admit we were happy when the bridge was completed a few days into our stay.

Temples
There are a lot of Buddhist temples in Luang Prabang. Many of them are located along the main street and it's easy to visit them all in one day on foot. They're all pretty spectacular looking.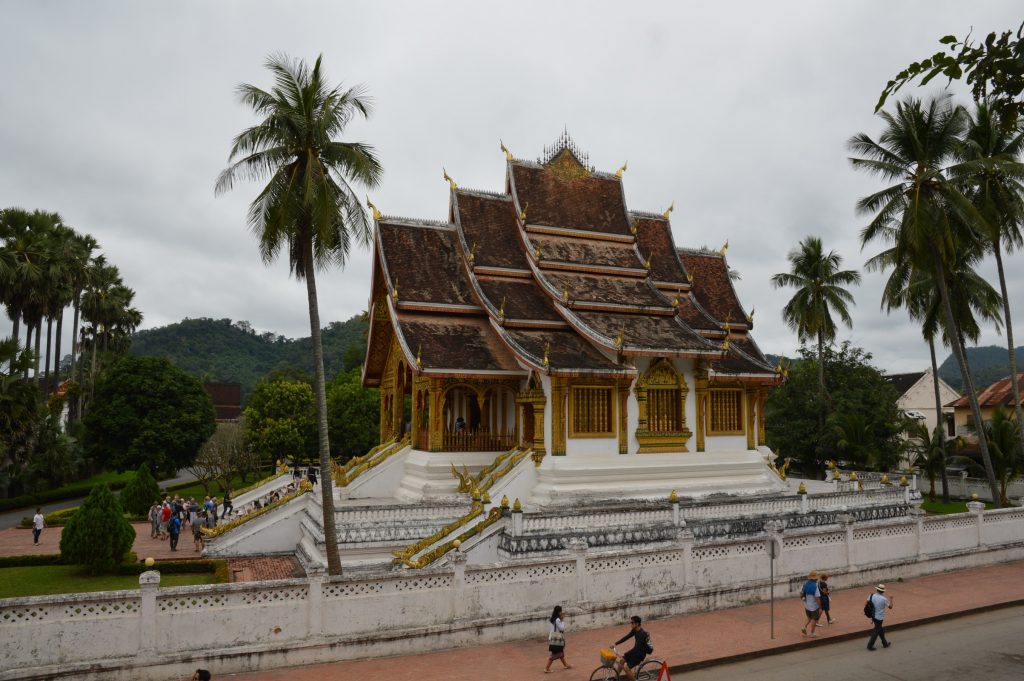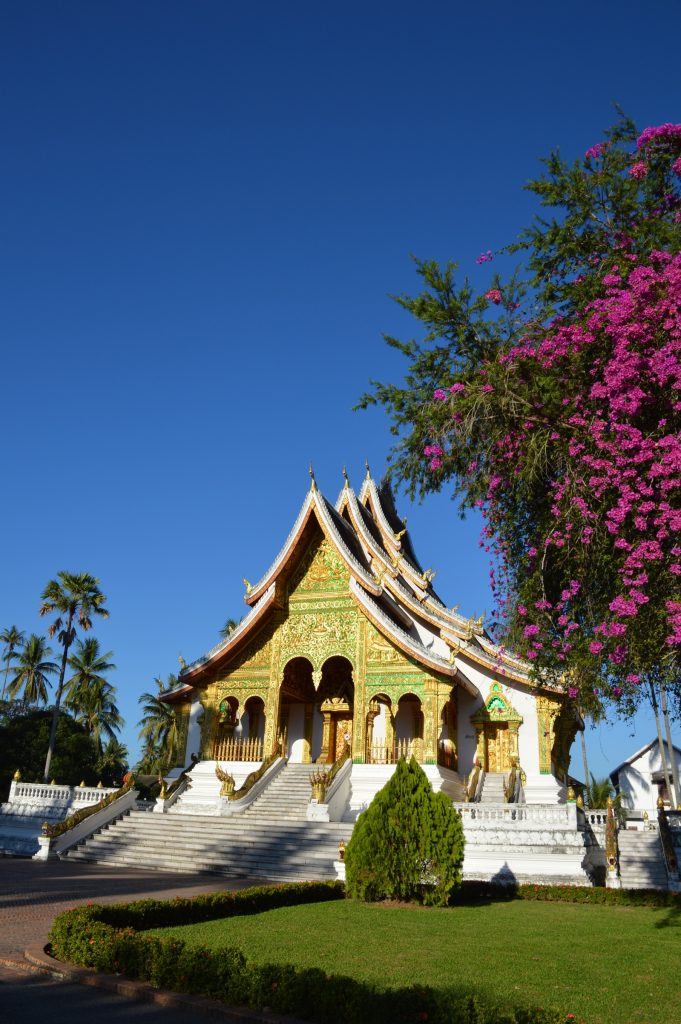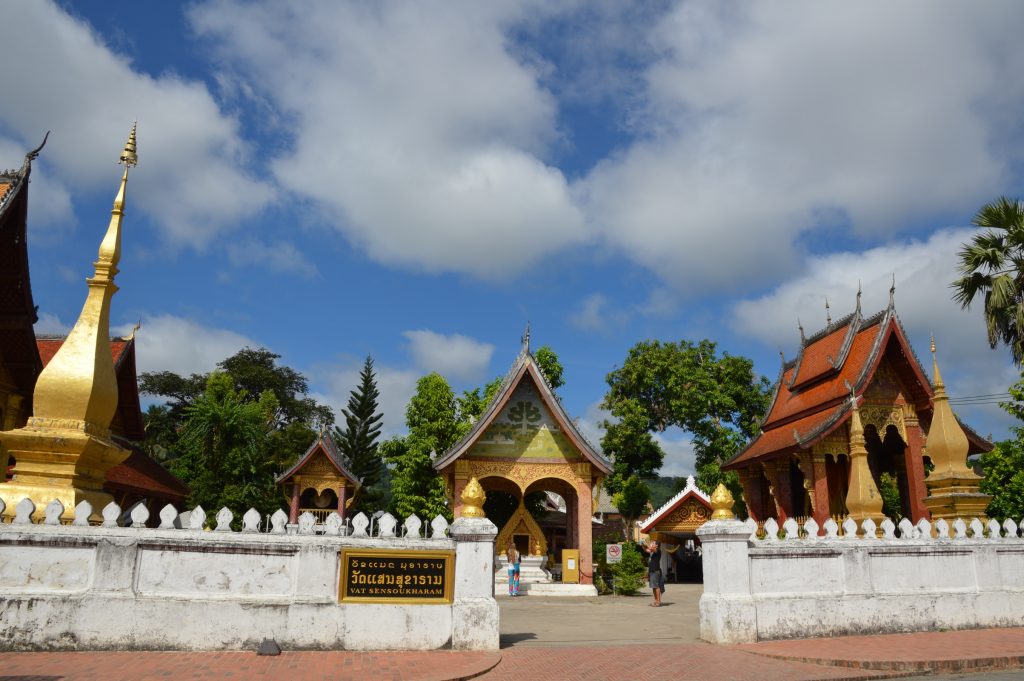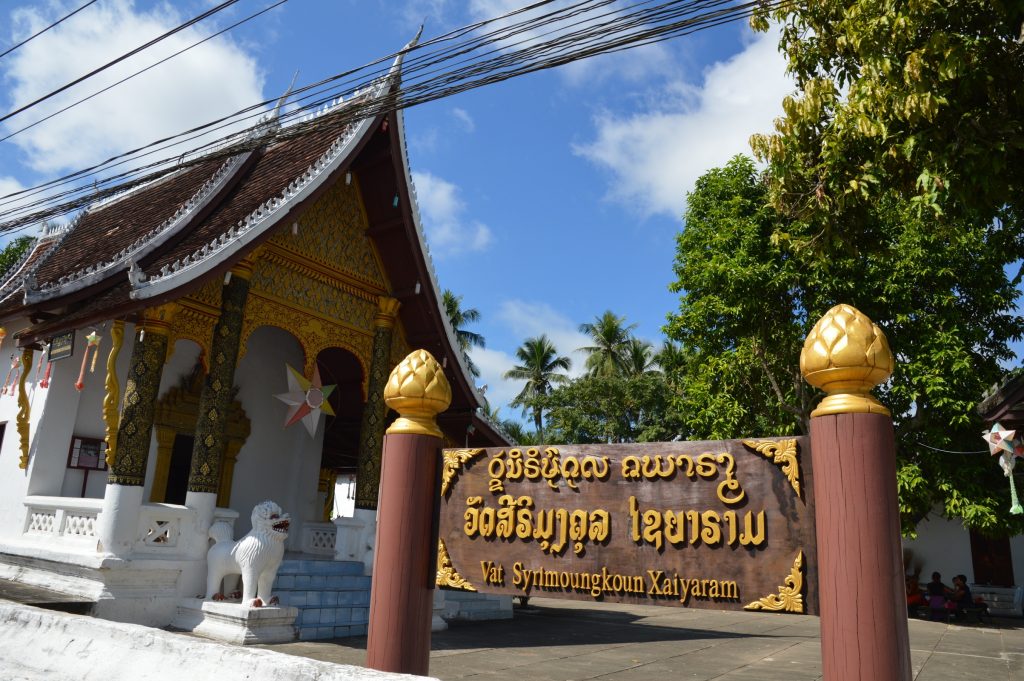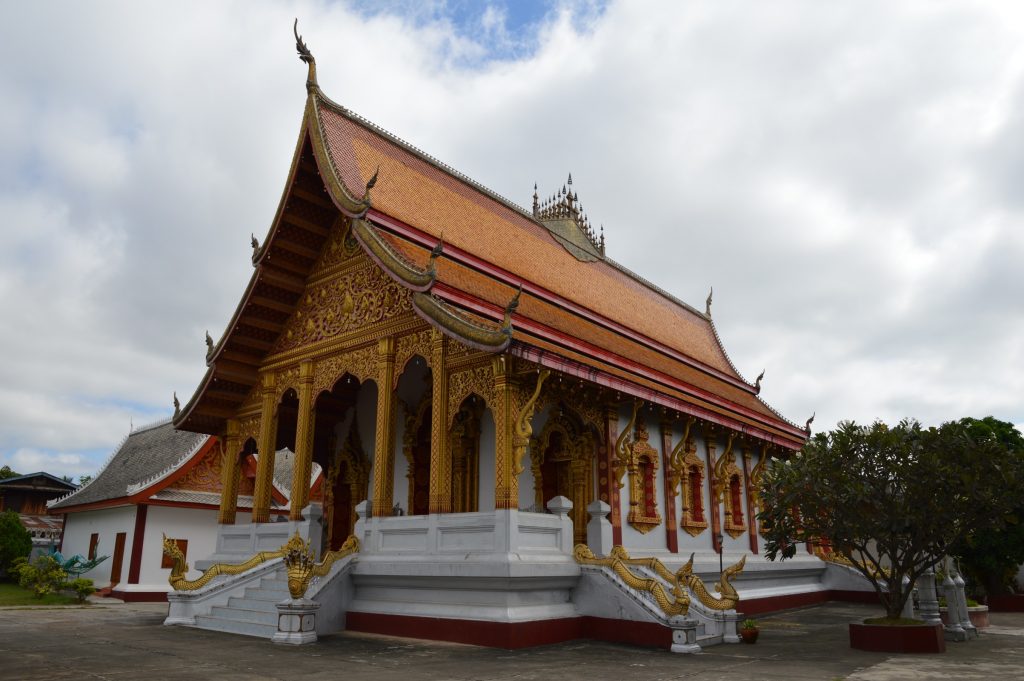 Mt. Phousi
Mt. Phousi is a small mountain in the center of town with a whole lot of stairs leading up to the top. It's the most popular sunset viewing spot in Luang Prabang, so Sarah strapped on the oxygen and we made the climb. We took the route on the Southern side after reading it was better than the way from the main street in the city. There's a temple mid-way up that has quite a few impressive Buddha statues.

The views of Luang Prabang along the way were gorgeous – especially at the hour we went.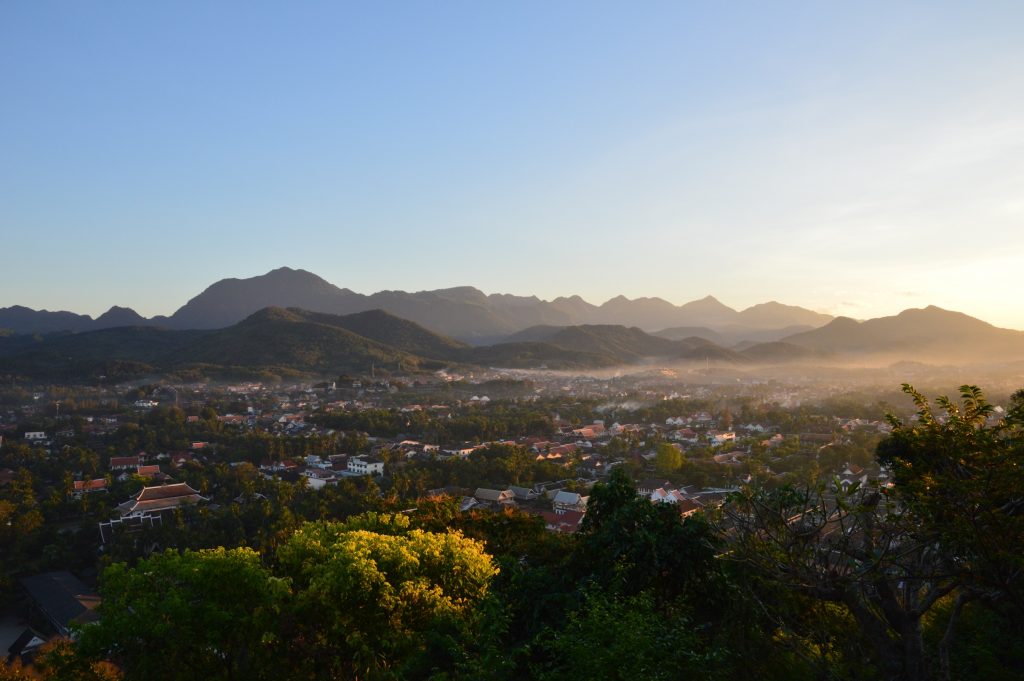 But the crowd at the top was absurd. We tried to get a few pictures of the sun setting before we got frustrated and made our way down.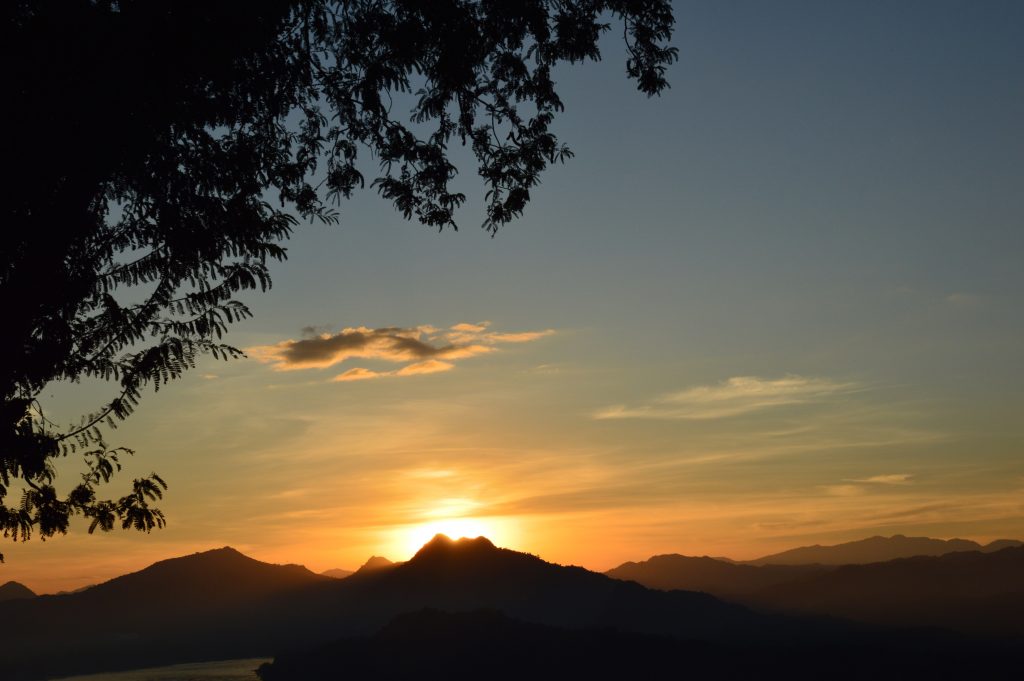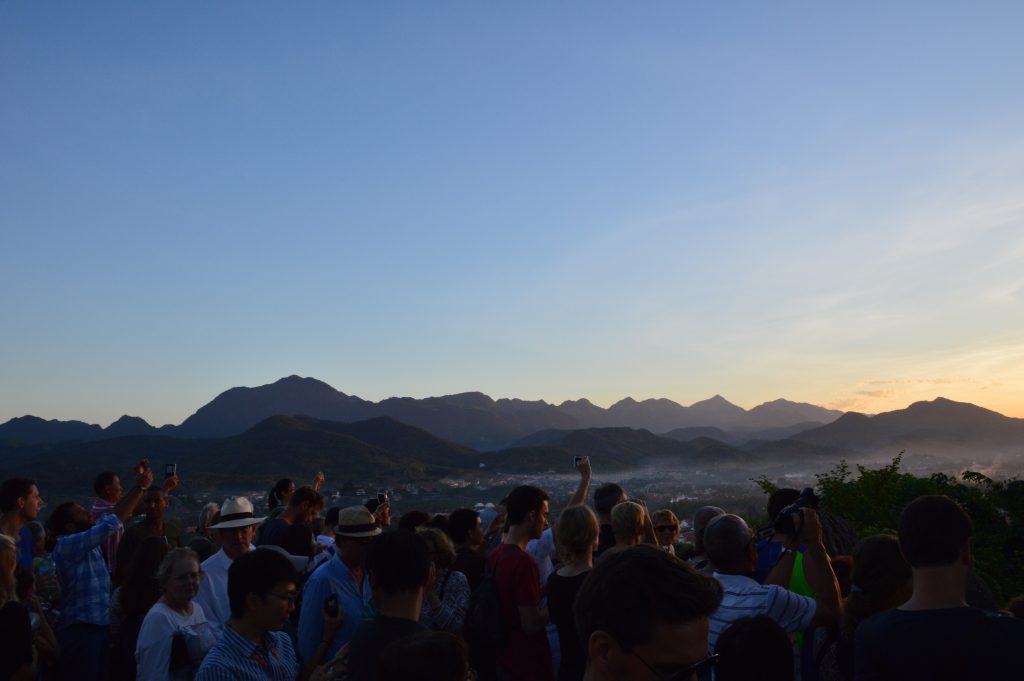 We should have listened to the advice we'd gotten from some fellow travelers and watched sunset from the banks of the Mekong River instead. So that's what we did the next evening. Stunning. And much easier to enjoy the view with a Beer Lao in hand.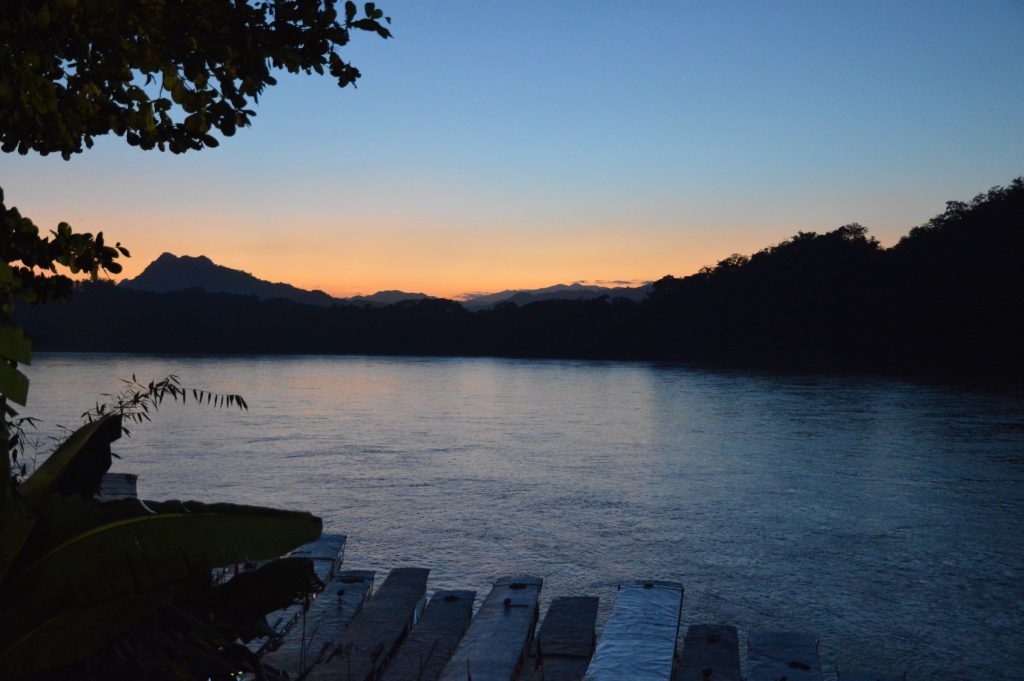 Night Market
One of the most popular tourist attractions in town is the Night Market. Having just come from Hanoi, we thought we might be worn out from shopping and haggling. We were mistaken. We had a really nice time walking up and down the street looking at all the items for sale and making our selections. The vendors are not so aggressive either.

Meeting monks
A popular "thing to do" in Luang Prabang is wake up at the crack of dawn and participate in or observe the alms giving ceremony. Every morning at sunrise, monks walk through the town collecting rice (their one meal of the day). Sadly, this has become a huge tourist attraction and as with many tourist attractions, people are not on nearly their best behavior during it. For the monks and the people of Luang Prabang it's a solemn, religious undertaking. Tourist participation in the ceremony is controversial and at one point the monks even tried to stop the practice. We decided not to participate. Partly because of the early rise, partly because of the touristic hell it would be, and partly because we didn't feel like it was really necessary given how many monks we'd already seen. They make up a huge part of the community and are kinda hard to miss in their bright orange robes.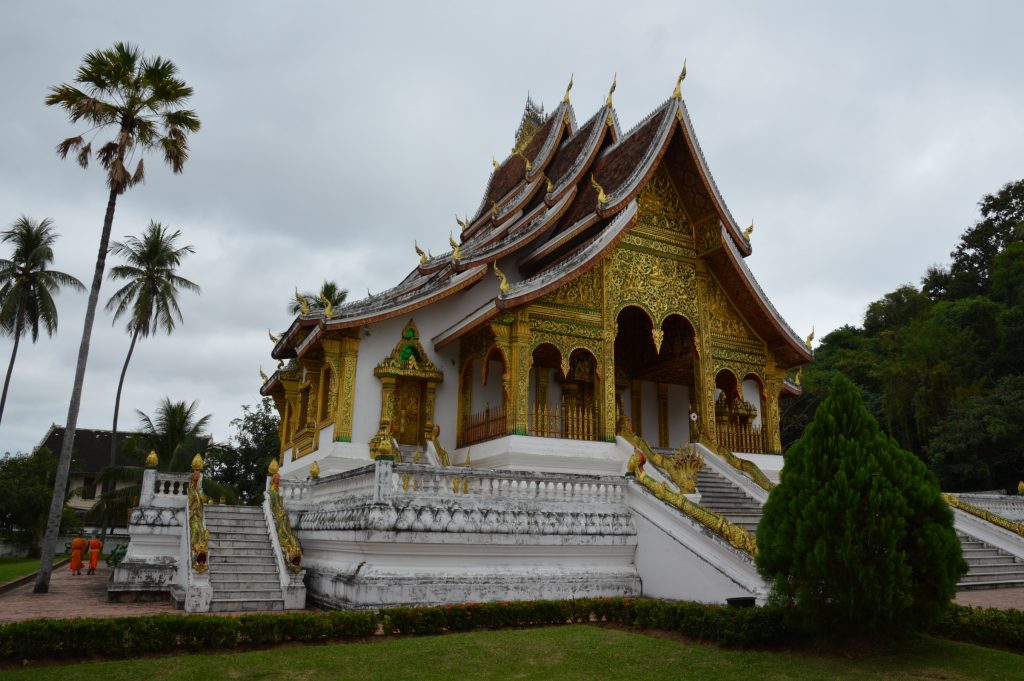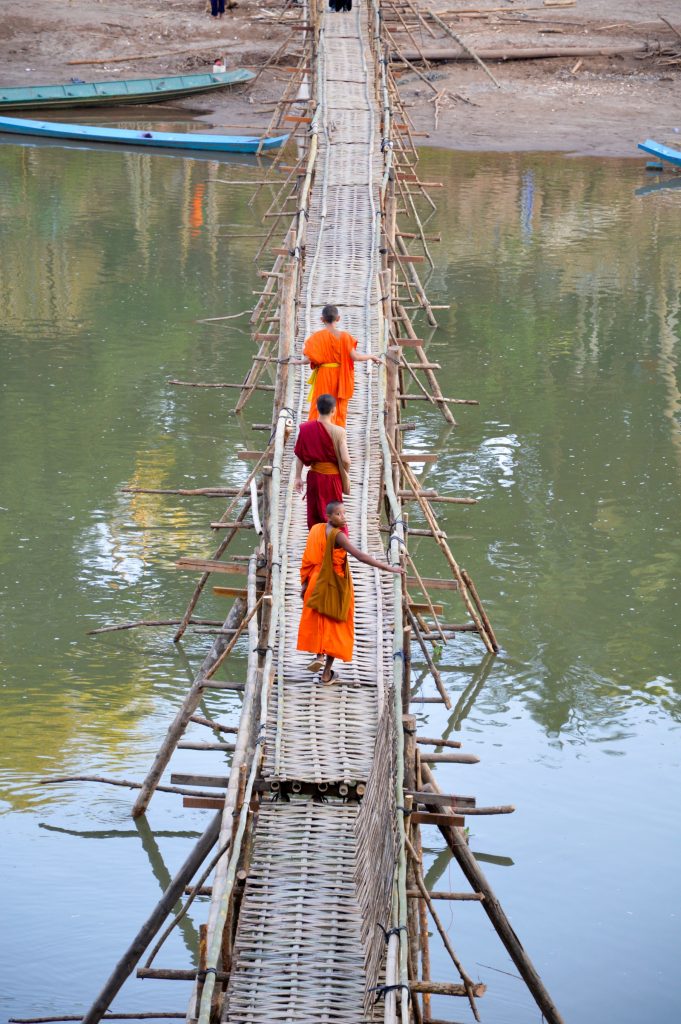 We also actually met novice monks. One afternoon, we volunteered at Big Brother Mouse, an organization that aims to improve literacy and access to books in Laos. They also hold twice-daily meet-ups where students can practice their English with tourists. While there, we each had the opportunity to speak with novice monks. While it was nice talking to everyone we met, it was especially interesting to learn what a novice monk's daily life is like. We really enjoyed our time and hope it was helpful and meaningful to those we met as well. We highly encourage anyone visiting Luang Prabang who has an hour or two to spare to volunteer.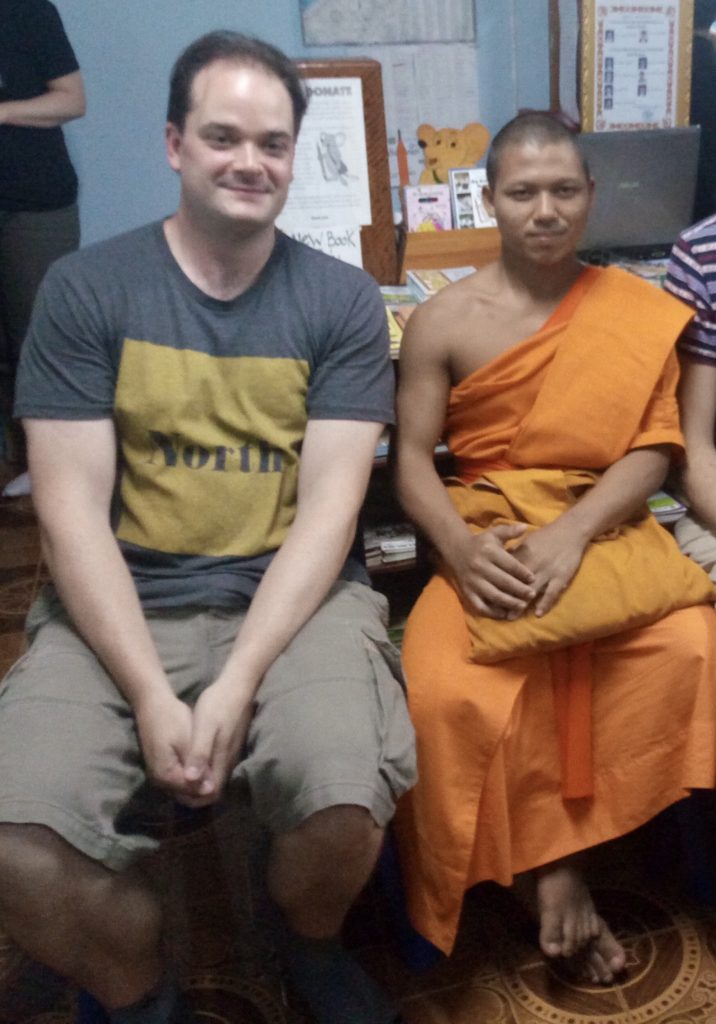 Too many bombies
During the second half of the Vietnam War, the United States dropped millions of bombs on Laos. Many of them were cluster bombs that included bombies that didn't detonate. They are still all over the country. These small round objects look quite like balls and many Laotian children have been killed or maimed picking them up. We learned about all of this at the UXO (unexploded ordnance) Lao Visitor Centre. The Lao National Unexploded Ordnance Programme works to clear the country of UXO and to educate villagers about their dangers. We learned a lot and were moved by our visit and would highly recommend it.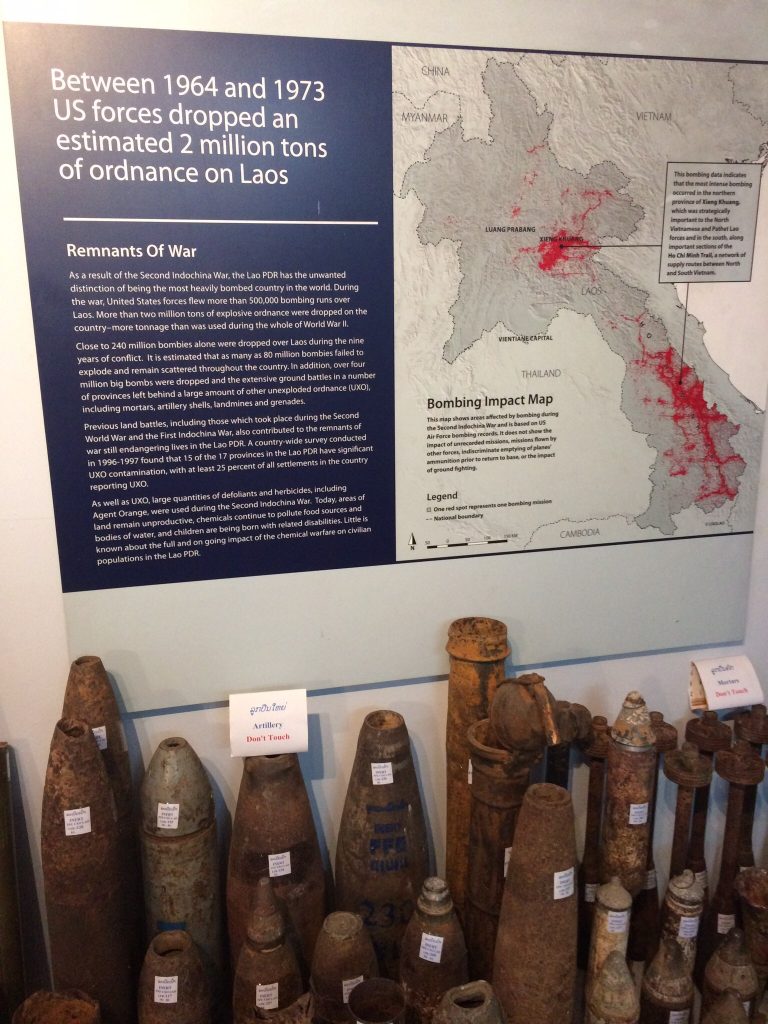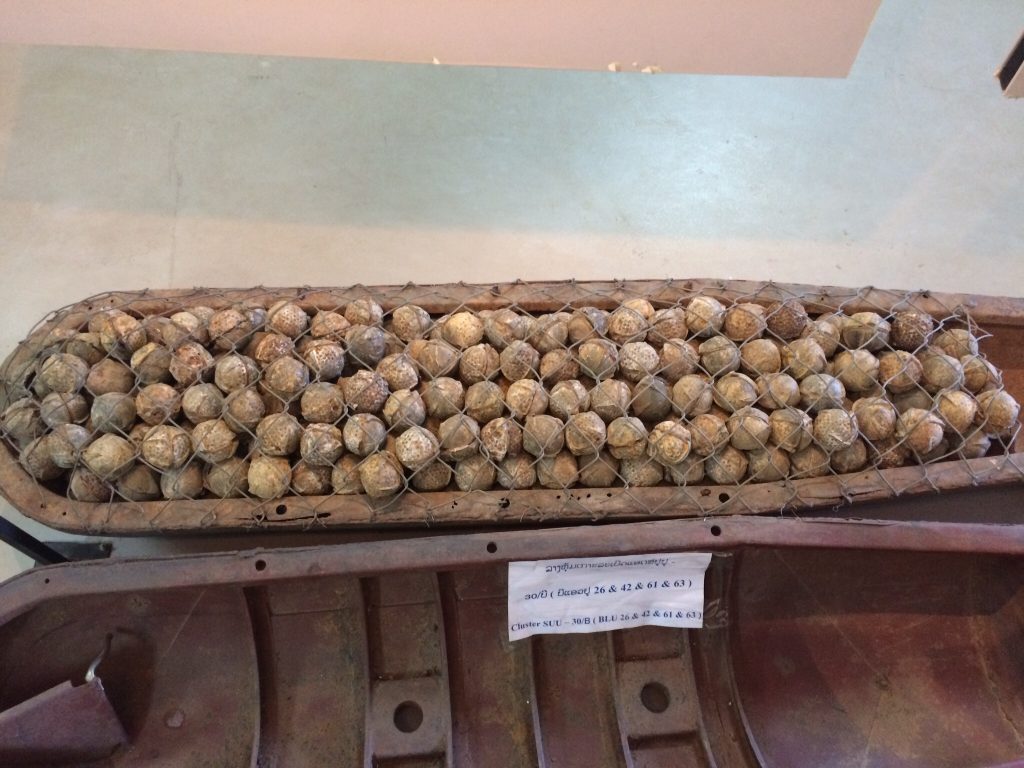 Cooking Lao food
Lao food is delicious. It's spicy and fresh with lots of different vegetables and herbs. We took a class through the restaurant, Tamarind, to learn how to cook some of it. The class started with a market tour. Our guide took us to the largest market in town where the locals shop.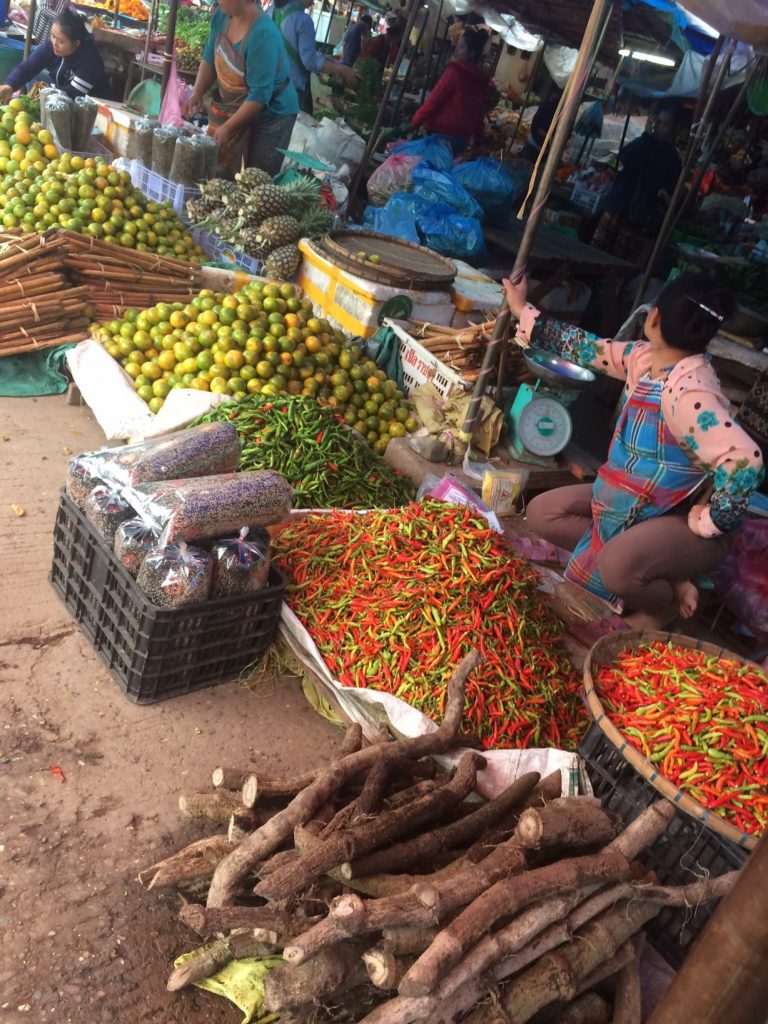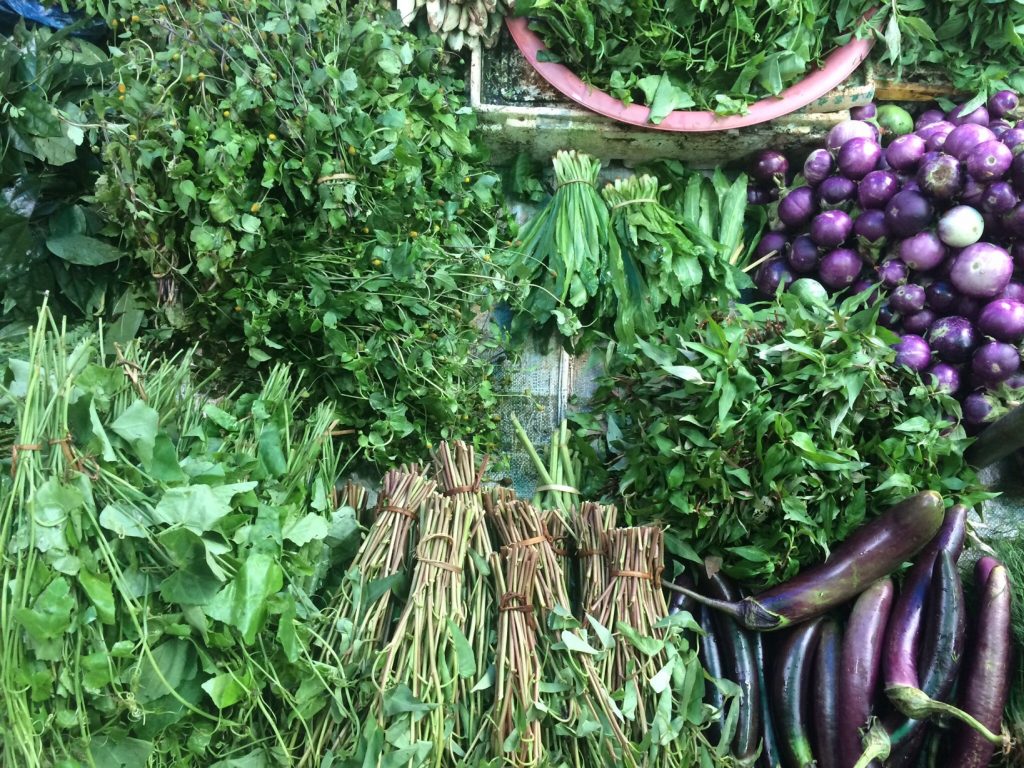 Next we went to an idyllic location a bit out of town to cook a 4-course meal. Among other things, we made incredibly spicy dipping sauces and amazing steamed fish in banana leaves. We mastered the mortal and pestle, and cooked over open flames.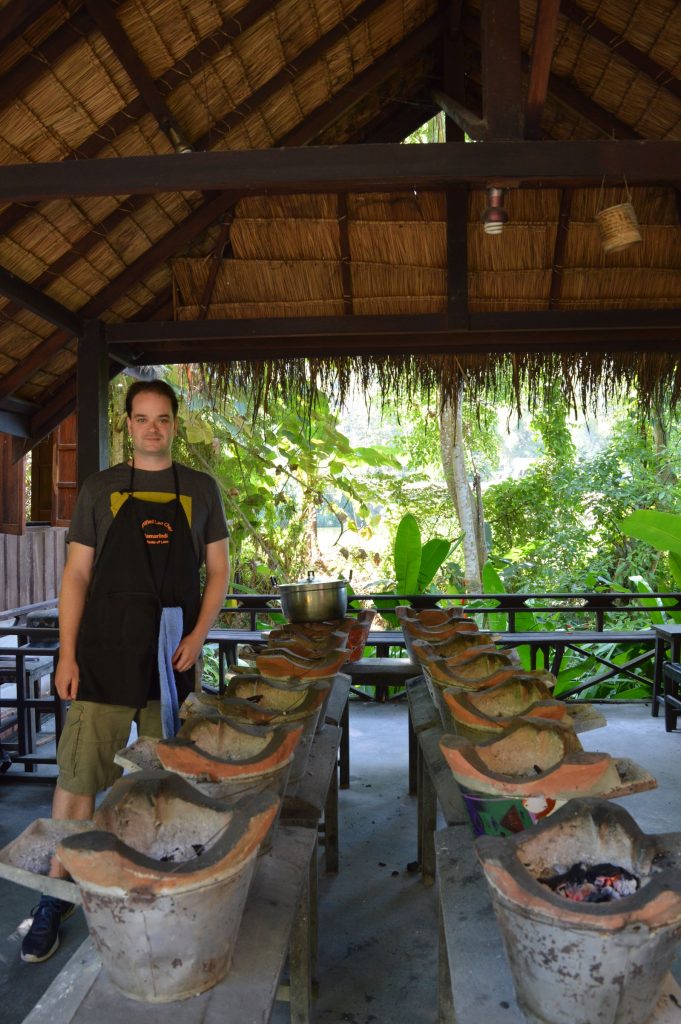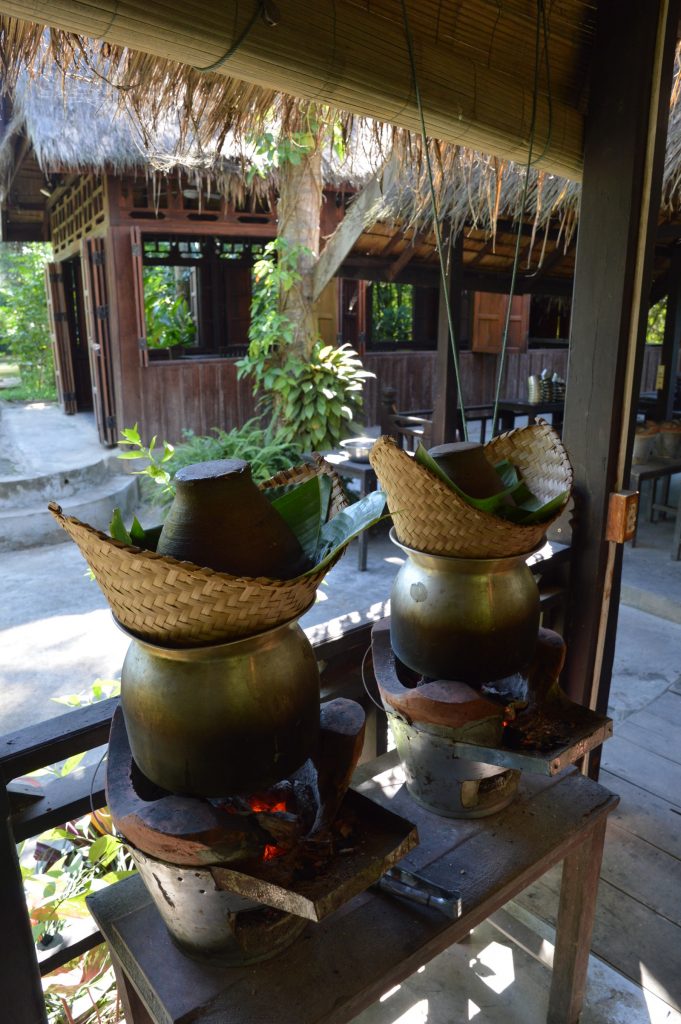 Bears and waterfalls
We are not adventure-seekers. As has been made abundantly clear on this blog, we like cities. And due to Sarah's limitations, it's not like we're out hiking all the time. But there's this waterfall near Luang Prabang that we read was spectacular and had pools you could swim in (and it was really really hot out), and, perhaps most importantly, also had a bear sanctuary! So we went to Kuang Si. You can get there by hiring a tuk-tuk, or by renting a motorbike, but we did the easier thing and bought seats in a minivan through our guesthouse.
Upon arrival, one gets to see the bears. They are rescue bears and they are adorable, albeit kinda lazy.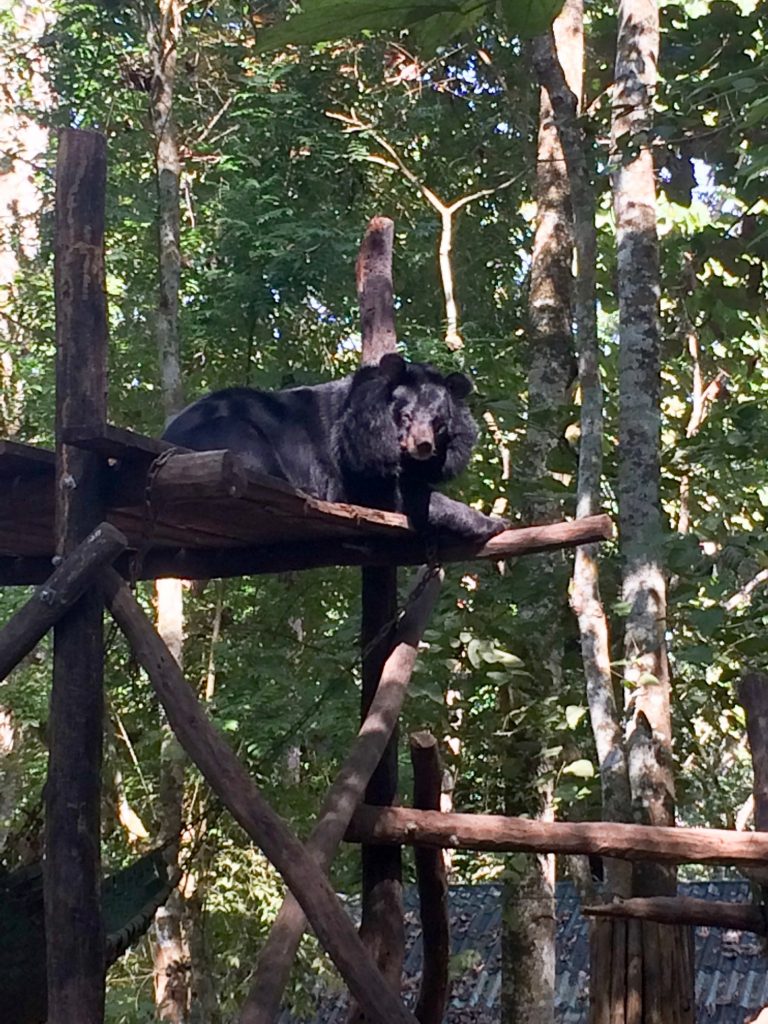 Next up, you walk through a series of small waterfalls and pools where people are "swimming." Finally you reach the big waterfall which is pretty cool.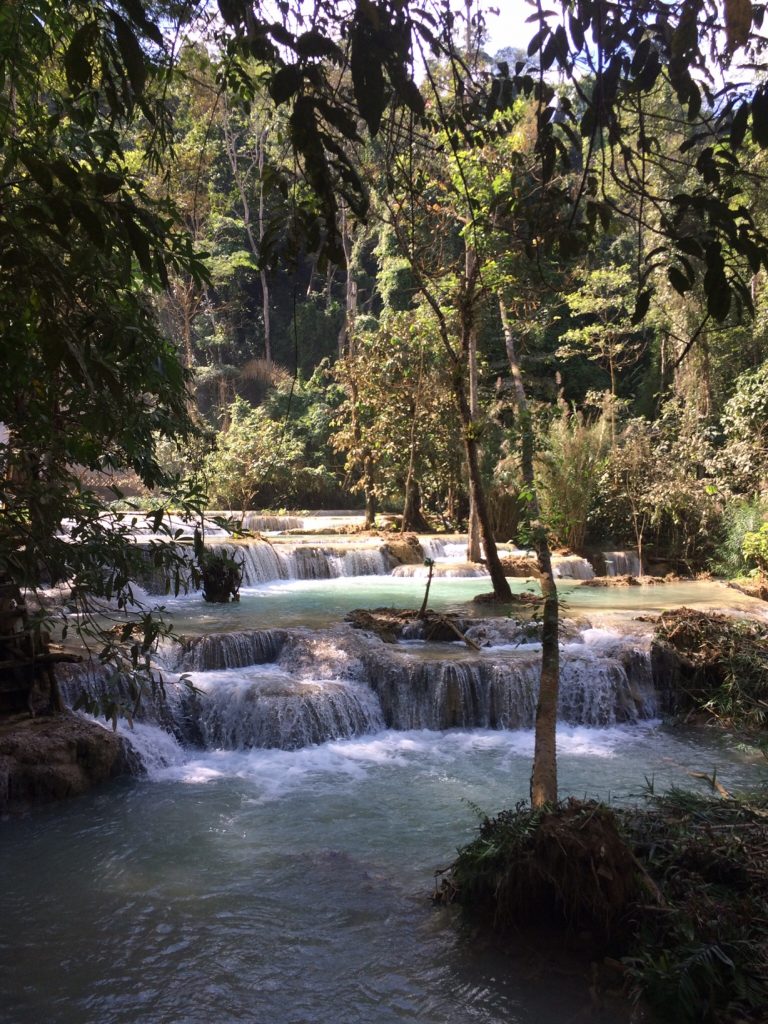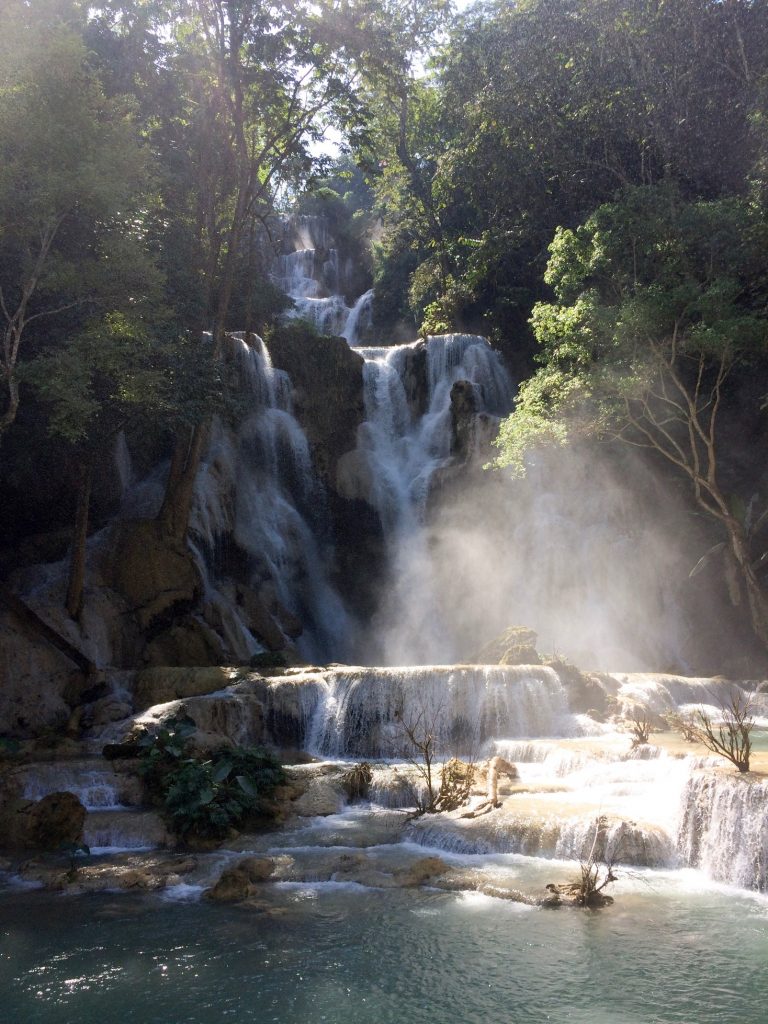 We heard you could hike up to the top of the waterfall and that it was a more relaxed place to swim. We're not sure what we were thinking when we set out, especially since Sarah didn't bring her oxygen, but once we got started we just kept going. Very very slowly. Mostly barefoot. When we got to the top we had gotten specific instructions to turn right (not left, which would have resulted in a much longer hike). The payoff was pretty good. It was much quieter, although the water was a bit murky. We read it was leech-infested but jumped right in anyway. We managed to stay leech-free but did get our feet nibbled by some fish. It was pretty cool to swim at the source of a waterfall and be able to look over the edge.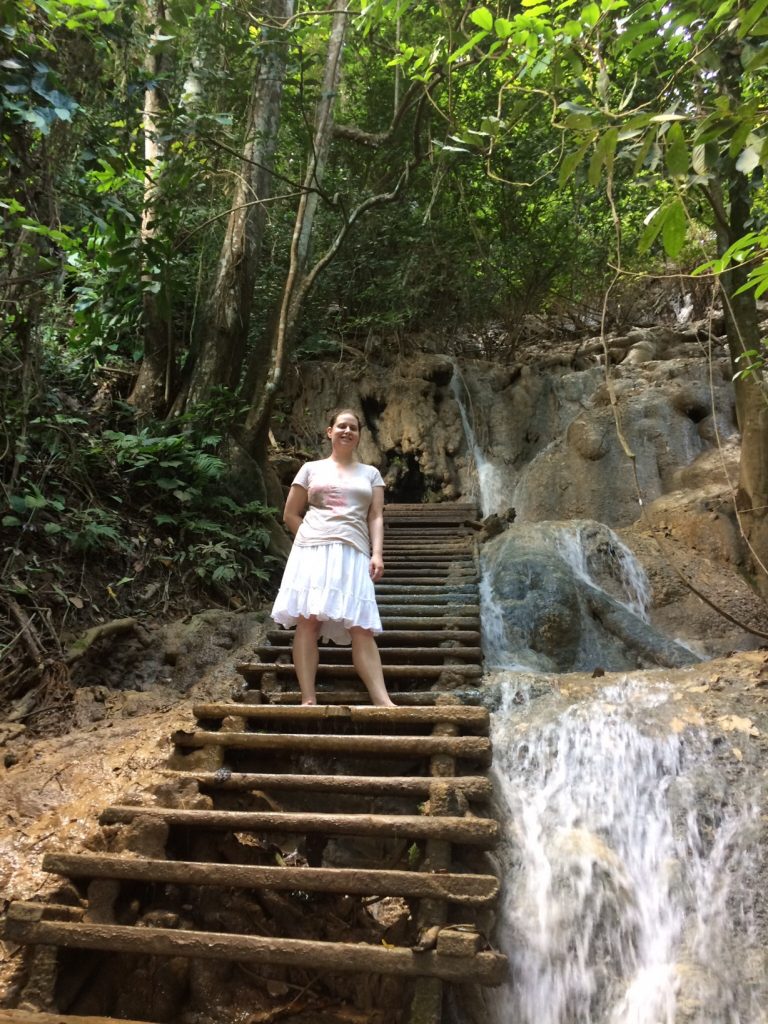 In hindsight, this was probably not the best hiking outfit.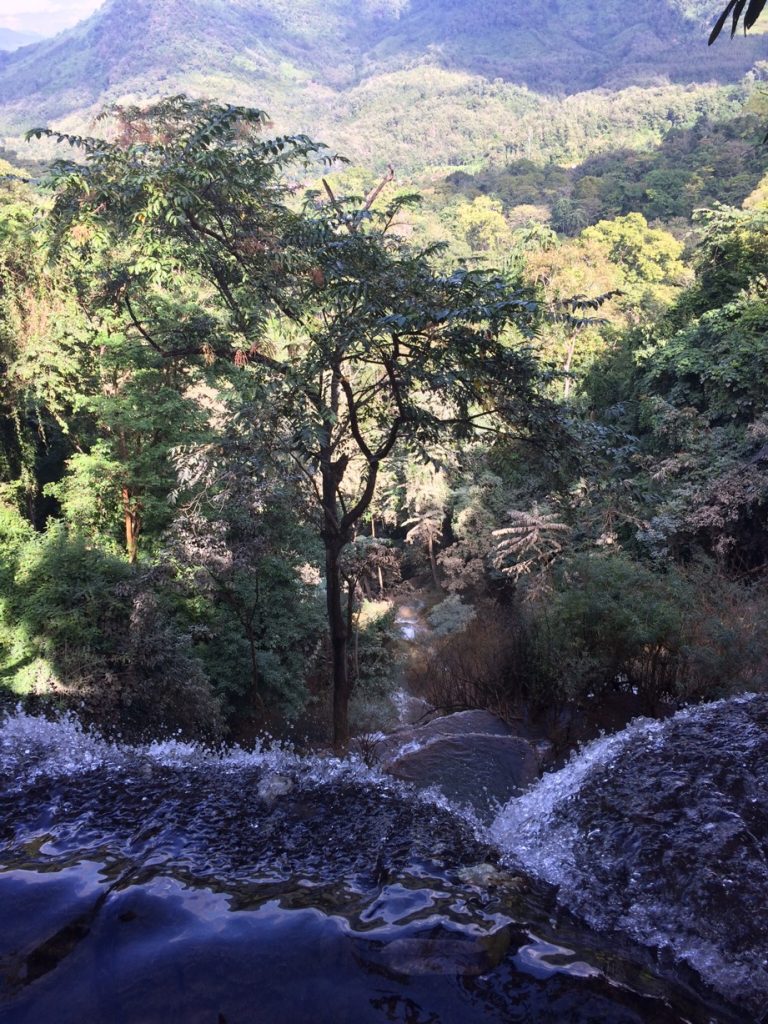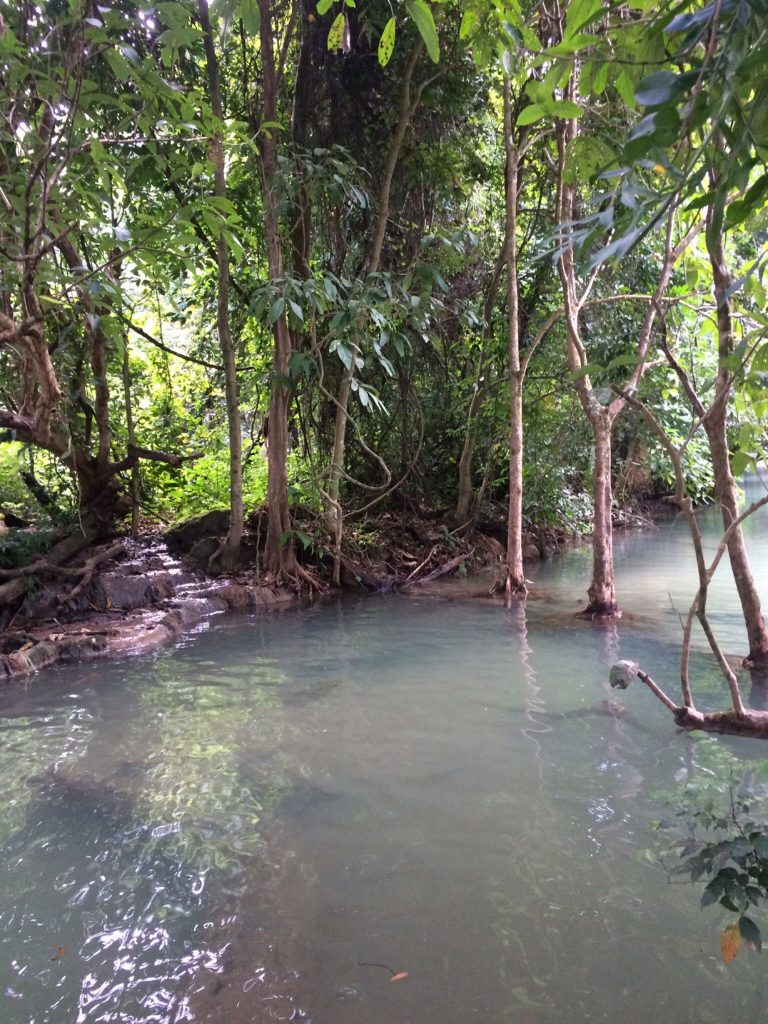 Eats and drinks
We ate well in Luang Prabang. Most everything had a pretty big kick due to these beauties…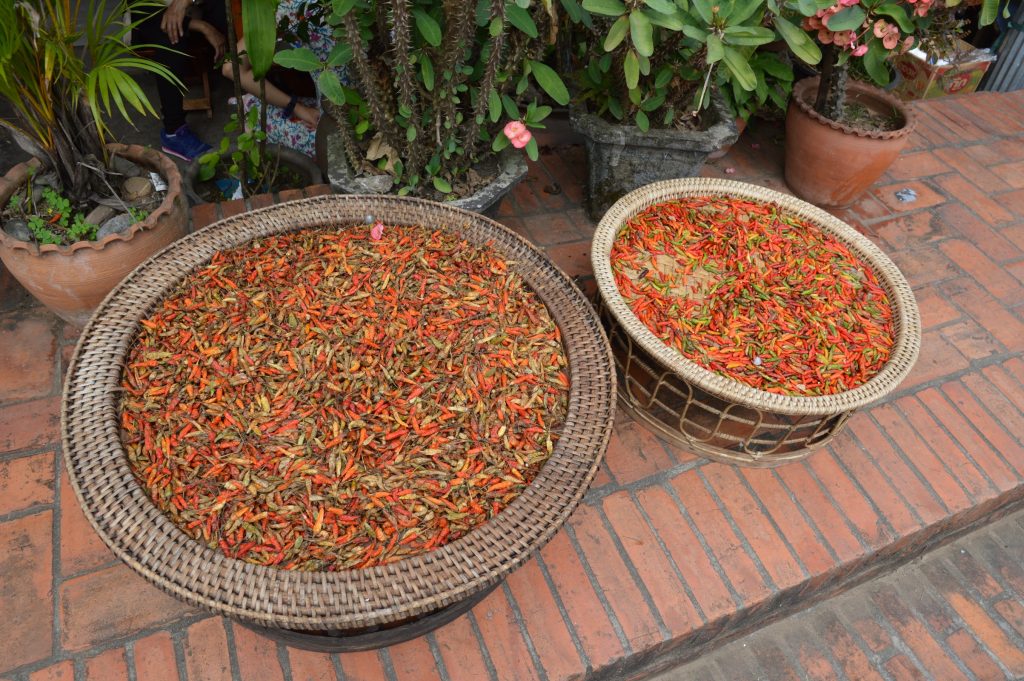 The best and most fun new dish we tried was Lao fondue at the restaurant next to our guesthouse called Dyen Sabai. One order of Lao fondue serves two people (or possibly three if they're not us). First a basket of assorted raw vegetables comes out. Then a plate of thinly sliced raw protein (we ordered the pork, but you can also get beef or fish). Next, they bring out a stone bucket with flaming hot coals. They set that down in a hole in the middle of your table and then put a grill with a gutter on top. And last, a kettle of soup made from water and coconut water. They pour the soup into the gutter and teach you how to cook the vegetables (in the soup) and the meat (on the grill). It's a super fun, insanely delicious do-it-yourself meal. Half-way through, they also bring fried eggplant… just because.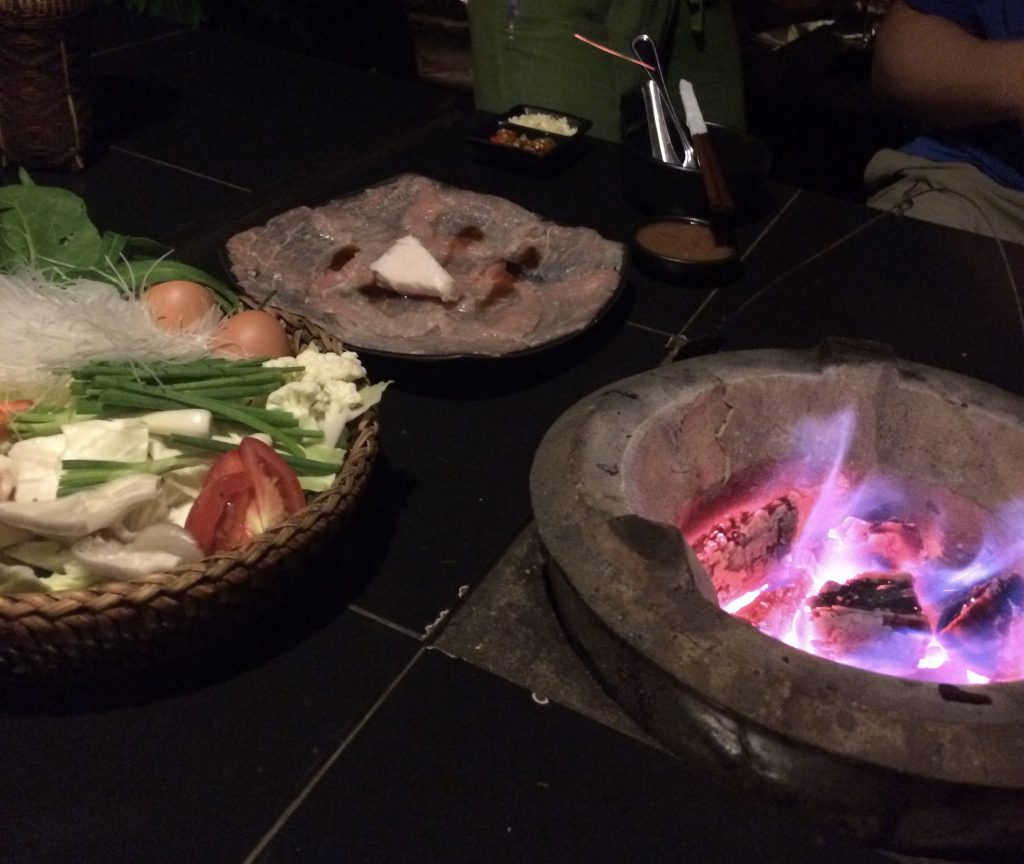 Also on our side of the river was a really yummy, really cool pizza spot, Pizza Phan Luang. The owner is a Canadian who moved to Luang Prabang and decided to start cooking pizza in a brick oven. The "restaurant" is in his and his wife's backyard. The pizza was quite good and a welcome change of pace.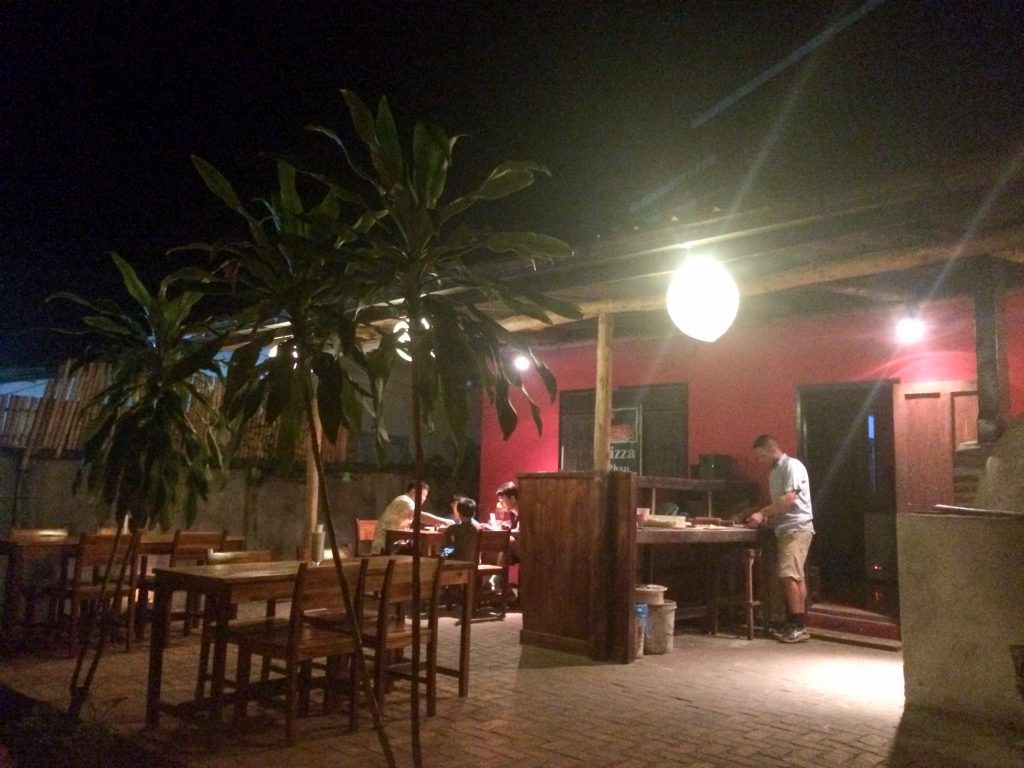 At the night market, we ate two delicious foods. For 5,000 Lao kip (~$0.61) you can get a bag of freshly cooked mini coconut pancakes which are kind of raw on the inside (just like Sarah likes them). For 15,000 LAK (~$1.85) you can get a large sandwich on a great baguette (not too crunchy, not too soft) with chicken and avocado (for Sarah) or bacon (for Justin).
Speaking of baguettes, every morning our hotel served us breakfast with a gorgeous, delicious one. A great way to start the day.
We were in Luang Prabang for Thanksgiving and treated ourselves to dinner at a really great restaurant called Café Toui. We had spicy morning glory (a Southeast Asian favorite of ours), sausage and pumpkin curry, beef with Lao basil, and (of course) sticky rice.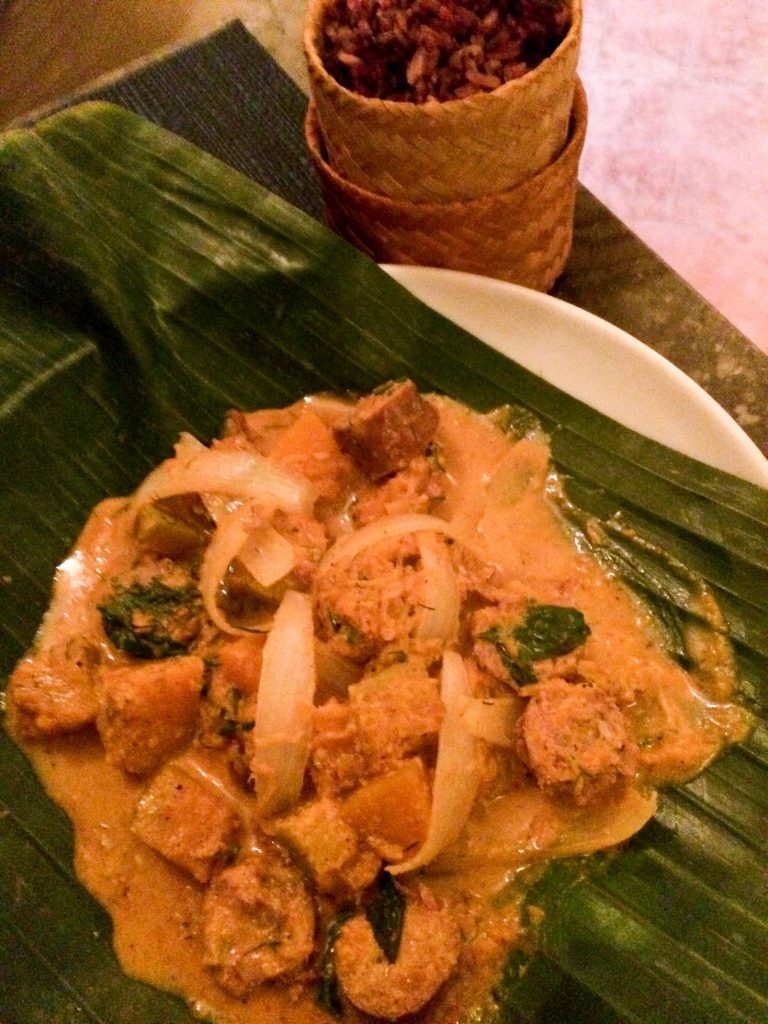 Beer Lao is the best beer in Southeast Asia – hands down.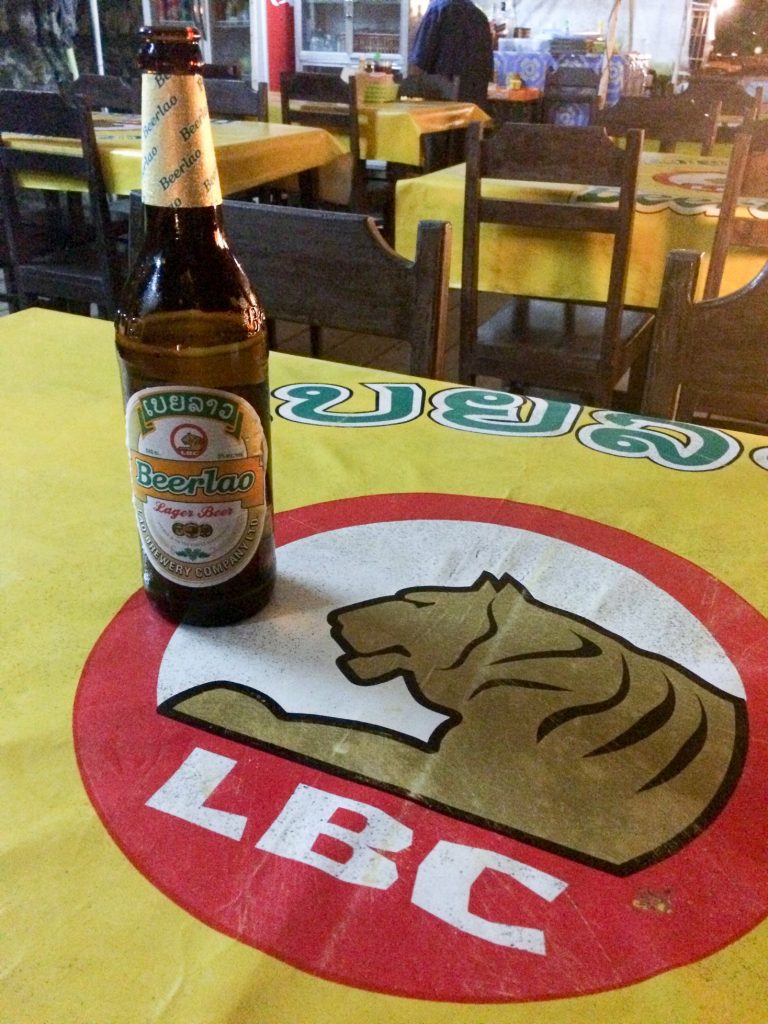 We hope to return to Laos one today and explore more of the country and eat more of its delicious food and drink more Beer Lao.
Like this post? Pin it!