Last Updated on 1st March 2019 by Sarah and Justin
Looking for good cheap eats in Bangkok? Hit up the Terminal 21 food court: Pier 21. Because that's where some of the best street food in Bangkok can be found. The Terminal 21 food court is a mecca of street food that's actually cheaper than what you'll find on the street. And every stall has a menu with English, so it's a great place for Bangkok beginners to easily try a whole bunch of dishes. Needless to say, we visited the Terminal 21 food court many times during our two trips to Bangkok. And after all that intensive research, we feel like we identified the best of the best. So here are our recommendations for what to eat at Terminal 21 in Bangkok.
The best: what to eat at Terminal 21
Red Thai curry omelet at Kitchen Delight
The curry is rich and savory and spicy. The meat is tender. It's all wrapped up in a thin layer of egg and served with rice. It's absolutely delicious and was our favorite dish by far. It was 60 THB, so on the pricier side, but worth it. The stall is in the back corner right behind the cashier.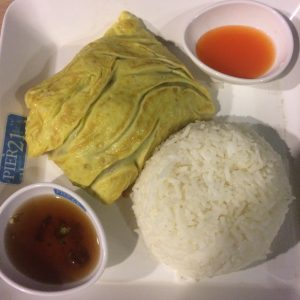 Gyoza at Skyluck
These dumplings are way more deep fried than any of the ones we had in Japan, but they always came out crispy and fresh. The dipping sauce and cabbage accompaniment are great too. And at only 30 THB, you can always get them as an addition to any meal. The stall is pretty much smack in the middle.
Pad Thai at Hoy Tod
The Pad Thai stall is extremely popular (there will likely be a line) and for good reason. Everything is fresh and the sauce is sweet but not overpowering. You can get it with two different types of noodles (regular or vermicelli) and with or without shrimp. We recommend the plain old regular version for 30 THB (with shrimp, the cost is 50 THB). The stall is against the wall closer to the entrance.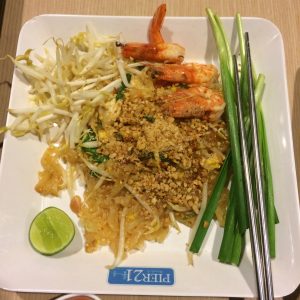 Stir-fried morning glory at Kindee
So we've ordered this dish multiple times in every country we've visited in Southeast Asia. We can't get enough of it. We like the versions that come with pork, which this one does. This version is really, really spicy (almost too spicy for Sarah, but Justin loved it). It comes with rice. Don't add any additional spices until you've tasted it (you'll be admonished by the cooks if you do). Cost: 30 THB. The stall is located right next to the Pad Thai stall.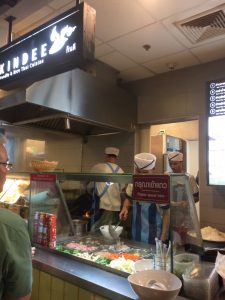 Smoothies at Tam Pen Juicez
This is a big huge smoothie stand with beautiful cups of fresh fruit they turn into delicious smoothies. We like the mango-banana best for 37 THB.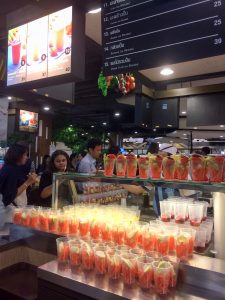 Duck with sesame noodles at Dragon X
It's hard to miss the stall with the animals hanging in the window. The duck is the winner here as it's roasted and the skin is yummy. Get it with the buckwheat noodles all smothered in a rich sesame sauce. Cost: 45 THB.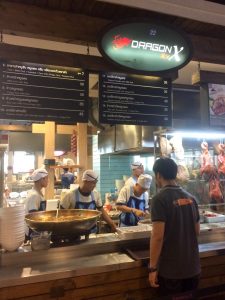 Honorable mentions: what to eat at Terminal 21
Mango with sticky rice at Cheng Sim Ei
Our friend Lee will argue that this should belong in the "best" category, but it was a pretty standard version of this popular dish. Although it's a steal at Pier 21, at only 35 THB. The stall is right behind the smoothie stall.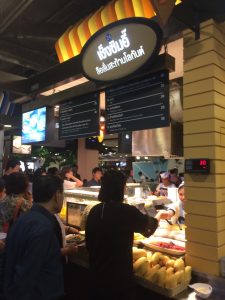 Crispy mussels at Hoy Tod
This dish is from the same stall that makes the delicious Pad Thai. They also have a version with oysters. The mussels are fried in a batter so it almost looks like they're in a super crispy crepe. It was tasty but way too rich and oily. If you want to try it, plan on sharing. Cost: 50 THB.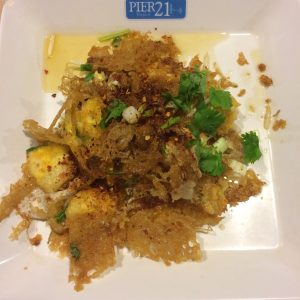 Stir-fried noodles with pork at Tai Heng
Pretty typical Thai dish of stir-fried broad noodles with veg and pork. Tasty, but kinda boring. But, only 25 THB! Apparently we should have tried their sukiyaki, but we didn't know that was a thing at the time. This stall was at the very back of the hall right behind the cashier.
Sweet and sour (and spicy) BBQ pork soup at Sriwan's
Justin got this because he couldn't eat hard food (more to come on dental tourism in Bangkok soon). It was sweet. And sour. And spicy. And solid. Cost: 35 THB.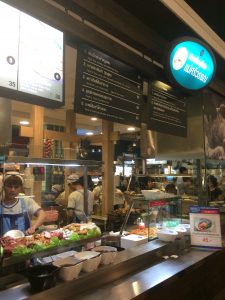 Tips for visiting the Terminal 21 food court
Pier 21 is on the fifth floor of the mall, right behind the Golden Gate Bridge.
The stalls operate under a cashless system: you put cash on a card and pay with that. There are two places to get the cards, one in the front and one in the back. The one in the front is typically much busier, so we recommend going to the one in the back.
If you're with other people, you should each get your own card even if you're going to share. You'll get food faster that way.
There is free filtered water you can use to fill up a water bottle.
Dip your utensils in the hot water to sterilize them before eating.
Come hungry and enjoy!
Like this post? Pin it!