Last Updated on
After our stint in Fiordland on the South Island of New Zealand, we started making our way north and east. The next stops on our New Zealand road trip were Arrowtown, Wanaka, and Twizel. Even though this part of our itinerary was put together a bit hastily without much research about all of our destinations (looking at you Twizel!), these four days turned out to be some of our favorites. In this post, we recount our journey and offer recommendations for each place like Arrowtown restaurants and Twizel accommodation, as well as tips about driving the Devil's Staircase and getting from Twizel to Wanaka.
Driving from Te Anau to Queenstown via the Devil's Staircase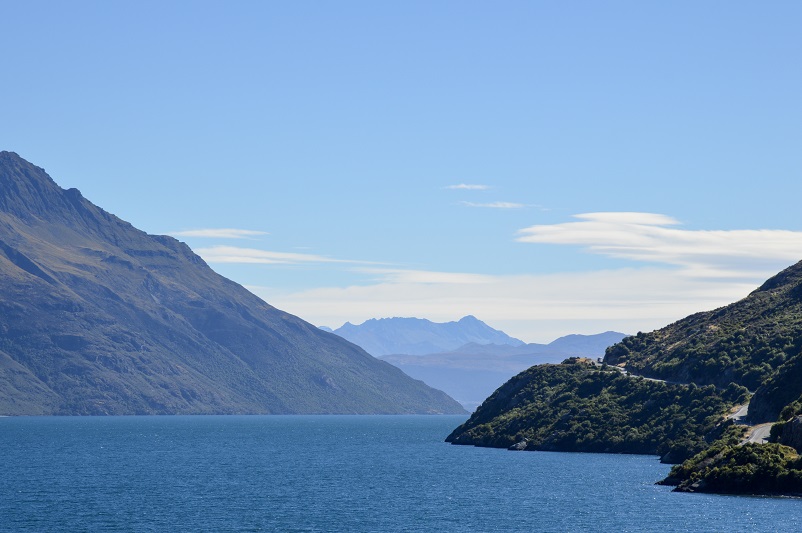 We were driving about 180 km from Te Anau to Arrowtown. As we'd grown accustomed to on our New Zealand road trip, the scenery was breathtaking and the drive was wonderful. But there was one infamous section of road we were a bit nervous about: the Devil's Staircase. This stretch of road (that winds close to a steep drop) is about 35 km from Queenstown. Since Queenstown attracts more than its fair share of tourists, many of whom have little experience driving on New Zealand roads, it sees quite a few accidents. In fact, we had read about several in the days leading up to our drive.
But in fact, the drive was relatively tame (especially compared to driving into Milford Sound). And of course, it was stunning. There weren't too many people on the road with us, and we were able to pull off a few times to admire the view and (and to let speedier, more experienced NZ drivers pass).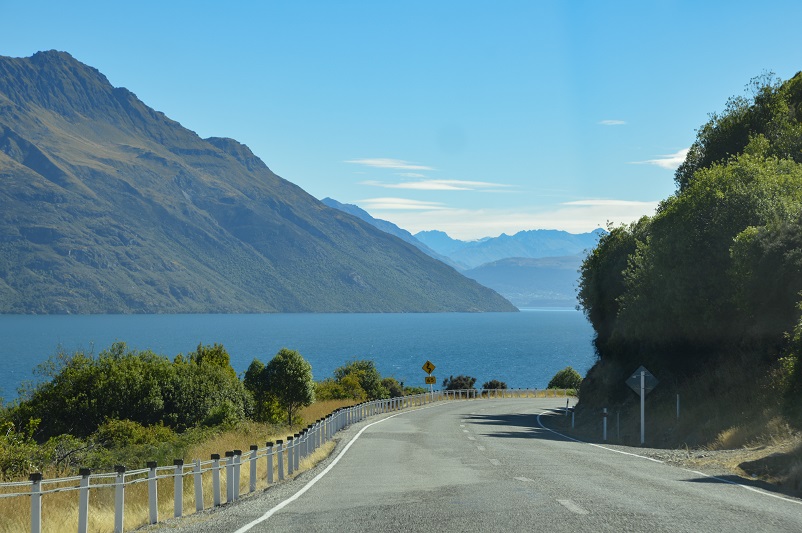 Three days in Arrowtown
People go to Queenstown for adventure. And as we drove near we spotted five skydivers descending from the sky! People like us go to nearby Arrowtown for tranquility and good food. After an action-packed few days in Fiordland, we were ready for some relaxation. We divided our time lazing around our lovely apartment rental (and petting the owners' cat) and walking. The Arrowtown area has some really great areas for walking and cycling.
Walks in Arrowtown
We took three walks in Arrowtown, although what Kiwis call "walks" can often be considered hikes. We found our walks here on the Arrowtown website. We specifically searched for walks rated "easy" given Sarah's lung disease. The descriptions on the site were pretty true-to-life. And the directions were easy enough that even extremely experienced people like us could follow them.
Arrow River trail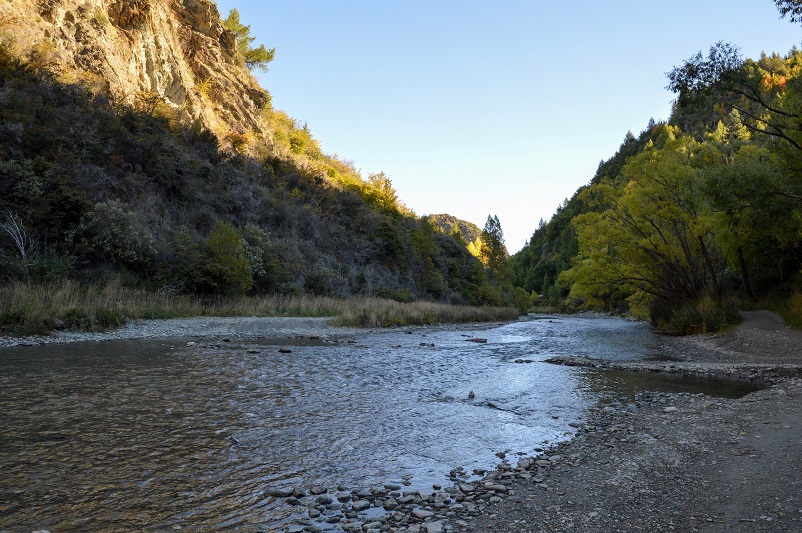 This trail takes you beside and up above the Arrow River. It was fairly easy and flat most of the time, although there were some portions where you ascend. The scenery is lovely next to the river and through the forest, though you're basically walking along a pipeline and at the end you'll see where it crosses the river.
Bush Creek trail
This trail is mainly inside the forest, so you get to walk in and among cooler trees and over streams. We really enjoyed this one.
Tobins Track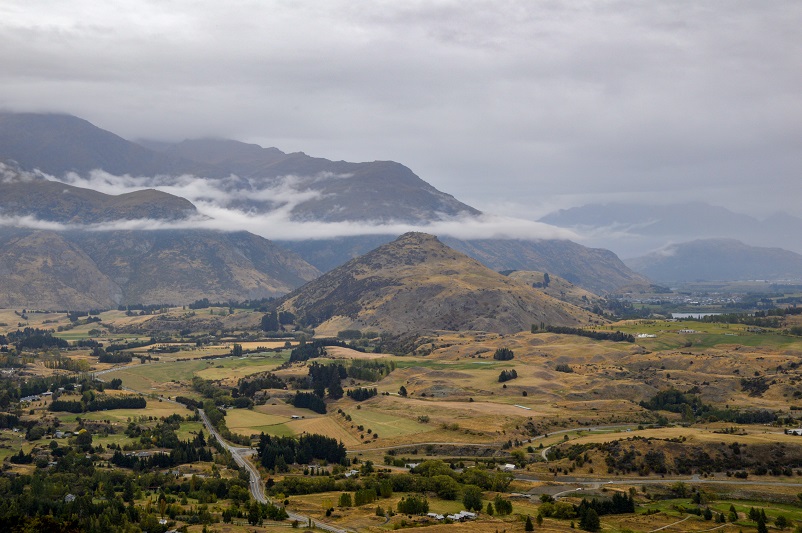 This was the most difficult of the walks, and honestly the least scenic and enjoyable. The beginning was nice enough, walking through grassy farmland. But then you hit a dirt road which ascends for a long while. And there aren't any great views to keep you distracted on the way up. Although once you get to the top, the view of Arrowtown spread out before you is pretty great.
Arrowtown Historic Chinese Settlement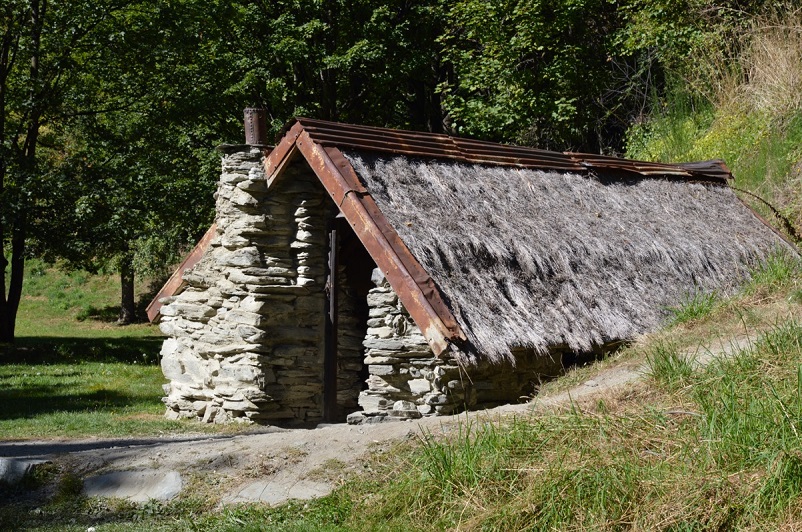 We also visited the Historic Chinese Settlement, which is where Chinese gold miners lived. Several thousand Chinese men were lured to the area during the gold rush in the 19th century. They were sadly marginalized and never really considered part of the community, so they lived in small settlements with small huts, which you can explore now.
Arrowtown restaurants
Though Arrowtown is small, it has some great culinary options. Our favorite restaurant in Arrowtown was the Fork and Tap – a pub with tasty pizza and a great beer selection, including several from our favorite New Zealand brewery 8Wired (we first discovered their beer in Hong Kong!).
Driving from Arrowtown to Wanaka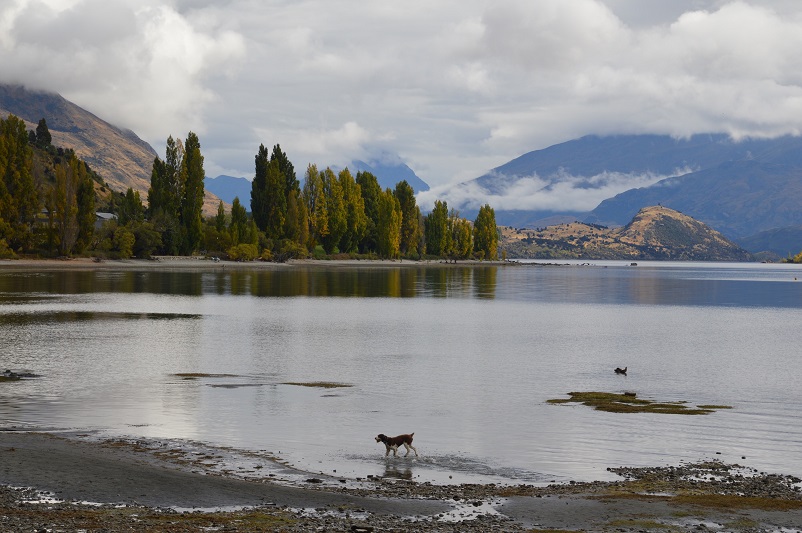 Though Wanaka is a relatively small place, it has gained popularity over the years because of its gorgeous scenery and of course bloggers, some of whom now call it home. We weren't staying the night in Wanaka, but after seeing so many beautiful pictures we wanted to stop and check it out.
We had two choices for how to get from Arrowtown to Wanaka: the one that takes you over the Crown Ridge of mountains and the one that doesn't. Though we had read and heard first hand from a friend that the Crown Ridge is incredibly gorgeous, we decided to take the faster (and less terrifying for Sarah who is often afraid of heights) option that goes around on a more main road.
Kawarau Gorge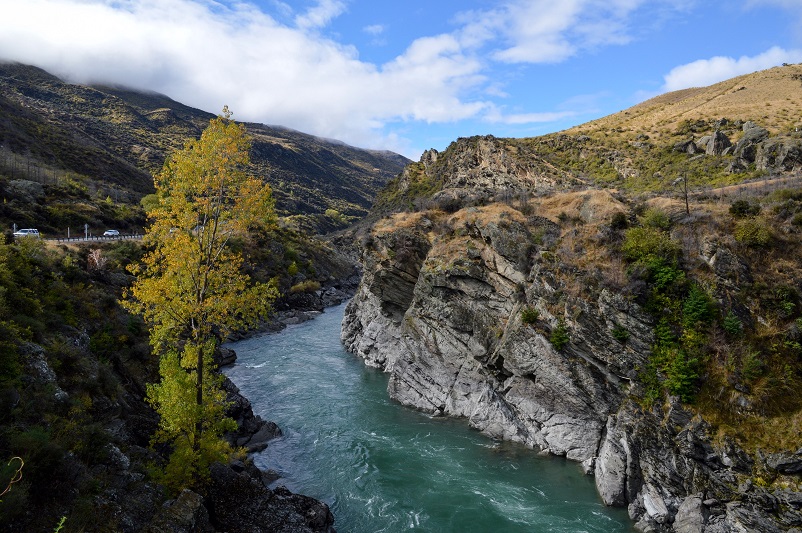 Don't think we weren't treated to incredible views on this route. Remember, we were still on the South Island of New Zealand! For example, just 40 km outside Arrowtown is Kawarau Gorge. There's a pull-off where we stopped to admire and photograph the incredible view.
Lunch in Wanaka
Wanaka is indeed a cute town on a beautiful lake of the same name. During our stop there, we grabbed some coffee at a local cafe, and ate sandwiches we had prepared in Arrowtown on a picnic bench by the lake. We then walked around the lake admiring the beautiful scenery and fun activities taking place around us. People were playing with dogs and paddle-boarding and just generally enjoying themselves.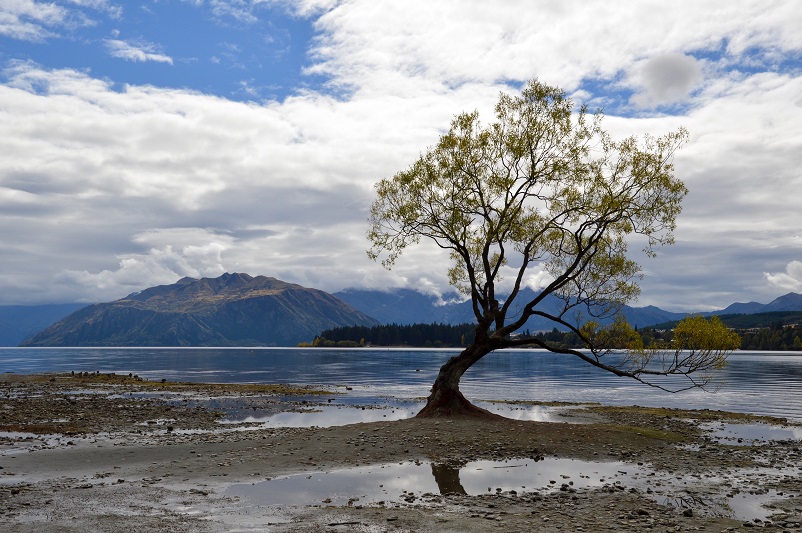 It took us about a half hour (with breaks) to walk from the center of town to that Instafamous tree. When we were there it was low tide, so it wasn't as picturesque as we'd seen in pictures, but it was still nice to visit. Although with all the gorgeous scenery in Wanaka, we're sure there are other more scenic spots.
One night in Twizel
We spent one night in Twizel because we wanted to hike in Aoraki/Mount Cook National Park without staying there. And even though there wasn't much written about Twizel online, during our one-night stay there, we learned you can't go wrong with pretty much anywhere in New Zealand. We had our first glimpse of a clear night sky (with so many incredible stars!) and had our most delicious meal in the country.
Driving from Wanaka to Twizel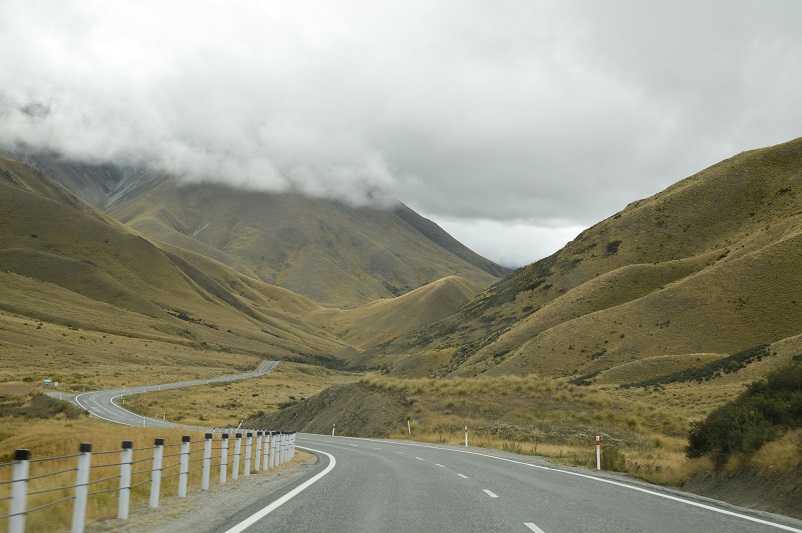 The drive from Wanaka to Twizel took us through some interesting landscape, which we amazingly hadn't yet come across in New Zealand. Everything was an odd brownish green color. But the driving was incredible. It's about 140 km from Twizel to Wanaka and it took us about two hours.
Twizel accommodation
There are a few Twizel accommodation options. We would highly recommend our stay at Mountain Chalet Motels, a unique spot with individual chalets. It was spacious and comfortable, and had a kitchen had we wanted to cook dinner.
Where to eat in Twizel
We ate dinner in Twizel at Shawty's Cafe. Don't be fooled by the name; this is a relatively upscale joint. We had an absolutely delicious meal including lamb chops, beet risotto, and sticky toffee pudding. It all gave us energy for our next day which would be full of driving and hiking in Mount Cook National Park.
Like this post? Pin it!