Last Updated on 23rd December 2019 by Sarah and Justin
If you've never been to a German spa town and you enjoy relaxing in hot pools and saunas, then you're missing out. Through our travels, we've sought out every opportunity to treat ourselves in Germany and beyond. Recently, we planned a quick day trip from Frankfurt to the spa town of Wiesbaden. It was the perfect way to recover from a busy trip back to the United States and the resulting jet lag from the return flight. Read on for things to do in Wiesbaden, how to hit the thermal baths, and our pick of a Wiesbaden hotel if you want to stay the night.
What to do in Wiesbaden in one day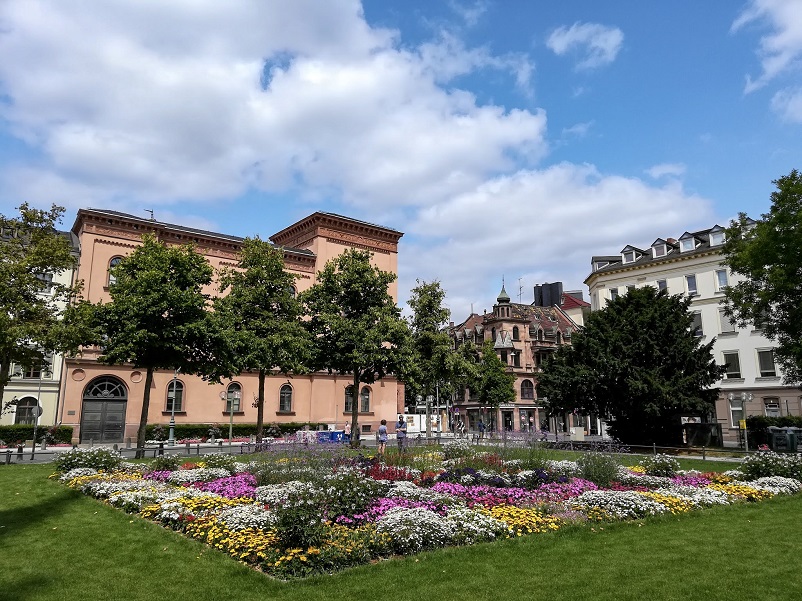 Enjoy the thermal baths
Our main reason for visiting Wiesbaden was to bathe in the thermal waters. So after arriving in the city, we made a beeline for Kaiser-Friedrich-Therme. It was the perfect cure for our jet-lagged selves. The building was built on the site of Roman baths and is a collection of ornately decorated rooms. There are pools of different temperatures, one with jacuzzi jets. There are saunas of different styles. And rooms where you can relax. The entire experience is extremely therapeutic.
The biggest thing to know about Kaiser-Friedrich-Therme is that it's a nude spa and most days it is mixed/co-ed. You can walk or lounge around in a towel or a robe, but no suits are allowed in the pools or saunas. If you're a woman not comfortable being naked in front of male strangers, you can visit on a Tuesday which is ladies only day.
Here are some quick tips abut visiting Kaiser-Friedrich-Therme, especially if it's your first time at a German thermal bath:
When you arrive, you get a bracelet with a chip. This will track how long you're in the baths. You pay by the hour, and its not prorated.
During the summer, when we visited, prices are 5 EUR per hour. During the winter (our favorite time to visit thermal baths!), rates are 6.50 per hour. People with disabilities pay a reduced fee.
There are changing rooms where you can change out of your clothing and lockers where you keep your stuff. The bracelet locks/unlocks the locker.
We recommend bringing your own towel and robe if you want one, but you can rent them as well.
Bring flip flops or shower sandals to walk around in.
There are showers directly outside the locker room, before you get to the baths. Give yourself a wash before entering the communal baths.
Keep yourself hydrated. There are places you can drink water, and you should – it's delicious.
There are other thermal bathhouses in Wiesbaden. Das Badhaus is in the city center and Thermalbad Aukammtal is located a little further afield.
There are also hot spring fountains sprinkled about around the city center. The Kochbrunnen and Kochbrunnen Springer are the easiest to find, located just a block away from Kaiser-Friedrich-Therme in a small plaza.
Stroll around the Wiesbaden Old town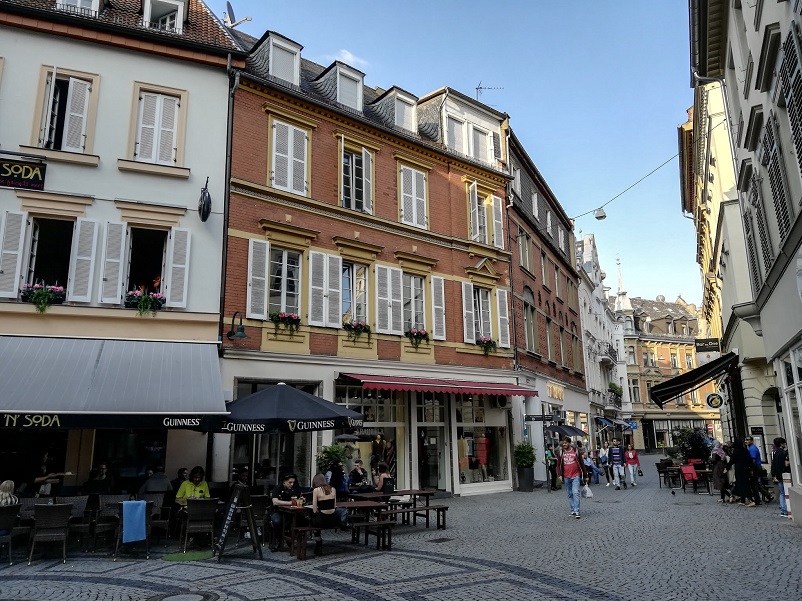 Wiesbaden Old Town is small, but quite cozy to walk around (as most German old towns are). We enjoyed walking through the winding cobblestone streets, looking in the shops and restaurants, and admiring the architecture.
And it's not just the old town that's nice; the rest of the city is great too. We especially enjoyed seeing our favorite German character the Ampelmann in a big green sculpture and the lovely architecture.
Visit Market Square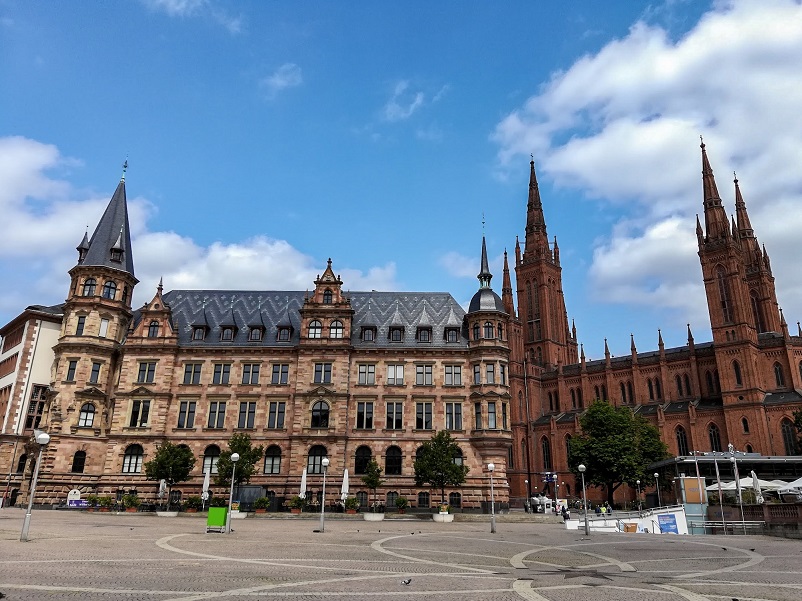 Market Square is a big plaza where the Market Church and the City Hall stand. As the name implies, there's a farmer's market Wednesdays and Saturdays.
The Rathaus (City Hall) was built in the 19th century in the Renaissance Revival architectural style. Marktkirche (Market Church) is a gorgeous neo-Gothic church in Market Square, also built in the 19th century after a fire destroyed the city's medieval church. It's worth walking around to see from all angles, and if you want, you can go inside and on certain days climb the tower to see a view of the city.
Our Wiesbaden hotel
Though it's easy to do Wiesbaden as a day trip from Frankfurt, we did spend the night. We stayed in the Motel One, which offers nice rooms at great prices all over Germany. The Motel One in Wiesbaden is right next to the main train station, so well located for a quick trip to the city. And it only takes about 15 minutes to walk through the pretty streets to get to the old town and of course the thermal baths. We were pleased to get a room with a great view and enjoyed a beautiful sunset during our stay.
<< Book your Wiesbaden hotel now >>
Taking the train from Frankfurt to Wiesbaden
It's incredibly easy and inexpensive to take the train from Frankfurt to Wiesbaden. Several S-Bahn lines go direct from Frankfurt Hbf to Wiesbaden Hbf in a little over 40 minutes. Tickets cost 8.60 EUR one way. You can easily buy tickets at the ticket machines before you get on the train.
You can also quite easily take the train to Wiesbaden direct from Frankfurt Airport. That's what we did so we could get a jump on our thermal bathing as quickly as possible after landing. Again, you just take an S-Bahn, and tickets only cost 4.95 EUR.
You can check train timetables at our favorite website, DB Bahn.
Did you know, Wiesbaden is also a great day trip from Mainz? And if you haven't visited that German city, we highly recommend it.
Like this post? Pin it!