Last Updated on 8th January 2019 by Sarah and Justin
By our estimation, the Market Hall in Rotterdam (Markthal) is the coolest food market in the world. Okay, so we haven't been to every food market in the world, but we've been to a lot of them across Europe, Asia, the United States, Australia, and New Zealand. Here are five reasons the Rotterdam Markthal tops the list for us.
1. The Markthal is an architectural highlight of Rotterdam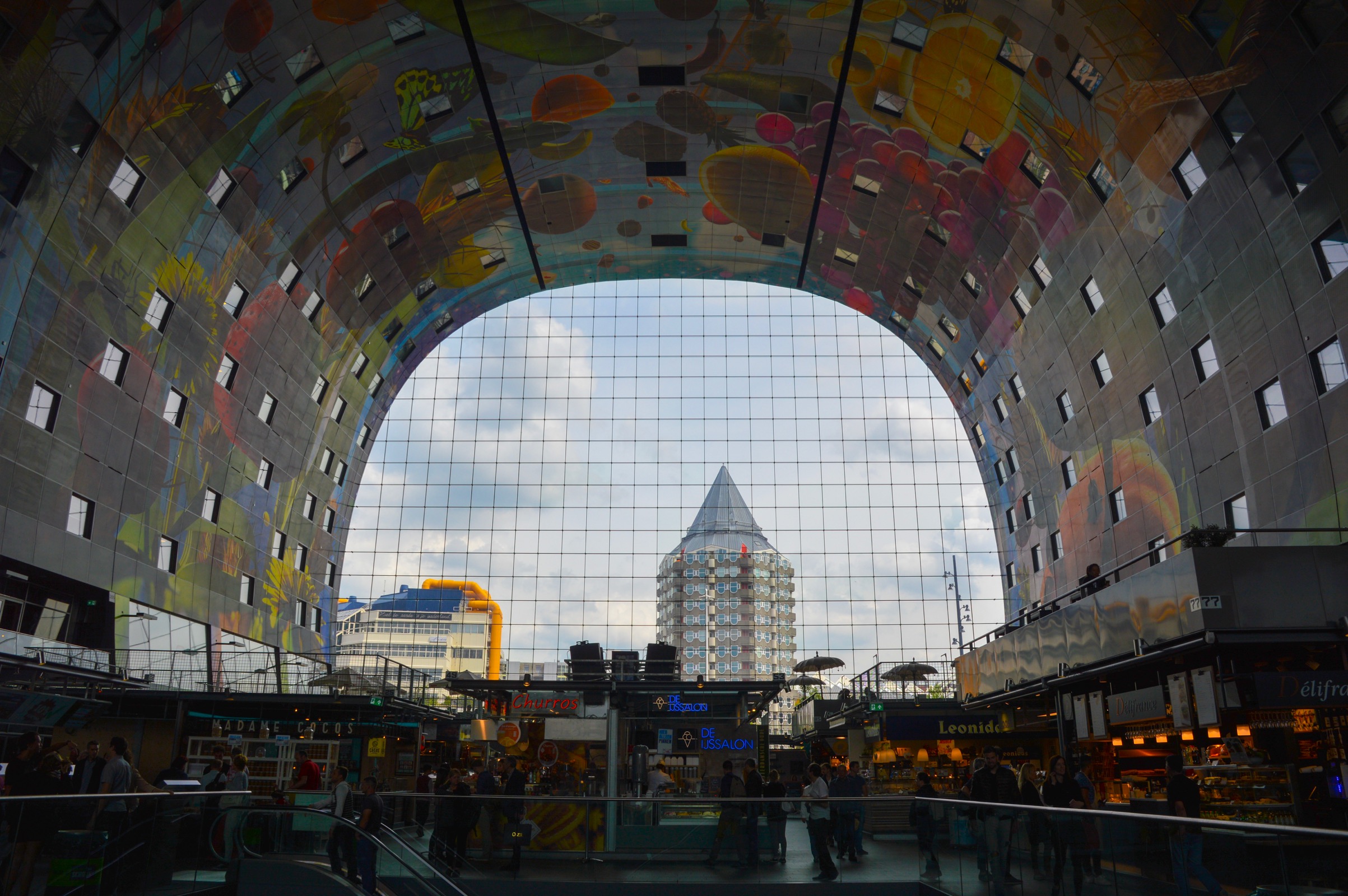 The Rotterdam Markthal was built in 2014 to be an iconic destination in the city – and it was a success. It's centrally located and even if you're not hungry, the building is a must-see attraction in Rotterdam. It is a massive structure because it not only holds the food market, but also apartments (can you think of a cooler place to live?). The building was designed as a huge arch and the inside is covered in vibrant, food-inspired murals. Who doesn't love to see giant shrimp and raspberries floating above them when they're food shopping?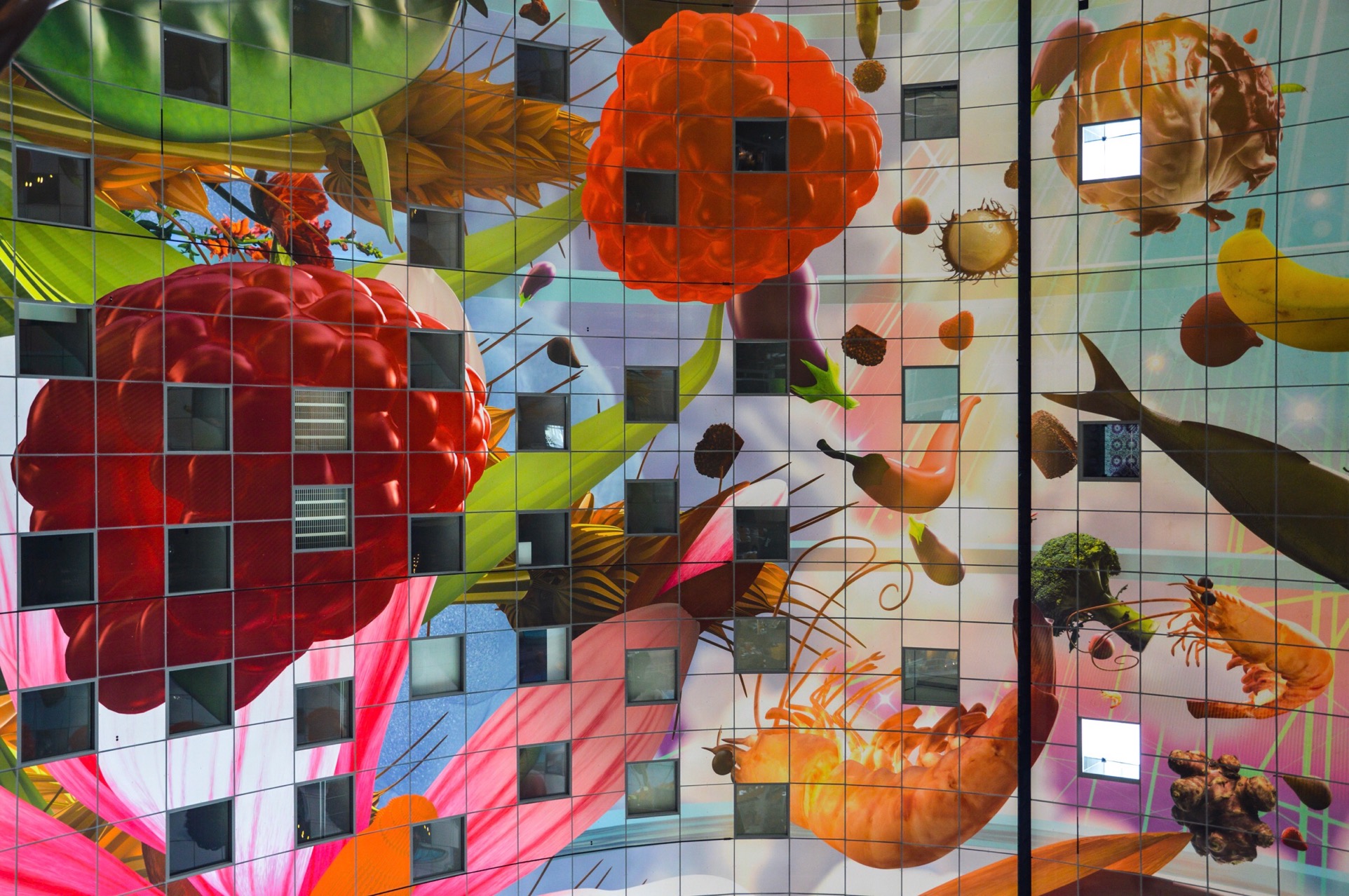 And the Markthal goes all out for the holidays with themed lighting for every occasion (a big tree for Christmas, a heart for Valentine's Day).

2. There is a diverse offering of cuisines
Being that Rotterdam is in the Netherlands, of course its main food market should have a great selection of typical Dutch products. And it does. There are several cheese stands and bakeries selling stroopwafels. But there are other international cuisines represented including Turkish and Indonesian and Spanish, which also makes the Markthal a great place to try new things.
3. You can try free samples (a lot of them!)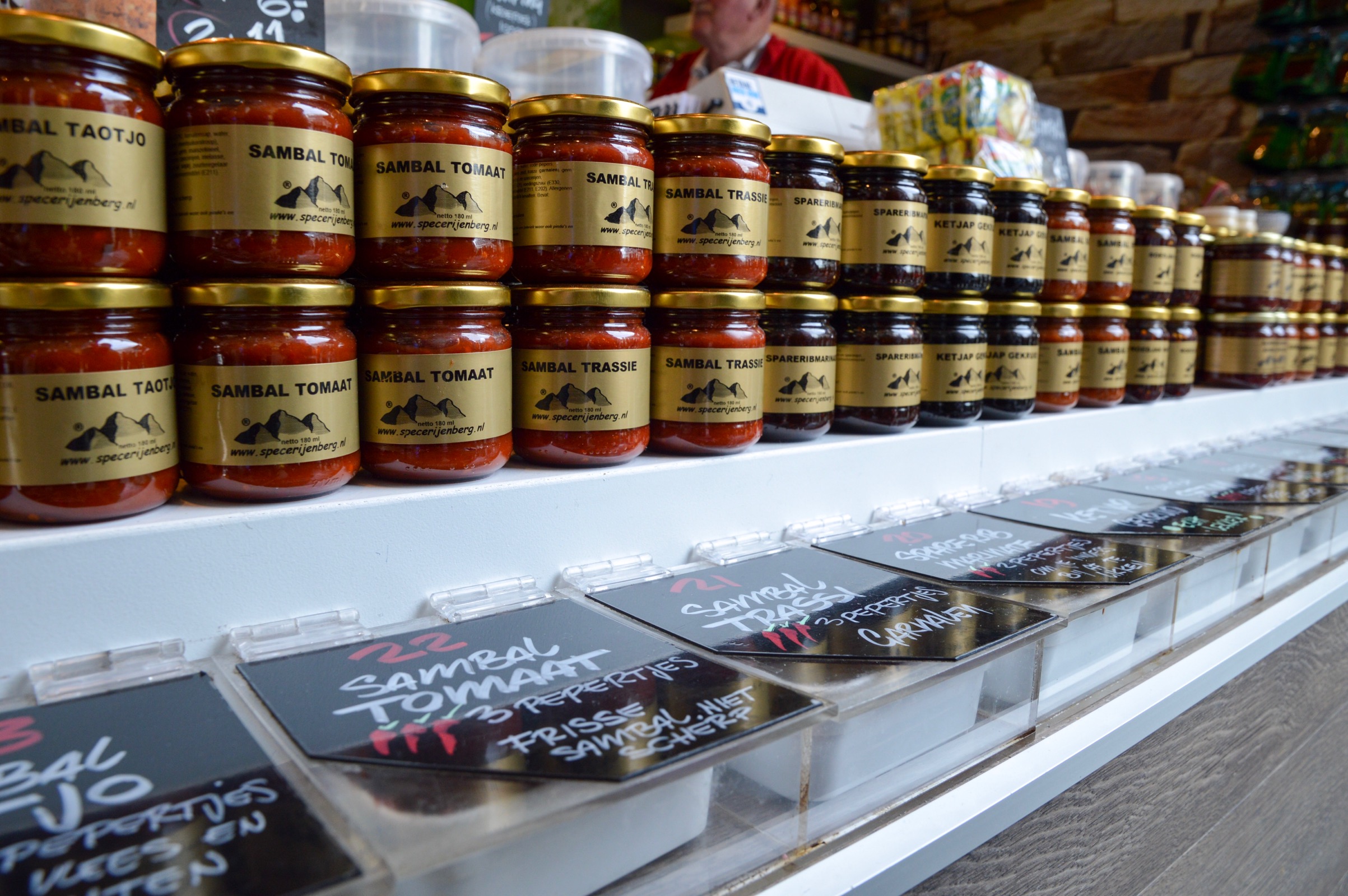 And to help you try new things, there are a ton of free samples throughout the market. You can taste the aforementioned Dutch cheese and stroopwafels, as well as Turkish golzeme, a whole host of salamis, macaroons, and peanut butter. Yes, there is a purveyor of gourmet peanut butter that comes in delicious, interesting flavors (like coffee and lemongrass), all of which you can taste for free. Another favorite is the Indonesian sambal stall – but beware of the spiciness rating before tasting!
4. You'll be surrounded by great restaurants in the Markthal
On the outer ring of the Markthal are restaurants with both indoor and outdoor seating. They're super popular with locals and tourists alike, especially on nice sunny days. Our favorite restaurant is Sumo, the all-you-can-eat sushi spot where you order via iPad (always fun!). There's also World of Drinks – a great combination liquor store and beer bar with a great selection of local Dutch beers that you could spend a while in (or at least we could).
5. You can shop at the best Asian market in Rotterdam
Having spent quite a bit of time in Asia last year, we have grown to love all kinds of Asian food. So when we were staying somewhere we could cook, we would seek out an Asian market. There are great ones all over Europe (especially in Germany), but the Asian market in the Rotterdam Markthal is the best we've found. They have all the products we love and interesting fresh fruits and vegetables at really good prices. It's part of our regular supermarket shopping circuit.
So have we convinced you? Are you booking your trip to Rotterdam to check out the Markthal? We'll meet you there! 
Like this post? Pin it!