Last Updated on 6th January 2020 by Sarah and Justin
When we booked 4 days in Valletta, we planned to use it as a base from which to explore more of Malta. Because though Valletta itself looked wonderful, there were many other places in Malta that looked just as wonderful and we wanted to see as much as possible. But best laid plans and all… Sarah got sick. Not LAM sick, just a bit of a cold-like thing, which took away any extra energy and waylaid any plans to explore further afield.
But good news, if you you're going to get sick on vacation, Valletta isn't too shabby a place to do it. It's stunning and small enough to see a lot of without too much effort. We got to know the place real well and absolutely loved it. We hope you find our recommendations of things to do in Valletta helpful and that you stay healthy when you visit, of course!
Things to do in Valletta
Wander Valletta's picturesque streets
We did a lot of wandering around Valletta. And we also did a lot of "oohing and aahing" over how pretty everything is. We loved the hilly streets (and we never thought we'd love anything hilly), the colorful buildings, the intricate balconies, the glimpses of the water, the interesting door knockers, the fluttering laundry, the store signs… we could go on and on. So we'll just let you see some of what we're talking about.
To see (in our opinion) the most picturesque spots, make sure to venture away from the top attractions and the main pedestrian streets, down towards the less touristic streets. For example, Old Mint Street where we stayed was especially lovely.
Marvel at St. John's Co-Cathedral
St. John's Co-Cathedral was originally built in the late 1500s. In the 17th century, its interior was redesigned in the baroque style and is considered a masterpiece. And it is one of the most stunning, impressive churches we've ever seen. On the inside (maybe not from the outside). So we think it's absolutely worth the entry fee to see it. Gold-covered walls, floors consisting of inlaid marble tombstones (with the skeletons to match), and of course masterpieces by Caravaggio. If your jaw doesn't drop when you enter, we'll be very surprised.
At time of publication, an adult ticket is 10 EUR including audio guide. You can check current prices and opening times on the St. John's Co-Cathedral website. The cathedral is wheelchair-accessible.
See Upper Barrakka Gardens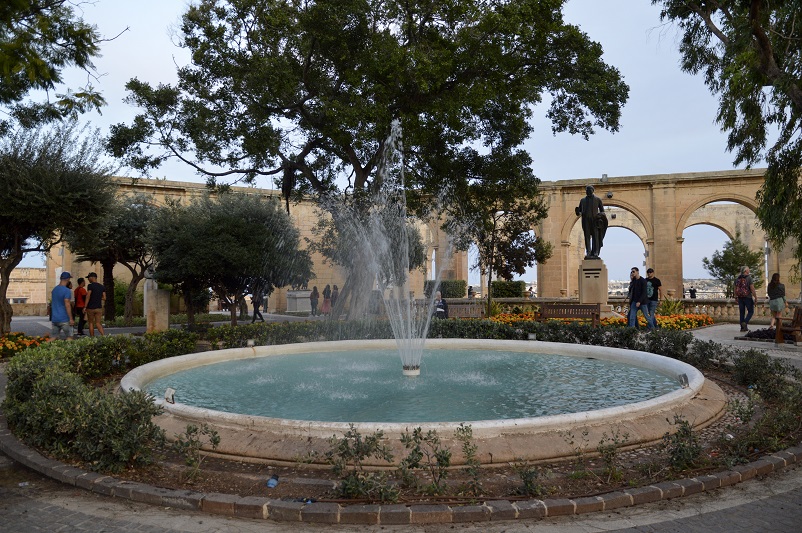 Another fabulous place to see in Valletta is Upper Barrakka Gardens. It's a main tourist attraction, but well worth a visit. Or multiple visits if you're like us and have a few days in the city. We first visited for sunset, which was quite nice, but very busy as it's a very popular sunset spot in Valletta. So we went again a few times to admire the view and take pictures at different times of day, and then just to have a nice sit and people-watch.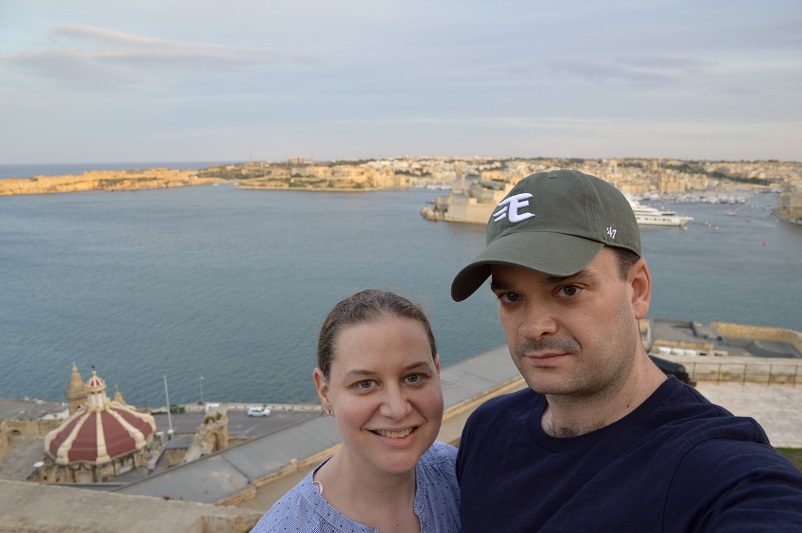 There are benches scattered around and a cafe with (surprisingly) reasonably-priced drinks where you can hang out. It's also quite accessible, with the entire thing being flat and stair-less.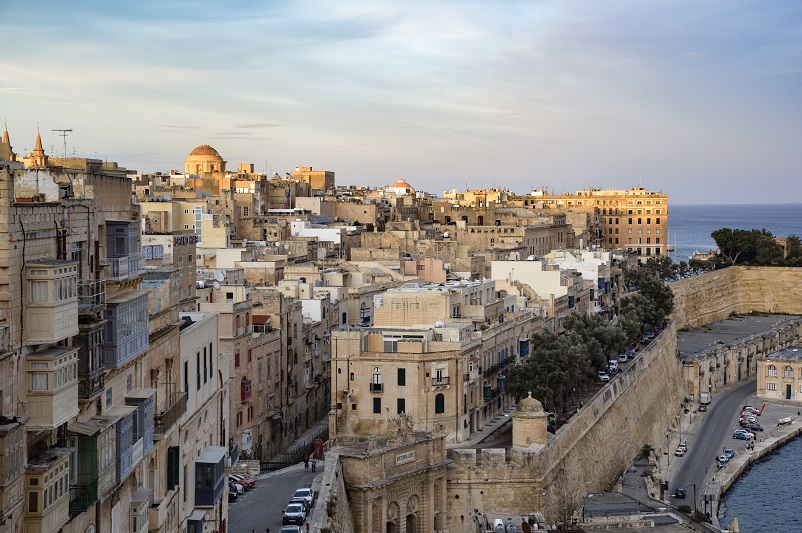 Walking to Upper Barrakka Gardens from the main part of Valletta is easy. It's up a slowly sloping hill, but wasn't too difficult for Sarah. If you're coming from the water, that's a different story. If you don't want to climb some incredibly steep streets or a whole bunch of stairs, you can pay to take the Barrakka Lift. It only costs 1 EUR to ride up and is free to go down. The cost of the lift is also included in a Three Cities ferry ticket, but more on that later!
And don't miss Lower Barrakka Gardens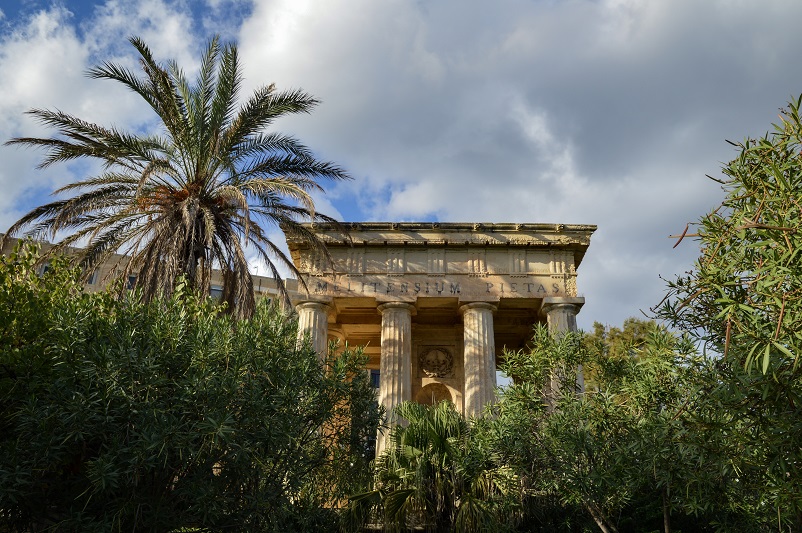 Lower Barrakka Gardens is (as its name implies) lower down than Upper Barrakka Gardens. It's not directly beneath it, but a bit further to the northeast. It's yet another lovely place to see sunset, see views across the water, and relax. It's got a completely different look than Upper Barrakka Gardens, with a monument in the form of a temple.
It also overlooks the Siege Bell War Memorial which is very interesting. We didn't visit that specifically, but enjoyed the views of it from the gardens.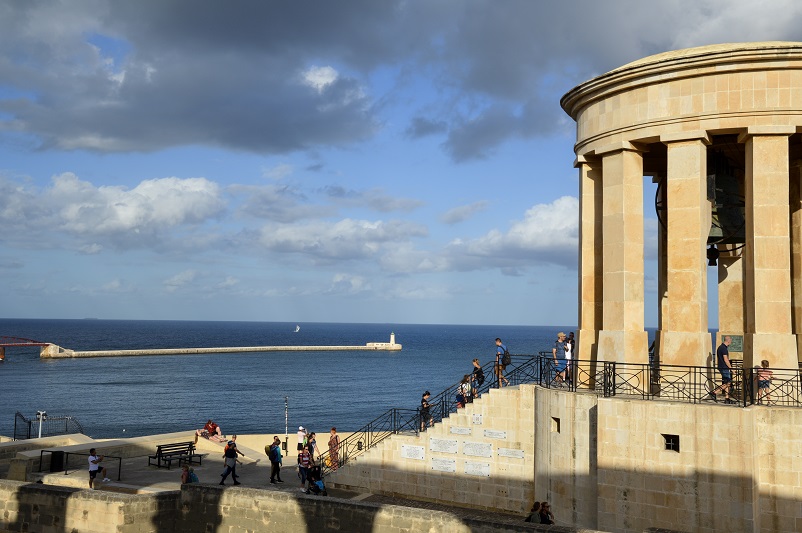 Since the gardens are "lower" you must go back up hill to return to the main part of Valletta. Alternatively, you can walk along the water for about 10 minutes to the Barrakka Lifts.
Quick and easy trips from Valletta
Since Sarah was under the weather, we (very sadly) gave up our plans to take a true day trip to Mdina and Rabat. But we did manage to get out of Valletta (other than the trip to and from the airport). There are a few easy and quick things you can do if you don't want to or have the time to travel too far.
Take the Three Cities Ferry to Birgu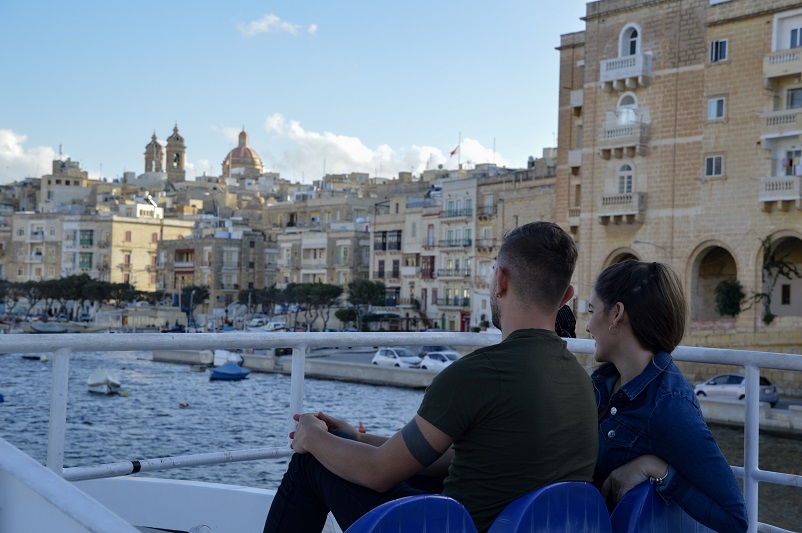 This little trip tops our list of things to do in Valletta, even though it involves leaving Valletta. The trip across the water from Valletta to the Three Cities only takes about 10-15 minutes, but was wonderful. The views of Valletta were especially magnificent, and we also quite enjoyed the entry into the Three Cities through the pretty large harbor.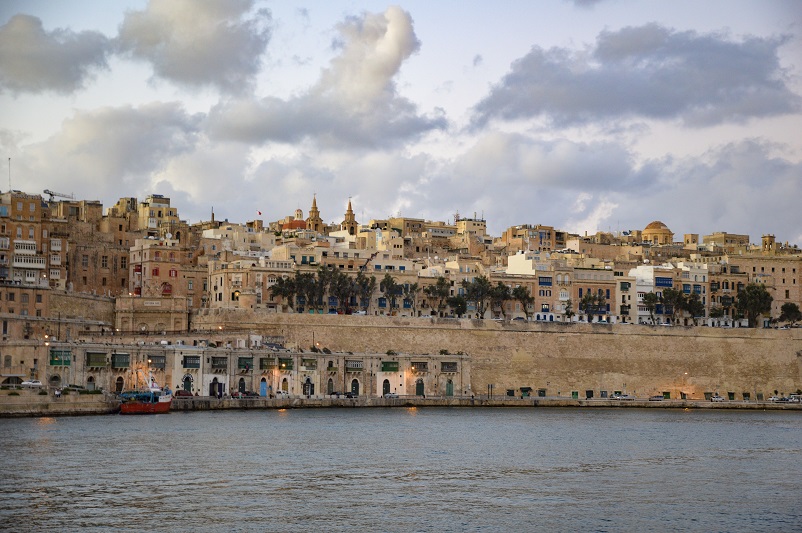 The Three Cities consist of Birgu, Senglea and Cospicua. We only explored Birgu, the oldest, during our time in the Three Cities. It's a really unique, lovely place. It was incredibly quiet when we visited. We felt like we had all the narrow, winding streets to ourselves. Be respectful if you visit. Real people live in those picturesque homes.
We visited Valletta in early November. We took the ferry leaving Valletta at 3:15pm and took a return ferry at 5:30pm, so we were treated to some lovely changing light.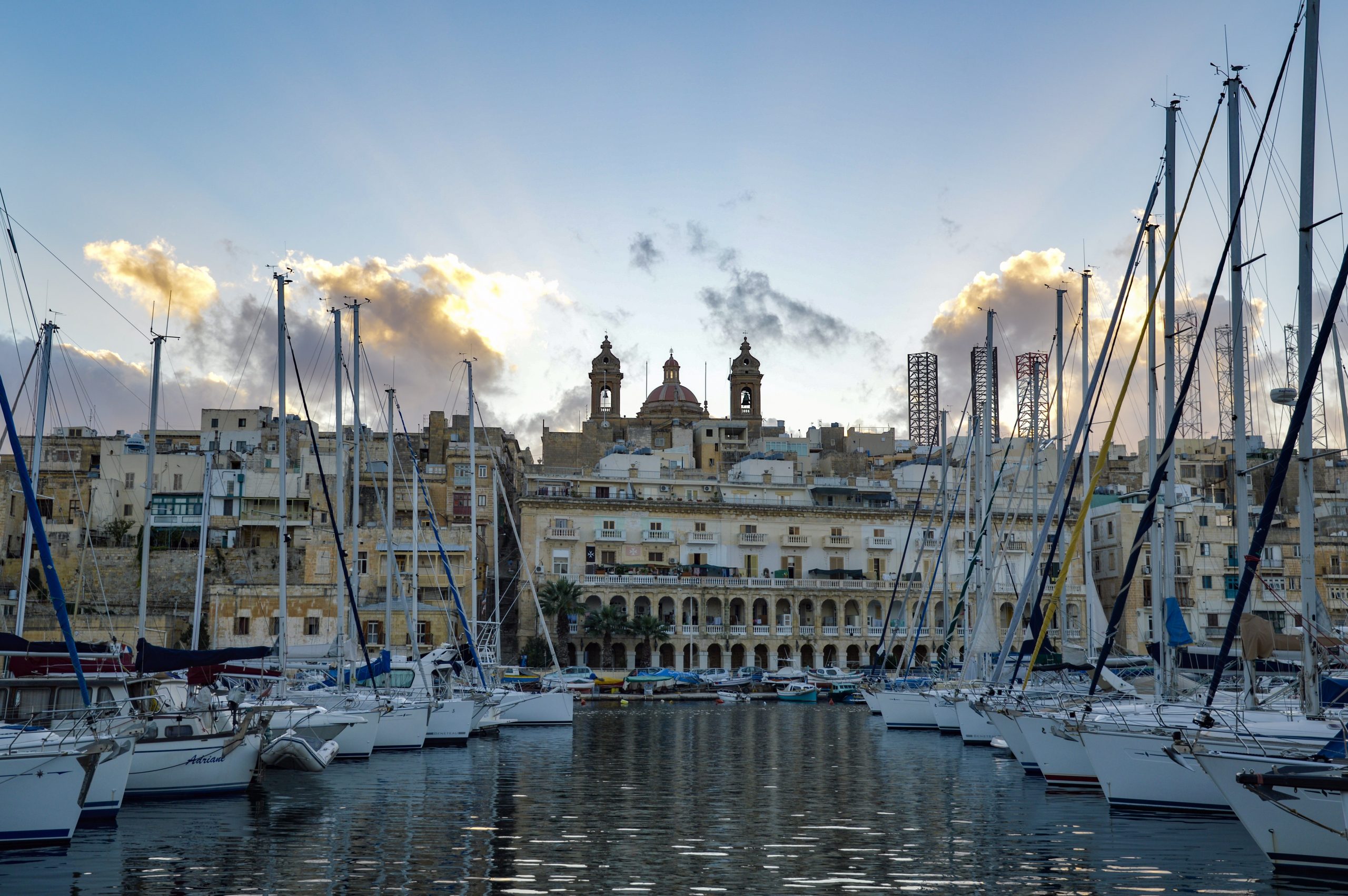 In Valletta, the Three Cities ferry dock is located beneath Upper Barrakka Gardens (it's findable on Google Maps). When we visited, the ferry dock at the Three Cities was in a temporary location as the permanent dock was under construction. We're not sure when it will be finished, but it will look pretty great when it is! Then it will be on the Birgu side, very close to the place we explored. During our trip, it was just about 5 minutes away on the other side.
Our round-trip tickets only cost 2.80 EUR each and included a trip up the Barrakka Lift which we took full advantage of when we got back. You must have cash. The ferry leaves every half hour and runs a bit later into the evening in summer. You can see the schedule on the Valletta Ferry Services website. You can also take the bus from Valletta to the Three Cities. But for us, the boat trip was much of the fun.
Take the Sliema Ferry to Sliema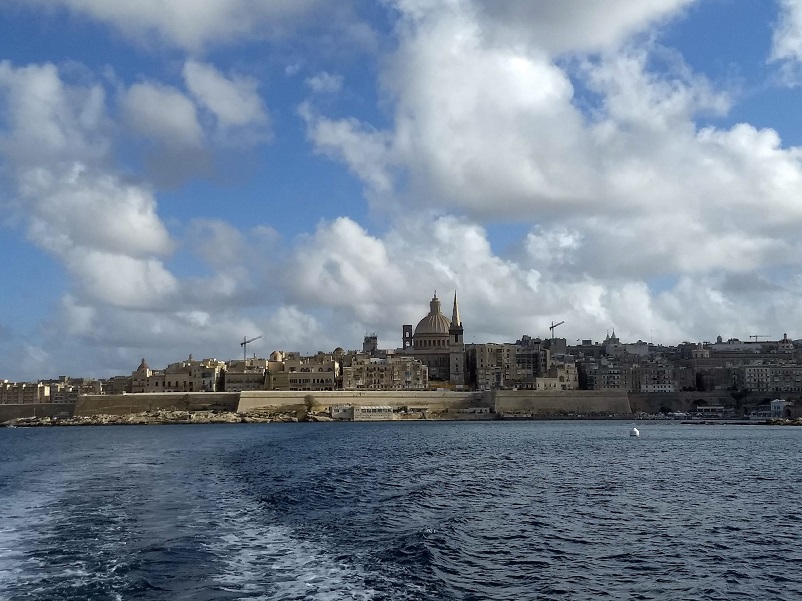 You can also take a ferry to the city on the other side of Valletta, Sliema. This ferry ride also offers really great views of Valletta.
Sliema is currently more of a residential neighborhood. In fact, the doctor Sarah saw who works out of Valletta lives in Sliema. It's also home to some bigger, more modern (and we think not so attractive) buildings, as you can see below.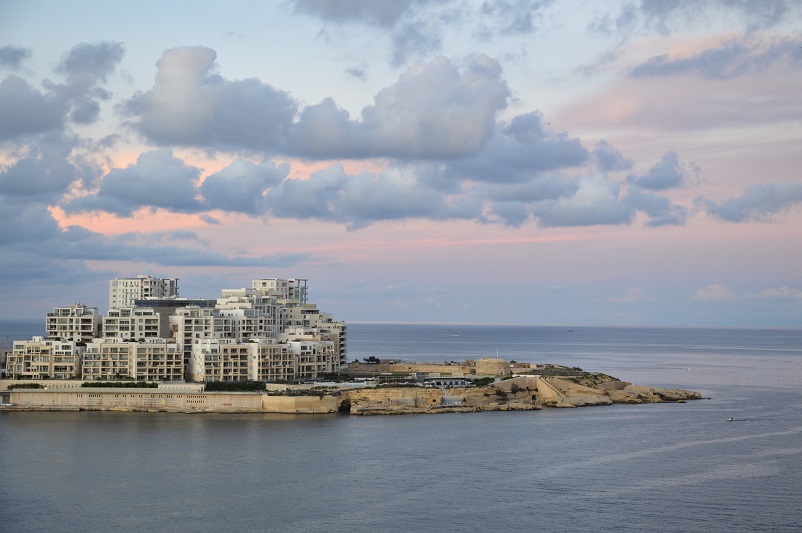 One of the main attractions in Sliema is Fort Manoel, a star-shaped fortress built by the knights of St. John. We didn't visit it ourselves, but saw it from one of our favorite Valletta viewpoints.
The Sliema ferry is also run by Valletta Ferry Services, so you can check their website for current schedules and fares. Unfortunately, there is no elevator nearby to take you back up to the main part of the city, so you'll have to walk back up those hilly streets. Alternatively, you can take the bus.
Walk to Floriana
Floriana is technically another city in Malta, but feels more like a neighborhood of Valletta since it starts just a few minutes walk from the Valletta City Gate. We definitely didn't explore Floriana as much as we could have, but we liked what we saw.
We recommend doing at least what we did and walking through the leafy green "Mall" to St. Publicis Church and then back through some of the area's smaller streets. The Valletta Waterfront, where the cruise ships come in, is also in Floriana.
Valletta restaurants
Even sickies have to eat! And eat we did. We ate so well in Valletta, we wrote a whole post about it.
What to do if you get sick in Valletta
Though we hope you stay healthy during your trip to Valletta, we thought it might be helpful to share our advice about what to do if you do actually get sick. Luckily for tourists, we learned that many doctors in Malta operate out of pharmacies. We called a few we found online but their doctors wouldn't be working until the next day. So we popped into the one closest to where we were staying and their resident doctor happened to be in that day. Sarah got an appointment for a few hours later. The doctor spoke very good English, gave her an exam, and prescribed antibiotics. We had to pay the doctor in cash, but could pay for the medicine with a credit card. The whole thing cost just over 50 EUR (although we have travel insurance, so got that reimbursed). We were satisfied customers at the time, and even more satisfied when Sarah felt the antibiotics started working a few days later.
We went to the Empire Pharmacy on the corner of Old Mint and Old Theatre streets. Again we highly recommend it. But we did see a fair amount of pharmacies in Valletta, so you could try your luck elsewhere if that's not convenient.
Like this post? Pin it!