Last Updated on 9th May 2021 by Sarah and Justin
I mention it often here – I have a fatal, incurable lung disease called lymphangioleiomyomatosis (LAM). Traveling has helped me and Justin cope with having this disease and the uncertainty it brings. While we try to build tips about traveling with a chronic illness and accessibility information about destinations into our posts, I haven't actually written much here about what it's like for me traveling with LAM. So now I am, as part of our 2018 Worldwide LAM Awareness Month project.
I get really tired. Like don't want to get out of bed to go to the bathroom, let alone leave the hotel room to explore tired. We can usually predict when this will happen. Travel days are the worst. Long flights are an obvious trigger, but even an easy seeming train ride and walk to where we're staying can take a lot out of me. We always prepare for the worst that I'll need to nap or rest for a while when we arrive in a new place.
Being a tourist with all the walking and sightseeing and activities can be tiring for the healthiest person, so it's no surprise that for someone with a lung disease, it can be downright exhausting. I used to be the type of traveler that wanted to see and do everything in a new place. I was go go go. But having LAM makes that challenging. While most days I'm fine, there are definitely days I just need to relax.
So we build rest and recuperation time into our itineraries. And typically that means we spend more time (than we used to at least) in a single destination. This has turned into a blessing. Traveling slower is better: both for me as a person with a disease and for us as travelers who enjoy really getting to know the places we're visiting. And maybe we don't get to see all the major sights in a city or take many day trips. But on the more restful days, we often get to experience what local life is like, which really is my favorite part of traveling.
Fatigue isn't the only thing that holds me back when I travel. There are places I cannot go due to altitude or air quality or vaccination requirements, and there are things I am simply not capable of doing. And no matter how many places we've visited or how many cool things we've done, it does still make me sad. I mean, my taste buds are quite mad at my lungs that I can't enjoy the food in Mexico City! And how much would I love to walk along the Great Wall of China? But alas, these places just aren't for me right now. On our 13-month trip, this feeling hit hard in New Zealand, which has the most incredible varied landscape and where people go on epic adventures like hiking on glaciers and bungee jumping. I pushed myself as hard as I could, but to put that into perspective, I seriously struggled (and almost quit) on a short hike that was categorized as "easy." And yet still, even doing only what I could throughout our time there, I saw the most gorgeous things (glaciers and fjords and mountains and penguins and albatross!). And I was unbelievably happy and grateful for what my body can still do.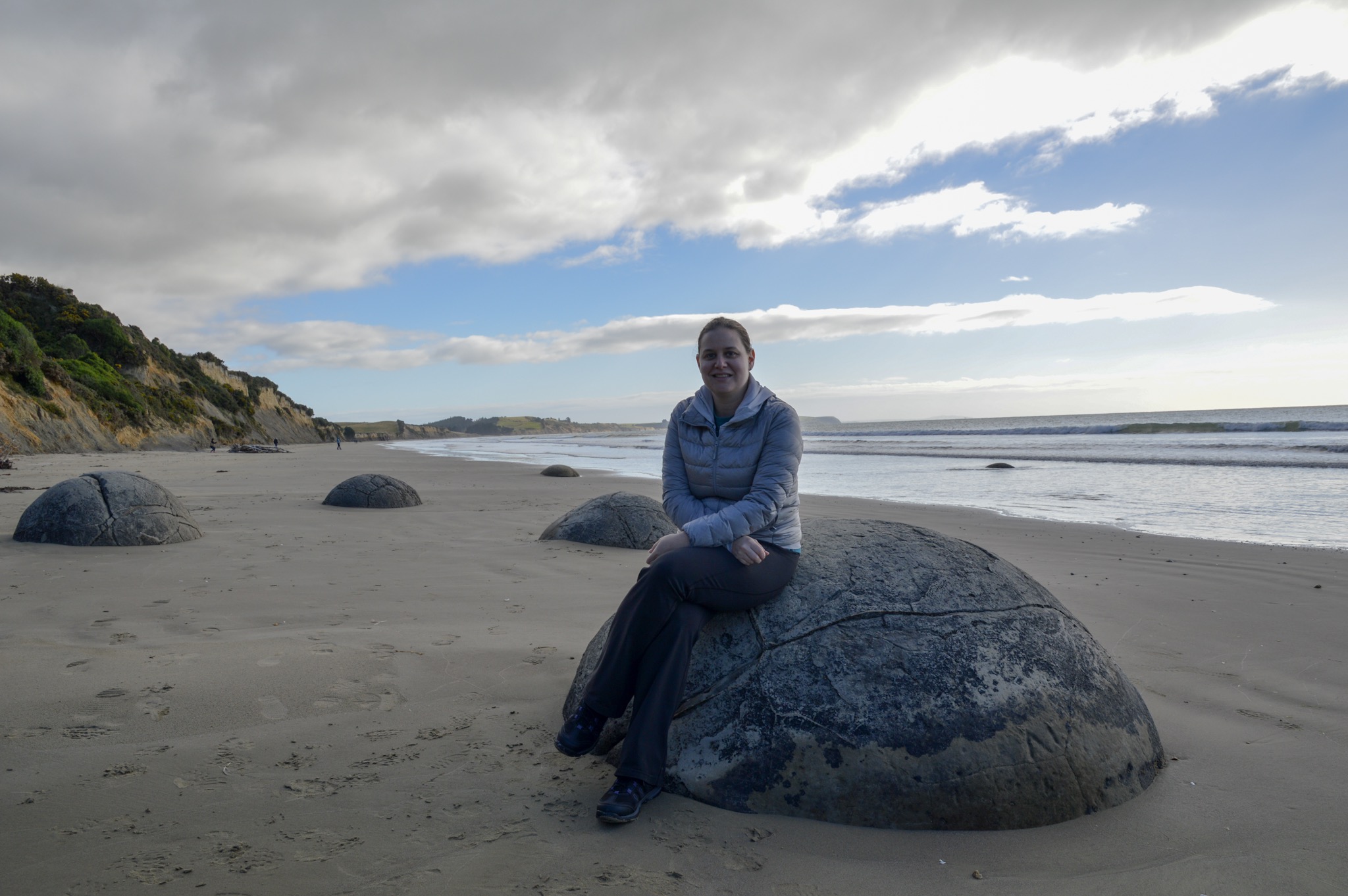 There are of course other things I deal with while traveling with LAM like becoming a master at finding elevators and escalators throughout the world; going through many, many steps with many, many airlines to get approval to bring and use a medical device on a plane; and learning not to overpack since Justin usually ends up carrying my luggage at some point during a trip. If you want to read more, check out some of my tips for traveling with a lung disease here.
But the most important thing about traveling with LAM is that it's fun! It can be challenging and tiring, but mainly it's exhilarating and exciting. I was terrified to get on my first flight just a few months after my diagnosis, but I'm so thankful that I did. Over the past eight years, I've learned that I shouldn't let my limitations stop me from seeing and learning (and eating) all the incredible and interesting and new things there are out there in the world. And I hope I've inspired others to feel the same.
Sarah was diagnosed with LAM in 2010 at the age of 30. She is a native New Yorker. In 2016, she and her husband, Justin quit their jobs to travel for 13 months. During their travels, they connected with many members of the international LAM community and raised LAM awareness. They are currently living in Rotterdam, the Netherlands. You can learn more about Sarah's story and LAM here.