Last Updated on 9th May 2021 by Sarah and Justin
Traveling isn't only for "healthy" people. I have a rare, chronic illness and I've been traveling pretty much non-stop since my diagnosis almost ten years ago. In this post, I'm sharing my top tips for traveling with a lung disease. Some of them are specific to those of us with breathing problems, like advice for flying with oxygen, but a lot of them are also applicable to people traveling with a chronic disease. I originally wrote this post eight months into a year-long trip around the world. I still learn new things about how to take care of myself and enjoy myself with every new trip, but these things still hold true.
Please note, I am not a doctor and none of the below should be taken as medical advice. Please talk to your doctor if you have questions about traveling with your specific condition.
Tips for traveling with a lung disease
1. Research accommodations to ensure they have elevators or a manageable amount of stairs
There is now much more accessibility information online than there used to be when we first started traveling. But sometimes things that can make it difficult for people traveling with a lung disease are not explicitly discussed. So we read as many reviews as possible about accommodations and the areas we want to stay in. For example, a hotel might have an elevator, but the hotel itself may be located at the top of a large hill. This will often not be listed in the hotel description (unless mountain views are what you're paying for), but is usually mentioned in the reviews if it's an issue.
Airbnb has also added a ton more information about accessibility of their properties, but I still usually message people on the platform to get more specifics about number of stairs, etc. Everyone has always been incredibly nice and forthcoming with this information (and if they weren't, I wouldn't want to stay at their apartment!).
2. Take the extra time to look for elevators or escalators at public transportation stops…
…or bridges… or pretty much anywhere there are stairs. This is something I really hate doing because I am usually excited to get to wherever we're going. But Justin always convinces me it's for the best and I'm always grateful.
Tip: look up the word for elevator or lift in the language of the country you're going. "Hiss" is "elevator" in Swedish!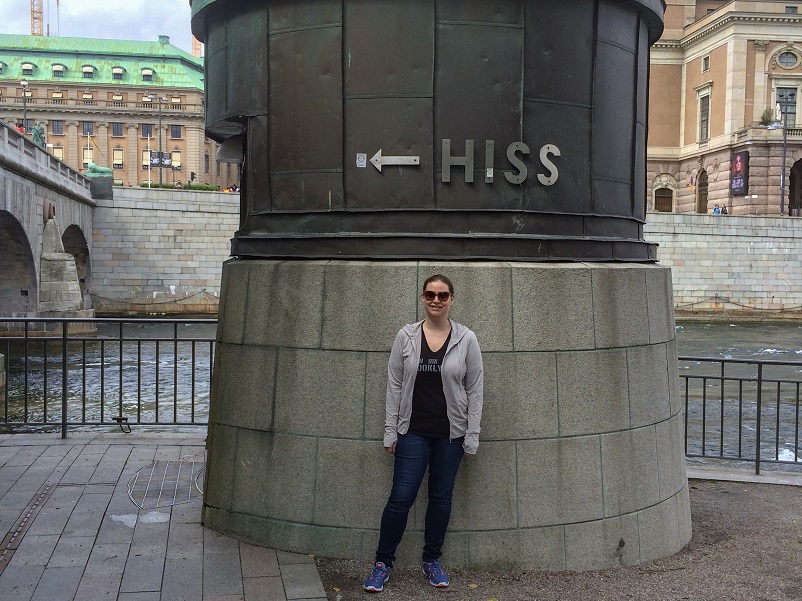 3. Relish naps, especially after flights
Post-flight naps were actually prescribed by my doctor and I am very compliant! I also make sure to work in time to rest – if not nap – every day.
When you have a chronic illness, listening to your body when it's tired – especially while traveling when you will probably be tempted to push it – is really important. Sometimes I don't feel tired until I actually stop for a bit. Working a more restful activity, like coffee at a local cafe or sitting in a park, won't detract from your trip at all. In fact, people-watching is one of our favorite travel activities.
4. Pack light
Do you really want to expend your precious energy carrying your suitcase (or make your husband carry it for you)? We usually can't fly carry-on only, but we try our best to only bring one checked back instead of two.
Tips for packing light include researching laundry at your destination and bringing layers that can be worn in different ways more than once.
5. If you're flying with oxygen, ensure paperwork and accessories are in order
I've never forgotten the portable oxygen concentrator itself, but I have forgotten accessories. And from personal experience (which involved Justin convincing a cab to speed back and forth from LaGuardia Airport to our apartment and us barely making our flight), airports typically do NOT have oxygen cannulas hanging around in a back room somewhere. Or batteries or chargers. So make sure you have all your stuff organized and ready to go (and by the front door even!) the night before your trip.
It's also a great idea to have copies of all the forms you needed to get approved by the airline handy. I used to print them, but now I just keep them on my phone. I make sure to download them though in case I need to access something in the middle of a flight (which has happened).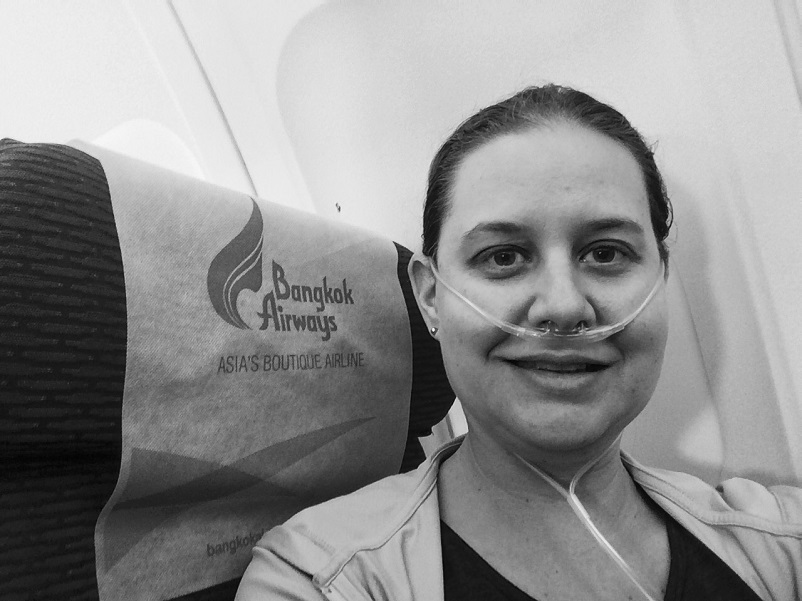 6. Arrive at airports extra early
This is especially important if you fly with oxygen. Some airlines don't let people with special medical needs check in online ahead of time, which means longer lines. And more often than not, your portable oxygen concentrator will be examined and tested by the security officers.
Also, it's not possible for me to run through an airport for more than about 10 seconds, so I try to not put myself in the position to have to do so.
7. Make time for exercise
We walk a lot when we travel. But, it's not like we're power-walking everywhere we go. It is still important for me to get my heart rate up on a regular basis. While I don't work out as much on vacation as I do normally, I still try to work in some higher-intensity exercise.
We love staying in hotels with gyms, but if that's not possible, there are other options. We've gotten day passes at local gyms. I've power-walked around parks (with my oxygen). We've gone hiking. I've done sit-ups and push-ups and squats in hotel rooms.
I've definitely learned I feel better when I do this, so I make it a priority.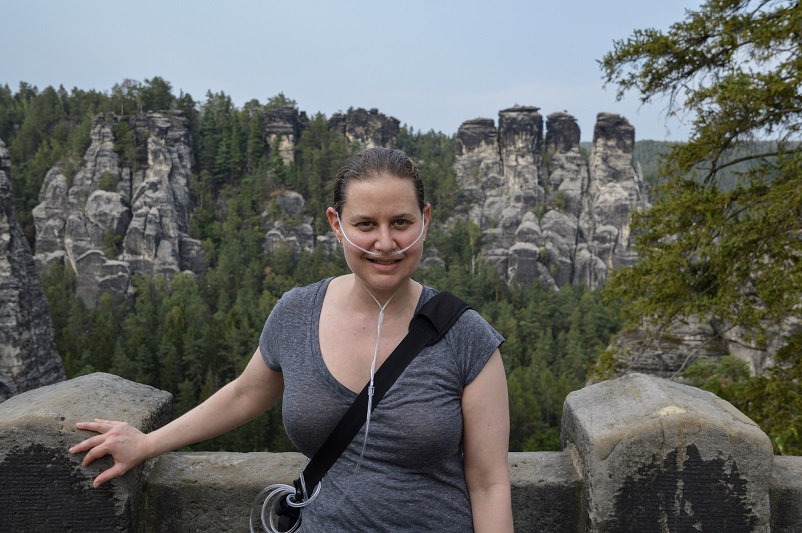 8. Wear sunscreen*
Of course, this is good advice for everyone. But it's especially important for those of us who have a higher chance of getting super tired at the end of busy days. If you're burned, you'll be down and out come sunset.
*Note, I originally attributed these words to Kurt Vonnegut but have come to learn this was an urban legend.
9. Stay hydrated
See above but replaced "burned" with "dehydrated." We always carry two refillable bottles of water with us wherever we go.
10. Enjoy!
And be grateful for every minute you are seeing and doing new amazing things in this world. Travel has been so therapeutic for me, I honestly consider it part of my lung disease treatment!
(And seriously, pack light).
Like this post? Pin it!